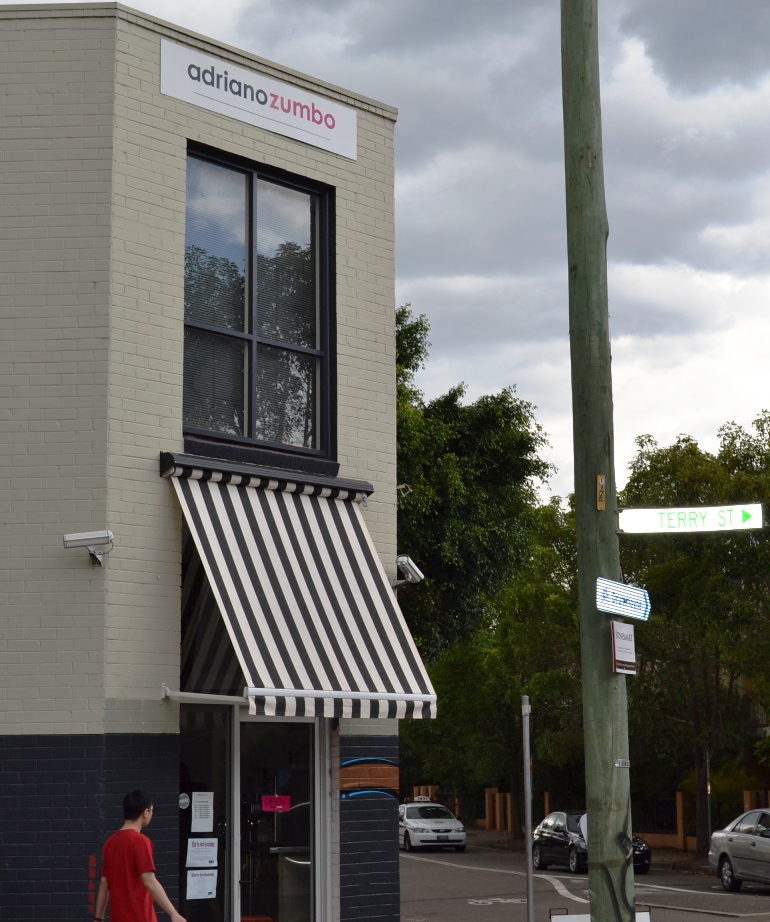 The name Zumbo, when uttered in this day and age, brings about a certain excited sense of feeling. Ladies swoon, and men gasps in fits of jealousy…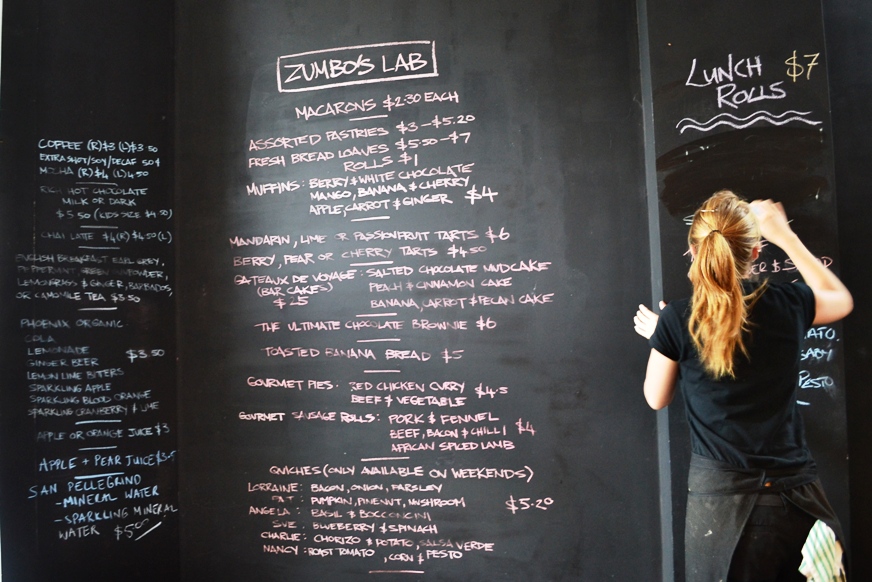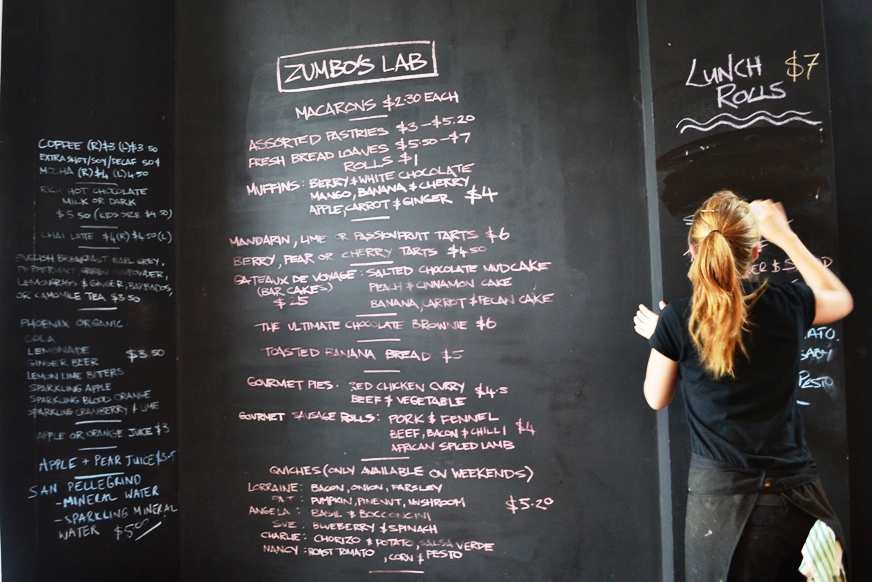 Propelled to super-stardom from the hit Australian TV show, Masterchef, Adriano Zumbo is known throughout the land down under as the Dessert King…
So when I last went to Sydney… I begged Big Sis and Big Bro to take me down to all off Zumbo's land of Sweets and Dreams….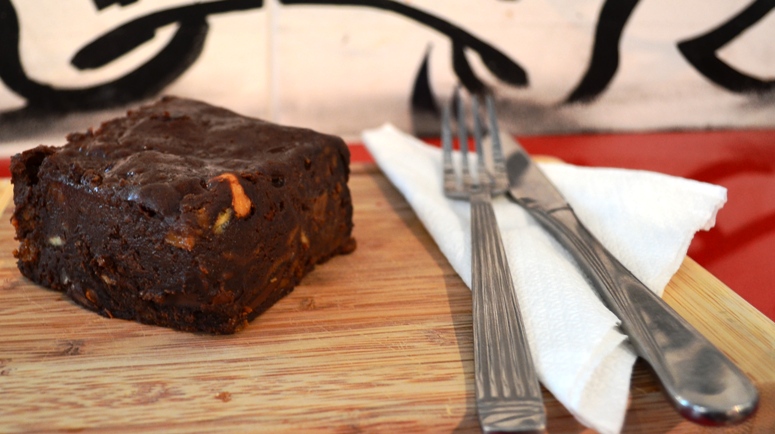 On my first arrival, I was taken to visit the Zumbo cafe/lab… where his creative juices flow, and his team of little oompa loompas experiment and create new flavours …
So we sat down and ordered some basic treats… A big fat Ultimate Chocolate Brownie $6which was sooooo rich and intense…but oh so good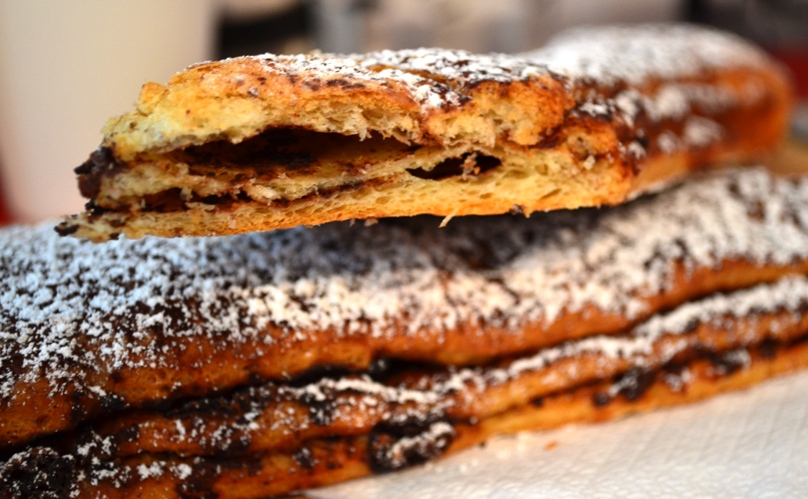 I also ordered a Pepito $4.50which is a brioche feuilletage baked with custard, chocolate and orange zest. My favourite little pastry of the trip… so light and decadent…
We also ordered a latte and cappucino (which I didn't bother posting up the picture… Do NOT order coffee here… seriously, it's not what they do, so don't do it!)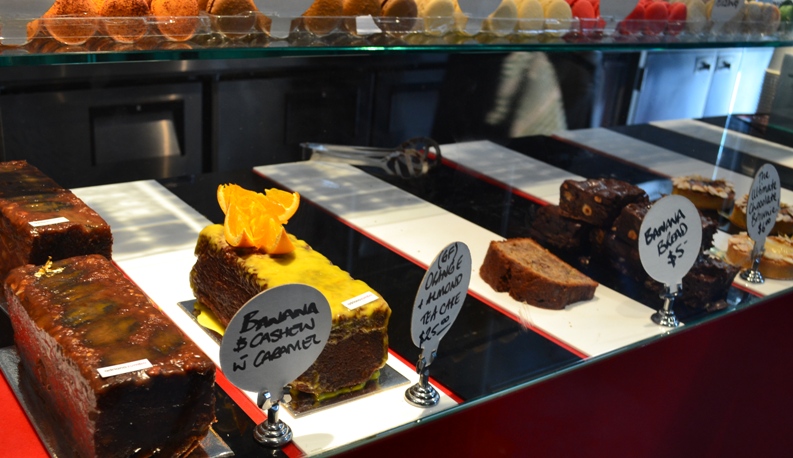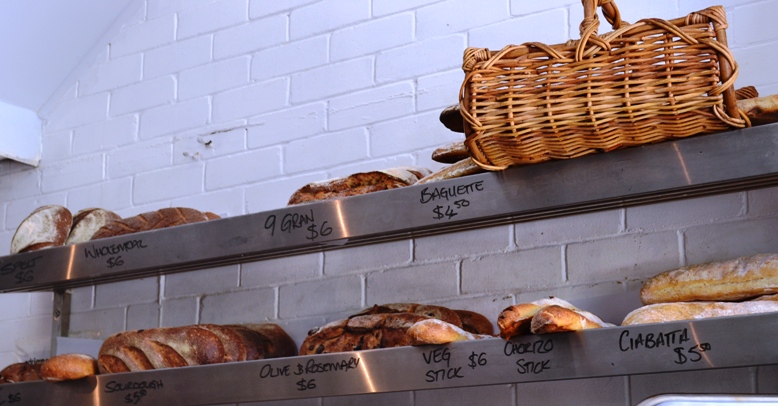 We had come here straight from a massive lunch, so our little tummies couldn't eat as much as we want, there were cakes, there were pastries, there were pies, there were tarts, there were breads, and of course….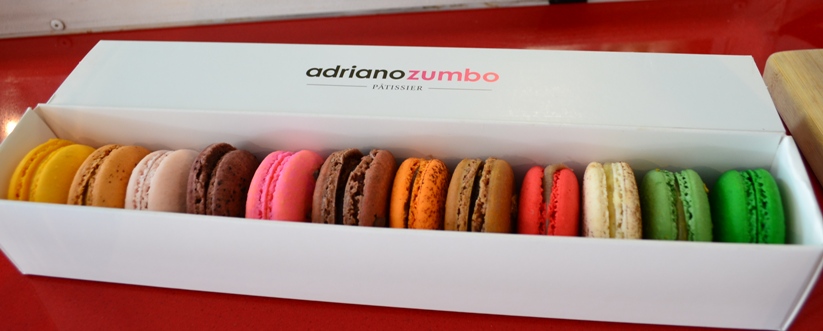 There were macarons ($2.30 each)…. On display that day were 13 flavours (and I bought 12 of them, minus the Blue Cheese flavour)… So we took 'em home to devour as a treat for supper after dinnertime…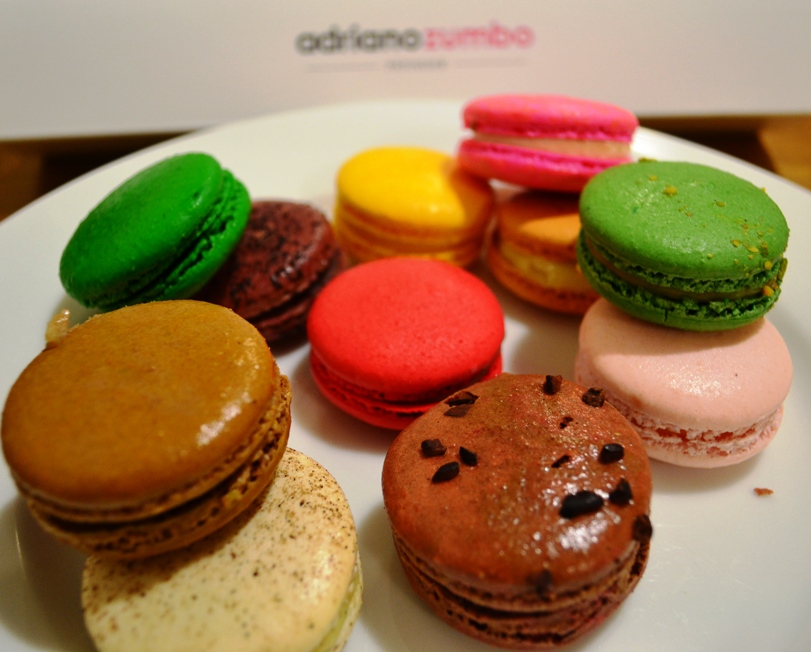 We had:
Passionfruit and Yoghurt
Ginger
Ruby Grapefruit and Jasmine
Earl Grey Tea and Milk Chocolate
Jaffa
Francesco Chocolate and Pop Rocks
Strawberry and Balsamic
Rice Pudding
Pistachio
Milo
Anynziata Chocolate
Musk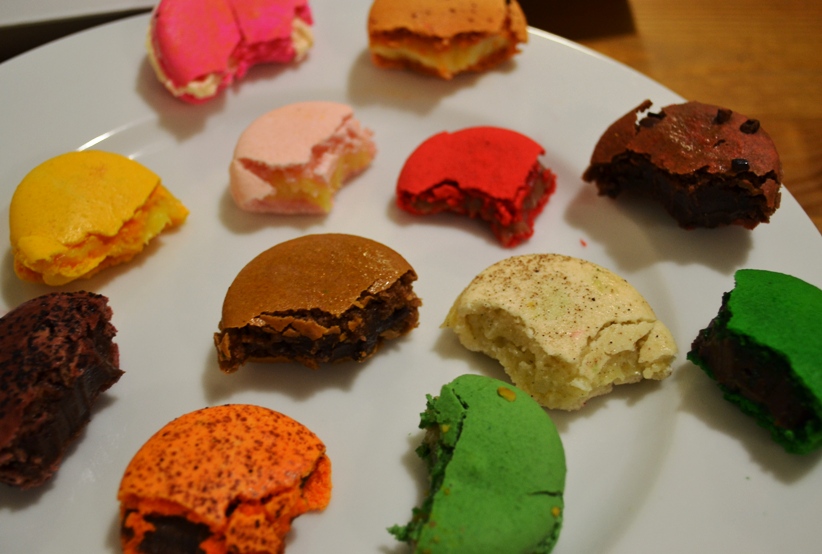 In terms of texture, these were pretty much your standard macarons, light, crunchy, and airy… in terms of flavour… Oh My Goodness…
I've never had such a wide range of flavours or the worst flavoured macaron in one go before… The stand-out flavours were the Jaffa, Ruby Grapefruit and Jasmine, and the Ginger.
The worst flavour of any food item I've ever had to endure in my life has got to be the Musk macaron. I'm not sure why the name itself didn't hit off warning sirens in my head, but I was too trusting of Zumbo… it tasted exactly like how it sounds…
You know, the awful taste you get when you accidentally spray perfume in the vicinity of your open mouth? That's exactly what it tasted like…
Just eat perfume… it's the same disgusting taste…. "Why, Zumbo, Why?!!"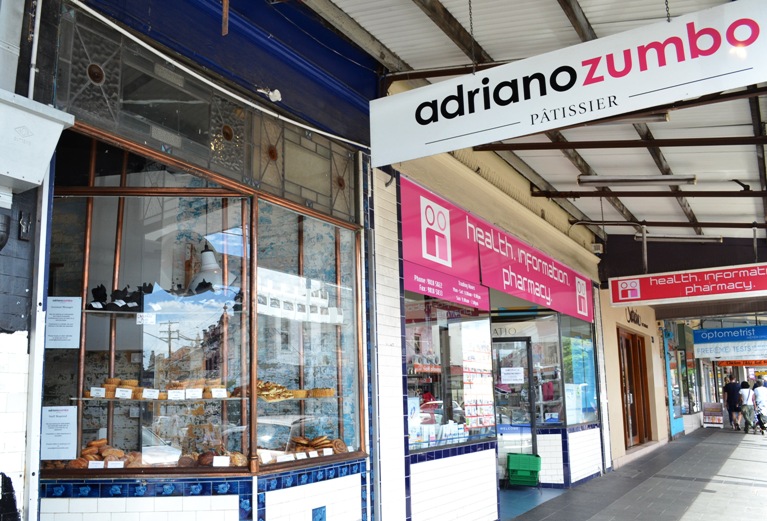 Undeterred by the whole Musk episode, I was determine to visit the original Patisserie where the man himself started out…
So we went and there were heaps of people there… it was a tiny tiny shop and overcrowded to the brim…. one line in, and one line out… so forgive my pictures.. I was sort of squashed and was trying not to hinder anyone else…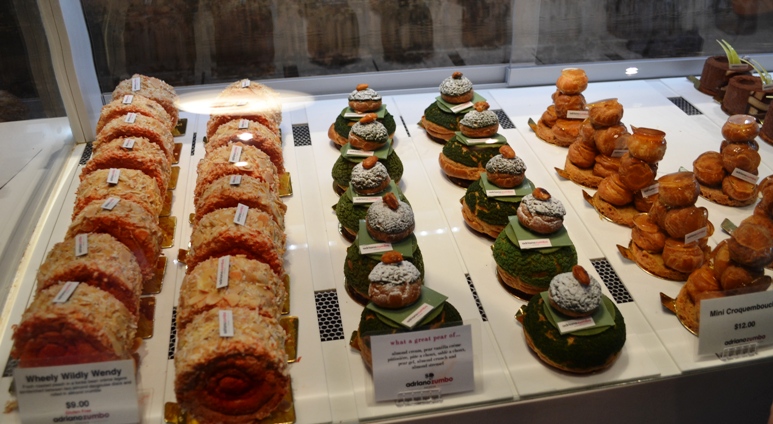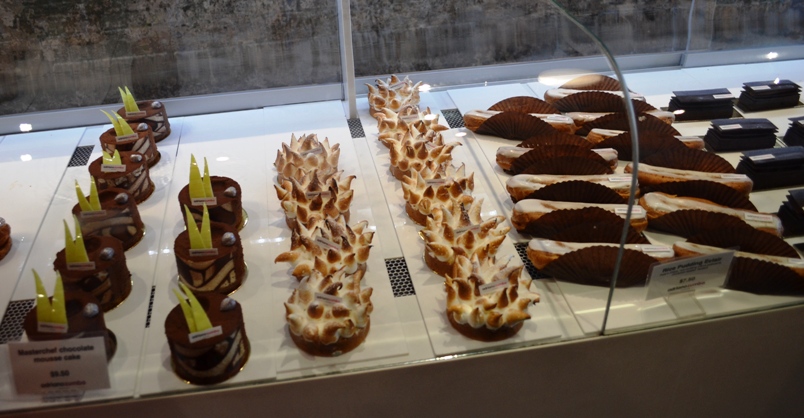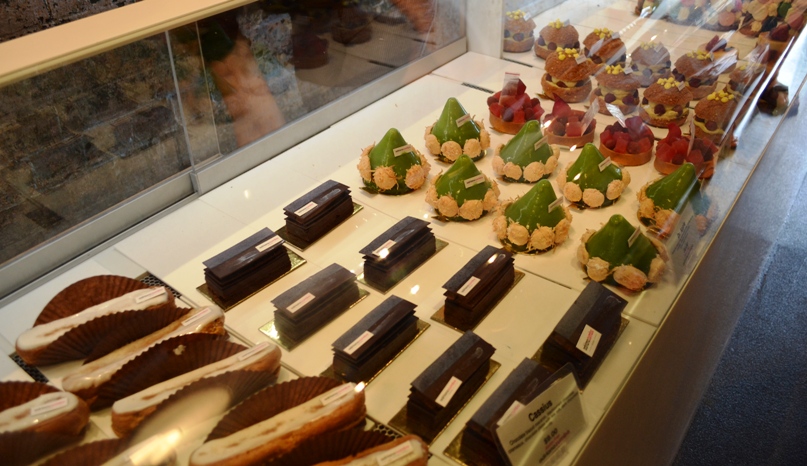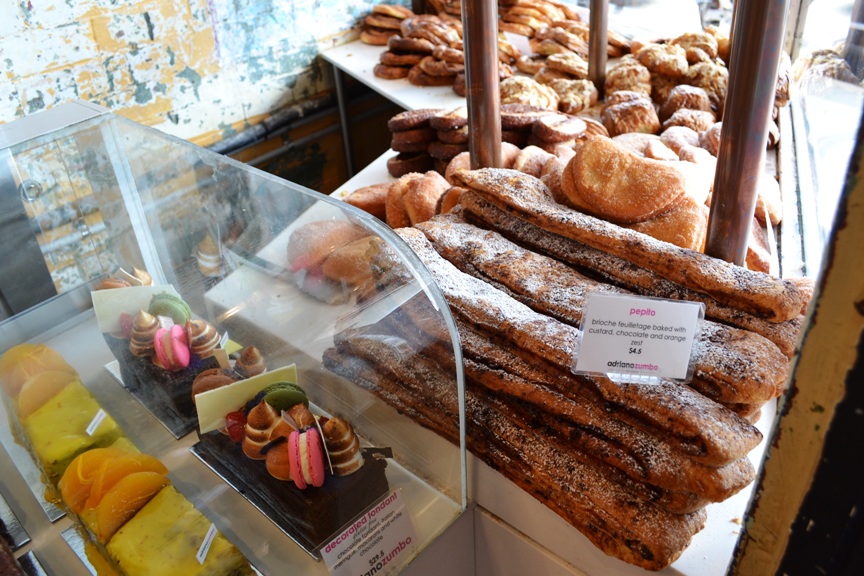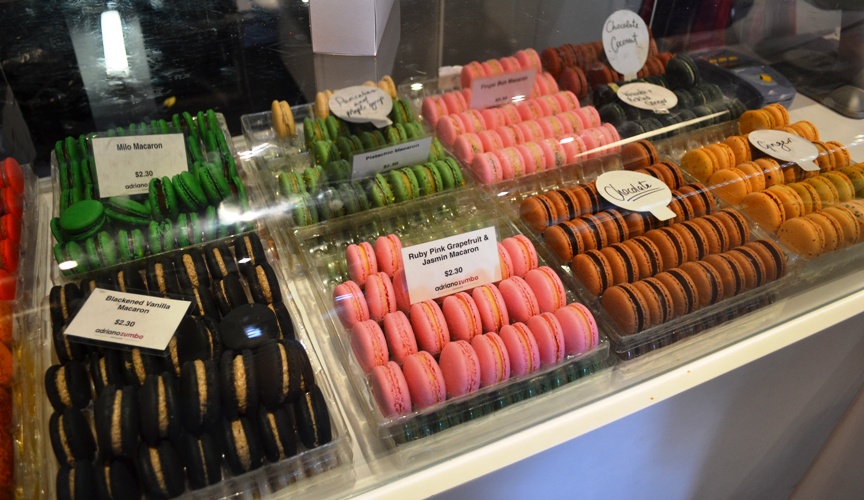 How many of his famous creations can you name from the above? The infamous V8 cake and the Pear Perfection have both been featured on the Masterchef series…
So I got 6 more macarons to go… to pack to have back in Melbourne….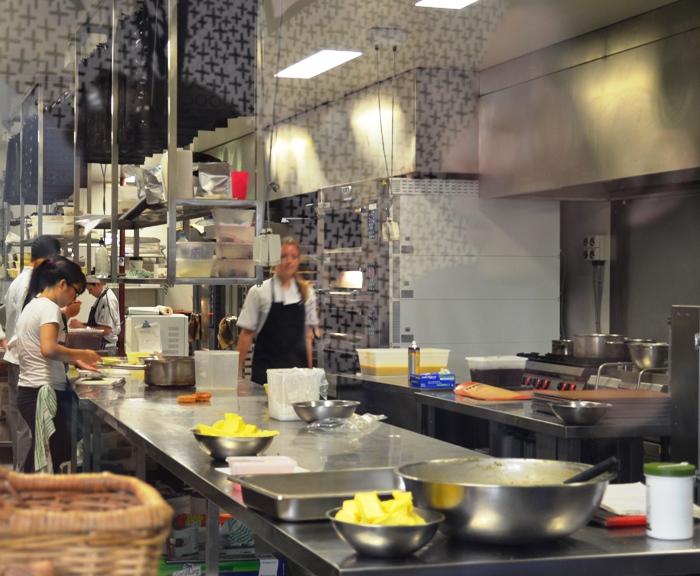 And then we went back to the cafe/lab… where they were making heart shaped macarons (for V-day, which was around the corner)… Look at that kitchen!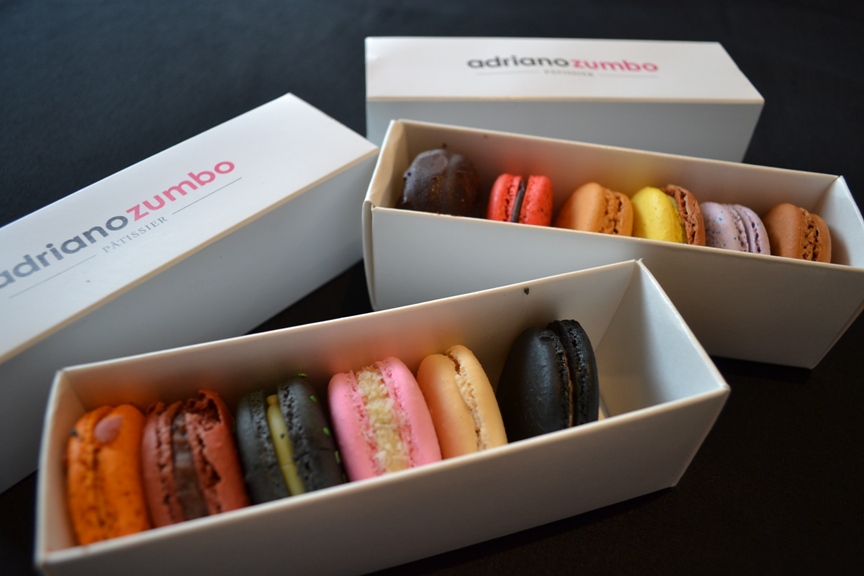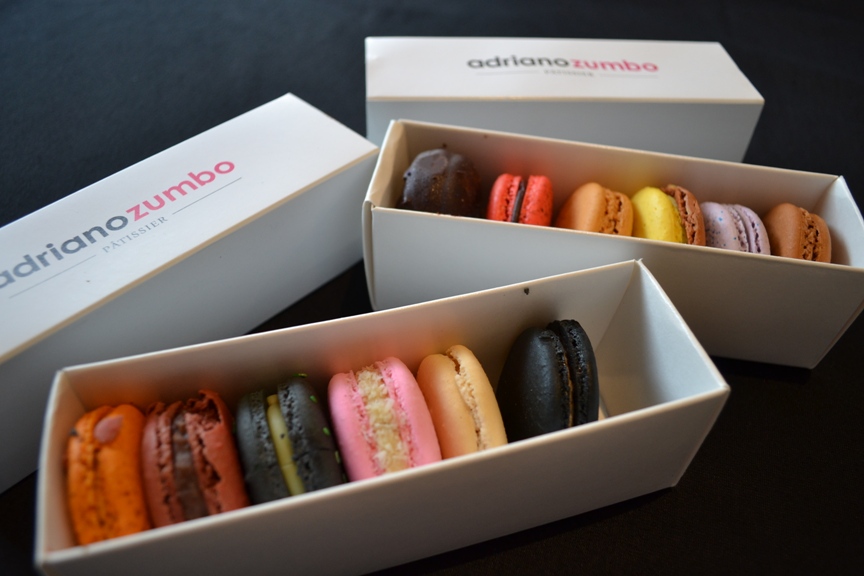 Where I promptly bought another 6 more macarons… I couldn't believe my luck… in the 2 days in which I visited, I've managed to buy 23 different flavours… from both stores…LUCKY!
The only two flavours I didn't bother with were the Blue Cheese and Sticky Date and Pudding… (Wish I did, though)…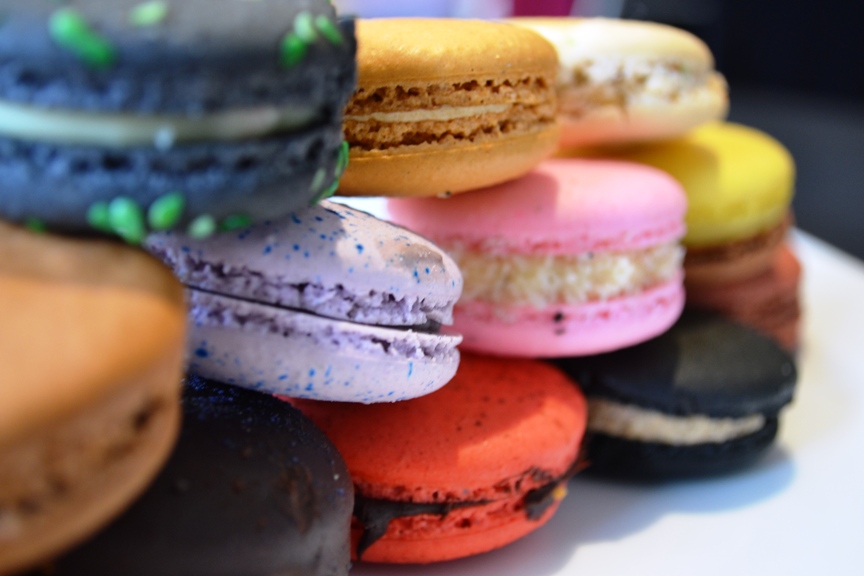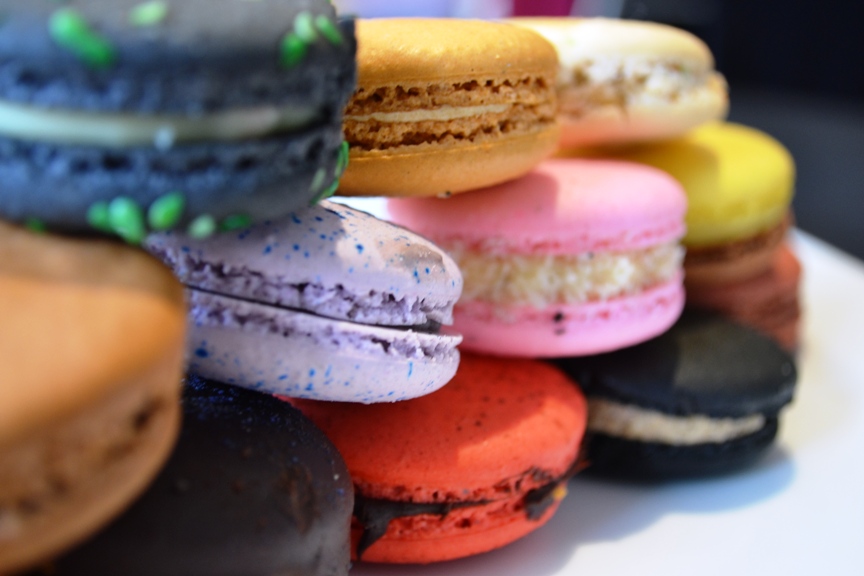 This time round, I bought:
Blueberry and Lavender
Mango,Macadamia and Vanilla
Finger Bun
Blackened Vanilla
Black Wasabe and Seaweed
Jaffa
Coconut
Salted Caramel
Chocolate Strawberry
Chocolate coated
Pancakes and Maple Syrup
Chocolate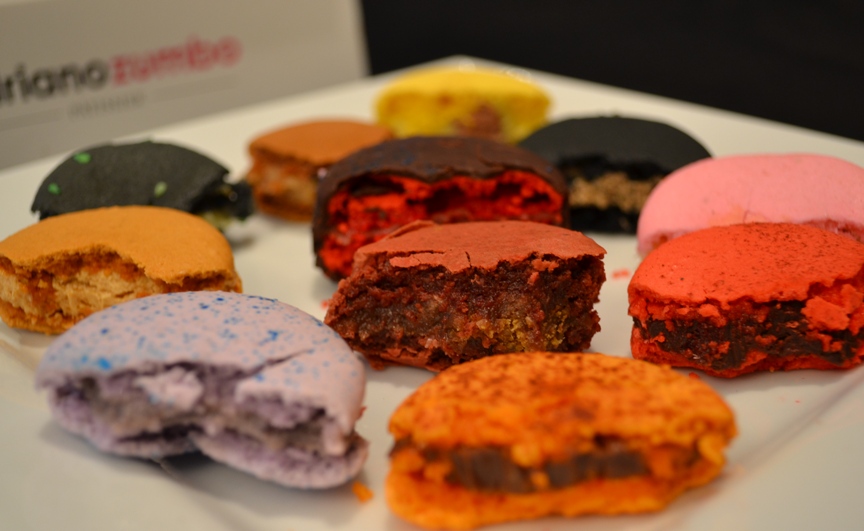 And I have to say, the second time round (or maybe because I was burnt so bad by the whole Musk incident), but this time, all the macaron flavours were superb… so much so that I accidentally ate all of the finger bun flavour before taking the last half-eaten macaron shot… (note there are only 11 macarons in the above picture)…
My favourite macaron flavours of them all?
Black Wasabe and Seaweed, followed by the Mango, Macadamia and Vanilla flavour…
Also, whilst we visited the Lab the second (and final time) round, guess who we bumped into?
Ta-dah!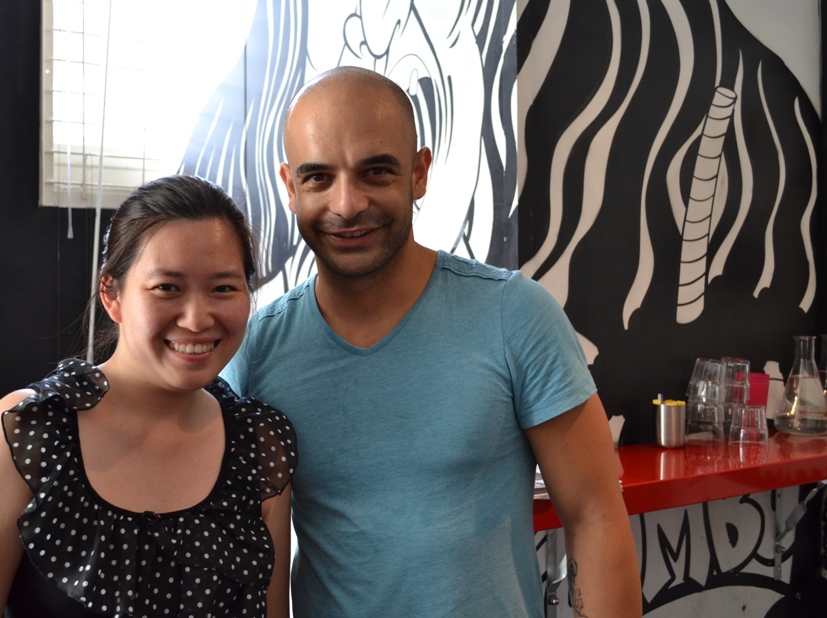 Mr. Wonka himself!! Did I get any golden ticket?
No, but I had a fabulous experience and a photo opportunity.. hahahaha…
Would I come back? HELL YES! Even the foulest tasting macaron will not keep me away!
*Disclaimer: All food ratings are purely based on my own experiences and how I feel about the service, food and quality
Food/ Cuisine: Dessert/Chocolate/Cafe
Dining Style: Cafe and patisserie
Overall Food Rating (Based on the Dining style): 8/10
Restaurant ambiance: 7/10 (Very packed and congested… but the lab was excellent!)
Service/ Attitude: 8/10
Value for money:8.5/10 (Somehow it's cheaper than the patisserie/dessert/macaron shops that we have here in Melb… so #WIN)
Website: http://adrianozumbo.com/
Address:
Lab/Cafe:
114 Terry Street
Rozelle NSW 2039
The cafe is open from
Monday to Friday from 6.30am to 4.00pm and
Saturday & Sunday from 7.30am to 4.00pm
How to get to the lab/cafe: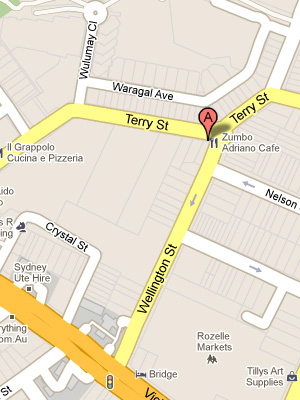 Address:
Patisserie:
296 Darling Street
Balmain NSW 2041
Tel:
Patisserie: (02) 9810 7318
The patisserie is open from
Monday to Saturday from 8.00am to 6.00pm and
Sunday 8.00 am to 4.00pm
How to get to the patisserie: