When I was asked to do this post on the Malaysia Kitchen stand at this year's Good Food & Wine Show, I immediately leapt and snapped up the chance.
One, because I'm a lover of food (as you all know) and secondly, because I'm a proud Malaysian. So what a perfect way for me to celebrate the chance to cover this event and hit two birds with one stone.
When I found out that Cheong Liew would be one of the headlining guest chef on the Malaysia Kitchen stand, I couldn't resist jumping for joy.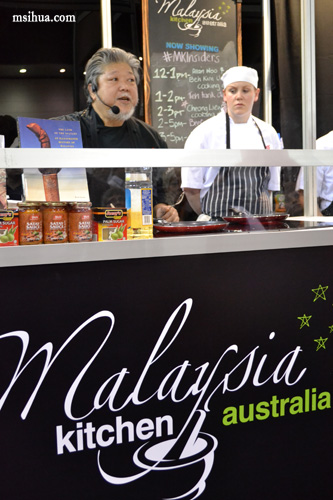 Why would I be so excited? Because he is the so-called Father of Fusion of Australia. He was even awarded an Order of Australia in 1999 for his contribution to the food and restaurant industry! What an amazing feat.
Especially from a boy who came to Australia in 1969 to study electrical engineering. There's a lot to be admired and idolised in a man like him.
Watching him cook was especially fun as well. He was fun, jovial and extremely passionate about bringing across his Malaysian roots into his cooking style.
Throughout the whole cooking show, there was a photographer busily snapping away with his camera and making Cheong Liew and his team pose for pictures. At one point, during such an order, Cheong Liew exclaimed, "the food is burning!" to the amusement of the crowd.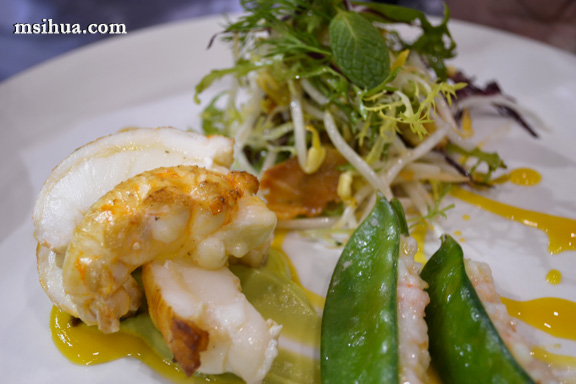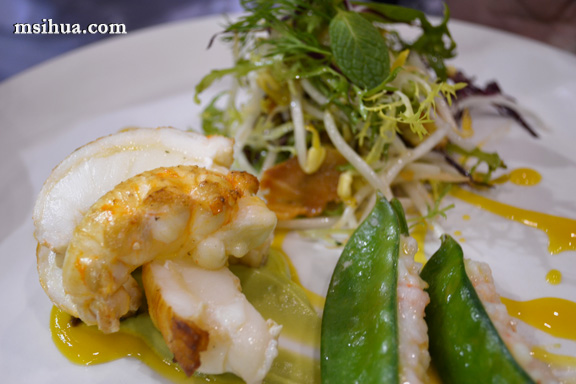 [clockwise from top: Moreton Bay Bugs with garlic, stuffed snow peas with prawns, spiced bean sprouts salad with salted fish and lime juice; KL Hokkien Stir-Fry noodles; and Jalan Alor fried calamari]
In the 1 hour that he was there, Cheong Liew whipped up 3 amazing dishes. We weren't allowed to taste anything apart from the Hokkien noodles, so I can't tell you how the food was. All I can say is, the Hokkien Mee is pretty close to the authentic version found on the streets of Kuala Lumpur.
Cheong Liew was lamenting that the noodles wouldn't be as good, as it wasn't cooked using the conventional gas stove top, rather via an induction cooktop. Therefore, the flavours and aroma raised with the big wok fire were missing.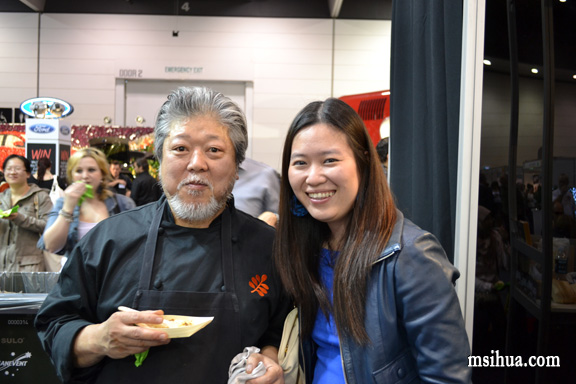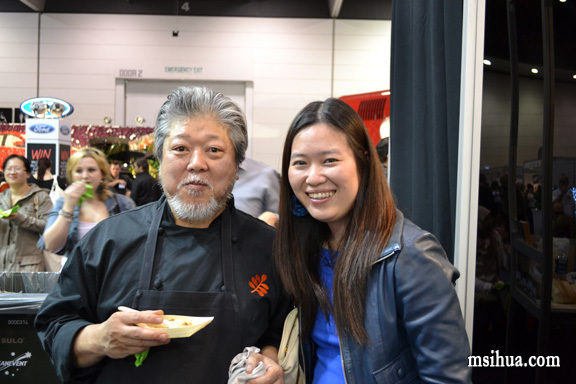 At the end of his show, I managed to catch the famous chef and grab a groupie chef photo opportunity with him. He was such a dear man 🙂 Does he not look uncannily like Sammo Hung?
Meanwhile, whilst we were all very busy paying attention to the cooking show at the front, the crew of Chillipadi Mamak Kopitiam were at the back getting the crowd excited with freshly made Teh Tarik (pulled milk tea), Roti Bathura (Deep fried roti) and the iconic Malaysian dish of Nasi Lemak.
It was amazing to see how excited the people were that were around the Malaysia Kitchen stand. There were oohs and aahs during the teh tarik demonstration, and there were nods of approval when they got their hands on the food samples being given away.
So did the Malaysia Kitchen stand manage to gain awareness through food demonstrations and guest chefs (the day before was Adam Liaw)? They certainly garnered a lot of interest and buzz from the guests from what I could see.
For me, it was definitely fun being able to learn more about the cooking of my own culture and background (you can never learn too much!). I certainly enjoyed being able to taste the authentic food and drinks supplied by the Malaysia Kitchen stand.
So if you haven't had a taste of Malaysian cuisine as yet, what are you waiting for?
If you happen to be in Sydney or Perth, it's not too late! The Malaysia Kitchen stand will be part of the Good Food & Wine Show in these two places 🙂
[Entry tickets to this event courtesy of Ogilvy Public Relations & GFWS.]