Ahh dessert, where would countless women be without you?
From balconies yonder, ladies lament, "O dessert, where art thou, dessert?"
I am one such lady. But I have to clarify something with you, my readers. I do not swoon and hyperventilate when a bar of chocolate gets placed in front of me. Indeed I have been known to let bars of Lindt sit and expire before I actually remember I had it sitting on my desk. Tim Tams and lollies are useless before my eyes, as I would just ignore their presence with hardly any willpower.
I do however cave in when I see beautifully designed chocolate. It's very much an attraction to the work of art more than to the sugar.
Having been a fan of the awesome twosome, Ian Burch and Darren Purchese (a.k.a. Burch & Purchese) for a while now, and after having attended their amazingly creative Sweet Architextural showcase with Bompas and Parr earlier on in the year, I was an eager beaver when I heard their store had opened in the very trendy South Yarra.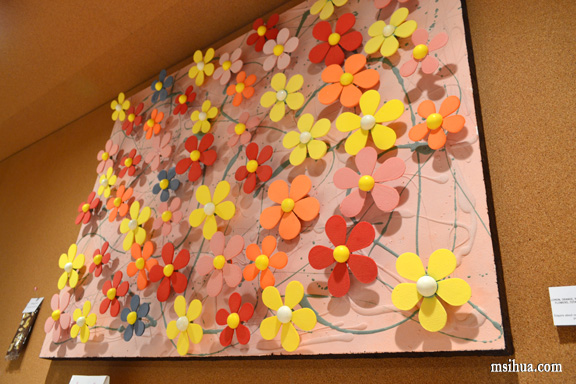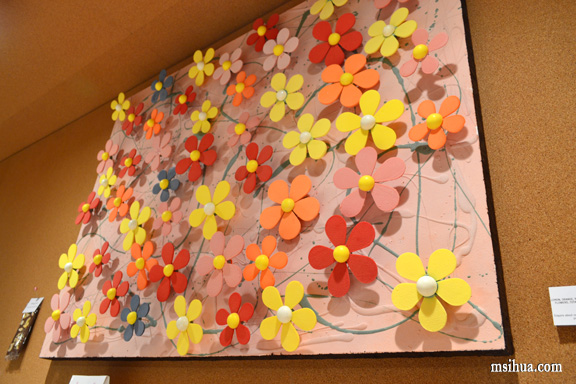 During the Sweet Architextural show, each guest was given a goodie bag that consisted of many happy treats. One of the items was a voucher to spend in their new store. Eagerly, the Boy and I waited in high anticipation and spent quite a lot of moolah there even after using the vouchers.
However, such a trip to creative madness could not be carried out in one visit. We had to break it up into two parts.
The first time we visited, it was together with a crazy little girl,  known to me fondly as Ms Poppycock a.k.a. Hannah. I can still remember as we both walked in, we squealed so loudly and excitedly, running up and down the store, whilst the Boy just looked as if he was herding a group of crazy teenage girls to a Justin Bieber concert.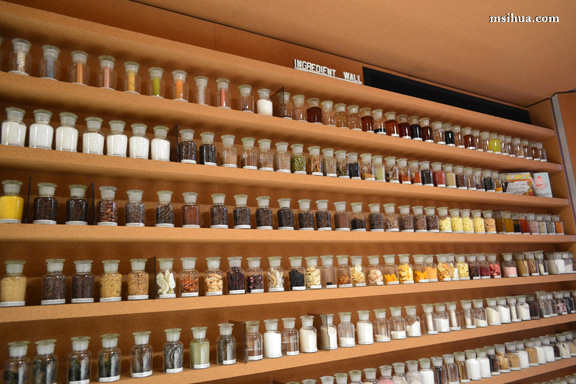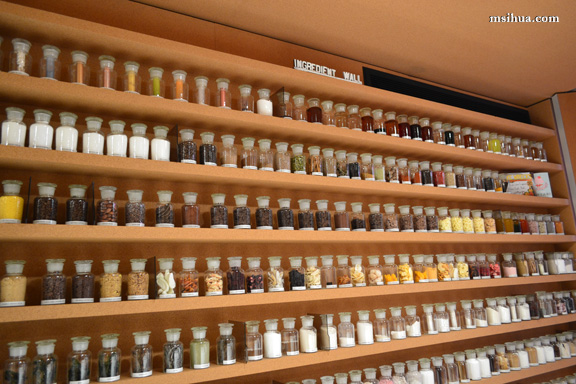 But Hannah and I persisted. We couldn't help ourselves. Once we entered into the Sweet Studio domain, we immediately transformed into giggly little girls with pink bubbly froth for brains.
It was akin to stepping into a dessert lab. The jars and jars of ingredients lining the Ingredient Wall had us gasping in unison, "Ah-mahhhh zing" at every turn.
The cakes on display were a delight to observe. Beautifully constructed and elegantly presented, each cake was a work of art.
What got me excited was the edible chocolate flowers ($4 each) stuck in edible soil. I remembered these fondly from my experience at the Sweet Architextural show.
And then on to the cakes. LEGO cakes!!! Row upon row of aesthetically pleasing sweet delights. My face bespoke calm. My heart screamed, "Hallelujah!"
If cakes are not your 'thang, you could opt for their ice-creams. For a full list of their ice-creams (subject to availability), visit their site here.
When I visited the second time round, they had these "clouds" ($4), which were a selection of blackberry, blueberry or strawberry meringues.
On to the cakes that we did try! When Hannah visited together with us, we bought 3 separate cakes to try. We were trying our best to take pictures to showcase the beauty and perfection of each cake. So much so, that we asked permission from the girls at the counter if we could use the table in front of the Ingredient Wall to take pictures of our cakes.
They said yes, and the three of us began an awkward dance of steady hands, cameras shooting, and careful maneuvering of boxes to get the best lighting and angle.
At that point, Ian Burch came out and told us to use the transparent cake stand on the table. The cake stand that had an edible birthday card on it on display. He swiftly placed the edible card on another spot and told us to knock ourselves out. Talk about service!
Darren came out (on both my visits) to say hello, as he recognised me as his crazy stalker someone he met during the Sweet Architextural show.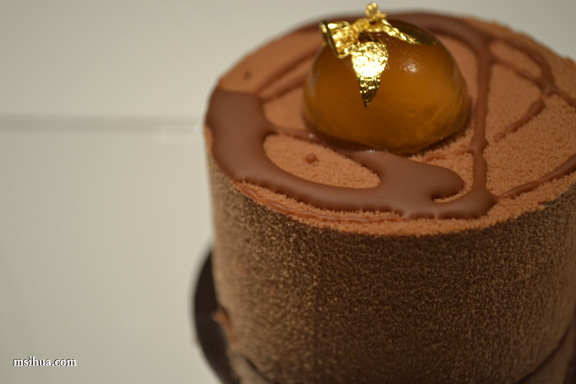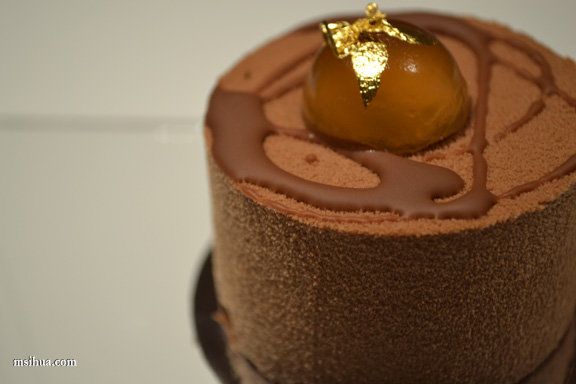 So what did we try? We got the Roast Pumpkin, Milk Chocolate, Bacon, Nut Butter (Spiced chocolate cream, crunchy bacon & pecan meringue, roast pumpkin mayonnaise, nut butter, maple syrup jelly spheres, milk chocolate mousse, and chocolate velvet spray).
I felt that the density of this was really light and fluffy. It was certainly unexpected, as I was pretty much hoping to bite into something really dense and packed with pumpkin and chocolate. We could definitely taste the pumpkin in it.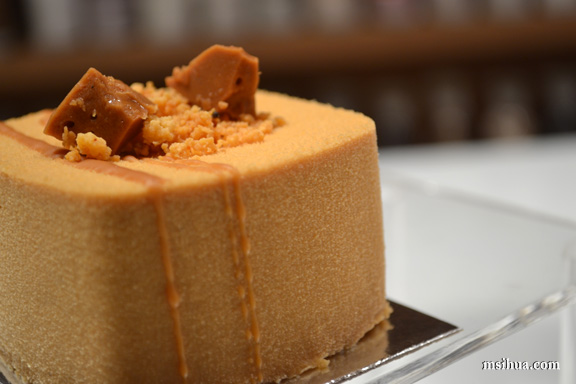 Hannah my Disney sing-a-long friend, chose the Caramelised White Chocolate, Banana, Macadamia, Passionfruit (Caramelised white chocolate & vanilla mousse, crunchy macadamia meringue, caramelised banana cream, passionfruit jelly, and caramelised white chocolate velvet spray) which happened to be our favourite of the lot. Well done Hannah! (10 points to Griffindor!!!)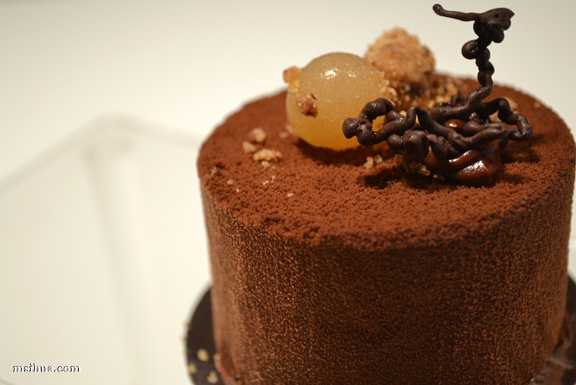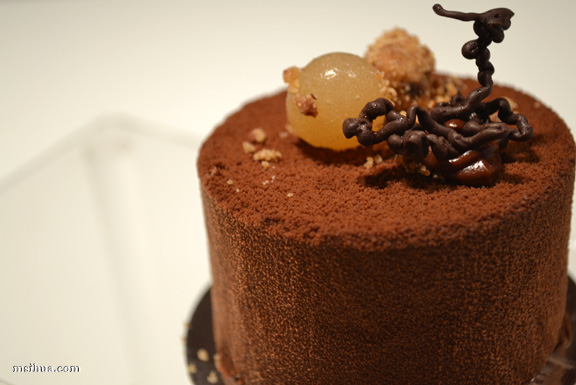 Dark Chocolate, Pear, Hazelnut (Tarakan 75% chocolate & vanilla mousse, caramelised pear cream, hazelnut cream, chocolate hazelnut brownie, B&P "Nutella", dark chocolate velvet spray, and chocolate twig), was the last cake we tried with Hannah. And again, whilst I expected this to be extremely heavy on the inside, it was extremely light and mousey. I can't say that this was too exciting in terms of flavour, but it definitely was what the description said it would be. The pear actually paired well with the chocolate and hazelnut.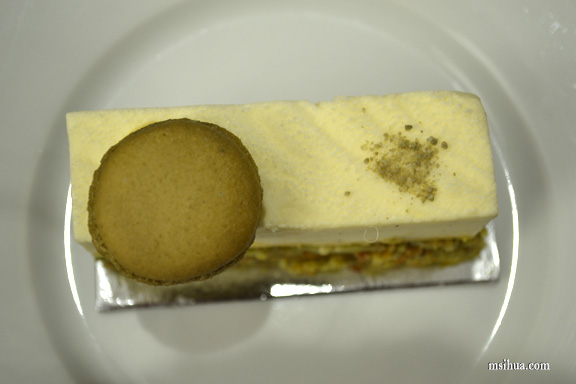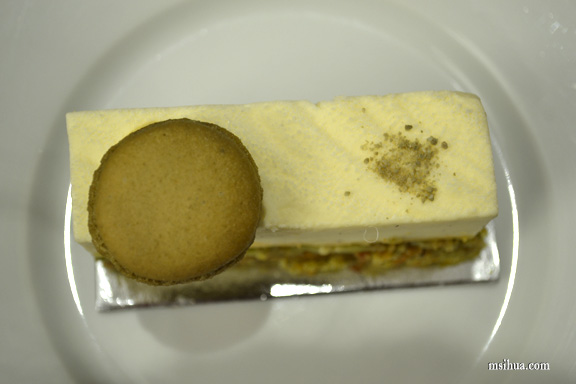 On my next visit, I bought a Vanilla, Pistachio, Lemon, Green Tea (White chocolate & vanilla mousse, pistachio cream, crunchy green tea meringue, lemon cream, pistachio cake, green tea macaron, and brilliant white chocolate spray). This has to be my favourite cake out of all the things I have tried from the awesome twosome.
THIS, would be what I would be standing on the balcony, sweetly calling out, "Vanilla, Pistachio,Lemon, and Green Tea, where art thou?"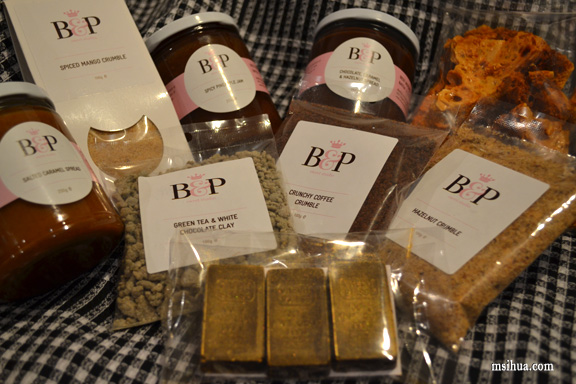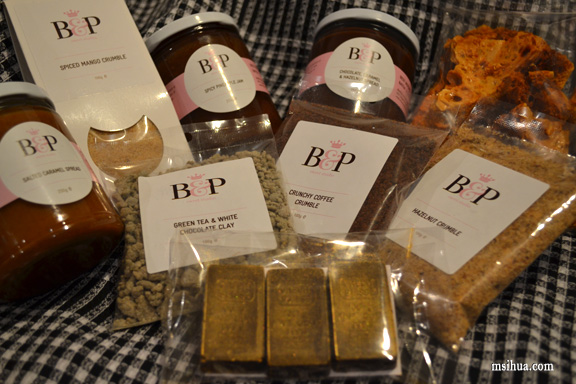 And, haha… errr… I think we did get carried away with buying up almost everything in store. Seriously, you have to get in there to understand why I couldn't stop. Walking into the Sweet Studio is like a drug.
Our stash: Coconut Ice Cream, Salted Caramel Spread, Spicy Pineapple Jam, Chocolate Caramel & Hazelnut Spread, Spiced Mango Crumble, Green Tea & White Chocolate Clay, Crunchy Coffee Crumble, Hazelnut Crumble, B&P Chocolate Gold Bullion Bars ($9.00) and City Honey Honeycomb ($5.00). Ice creams are $12.00 for 500ml's or $4 for 155ml's. Most jams & spreads are priced between $10.50 to $11.00. Crumbles and toppings are $6.00 each.
I haven't tried everything that I've bought as yet. I've been quite busy lately, and have fallen quite ill as well. I'm not going to waste these goodies on a numbed palate. I want to be on my best form, before devouring all of these (possibly not all at once, but who knows?)
Will I head back? Of course.
Can I compare the B&P Sweet Studio with any other Dessert specialties shops anywhere? Not really. At the moment, they are really one of a kind.
And Ian and Darren, if you do read this, could you make us our wedding cake? LOL… I'm kidding (no, really I'm serious!)…
*Disclaimer: All ratings are purely based on my own experiences and how I feel about the service, food and quality at the time of visit
Food/ Cuisine: Desserts, Cakes & Sweets
Dining Style: N/A (Take away only)
Overall Rating (Based on purchased items only): 7.5/10
Restaurant ambiance: N/A (Take away only)
Service/ Attitude: 8.5/10 (staff were informative and helpful)
Value for money: 7.25/10
Address:
647 Chapel Street
South Yarra VIC 3141
Tel: (03) 9827 7060
Website: http://www.burchandpurchese.com/
Sweet Studio is open
Tuesday to Sunday, 10:00am to 6:30pm

How to get there: