I'm one of those people who loves watching the sky. And I'm serious about it.
I can gaze for hours looking at a clear sky, watching the stars sprinkle across the galaxy, at clouds flying by. When I stare into the sky, there's no one else around. It's just me and the universe.
I don't stare at the sun though. You don't want to do that.
*kids DO NOT stare at the sun*
One of my favourite things to stare at are the great cumulonimbus, otherwise, more commonly known as the cumulus nimbus. For you others who don't give a damn about clouds, I'm talking about rain clouds.
They always remind me of great puffy, fluffy cotton candies of doom and destruction. Remember kids, puffy and fluffy on the outside, cold with lightning inside.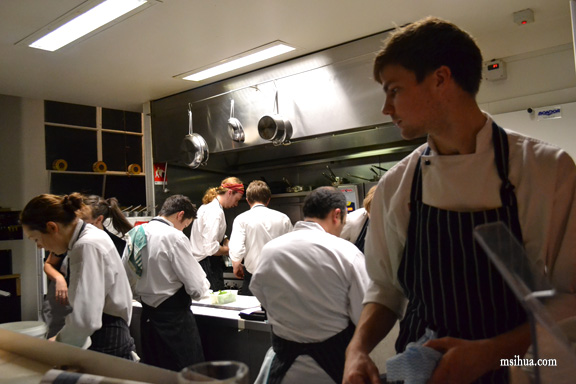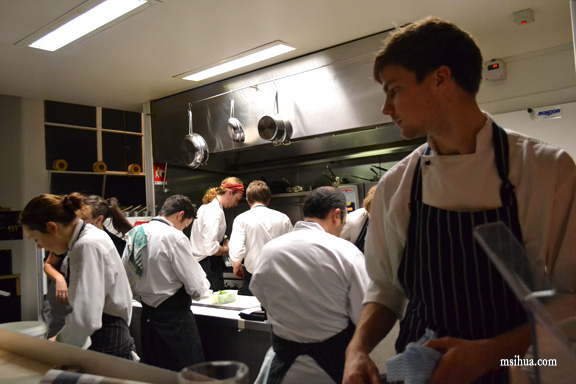 Recently, the Boy (I really should start changing his title soon), decided to pay a visit to another of Andrew McConnell's establishment in the city. Having visited Cutler and Co in the past and most recently Golden Fields, I had extremely high expectations of the food served at Cumulus Inc.
It's very hard to find a table in this joint as they don't take reservations. Yes, one of those establishments. Sometimes, as I walk past at night, I see people queuing up to get in. Not wanting to be one of those people, the Boy and I decided to visit them early. Right after work. 6.00pm early.
We were looking for a restaurant to serve us good food in reasonably quick turnaround time, as we were going to catch the 8.00pm showing of Love Never Dies (Phantom Part II).
Lo and Behold! When we arrived, we were one of the first few patrons. We were greeted reasonably quickly, and escorted to dine at the front row seats to the kitchen. The very fun and lively kitchen-bar area.
I absolutely loved this spot, I could spy and watch the kitchen the whole night! Rubbing my hands in glee (and the cold from the outside), the Boy and I quickly perused the menu and placed our orders.
Alas, the dish I had really wanted to try, the pig's head rillette was unavailable that night.
We decided to start simple. We had the Soft Shell Mud Crab ($20.00) which although really crispy, I found it to be quite high on the salt content. I definitely needed to squeeze a lot of the lime to cut through it.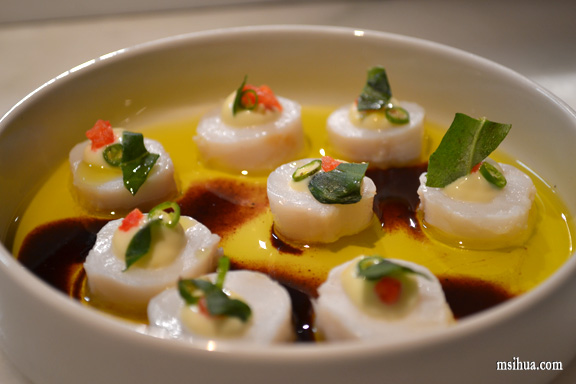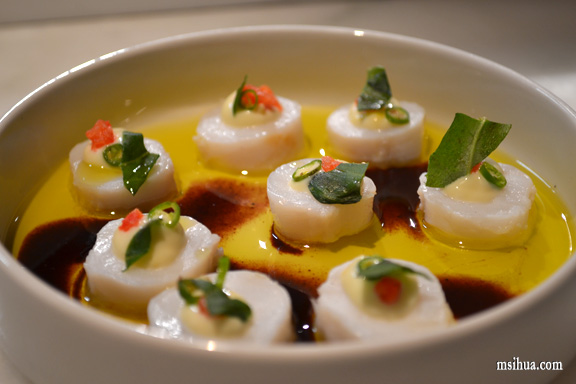 Slow Cooked Octopus with Aioli, Dehydrated Olives ($10.00) was next. This was pleasantly light and simple. Despite being served in a plate of oil, it was actually very light and refreshing. I especially loved the little bits of birds eye green chilli that came with it.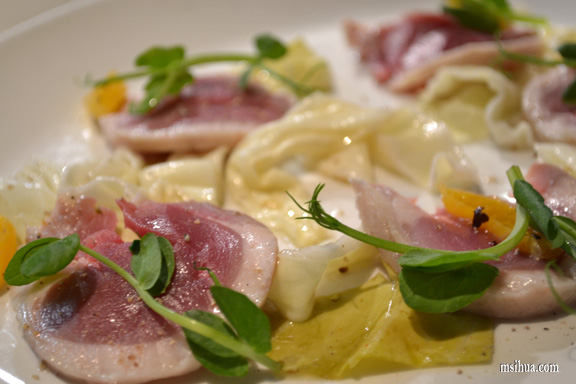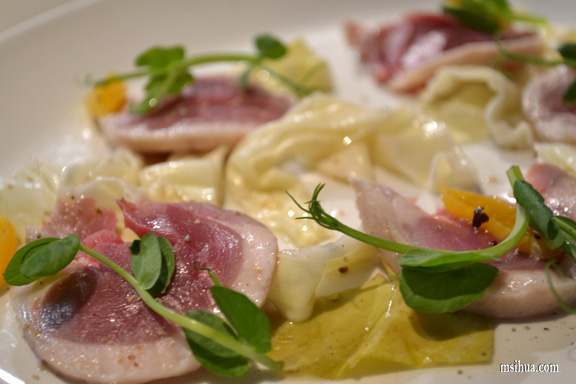 And to replace the void which the pig's head left, we decided to order the Salt Water Duck, Pickled Cabbage and Mandarin ($17.00) upon our waitress' recommendation.
I really loved this dish, but the Boy couldn't find the same enthusiasm, and gave me his whole share. I know! I love this man! The texture of the duck was quite chewy, which was just as well, as I really wanted to conserve the taste of the dish for as long as I could. It was a very Asian inspired dish in my opinion.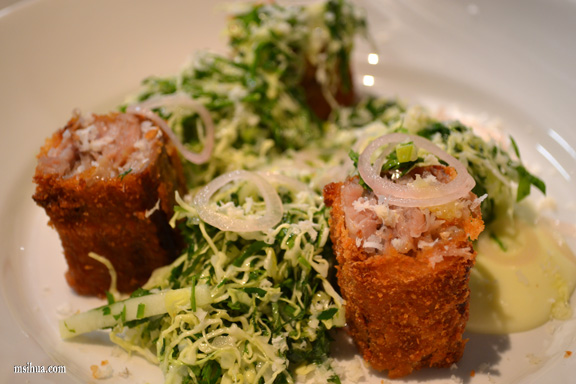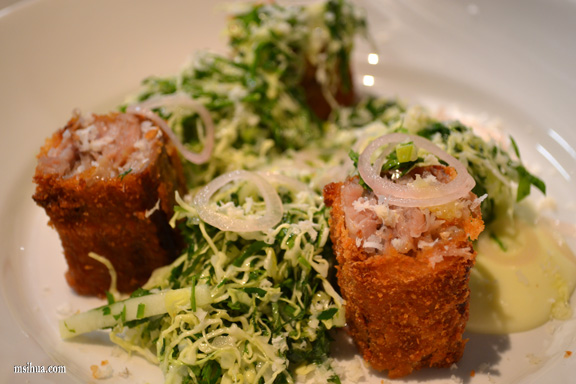 And then, onwards to my favourite dish of the night! Mustard Crumbed Pig's Tail, White Cabbage, Poached Lemon & Apple ($23.00).
The crumbed pig's tail was just so light in texture. Paired with the fattiness from the tail, it was just so damn delicious.
I also have to mention that the white cabbage salad that came with it was so delicious, with bits of onion rings and finely diced mint helping meld the entire dish together.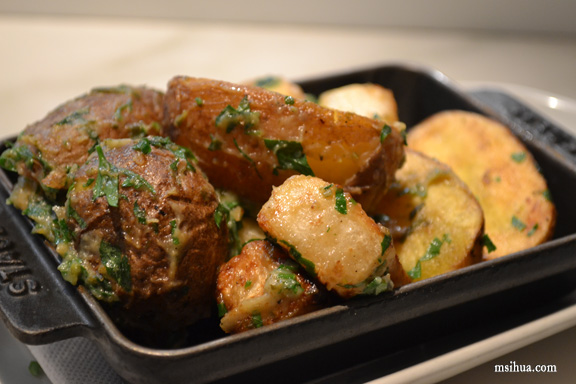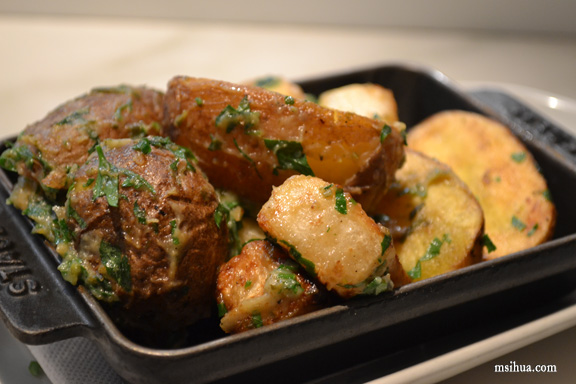 The Boy on the other hand, fell in love with the Roast New Potatoes & Celeriac, Confit Garlic & Rosemary ($9.00) side we chose to go with our pig's tail.
He loved it so much, he tried to replicate it for our dinner one night. I must say, it came close, but barely. The one we had in Cumulus was just that much crunchier, with bits of flat leaf parsley and smashed garlic coating the potatoes itself.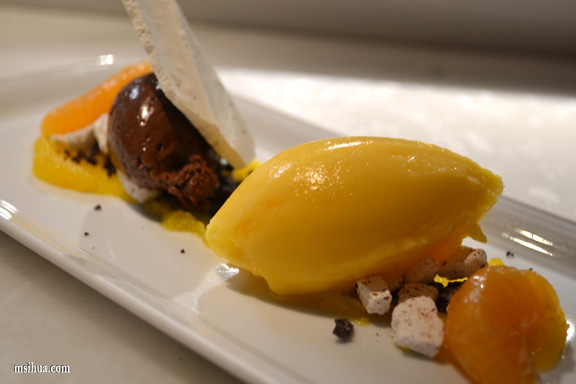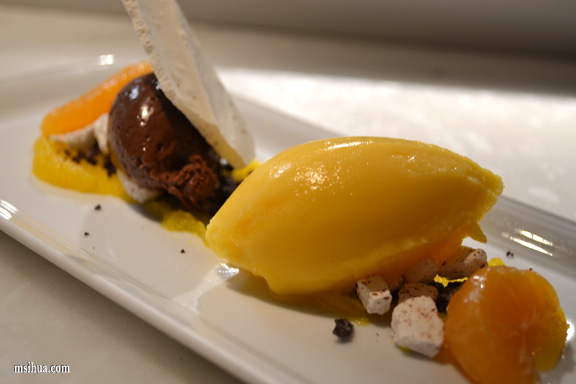 And of course, this review wouldn't have been complete if we didn't do a dessert. It's an Andrew McConnell establishment after all. To ignore dessert would be quite blasphemous.
Mind you, by this stage, the Boy and I were about to burst. We didn't want to overeat and fall asleep in our musical after all. But fat chance to that (hahaha, pun fully intended!)
So we chose the really light sounding Mandarin Sorbet, Soft Chocolate, Clove Meringue ($17.00) to cleanse our palate.
I'm just so happy that we did. I would not have forgiven the Boy if he didn't feed me that dessert. That mandarin sorbet was just so rich. Yes, the mandarin was rich. The chocolate was soft and made me just want to curl under the bench top in happiness.
Would I head back to Cumulus? Yes, indeedy deedy doo, I shall. That is if I can get a seating. I much prefer this than his other two places, but I would still die for Golden Fields' lobster roll.
As we were leaving (slightly before 7.45pm), there was quite a crowd gathering in their bar area, waiting to be seated. So, if you want to have a taste of Cumulus Inc, best get in there early!
*Disclaimer: All food ratings are purely based on my own experiences and how I feel about the service, food and quality at the time of visit
Food/ Cuisine: Modern Australian
Dining Style: Restaurant
Overall Food Rating (Based on the Dining style): 8/10 (They lost out on an extra 0.5 due to the really salty crab)
Restaurant ambiance: 7/10
Service/ Attitude: 8/10 (Our waitress was really very helpful and polite)
Value for money: 7.5/10 (On par with everywhere else)
Address:
45 Flinders Lane
Melbourne VIC
Tel: (03) 9650 1445
Website: http://cumulusinc.com.au/
Cumulus Inc. is open
Monday to Friday, 7am to 11pm
Saturday & Sunday, 8am to 11pm
How to get there: