Ahh… Lamb…
The meat of the season really. Remember the lamb campaign advertisements?
I really like lamb and with Spring upon us, I declare every night a lamb night! Hoorah!
The following recipe is pretty much inspired by one of my favourite dishes in Izakaya Den. I have been there twice now, once with my foodie friends and the second time round with family.
I bring to you, the very awesome, lip smacking, gun totting, mind blowing…
Miso Lamb Ribs!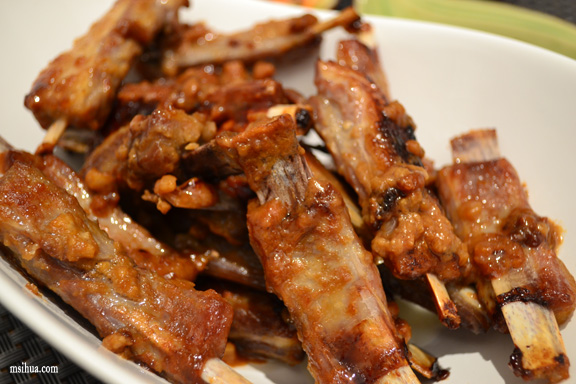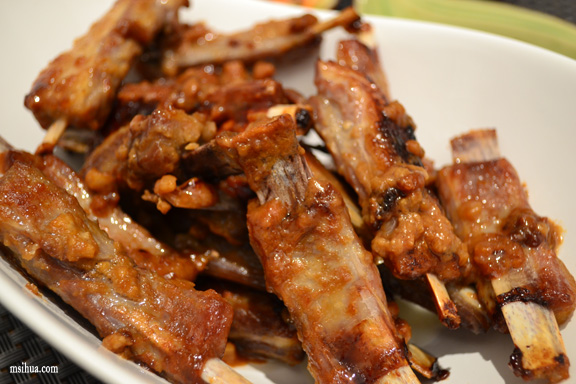 This is really quite a simple dish to make, provided you have the ingredients already in your pantry. Luckily for me, I did!
Lamb ribs are not only delicious, they are also relatively cheap in comparison to other ribs sold at the butcher/supermarket/markets.
The reason why lamb ribs are so delicious is probably because they are high in saturated fats and cholesterol. Something this good is probably not great for you, but heck, we only live once 🙂
It's easy to cook and easy to eat. It's also great as finger food at a party!
I like to snack on this whilst watching the television as well. I'm a simple girl really 🙂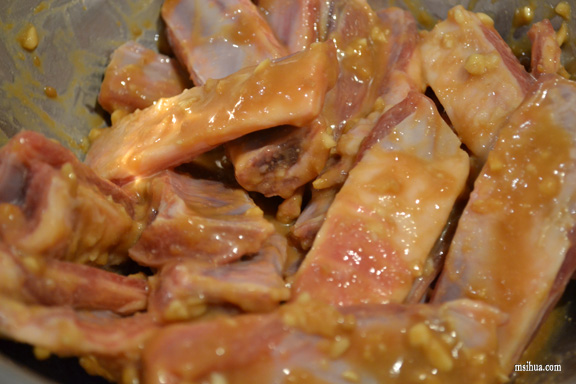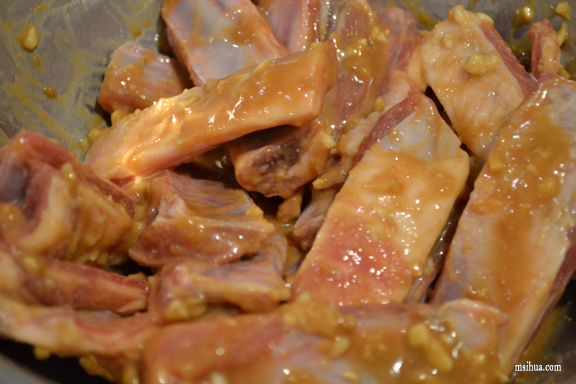 Ingredients
500 grams of Lamb Ribs
3 cloves of Garlic (finely chopped)
5 cm of Ginger (peeled and grated)
3 Tablespoons of Mirin
2 Tablespoons of Sake (or Dry Sherry)
2 Tablespoons of Soy Sauce
2 Tablespoons of White Miso (you can use Red Miso, but I didn't have any in my pantry)
1 teaspoon of Brown Sugar
Procedure
To make the Miso marinade, simply put together all the ingredients into a mixing bowl. If you prefer to have a smooth marinade, blend the mixture in a food processor. I actually quite like having the chunky garlic bits, so I didn't.
Marinate the lamb ribs with the Miso marinade for at least 2 hours and keep chilled in the refrigerator. Marinating overnight would give you a more intense flavour.
To cook, simply heat up a bit of olive oil on the grill pan on high heat. Remember, you don't have to use much oil at all, as the lamb ribs contain much fat which is seared during the cooking process.
Place the lamb ribs onto the grill and cook for around 2-3 minutes each side. Alternatively, you can do this by cooking the ribs in a griller or in a toaster oven for about 10 minutes (turning the ribs over at the 5 minute interval).
I prefer using the toaster oven as it is cleaner and prevents the oil from leaping out at me 🙂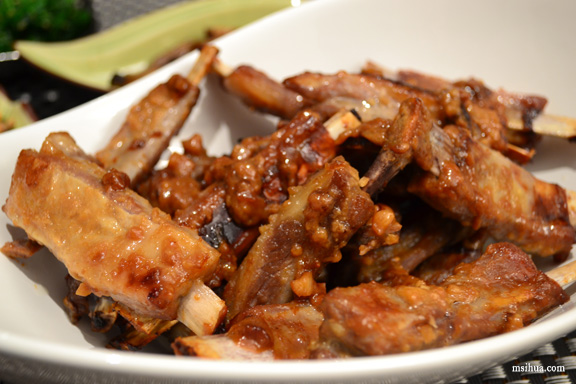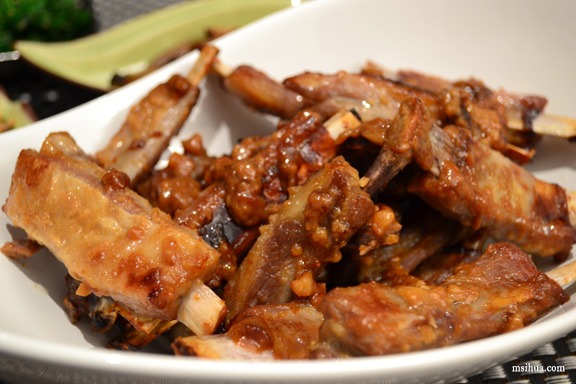 Once the Miso lamb ribs are cooked, merely plate them up and serve.
Quick and easy, this is certainly a finger lickin' crowd pleasin' dish.
So tell me my wonderful readers, what is your favourite lamb dish?