I am so immensely backlogged in my post and discovered to my dismay that I am quite lagging in spilling the beans to the newest tea lounge in Melbourne.
Teas? In a lounge? I-Hua and teas? What is going on here?
Many questions arise, but I will answer, "yes" to the first three and "read the post" for the last question.
Even though I absolutely love my coffees and will die without one a day (I am a drama queen after all), I really like my teas as well.
The Boy for one enjoys teas more than any other beverage in the world, so I guess this is where my love for teas come from.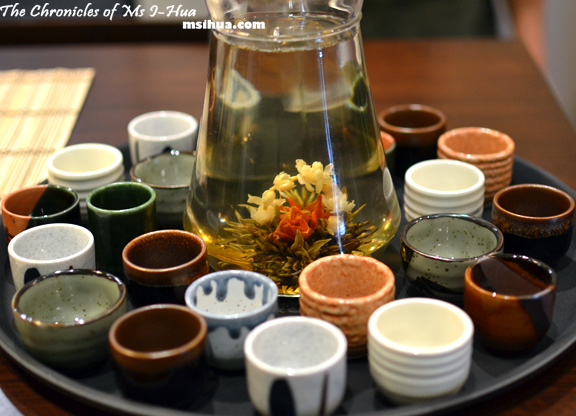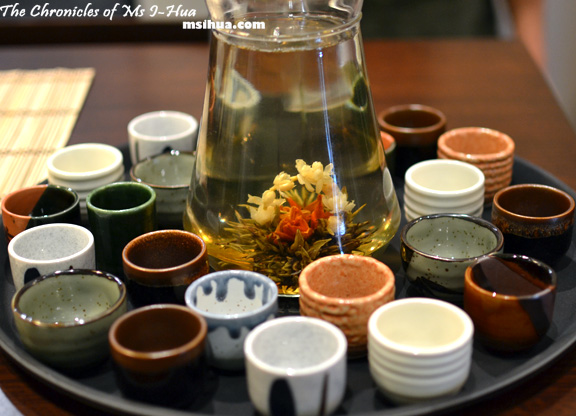 [Green Tea Flowering Blooms]
So folks, there is a new kid in town. A new Filipino tea lounge. Cherrie and her brother Ed have taken one giant leap and decided to open up a tea lounge focusing on beautiful teas and classic Filipino food in South Melbourne.
They have also taken most of the food they know from the Philippines and their mother's kitchen (of course) to share with the Melbourne community.
I for one am glad they have done so as I'm not quite versed in Filipino cuisine but have been assured by a few Filipino food bloggers that this is authentic 🙂
I also only know how to say, "Kamusta?" and "Mabuti" ("How are you?" "I'm fine") in Tagalog, a phrase which I am very proud of thankyouverymuch.
The Boy and I were lucky enough to be invited along with a whole bunch of other blogger friends to the opening of Dahon Gourmet Tea Lounge. Dahon means "leaf" in Tagalog, so it's a very apt name for a tea lounge, don't you think?
Located in the South Melbourne Central building, it's really easy to find a parking lot and walk up the escalators to the shop.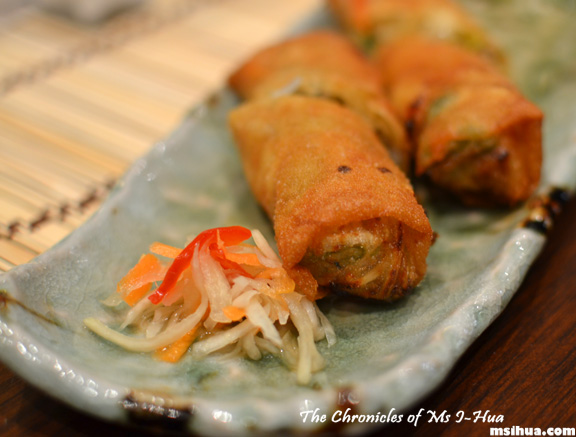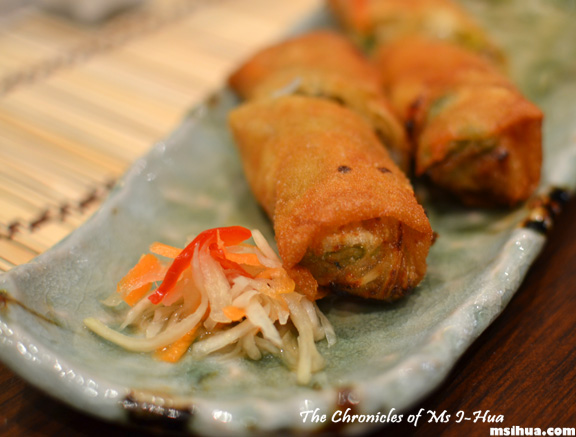 We were greeted with Lumpia (Filipino springs roll filled with pork and vegetables. Served with pickled green papaya and a soy sauce and vinegar dipping sauce).
I must have missed out on the dipping sauce when I tried this, so I didn't think it had enough flavour, but I did love the crispiness of the spring roll skin.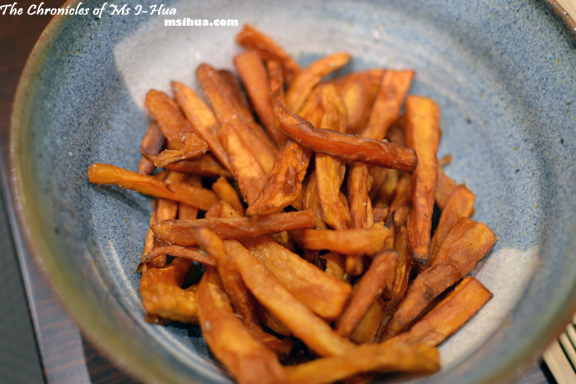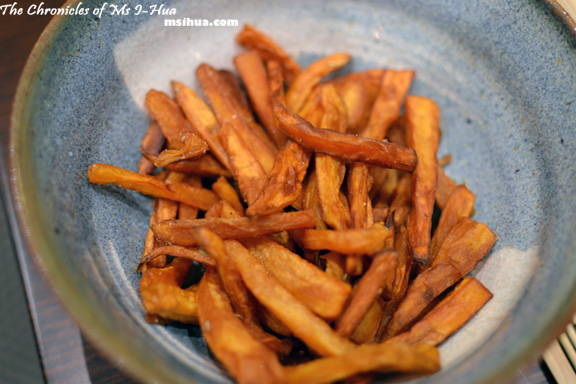 The menu that night for us was a Tapas-Cocktail-esque menu which consisted of Iced Teas, Hot Teas and an assortment of items from Dahon's menu. 
For the iced teas, we were given choices of Lychee and Berries, Apple, Citrus and Mango and Passionfruit. I was torn between the delicious lychee and berries as well as the apple and kept going back for more to determine my choice. At the end of the night, I still couldn't decide 🙂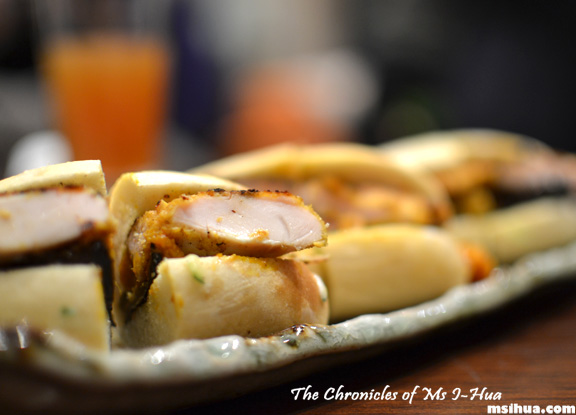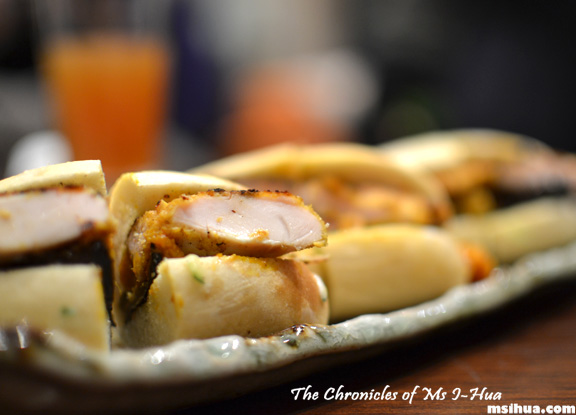 Spice Crumbed Chicken Baguette (crunchy chicken tenderloins in a spiced crumb coating, roasted vegetables with lashings of cucumber yoghurt)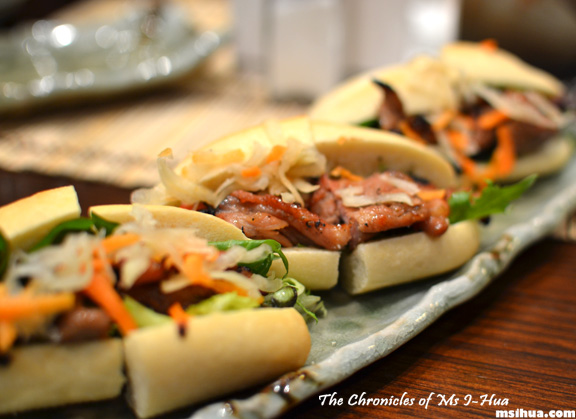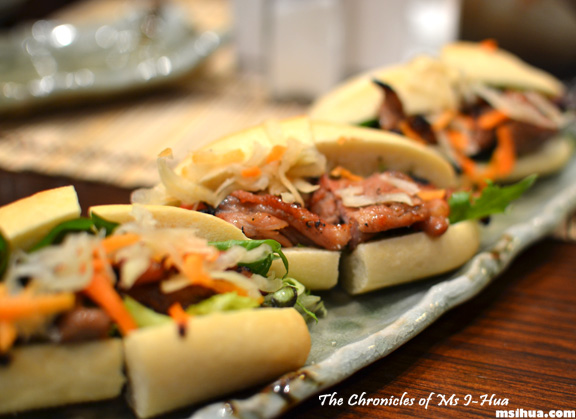 Pork Baguette (char grilled Filipino BBQ pork served with pickled green papaya)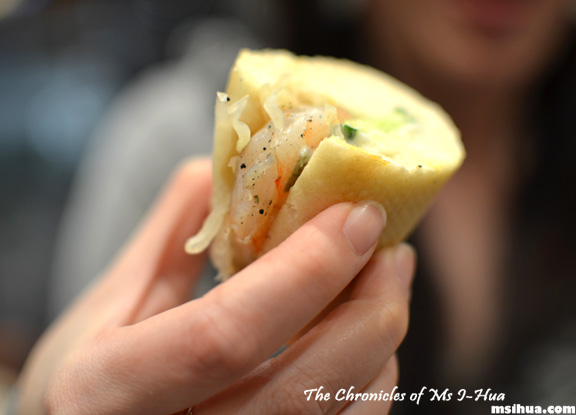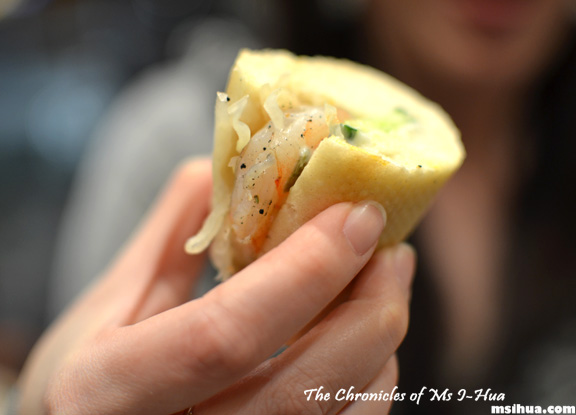 Prawn Baguette (succulent prawns, pickled green papaya with slices of cucumber and pickled mayonnaise)
Is your mouth watering as much as mine did when I tried each of these delicious baguettes?
My favourite was definitely the BBQ pork. Succulent and juicy, reminiscing this is just making me want to go back for more!
I like how cheerful and calming the interior of Dahon makes me feel.
The Boy and I returned another time and spent a nice quite hour or two sipping our tea and feeling very relaxed after a very busy morning 🙂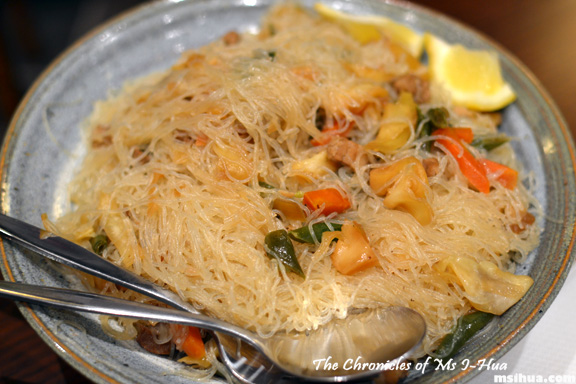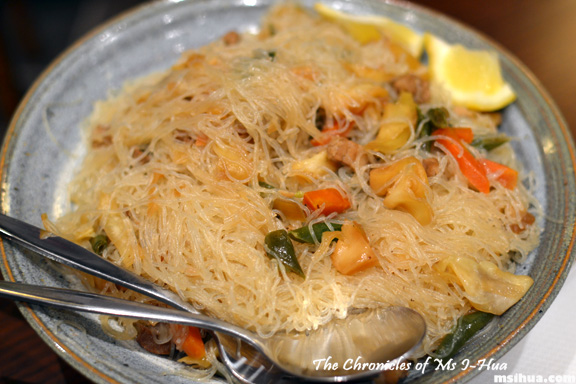 Pancit Bihon (rice vermicelli noodles sautéed with pork and a combination of vegetables). This was one of my favourite dishes.
It closely resembled one of my Grandma's dishes and brought back many flash backs of sitting in my grandparents' kitchen eating all the good food they would be churning out 🙂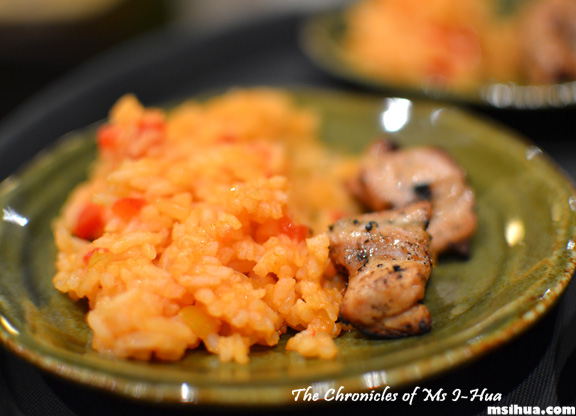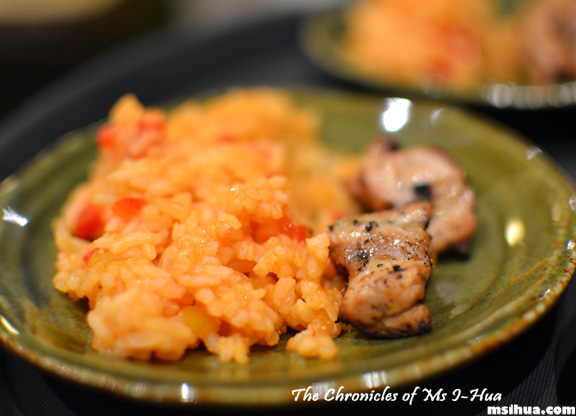 Java Tomato Rice (with grilled adobo chicken thigh pieces). Adobo!!! This has got to be a classic, if not, the classic Filipino dish and Dahon's version is certainly to die for. YUM!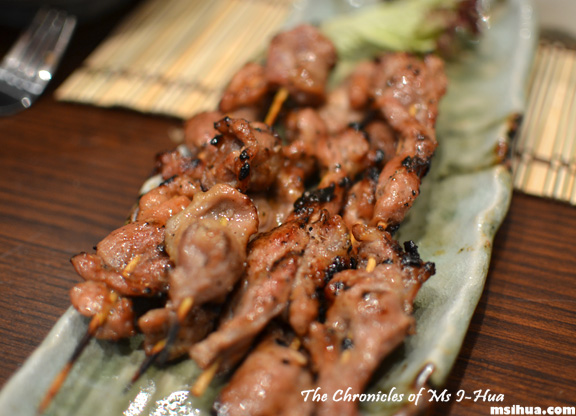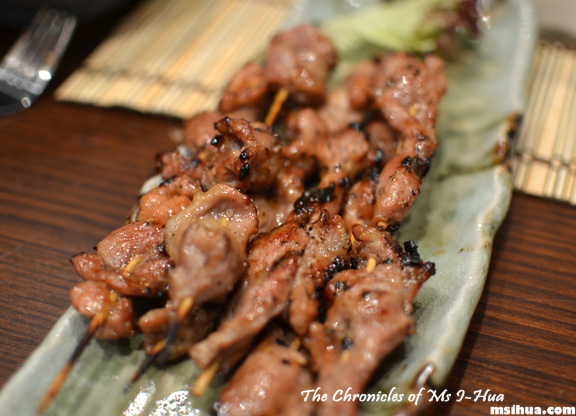 BBQ Pork Skewers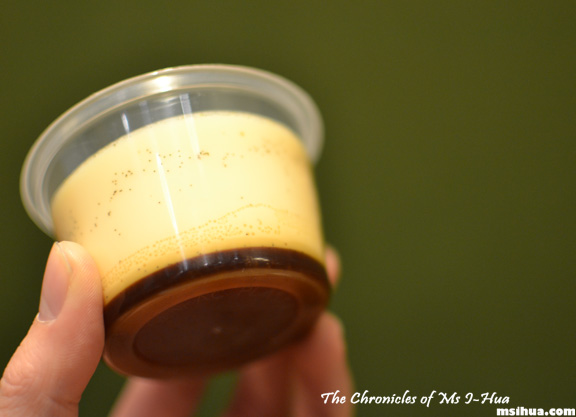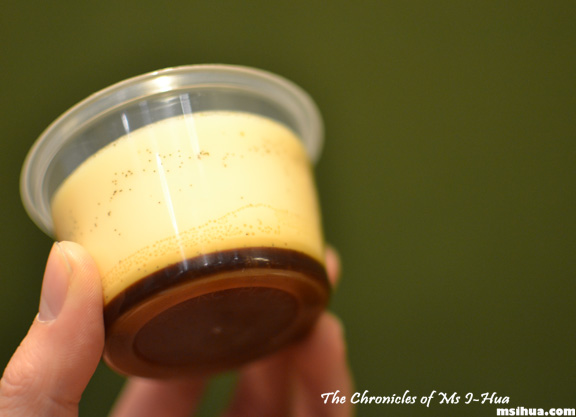 Leche Flan
We finished with some Flan and Cupcakes.
I found the flan a bit too sweet for me, but was saved with the hot teas. I'm just not very much a sugar person anymore. A good thing really! The Boy on the other hand, loved it!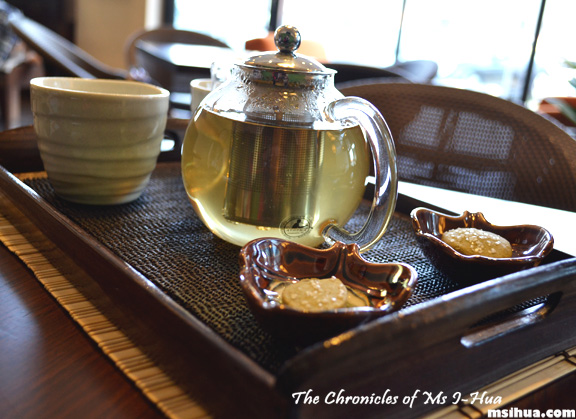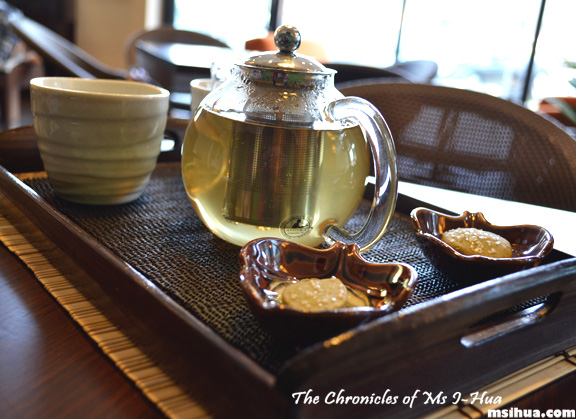 When we went back to Dahon for some relaxing time, we ordered the Dahon Fusion Tea (Relax – Drink for relaxation and to relieve insomnia. A combination of lime blossom, peppermint, rose petals and calendula petals).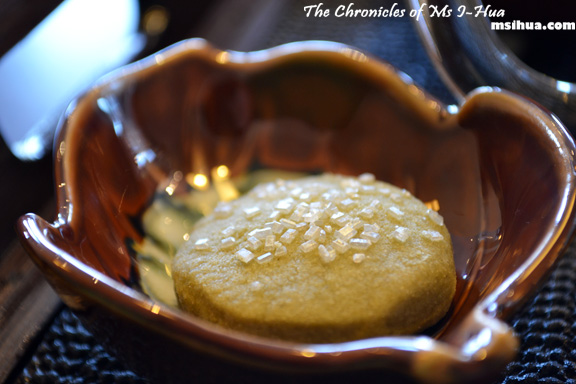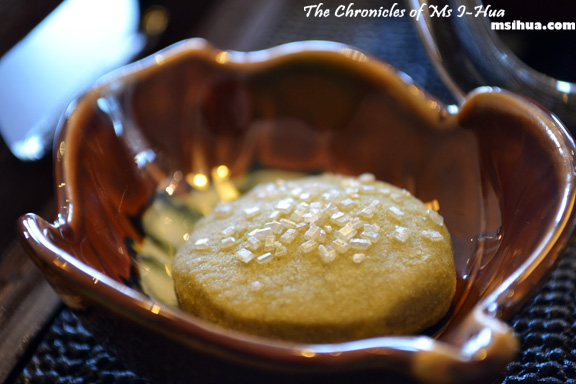 It even came with a cute green tea butter cookie. I ate the Boy's as well, since he didn't want his. HOHOHO.. what an idiot!
On another note, Congratulations Cherrie and family for taking the plunge and taking a step closer to achieving your dream! I'm so proud of you!!!
[Ms I-Hua and the Boy dined as guests of Dahon Gourmet Tea Lounge for their opening night]
For more information, Dahon has a Facebook page.
For other reviews of Dahon, please see:
Food Rehab
Iron Chef Shellie
My Food Trail
I Eat Therefore I Am
Foodie About Town
*Disclaimer: All food ratings are purely based on my own experiences and how I feel about the service, food and quality at the time of visit
Food/ Cuisine: Gourmet Tea & Filipino Cuisine
Dining Style: Cafe

Address:
Shop 5
111 Cecil Street
South Melbourne VIC 3205
Tel: (03) 9696 5704
Website: http://www.facebook.com/DahonTeaLounge
How to get there: