When I was much younger, a long long time ago 😛 I would have Madam Mummy buy me yoghurt from the local supermarket.
Now, living in Malaysia, yoghurts are as foreign as peaches and cream. And I love peaches and cream, and would always get either the peach flavoured yoghurt or the strawberry flavoured yoghurt.
Happily, I would tear open my yoghurt pack and proceed to pour the contents away.
Yes. I would pour them away.
Into little popsicle molds (Hah! I got you there!)
I would then proceed by putting them into the freezer until it turned into frozen yoghurt! In the deep humid tropical weather, I can attest that this was a brilliant thing for a 5 year old to conceive! I was born to love food, I tell ya!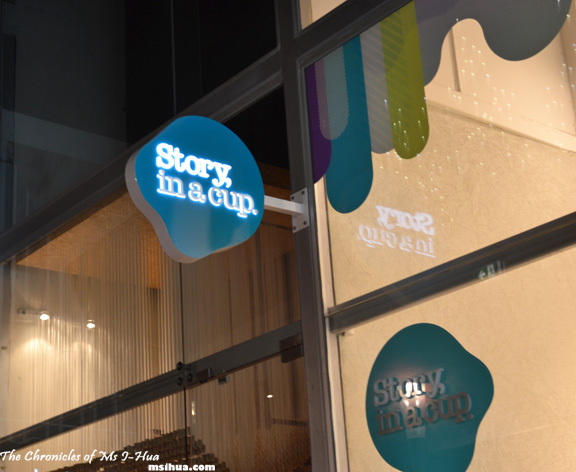 Nowadays, I (luckily) no longer have to resort to such activities.
Because my friends, these days, there are frozen yoghurt bars.
One evening, prior to meeting Ms Tinymouse and the Librarian for dinner, I insisted that she had to meet me at the ground floor of her work building to visit Story In A Cup.
She however responded nonchalantly, "Oh, I go there quite often, have you not been there before?" *ahem*
According to their website, they are Australia's first premium self-serve frozen yoghurt and smoothies bar.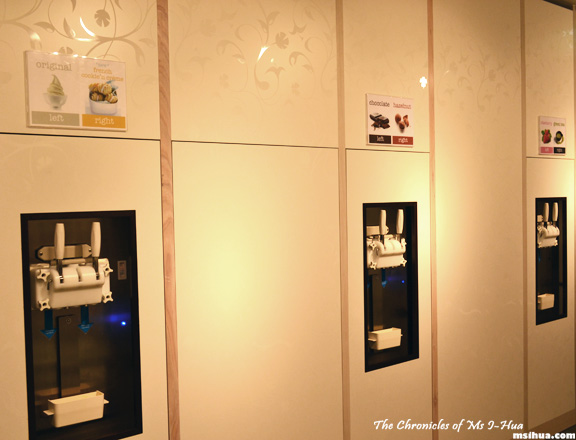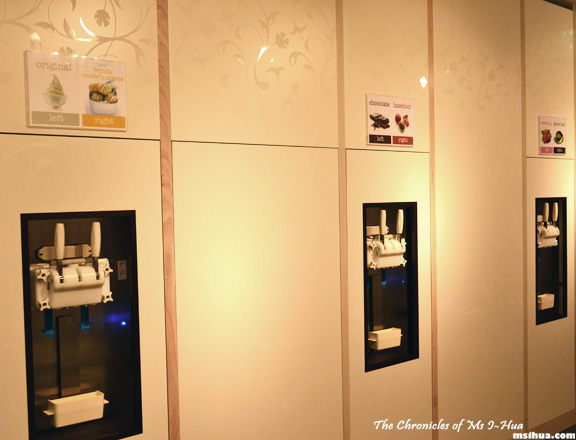 At Story In A Cup, you are able to pick and choose the flavour of your yoghurt. On the day that we were there, we had the option of Original, Chocolate, Hazelnut, Mango, Coconut and Strawberry.
Being an absolute fanatic when it comes to hazelnut (I CAN FINISH A WHOLE TUB OF NUTELLA IN ONE GO!), I immediately grabbed a cup and excitedly started to dispense some smooth and creamy yoghurt.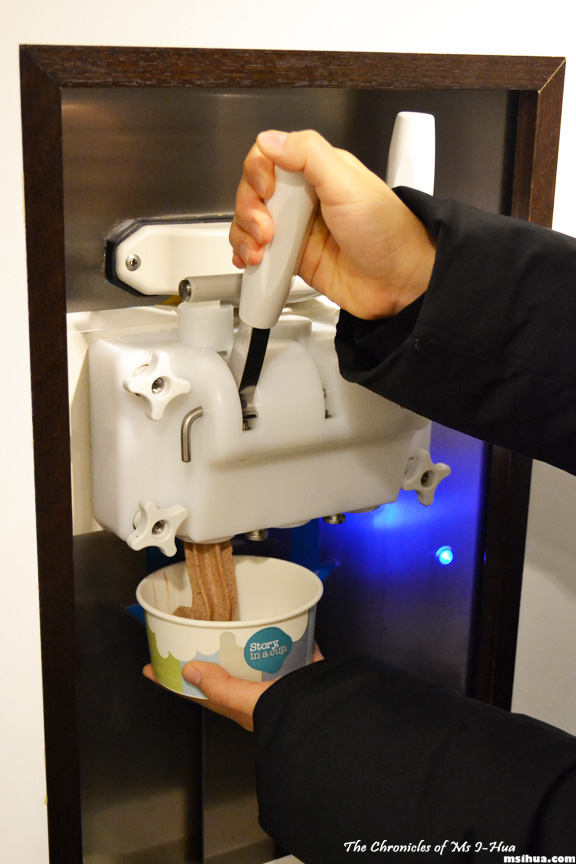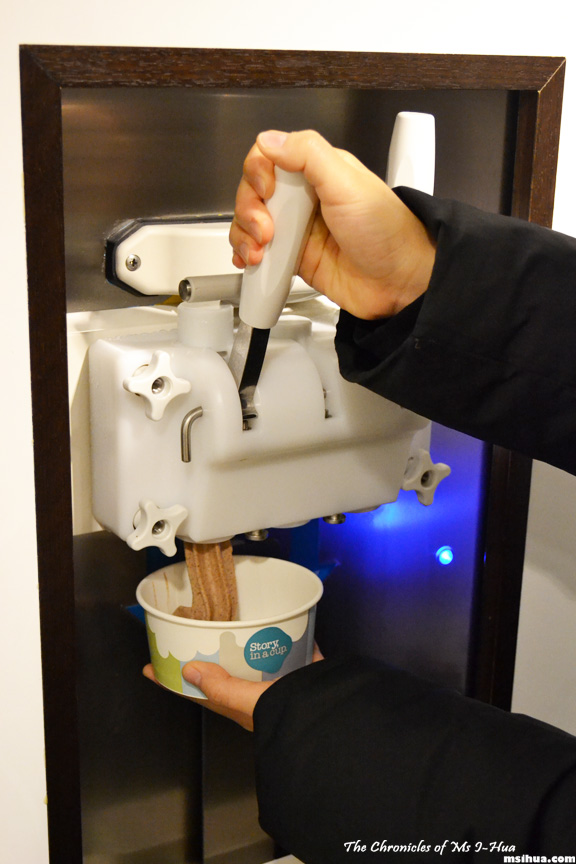 In the shot above, Ms Tinymouse shows you the first step (once you've selected the size of your cup) of carefully moving the cup in a circular motion whilst pulling the handle/lever.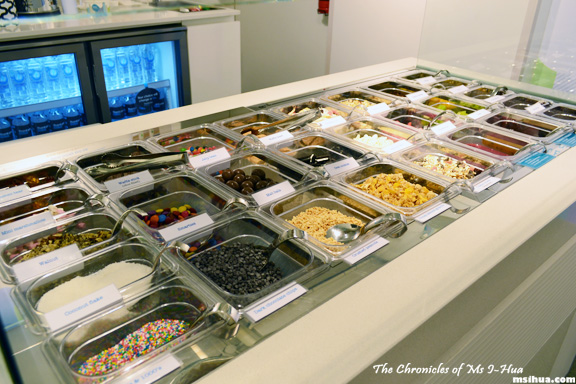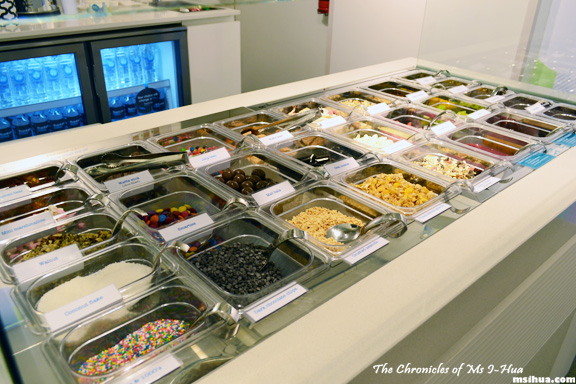 The second step was a little harder and I couldn't for the life of me decide which topping to put on my yoghurt.
I was aiming for one of everything, but Ms Tinymouse pointedly mentioned that not everything will go together or match the flavour of the hazelnut *pfffttt*
The staff on duty at the time was not only extremely helpful (as I'm a complete n00b at this) in explaining the concept and steps, she also very patiently waited for me to make my decision and allowed me to take all the pictures I wanted.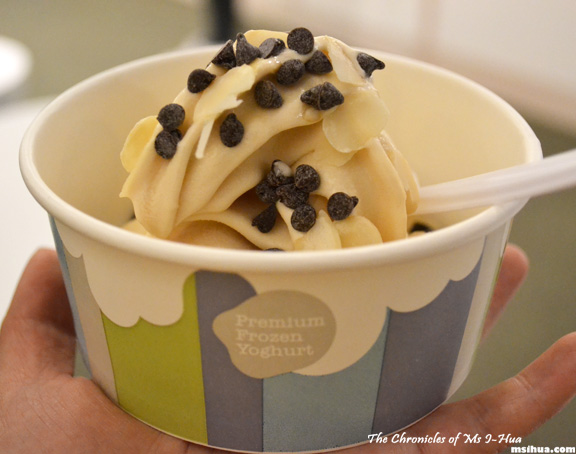 In the end, I picked almond slivers and dark chocolate chips to top off my yoghurt as I really wanted to enjoy the flavour of the yoghurt and not have it too bogged down with toppings.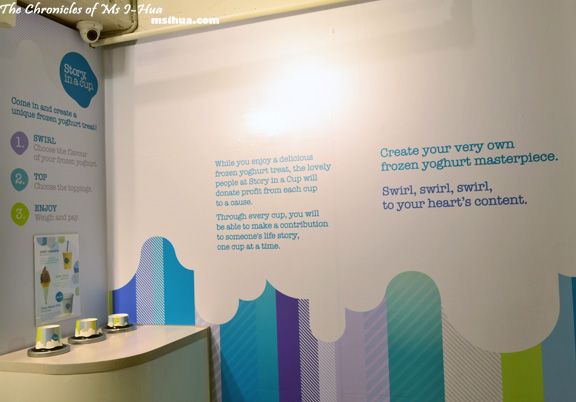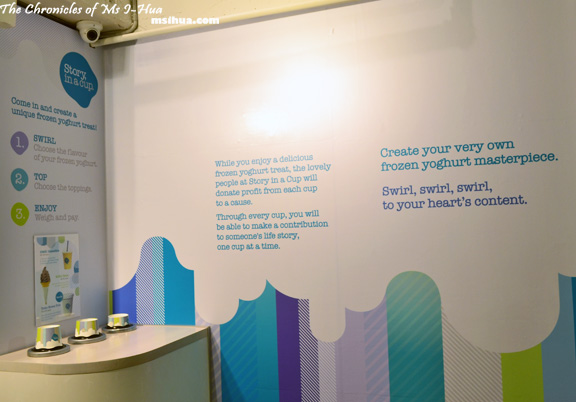 The concept is simple, really. You get your customers to do all the work whilst having fun at it. I know I really enjoyed it.
Story In A Cup has a much better approach with their instructions on how to work their self-serve system.
Step 1
Swirl – Choose the flavour of your frozen yoghurt
Step 2
Top – Choose the toppings
Step 3
Enjoy – Weigh and Pay
However, if I didn't have Ms Tinymouse there with me, I would have gotten carried away with the swirling of the yoghurt and going crazy with the toppings.
The payment? It goes by weight. So if you do get carried away, you'll just have more to pay 😛
What's even better than frozen yoghurt?
For every cup you enjoy at Story In A Cup, you not only get a stamp on your loyalty card, but the charitable people at Story In A Cup will donate a percentage of the profit from each cup sold to a cause!
As they say, "Through every cup, you will be able to make a contribution in someone's life story, one cup at a time."
*Disclaimer: All food ratings are purely based on my own experiences and how I feel about the service, food and quality at the time of visit
Food/ Cuisine: Frozen Yoghurt & Smoothies
Dining Style: Dessert Parlour
Overall Food Rating (Based on the Dining style): 7/10
Restaurant ambiance: 7/10 (You can either dine in or take away)
Service/ Attitude: 8/10
Value for money: 7/10 (I think for my serve of a 155grams, I paid around $3.50)
Opening Hours:
Monday to Friday, 11am – 7pm
Saturday, 11:30am – 6pm
Address:
4/9 Yarra Street
South Yarra VIC 3141
Tel: (03) 9827 3777
Website: http://www.storyinacup.com.au/
How to get there: