Now my dear friends, I would like to share with you a gem we found on Christmas Eve. Okay, we didn't quite so much found it as I'd stalked Bryan's blog on that day, and decided to trust our friends in their judgement and just went for it.
Before heading off to Hawthorn, there was a constant Twitter stream between Bryan, Ashley and I about what to order and what to drink.
Needless to say, when I got there, it all went out my head and I just squealed excitedly at the cute decor.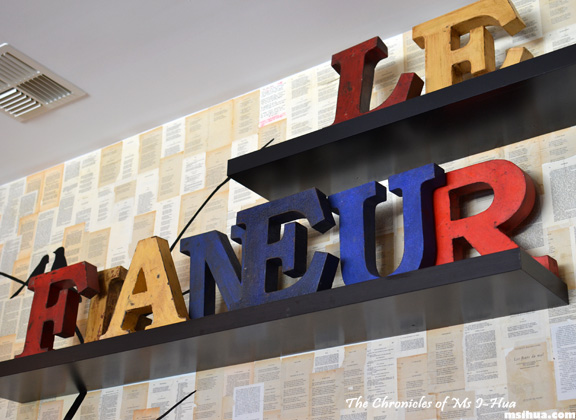 It was a hot Christmas Eve and the Boy and I decided we'd go for a cooling graze in terms of food and coffee.
When I looked at the menu, I couldn't help but want to order a little of everything as it all sounded fabulous.
What does 'Le Flaneur' mean you ask? Well, you'd have to pay it a visit to read the meaning on their menu 🙂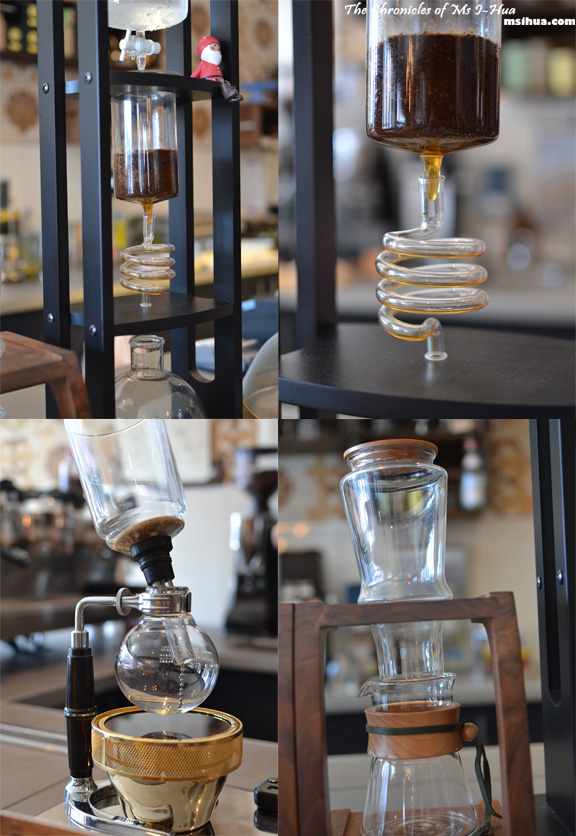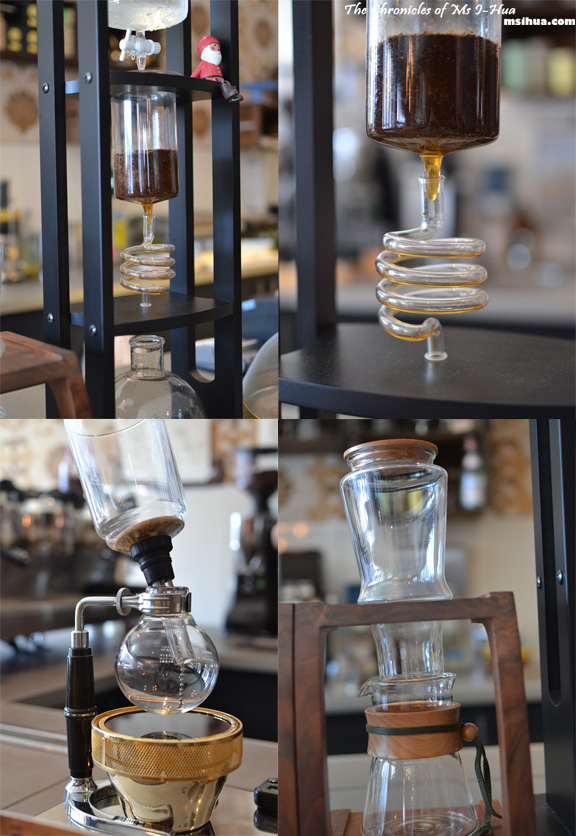 Whilst the Boy was tossing between a vegetable terrine and waffles, I got up and had a wander around the cafe.
The owners and barista seemed quite nice and friendly and didn't mind me much pointing my camera in their faces 😛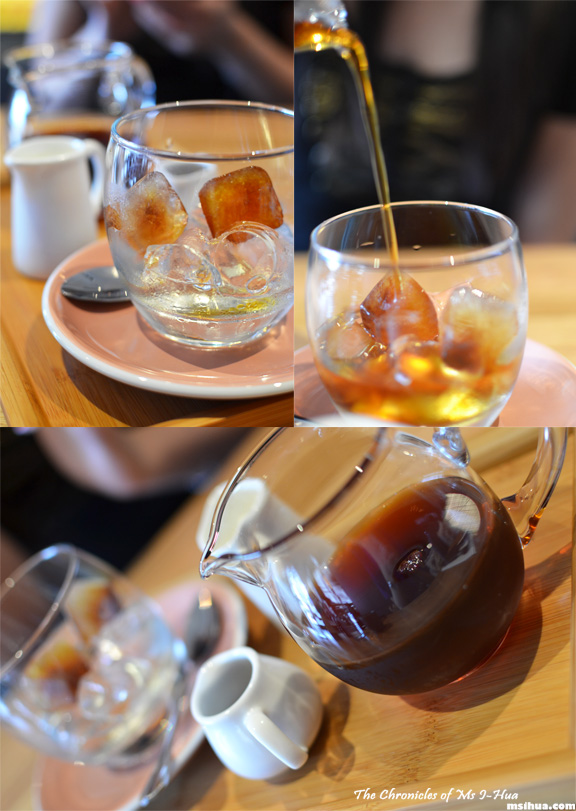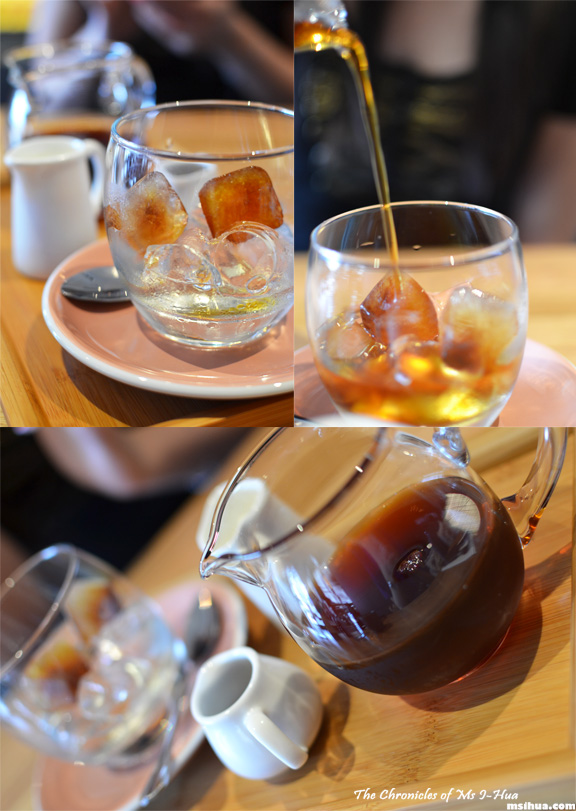 Once we ordered our meals, we sat back and eagerly awaited my cold drip. I'd only experienced cold drips once before at Plantation and those were thick, dark, liquid gold.
The one that was available at Le Flaneur that day was using my favourite coffee bean to date yet. The Panama 'Santa Teresa' Geisha. I had it as a syphon a few weeks before at Proud Mary's and fell instantly in love.
The Cold Drip Iced Coffee ($7.50) – Panama 'Santa Teresa' Geisha, arrived with its own little milk and sugar syrup jug! Very quaint. The glass also came adorned with 2 coffee ice-cubes which I gleefully chewed on when I finished my coffee.
I found the cold drip very light, floral and refreshing, and would definitely buy a huge jug home! (HINT!)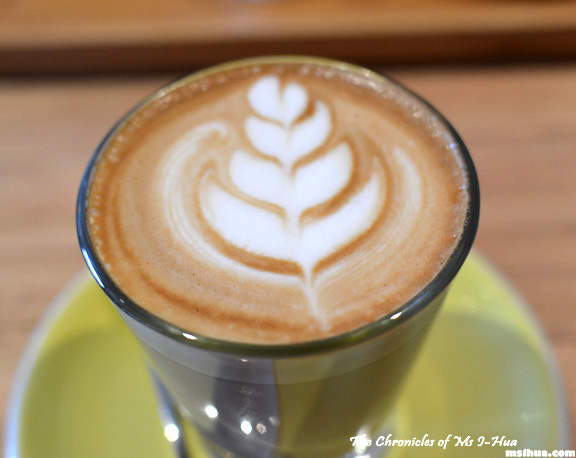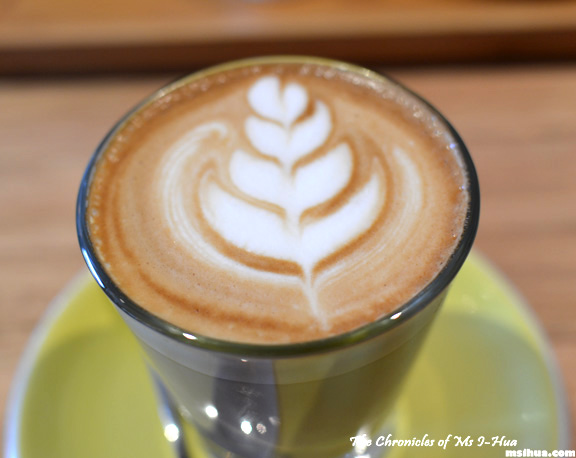 The Boy however decided to be fairly safe in his choice and went with a House Blend Latte ($3.30).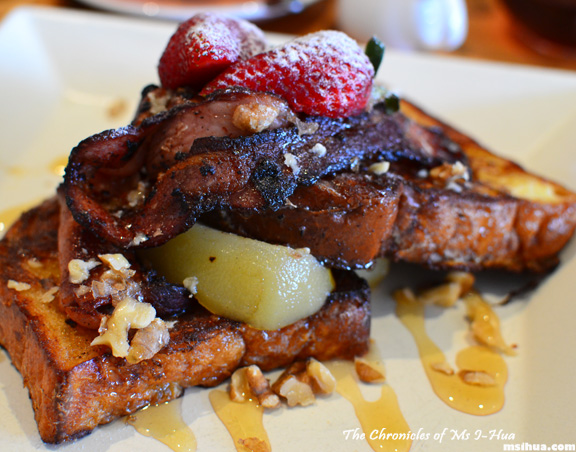 To be honest, I wasn't really expecting much in terms of the food as I haven't heard much about this little cafe before (it only opened in November 2011). So I was a little hesitant.
I ordered the Brioche French Toast ($15.80) – Lescure butter, fresh strawberry, spice-poached pear, honey glazed bacon, candied walnut, organic pure peninsula honey on thick cut brioches.
When it arrived, I was thrilled to see juicy strawberries piled on top of my bacon. Then I cut a piece of the toast, layered a little piece of everything onto a forkful, and closed my eyes to wonder. Everything worked really well together. The bacon retained its slight saltiness, but had the honeyed qualities to it. The sweetness and tartness of the pear and strawberry lifted  the heaviness of the buttery brioche.
I would have been happy if I put on 10kgs from this dish. It was so good.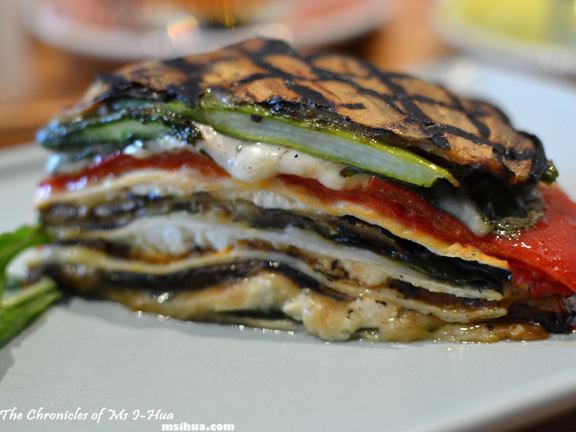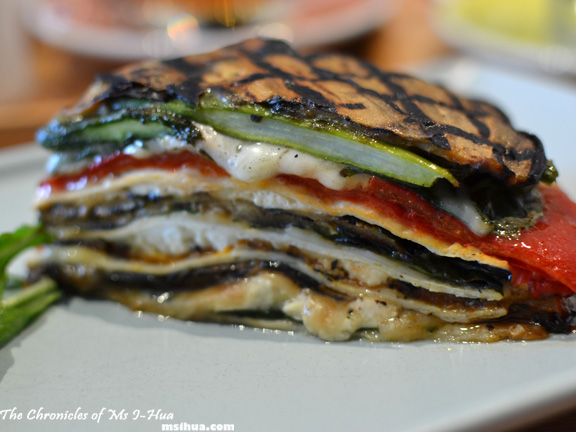 The Boy was in a mood for vegetarian food that morning and ended up with the Home Made Char-grilled Vegetable Terrine ($10.50) – pumpkin, eggplant, mushroom, red capsicum, asparagus, Danish feta served with salad.
He too was caught up in the taste of the dish and ended up dissecting each layer and eating it individually before nodding his head to himself and eating a whole piece of the terrine. This continued for quite some time whilst I watched on in amusement.
Finally, I couldn't take it anymore and asked him what he was doing. He replied, "Hmmm?" absently and continued on in his quest to distinguish each layer and taste.
I ignored him and left him happily in his thoughts whilst I pondered on my next drink!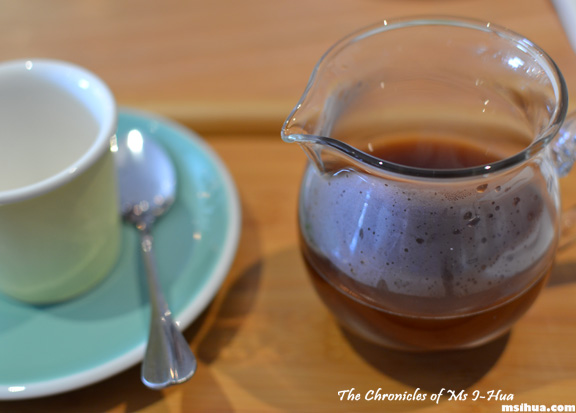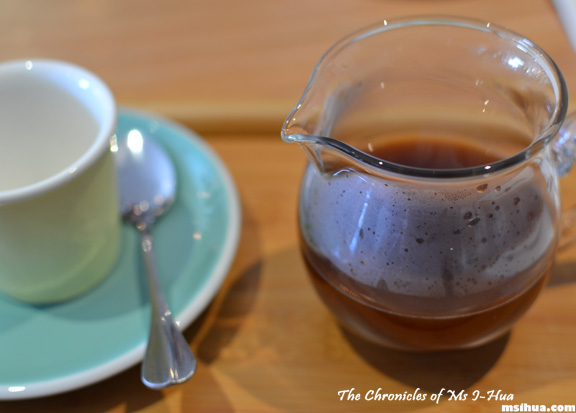 I ended up ordering a Chemex & Coava Kone Pour Over ($7.50) – Honduras C.O.E #15 'Cesar Augusto Fernandez' which has a sweet cinnamon and nutmeg spice with a creamy caramel body. I quite enjoyed the sweetness of this coffee however I would have rather had done the reverse in my coffee tasting (i.e. start with this and finish up with the cold drip) due to the weather.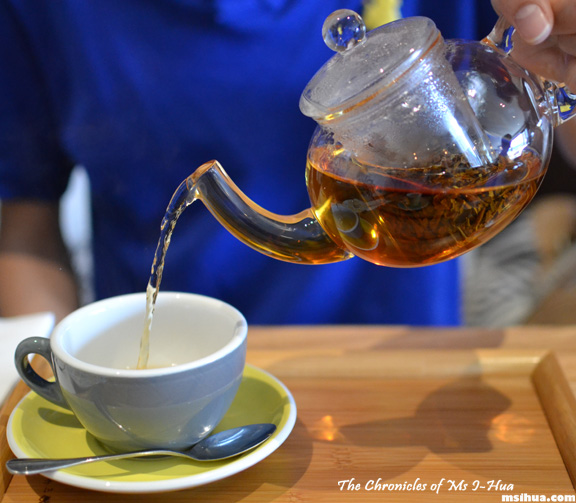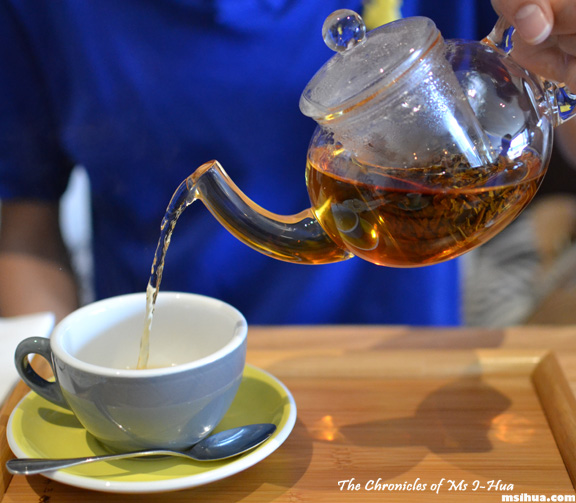 The Boy decided to quit coffee (Oh no!) that morning and finish up with a Mariage Freres Tea ($4.50) – French Breakfast which is one of our favourite blends of tea at the moment.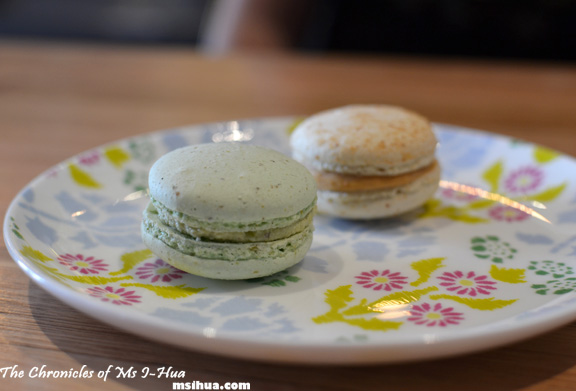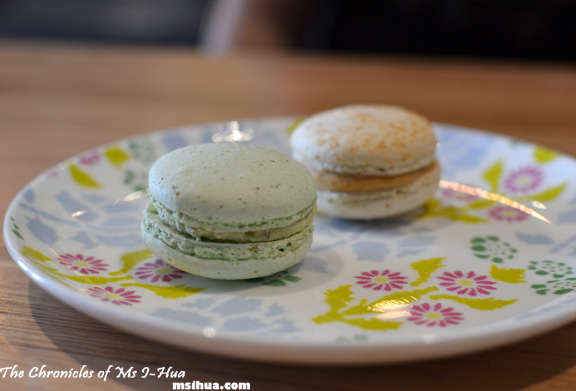 What is this? Sacre Bleu! We can't finish until we have some French macarons!! Especially these Macarons by Josephine ($2.50) – Pistachio and Salted Butter Caramel to go with our coffee and tea.
Deliciously light, but not the best I've come across (but still good), nevertheless a nice sweet finish to our morning.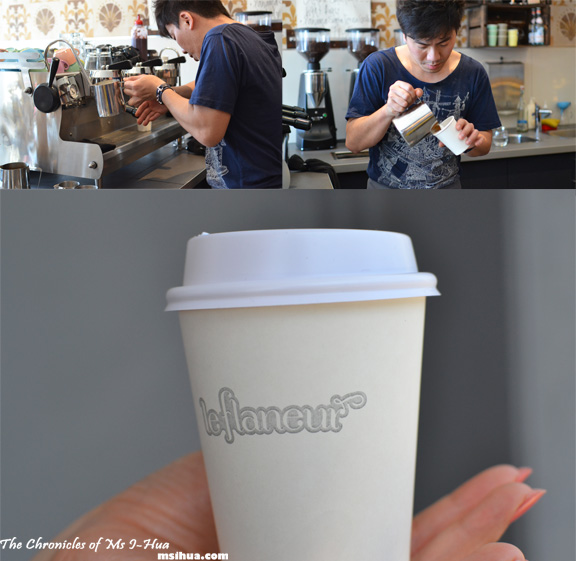 Before we left, our barista, Tony Lin insisted that I try one more coffee to take away. A final Latte ($3.30) – Nicaragua Finca 'Mieriseh' Pulp Natural for the road.
It was deliciously creamy, sweet and floral all at once.
What did I think of Le Flaneur? A very cute quaint spot with good food and service. Our waitress did seem confuse with all the coffee choices at hand and gave us the wrong names to every single coffee we ordered. She was rescued each time by the barista who came by to check on how the coffees were 🙂
For another viewpoint, please read:
Let's Get Fat Together
*Disclaimer: All food ratings & review are purely based on my own experiences and how I feel about the service, food and quality at the time of visit
Food/ Cuisine: Breakfast, Lunch, Coffee
Dining Style: Cafe
Overall Food Rating (Based on the Dining style): 7.25/10 (As for coffee, 7.75/10)
Restaurant ambiance: 7.5/10 (has a ramp for prams and wheelchairs which aren't as common as you think)
Service/ Attitude: 7/10
Value for money: 7/10
Opening Hours: 
Tuesday to Friday, 7am – 4pm
Saturday to Sunday, 8am – 4pm
Address:
5 Church St
Hawthorn VIC 3122
Tel: (03) 9853 8587
Twitter: @CafeLeFlaneur
How to get there: