As a food blogger, I often find myself at a lost as to where to eat.
I know. I'm probably the last person you would think would be stuck at the eternally annoying question, "Where shall we eat?"
Sometimes, it's not so much of not knowing, but that my wish list of places to visit is that long, that I get stuck.
Luckily, I also have great work colleagues who in their glee of being associated with someone in the food blogging world, will update me constantly on the places they think I should visit.
One day, as I dragged my feet to my work desk on a particularly slow Monday morning, I happened to glimpse a business card with Tom Phat's details (this happens to me quite a lot, people just leave restaurant cards at my desk, voicemail, or emails).
Curious, I asked who had left it there, and surprisingly, no one answered. I peered around my cubicle to ask the question again, "OIII, who left this here?"
Alas, it happened that I was speaking to myself, as everyone had left to go to a team meeting which I completely forgot about. I hate Mondays.
However, due to this, I always remembered Tom Phat.
So as a Monday morning pick-me up, read this post with a smile 🙂
*Note – In case you were wondering, I didn't get into trouble by being late to the meeting 😛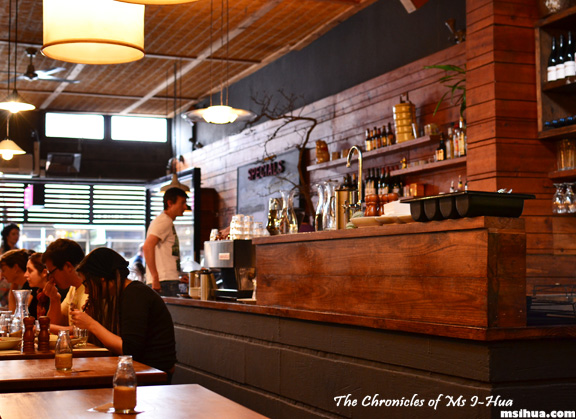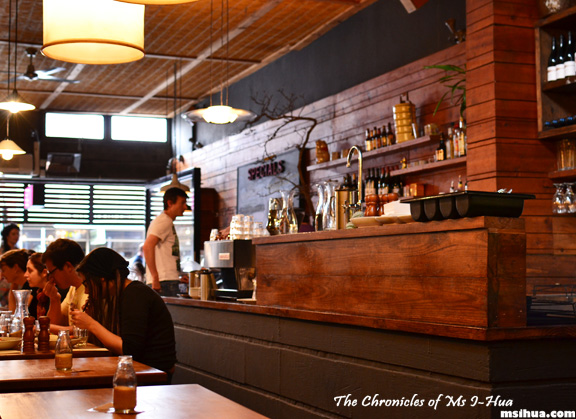 So as I was saying, one weekend, the Boy and I were at a lost as to where to head to for breakfast.
By chance, I had the business card my mysterious work colleague left for me for Tom Phat, and suggested to the Boy that we should head there.
He couldn't think of any reason to say now, and happily drove me there 🙂
As we arrived, I wasn't too sure if I was in the right place.
I'm not sure what I was expecting, but it was definitely not a cool hip joint with funky music blaring on the speakers.
However, noticing that a queue was forming, my inner Asian surfaced.
I would stay in queue and question if we were in the right location later 😛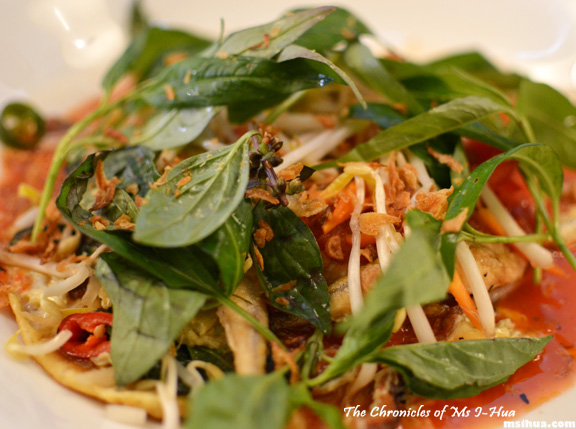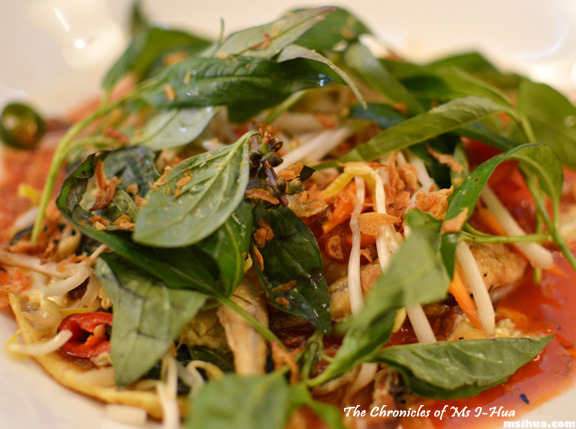 We stared at the menu for a while, and I decided that I'd go with one of the specials of the day. Which was completely Paleo (if you ignored the sugar content :P)
So it was that I had the Asian Herb Omelette with Crispy White Bait & Tomato Nam Jin ($15.90), from the daily special's board.
It was just so delicious!
The balance of flavours was so right, sweet, salty, tangy, and zesty.
I had to eat the white bait quickly as I didn't want it to get too soggy with the delicious Nam Jin sauce.
Definitely a refreshing breakfast dish.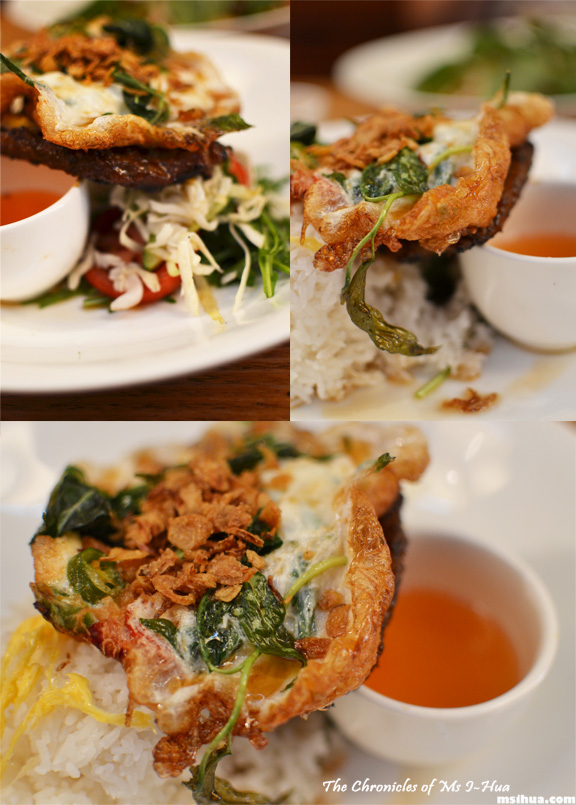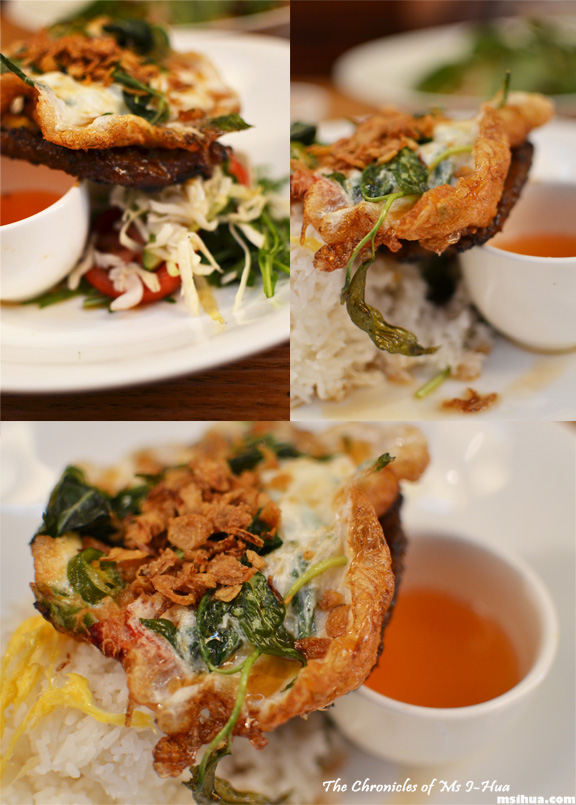 The Boy ordered Uncle Ho's Brekky with Grilled Pork Chop, Crispy Fried Egg, Tomato, Cucumber & Rice ($15.90), which he seemed to quite enjoy as well.
Crispy fried egg and a well-seasoned pork chop was definitely what he needed for the morning.
It may seem strange to some that he had rice for breakfast, but trust me, it's quite the norm for Asians to eat a heavy carb based meal for breakfast (or any meal for that matter!)
All in all, I rather enjoyed myself dining at this quirky restaurant.
I also took note that they don't only cater to the breakfast crowds (yayy!) but are open until 11.00pm from Wednesday to Sunday!
Would I make a return visit? Sure thing, good "fusion" Asian food is something I look forward to every now and then.
Dine with an open mind 🙂
So tell me dear readers, what questions stump you the most even when it's not suppose to?
*Disclaimer: All food ratings & review are purely based on my own experiences and how I feel about the service, food and quality at the time of visit
Food/ Cuisine: South-East Asian (mainly Vietnamese & Thai)
Dining Style: Cafe
Overall Food Rating (Based on the Dining style): 7.25/10
Restaurant ambiance: 7/10
Service/ Attitude: 7/10
Value for money: 7/10 (It is a little pricey in terms of Asian fare, but they were going with the fusion flavour, so the pricing is on par with most cafes)
Opening Hours:
Wednesday to Friday, 11:00am – 11:00pm
Saturday to Sunday, 8.00am – 11:00pm
Address:
184 Sydney Rd
Brunswick VIC 3056
Tel: (03) 9381 2374
Website: http://www.tomphat.com.au/
How to get there: