Sometimes, my life gets slightly out of control.
Take for example, in February, I was planning and booking out weekends for April. Now that I'm in April, I'm planning for May.
Why? Because I am out of control. I've forgotten what it means to stay home and relax.
I've forgotten to just sit back and read my books (of which I have a pile accumulating!).
I have forgotten how to catch up with friends simply to catch up.
At work, I find myself doing about 5 things at once and having not one, but several conversations (through IM, emails and the phone).
It's more productive, faster albeit more hectic. This has somehow translated to how I function in my normal life as well.
I am a multitasking individual. If I'm catching up with friends or family, I usually pick a restaurant that I haven't been to either.
Catch up tick! Review tick! Things need to get done.
So unfortunately (or fortunately), when Bryan Boo and his Fake gf were back from holidays, I immediately pounced on them and Ashley (who pulled out! :P) to catch up and have lunch (for the Melbourne Food & Wine Festival Express Lunch, which has now ended) at Maha Bar & Grill, where we have always wanted to eat.
I had a meeting to return to in an hour, and this was perfect, as we were explicitly told that we only had 60 minutes to eat and get out for the next patrons to come in.
Catch up, tick! Review, tick! Express Lunch, tick! 1 hour timeframe, tick!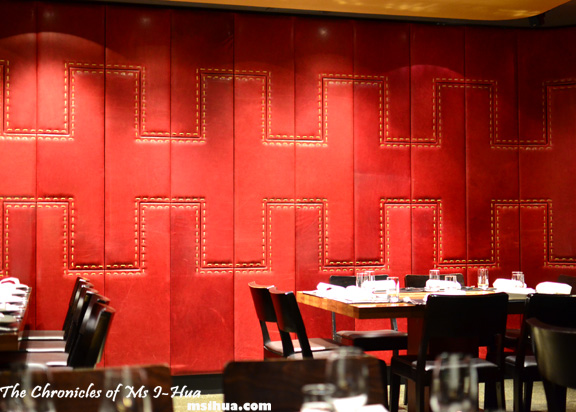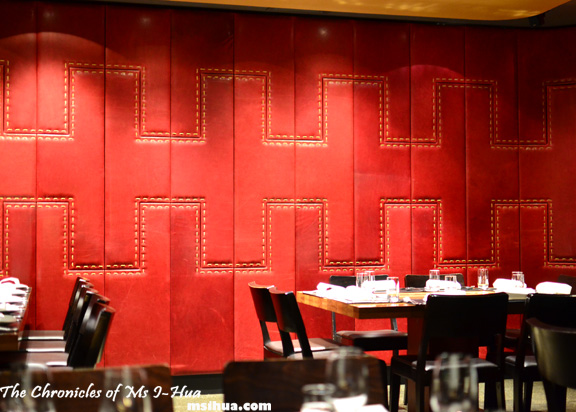 We arrived at 12pm sharp and were greeted by the friendly wait staff. However as we sat down, and the menu was explained to us, the enthusiasm slightly waned.
It was as though, because we were dining on the express lunch menu, they didn't have to put in the full gear.
Up until the point where my glass of water was knocked over and splashed all over myself (missing my camera) that the service decidedly improved once again. My poor waitress was beside herself and apologised profusely over and over. I had to keep reassuring her that all was well, nothing was damaged and only the carpet and my bum was a bit wet 🙂
We put it down to the fact that it was a busy schedule, where the kitchen and staff were advised to churn out their customers within the 1 hour timeframe.
So everyone was on this crazy super fast mode, which in retrospect was the mode I was in as well, so I can't be much of a judge to that. At the end of the meal, I literally passed my share of the money to the two and ran helter skelter back to the office!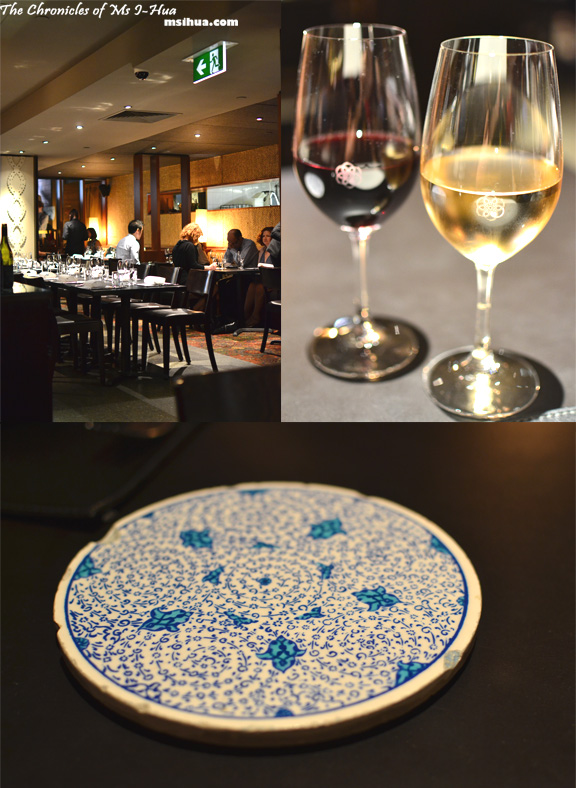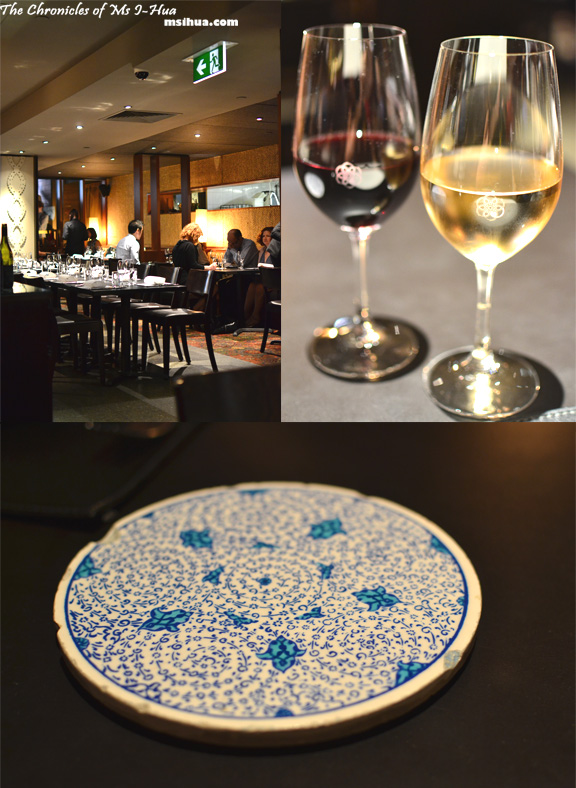 For Maha's MFWF Express Lunch menu, the options were the usual 2 courses with wine. The only difference here is that the 2 courses involved everyone at the table to agree on the same choices.
We weren't allowed to select (as with the other restaurants) an entree and a main or a main and a dessert individually. Everyone had to do the same thing. No choice.
Which was a shame, as I really wanted to try all options on the menu, but was told that if we did entree and mains, we would have to have our desserts at the bar and vacate our table.
After much contemplating, the three of us decided to skip the entrees and opt for the main and desserts.
The mains worked out to be sharing plates of fish, lamb, rice, salad and bread. SO MUCH FOOD!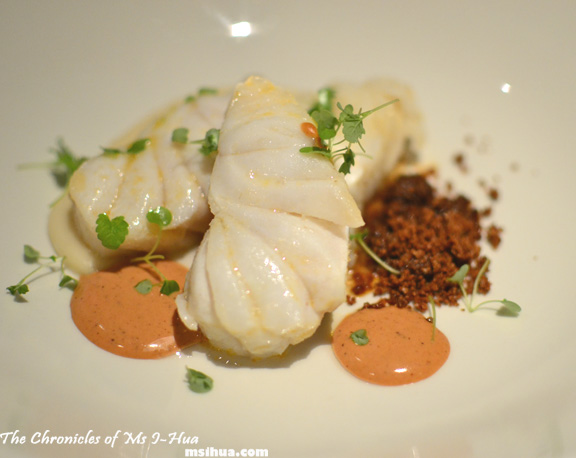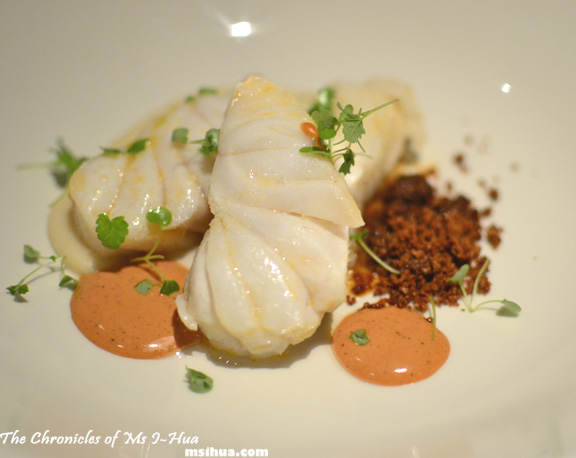 Maha 'Soufra' Sharing Plate: Rockling with Tomato, Sumac.
Both Fake gf and I absolutely love this dish. The fish was so tender, and the sumac sauce was another thing altogether.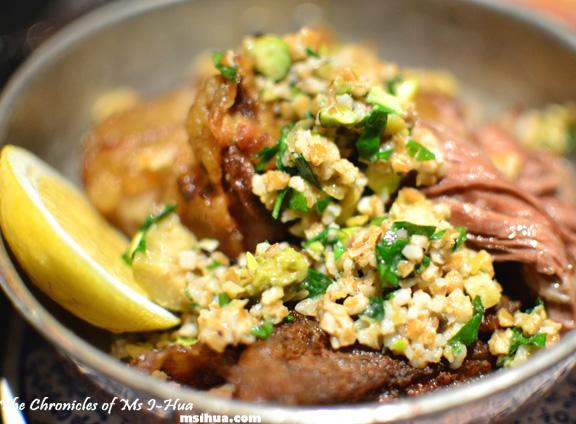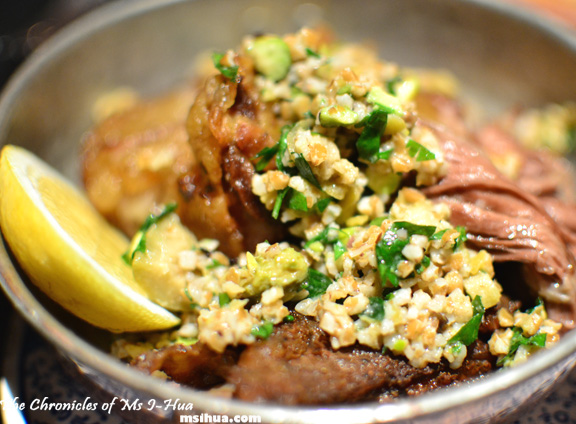 Maha 'Soufra' Sharing Plate: 12-Hour Roast Mt. Leura Lamb Shoulder, Pistachio and Green Olive Tabouleh.
But the winner for me, was the 12 hour roast lamb. I seriously love lamb and this was delectable.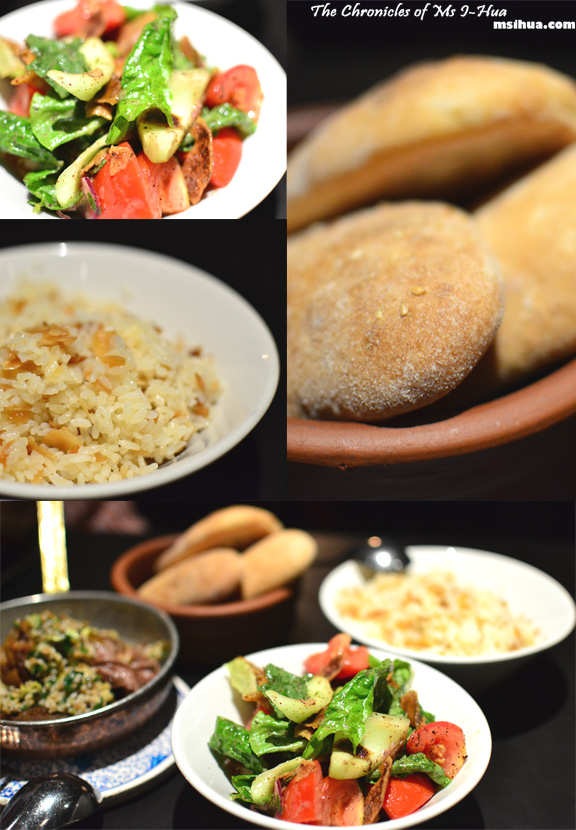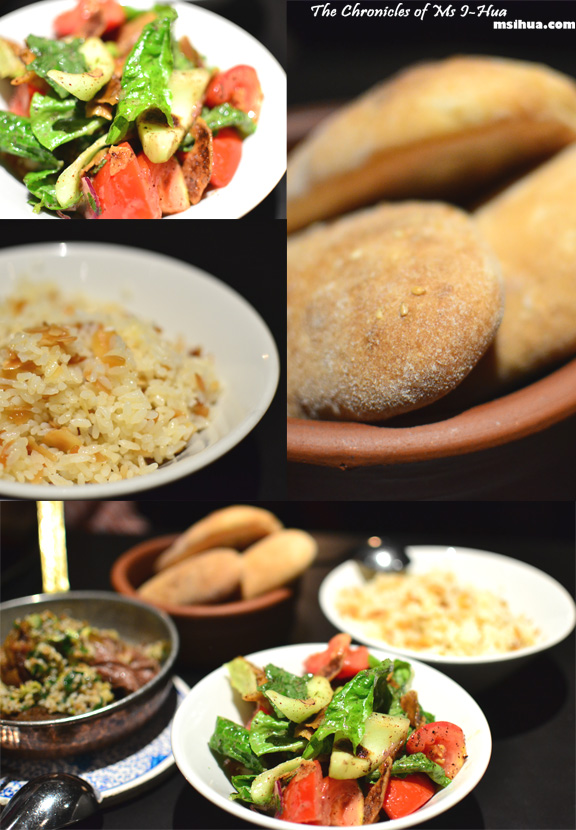 Maha 'Soufra' Sharing Plate: Almond Rice Pilaf and Sumac, Tomato, Cucumber, Mint, Leaves, Roasted Garlic Salad. Also includes Turkish Bread.
The salad that we had was amazing and so was the almond rice pilaf (which I have since learnt to replicate!).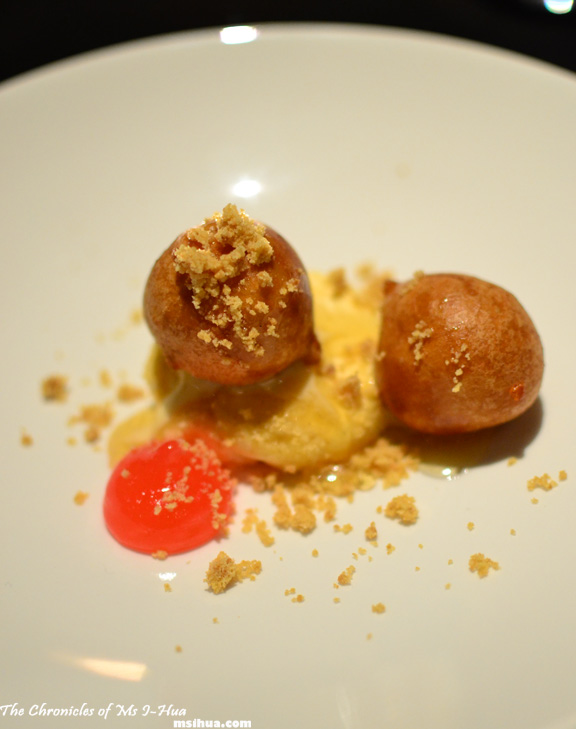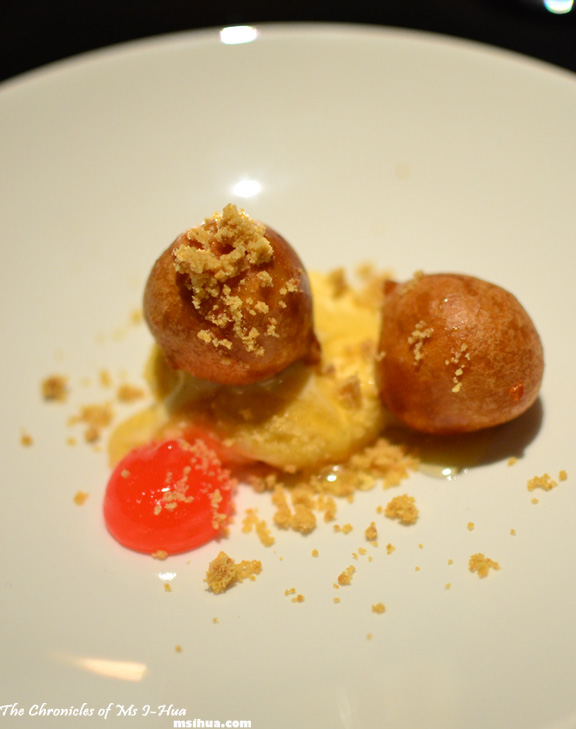 For desserts, I was told under no circumstances must I leave without trying the Turkish Delight Filled Doughnuts, Walnut and White Chocolate Parfait, White Chocolate Soil by a lot of people when they found out I was heading to Maha.
Obviously, seeing it on the express lunch menu caused me much joy.
It was a great play on the usual Turkish Delight treat, but I found it a tad too sweet for my liking. Of course, I understand that it's meant to be sweet. I know the Boy would've loved this dish as he is much more of a sweet tooth than me.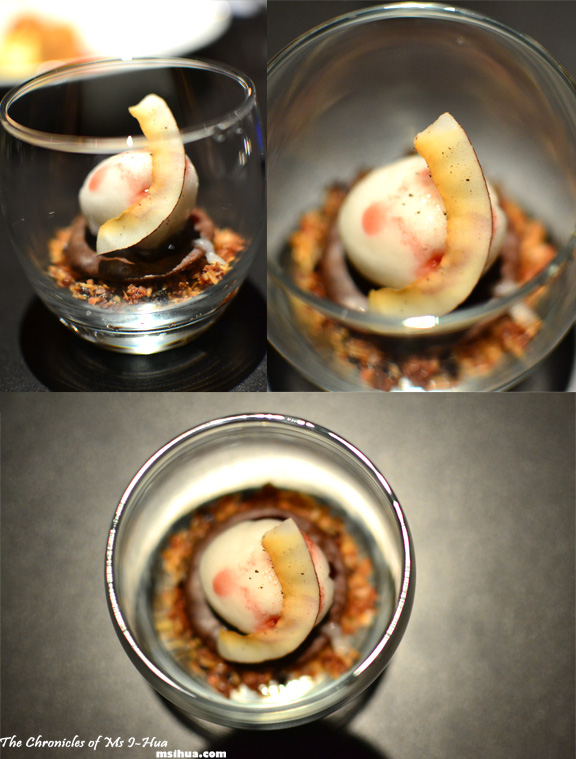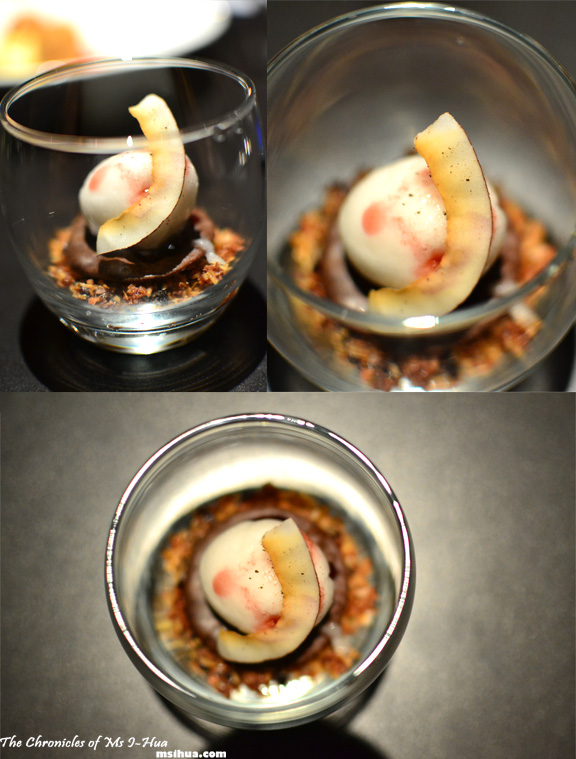 What I really enjoyed was Bryan's Coconut Cherry Salad, Smoked Coconut Sorbet.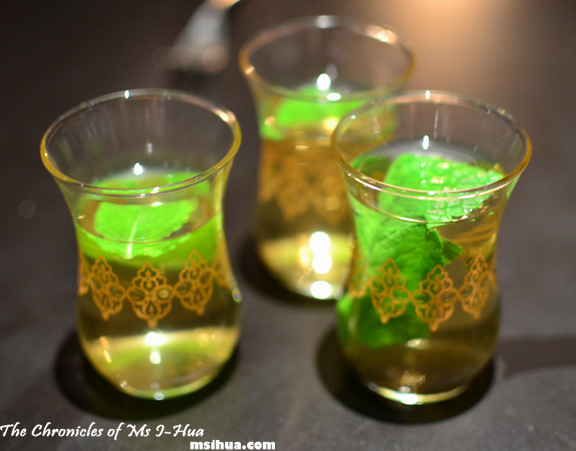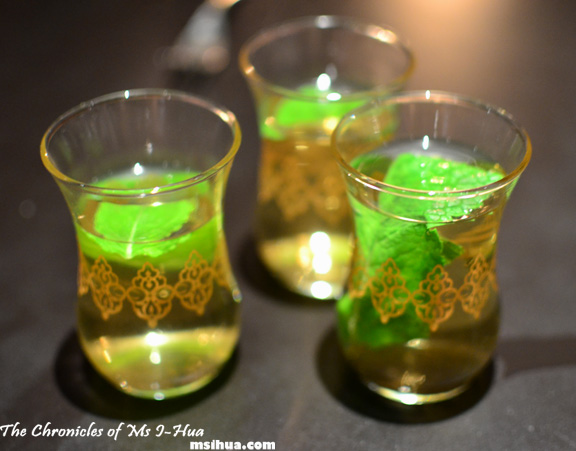 We were provided with Mint Tea at the end to cleanse our palate.
Overall experience was good despite the slightly hectic pressure we could sense from the staff.
Food was excellent and I would really like to return to experience their dinner menu.
Please note: The Melbourne Food & Wine Festival Express Lunch (Choice of 2 courses, a glass of Victorian wine, and tea/coffee for $35 per person) has ended for 2012 and will return in 2013.
*Disclaimer: All food ratings & review are purely based on my own experiences and how I feel about the service, food and quality at the time of visit
Food/ Cuisine: Middle Eastern
Dining Style: Restaurant

Opening Hours:
Lunch: Monday to Friday & Sunday, 12:00pm – 3:00pm
Dinner: Monday to Sunday, 6:00pm – 10:00pm
Address:
21 Bond Street
Melbourne VIC 3000
Tel: (03) 9629 5900
Website: http://www.mahabg.com.au/
How to get there: