About two weeks ago, the Boy, myself and a few other bloggers were invited to visit the new Spoonbill Restaurant & Bar located at the fabulously decorated Art Series Hotel, Olsen Hotel at South Yarra.
The Boy and I are not well verse in the art world, and we took the opportunity to learn more about the artist and how he came to have a hotel dedicated to him and his works.
Interestingly enough, the menu at Spoonbill also reflects some of the influences of John Olsen's love of food in his paintings and his travels.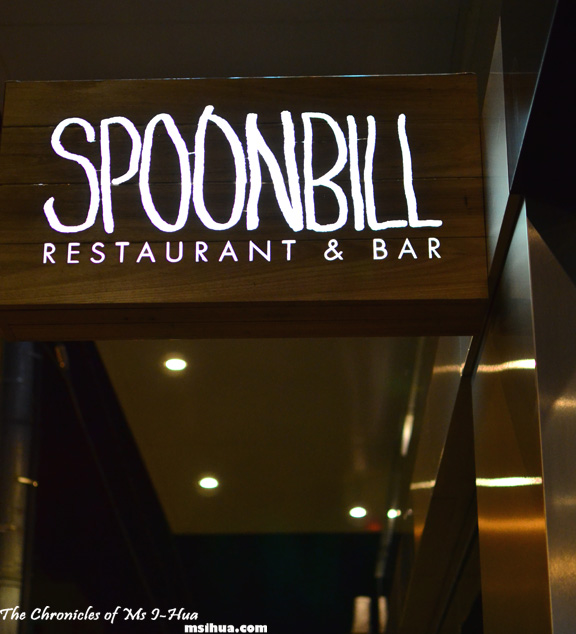 Amongst the many accolades that John Olsen has received throughout his career, is an Order of Australia (awarded in 2001) as well as an Archibald Prize in 2005.
Some of his works highlights his travels to Europe during the late 1950's. In particular, his love of Paella when he arrived in Spain, with the myriad of taste and flavours exploding on his innocent and oblivious state of mind. Thus, providing the many colours and landscapes he puts into his paintings and works of art.
This particular love of food and art has also inspired how Spoonbill operates its menu, combining Australia's freshest regional produce according to the seasons.
Thus, Spoonbill's menu is seasonal, and the one we managed to sample was the Autumn 2012 menu.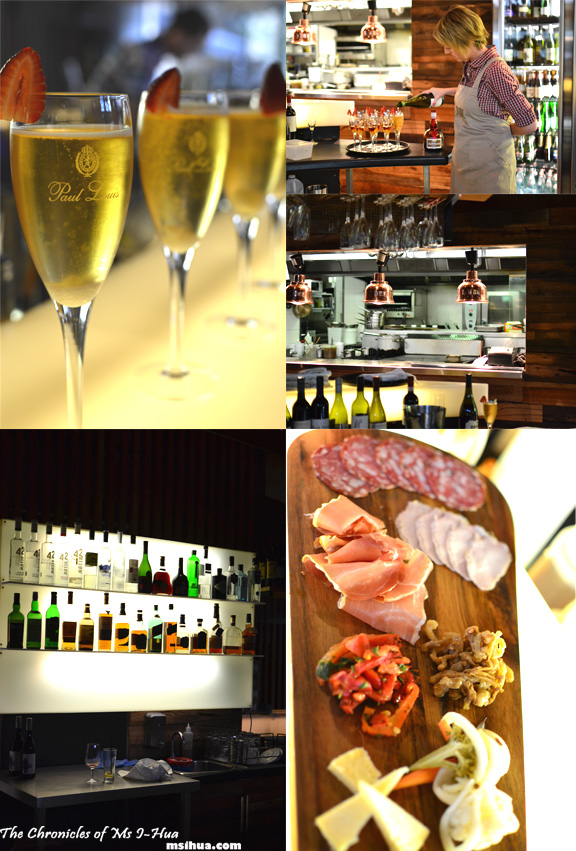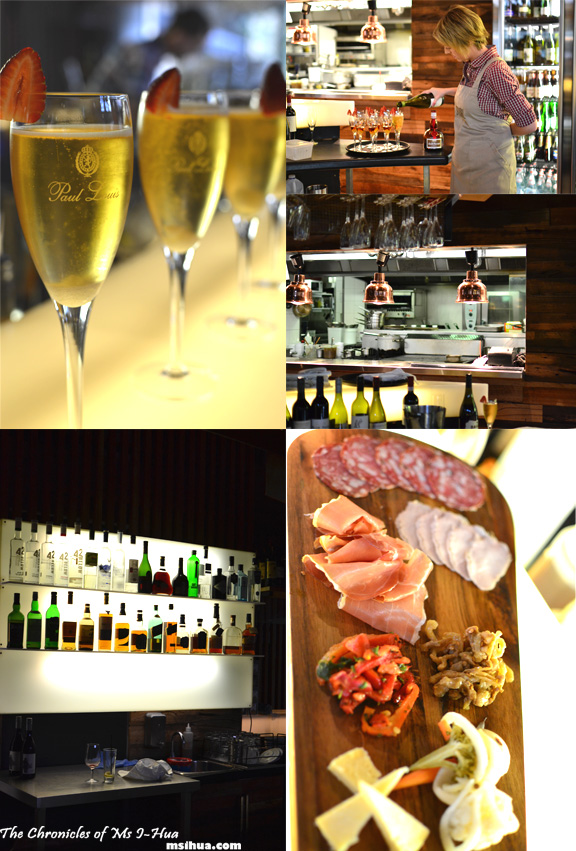 As we arrived, each one of us were offered a glass of cocktail and some light entrees to get our tastebuds working.
Dr. Olsen – Cognac V.S.O.P., Bitters, Pommery Champagne, Sugar Cube.
The Salumi Plate – Aged Jamon, Calabrese Salami, Roast Pork, Aged Farmhouse Cheddar, Pickled Vegetables.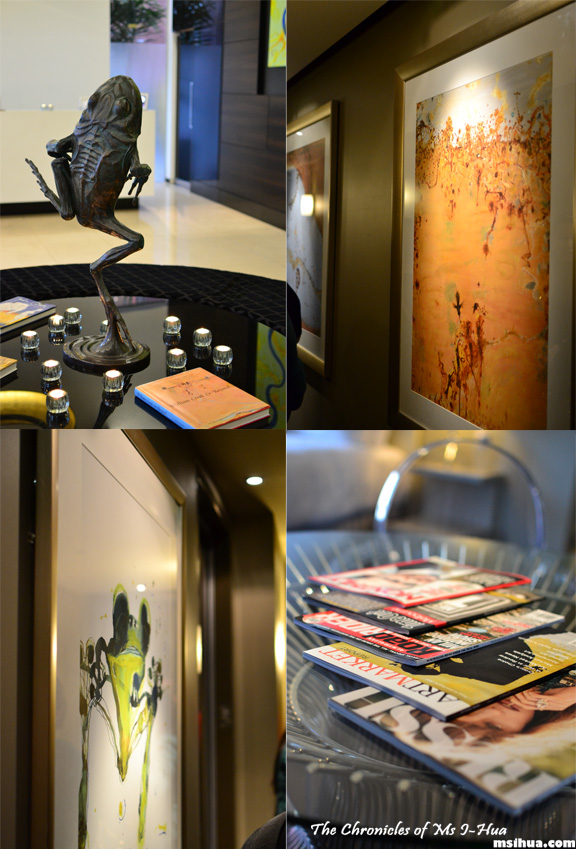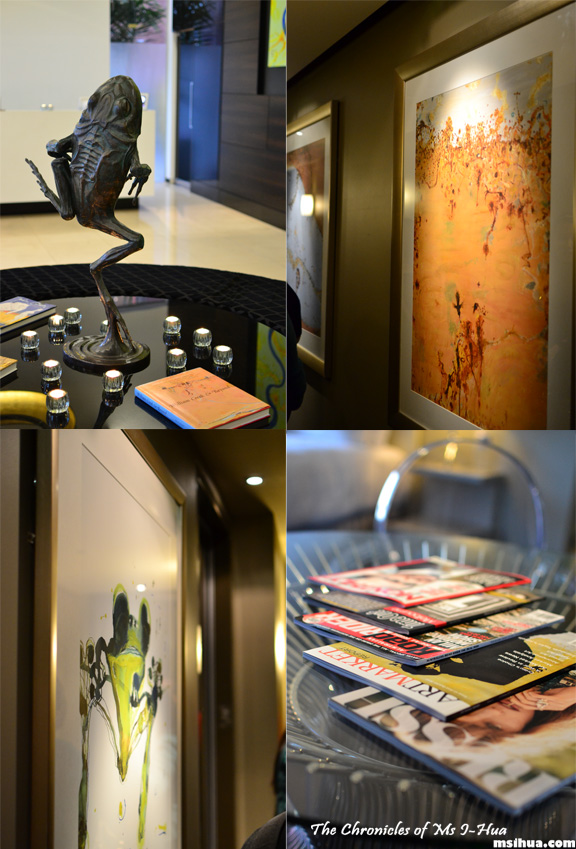 But first, a tour of the hotel and some in-depth explanation behind the artist and his works by the hotel's in-house art curator, Jane O'Neill. Jane took us through a brief journey behind John Olsen's travels and the way he paints.
Described often as an abstract artist, John Olsen denies that he is one, rather, he prefers to be known as a landscape artist. His style is greatly influenced by Indigenous Australian art and it shows in the way he paints and the harsh earth tone colours he uses in his works as well as the constant depiction from an aerial perspective.
His paintings, if you are lucky enough to view in real life, often depicts the scene from a bird's eye view, including his paintings of a tabletop and a paella dish.
Classic in his art are squiggly lines and dotted trails often depicting the movement and flow of nature and her animals hopping across her terrain (indicating his love of frogs) or her smooth water flows.
His works, both original and prints, are displayed all around the hotel including the lifts and hallways to the rooms. The hotel provides art tours within the hotels as well, if you happen to be staying there as a guest.
If you're sharp enough or have the time to linger, you may also be able to spot cute little references to himself (in John Olsen depicting himself in his pictures).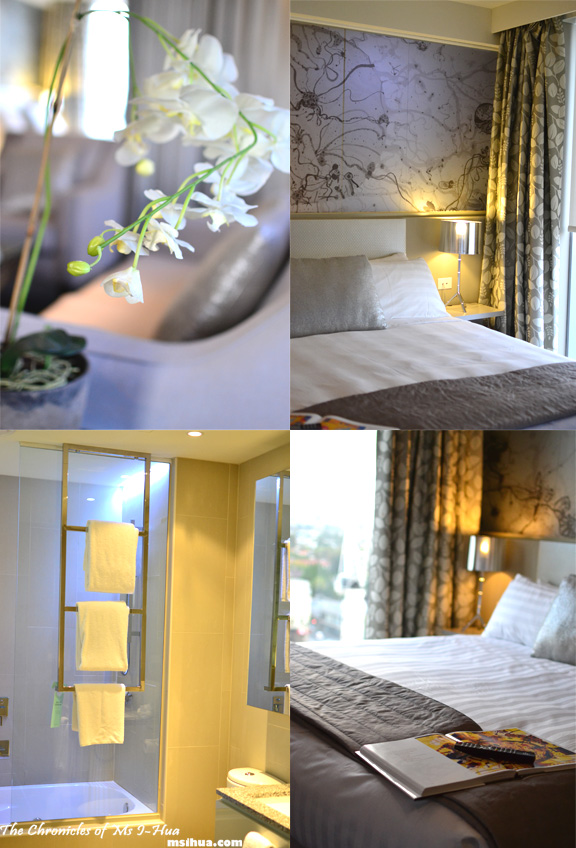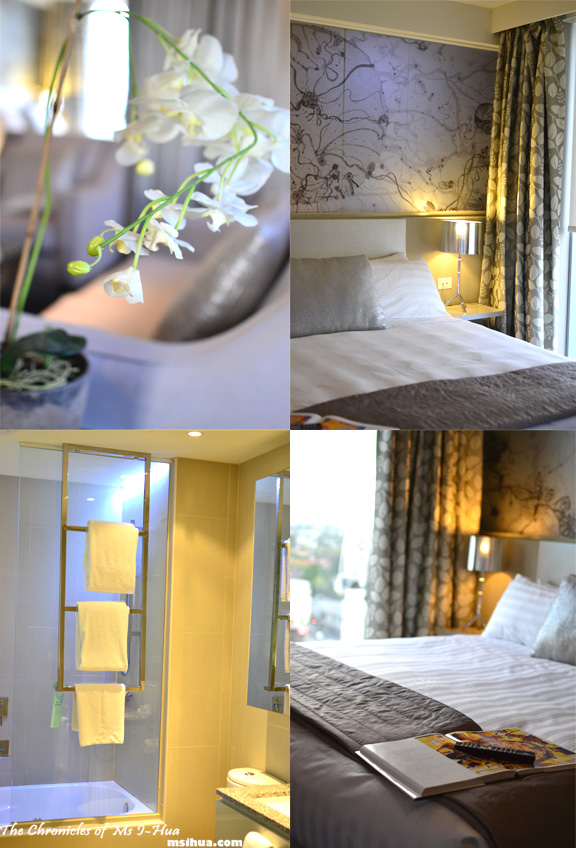 We were shown one of the hotel rooms as well, which displayed some of John Olsen's art. What I really loved about the room which was shown to us was the lovely decor and furniture, and of course the classic John Olsen art of landscape and animals across the bedframes.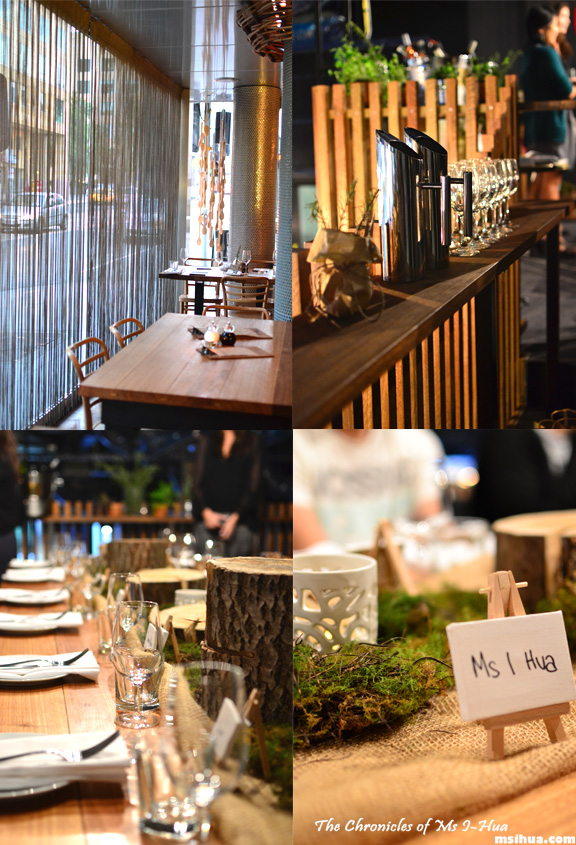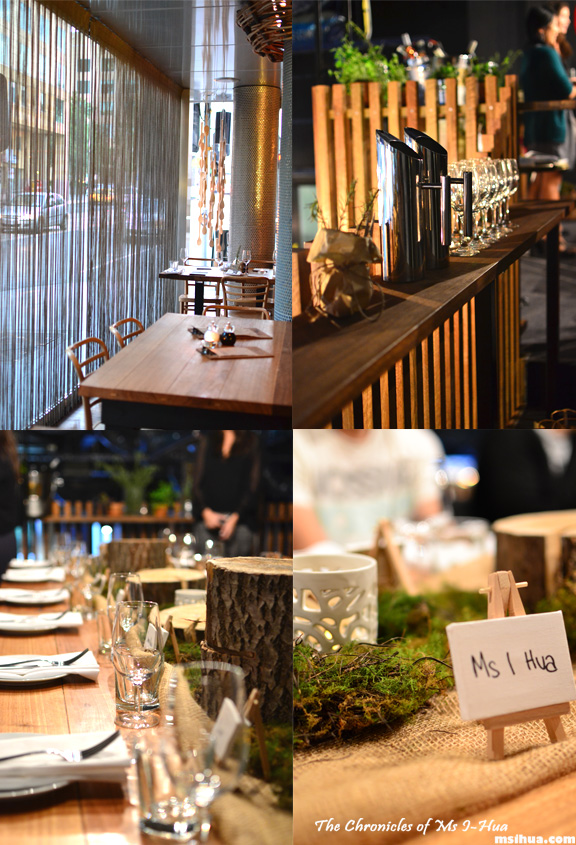 Back at the restaurant, we were all a bit awed and inspired for the next session of our visit.
Why? Because, before we were allowed to start dining, we were notified by the curator that we would ourselves have to create works of art to be displayed at the hotel (the driveway)! I'm as creative as a wooden table, if my drawings on 'Draw Something' are anything to go by, I can't draw.
Seriously, can't.
I can appreciate beauty for all it's worth, but when it comes to giving up myself to creativity, I will mostly draw up a black hole and have a star in the middle showing my lack of artistic skill.
However, that didn't stop me from creating an art piece! But as the creation went on, it was clear that both Dastardly and myself were getting more oil and crayons on us, than on the canvas! We were transformed into 5 year old girls let loose at playtime! Wuhoo!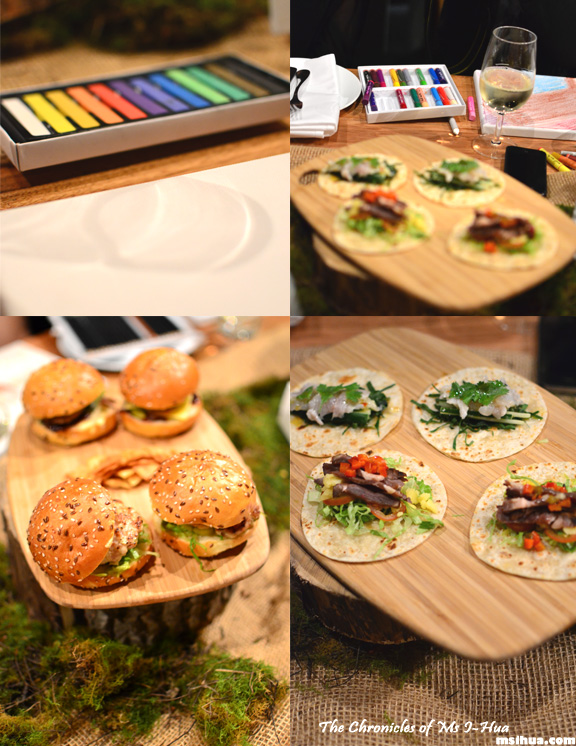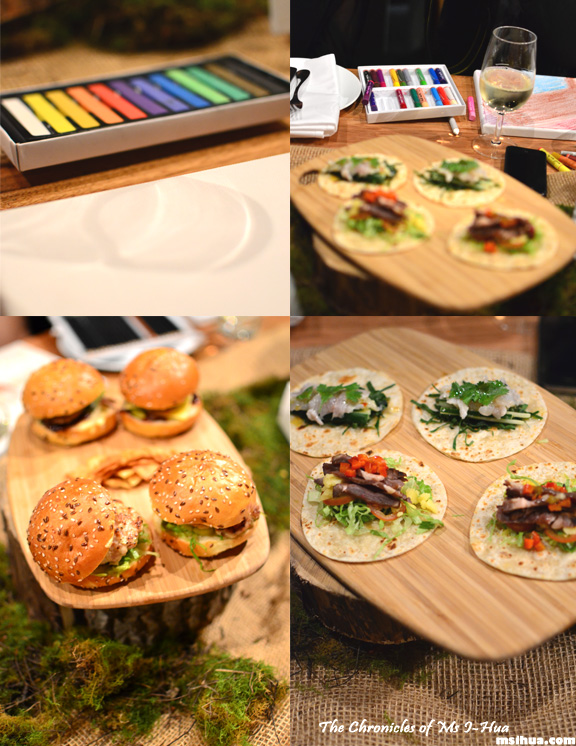 Mini Burgers:
Beef – Wagyu Mince, Aged Cheddar, Cornichons, Onion Relish, Mustard
Chicken – Organic Corn-fed Chicken, Bacon, Tomato, Avocado, Aioli
Tacos:
Fish – Lemongrass & Chilli Snapper, Red Onion and Coriander
Beef – Wagyu Rump, Avocado, Dried Tomato, Lettuce, Emmantel Cheese
I absolutely adored the Chicken burger as it was full of flavour. It was tiny and I wished I had more of it to savour.
Unfortunately, I can't comment much on any of the other entrees, as they were snapped up before I had a chance to taste any 🙂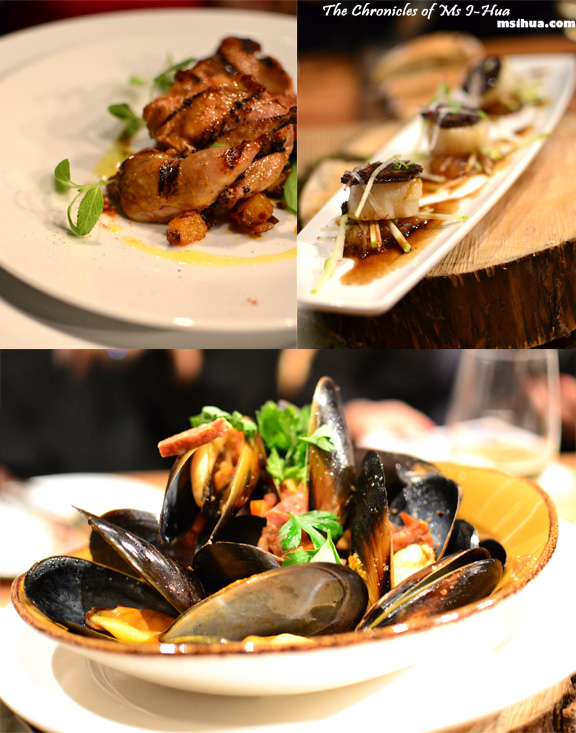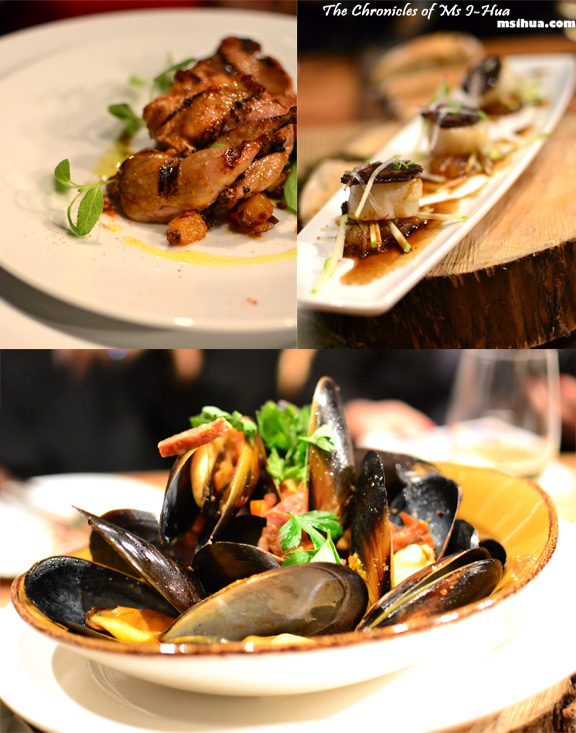 Yarra Valley Quail with Warm Potato, Olive, Tomato, Chorizo Salad
Scallops with Toffee Apple, Radish, Apple Salad, Morcilla Sausage, Pedro Ximenez Dressing
Spring Bay Mussels with Garlic, Chilli, Herb Broth
Next up were a selection of the aforementioned trio.
I enjoyed the quail and despite having "coloured" fingers, got down and dirty with the tiny quail leg I managed to procure. It was juicy, fleshy and smoky in flavour.
The mussels were fresh and succulent, and as such, went well with the chilli and garlic, herb broth.
The scallops were also very juicy and sweet, but I wasn't too sure about the morcilla sausage that adorned each succulent flesh. I thought it masked the freshness of the seafood.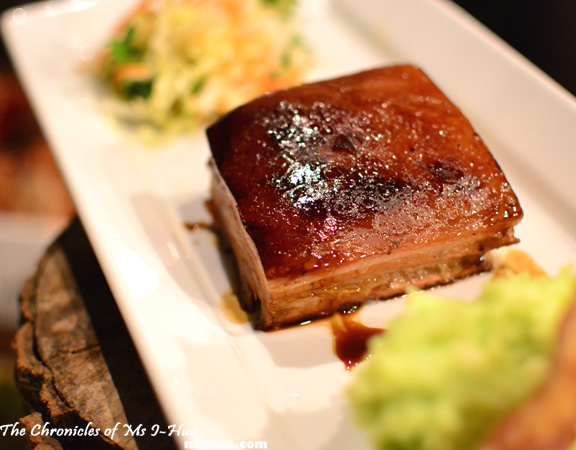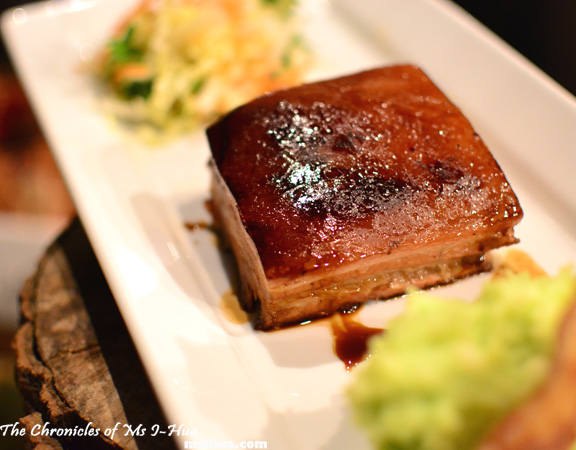 The Slow Cooked Otway Ranges Pork Belly, Apple Coleslaw, Broad Bean & Potato Puree was one of the mains we tasted that night. I only wished it came with crackling! I'm a sucker for crispy pork skin! The meat itself was tender and moist. It went superbly with the apple coleslaw and mash.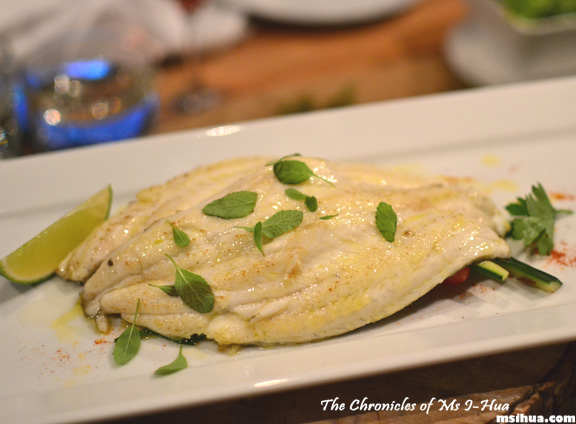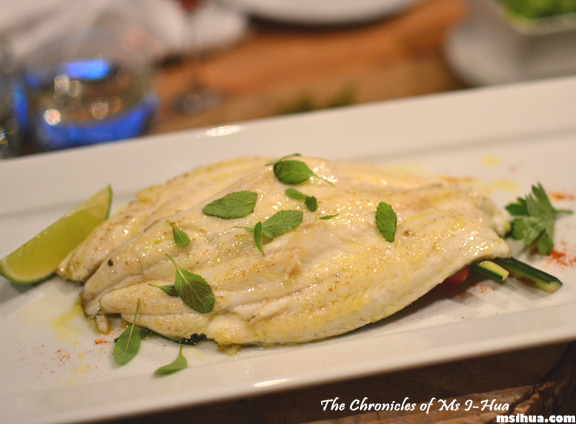 Seafood of the Day. The fish we shared drew a bit of a mix reaction from the group with some enjoying the flavours used on the fish, and some not particularly enthused with it. The reason for this was the inconsistency of its delivery. Whilst the piece that the Boy and I tried had a lot of paprika and salt flavouring it, others had rather bland and lacklustre pieces of fish, not to mention quite a few pieces of fish bones *gasp*!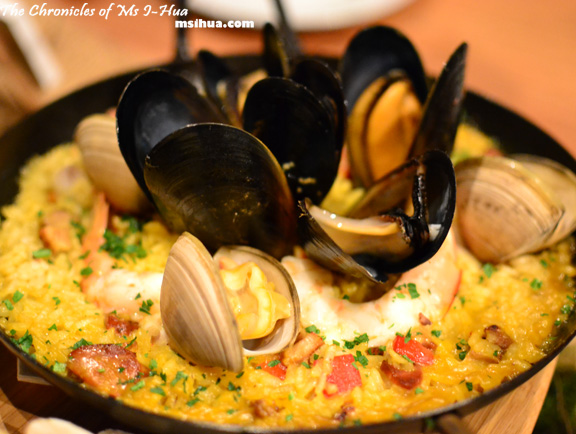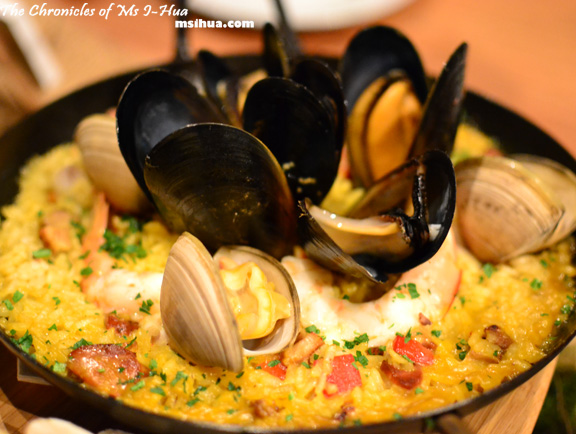 However, what the fish lacked, the John Olsen's Famous Paella more than made up for in terms of texture, flavour and taste!
It was delicious, and came with a strong hit of saffron! WuhOoo! I particularly loved the combination of clams and mussels in the paella.
The Boy on the other hand, particularly loved the juicy and succulent large prawns that came with it. It was his favourite dish of the night.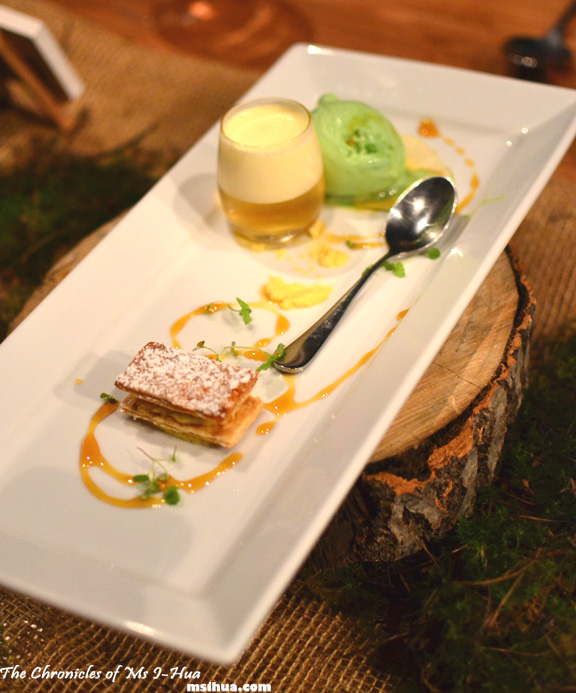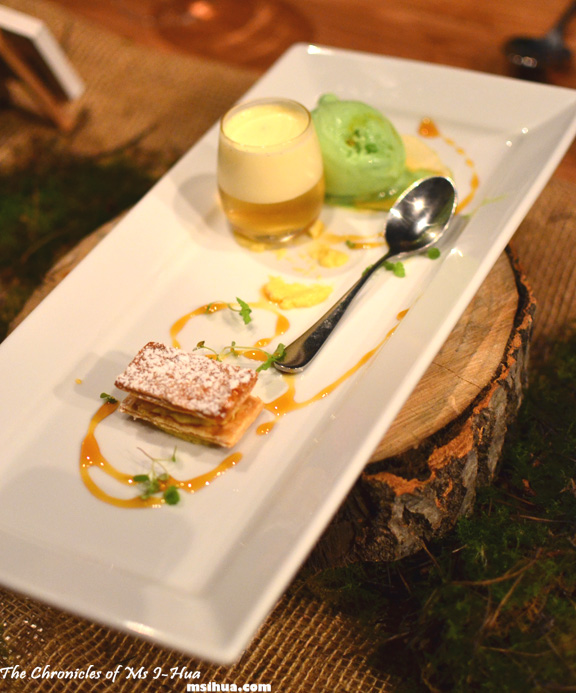 Desserts were definitely a highlight for me. I wished we had more desserts to go around the table, as I absolutely did not want to share any (greedy little piggy 😛 *snort*). But share we did, and the first dessert, Apple Delicious – Apple Jelly, Calvados Panna Cotta, Sorbet, Millefuille was light, with a hint of sweetness and essence of apple.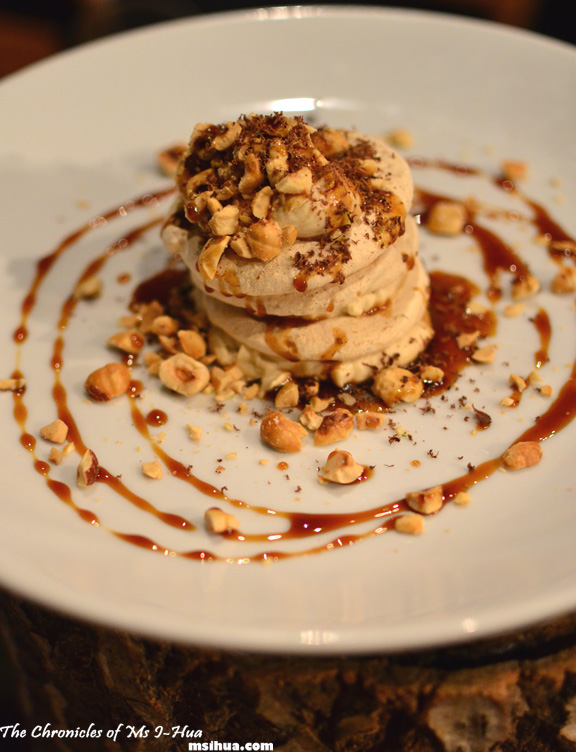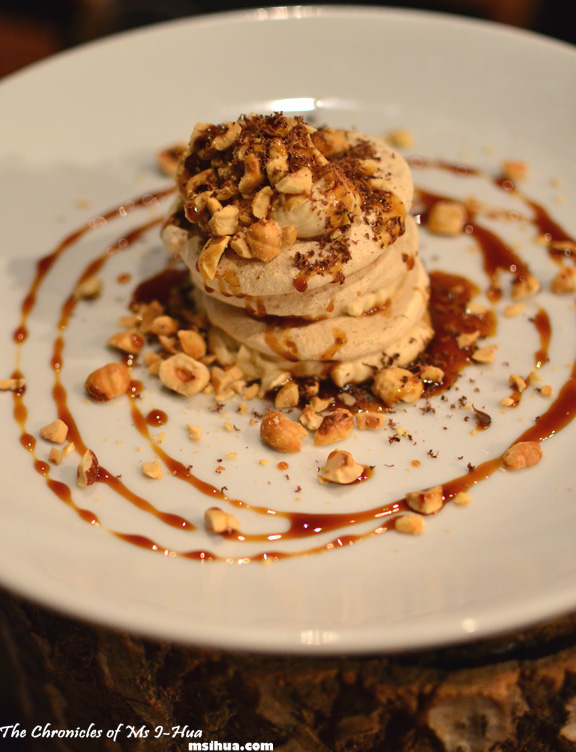 The Hazelnut Meringues, Coffee Cream, Espresso Syrup was the winning dish and dessert of the night for me. The meringue was light and fluffy on the inside with a nice crunch on the outside. The coffee cream and espresso syrup provided a nice bitter contrast to the sweetness of the meringues.
As far as meringues goes, I think we've found it!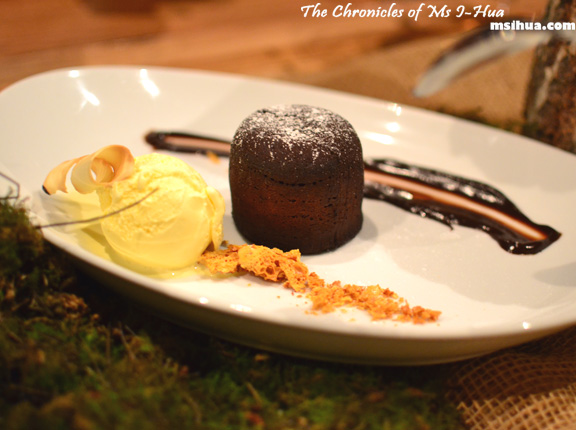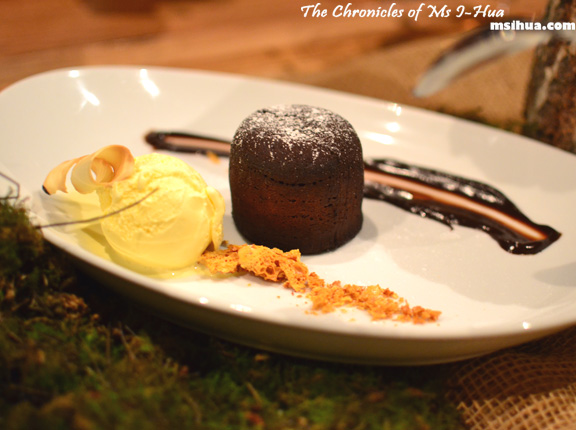 For our last dessert (to share of course), we had a specially made Chocolate Souffle, Honeycomb, Ice Cream which although good, lost out to the dreaminess of the Hazelnut meringue. In retrospective, the chocolate in our souffle was oozy.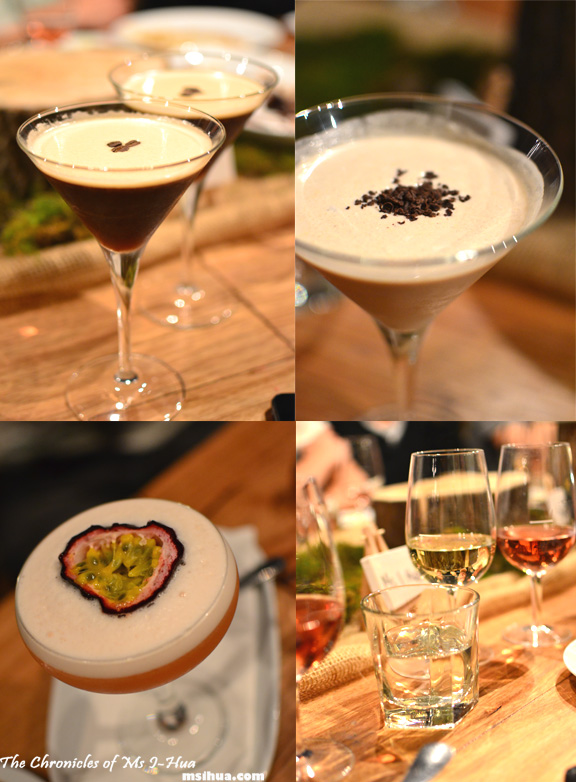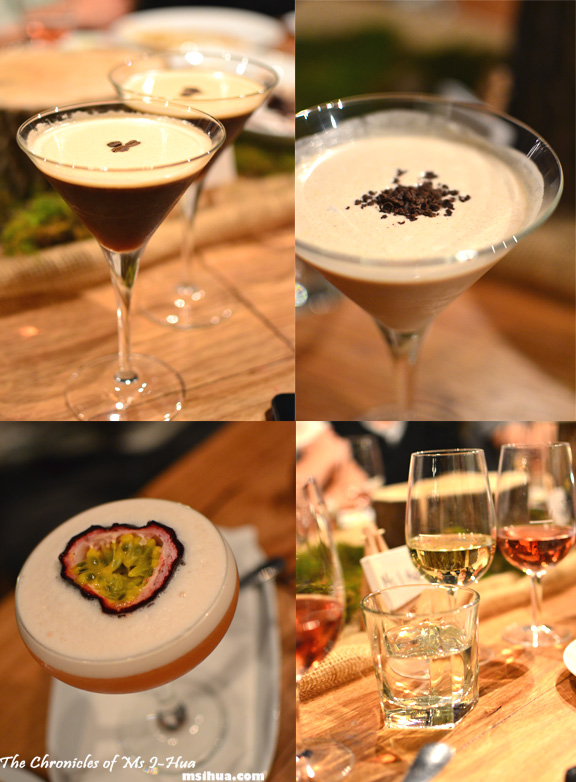 Dessert Cocktails:
St Ali Martini – St Ali Espresso, Creme de Cocoa, Cazadores Tequila, Tuaca Vanilla Liqueur & Homemade Fig Syrup
Violet Crumble – Whisky, Mozart Dark Chocolate Liquor, Butterscotch Liquor, Burnt Honey Ice Cream, rimmed with Flake
Passionfruit Pavlova – Vanilla Infused Vodka, Passoa Liquor, Fresh Passionfruit, Lemon, Sugar, Egg White
To cap off our fabulous night, we were each provided with a Dessert Cocktail of our choice.
I obviously went with an espresso martini, which was sweeter than I would normally make. I did manage a sip of the violet crumble and passionfruit pavlova, both which I felt wasn't as good as the one I ordered 😛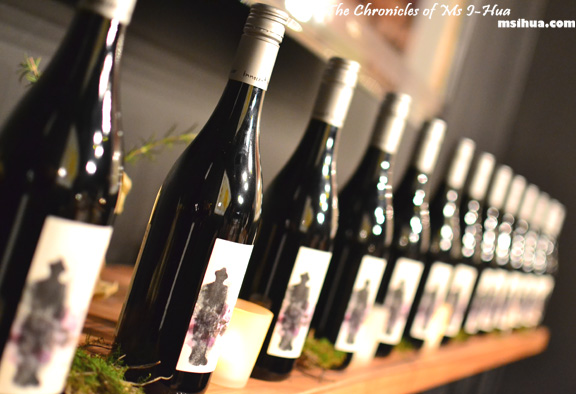 All in all, it was a really fun and educational night. I learnt about John Olsen and his works. I got to play with crayons and charcoal, and I got to spend the night with great company.
Each course was matched with an Innocent Bystander wine.
The food in general was good with one or two minor glitches in the flavouring department, however the overall impression delivered was good.
I liked the entire delivery of mixing art and nuances of food which to me was an entirely new and exciting venture. As mentioned previously, right at the start, Spoonbill's use of seasonal produce in their menu showcases John Olsen's concept of the ever-changing seasons reflecting Australia's outback landscape.
[Ms I-Hua and the Boy dined courtesy of the Art Series Hotel and Spoonbill Restaurant and Bar]
*Disclaimer: All food ratings & review are purely based on my own experiences and how I feel about the service, food and quality at the time of visit
Food/ Cuisine: Modern Australian
Dining Style: Restaurant

Opening Hours:
Monday to Sunday, 6:30am – 12:00am (for Breakfast, Lunch & Dinner)
Address:
637 – 641 Chapel Street
South Yarra VIC 3141
Tel: (03) 9040 1333
Website: http://www.artserieshotels.com.au/Olsen/spoonbill
How to get there: