The last time I visited MoVida was in December 2008. That, in the food scene, is a long long time ago.
Time flies when you're having fun eating and drinking in Melbourne.
It was hot stuff when I visited, and it still is judging by the crowd last Tuesday night and the extremely long wait list for bookings).
I was recently sent a media kit announcing a new selection of wines from Wine Selectors on their Chef Series.
According to Wine Selectors General Manager, Mike Coddington, "the Chef Series was created to bring to life the harmonies between food and wine, and to let the chefs have free reign over the sensory delights experienced by their patrons".
I was quite keen to hear more about it. Does this now mean that chefs will dictate (rather than their sommeliers) the type of wines we would now be drinking with their food? Would it now mean that "celebrity chefs" will now be endorsing their own brand of wines on top of cookwares, utensils and ingredients?
In the Wine Selectors, Chef Series, four notable chefs had been selected to work in collaboration with premium wine producers including Frank Camorra (MoVida, Melbourne), Ian Parmenter (Winos, Perth), Ben O'Donoghue (South Bank Surf Club, Brisbane) and Alastair McLeod (Brett's Wharf, Brisbane).
Each of the wines created are built to match specific key dishes from each of the chef's restaurant. Out of all the wines displayed, I was most keen to try that of Frank Camorra and Alastair McLeod.
The first is fairly obvious, I have to support Melburnians and the latter, has a Riesling (and we all know I love Rieslings!)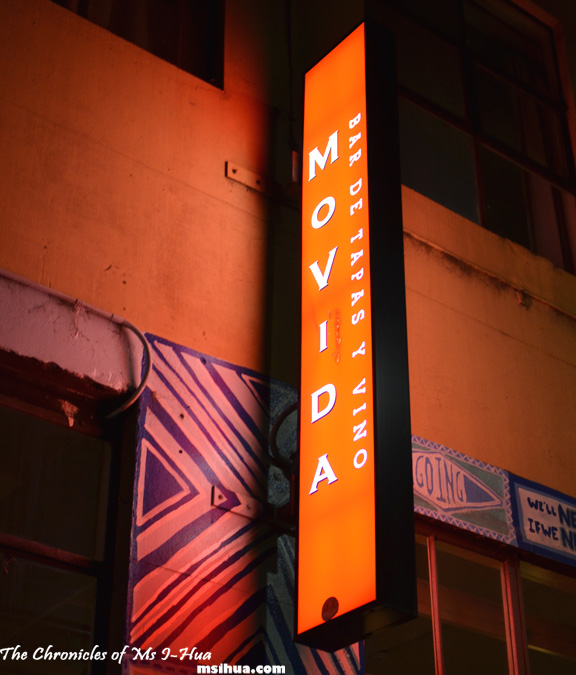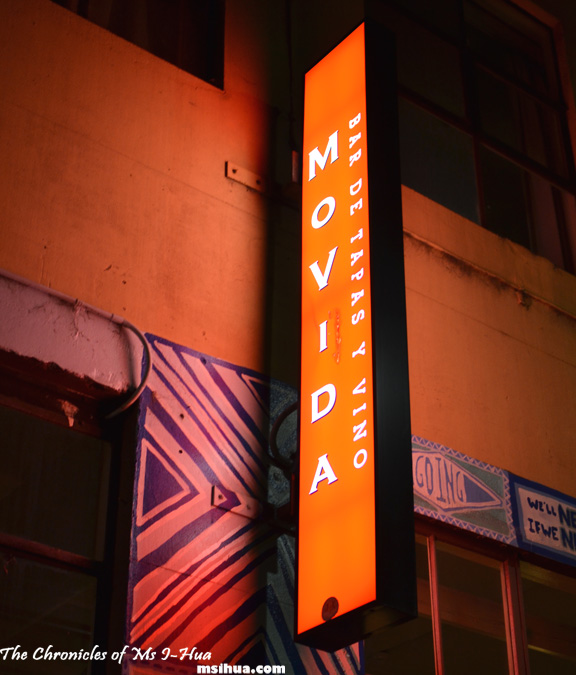 It was obvious, that if I wanted to taste the validity of the wine and its matching, that I would have to pay a visit to Frank's very own original MoVida restaurant at Hosier Lane in Melbourne.
Keen to have tasting buds and palates other than mine, I invited both Agnes and Thanh along for the ride.
I do have to apologise in advance for the quality (and colour) of the pictures below. We were seated in the furthers booth (a most comfortable and romantic spot) which happened to be the darkest spot in the entire restaurant. I think the point was to put us out of every other diner's way as they had a suspicion that there would be photos taking place *sigh*… and I don't even use flash!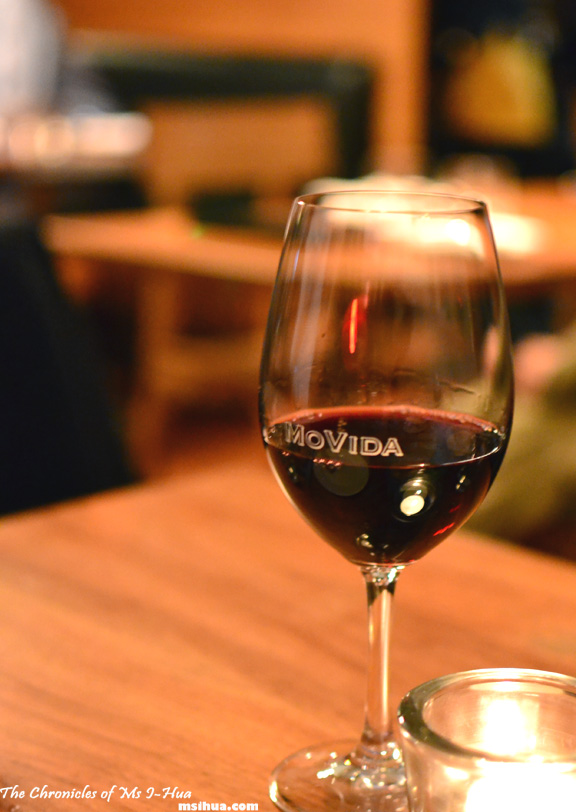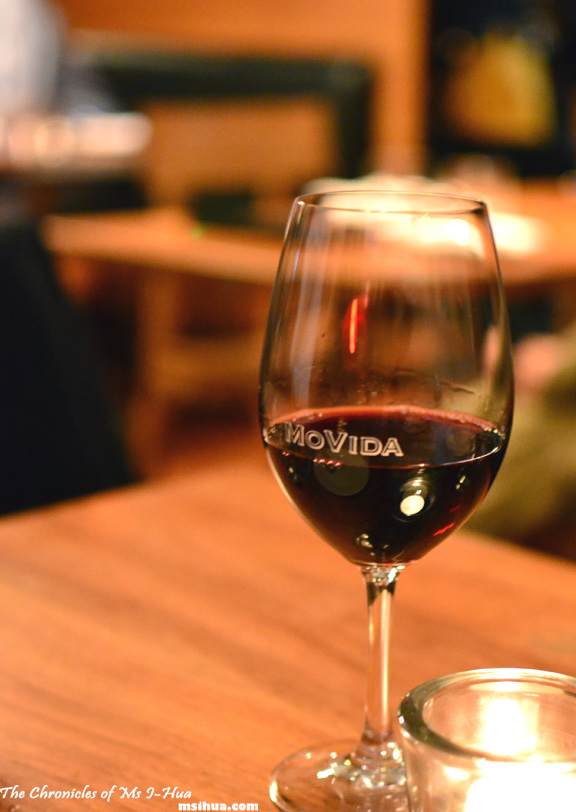 Once the three musketeers had settled in, we were asked if we would like to start the night tasting Frank Camorra's signature Rose or Tempranillo (Full details can be found below).
All three of us opted for the Tempranillo as the night was cold and we wanted a dark red to warm us up.
According to the tasting notes, the Tempranillo wine had "spice and a subtle toasty oak". I was excited to see that I tasted both those notes. Sadly the "riped aromas of black fruits" was quite lost on me.
But as the night went on, I found the Tempranillo sweeter and sweeter.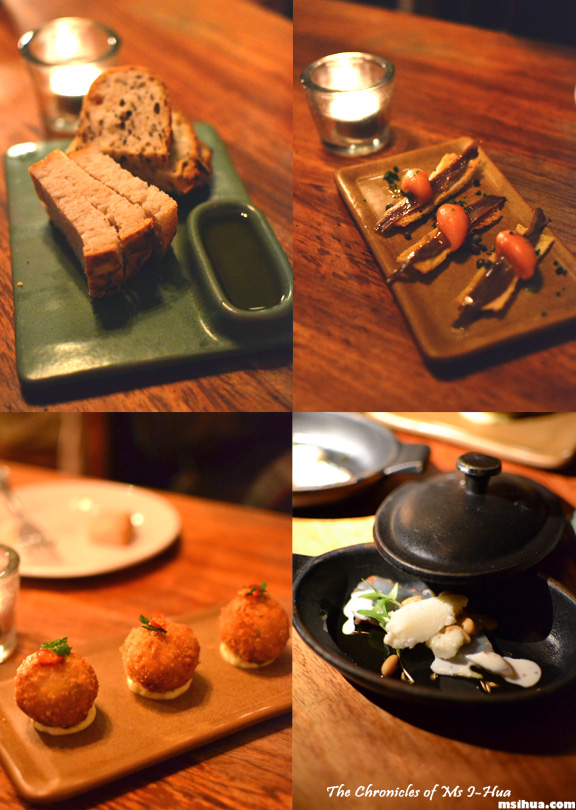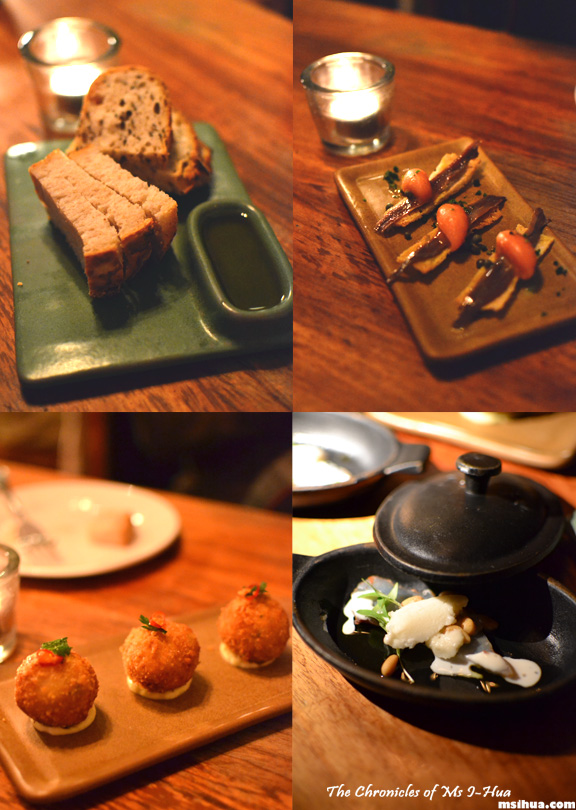 I was glad to see that not much had changed with MoVida's menu over the years. His star dishes were still very much prominent with only changed pairings to local seasonal produce being the only point of difference.
When I was last here, I tried the banquet menu (only available in groups of 4 or more). This time round, was much the same.
We were started off with the famous Anchoa (Hand-filleted Cantabrian Artisan Anchovy on Crouton with Smoked Tomato Sorbet) which was one of my favourites back in '08. Eating it on its own had my senses blasted with salt. However, paired with the wine it became almost sweet and ice-cream like with the tomato sorbet and smooth anchovy.
Next we had the Croqueta (Fried silky Croqueta flavoured with Jamon and Egg) which went very well with the wine. Remembering that the wine we were drinking was made specifically to match this dish, it was no wonder.
My favourite dish of the night, had to be the Caballa Ahumado (House Cold Smoked Spanish Mackerel with Pine Nut Gazpacho Sorbet). The flavours of this dish were all interwoven in a delicate and tiny mouthful. It was delightful and I utterly enjoyed it.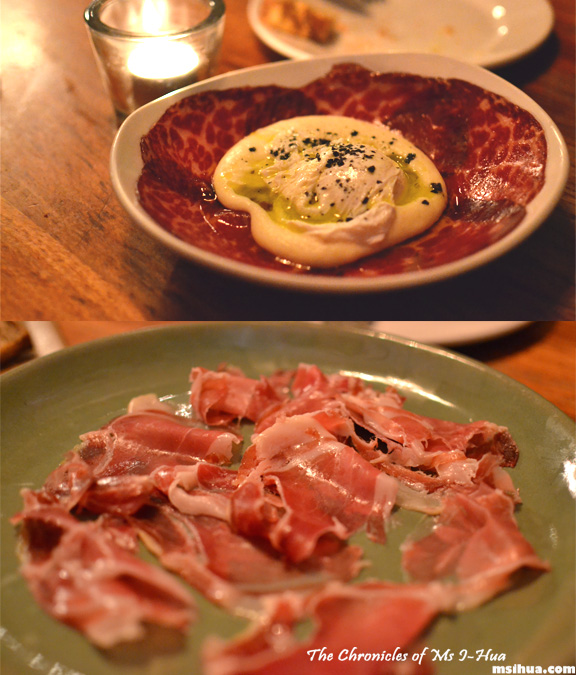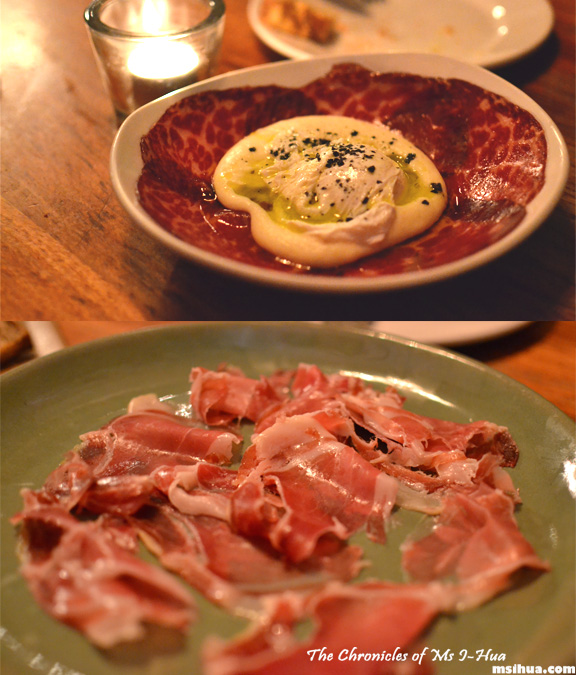 As usual, I skipped the beef dish, but I did get a taste of the truffles and egg. The dish I couldn't try was MoVida's award winning Cecina (Air- dried Wagyu with Poached Egg and Truffle Foam)
Both Agnes and Thanh devoured the dish 🙂
I snacked on quite a lot of the Jamones (served with pan catalan – first picture below) and if I remember correctly, the Jamon we were served was the Carrasco Jamon Iberico de Bellota (aged 36 months). So good.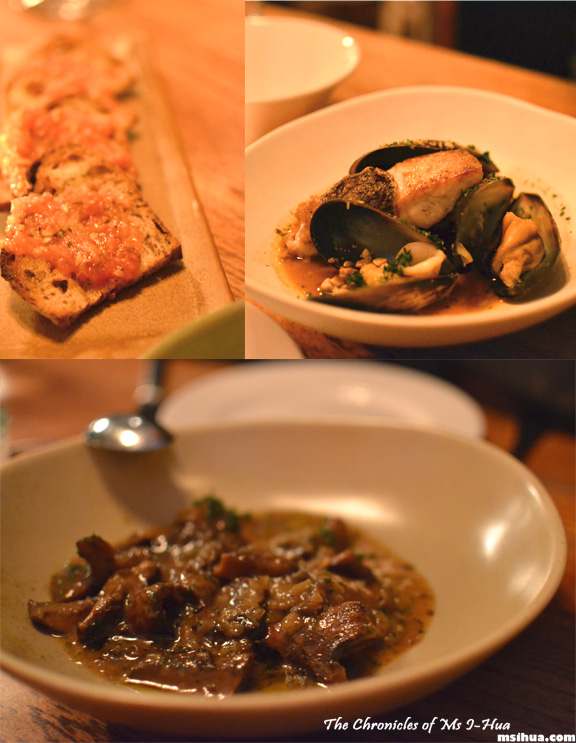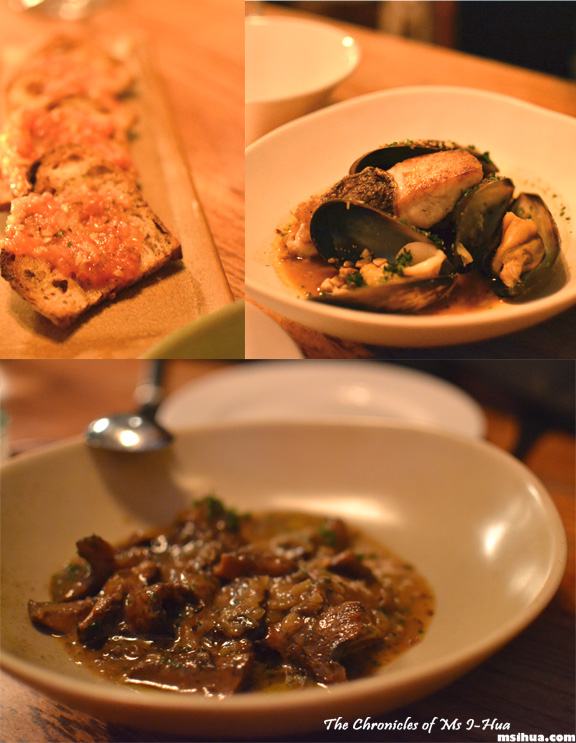 We next enjoyed some delicious Setas Asadas con Jerez (Oven-roasted Portobello Mushrooms finished with Sherry Vinegar – final picture above) and something off the specials menu that had Snapper with muscles and bread crumbs.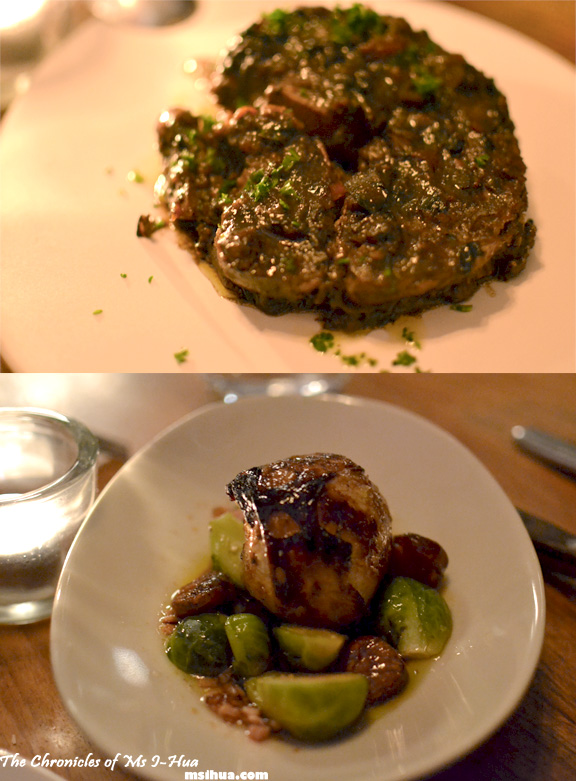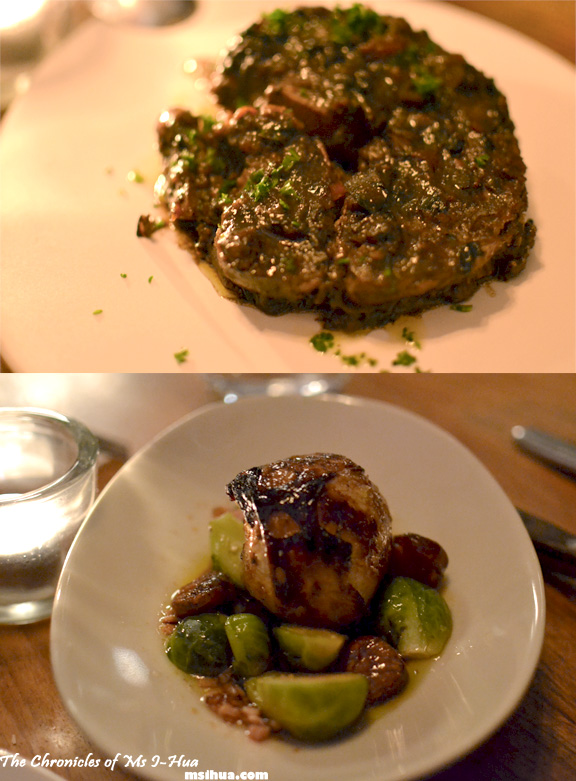 The last two mains were also off the specials board, and once again I lucked out on the beef option 🙁 Agnes and Thanh shared the Braised Beef Shin in a White Wine Sauce and we all had the Roast Pheasant with Brussel Sprouts and Bacon.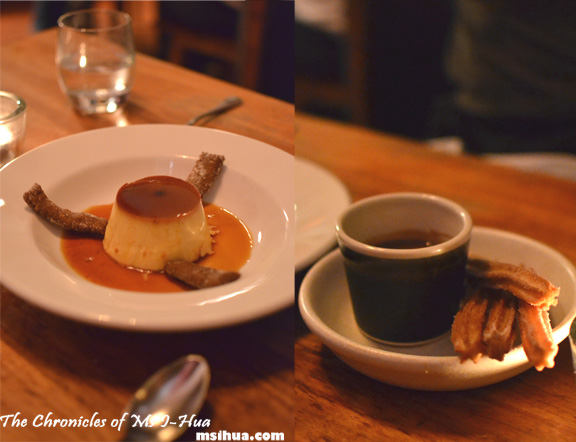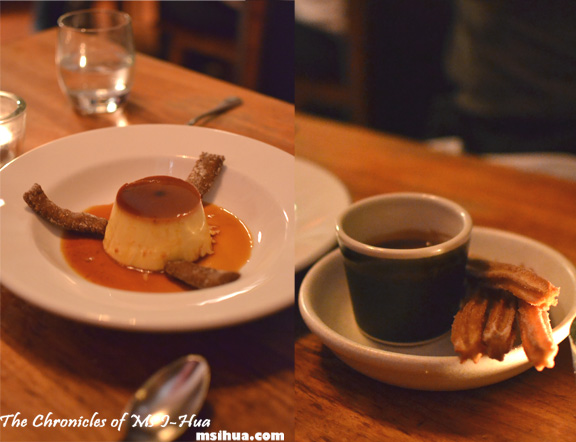 For desserts, I had to have the Churros (Rich Drinking Chocolate and Spanish Doughnuts) as I remembered it being one of the best I have ever had.
Thanh insisted that we needed to try the Flan con Pestinos (Crème Caramel served with Spicy Sherry Pastries) and I had to admit, the flan won in the desserts stake! SO SO SO delicious and creamy.
We also managed to try a glass (between us three 🙂 ) of the Rose. Whilst Thanh and I much preferred drinking the red, Agnes quite liked the flavours of the Rose as well.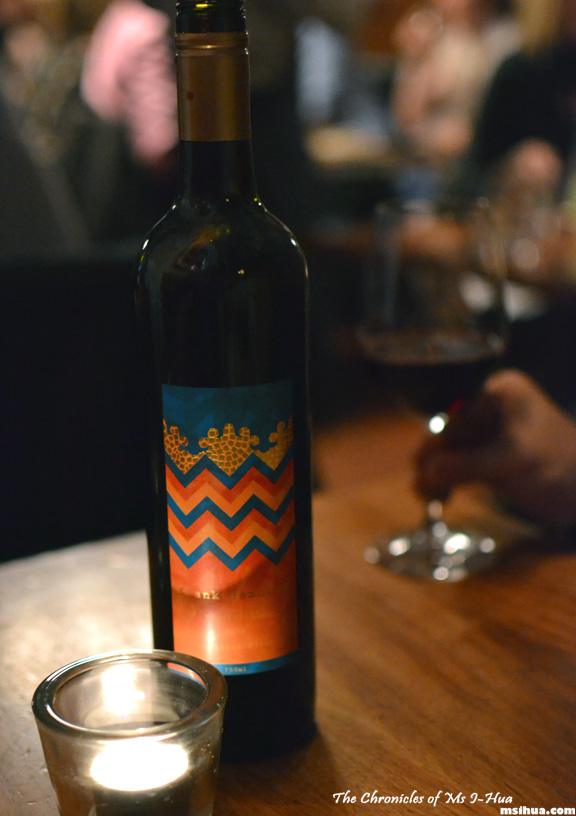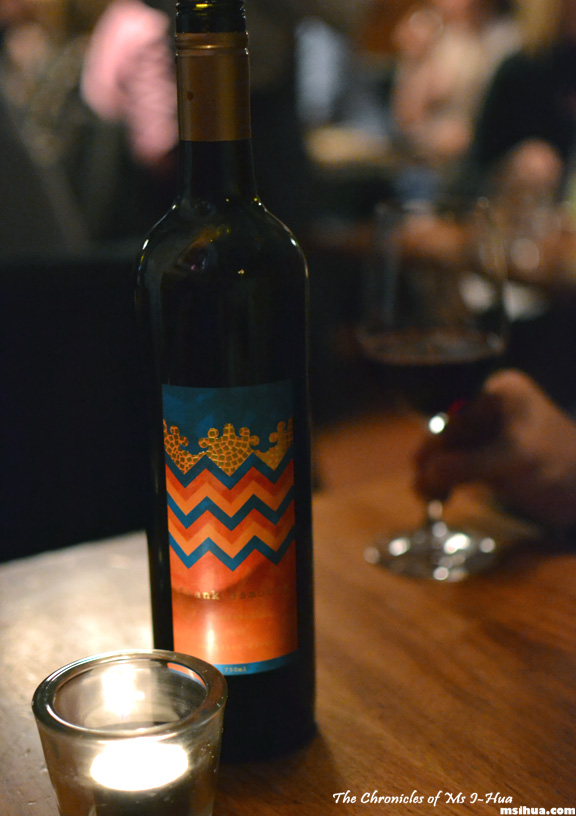 I found the food at MoVida though good, was still as salty as I remembered when I first visited in 2008. It probably is due to the fact that we very rarely use large quantities of salt (or at all) in our cookings.
But due to that fact, I really enjoyed the Tempranillo as it was oaky, sweet and robust, notes which were strengthened and emphasised due to the saltiness of the food.
[Ms I-Hua and guests dined courtesy of Wine Selectors, MoVida and Keep Left PR]
If you are interested in finding out more about the wines on the Chef Series, I have listed the details below. All wines can be enjoyed at the Chef's restaurants or purchased through Wine Selectors.
Wine Details:
Frank Camorra (MoVida, Melbourne)
Frank Camorra La Rosa Tradición 2005, Pyrenees (matched with Pipirrana [grilled mackerel salad])
Frank Camorra Tempranillo 2010, Margaret River (matched with Croquetas de Manos de Cerdo [sticky pork croquettes])
Ian Parmenter (Winos, Subiaco Hotel, Perth)
Ian Parmenter Pinot Noir 2011, Tasmania's Tamar Valley (matched with Parmenter's Roast Pork with Prune and Macadamia Stuffing)
Ian Parmenter Gewurtztraminer 2012, Goulburn Valley (matched with Super Smooth Laksa)
Ben O'Donoghue (South Bank Surf Club, Brisbane)
Ben O'Donoghue Shiraz 2011, Hunter Valley (matched with Grilled Miso cured Wagyu Beef)
Ben O'Donoghue Pinot Gris 2011, Mornington Peninsula (matched with Crab and Rocket Linguine)
Alastair McLeod (Brett's Wharf, Tank, Brisbane)
Alastair McLeod Pinot Noir 2010, Mornington Peninsula (matched with Togarashi Duck Breast with Seaweed Persillade)
Alastair McLeod Riesling 2010,  Mt Barker (matched with Anise Roasted Barramundi with Steamed Clams and Heart of Palm)
Alastair McLeod Chardonnay Pinot Noir NV, Tasmania (matched with Rock Oysters with Saltwater Vinaigrette and Wakame)
*Disclaimer: All food ratings & review are purely based on my own experiences and how I feel about the service, food and quality at the time of visit
Food/ Cuisine: Modern Spanish
Dining Style: Restaurant

Opening Hours:
Monday to Sunday, noon till late
Address:
1 Hosier Lane
Melbourne VIC 3000
Tel: (03) 9663 3038
Website: http://www.movida.com.au/
Twitter: @MoVidaMelbourne
How to get there: