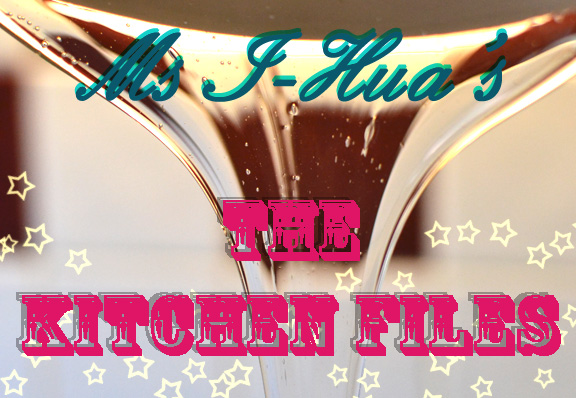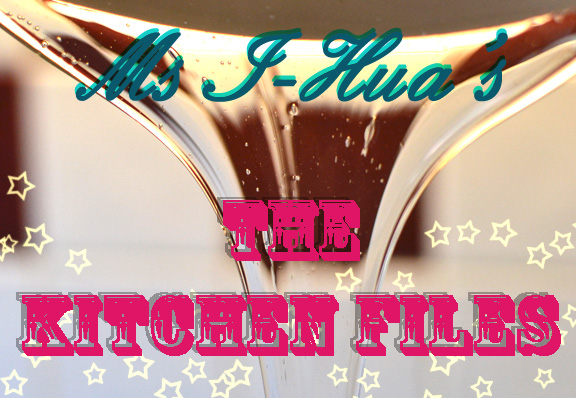 Previously on Kitchen Files…
We brought you a brief introduction to what the Boy and I do in our kitchen on a normal basis. We showed you some of our successes (and not so wonderful experiments) in our humble abode with a couple of fishy experiments.
In this episode, the Boy and I bring to you, the case of the flightless bird.
The boy eats beef, and I do not. I eat lamb, and he doesn't fancy it.
So, we tend to eat a lot of chicken in this household. It's convenient, easy to cook and goes with nearly everything.
As usual, even if we had a #winning chicken dish in our kitchen, we tend to forget the actual process and recipe we used, as we do a lot of it by touch and feel.
Not wanting to egg you on further (do forgive me dear readers), we bring you The Kitchen Files, a recap of forgotten recipes arising from "Les Petit Truffe" 🙂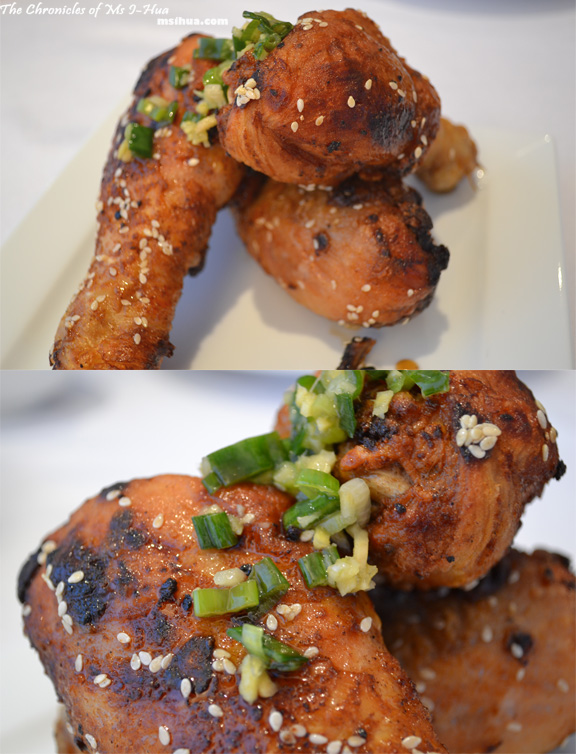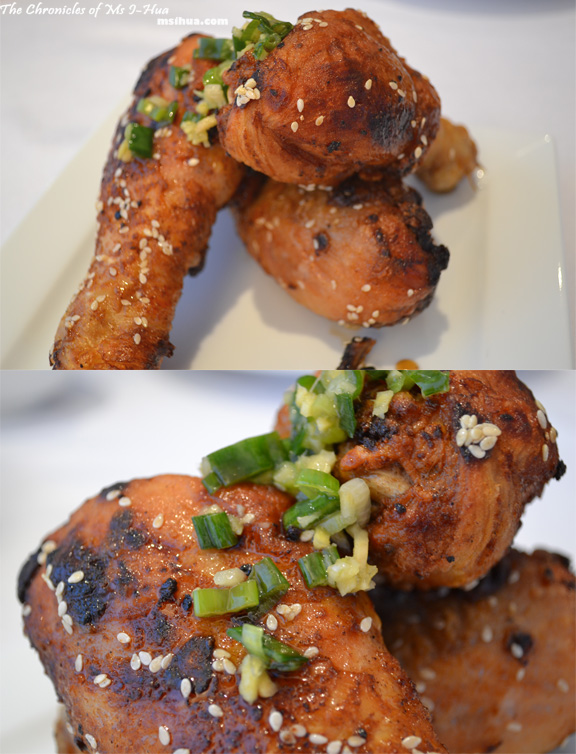 Fried Chicken Drumstick topped with Momofuku's Ginger Scallion Sauce
This happened when the Boy made a big batch of my favourite Momofuku Ginger Scallion Sauce and we had some leftover. I love this sauce because it's versatile, flexible and lip smackingly tasty!
It's also very easy to make, which works well for us as we seldom have much time in the kitchen (or at least I'm too lazy to bother andwouldbehappywithbaconandeggsfordinnerthankyouverymuch) and something as quick and easy as this is fantabulous!
Using a couple of chicken drumsticks, brine them overnight in some salt, sugar and water. The following day, take the chicken out and pat dry. Marinate the chicken with some honey, soy sauce, and onion salt before frying them and coating with sesame seed as the final touch.
Topped up with the Momofuku Ginger Scallion Sauce, it'll put your fowl mood into a smile-y mood (pun completely intended *booyah*)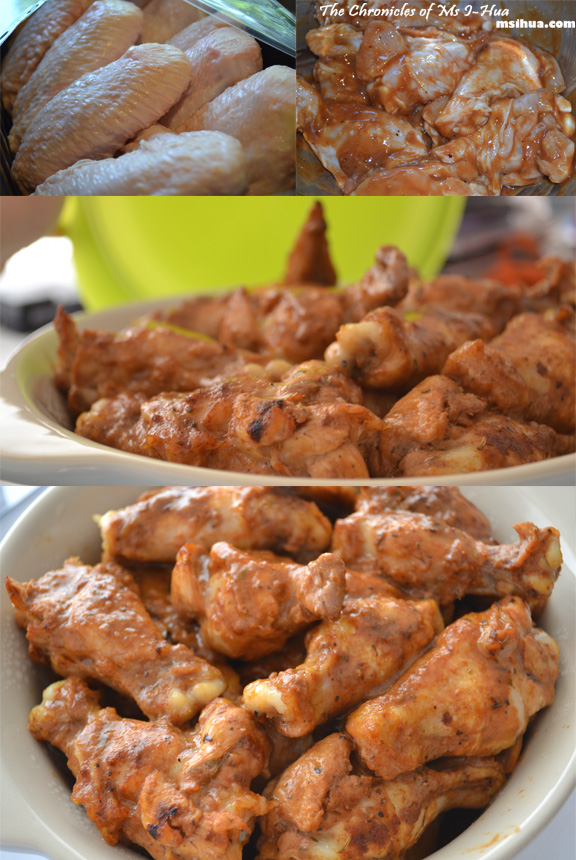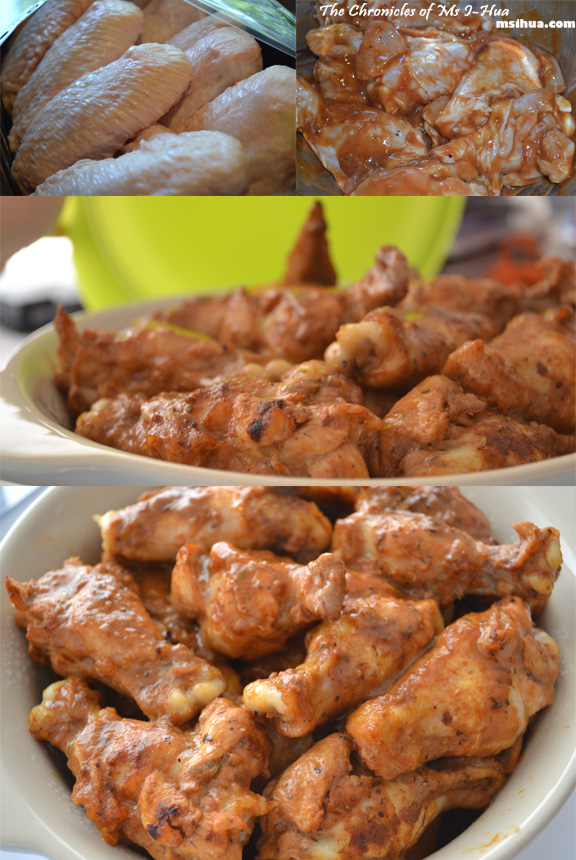 My Mother's Oven Baked Chicken Drumettes
The next is actually my favourite marinade mix for lamb chops and chicken wings. I usually grill these in my little ovenette in batches.
The recipe is simple. You just need to make sure you have all the sauces. Measurements? Meh (who needs them). For this recipe, exact measurements go out the door and I use whatever amount I feel is the right amount.
All you need is a few tablespoons of Dijon Mustard (or Hot Mustard *depending on my mood*), 1 teaspoon of mustard seeds, a few tablespoons of Worchestershire Sauce, HP Sauce, tomato ketchup and a sprinkling of mixed herbs.
Let the meat marinade for a minimum of 30 minutes whilst you prep your other dishes (or pop the kettle on for a cup of tea), when you're ready for eating, just plonk the chicken drumettes (wings or even lamb chops) into the ovenette (toaster oven) for around 10-15 minutes and it'll be done.
With so much sauce, be ready to get into some serious finger lickin' action.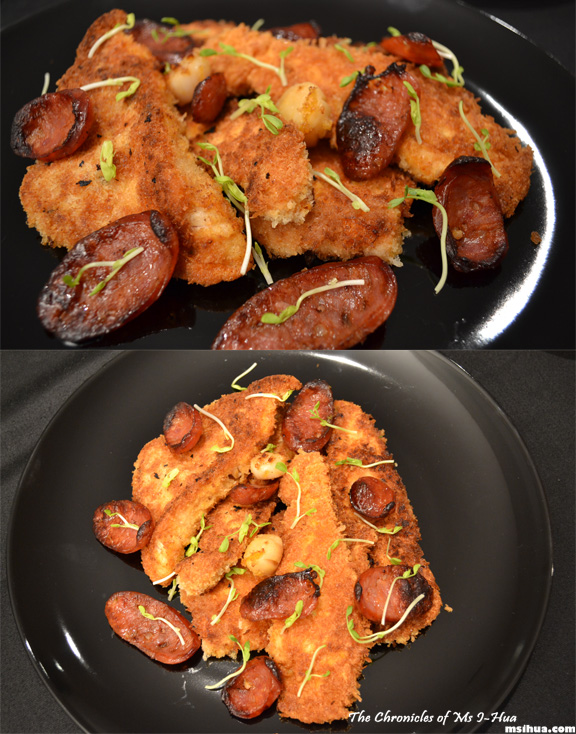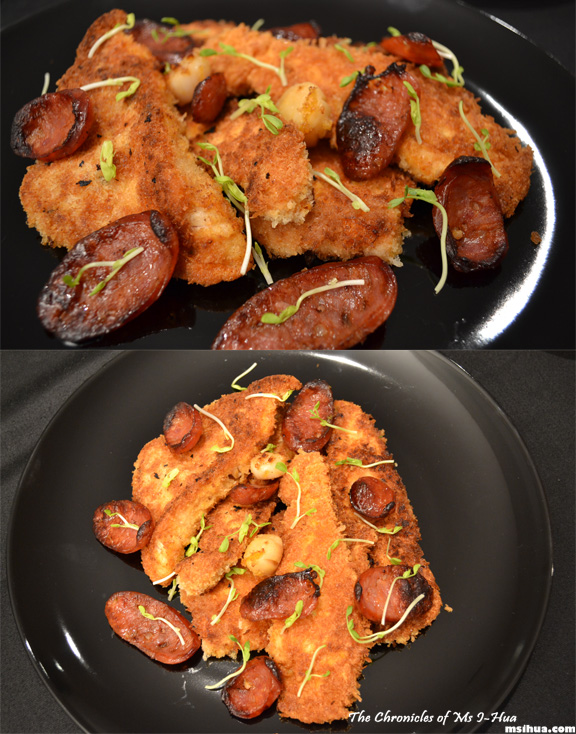 Panko Crumbed Chicken Schnitzel with Chorizo & Scallops
The Boy insists that we had this for Valentine's Day. I, however have completely forgotten it 🙁 *bad fiancé*
I don't even remember taking this picture, but take it I must have, as the angle is clearly mine and not the Boy's. Hmmm… curiouser and curiouser.
Oh well. The Boy would like our readers to know that this chicken, although deliciously crispy from the panko crumbs, was a tad too dry. It needed a dipping sauce.
The chicken breast we used had been halved and flatten and thus, did not require as long a cooking time in comparison to a full whole breast. So what can I say?
Don't overcook your chicken or you'll run afowl with your guests :p
So now, let's get you talking about something different this time.
What were your worst experiences with cooking chicken? Remember now, no poultry excuses will be accepted!! (Okay please don't shoot me! I'm a chicken! *Cock-a-doodle-doo*)