Put your hands up! Wave them in the air! And do a Mexican wave!
Clap your hands and holler, "Another Mexican joint in Melbourne!"
Before you groan and shake your head at this new arrival, let's see what Touché Hombre have on offer.
A week ago, a bunch of bloggers including yours truly were invited to the latest artistically design, by the Maison Davis team.
Owner Davis Yu (Millswyn) greeted us upon arrival and was highly energetic throughout our meal (he can be forgiven as he is 22 and full of hope and energy!). He will also be opening another restaurant soon, serving up an Asian mix of Thai and Japanese at "Claremont Tonic".
Despite the harsh red lighting (which proved a challenge for picture taking), the slight hint of retro in the decor and vibe was definitely catered to the hip and funky crowd.
If you don't believe me, all you have to do is peek into the place one day, distressed tables, high ceilings, warehouse retro cool and of course wooden cutlery (which to me serve no purpose other than looking cute and hip), paper cups for water, take away cardboard boxes for food. You get the drift, hip and retro but there's a lot of recyclable items here (and I hope they follow the sustainable movement and recycle!).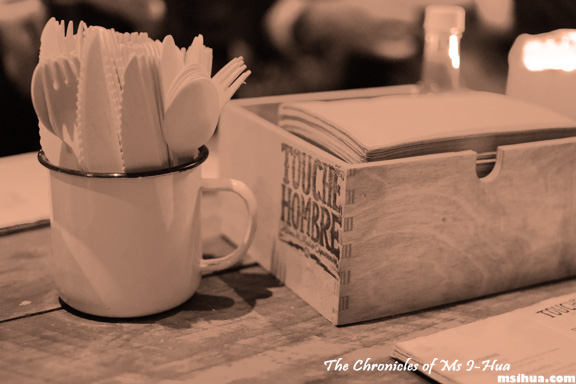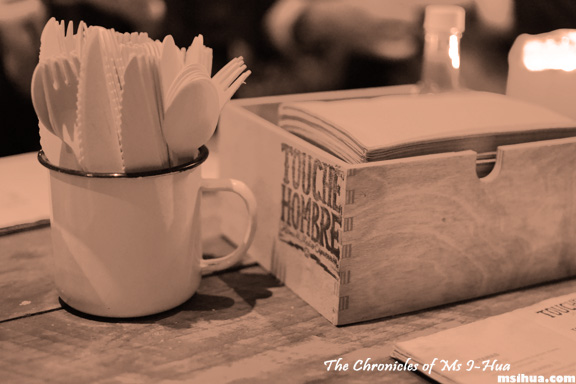 In terms of food, we sure weren't starved! There was so much food coming out of the kitchen.
Head Chef Dylan Roberts (formerly St Jude's Cellars and Ezard) runs the ship at this establishment and is keen and passionate to showcase his Mexican offerings to the Melbourne crowd.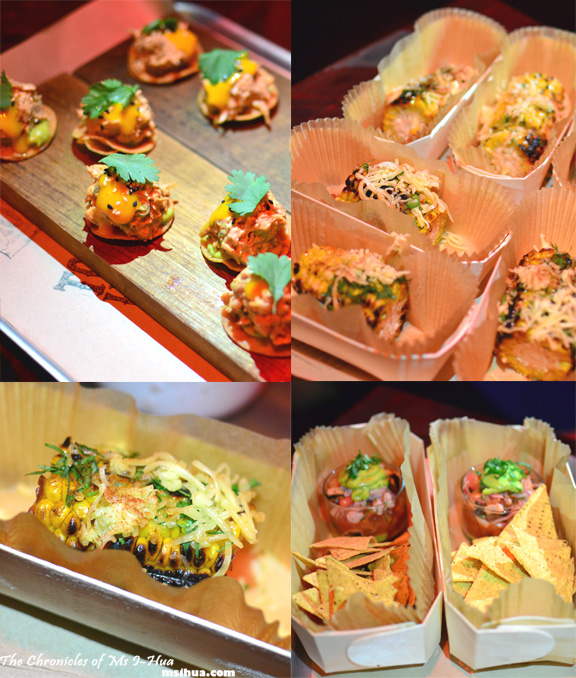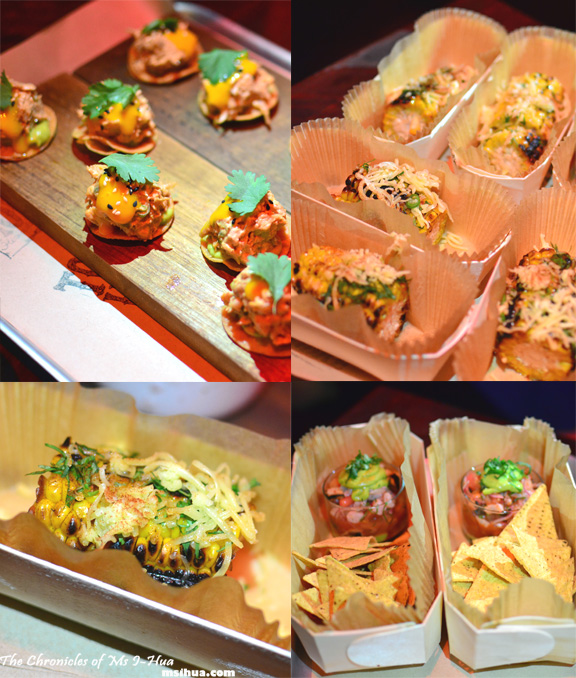 Starting with a rather delicious Elotes Callejeros (Grilled corn, cilantro, smoked paprika, butter and grated Egmont cheese). I couldn't help myself, I love corn, so I had to eat two! I would have preferred it a little gooey-er with more cheese all around, but that's just my personal preference.
We also had the Tostaditos of De Pollo (Spiced chicken, mango jam, toasted sesame and chipotle mayo).
I did enjoy quite a lot of the Ceviche (Diced fish, mussels, cilantro, chilli, red onion, tomato and guacamole) which were served with tortilla chips.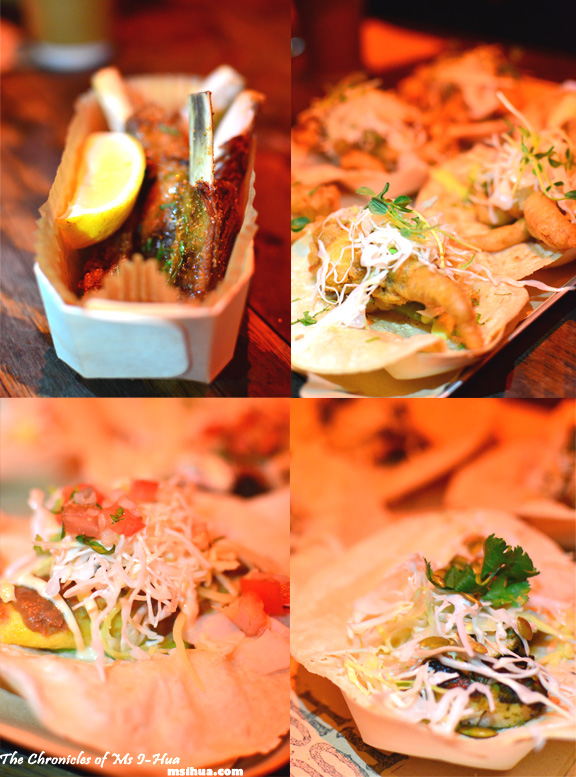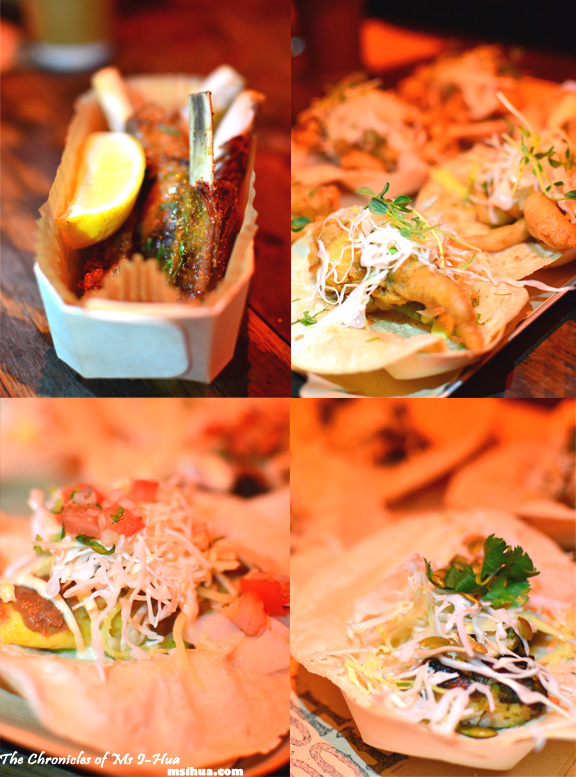 In terms of Tacos, we tried three different varieties, before we begged for forgiveness and said, "Please no more! We're so full! But the food is delicious!"
We tried the De Jaiba (Battered soft-shell crab, corn cream, pea shoots, lime and mint) which were my least favourite, as I felt the batter took away the original crispiness of the soft shell crab.
However, I was won over with the Breakfast Taco (Omelette, salchichas, Egmont cheese, beans, avocado, salsa, fried onions and habanero cream) which was just so jam-packed with flavours and textures, it was a delicious entreaty to gain back my favour.
We also tried the Del Coronel (Char-grilled chicken, chimichurri and toasted pepitas) which was good.
Touché has 8 varieties of tacos to choose from, with the most exciting sounding on the menu aptly named, Secret Tacos where you won't find out what it is until after you have eaten it (as it's most likely offal). I want to try!!! I love offal.
The tacos as a whole were good, but I would have preferred it if the tortilla was a bit thinner, as I found the ones we had a little too thick for my liking. That being said, each of the fillings we had were good apart from the soft shell crab.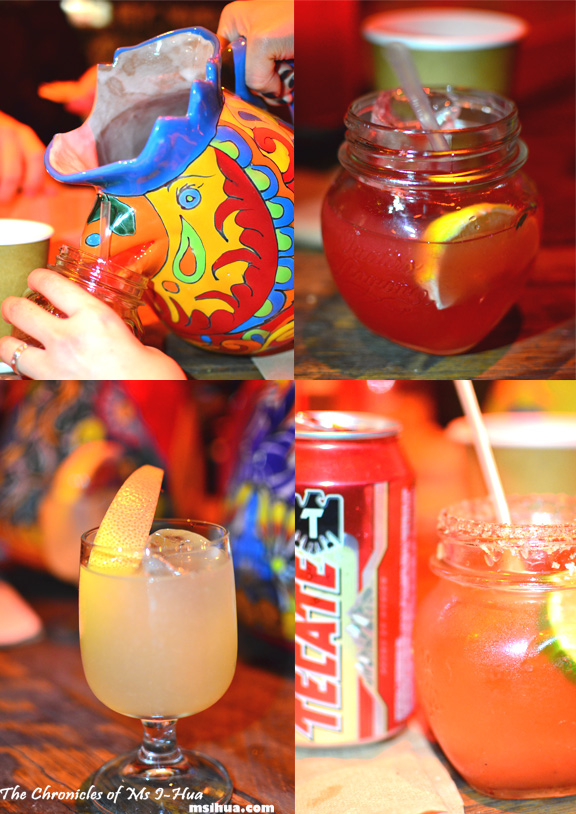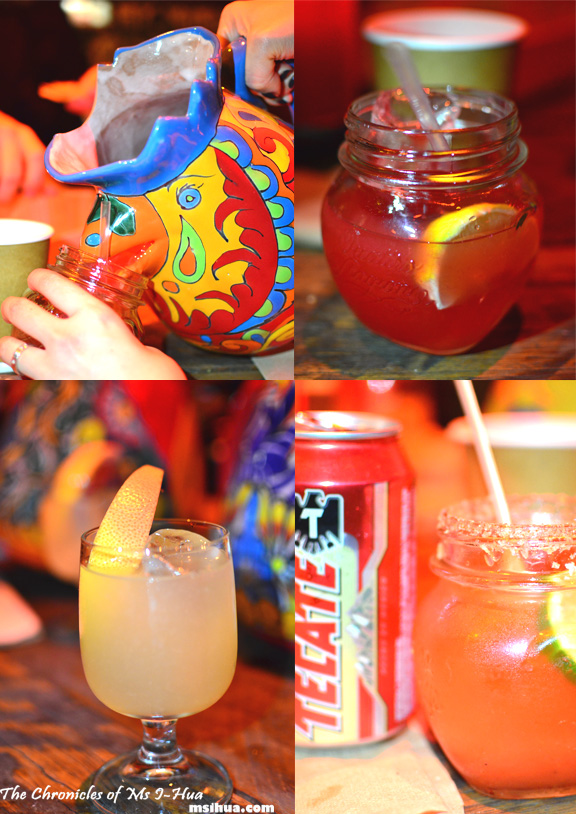 Of course it would not have been a Mexican party without some alcoholic beverages.
We started off with large jugs of chicken serving, what else, Margaritas!
We then proceeded to work through the Cocktails menu, trying out the Blood Orange Madagascar (Casco Viejo Reposado, blood orange, orange colombo liqueur on the rocks with vanilla sugar drops and scented straws), La Paloma (Tromba Bianco, fresh pink grapefruit, organic agave nectar, a Mexican pinch of salt, charged with Toronja soda) and finally, Michelada Bitchin' Mexican Beer Cocktail (Tecate Mexican lager, Touché's salsa & Hombre's chipotle puree, served in a jar finished with fresh lime, ice and a salted rim).
My favourite would definitely be the La Margarita (De Octubre 1941) (Espolon Reposado tequila, Damiana Mexicana, Agave Sec Liqueur, fresh-pressed lime & lemon, Con hielo y sal rosada) as I'm a sucker for food margaritas.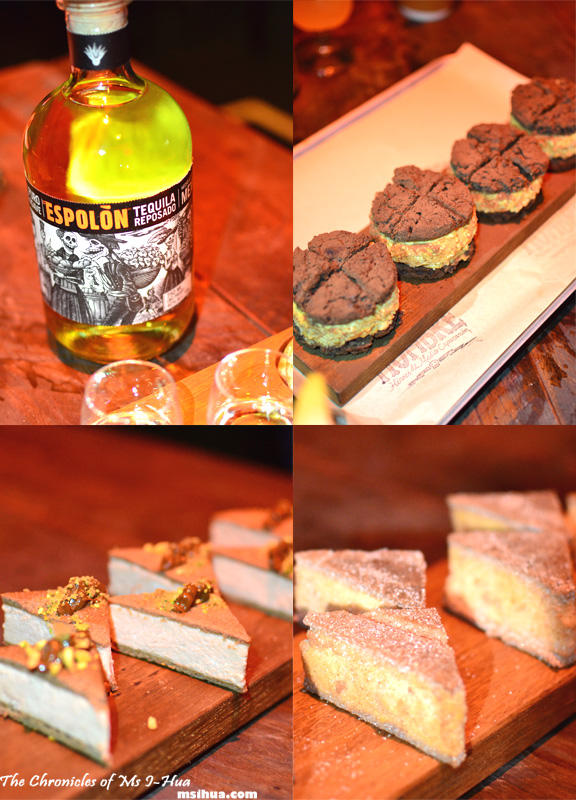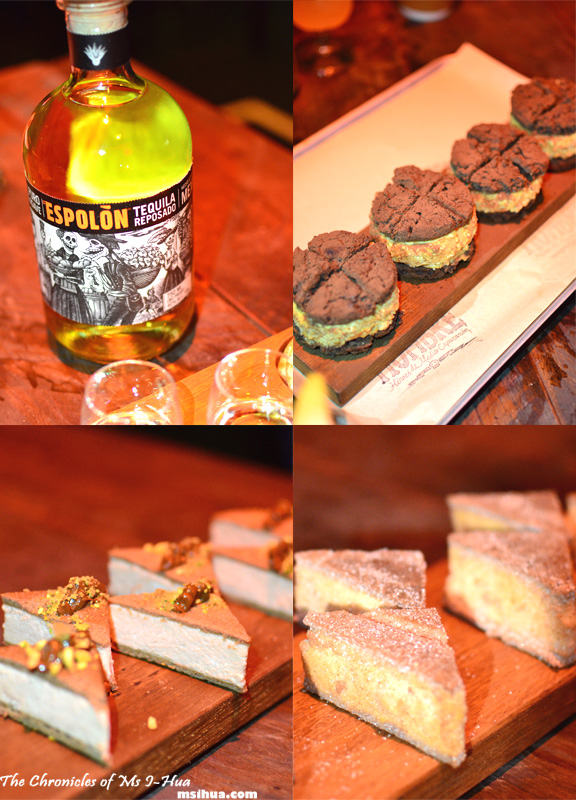 Of course the night wouldn't have ended without some sweets to top it off. But first, TEQUILA!!
Each of us were provided with a shot glass of the Espolon Reposado Tequila to sip (or shoot) whilst we enjoyed the desserts.
For desserts, we had a selection of their Ice Cream Sangas.
The Chocolate & Chilli Peanut Cookie which was my favourite. I'm a sucker for chocolate and chilli and will often have this as a hot drink.
The Dulce De Leche (Strawberry parfait, pistachio and dulce de leche) was a nice surprise as it was lighter and not as sweet as I expected.
Finally, the Rice Pudding & Cinnamon (Caramel parfait, rice pudding and cinnamon sugar) was quite enjoyable as well.
All in all, we had a fun night at Touché Hombre and would be prepared to come back despite the hits and some misses. I liked the atmosphere and the staff were pretty friendly. Also, I won't have to queue all the way down the stairs *cough* from 5.45pm for 2 hours if I wanted to dine here (that being said, Touché Hombre does not take bookings either).
*Disclaimer: All food ratings & review are purely based on my own experiences and how I feel about the service, food and quality at the time of visit
[Ms I-Hua dined courtesy of Touché Hombre and AMPR]
For other reviews on Touché Hombre:
The Very Very Hungry Caterpillar
Off The Spork
Popcorn & Toast
Eat.Play.Shop
The World Loves Melbourne
Food/ Cuisine: Mexican
Dining Style: Restaurant

Opening Hours:
Tuesday to Saturday, 5:00pm – late
Friday, 12:00pm – 3:00pm; 5:00pm – late
Address:
Cnr Tattersalls Lane & Lonsdale Street
Melbourne VIC 3000
Tel: (03) 9663 0811
Website: http://www.touchehombre.com.au/
Twitter: @ToucheHombre
How to get there: