I've discovered that I am quite good around the kitchen in making something.
It's an intrinsic thing to me. Almost second nature to breathing.
I am good at making crepes.
Like really good.
It's not often that I toot my own horn, but today, I would like to brag about how good my crepes are.
Okay, it helps that the batter I use is really good as well. Not clumpy or overly watery. Just perfect.
The Boy put my crepe making skills to the test when he decided he wanted to make some traditional Malaysian desserts.
So here you go folks, a simple, quick and easy recipe to make some delicious home-made Pandan Crepe Rolls with a deliciously addictive filling.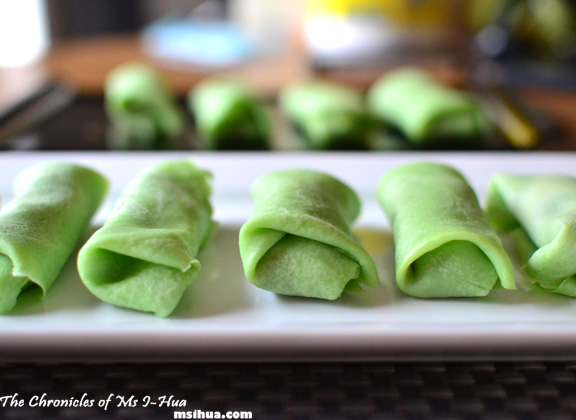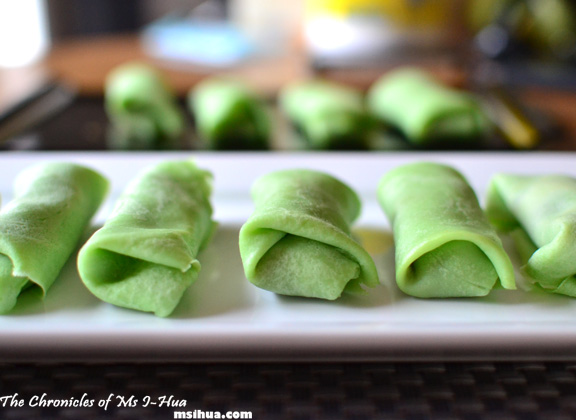 Kuih Dadar / Ketayap (Pandan Crepe Rolls with Caramelised Coconut Filling) Recipe
(Recipe adapted from Nonya Flavours: A Complete Guide to Penang Straits Chinese Cuisine)
Ingredients:

For Pandan Juice:
5-6 Pandan Leaves (Screwpine Leaves), chopped
3-4 Tbsp of Water
For Filling:
90-100g of Gula Melaka (Dark Palm Sugar), shaved
1/2 Old Coconut (grated, white part only) – Alternatively, you can use frozen grated coconut
1 Pandan Leaf, knotted
50ml of Water
1 tsp of Cornflour
For Crepe Batter:
120g of Flour
1 Egg
300ml of Fresh Coconut Milk (squeezed from 1/2 grated old coconut) mixed with 1/4 tsp of Salt – Alternatively, you can use the canned Coconut Milk
3 Tbsp of Pandan Juice (or replace with 1 tsp of Pandan Paste)
Few drops of Pandan Flavouring/Green Colouring (optional)
Procedure:
To make the Pandan Juice: Combine the chopped pandan leaves and water in a food processor or blender and blitz it for about a minute. Place pulverized leaves in a muslin cloth and squeeze it to extract the juice.
Sieve flour into a large mixing bowl and make a well in the centre of it.
Crack the egg into the well and slowly pour in the salted fresh coconut milk and 3 tablespoons of thick pandan juice extracted earlier. You can add the optional pandan flavouring or green colouring at this stage.
Mix the batter and leave it to stand while you cook the filling.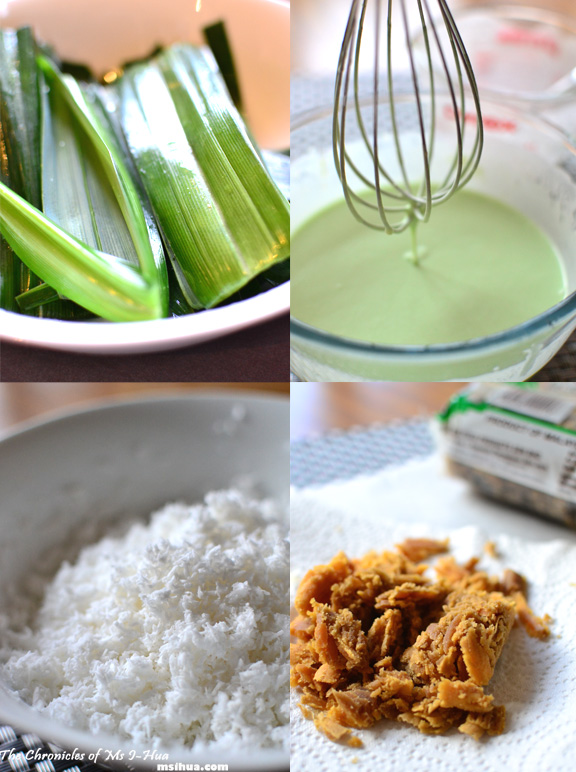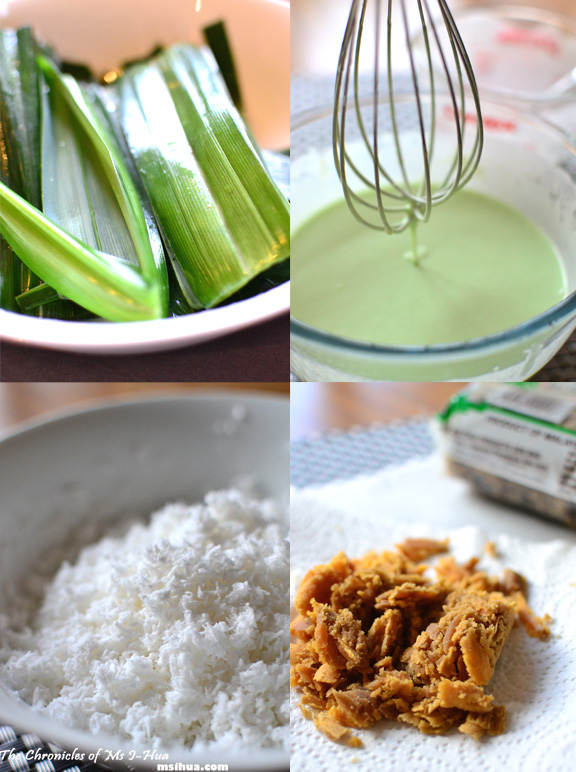 In a pot, cook the Gula Melaka, knotted pandan leaf and water over a medium flame until sugar dissolves. Careful not to burn the sugar.
Strain the dark syrup and return it to the pot. Add in grated coconut and cornflour and continue cooking for a few more minutes, stirring frequently.
Transfer filling into a bowl and allow to cool.
Place a shallow frying pan (or crepe pan) over low heat and lightly grease it with a neutral flavoured oil.
Pour 2 tablespoons of batter onto the centre of the pan and use the back of a spoon to spread the batter to form a thin crepe.
Once the crepe is cooked, transfer it to a plate or platter (coarse side facing down).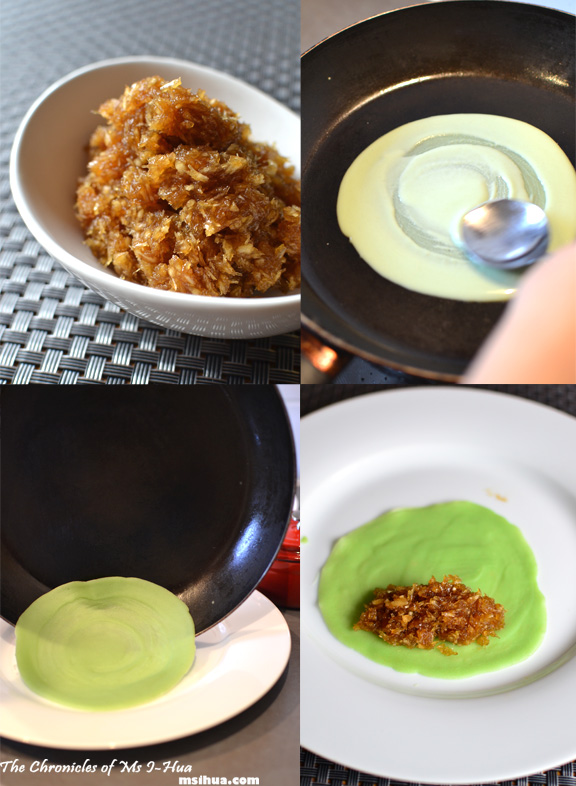 Place 2 teaspoons of filling on one end of the crepe.
Start rolling it up like how you would roll a spring roll.
Refer to the picture below as a guideline.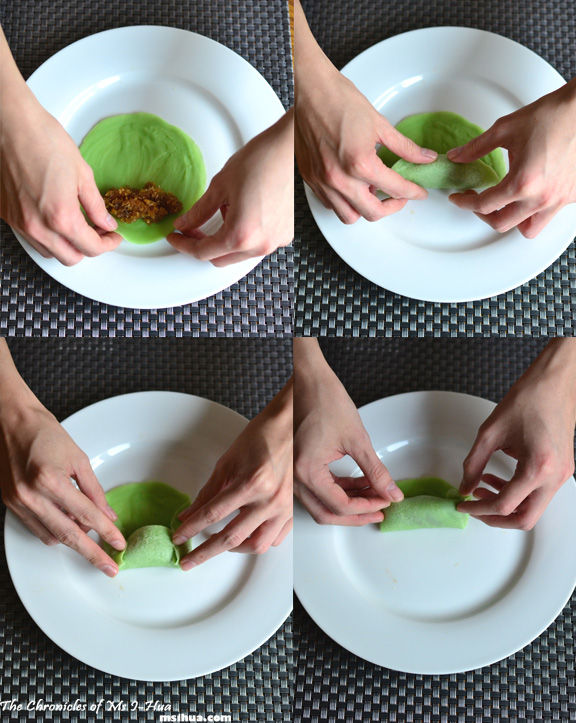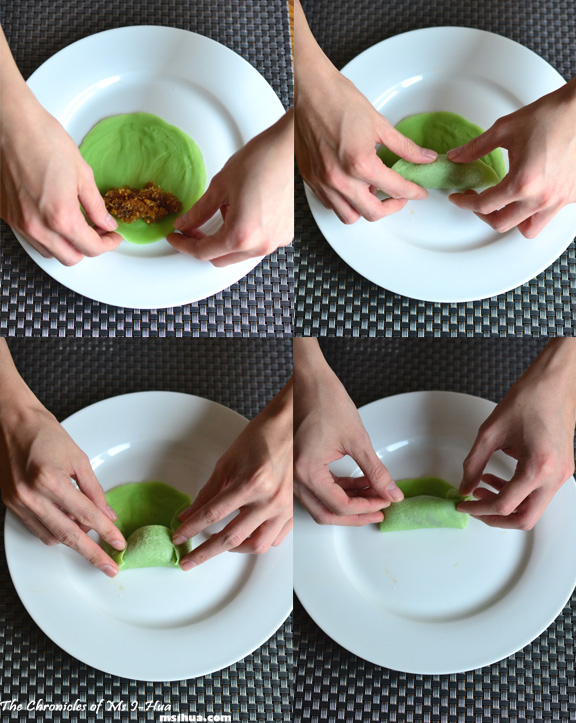 Arrange on a serving board or platter. Your Kuih Dadar should have a silky smooth and thin skin with juicy caramelised coconut filling.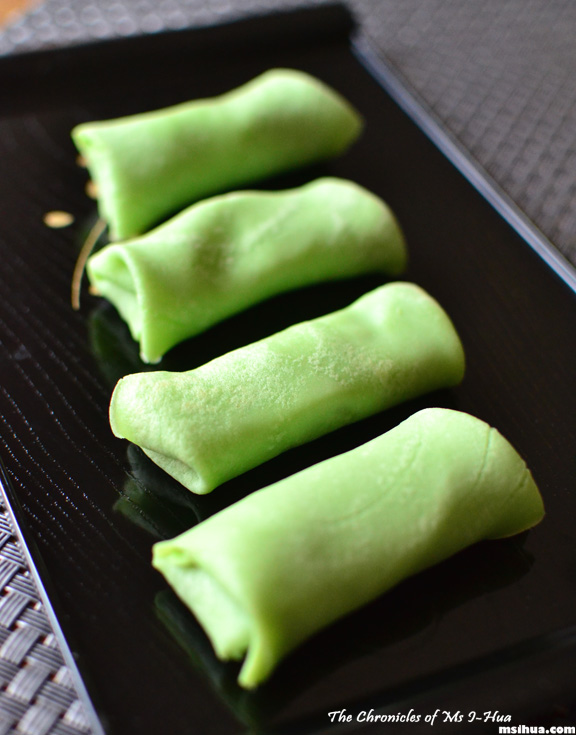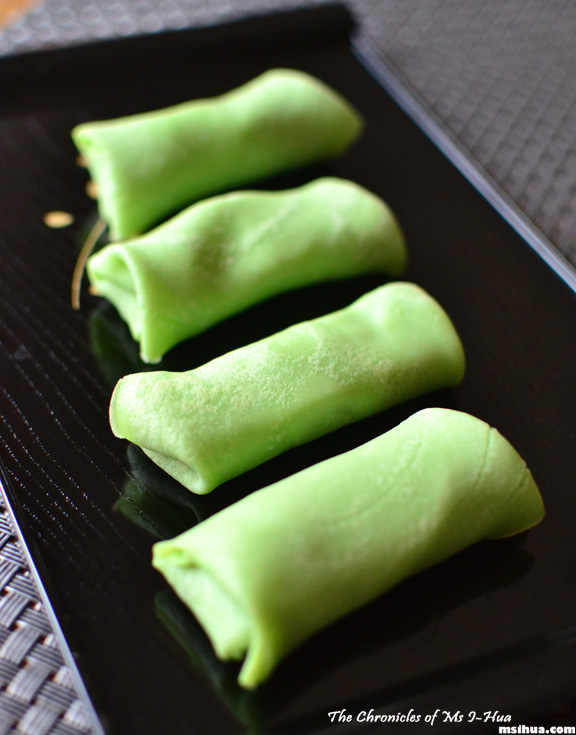 Aren't they just the cutest?
Don't you think they look marvelous?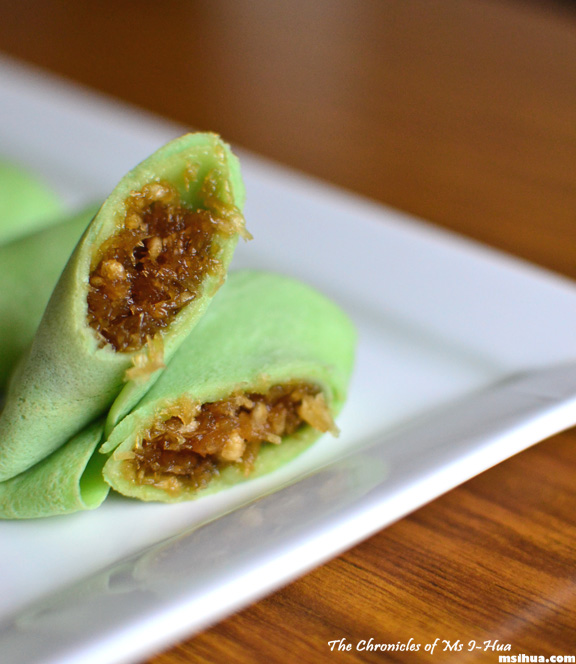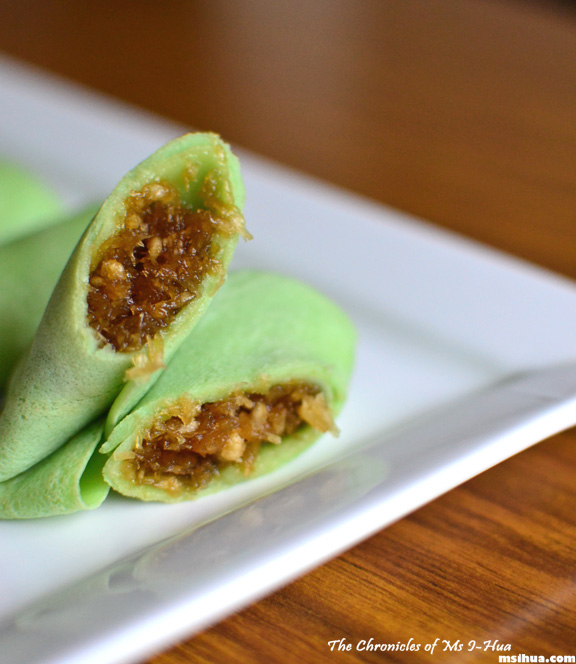 So what do you think? Do you reckon I'm off my chops saying I'm good at making these?
If you've had the chance to eat one of these cute green babies (which we made), let me know what you really thought of it!
If you haven't, make some and let us know what you think of the recipe!
In the meantime, I'm going to go back to eating some humble pie now 🙂