There are just some days when all you really need is something really large and meaty to sink your teeth into.
On days like these, I am not remiss to enter into the domains of a large American fast food chain to feed my soul the calories and carbohydrates it needs.
On some occasions, when the thought of the big yellow 'M' or the fried chicken joint just won't do, I would assuage myself with visions of big chunky fries, ketchup dribbling over everything and a hearty burger (or two) and a high calorie soft drink to top it all up.
If I am in the mood, I even have desserts 😛
Now, you may have had the impression that as a food enthusiast, I would scorn fast food joints and turn my nose up on junk food.
Sorry to burst your bubble. I do not discriminate food and I love food at all levels 😛
Which brings me to this next trio of Americana inspired restaurants located all around Melbourne city.
If burgers, hotdogs, chips and sodas are your thing, then head on down to any one of these three and you will be well rewarded 🙂
Merrywell – Crown Casino, Southbank
Located on the premises of Crown Casino and the vacated spot of Lucky Chan, stands a new upmarket American diner looking pretty swanky and hip.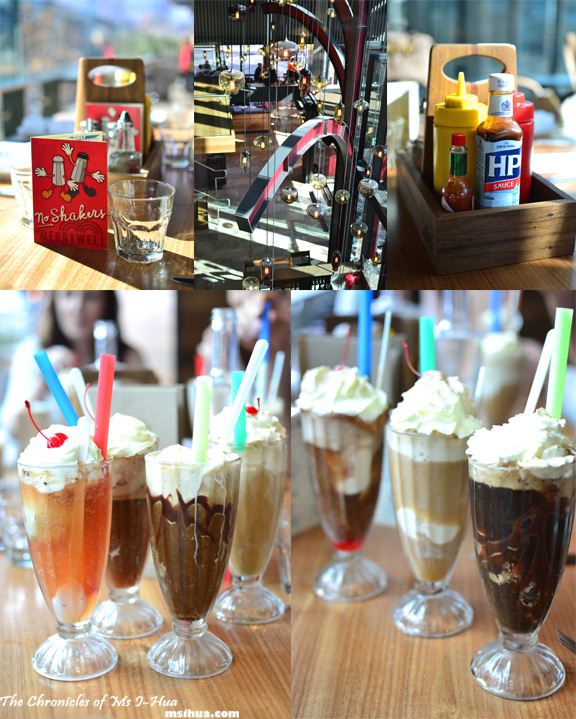 I was part of a group of food bloggers and writers who was invited to sample the delights of Merrywell's menu, which kind of reminded me of T.G.I.F's and Chili's Grill and Bar.
From the "Adult" drinks section, the group collectively let out enthusiastic signs of approval when we noticed that alcoholic sodas were available!
Between us (the girls I was seated with), we had The Merrywell Spider (rootbeer, vanilla ice-cream), which did make us all think of Sarsi (a soft drink sold in South East Asia) which is like a sarsaparilla cream soda-like drink]; The Wake Up (4 Pines Stout and espresso ice-cream) was what I had and absolutely loved! My kind of drink :); Cherry Coke Float (vanilla ice-cream and cherries) and the Mint and Magic (bitters, mint sherbet and Havana club rum).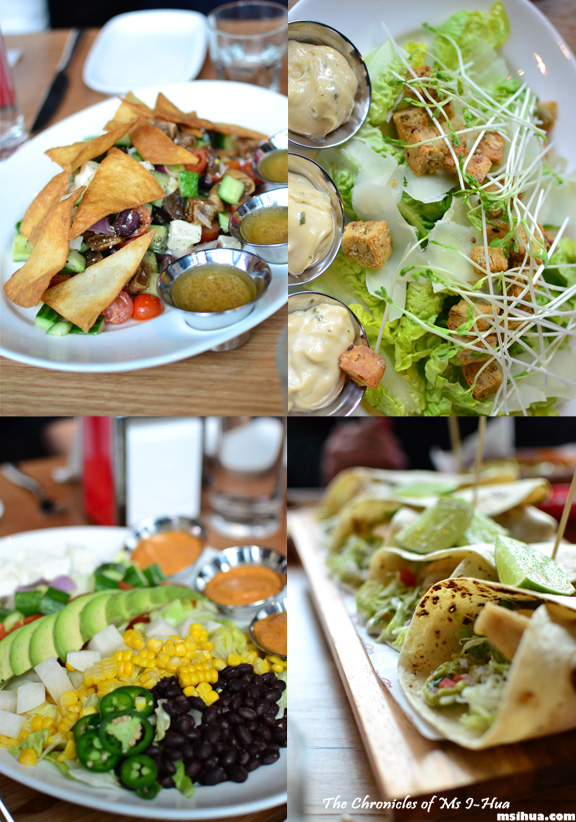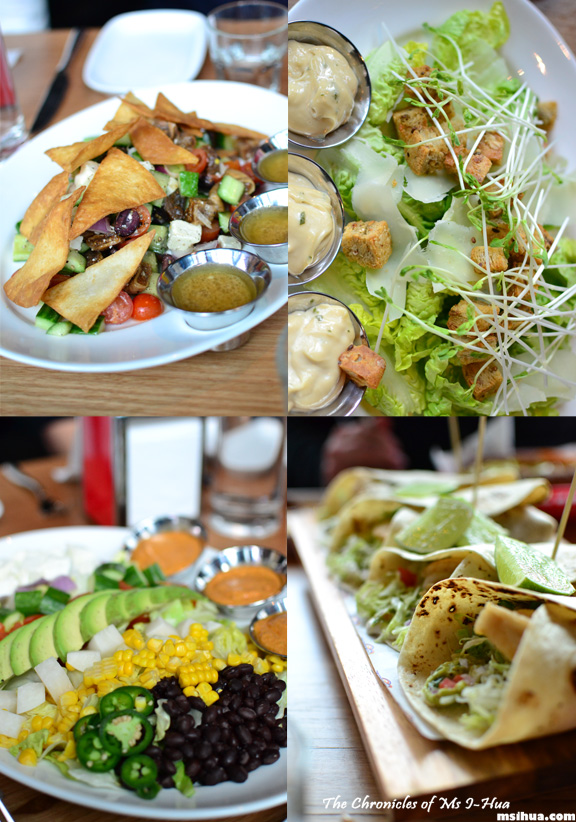 The food, when it came out, was of epic quantity and proportion! It really did sing true to the American tune!
There were platters of salad (Caesar Salad, Greek Salad and Mexican Cob Salad) to be shared across the table and servings of Fish Tacos as well.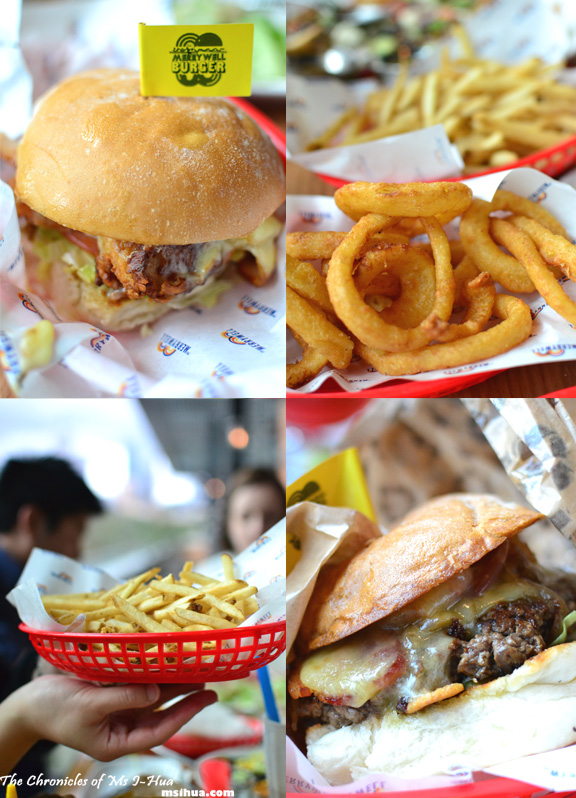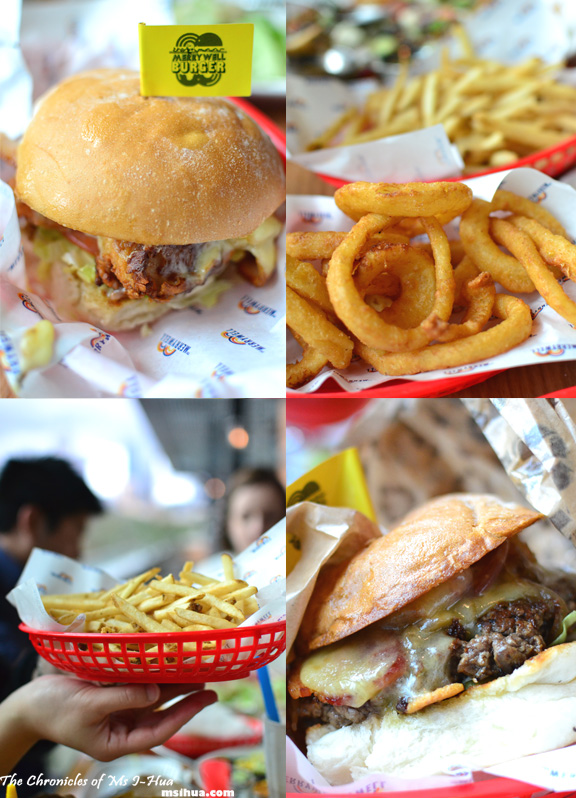 In addition to that, we were each invited to order a burger each with fries (modelled by the lovely Sarah) and onion rings to go around! OMG 🙂
The girls around me all seemed to have craved the same food as they all ordered The Merrywell (Lettuce, Cheese, Pickles, Onions, Tomato, Special Sauce, Bacon, Fries) whilst I truly enjoyed my K.F. Club (Chicken, Bacon, Cheddar, Tomato, Mayo).
The burgers were large, slippery and messy and truly enjoyable!
I couldn't stick around for dessert, but if you would like to read more on that, check out:
[Ms I-Hua dined courtesy of The Merrywell and Crown Melbourne]
*Disclaimer: All food ratings & review are purely based on my own experiences and how I feel about the service, food and quality at the time of visit
Food/ Cuisine: American
Dining Style: Casual Dining
Opening Hours:

Upstairs
Sunday – Thursday, Bar: 5:00pm – 12:00am; Kitchen: 5:00pm – 11:00pm
Friday & Saturday, Bar: 5:00pm – 3:00am; Kitchen: 5:00pm – 12:00am
Downstairs (Burger Bar)
Sunday – Thursday, Bar: 12:00pm – 11:00pm; Kitchen: 12:00pm – 11:00pm
Friday & Saturday, Bar: 12:00pm – 12:00am; Kitchen: 12:00pm – 11:00pm
Address:
Crown Casino
Corner of Clarendon Street & Crown Riverside
Southbank VIC 3006
Tel: (03) 9292 7468
Website: http://www.themerrywell.com.au/
Twitter: @themerrywell
How to get there: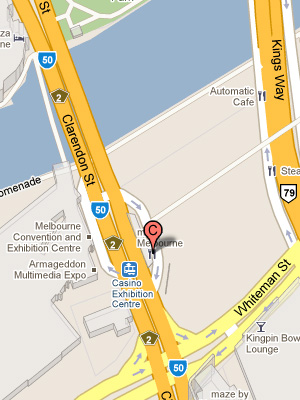 _______________________________________________________________________
Trunk Diner – Exhibition St, Melbourne CBD
The next diner on this list is a quaint (I didn't want to use the word cute) joint at the quieter end of Melbourne CBD, is Trunk Diner.
It features, on its premises, a casual diner, a restaurant, a bar and even a beer garden!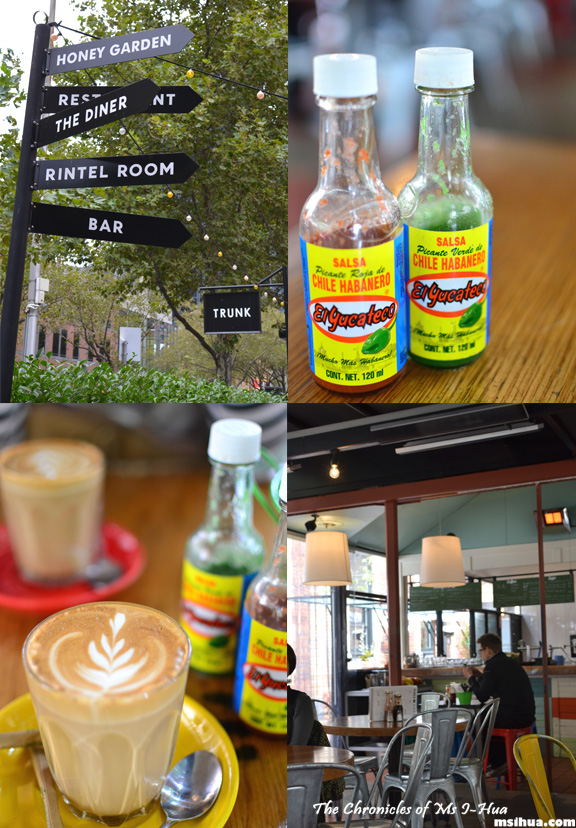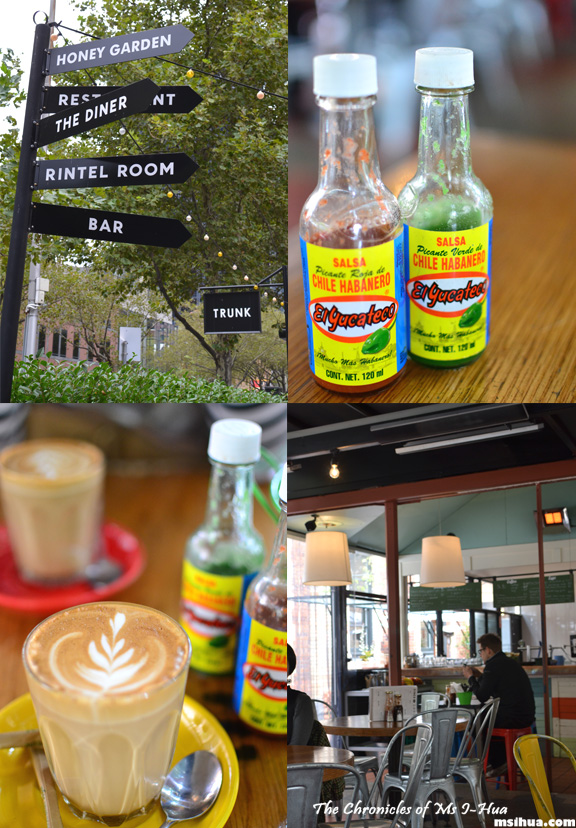 The Boy and I got there at a really odd time one Sunday and we caught them just as they were transitioning between breakfast and lunch.
Which meant that we had the option of having breakfast or waiting for 30-40 minutes or so for the lunch menu to be ready.
So we did what any other sane person would do.
We had BOTH! Why fight when you can join?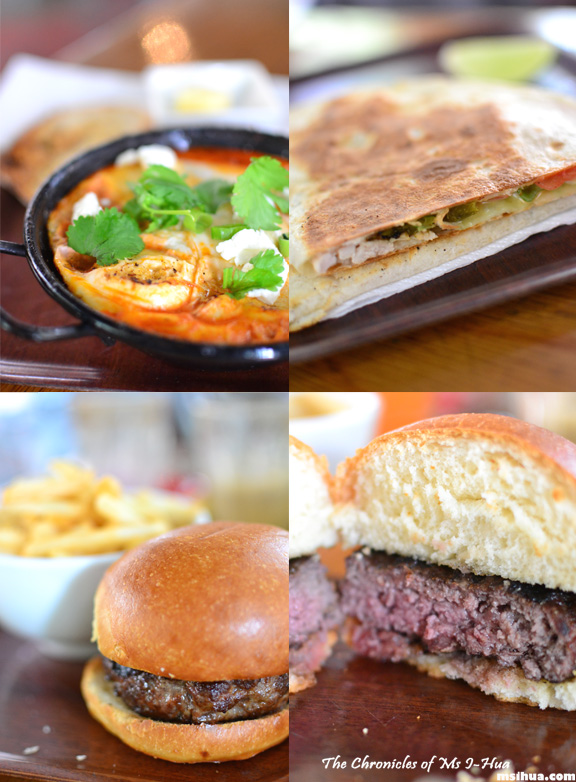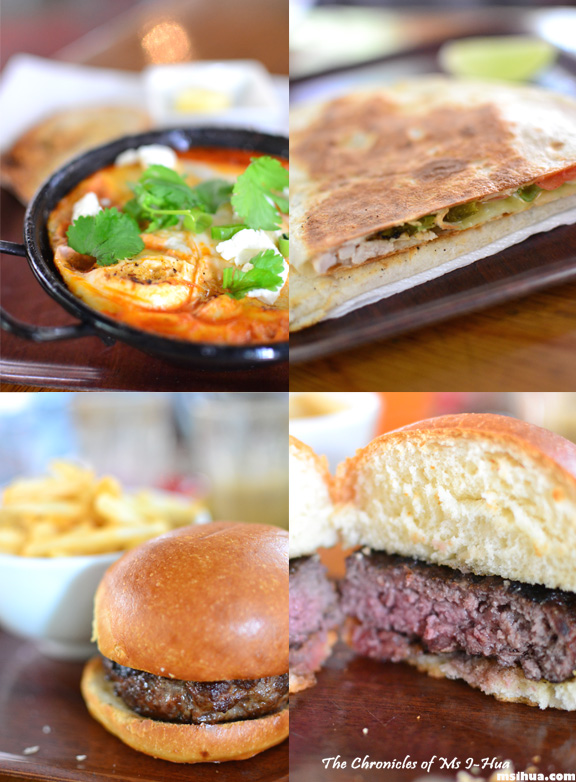 So the Boy started with some Baked Eggs with Tomato & Chorizo which I happily stole whenever he wasn't looking whilst I daintily ate my Quesadillas of Shredded Poached Chicken, Cheddar, Roast Red Peppers & Tomato, Coriander & Lime.
The baked eggs and quesadillas were good but there wasn't anything too fancy or out of the ordinary with our food. It was hearty and filling but didn't really shout WOW to me.
As the minute hand swung around to lunch hour, the Boy and I flagged down our waiter and put in an order for the Wagyu Burger (a 175g Fresh Ground Wagyu Beef, Grilled Brioche, Baby Cos Lettuce, Thick Cut Tomato & House-made Pickles) with a side of Fries.
This, the Boy loved and although the portion would have normally been too small for him, having just finished his breakfast moments ago, he was sufficiently satisfied and the wagyu burger filled the abyss and missing gap we had from our breakfast 🙂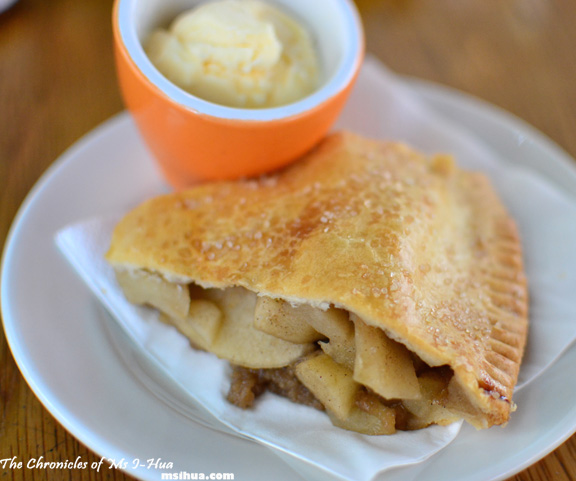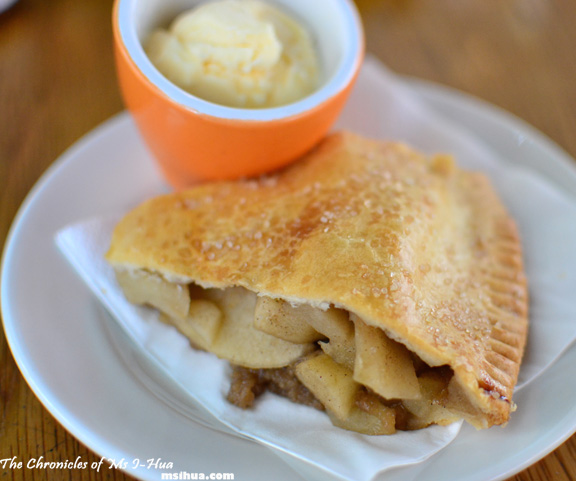 I obviously did not sit idly as he enjoyed his burger. I ordered a classy American dessert and ate it all by myself, smacking the Boy's hand whenever his fork ventured a little too close to my Apple Pie & Ice Cream 😛
*Disclaimer: All food ratings & review are purely based on my own experiences and how I feel about the service, food and quality at the time of visit
Food/ Cuisine: American
Dining Style: Casual Dining
Opening Hours:
Monday to Friday, 7:30am – 4:00pm
Saturday & Sunday, 8:00am – 4:00pm
Address:
275 Exhibition Street
Melbourne VIC 3000
Tel: (03) 9663 7994
Website: http://www.trunktown.com.au/the-diner
Twitter: @Trunktown275
How to get there: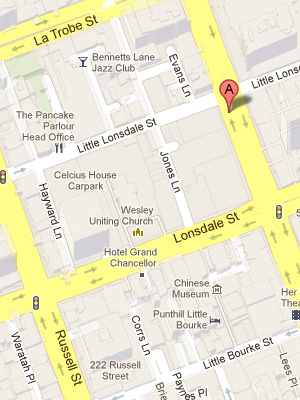 _______________________________________________________________________
The Bottom End – Little Collins St, Melbourne CBD
When I read on Libby's blog that there was a new American diner in town and it was in my part of the city (which I work in), I couldn't be happier and clapped my hands for joy.
I also dragged along my dear Baboon fwiend and along we went for a little Friday luncheon indulgence 🙂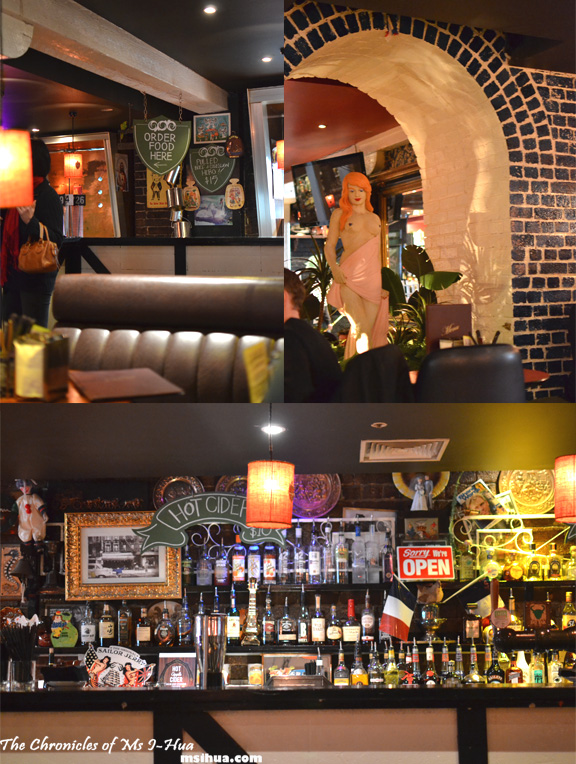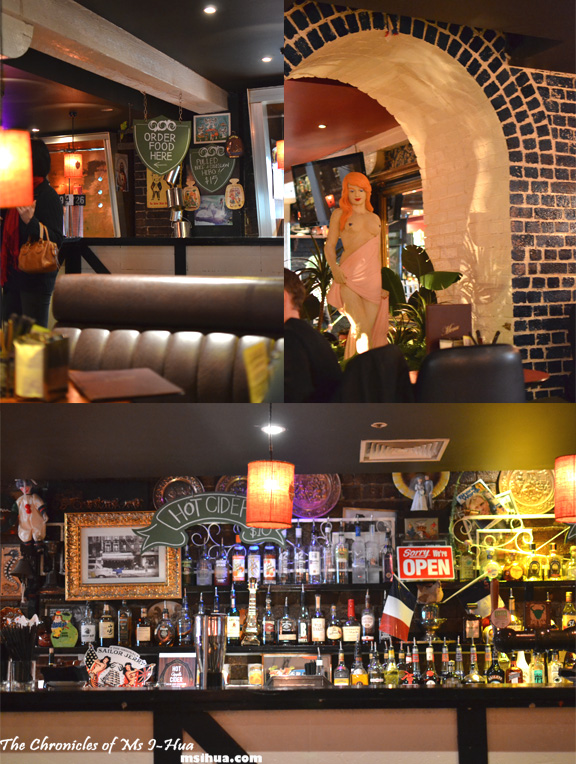 Walking into The Bottom End, one can't help but feel that one has somehow time travelled back to an 80's American bar situated somewhere in the desert.
Having never been in an American bar in a desert during the 80's, I merely speculate from the many movies I have watched growing up.
If I was indeed in said, such a bar, it would have been a really fun adventure for a toddler I would imagine 😛
The Bottom End is that and much more. It is a pub, a diner and a disco and in their own words, "set to be iconic" and I can't help but agree!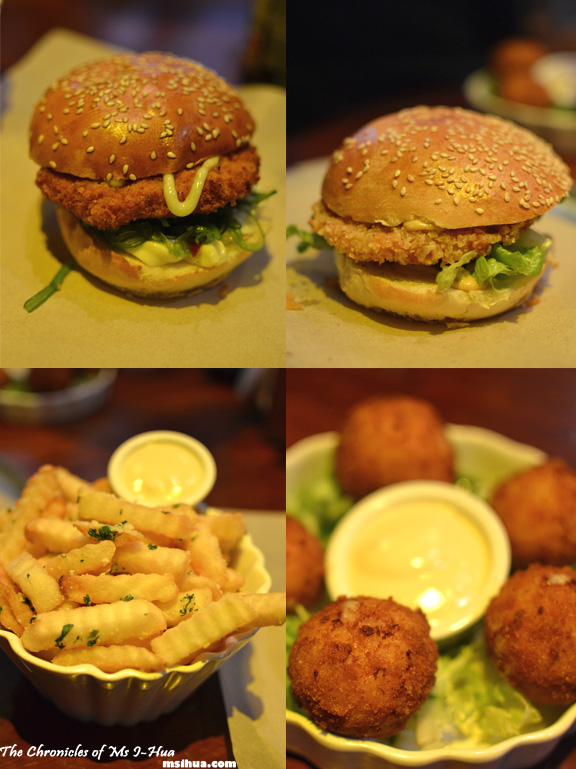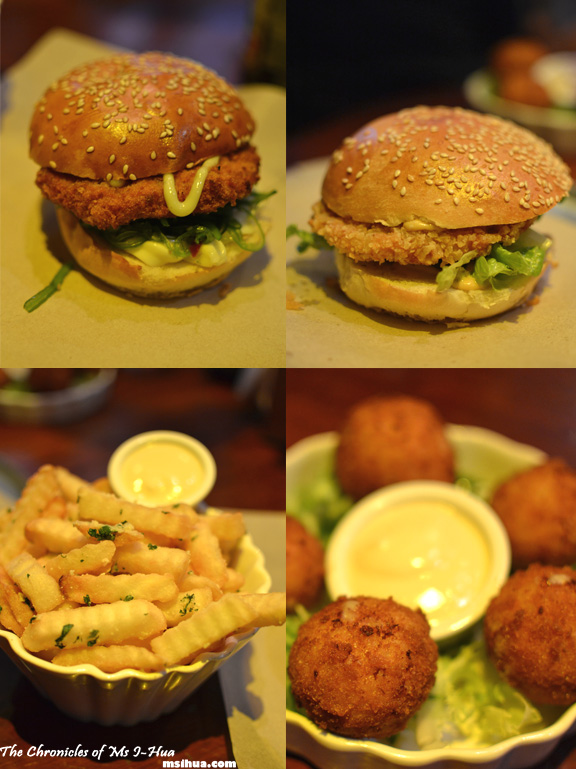 I was truly excited when I noted they had on the menu Mac 'n' Cheese Balls served with garlic aioli 🙂
Yup, I can assure you, it was everything I dreamt of and tasted even better. Mmmm.. crunchy creamy balls!
I really liked the burger I had here and I think Baboon's only gripe with his burger was that it wasn't big enough for him. I know, right? The only thing this place doesn't do justice to is the missing American sized proportions in food (which is not a bad thing IMHO).
My burger The Famous Mitsubishi was a katsu chicken pattie (with panko crumbs) and wakame (seaweed) and wasabi mayo sauce and it was super delicious! I loved the incorporation of the wakame as I love umami flavours. Mmmmm….
Baboon, from my fuzzy memory (bad food blogger) had the Chicken Five-O which was grilled chicken pattie, pineapple, bacon, mayo, lettuce and BBQ sauce (because you must have BBQ sauce!).
I most certainly would come back to this crazy fitted out American diner as I would love to try the other items on the menu including BUFFALO CHICKEN WINGS! My absolute favourite!!!
*Disclaimer: All food ratings & review are purely based on my own experiences and how I feel about the service, food and quality at the time of visit
Food/ Cuisine: American
Dining Style: Casual Dining
Opening Hours:
Wednesday, 12:00pm to 10:00pm
Thursday, 12:00pm to 1:00am
Friday, 12:00pm to 4:00am
Saturday, 6:00pm to 4:00am
Address:
579 Little Collins Street
Melbourne VIC 3000
Tel: (03) 9629 3001
Website: http://www.thebottomend.com.au
Twitter: @TheBottomEnd
How to get there: