There have been many times in my life when the Boy has gotten it into his head that he absolutely and most certainly must recreate something he recently tasted in a restaurant or seen in cookbooks.
More often than not his attempts have been successful. I know, because I have eaten them 😛
His most recent success being that of Ferran Adria's Vichyssoise and Sang-Hoon Degeimbre's tribute to Charcoal.
You might say, "Lucky you, Miss I-Hua!"
Indeed, luck has got nothing to do with it. You know what they say, "Behind every successful man, is a supportive (and patient) wife" 😛
Whilst he has the vision and strategy, he lacks the temperament and will often lose focus on the task at hand. I have the ability to calm him whenever the panic sets in and reset the course for him.
Together, the world is our oyster!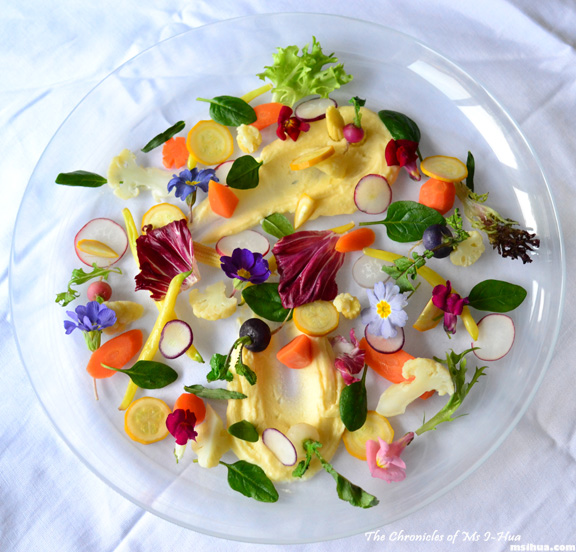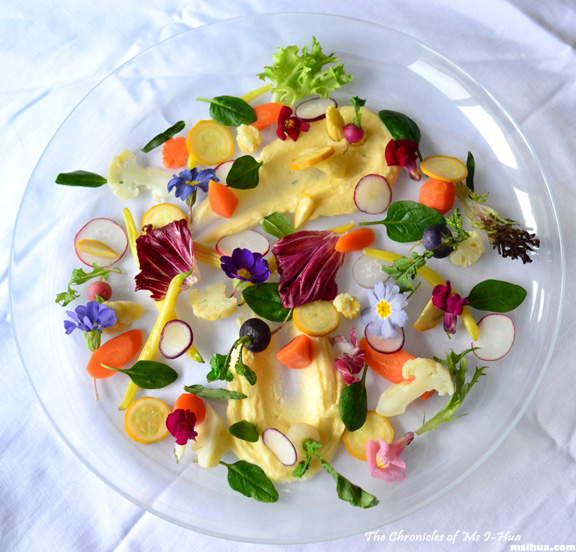 In this attempt to recreate ('attempt' would be a better word, for we could never say we were in league to even come close to the masters of the kitchen), the Boy plated up something so beautiful it nearly broke my heart to eat it.
It was as pretty as an art piece and if it weren't for the fact that it was food, I would have hung it right up on the wall!
This my friends, is our tribute to Michel Bras's Le Gargouillou.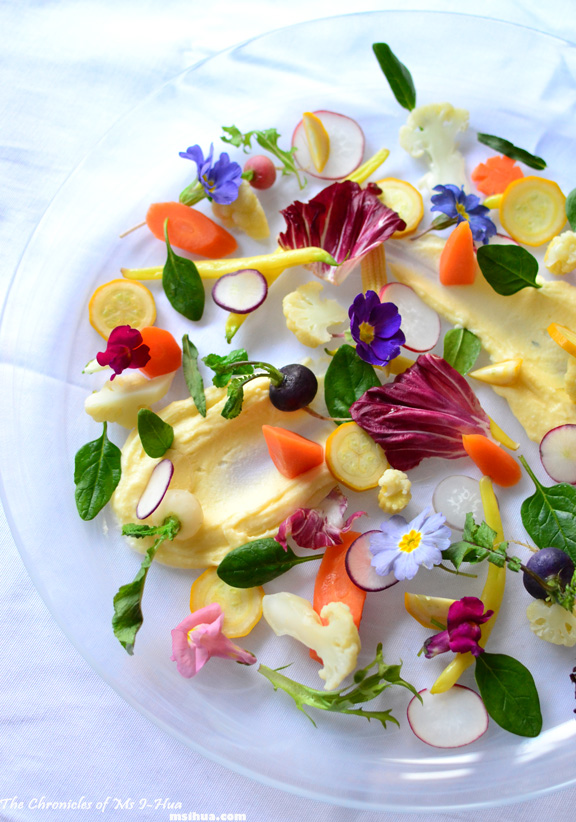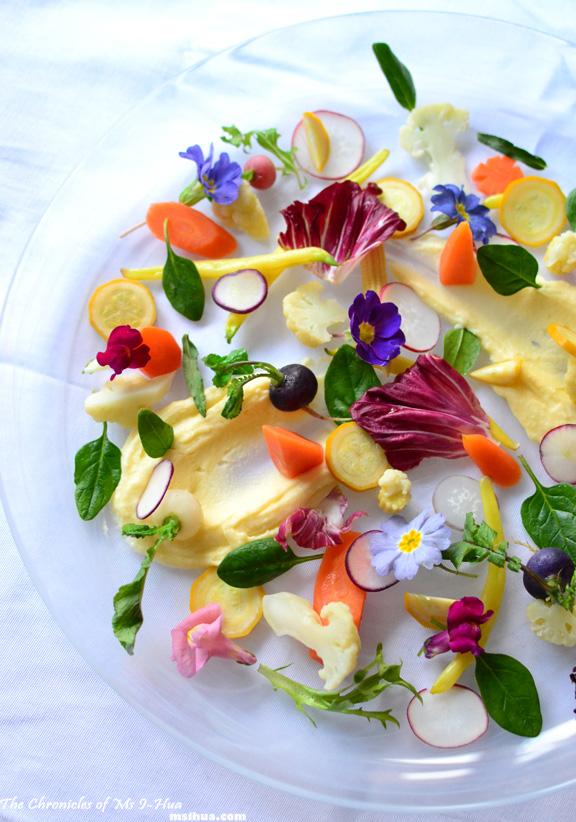 Medley of Vegetables, Flowers & Herbs Recipe
(A tribute to Michel Bras's Le Gargouillou)
Ingredients:
Vegetables:
Carrots
Baby Radishes
Baby Sweet Corn
Yellow Zucchini (cut into 5mm slices)
Baby Spinach Leaves
Cauliflower (florets only)
Radicchio
Coral Lettuce
Rocket Leaves
Yellow Beans
*Feel free to add more vegetables
Herbs & Edible Flowers:
Tarragon Leaves
Snapdragons
Viola
*Feel free to add more edible flowers and herbs
Water
1/4 cup of Salted Butter (cut into smaller chunks)
Salt
Bowl of Ice Water
Paris Mash (to spread across the plate)
Extra Virgin Olive Oil (optional)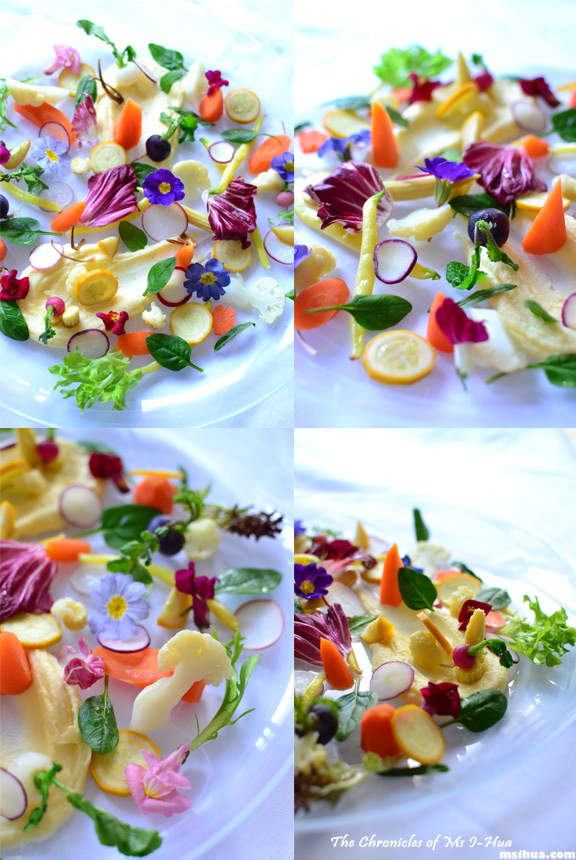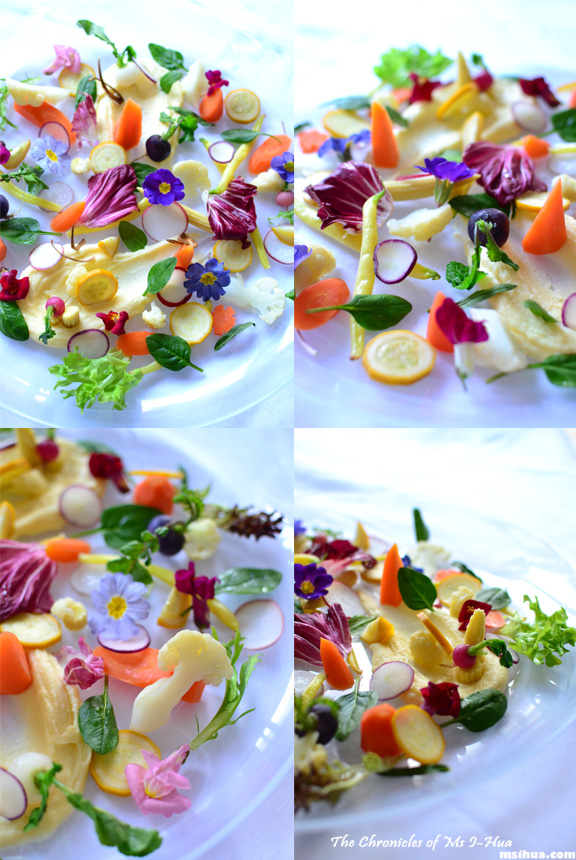 Procedure:
Wash and clean the vegetables. Cut carrots into various shapes and sizes.
Boil a pot of water with a few pinches of salt added.
Blanch carrots in the pot of water until tender. Remove the carrots with a strainer and shock it in a bowl of ice water. Once cooled, remove from ice water and set aside.
Using the same pot of boiling water, repeat with cauliflower florets, baby radishes, baby sweet corn, yellow zucchini and yellow beans, one at a time.
In a small saucepan, bring 1 Tablespoon of water to simmer over very low heat and whisk in the chunks of butter, one at a time. Careful not to bring it to a boil, as they tend to separate.
"Reheat" the cooked vegetables by coating them with the hot butter emulsion. At this stage, you can cut some of the baby radishes into thin slices.
Start plating your dish by spreading your Paris Mash across the plate.
Place your cooked vegetables around the plate.
Place the other vegetables (baby spinach leaves, radicchio, coral lettuce and rocket leaves), edible flowers and herbs around the plate.
Try to spread the different colours and shapes around.
Finish off with a drizzle of extra virgin olive oil.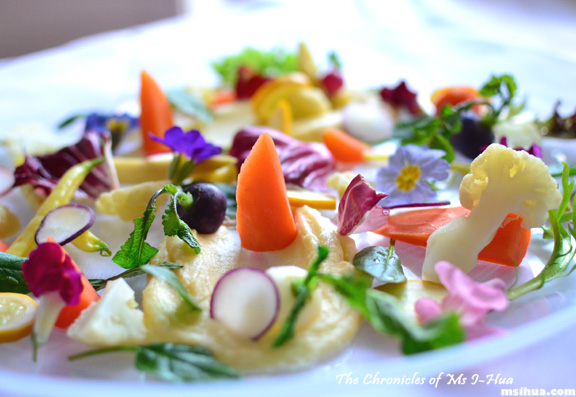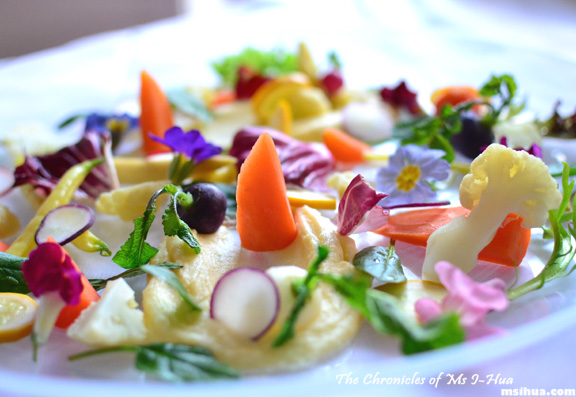 Look at that.
Each flower, each vegetable, each leaf placed individually on the platter with care and precision.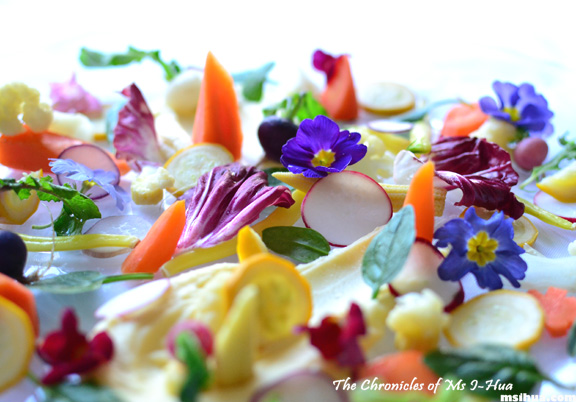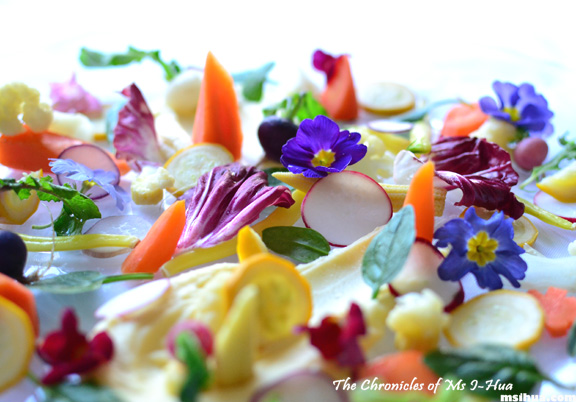 Ain't that pretty?
I think if we had to do this dish again, I might change the way we cut the carrots and instead make ribbons out of them instead as they would look 'softer' on the plate.
So tell me, have you ever made or been anywhere to eat something so pretty?