Hello dear friends 🙂 It's finally time for the Boy and I (yes, he's still the Boy and he doesn't want to change his title at all 😛 ) to present a lovely home cooked recipe which will impress your guests, make your mouth water and your tummy rumble all at once!
Having grown up in Malaysia, the Boy and I were reminiscing the times in our childhood when we would have our mother's come home with chicken from Ayamas and Ayam Dindings where the family would gather round for dinner with pre-prepared roasted chooks with different marinades. If you grew up in Malaysia, you would completely understand what we are talking about here 🙂
Not quite dissimilar if you compare it to getting dinner from the local Charcoal Chicken or a Safeway/Woolies roast chicken. Much the same same but different.
Putting our memories and taste buds into perspective, the Boy and I decided that we'd cook up a tribute to Ayamas and Ayam Dindings with our added twists.
If you're feeling a little experimental and would like to have something different to the mundane Nasi Lemak recipes, why not give this a try?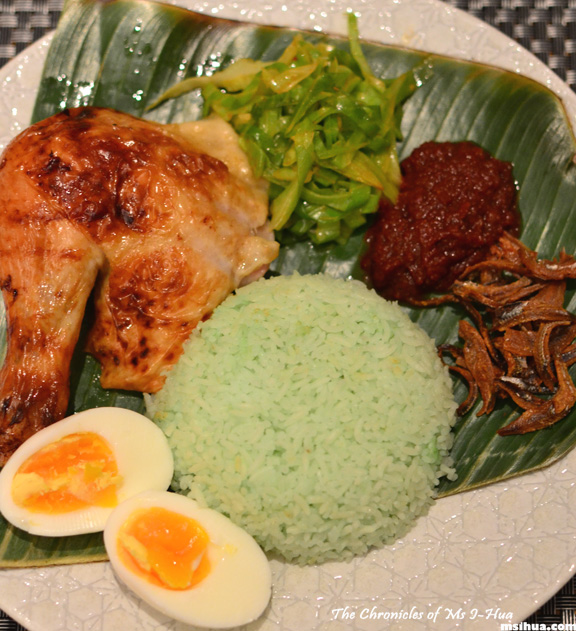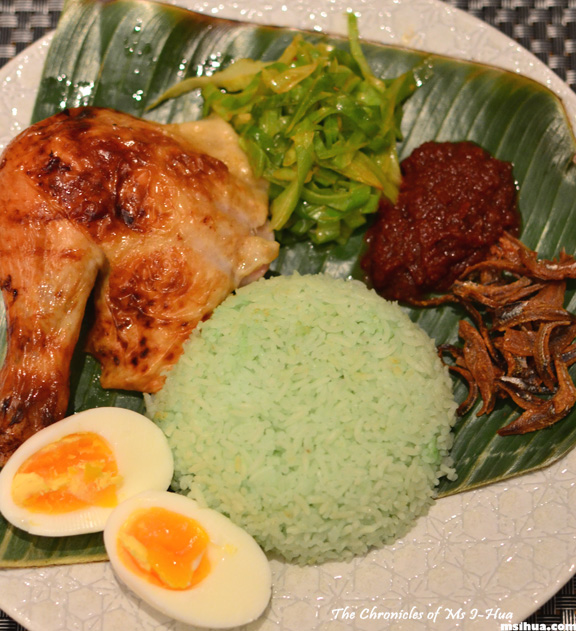 We bring to you, Pandan Nasi Lemak with Pandan Roast Chicken!
The green rice would surely entertain your kids (or inner kid) for sure! I know I was 🙂
Pandan Roast Chicken Recipe
1 whole Chicken (family size)
Brining Ingredients:
3 Pandan Leaves
4 Star Anise
1 Cinnamon Stick
1 tsp of whole Black Peppercorns
1/4 cup of Sugar
1/4 cup of Salt
2 cups of Water (or enough water to cover the chicken)
Chicken Stuffing Ingredients:
3 Pandan Leaves
Garlic Cloves
Glaze Ingredients:
1/2 tsp of Pandan Essence
1 Tbsp Maltose diluted with 4 Tbsp of Hot Water
1 tsp of Honey
1 tsp of Salt
Pandan Rice Recipe
Ingredients:
*2 cups of Jasmine Rice (washed & drained)
*50ml of Coconut Milk
*Water
1/2 tsp of Pandan Paste or Pandan Flavouring
Few drops of Green Colouring (optional)
2-3 Pandan Leaves (knotted)
1 French Shallot (sliced)
small piece of Ginger (size of thumb)
Pinch of Salt
*If cooking for more people, adjust amount of rice, coconut milk and water accordingly
Condiments
Sambal (use store bought or fry my rempah/spice mix with tamarind juice, sugar, salt and more fresh chillies (if you prefer it spicier))
Fried Ikan Bilis (wash and pat dry ikan bilis. Fry with a generous amount of oil until crispy but careful not to burn them.)
Roasted Peanuts
Hard/Full Boiled Eggs
Stir Fried Vegetables (stir fry the vegetables with your favourite style)
Cucumber (sliced) – optional, since you have the stir fry vege
Procedure: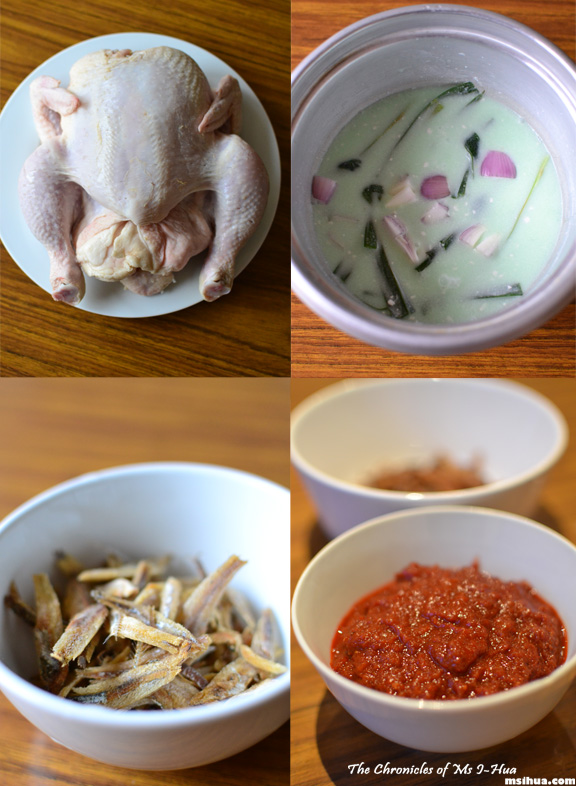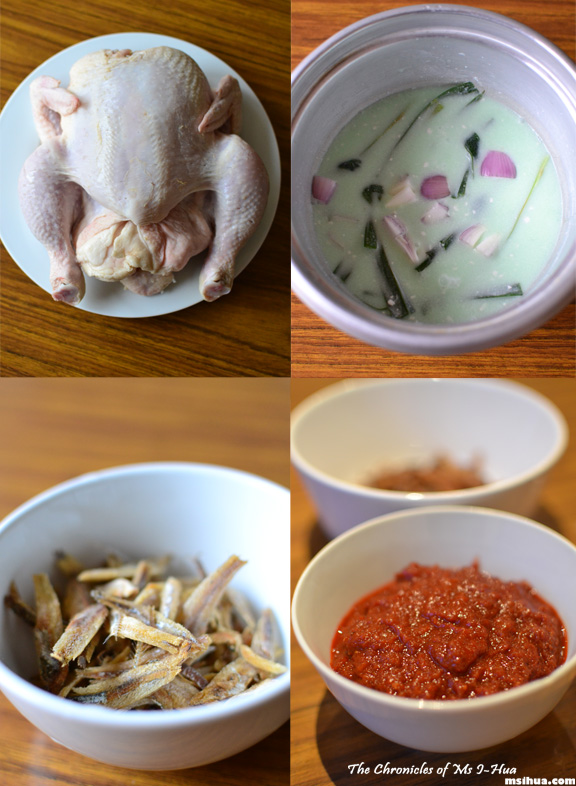 Add all brining ingredients together in a pot and bring it to a boil. Stir until sugar and salt dissolves.
Turn heat off and allow ingredients to infuse for an hour (this should also allow the brine to cool down).
Place chicken in a large salad or mixing bowl and pour in the brine. Cover with cling wrap and refrigerate overnight.
Remove chicken from the brine and pat dry. Air dry in refrigerator for another 6-8 hours or overnight. This will give you a crispy skin when roasting. But if you are out of time, you can skip this step.
Preheat oven at 220 degrees Celsius (C).
Mix the glaze ingredients together and brush all over chicken including cavity.
Stuff the chicken with the pandan leaves and garlic.
Place chicken in the oven and cook for 25 minutes at 220 degrees Celsius (C) and another 50 minutes or until cooked at 200 degrees Celsius (C).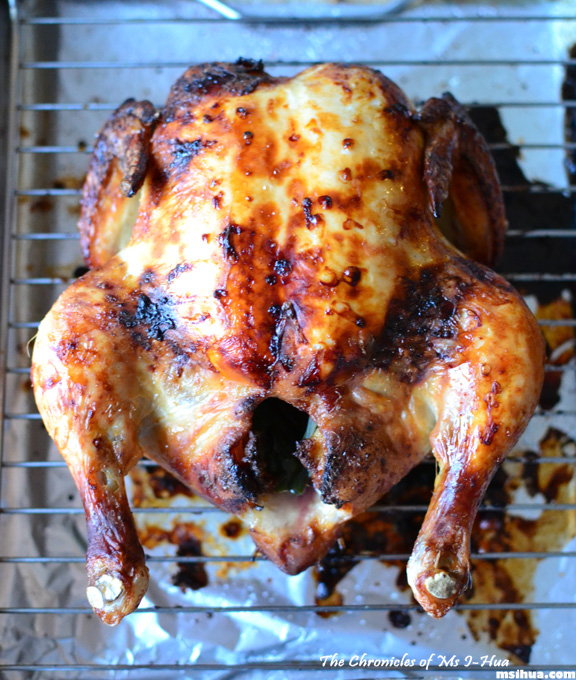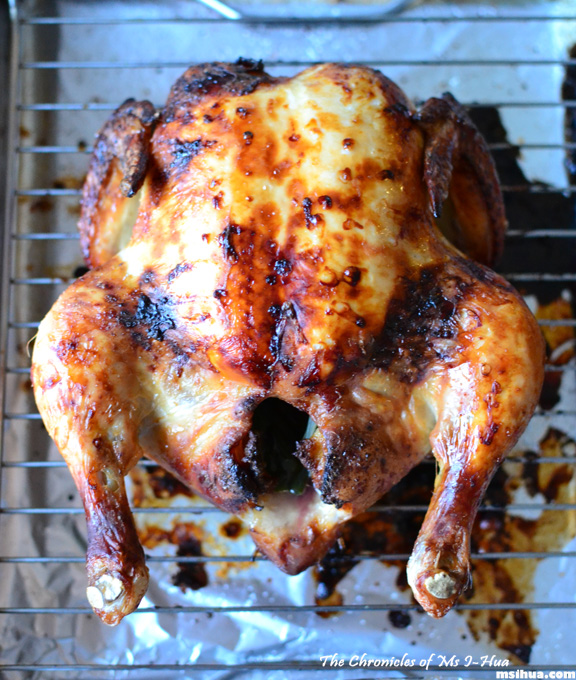 To prepare the Pandan Rice, place the rice and coconut milk in a rice cooker. Now, top it with enough water. A general rule is to cover the rice with water until the water reaches the first line of your index finger (from the top layer of the rice, not the bottom of the pot).
Add in the rest of the ingredients (pandan paste/flavouring, pandan leaves, green colouring (if you prefer the rice greener), french shallot, ginger and salt) and give it a bit of a mix. Turn rice cooker on.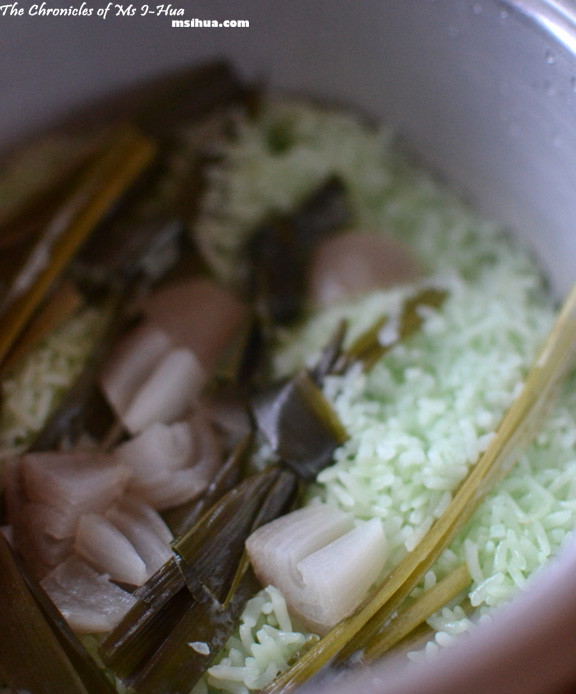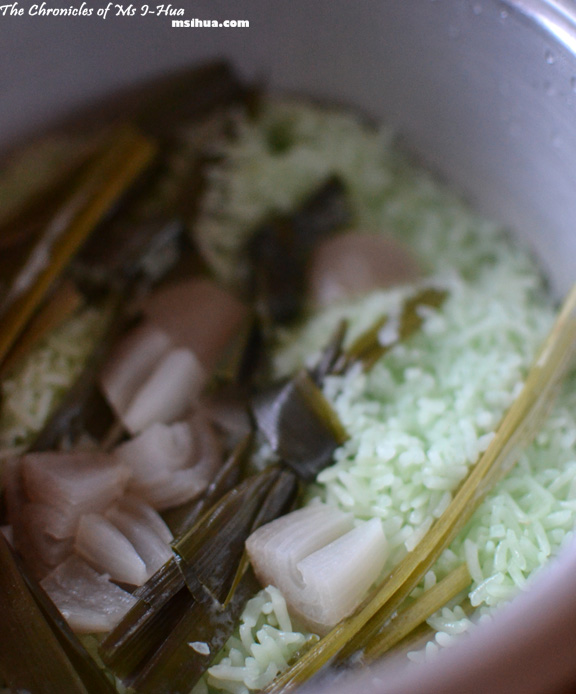 To test if your chicken is cooked, skewer it under the breast (where the thigh meets the breast). If juices run clear, then your chicken is ready.
Allow the chicken to rest for 10-15 minutes.
Carve chicken into desired number of pieces.
Plate your dish with a serve of rice, few pieces of chicken, generous dollop of sambal, some stir fry vegetables, hard boiled egg (halves), fried ikan bilis and roasted peanuts.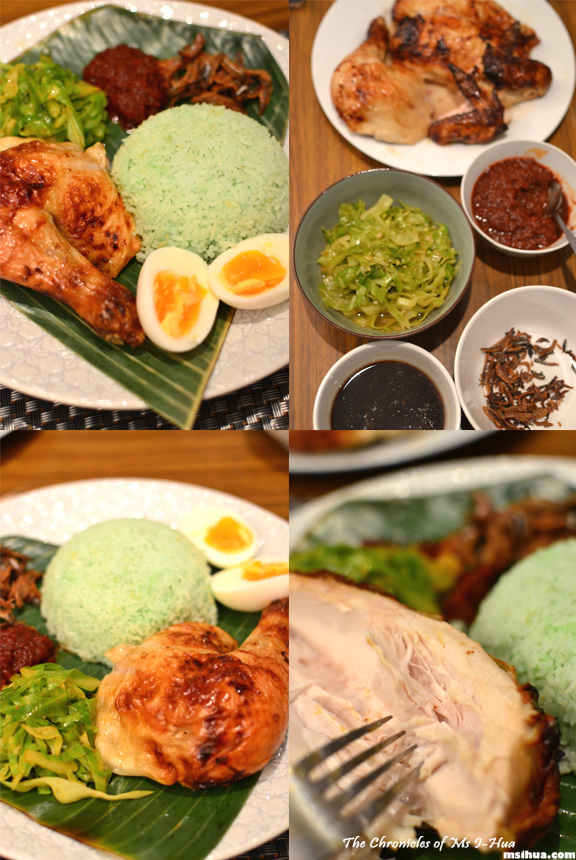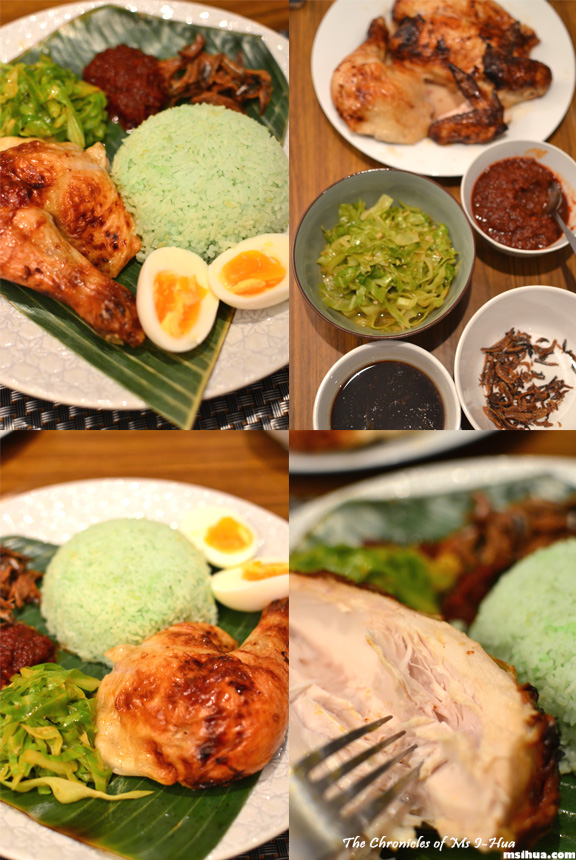 The fragrance of pandan and aroma of the roast chicken wafted through the house throughout the day as we were cooking this up and it made me very hungry indeed!
The pandan flavour didn't quite make it into the chicken and wasn't as strong as we would have liked it to be, but it certainly did incorporate itself very well into the rice.
The next night, I redid this meal using tomato rice and it was just as lovely a meal. I'm into coloured rice as it gives me entertainment (I'm a big kid after all!).
We hope you enjoy this recipe and do let us know what you think of it!
xx
Ms I-Hua and the Boy 🙂