The latest trend in Melbourne's vibrant fast food culture seems to be with the humble bao (or pao) with not one but two shops springing up around Melbourne CBD.
The first of this specialty bao shops we will be covering off is Wonderbao located at A'Beckett Street (off the new Literature Lane behind RMIT). For us non-students and non-RMIT specialist, finding Wonderbao took a bit of hunting around as the location has yet to be updated on Google Maps (with it being in a new building off a new laneway). The second shop, Bao Now has yet to be investigated by us (but should be hitting it up soonish!)
Yayy, Melbourne!
As with all things Melbourne, the more hidden it is (preferably off a graffiti filled laneway) the busier and more crowded it seems to be.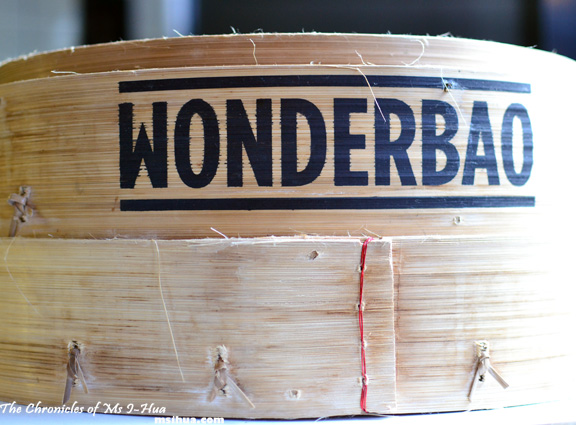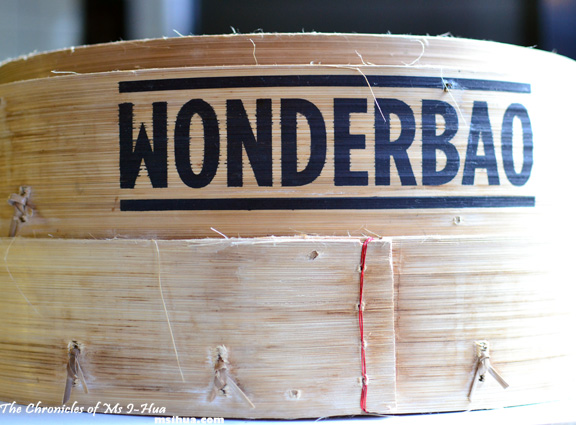 We got a little confounded and lost in our hunt for the Wonderbao, but eventually we found it as we watched countless students and people who looked like uni staff walk into a building and not exit. Sensing a pattern, we followed suit.
Not only is Wonderbao a teeny tiny shop selling fresh hot baos, it also has a constant queue at the cashier (mostly made up of various uni students, lecturers, tutors and lost foodies like us).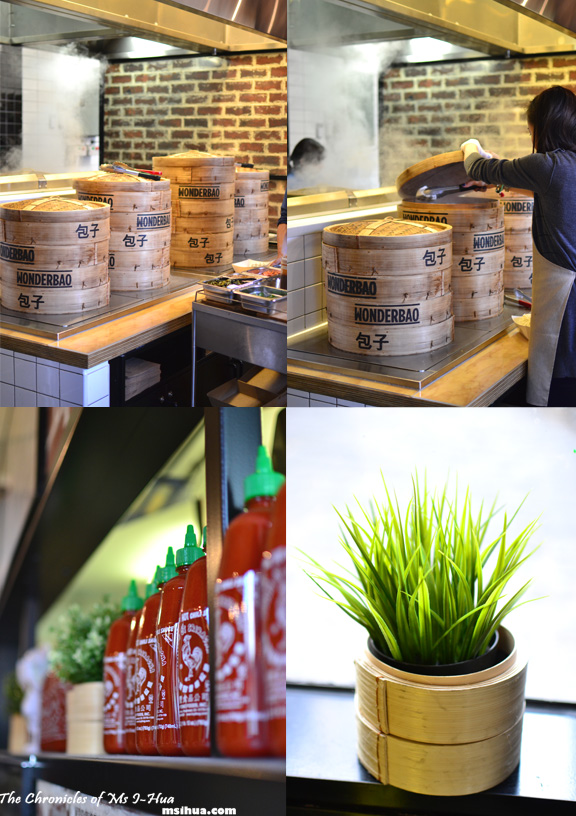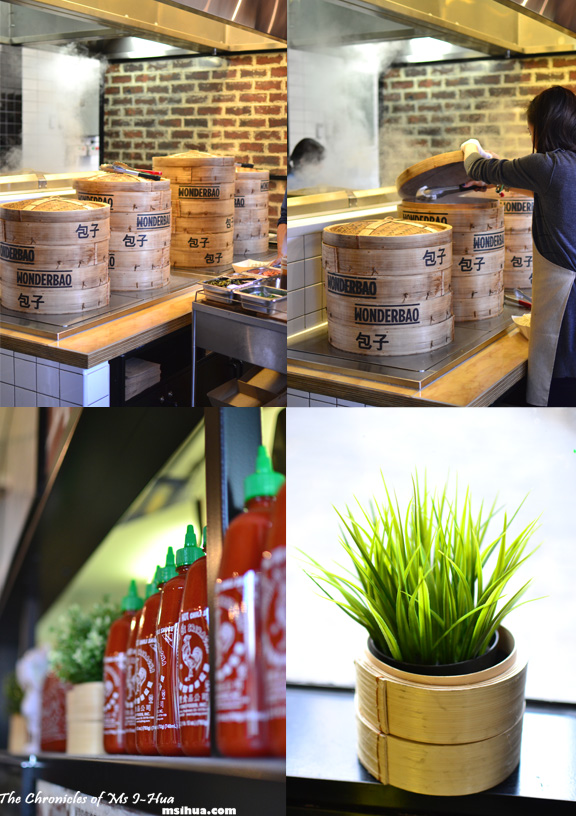 The concept is pretty simple. You line up, order a bao or two (savoury or sweet), have a home made soya bean milk (hot or cold) or a F.O.B. packet drink to eat in or take-away.
What is a F.O.B. packet drink you may ask? Well, it's usually teas, sugar cane, chrysanthemum drinks which are popular in most Asian countries.
The eating in option may be a bit of a struggle as there is only one window facing bench, but there are alternate milk crate options situated at the laneway outside of Wonderbao.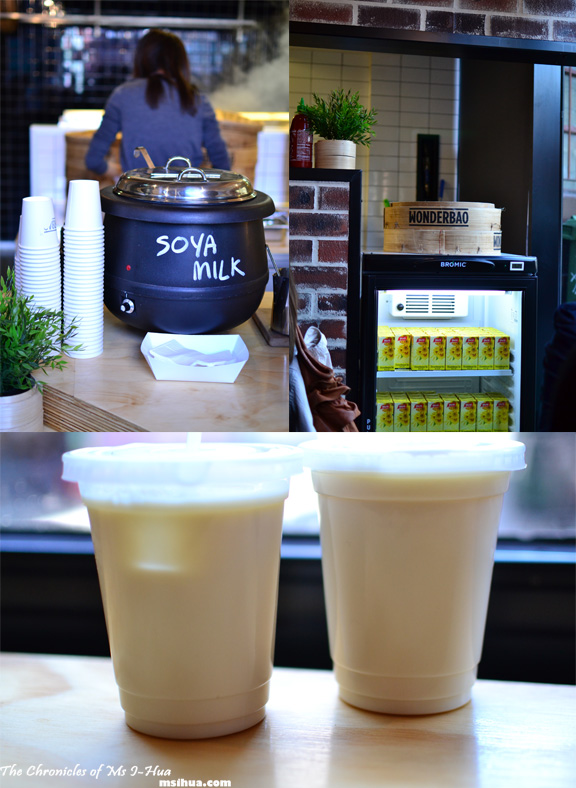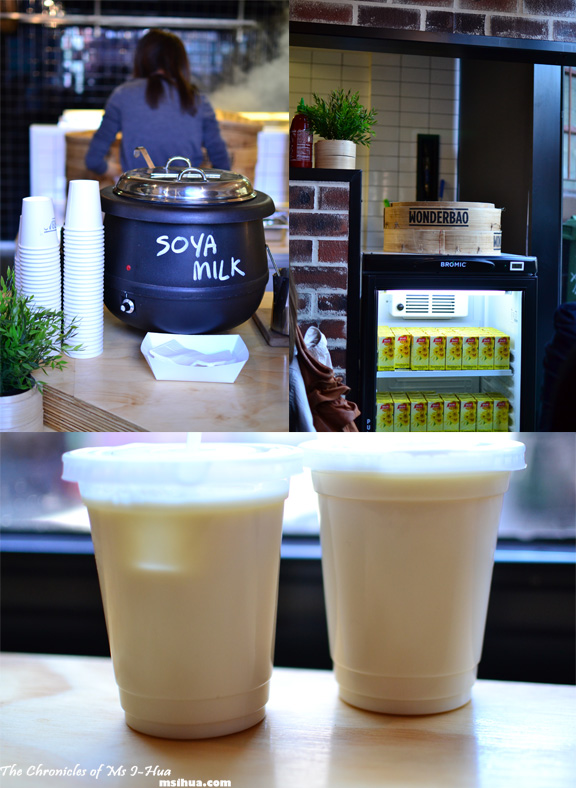 Seeing as it was a relatively hot day, the Boy and I ordered the Homemade Soya Milk ($2.80) which I found to be really good. There wasn't the normal powdery texture left on my tastebuds as with most processed soya milk, which made me really believe that it was homemade 🙂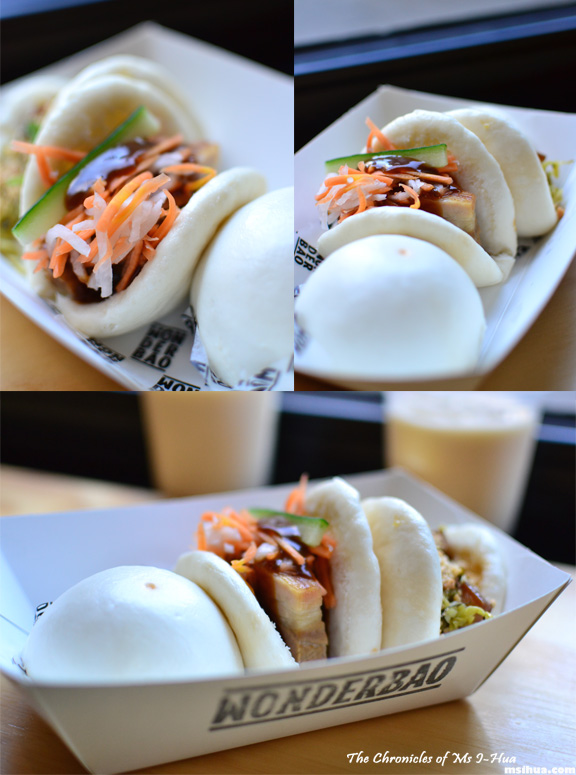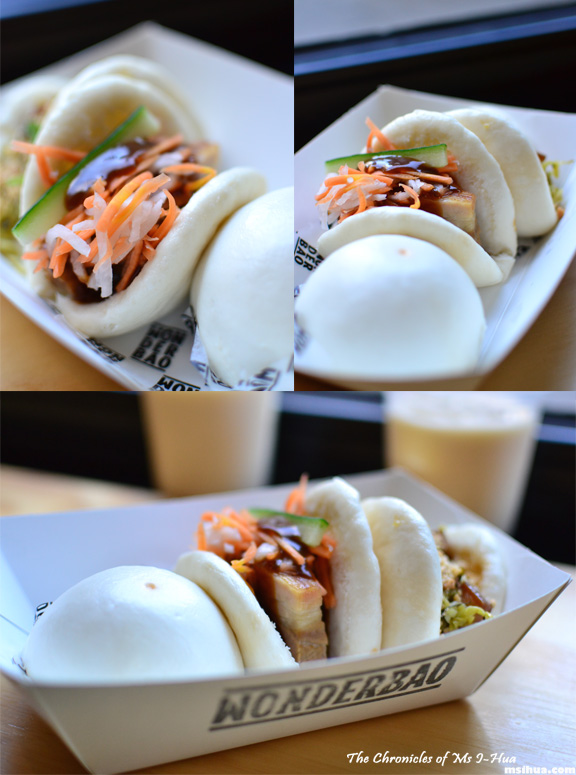 I would have ordered more, but seeing as I had only completed a rather dumpling-heavy yum cha session with Madam Mummy, Big Sis and Big Bro, I thought I'd take it easy and watch the Boy eat whilst I steal some bites off his baos 🙂 Married life is so delightful *wink*
So he had the Roast Pork Belly Gua Bao ($3.80) – Roast pork belly with cucumbers, pickled carrots and daikon, and hoisin sauce. This, he liked a lot due to the hoisin sauce and melt-in-your-mouth pork belly.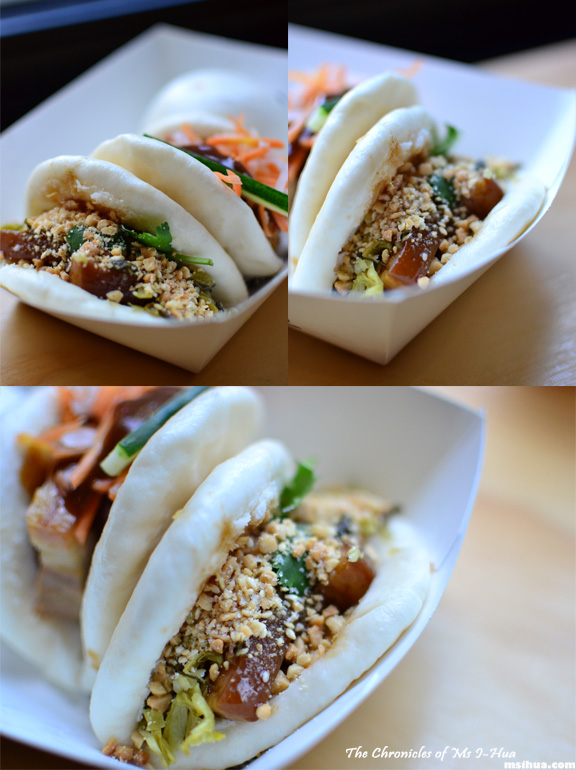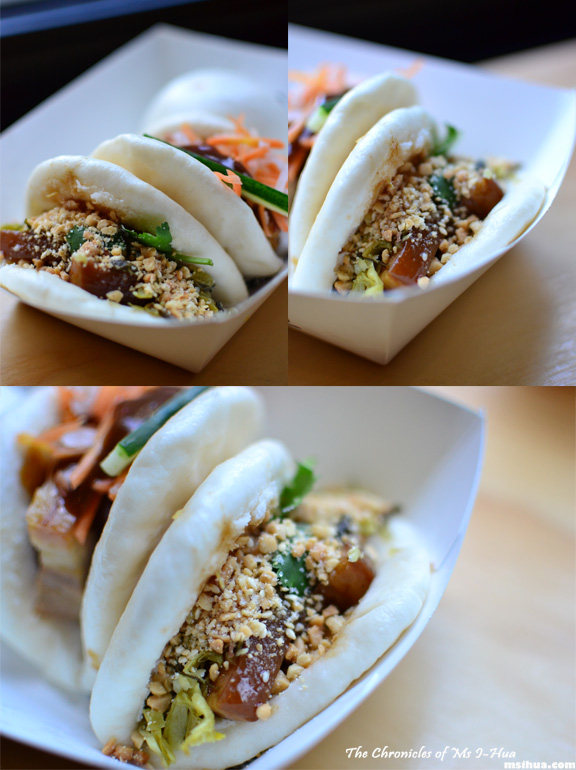 The next one was my choice and he was 'encouraged' to order it so that I could steal a bite 🙂 Braised Pork Belly Gua Bao ($3.80) – Braised pork belly with pickled mustard, coriander and crushed peanuts.
He preferred the Roast Pork Belly more whilst I much preferred this option. I have no idea why this Taiwanese version of pork, pickled vegetables, and sweetened crushed peanut should work, but it's so delicious and I couldn't help but take a huge bite of it.
I do however liked the version served at Taiwan Cafe a lot more, only because the braised pork belly there is more melty than Wonderbao's version. However, that being said, for $3.80, I'm happy to gobble down Wonderbao's cute version as well 🙂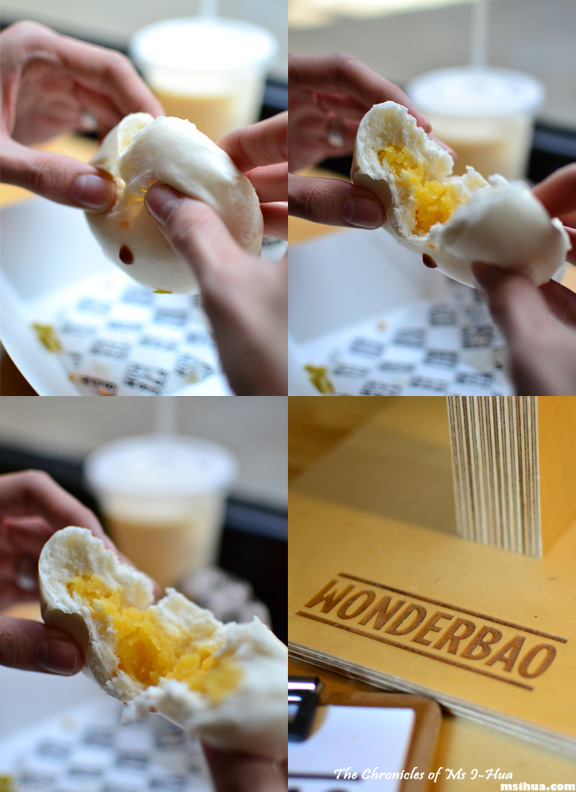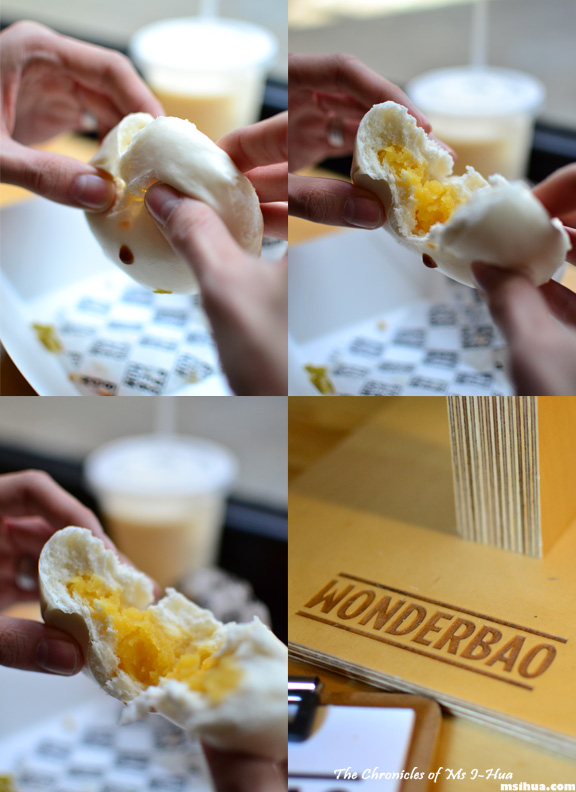 When the Boy saw that there was Nai Wong Bao ($1.70) – Egg custard bao, on the menu, he had to order it. However he was slightly disappointed with the dryness of the bao as it wasn't moist enough.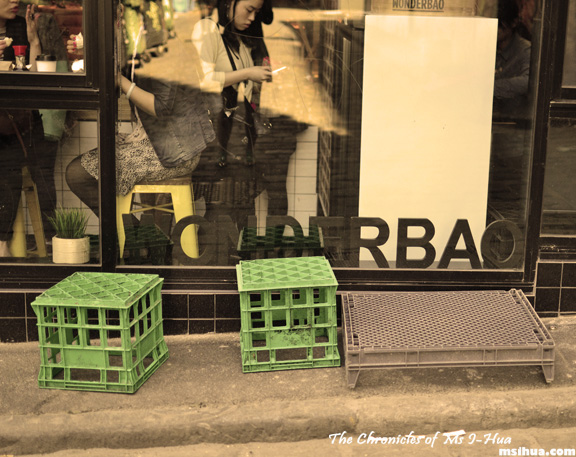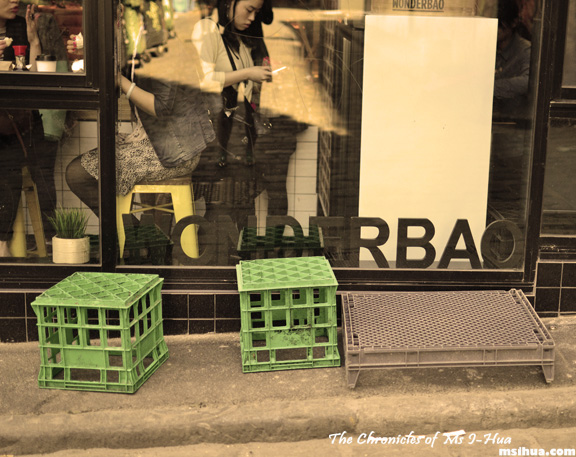 I really liked the concept of Wonderbao and have no misconception that it will be part of Melbourne's laneway food culture for a long time to come. It's quick, cheap, easy and most importantly, very conveniently and cleverly targeted to their market audience.
I do want to return to try a lot of other things on the menu, but I need to return on a different lunch hour to that of the uni student. Probably head there on a weekday during the uni/summer holidays to avoid the long queue.
*Disclaimer: All food ratings & review are purely based on my own experiences and how I feel about the service, food and quality at the time of visit
Food/ Cuisine: Chinese
Dining Style: Take Away with Limited Stools
Overall Food Rating (Based on the Dining style): 7/10
Restaurant ambiance: 6.5/10
Service/ Attitude: 7/10
Value for money: 8/10
Opening Hours:
Monday to Friday, 8:00am – 6:00pm
Saturday, 11:00am – 4:00pm
Address:
Shop 4/19-37 A'Beckett Street
(Enter via Literature Lane)
Melbourne VIC 3000
Tel: (03) 9654 7887
How to get there: