Hola! Habla Españyol?
No? Well, neither do we. However, I thought I'd start with that as we are introducing Melbourne's Mexican Wave!
Whatever seems to be happening in the food and beverage scene in Melbourne, there seems to be no escape from the tide of Mexican inspired taquerias around.
So we decided, enough is enough! If we can't fight them, we shall have to join them!
We've even thrown in a vegetarian/vegan option here just for you!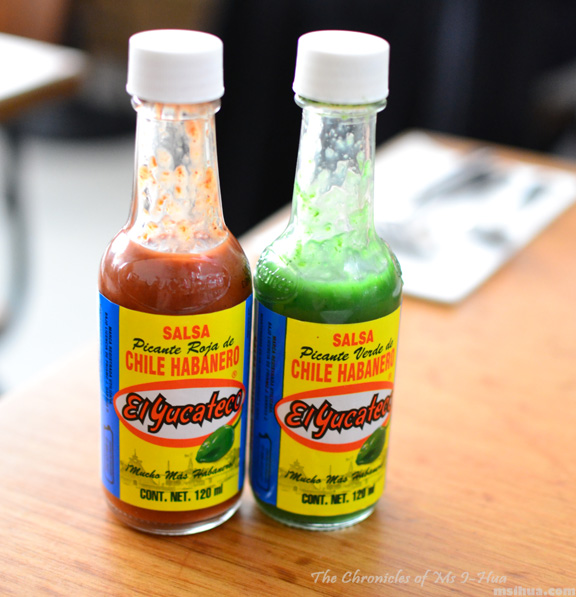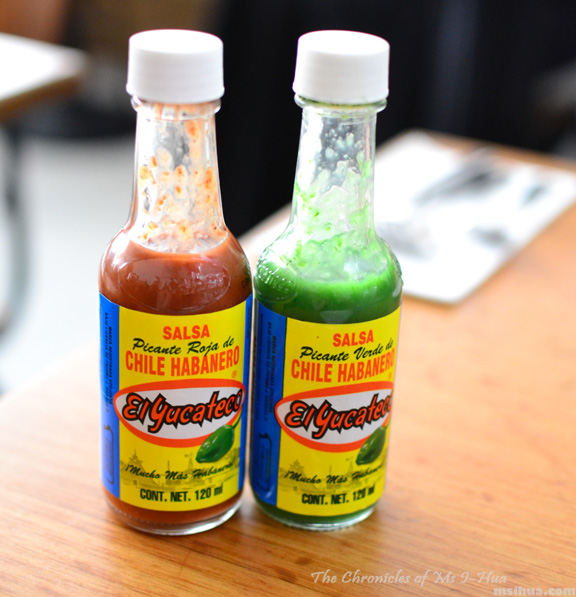 So are you ready? Vamos!
_______________________________________________________________________
Mamasita – Collins St, Melbourne CBD
Of course a Mexican post would not be complete if we didn't cover Mamasita. The Boy having never been, happily agreed to me suggesting Mamasita as a lunch option one Saturday afternoon.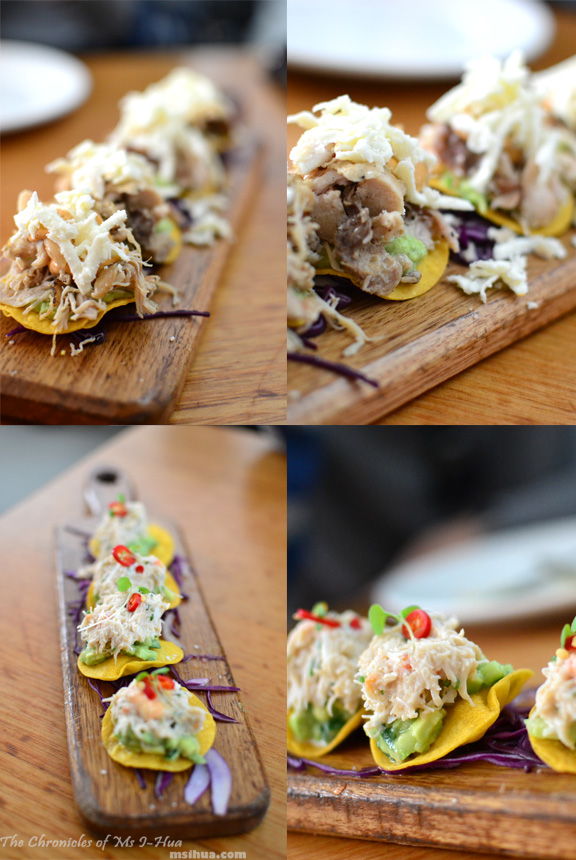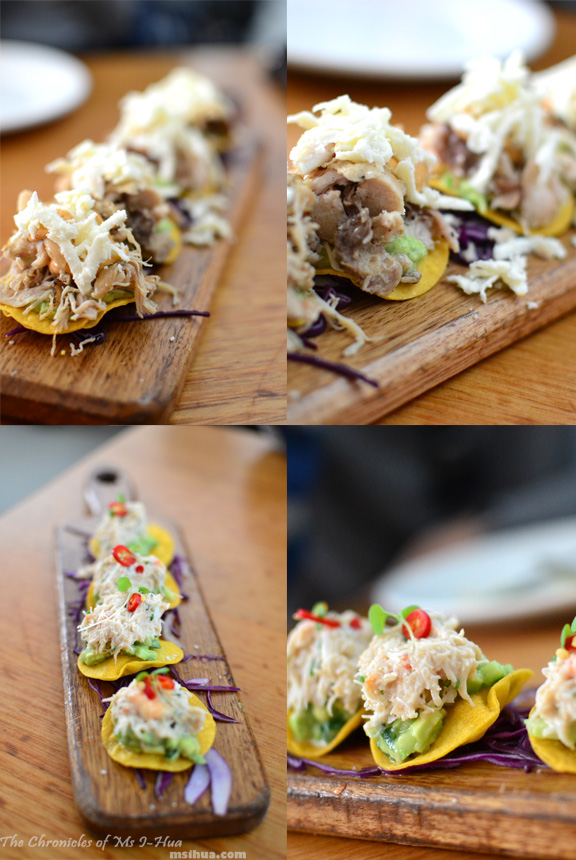 [Top: Tostaditas de Pollo ($14.00) – Chargrilled chicken, avocado, chipotle mayo and queso fresco; Bottom: Tostaditas de Cangrejo ($16.00) – Crab meat, avocado, cucumber, tamarind mayo and habanero]
Having remembered my favourites from my original visit, I quickly scanned the menu with the Boy to see what else could be added into our must-eat list.
The tostaditas were our favourite dishes of the day. We should have ordered more of them and skipped the quesadilla *grumble grumble* MUST COME BACK FOR MORE!
Light, full of flavour and texture, the tostaditas were a treat!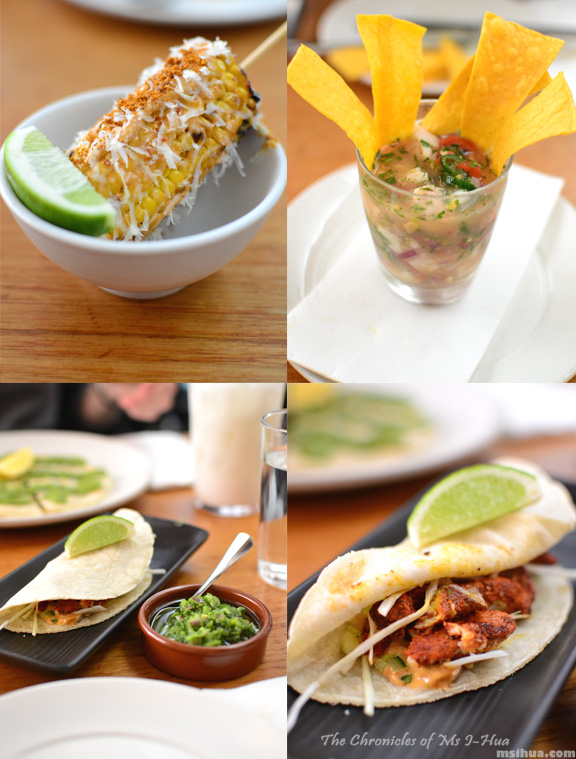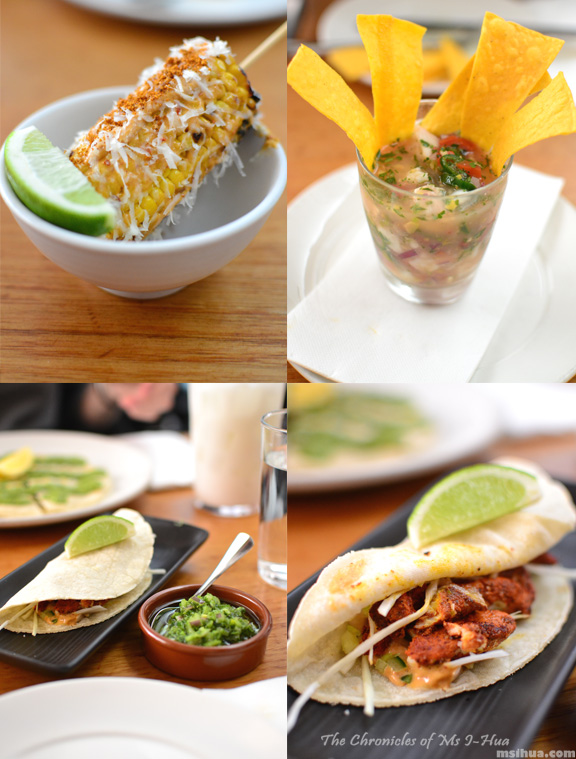 [Clockwise from top left to bottom: Elotes Callejeros ($4.90) – Chargrilled corn, queso, chipotle mayo and lime; Ceviche de Veracruz ($15.00) – Snapper, tomato, olive, green chilli, lime and coriander; and De Pescado Taco ($6.00) – Grilled fish, lime, achiote paste, red onion salsa and chipotle mayo]
I had to revisit the chargrilled corn. I just had to. Tasty as it was, I think my friend April does a better job with her version 😛
The ceviche was as good as I remembered as it was fresh, light and tangy. Mmmmm…
We also enjoyed the fish taco as well. Chipotle mayo makes everything delicious!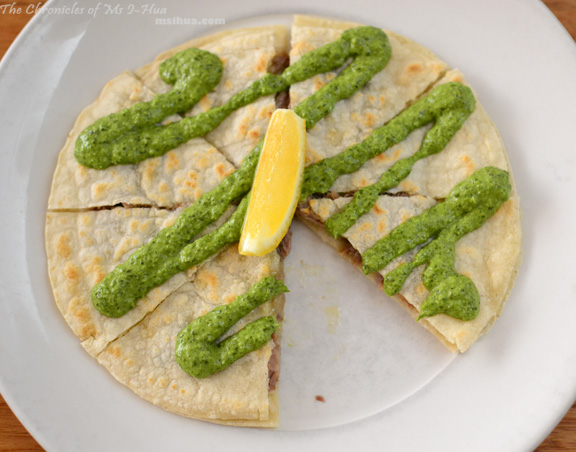 I couldn't help but order the De Cordero Quesadillas ($16.00) (Braised lamb, queso criollo, mint and jalapeno herb sauce). It reminded me of an Indian Kima (lamb) naan dish which I am used to in Malaysia with its use of mint and creamy herb sauce. Hahaha!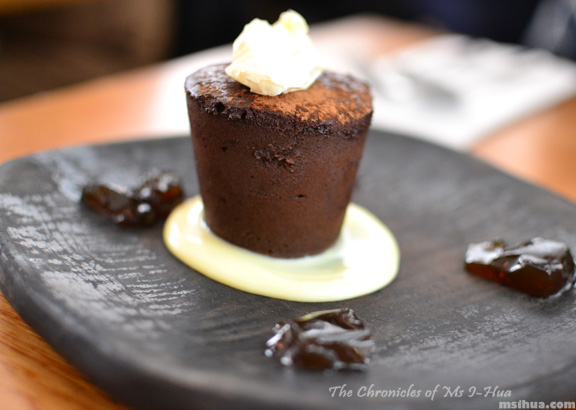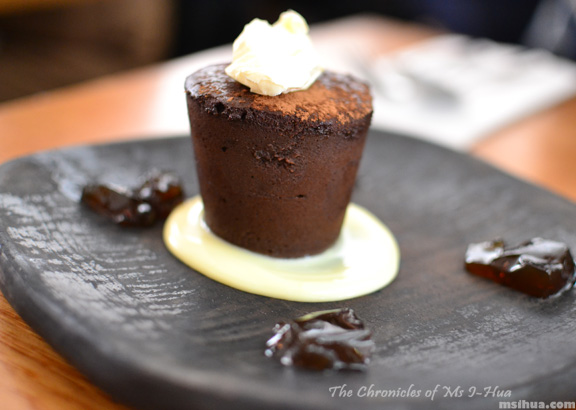 Remembering how much Missy E and I enjoyed the chocolate pudding the last time, I convinced the Boy to share the Pastel de Chocolate ($11.00) (a Flourless chocolate cake, tequila white chocolate sauce and PX jelly) with me.
He loved it! I loved how heavy and dense it was. The PX jelly complimenting it went really well with the sweetness cutting through the darkness of it all.
I hate to say it, but the queues night after night snaking down the steep staircase and pathway below of Mamasita is definitely not going to abate anytime soon. The quality of the food is still the best in Melbourne in terms of Mexican interpretation.
That being said though, I've never had to wait for a seat too long as I time my visits well. If I had to wait 2 hours for the same food and service, I'd be more than annoyed. So time your visit well, avoid the crowd and have a really enjoyable time there!
*Disclaimer: All food ratings & review are purely based on my own experiences and how I feel about the service, food and quality at the time of visit
Food/ Cuisine: Mexican
Dining Style: Casual Dining
Opening Hours:
Monday to Wednesday, 12:00pm – 12:00am
Thursday , 12:00pm – 12:30am
Friday & Saturday, 12:00pm – 2:00am
Address:
Level 1, 11 Collins Street
Melbourne VIC 3000
Tel: (03) 9650 3821
Website: http://www.mamasita.com.au/
How to get there: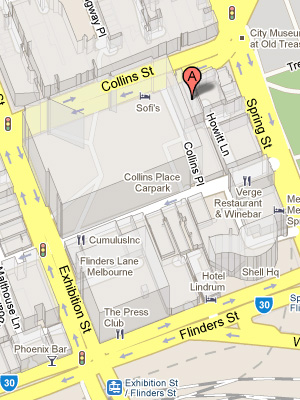 _______________________________________________________________________
Fonda Mexican – Richmond
"Hey Dastardly, wanna catch up for dinner at Fonda sometime?"
"Sure thing! Let's do it!"
And so, my dear Azz and Alski her husband joined the Boy and I for a quick impromptu dinner at Fonda Mexican in Richmond one evening after work.
When I say quick. I meant lightning speed!
Even Speedy Gonzales wouldn't have been able to match lightning visit to Fonda.
Afraid that there would be a massive crowd waiting to get in (Fonda doesn't do bookings and I get why!), we decided to meet at the doors at 6pm sharp.
We were out of there by 6.30pm.
FASTEST DINNER EVER!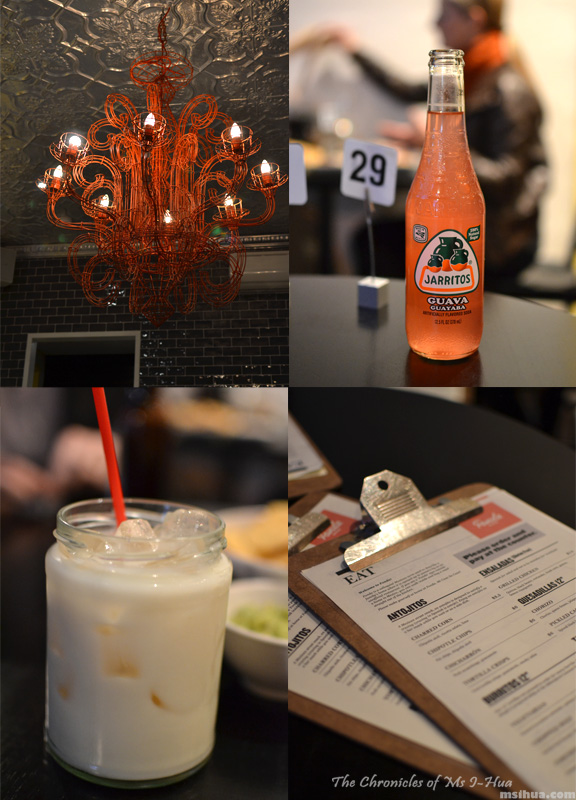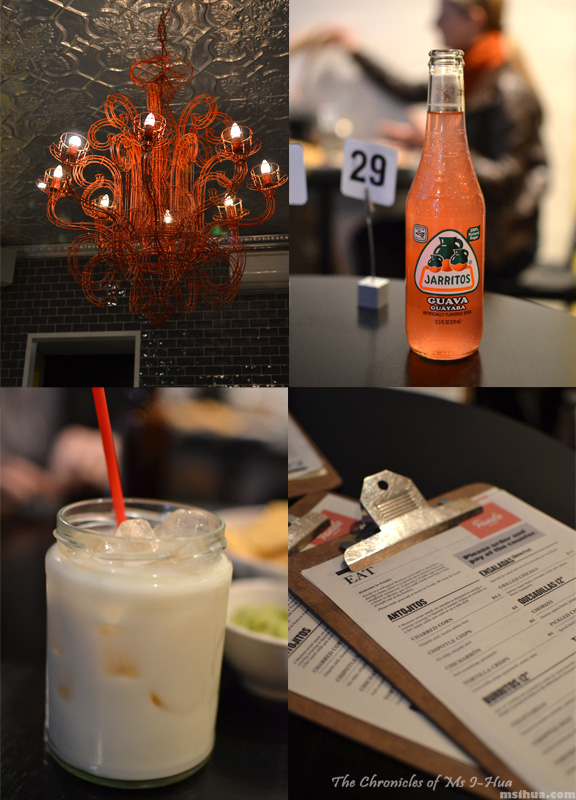 [Top: Jarrito Soda – Guava ($4.50) and Bottom: Horchata ($4.50) – rice, water, cinnamon, vanilla, evaporated milk.]
Each  of us studied the menu intently for about 5 minutes before Azz and I sent the boys to order our dinner for us at the counter.
Azzie ordered the Horchata which I stole a few sips and instantly wanted one for myself! MMmmm! It was so refreshing!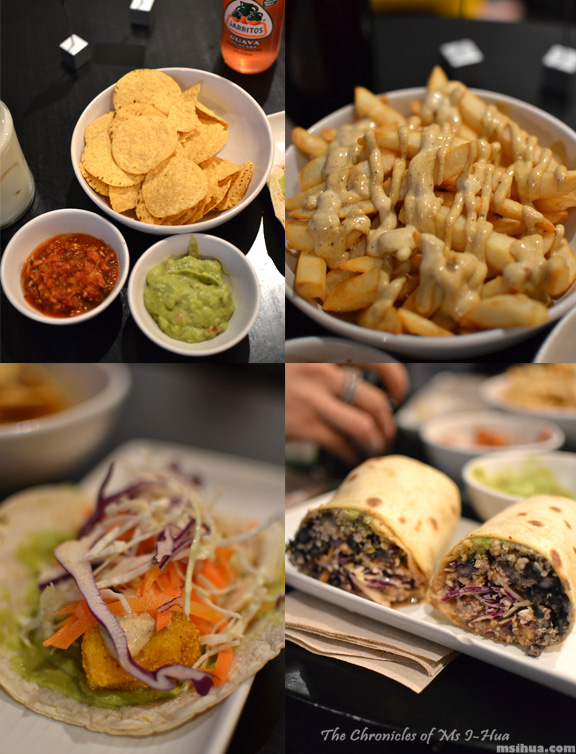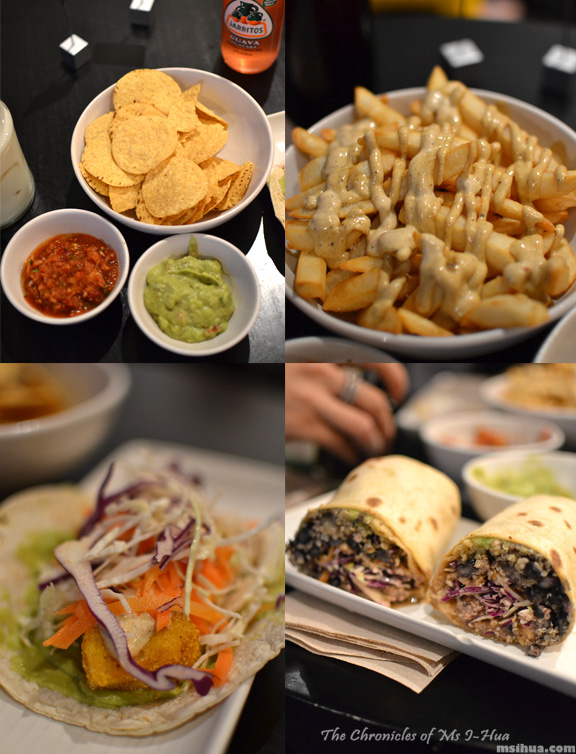 [Clockwise from top left to bottom left: Tortilla Crisps ($6.00) – Corn tortilla chips, guacamole, smoky salsa; Chipotle Chips ($6.00) – Fat chips with chipotle aioli; Grilled Chicken Burrito ($14.00) – with quinoa, salsa verde, corn, queso fresco, cabbage; and Fish Taco ($6.00) – with chipotle aioli, pickled carrot/onion, cabbage.]
Together we shared some Tortilla Crisps and Chipotle Chips. I couldn't help thinking these would be perfect on a hot summer's night sipping our horchatas!
Azz and Alski had the burrito and taco together which they said was alright.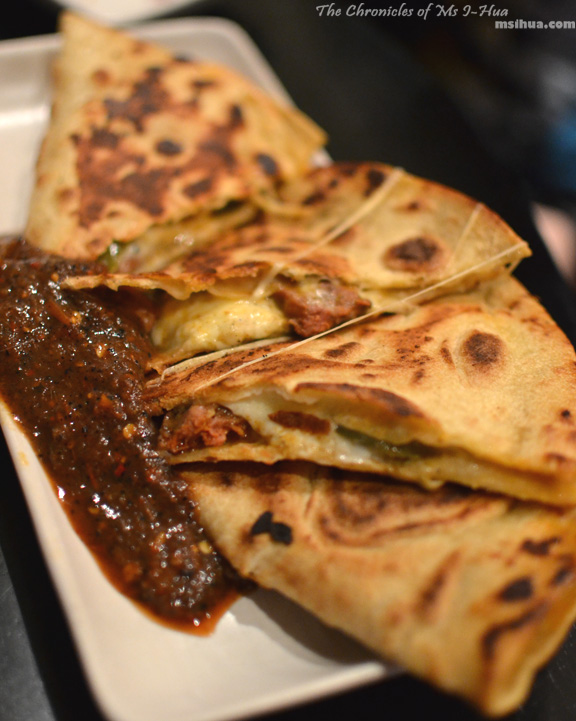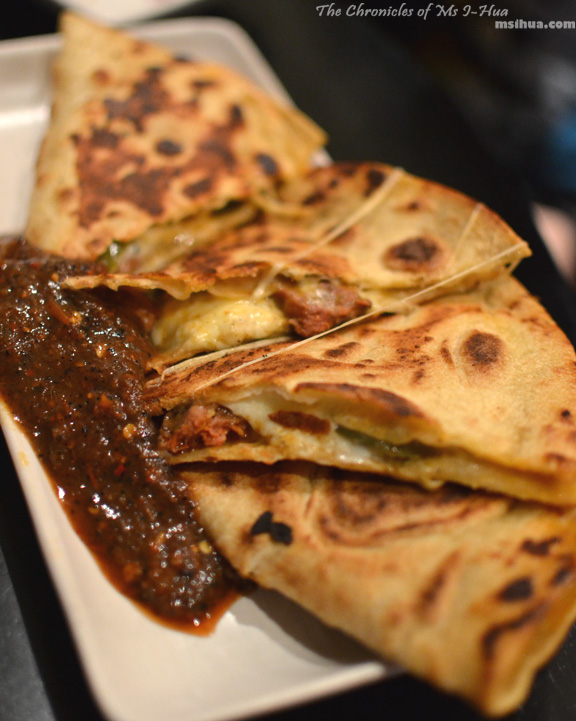 The Boy and I shared the fish taco and the Chorizo Quesadillas ($12.00) (chorizo, queso fresco, jalapeno, salsa roja). Despite having heard some people compare Fonda's fish tacos to fish sarnies (fish finger sandwiches), the Boy and I really liked it. Actually, we prefered this version to Mamasita's grilled fish version.
We just like deep-fried anything.
In terms of quesadillas, I preferred Fonda's version as it was gooey-er and messier than that of Mamasita 😛 Finger lickin' good.
There wasn't anything particularly outstanding at Fonda's apart from their lightning speed service (which was friendly and efficient). The food was pretty standard and the location a great place to catch up with friends if you happen to be around the area.
*Disclaimer: All food ratings & review are purely based on my own experiences and how I feel about the service, food and quality at the time of visit
Food/ Cuisine: Mexican
Dining Style: Casual Dining
Opening Hours:
Sunday to Thursday, 12:00pm – 9:30pm
Friday & Saturday, 12:00pm – 10:30pm
Address:
248 Swan Street
Richmond VIC 3121
Tel: (03) 9429 0085
Website: http://fondamexican.com.au/
How to get there: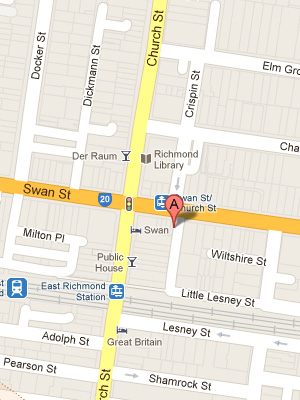 _______________________________________________________________________
Trippy Taco – Fitzroy
When my vegetarian friend from Adelaide came for a work visit, I knew we had to take him to the Fitzroy or Collingwood area for a good vegetarian experience. I hardly visit these places on my own, as I am too much of a carnivore, but I don't mind visiting them every now and again.
I laid several options to him throughout the day and he finally settled in with Trippy Taco.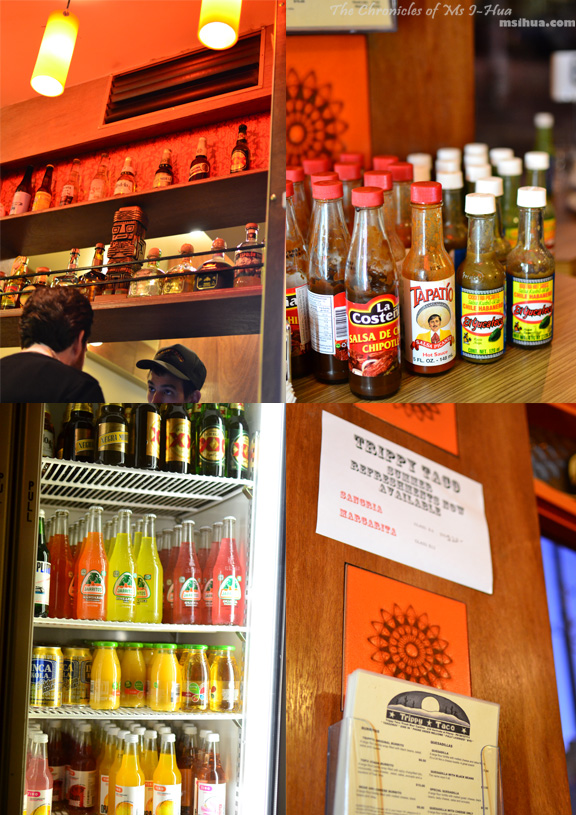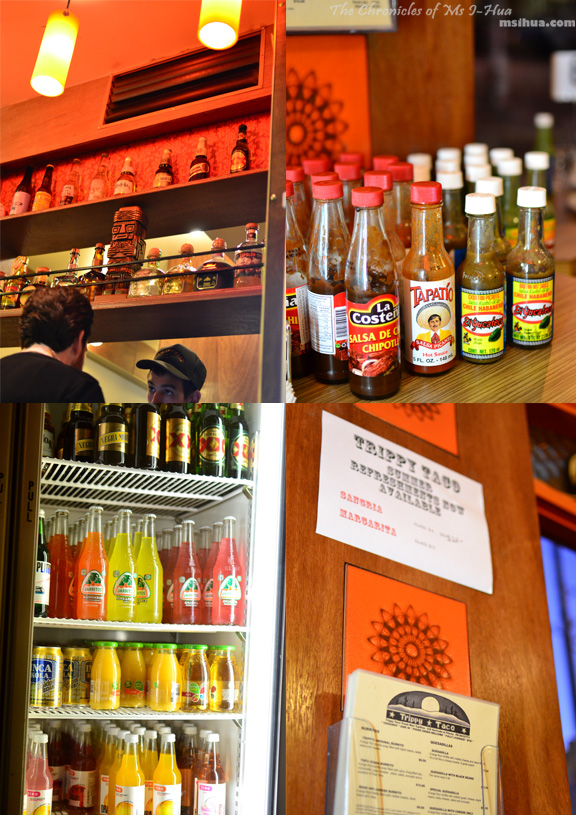 Trippy Taco certainly doesn't seem like your 'normal' vegetarian outlet. For one, it is packed to the brim with people from all walks of life.
It also occasionally attracts confused carnivores (like me) into its domain with its lure of fresh and delicious Mexican burritos. From studying the menu, it would slowly dawn on these confused ones that there was not beef, chicken or pulled pork in sight.
No, mi amigo.
Not even for ready money (could you tell me where that sentence is from?)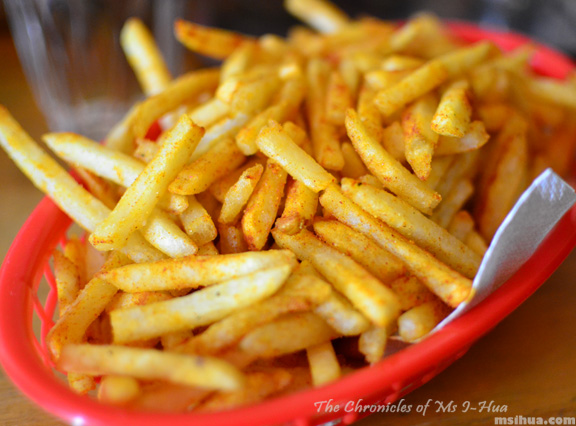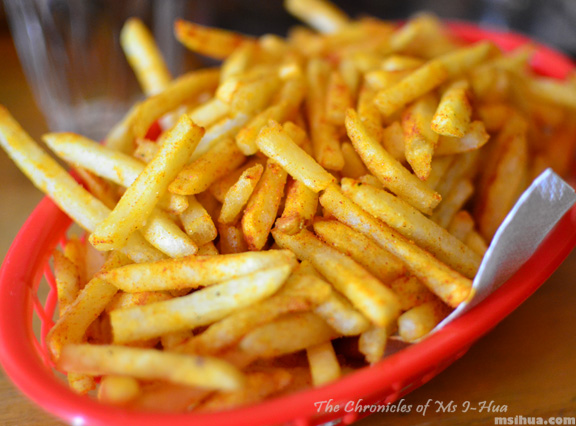 Trippy Fries ($6.00) – French fries with Trippy's yummy seasoning
The night which we visited, the three of us sat huddled on the side table along with the cutlery, condiments (of habanero sauces), glasses and water bottles.
Despite it being a relatively tight spot, the three of us seemed relatively comfortable with each of us making a silent prayer that we had ordered burritos and not massive plates of quesadilla.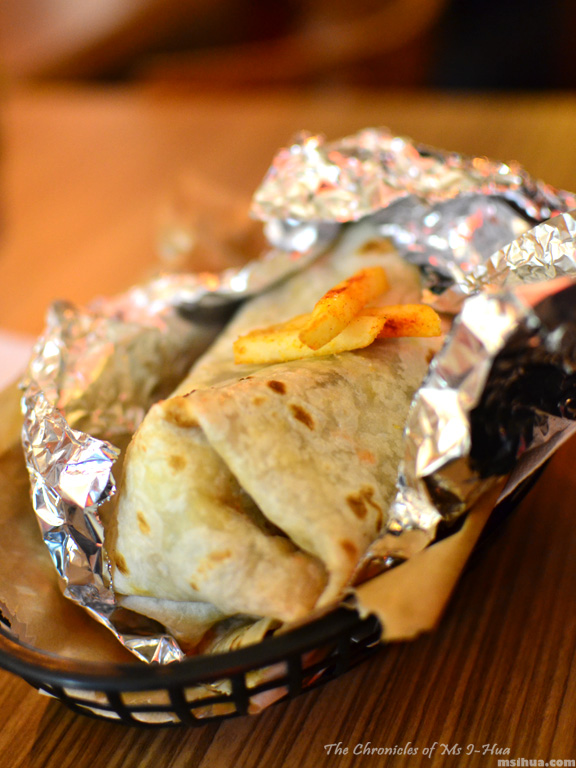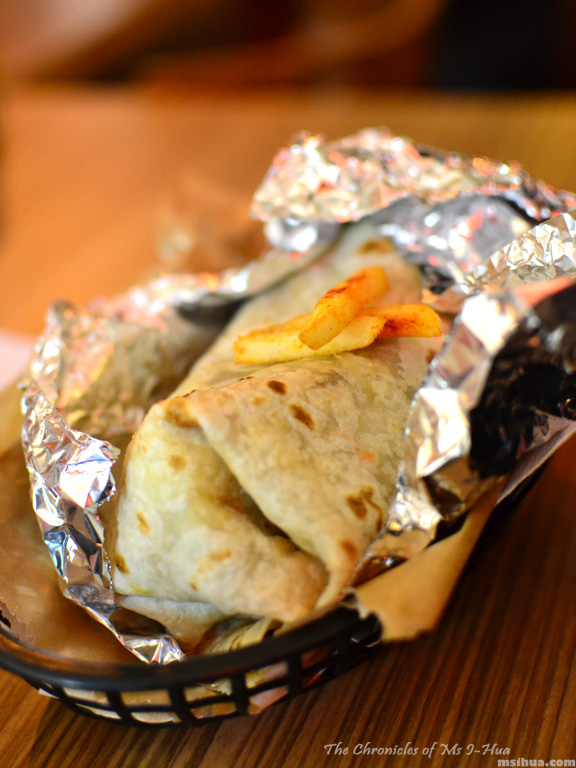 It was only obvious that between the three of us that we would each order the three available burrito options on the menu. Obviously I had nothing to do with persuading my companions at all. It's true! 😛
I had the Trippy's Original Burrito ($10.50) (Large flour tortilla wrap filled with black beans, salad, salsa and cheese) whilst the other two gluttons (who finished their burritos whilst I had half of mine leftover for lunch the next day!) had the Tofu Asada Burrito (Large flour tortilla filled with spicy chargrilled tofu, mozarella, goats cheese, salad, salsa, avocado and a squeeze of lime juice) and the Bean and Cheese Burrito (Large flour tortilla filled with melted cheese, black beans and salsa).
The kitchen was also pretty good at catering to dietary requirements and omitted the salsa (which had onions, chives and garlic) for my friend, as he is a strict Buddhist vegetarian.
Hooray!
I'm not sure if I can say Trippy Taco is the kind of food I would grow to enjoy. It is vegetarian after all, but I do know that if I am ever in the area and in dire need to escape boring and plain vegetarian meals, I'll be sure to pop into Trippy Taco. Maybe this time to try the quesadilla or dessert options. Nutella with tortilla wrap grilled anyone?
*Disclaimer: All food ratings & review are purely based on my own experiences and how I feel about the service, food and quality at the time of visit
Food/ Cuisine: Mexican (Vegetarian Friendly)
Dining Style: Casual Dining
Opening Hours:
Monday to Tuesday, 11:30am – 9:00pm
Wednesday to Friday, 11:30am – 10:00pm
Saturday, 9:00am – 10:00pm
Sunday, 9:00am – 9:00pm
Address:
234 Gertrude Street
Fitzroy VIC 3065
Tel: (03) 9415 7711
Website: http://www.trippytaco.com.au/
How to get there: