So, how's everyone coping with the intense heat that seems to have graced Melbourne lately?
Warm nights, hot winds and intense UV rays. So so hot. Have I mentioned that the weather is hot?
Coming from a disgustingly humid Tropical weather, you'd think that I would be able to cope better wouldn't you? Unfortunately, there's a reason why I left the good old tropics. I just can't stand the heat.
I am definitely a cooler weather sort of person. I love rugging up in winter, and pulling my doona up high around me to build a cave where I'm cosy and happy.
None of this too hot for clothes weather *wink*
You know what else I love that is cool?
Brunching around Melbourne's awesome cafes and soaking up the atmosphere (gotta give me credit for that awesome segue, c'mon!).
Here's another cafe compilation, this time focussing on what I have come to dub as Melbourne's Hipster Avenue 🙂
Enjoy!
_______________________________________________________________________
Birdman Eating – Collingwood, Vic
With this first cafe, I would like to point out the decorations that are strung high above the heads of diners. It's a Bird! It's a Man! No way, it's Birdman! And it eats!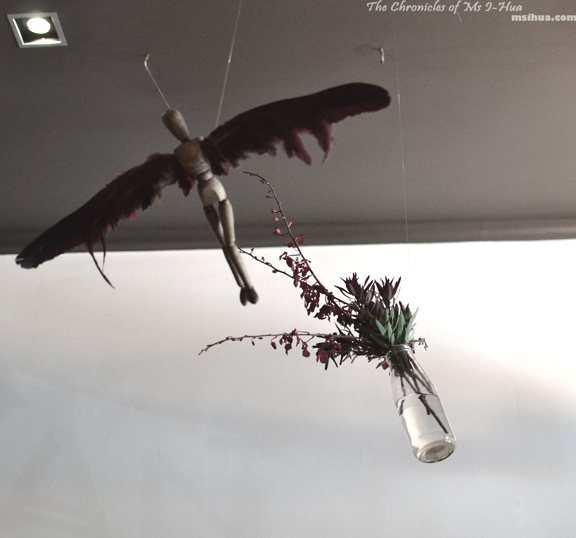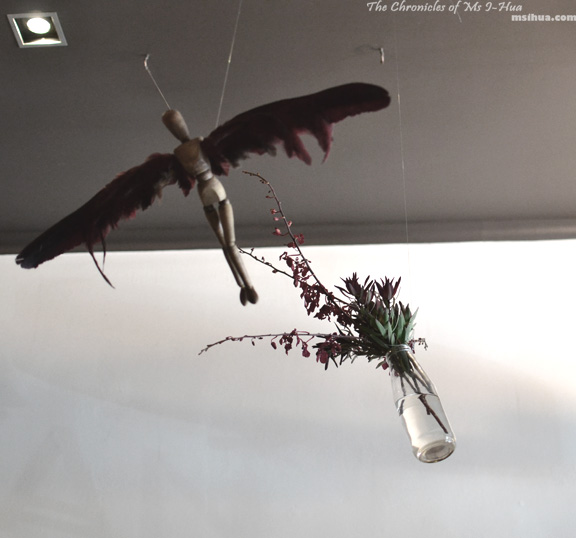 Utilising wooden dolls and putting feathers onto them, Birdman Eating creates a rather eerie-faerie quality like ambience. Partnered with the flora hanging in glass bottles, I must say I quite like it.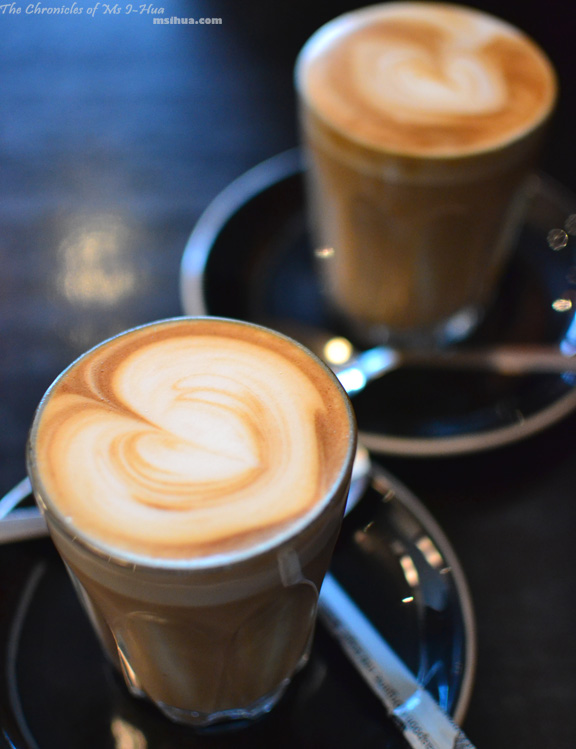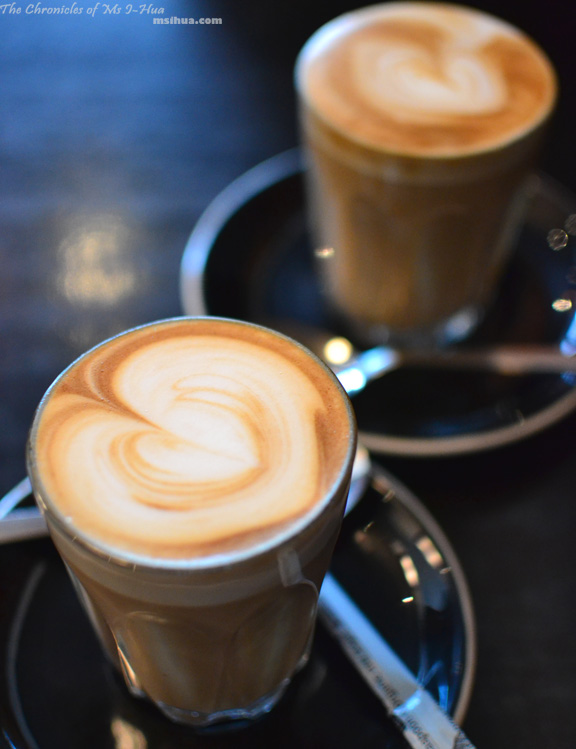 Using Genovese beans, I tried their Latte ($3.00) and found it to be quite pleasant. Not the best coffee around town (when De Clieu's just across the road), but certainly a good brew.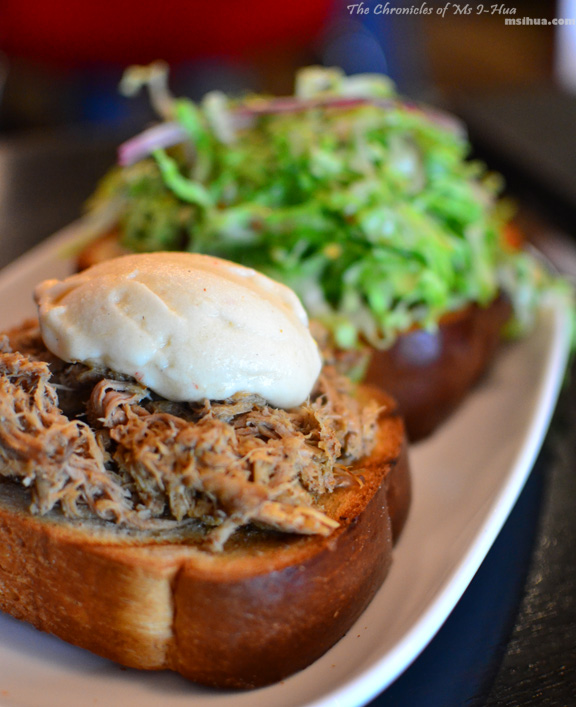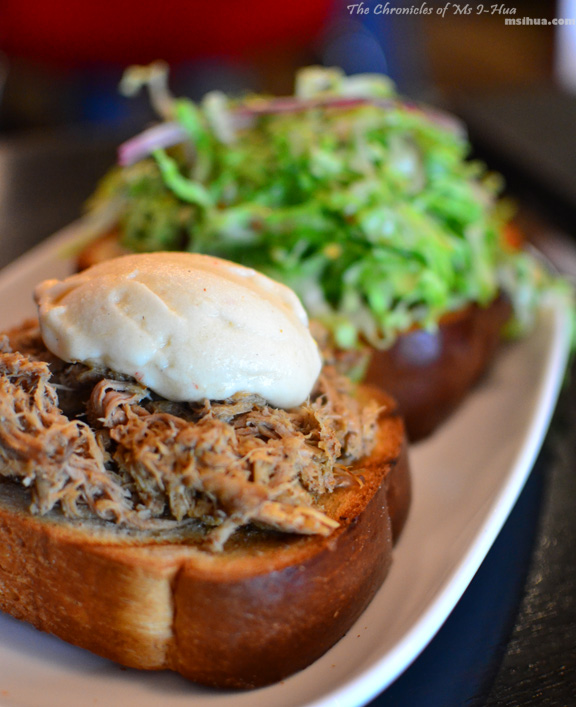 Birdman's menu has the usual options of baked eggs. What I found interesting were the inclusions of french toasts, crumpets and pikelets. Oh, so very English! However, what caught my eye on the list weren't these. Rather, it was a dish that called out to me. A little piggy…
My attention was caught by no other than the Smoked Pulled Pork, Shredded Lettuce & Mint Open Sandwich with Roast Pineapple Sorbet ($16.50).
I absolutely loved the genius of utilising the sorbet for this dish. It was just so different and unexpected. A novel breakfast dish 🙂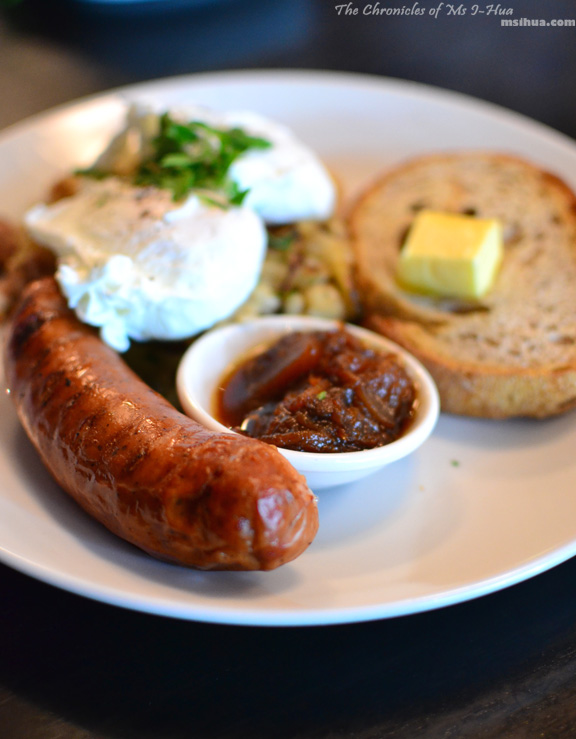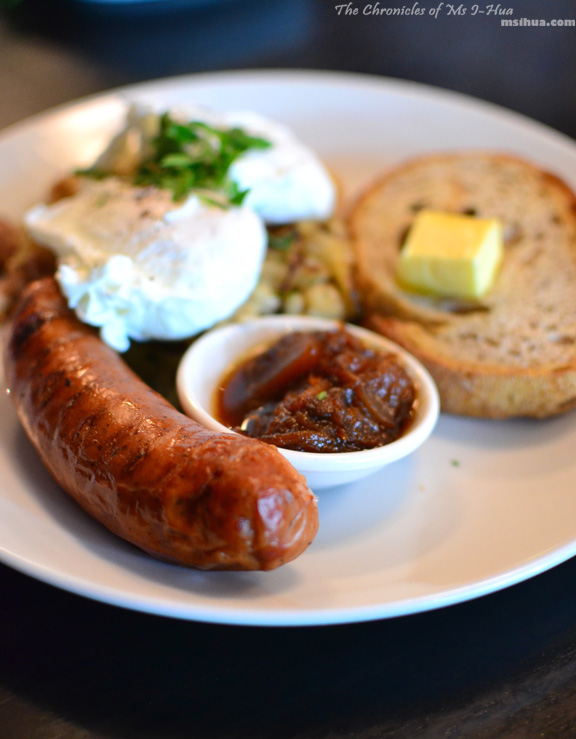 "El Grande Cerdo" – Chilli Cheese Kransky with Bubble & Squeak, Poached Eggs, Toast and Pear & Date Chutney ($18.50)
Hee hee hee *blush*. We all know why the Boy ordered this 😛 (Here's looking at you Mazzie!)
His breakfast reminded me a cold winter's huddled by the fireplace with Christmas leftovers. I have no idea whose memories they were. Methinks I read way too many books.
If you're around the area strolling along Gertrude Street, drop in for some English (whoever knew) breakfast 🙂
*Disclaimer: All food ratings & review are purely based on my own experiences and how I feel about the service, food and quality at the time of visit
Food/ Cuisine: Modern Australian/Breakfast & Lunch
Dining Style: Cafe
Opening Hours:
Monday to Friday, 7:00am – late
Saturday & Sunday, 8:00am – late
(Kitchen closes at 10:30pm)
Address:
238 Gertrude Street
Fitzroy VIC 3065
Tel: (03) 9416 4747
Website: http://www.birdmaneating.com.au/
How to get there: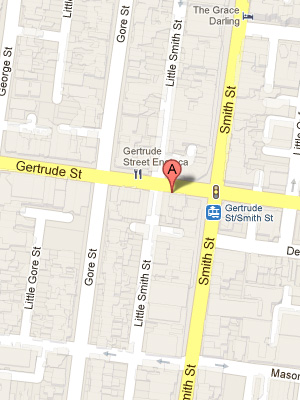 _______________________________________________________________________
Madame Sousou – Fitzroy, Vic
If hipster grunge or English is not quite your thing, and you would like a more suitable surrounding for some classy nosh, then head over to Madame Sousou as you walk down Brunswick Street towards Victoria Parade.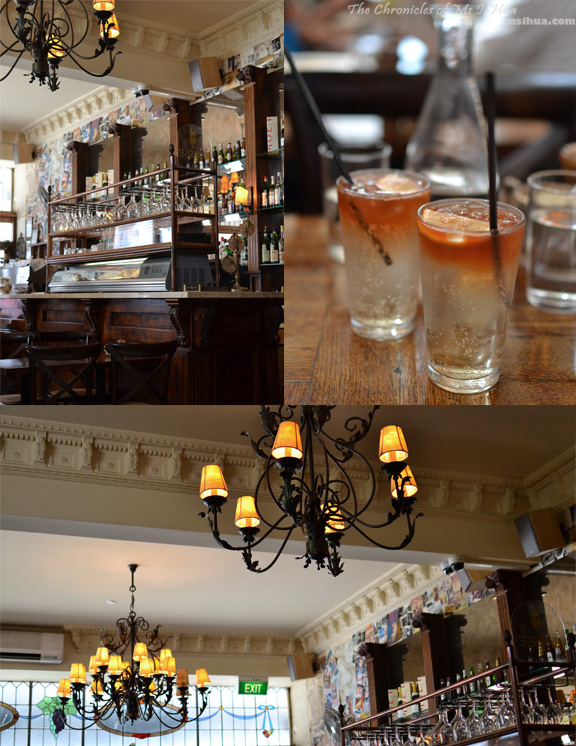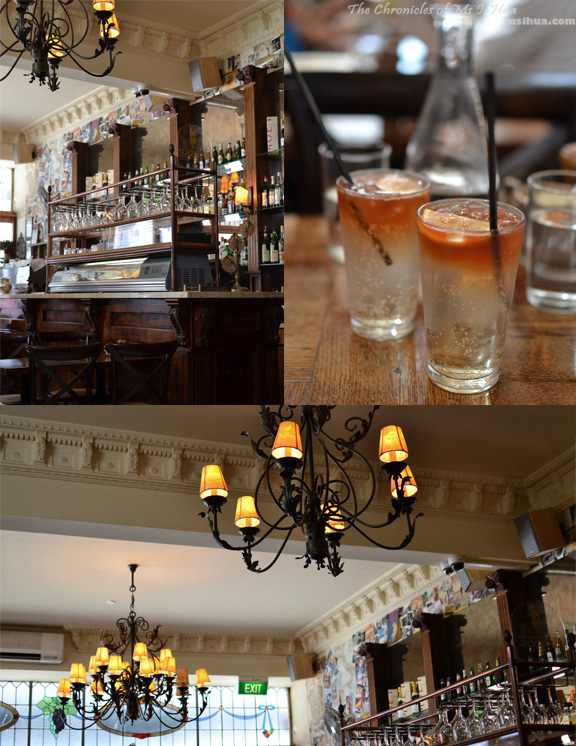 Upon walking in, the Madame parts her wooden doors to reveal a rather wide French bosom.
The interior, eclectic comes across as a lavish French parlour of old charm, opulence and grandeur.
It was busy (what cafe these day's aren't?) but the staff managed to squeeze us into a cosy corner for two.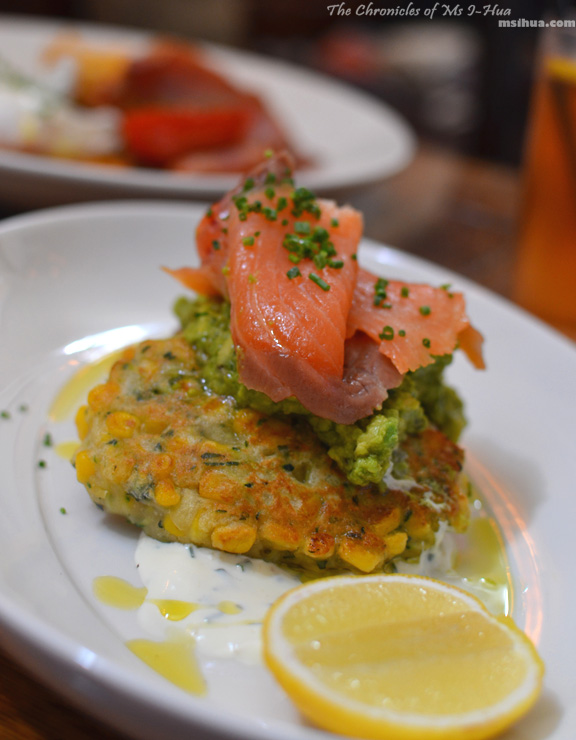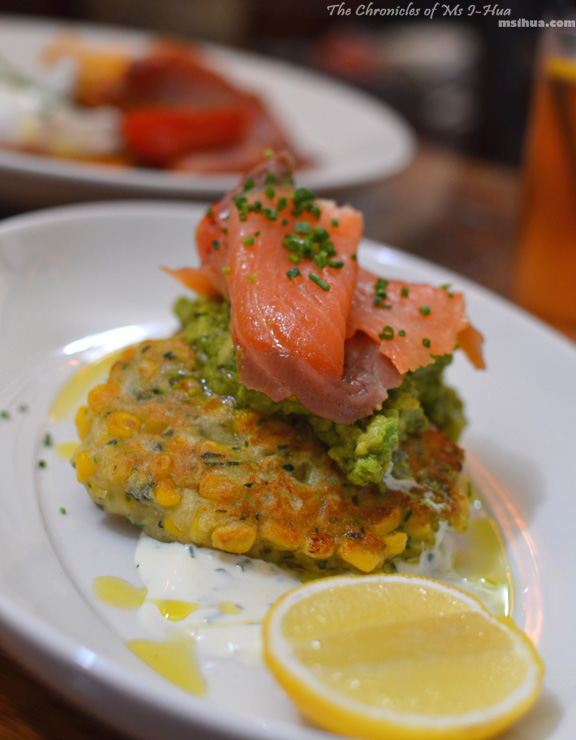 Once again, having spotted corn fritters on the menu, I had to order the Sweetcorn and Zucchini Fritters with Smoked Salmon, Avocado Salsa & Horseradish Creme ($18.00).
Though tasty with a slight bite from the horseradish creme, the fritters were a tad soggy. I like my fritters crispier than that.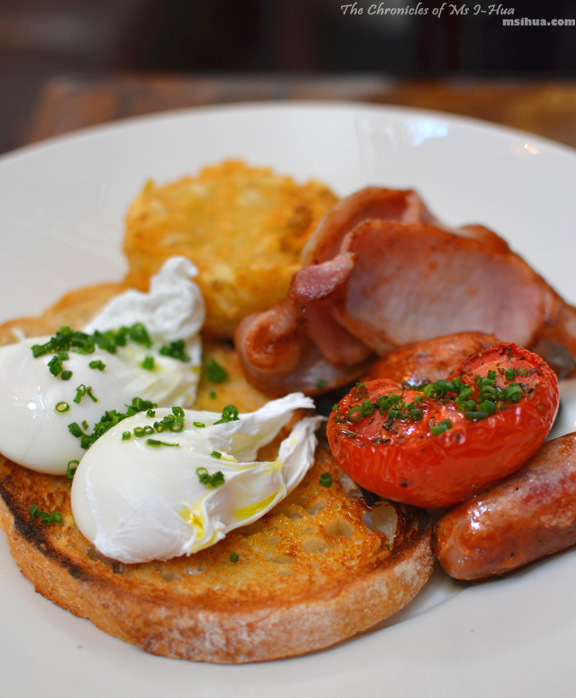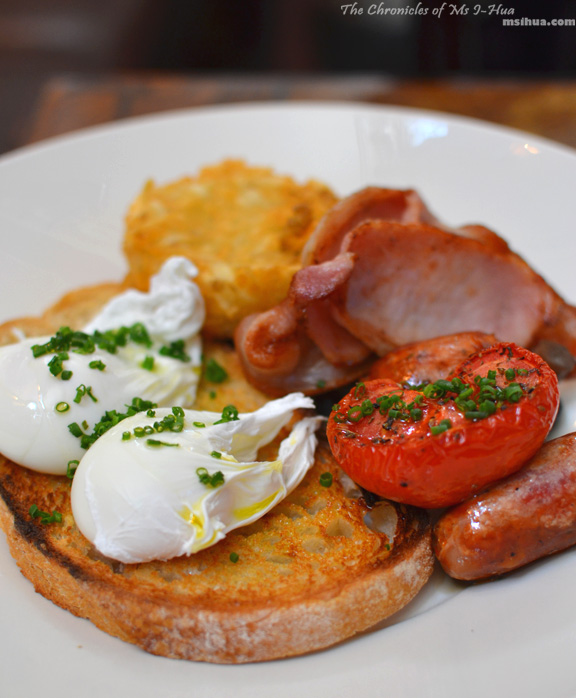 Predicatable to the core, the Boy ordered the one thing that had everything on it as he couldn't make up his mind. He had the Sousou Breakfast – Poached Eggs with Double Smoked Bacon, Paprika Sausage, Potato Roesti, Slow Roasted Tomato and Mushrooms with Toasted Sourdough ($18.00).
Madame Sousou makes for a nice change in scenery. For a short while, you can forget that you are dining in grungy Fitzroy and let your imagination wander that you are dining at a busy Parisian cafe instead.
*Disclaimer: All food ratings & review are purely based on my own experiences and how I feel about the service, food and quality at the time of visit
Food/ Cuisine: French & Breakfast/Brunch
Dining Style: Restaurant
Opening Hours:
Monday to Sunday, 9:00am – late
Address:
231 Brunswick Street
Fitzroy VIC 3065
Tel: (03) 9417 0400
Website: http://www.madamesousou.com.au/

Twitter: @MADAME_SOUSOU

How to get there: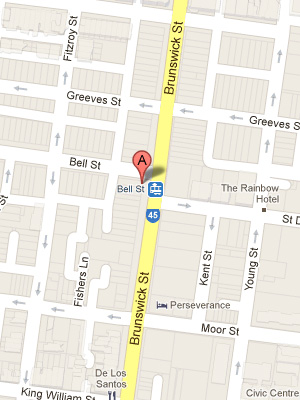 _______________________________________________________________________
Hammer & Tong 412 – Fitzroy, Vic
Recently hatched, Hammer & Tong 412 moved into the previous nest of the Brix Cafe & Bistrot (which exploded onto Melbourne's dining scene and just as quickly combusted into nothingness).
Rising out of the ashes of this is Hammer & Tong. At the helm is front of house expert Dennis Ferreira who has worked at most places where many still dream of dining at (and possibly still on waiting lists). His CV reads off like a restaurant guide, Cafe Di Stasio, Caffe e Cucina and il Bacaro, France Soir, Momo, Vue de Monde and Jacques Reymond.
It was through his time at VdM where he met business partner, Chef Simon Ward (who now runs the kitchen). It seems everyone opening up something new these days have come from VdM (staff turnover much?).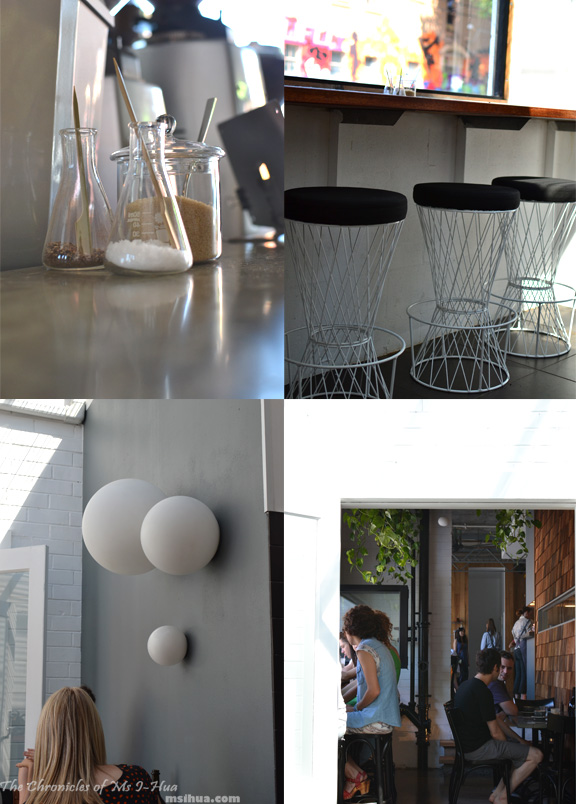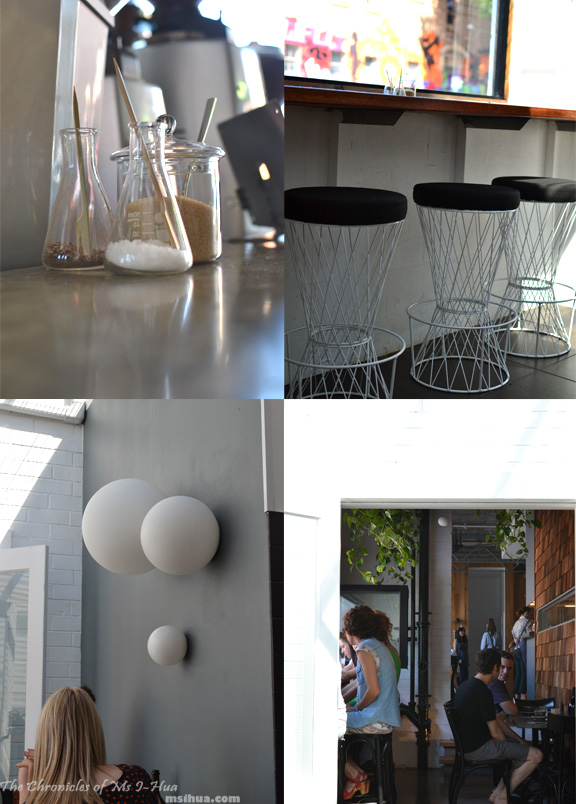 I loved that H&T kept the beautiful design and layout of the old Brix, with the only addition being the extra room at the back of the cafe. This place has such a good jolly vibe.
When we visited, unbeknownst to us, it was their first weekend of operation (having only opened a couple of days before), service was still a bit jumpy (they sat us at the bar to wait for a table and forgot about us and our table was given away to another couple who had just walked in). However, we put that aside to first weekend jitters.
The food and coffee (from Dukes) were good enough for us to consider returning. Feedback from locals around the area is that the place is super busy on weekends that it's hard to get a table *sigh* (good for them, sucks to be us).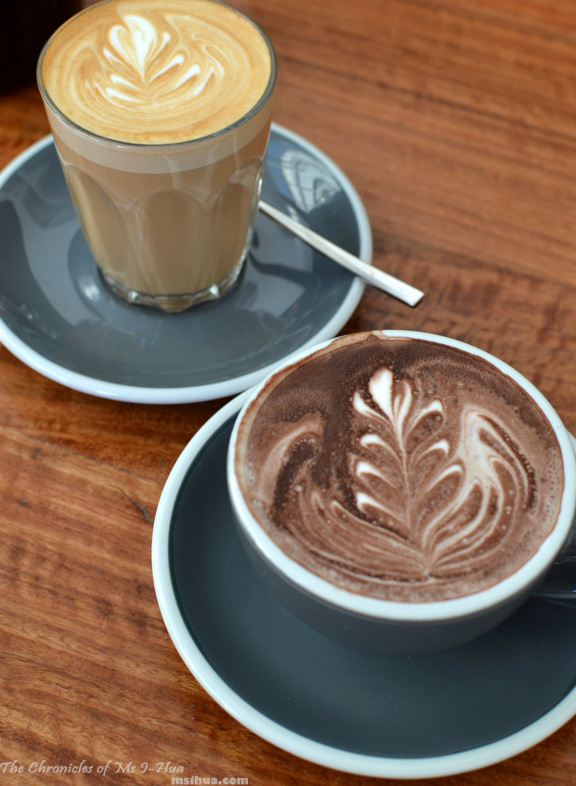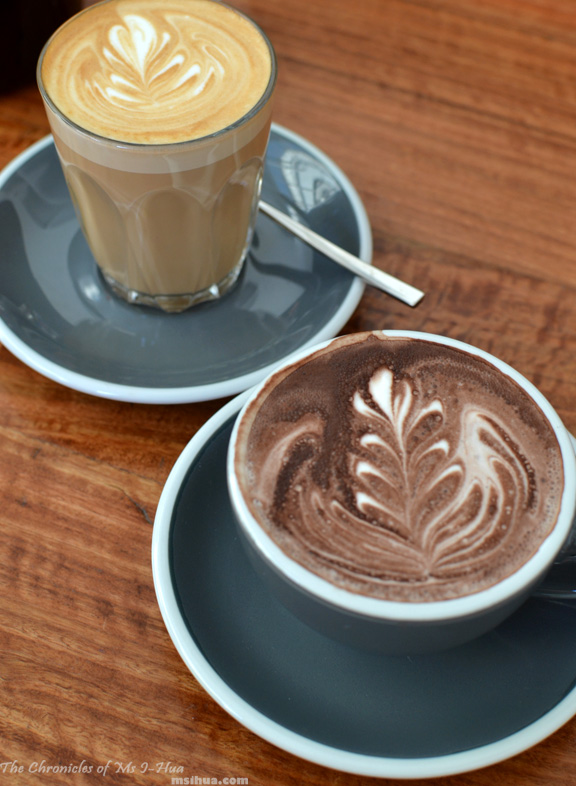 The Boy has been weaning coffee out of his diet upon advice from the doctors (better him than me!) so whilst I sipped on my Dukes Latte he went with a Hot Chocolate (poor baby).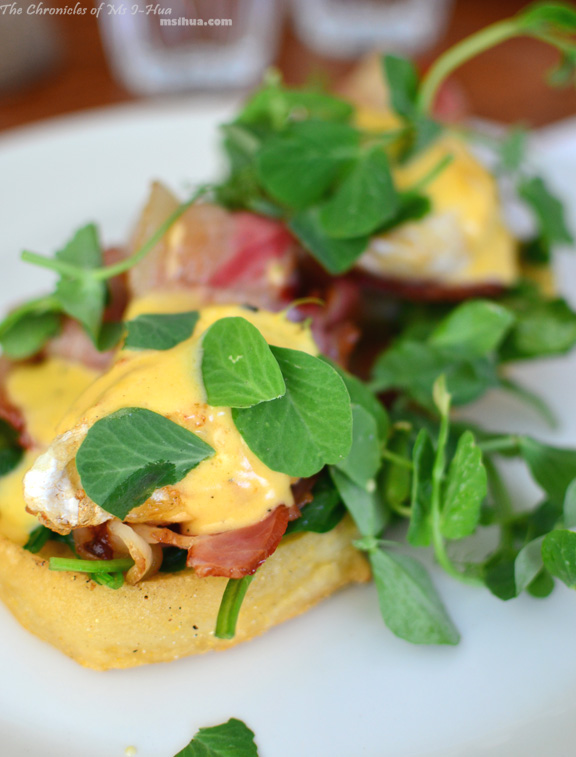 As we looked at the menu, having husband-wife-old-married-couple-syndrome we instantly knew what we would order and made the decision in less than 1 minute.
If you had a look at the menu, you too would have known what to order for us. Eggs Benedict and Corn Fritters!!!
They may call it any other name, but we know Benedict when we see it! So the Boy zeroed in on the English Muffin with Istra Bacon, Hollandaise Sauce, Double Cooked Egg, Watercress.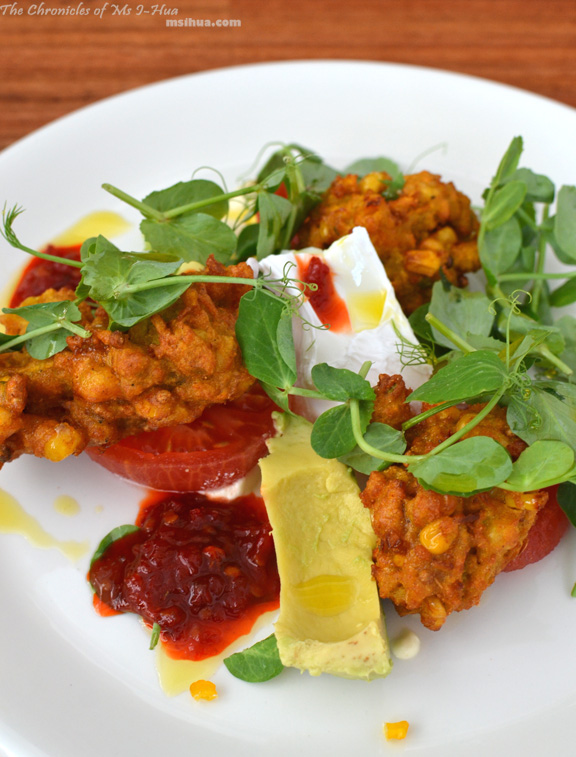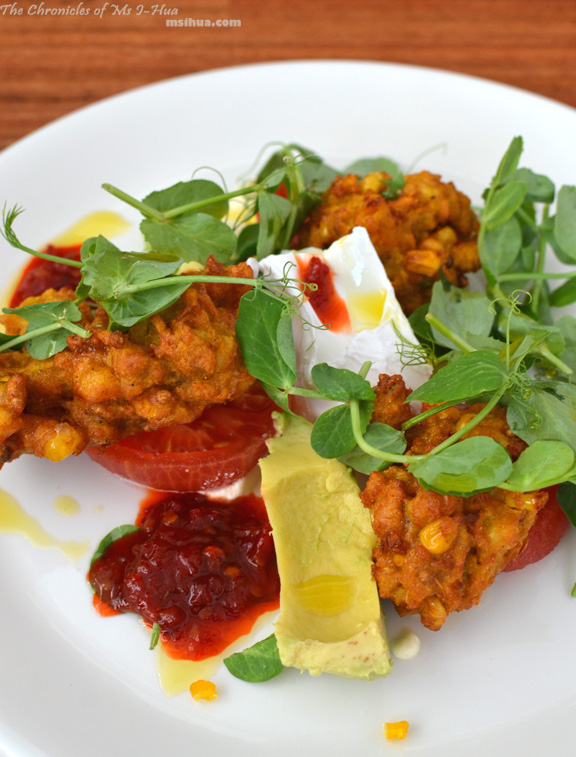 I of course had to (just had to) order the Spiced Corn Fritters, Avocado, Housemade Chilli Relish, Smoked Tomato & Poached Egg and loved it. The wonderful crispy texture definitely had me going ga-ga. The only one complaint (and I would be really pushing it here) would be the slightly heavy handed use of turmeric on the fritter. Otherwise, it was close to perfection.
If you're thinking of coming by but can't be bothered standing in line to wait, you may have a problem there Houston.
Hammer & Tong will be very busy for the next couple of months (probably weekend mornings) as word gets out that a new hot cafe has opened up in Fitzroy 🙂
*Disclaimer: All food ratings & review are purely based on my own experiences and how I feel about the service, food and quality at the time of visit
Food/ Cuisine: Modern Australian & Breakfast/Brunch
Dining Style: Casual Dining
Opening Hours:
Tuesday to Friday, 7:00am – 4:00pm
Saturday & Sunday, 8:00am – 5:00pm
Address:
Rear 412 Brunswick Street
(Enter from Westgarth Street)
Fitzroy VIC 3065
Tel: (03) 9041 6033
Website: http://www.hammerandtong412.com.au/

Twitter: @HammerandTong

How to get there: