[Ms I-Hua and The Boy dined courtesy of Mr Huang Jin]
One of the best things about being bloggers, is the array and variety of invitations that come our way. I'm not saying this to brag. It's just a statement of fact and certainly common knowledge.
What I do love about this is that some times, we get an invitation to dine at a restaurant that's on our to-go-to list having read about them previously from others and bookmarking them. With so many new dining establishments that open up in Melbourne, we definitely can't keep up.
So it was with great expectations when I turned up at Mr Huang Jin with The Boy one evening after work. After having read Off The Spork's and Sarah Cook's declaration of love and the best XLB's (xiao long bao) in Melbourne, it was hard not to.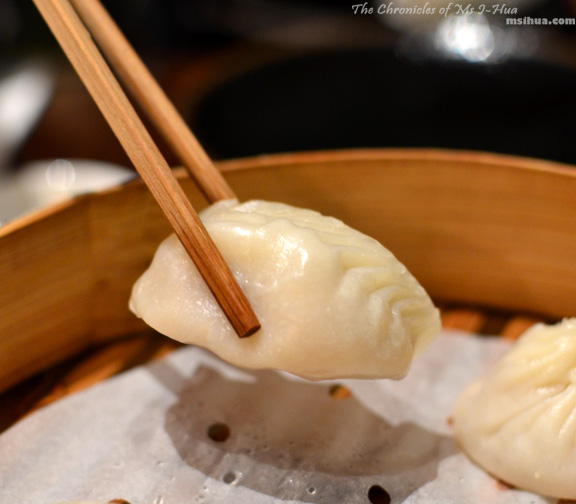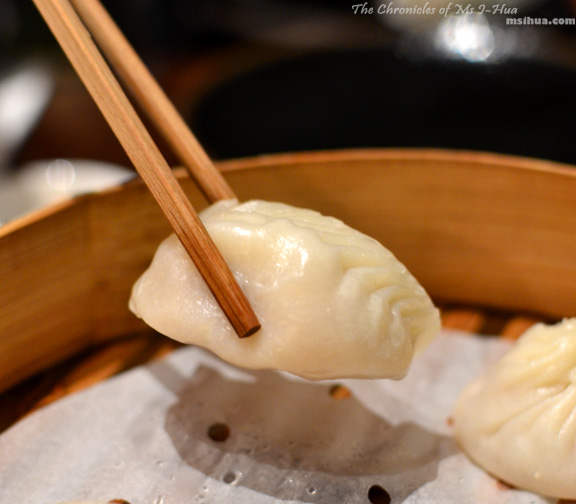 We turned up slightly past 6pm and were slightly surprised to see that the place was quite empty. Apart from us, there were 3 other tables around. The after-work crowd must have just rushed home and those heading into the city do not realise that this little gem is ready and available!
It is slightly removed from the hustle and bustle of Chinatown and no one thinks of having dumplings when they see the Rialto Towers, but it is there. Situated amongst a mix of favourites such as The Merchant, Hare & Grace and Vue de Monde, it's easy to see which market this Taiwanese restaurant is aiming to target.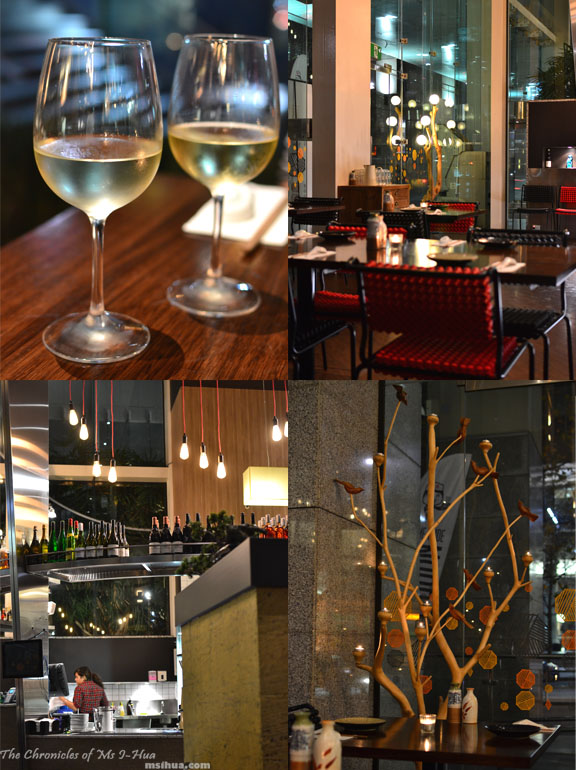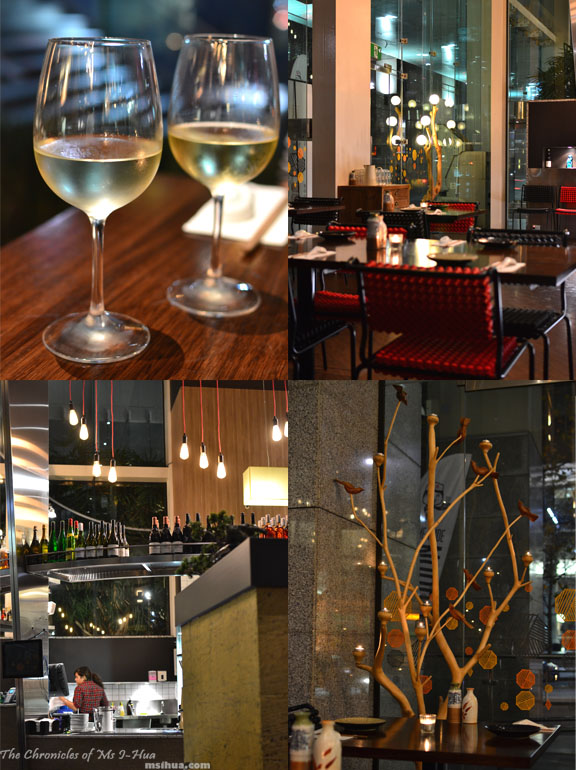 For the evening's meal, we were told that we would sample the chef's Banquet Menu with a glass of wine each. This is readily available for a group of 2 or more on their Hungry menu at $48 each.
With the knowledge that the chef, ex-Din Tai Fung (Taiwan) man, I couldn't help but raise the bar even higher on the expectant XLBs.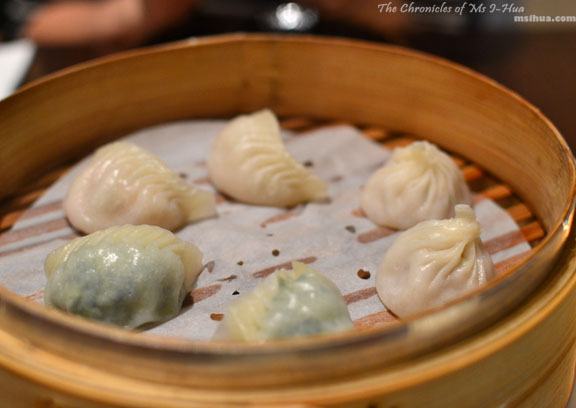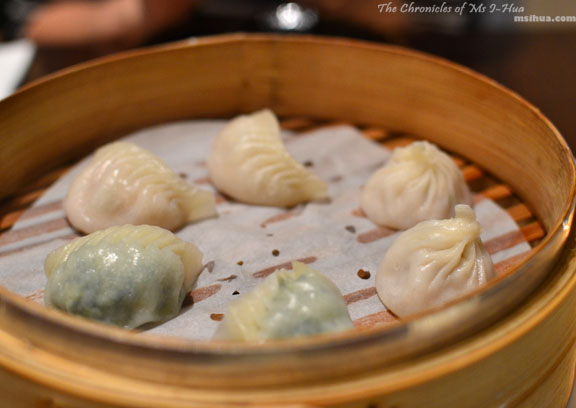 Out they came lined up in a circle in a steamer basket. We tried Steamed Pork Xiao Long Bao (Amazing!), Steamed Black Tea Xiao Long Bao and the Steamed Vegetable and Pork Dumplings.
The classic XLB's were definitely the star of the show. I really enjoyed the mix of English Tea and Pork as well in the second XLB. The skin on the dumplings were wonderfully thin and the broth rich in flavour. Best ever XLBs in Melbourne!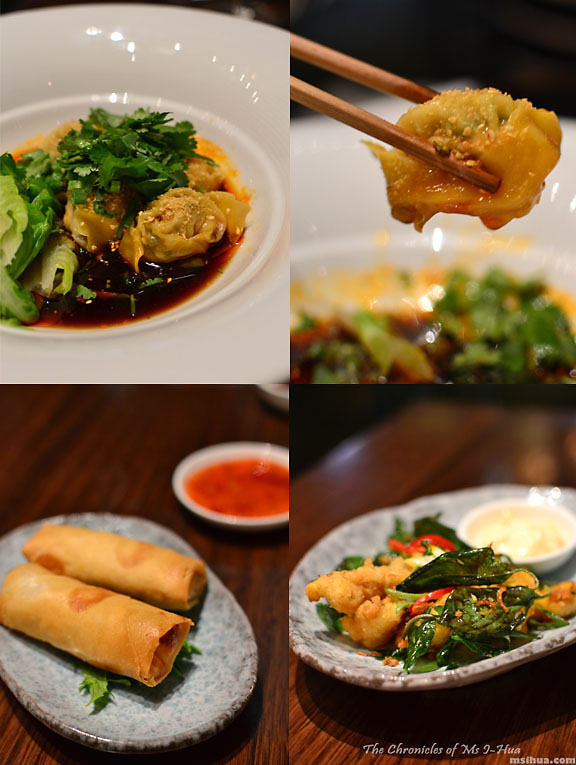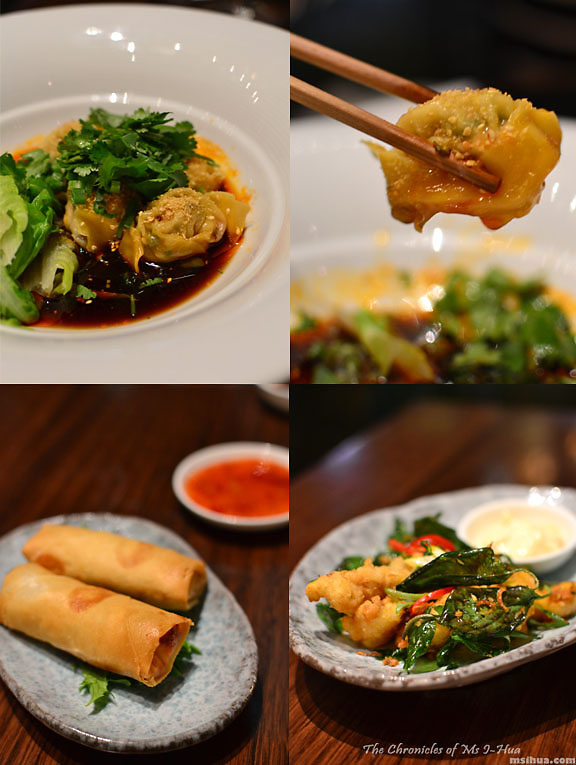 I really liked the Prawn & Pork Wontons with Chilli Sauce. It was sweet, spicy and tangy. I ate The Boy's share *tee hee*. It must be noted as well that whole prawns were used in these hand made dumplings and not diced, which makes for a whole new level of juicy dumplings.
My fantasies of just dining on superb dumplings ended at this point. From this moment, we had the widest array of Taiwanese styled "tapas" that came pouring out of the kitchen in a never ending flow. For this reason alone, I would highly recommend getting onto the Banquet menu should you visit! You get to try a little bit of everything! (Food Blogger's dream!)
We started the Taiwanese tapas with house made Crispy Duck Spring Rolls served with sweet chilli sauce. Again, the skin on this spring roll was faultless and extremely crispy.
The Spicy Squid, crumbed and fried with shallots and spring onions served with home made mustard made for an interesting East meets West dish.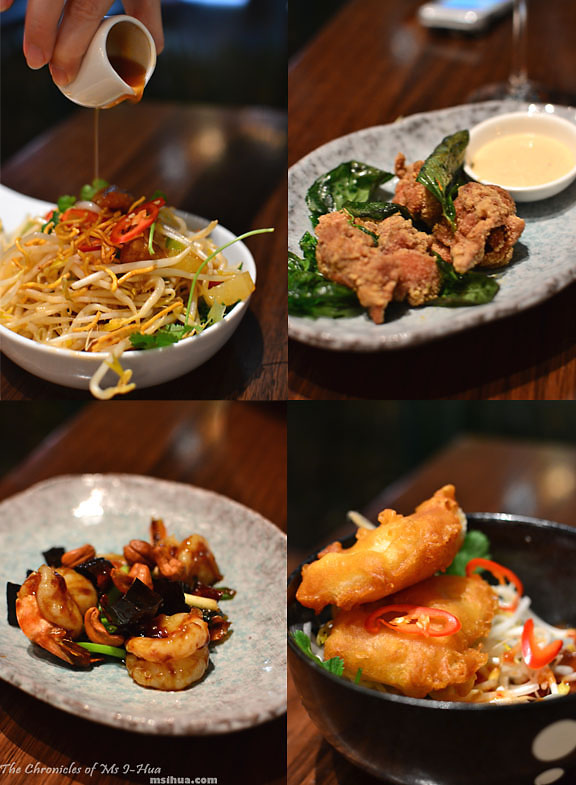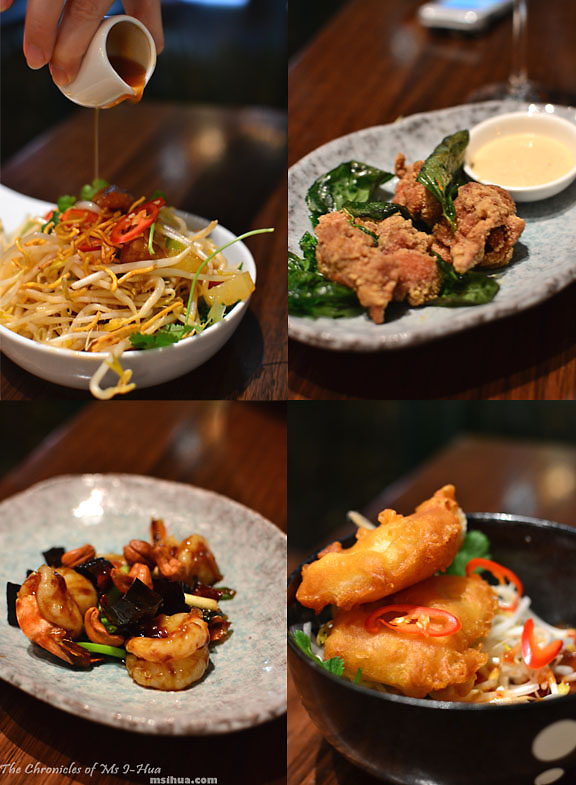 I really enjoyed the Sweet & Sour Pork Salad. It was exactly what I thought it'd be. Onions, capsicum, pineapple, heaps of bean sprouts topped with battered pork in a sweet and sour sauce and crunchy deep fried egg noodles (winning!).
The TFC (Taiwanese Fried Chicken) was crispy and juicy. Served with a sweet chilli mayonnaise, it would make for an excellent TV dinner snack!
The Kung Po Prawns (not on the menu) were succulent and flavours well balanced.
The most interesting dish (IMHO) we had was the Crispy Hot and Sour Shark Flake. The spicy and sour sauce (served cold) provided an interesting taste sensation when dipped with the super well battered and crunchy hot flake. It is definitely worth the experience. It made me think of Rockpool's Crazy Water (Acqua Pazza) fish dish.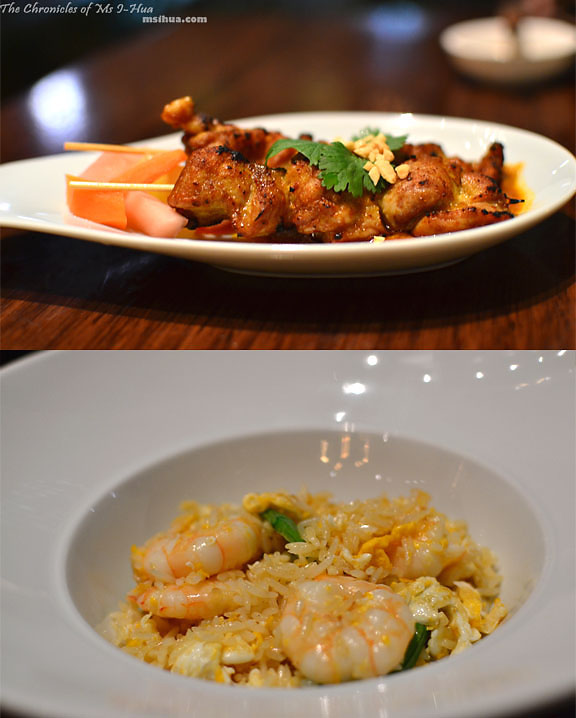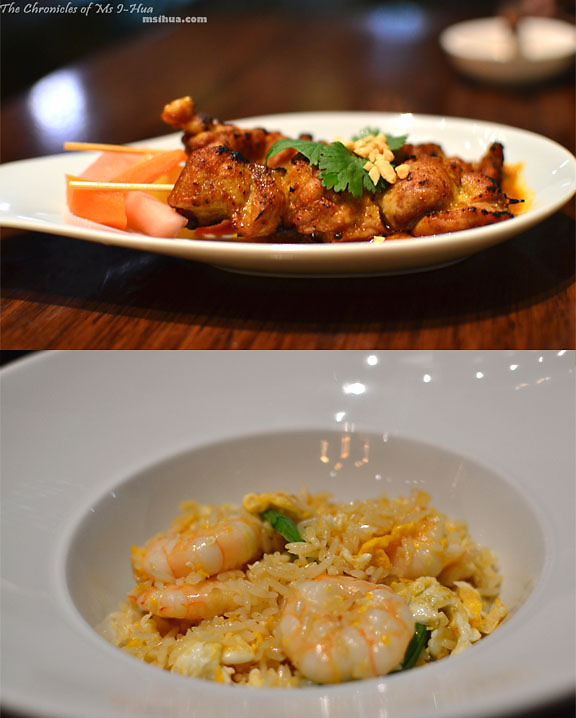 As the last of the savouries rolled in, I put my hands up to surrender. I ate my serve of the Satay Chicken Skewers (not sure how these are related to Taiwanese cuisine) and said to The Boy, "it's all up to you now!"
He readily complied and ate the entire dish of Special Fried Rice (Prawn, Egg and Spring Onion) on his own. *thunderous applause*
We both laughed as we commented that it felt as if we'd just dined at a Chinese Wedding banquet (last savoury dish is always fried rice or glutinous rice). Based on that theory we guessed that the desserts would include pancakes.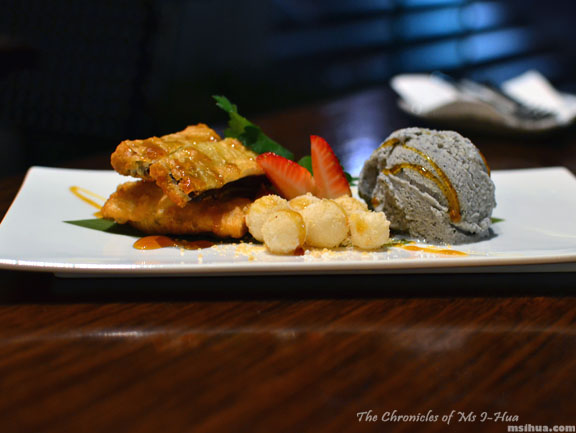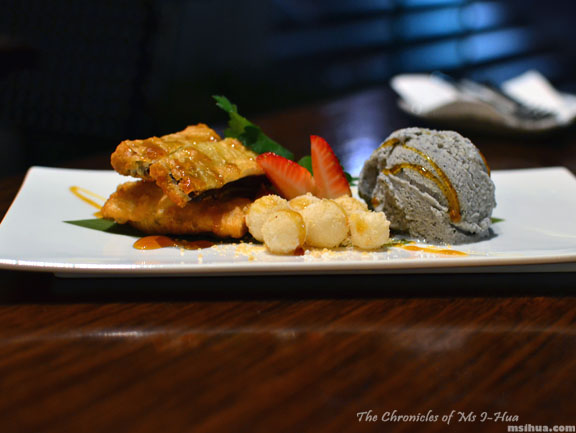 We were right! Out came a Dessert Platter which included Red Bean Pancake, Black Sesame Ice Cream and little balls of deep fried dough. We thought that these might be a cross of jin deui and water dough. So delicious and I definitely wanted more of them despite bursting at the seams. Luckily for me, dessert have a separate compartment in my digestive system 😛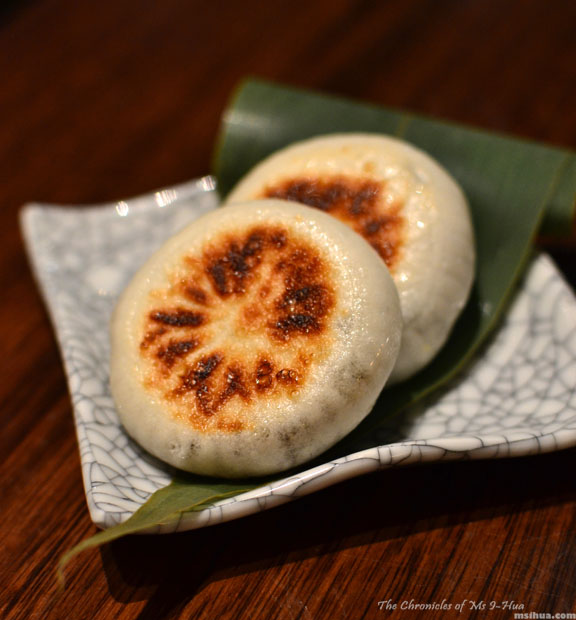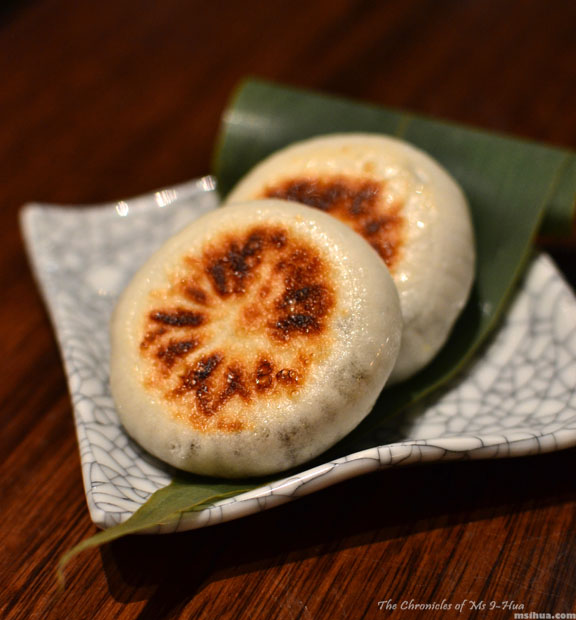 As an added treat (because we didn't have enough food :P) we were provided with a sneak peek into the chef's new kitchen experiment (soon to be introduced on the menu) of a classic Taiwanese dessert dumpling.
It's a type of dumpling with walnut filling that is steamed and pan-fried. It was so good The Boy wanted to steal mine. Luckily, his movements were slow as a result of over-indulging on food and I was ready to block with my chopstick kung-fu skills *haiiiii yaaaaaa*.
I can't recommend this place enough and it isn't even because we received an invite. The dumplings were top notch, service was excellent (from observing other tables) and really, you won't have to fight for a table. The place is huge! Looking at the menu, the food is on the slightly pricier end (but so is Spice Temple) but it's definitely worth it. I would bring my mum here 🙂
Definitely locking Mr Huang Jin in for my next team lunch event (as they cater to both Gluten Free and Vegetarian dietary requirements as well). Hooray!
For other reviews on Mr Huang Jin:
Let's Get Fat Together
Miss Ness Food Train of Thought
Off The Spork
Petit Miamx
The World Loves Melbourne
*Disclaimer: All food ratings & review are purely based on my own experiences and how I feel about the service, food and quality at the time of visit
Food/ Cuisine: Chinese (Taiwanese Cuisine)
Dining Style: Restaurant
Opening Hours:
Monday to Friday, 10:00am – 10:00pm
Saturday, 5:00pm – 10:00pm
Address:
Ground Floor, Rialto
525 Collins Street
Melbourne VIC 3000
Tel: (03) 9077 7937
How to get there: