Good morning dear friends! I do hope you are having a lovely lazy Sunday lie in today. If you have breakfast on your mind, why not give either one of these two a quick visit today?
We haven't visited either one of these in a while now, but we really enjoyed them when we went and since I discovered this drafted post (thanks to The Boy) sitting in my list of posts to write about, I thought I'd revisit them with you today.
With winter fast upon us, I can't think of two better cafes who serve comfort food to the masses.
One is He Says She Says up in Camberwell and the other is the popular Fitzrovia in St Kilda.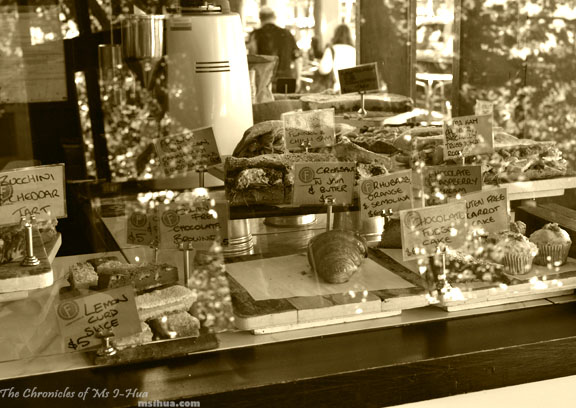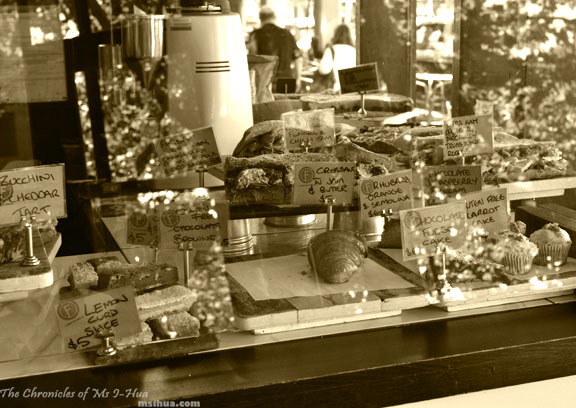 _______________________________________________________________________
Fitzrovia – St Kilda, Vic
Oddly enough, we were introduced to Fitzrovia by a friend who's always asking me for breakfast/brunch recommendations. See! You are useful afterall o' Mining Overlord 😛
Possibly the only reason we have been avoiding visiting Fitzrovia all this while is due to its location. Parking is a nightmare and it took us quite a while before we found a side park (due to luck).
I highly recommend sticking to public transport if you don't have to drive here. Trams are a convenient way of getting here with a tram stop located right at the front.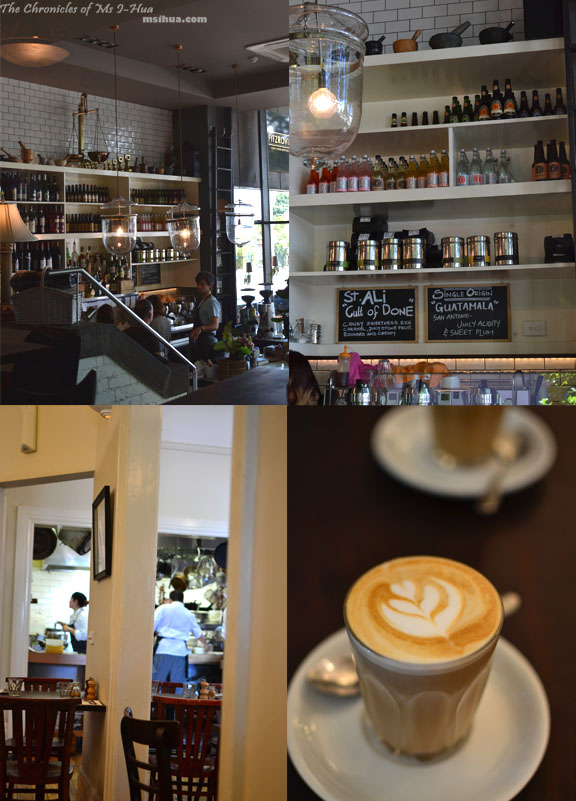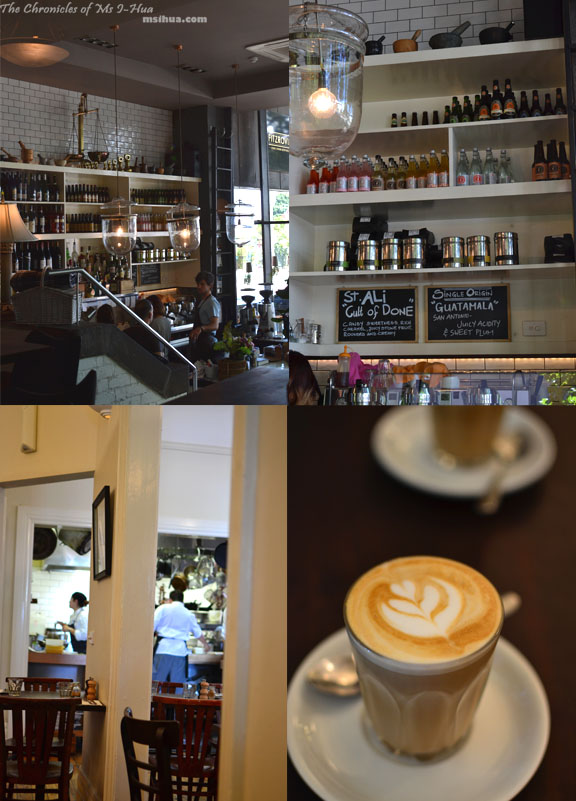 When we finally got to Fitzrovia, it was nice to see that it was bustling with the local crowd. The fitout itself was beautiful. The facade was quite modern and looked like a typical cafe, but the inside was where the beauty lay. There were two distinct areas to dine in once you got to Fitzrovia, the outside, bright more modern bit of the cafe or the inside, more rustic country home part of the cafe.
I couldn't help but wish for a warm couch to lounge on next to the fireplace. It oozed warmth and home.
Just a note, we were here at the start of the year, so the menu (being seasonal) has changed considerably since we ate here.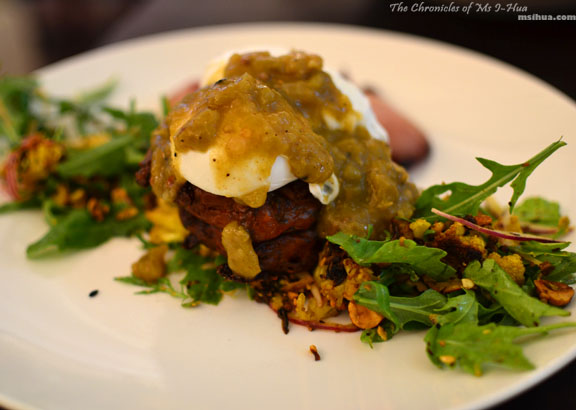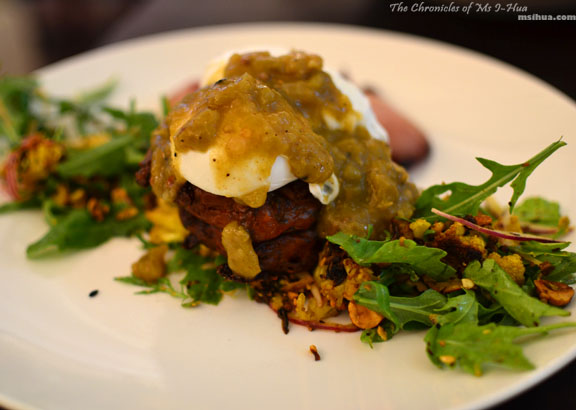 I ordered the Zucchini & Haloumi Fritters ($17.50) which came with poached eggs, spiced cauliflower salad, hazelnuts and green tomato relish (the new season menu has replaced this with a Sweet Potato and Caramelised Onion Fritter and thyme roast field mushrooms, snow pea shoots, grilled saganaki and truffled salsa verde instead).
Noting that it was fit for Vegan's and Gluten Free audiences, I added a side of Istra Daylesford smoked bacon for $4.50 😛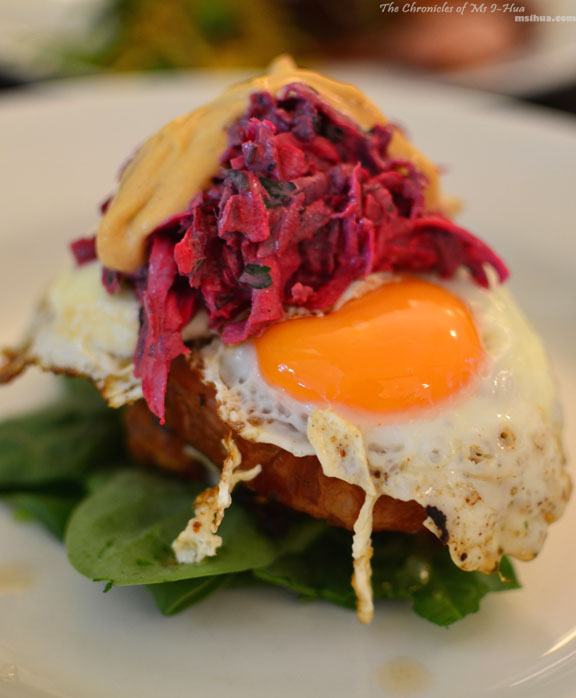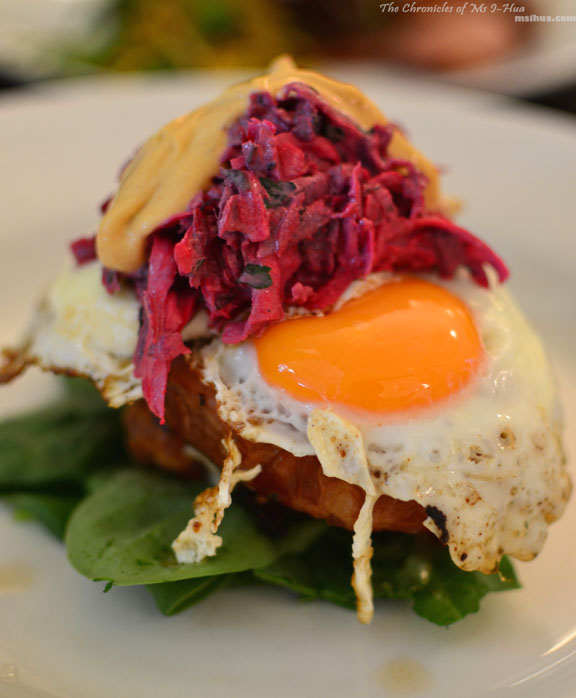 The Boy noting that potato cakes were in the house, ordered the Grilled Thick Cut Bacon with Gruyère Potato Cake with fried eggs, chipotle, baby spinach and a beetroot relish ($19.00) which was delicious. I think he had food envy though 😛
I did regret not ordering their famous Polenta Fries but I couldn't fit in any more food! Next time!
If you happen to be in St Kilda, definitely stroll up to Fitzrovia. It's packed out most of the time and it's easy to see why. Leave the car at home and trust in the public transport 🙂 You'll arrive less stressed and have a more enjoyable relaxing brunch hour.
*Disclaimer: All food ratings & review are purely based on my own experiences and how I feel about the service, food and quality at the time of visit
Food/ Cuisine: Modern Australian, Coffee
Dining Style: Casual Dining
Opening Hours:
Breakfast & Lunch: Monday to Sunday
Dinner: Wednesday to Sunday
Address:
155 Fitzroy Street
St Kilda VIC 3182
Tel: (03) 9537 0001
Website: http://www.fitzrovia.com.au/

Twitter: @fitzrovia155

How to get there: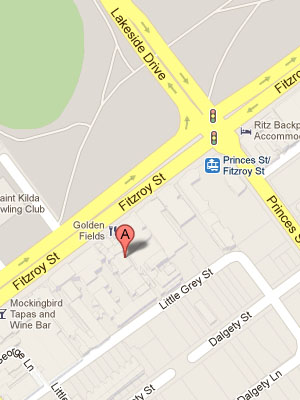 _______________________________________________________________________
He Says She Says – Camberwell, Vic
We stumbled upon He Says She Says one afternoon when we were heading out to Leo's Fine Food, otherwise known as "The Temple" by Katspat ("OMG, it's so cheap!"… NOT!).
I also had previously read of this place from Ashley's blog and bookmarked it for the trip.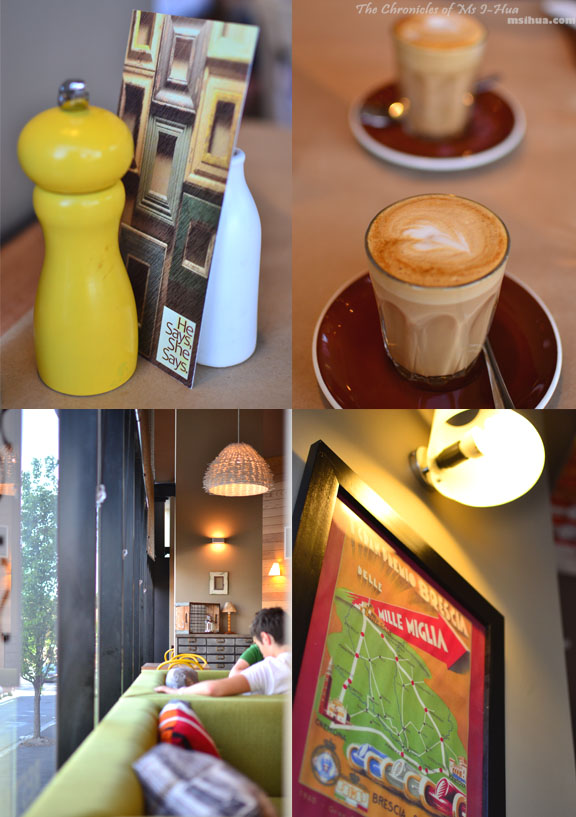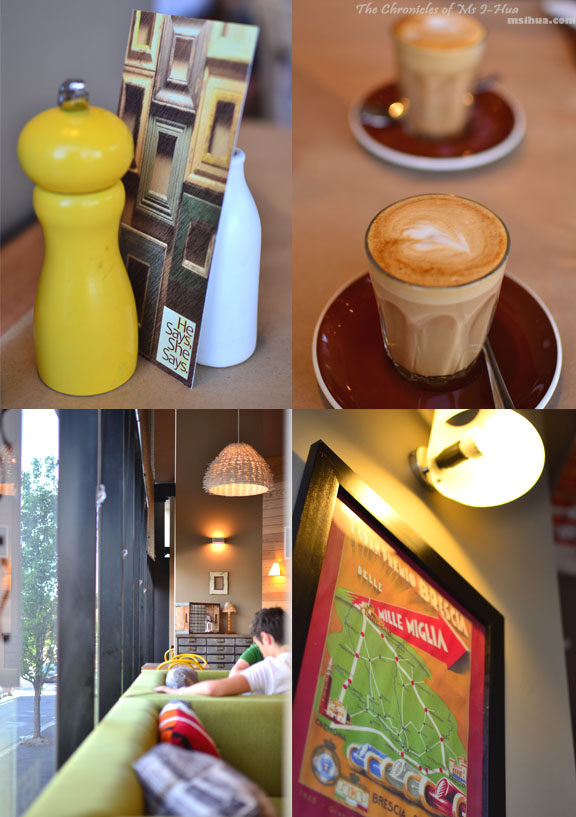 Surrounded by a row of shops who had seen better times, He Says She Says was a sleek modern glass building. Walking in, we were charmed immediately by the minimalist Ikea-like decor that was within. I'm in love with places that have splashes of yellow right now.
We ordered a couple of Latte's ($3.60). Coffee is by 5 Senses and as was typical of the beans, the lattes were robust and strong.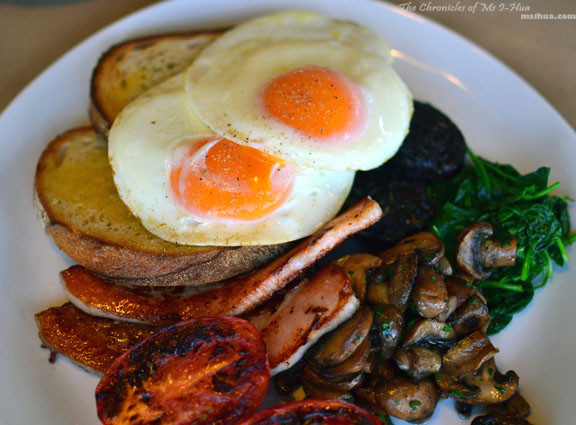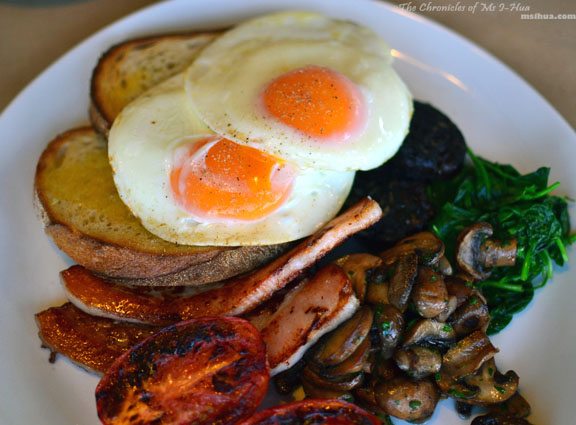 The Boy ordered The Full English ($19.00) which came with fried eggs, bacon, tomato, spinach, black pudding, sourdough. I was thrilled as he doesn't really like black pudding, which meant it was all mine! MINE MINE MINE! And it was good 🙂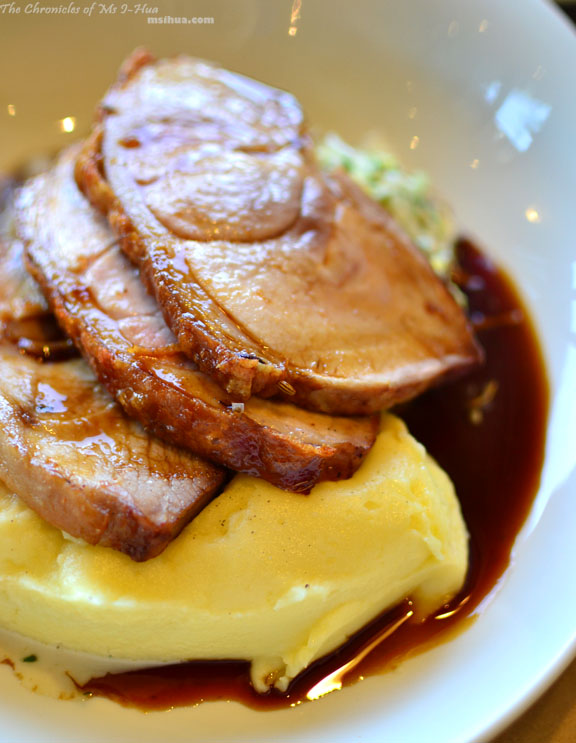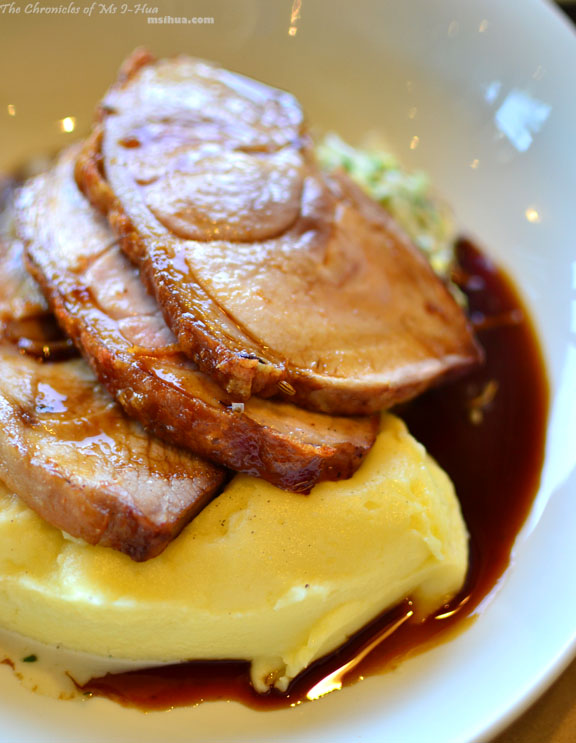 I on the other hand decided to go with the lunch special that day which was a Roast of the Day (Pork) served with Paris Mash and a red wine jus. It was definitely comfort food at its best. I couldn't help cleaning the plate with the remaining mash and had to stop from licking the plate clean!
I would definitely recommend He Says She Says if you are in this area. Its wide open spaces would be perfect for prams and they have a kids menu as well. When we were there, we spotted a table of girlfriends catching up with their bubs and another family gathering as well 🙂
*Disclaimer: All food ratings & review are purely based on my own experiences and how I feel about the service, food and quality at the time of visit
Food/ Cuisine: Modern Australian
Dining Style: Casual Dining
Opening Hours:
Breakfast & Lunch: Monday to Sunday, 8:00am – 4:00pm
Dinner: Wednesday to Saturday, from 6:00pm
Address:
1101 Toorak Road
Camberwell VIC 3124
Tel: (03) 9077 7866
Website: http://www.hesaysshesays.com.au/

Twitter: @hesays_shesays

How to get there: