Away from the cold hustle and bustle of the madness across the road, sit this little tiny establishment. Like a quiet girl in the school yard who no one really notices, she quietly whiles away her time to bloom to a beautiful individual. The beautiful maiden whom all the boys would like to take to their very first prom date.
That is the feeling I get when The Boy and I paid a visit to Franco Choo's.
Right across the road is the loud and busy party house that is Hannoi Hannah, whilst Franco Choo's just makes me think of a beautiful intelligent woman whom you'd like to share a nice glass of wine with on a romantic evening.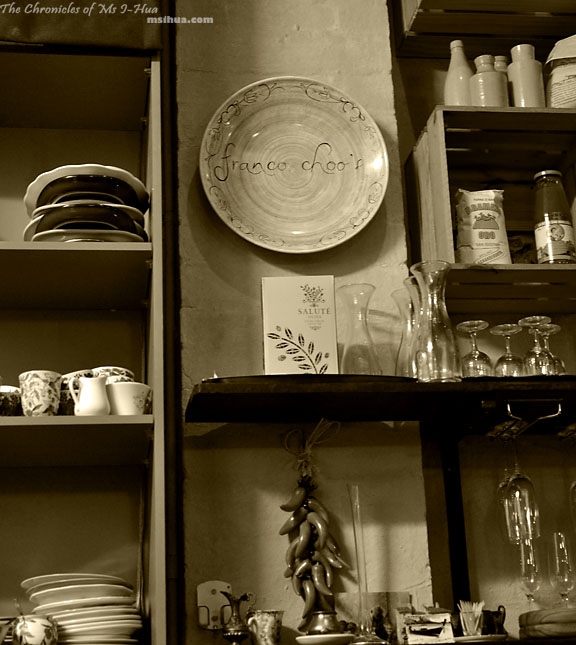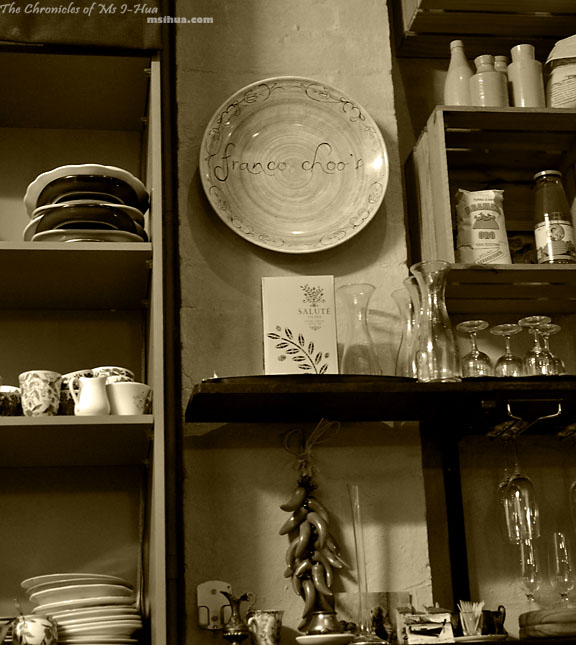 With Franco Choo's, the menu changes every 3 weeks, so you'll be stoked if you fell in love with it the first time and kept wanting to return.
You'd be sad if you fell in love with a particular dish as you might not get the chance to eat it again. Such is life. Go every day for three weeks if that's the case 😛
The blackboard menu is carefully set up by the chef Steven Choo who likes using seasonal produce and coming up with traditional Italian recipes with a slight modern twist. Don't be afraid that it'd be all weird and funky, it's just a little fusion that works very well. Usually, the options are spread between 3 entrees, 2 mains and 2 desserts. Naturally, this meant that The Boy and I sampled everything bar one item from the black board menu *wink*.
Also if you are a lover of cheese, the menu board has a lovely cheese selection during the winter months. It's not usually available through summer as they tend to do more refreshing desserts then.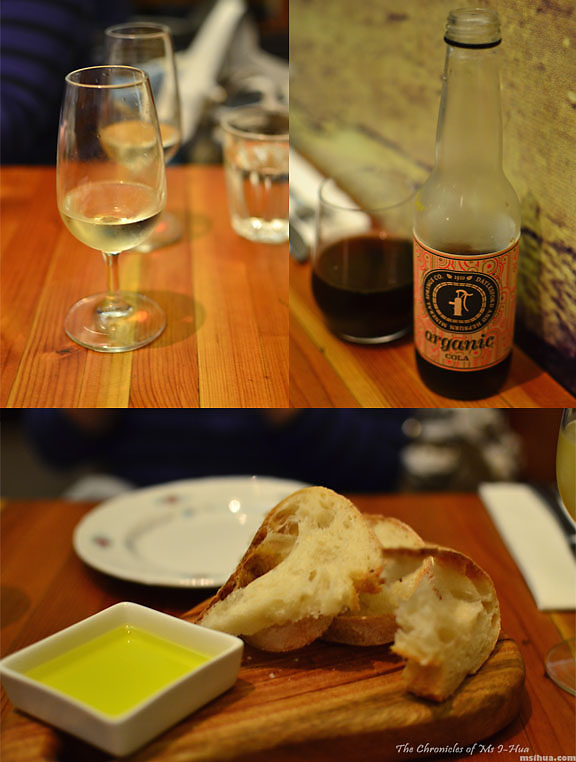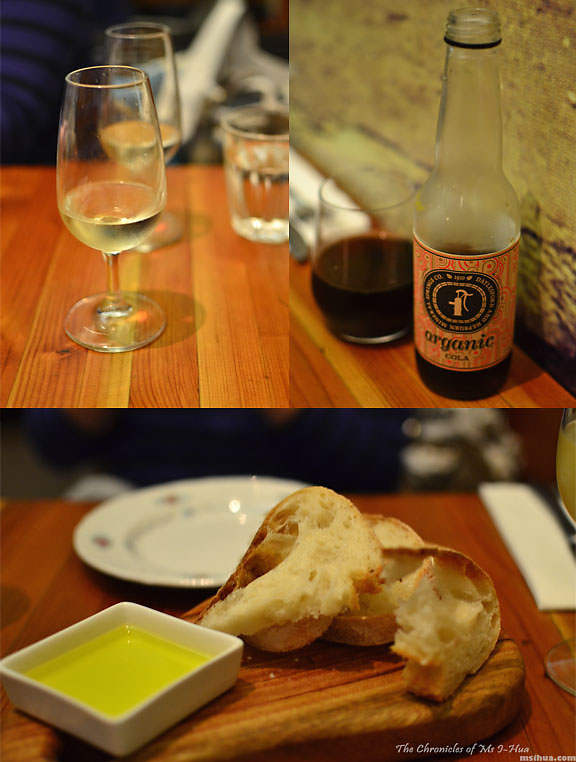 We started out with some lovely fresh Noisette ciabatta served with Salutè EVOO. The Boy had an Organic Cola from Hepburn Springs whilst I sampled both Arneis (Coombe Farm, Yarra Valley 2010) and the Pinot Grigio, Friulano & Chardonnay 'Pobblebonk' (Quealy, Mornington Peninsula 2011).
I finally settled on the crisp yet tropical flavours of the Arneis rather then the 'super white' blend of the 'Pobblebonk'.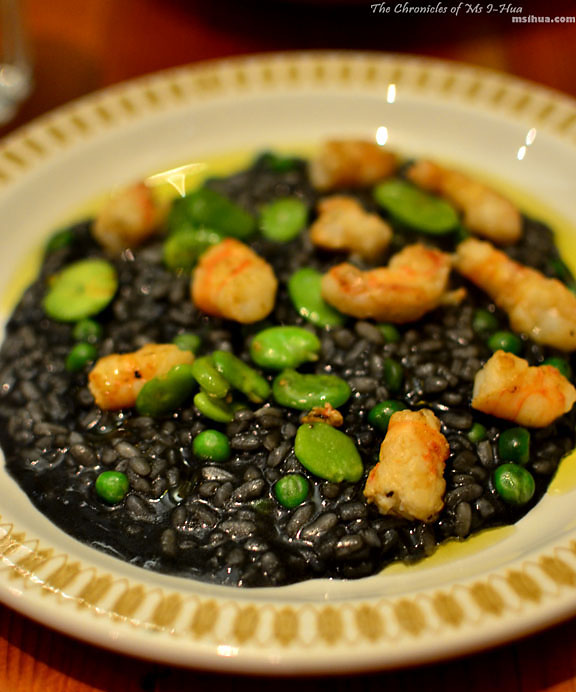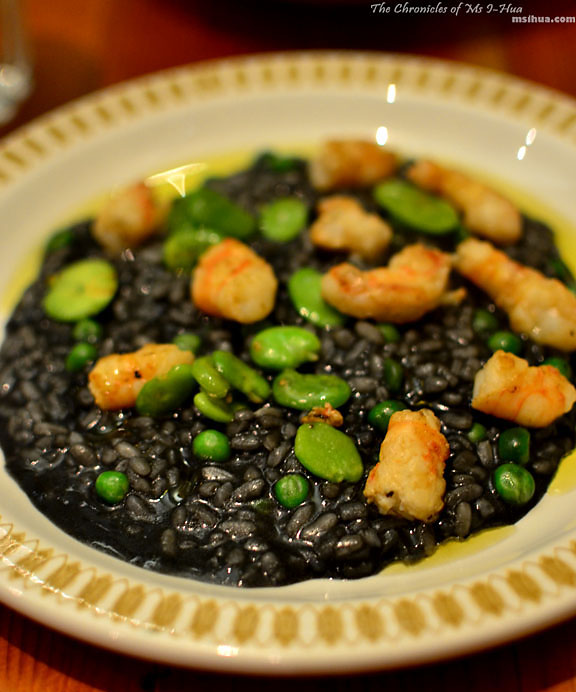 Entree 1: Squid Ink Risotto, King Prawns, Peas & Broadbeans ($15.00)
The Boy enjoyed the first entree of the risotto which had a nice balance of sweet and salty flavours. The prawns perfectly cooked had a slight smokey lingering taste on it. All in all it was a good squid ink dish that maintained the earthy essence well. The Boy added thought that the addition of the peas and broad beans cut through the umami flavours really well with the sweetness.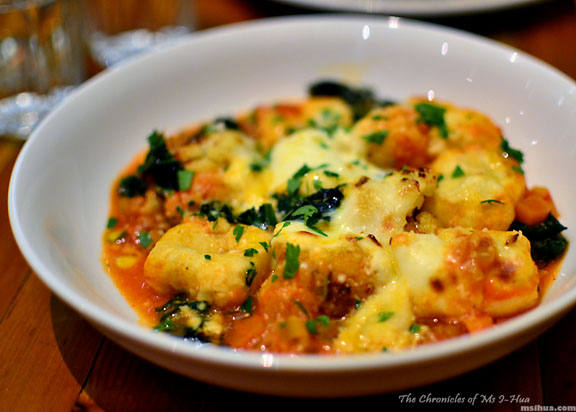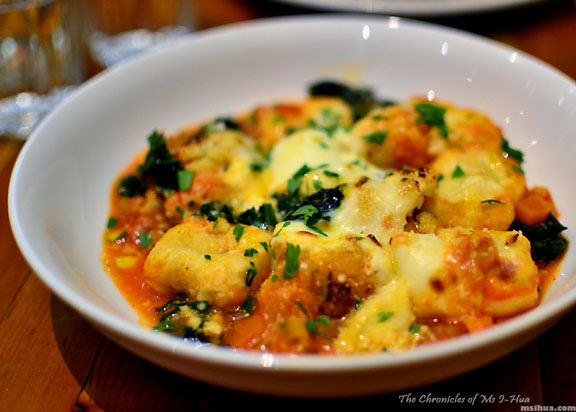 Entree 2: Baked Ricotta Gnocchi, Cavolo Nero, Cauliflower, Tomato, Besciamella Sauce ($14.00)
My entree of the gnocchi was just perfect. It was akin to a hug on a plate. The gnocchi was so fluffy, not compact and overworked. It was airy and pillowy, just how a gnocchi should be. Definitely a winter dish!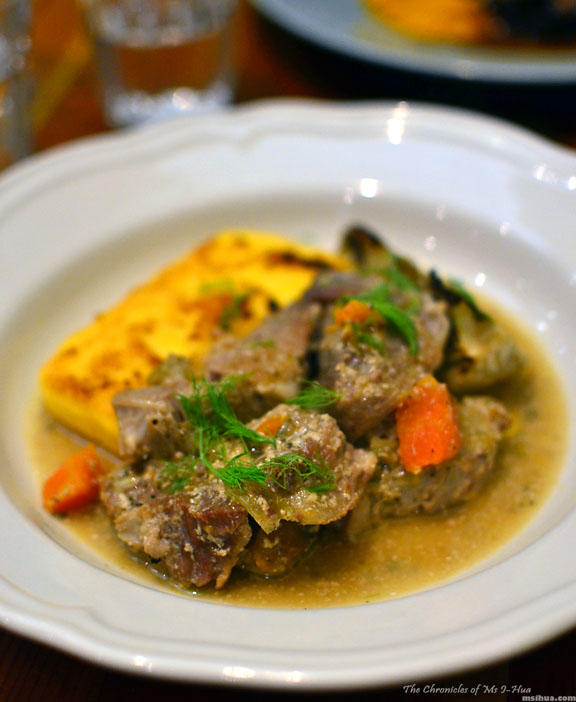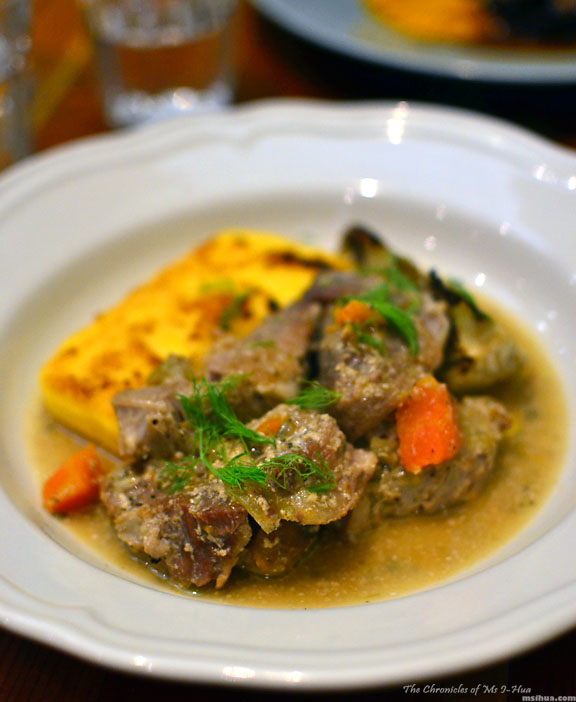 Main 1: Maiale al Latte, Free-Range Pork Stew in Milk & White Wine, Grilled Polenta, Roasted Fennel ($26.00)
The Boy also really enjoyed his pork stew. The meat was so tender as to melt in the mouth. Usually, at some restaurants, the pork of the day is quite dry but this was cooked really well. Bravo!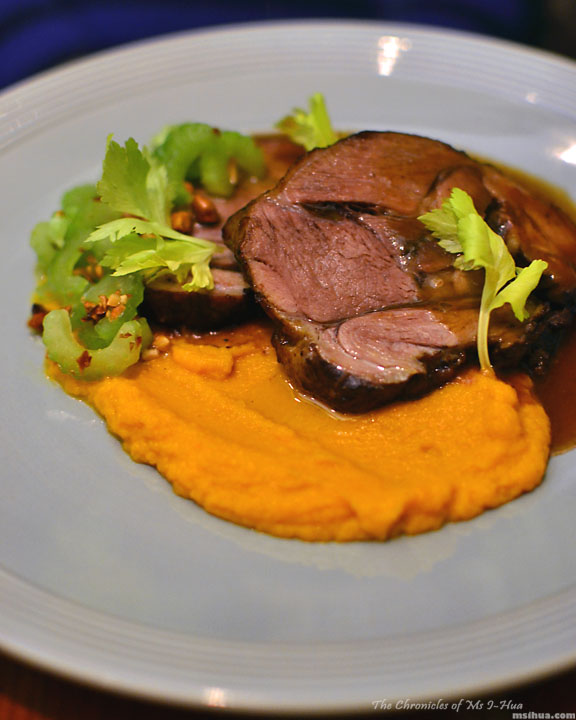 Main 2: Wet-Roasted Lamb Shoulder, Carrot Puree, Celery & Almond Salad ($28.00)
Having filled my tummy space with the delicious gnocchi, I was a bit afraid that I would struggle with my main. Luckily the lamb was served with a carrot puree. If it had come with a mashed potato or a polenta side, I would not have been able to finish anything. As with the pork, the lamb was very tender.
I particularly liked the addition of celery and almond salad as it provided a lovely crunch texture that was otherwise missing.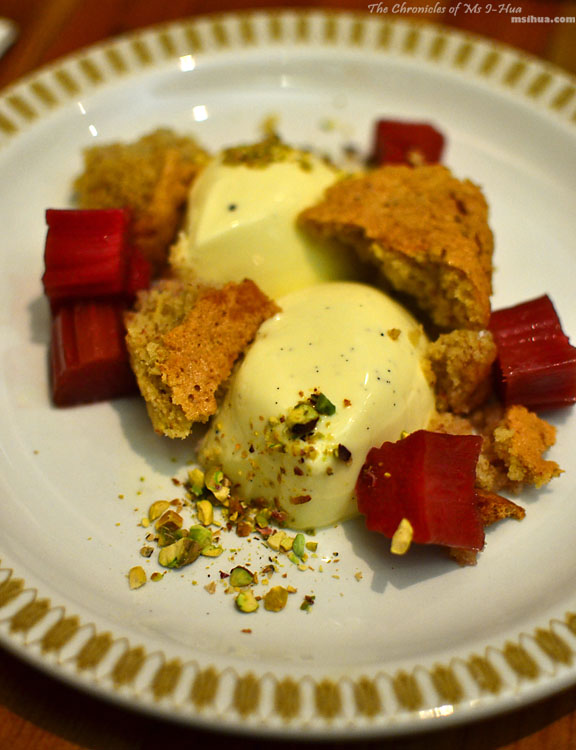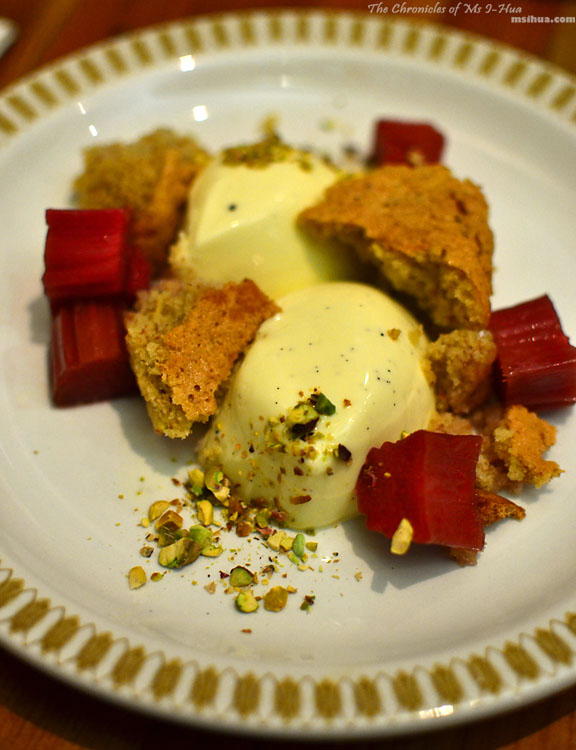 Dessert 1: Vanilla Pannacotta, Lemon Almond Cake, Rhubarb, Pistachio ($12.00)
Luckily with most food enthusiast, desserts fit into a whole other department in the body. The Boy and I both really adored the vanilla pannacotta dish. I couldn't get enough of the lemon almond cake. Must learn how to make this!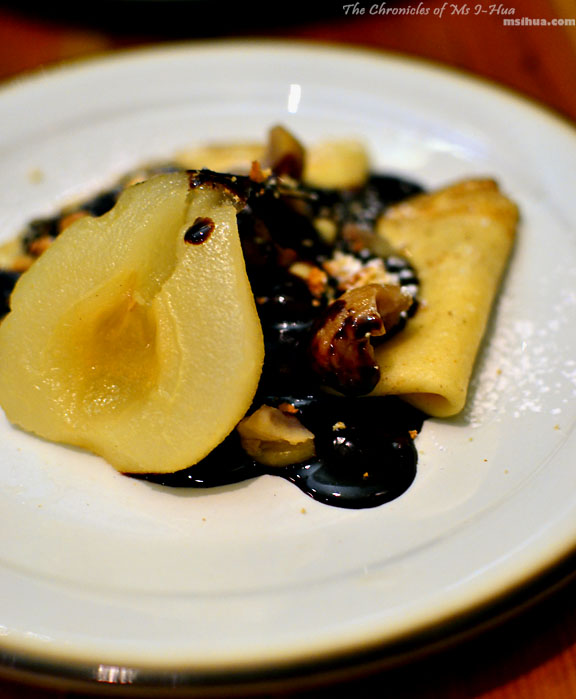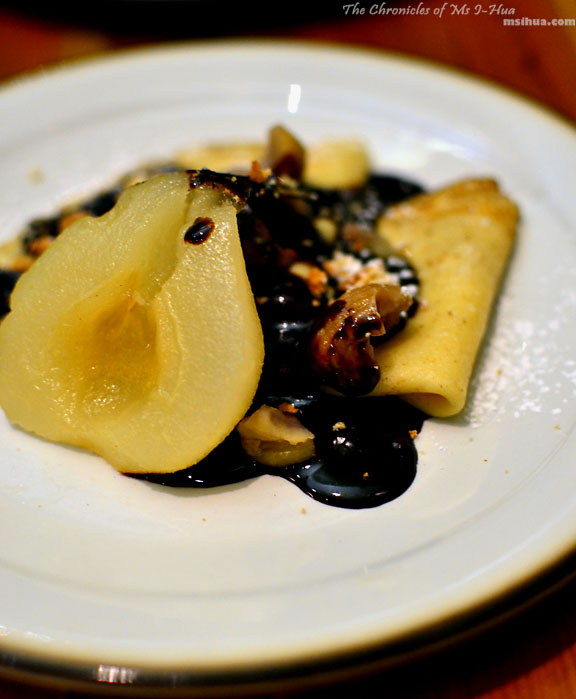 Dessert 2: Crespelle, Chestnuts, Pear, Chocolate Sauce ($12.00)
We also had the crepes to share between us. Though good and comforting, the crepes were only just crepes. But that chocolate sauce was to die for!
I can't believe I had never been to Franco Choo's before this. As we sat in our romantic corner throughout the evening, it was lovely to see locals coming in with their dates enjoying a really perfect comforting meal.
Think of comfort, inviting warmth, love and romance. Think of Franco Choo's.
[Ms I-Hua & The Boy dined as guests of Franco Choo's]
*Disclaimer: All food ratings & review are purely based on my own experiences and how I feel about the service, food and quality at the time of visit
Food/ Cuisine: Italian
Dining Style: Restaurant
Opening Hours:
Tuesday to Saturday, from 6:00pm
Closed Sundays & Mondays
Address:
179a High Street
Prahran VIC 3181
Tel: (03) 9529 7310
Website: http://francochoos.com.au/
How to get there: