Winter is now officially over. And with these first sunny signs of Spring that has welcome us this weekend, I'm rubbing my hands in glee to the warmth of the sun. But I do dread the hot summer months that is fast approaching. I do not like the heat at all! To preserve the warm fuzzy feelings of the cold winds gone past (and if Melbourne's unpredictable weather is anything to go by), this recipe which The Boy and I would like to share with you may do just that.
It also requires no work at all.
Okay, I lie. It involves some work, but really for the most part you can just chill out, lie on the couch, read a book and sip on a bottle of wine.
The resulting dish would induce groans of delights and promises not meant to be broken for that extra serve. "Just one more spoonful, please sir!" will be heard from your dining companions.
Don't believe me? Serve this at your next meal and set up a wish list 🙂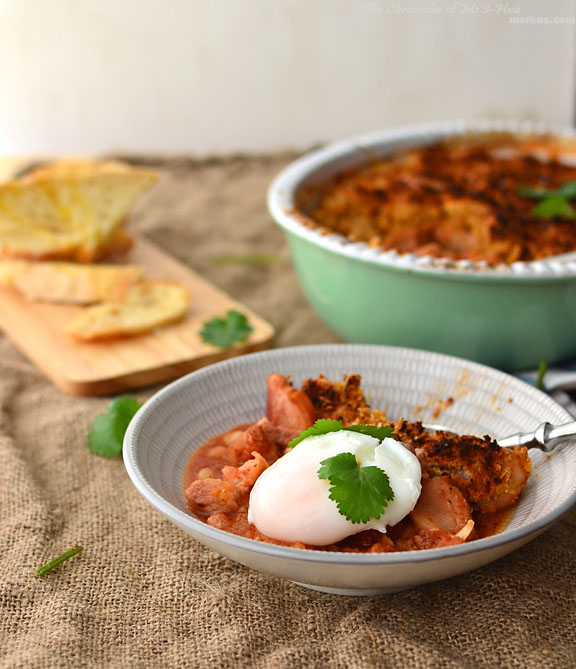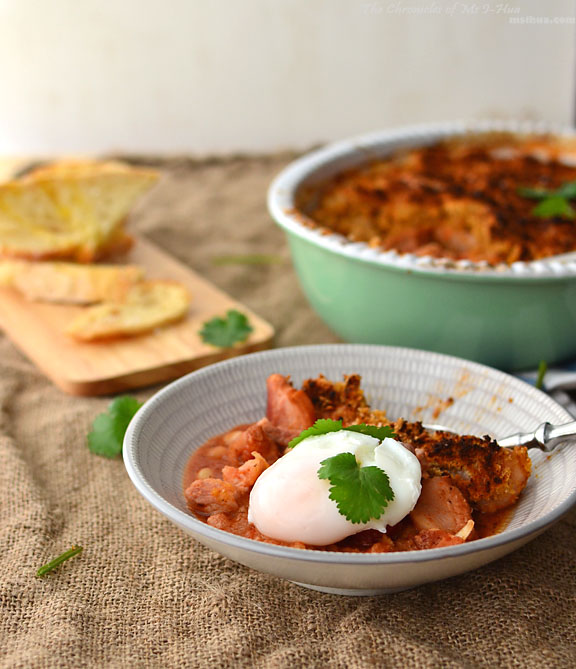 What could this miracle dish be? Why it's a heart warming, belly loving (truly the fat doesn't leave you), love inducing French Style Cassoulet 🙂 Served with home made 'no knead bread' (if you are schmancy like us) and poached egg for that extra indulgent feel. Google NY Times No Knead Bread to join the bread revolution and be snobby like us too 😛
French Style Cassoulet Recipe
Ingredients
400

g

of Pork Belly (cut into 2cm pieces)

150

g

of Speck (cut into batons)

2

slices

of Middle Rasher Bacon (cut into 1cm strips)

3

Toulouse Sausages or Chicken & Garlic Sausages

2

cups

of Chicken Stock

3/4

cup

(188ml) of Dry White Wine

400

g

of canned Cannelini Beans (rinsed and drained)

400

g

of canned Diced Tomatoes

2

large Onions (chopped)

3

cloves

of Garlic (smashed)

1

sprig Thyme

1

sprig Rosemary

1

Tbsp

of Olive Oil

25

g

of Butter (melted)

1

cup

of Breadcrumbs

1/4

cup

of Pork Crackling (grounded to breadcrumb-like texture)

1/2

tsp

of Dried Thyme Flakes

1

tsp

of Dried Parsley Flakes

Salt & Pepper to taste

Soft Poached Eggs (to serve)

Toasted Sourdough Bread (to serve)
Instructions
Preheat the oven to 160 degrees Celsius.

Heat olive oil on medium heat in a large frying pan and add in speck batons and bacon strips. Cook until they start to brown on both sides. Transfer to a bowl.

Add in pork belly pieces (Try not to crowd the pan. Cook them in separate batches if required) and cook for about 5 minutes until they are browned on both sides. Transfer to bowl.

Add in sausages and cook for about 3-5 minutes until they are browned all over. Transfer to bowl.

If you have excessive fat (rendered out from the belly & speck) in the pan, transfer into a small bowl but keep at least 2 tablespoons of it in the pan. The rendered fat can be used for stir frying especially with vegetables.

Return the pan to medium heat and add onion and garlic into the same pan and cook until soft and fragrant, stirring often.

Pour in the dry white wine to deglaze the pan, scrapping the fond from the bottom of the pan, if any. Let it simmer until most of the liquid is evaporated.

Add back the pork belly, bacon and speck and stir through. Add in cannelini beans, diced tomatoes, chicken stock, thyme and rosemary and simmer for a couple of minutes. Season with salt and pepper.

Transfer all contents from the pan into a casserole dish. Arrange sausages on top of the other ingredients.

Cover and place in the oven for 1 1/2 hours.

Prepare the topping by combining breadcrumbs, ground pork crackling, dried thyme flakes, dried parsley flakes and melted butter in a bowl. Mix thoroughly.

Take the cassoulet out after 1 1/2 hours and sprinkle the topping over it.

Return to the oven and bake uncovered for another 30 to 45 minutes or until the topping is crispy and golden brown.

Remove from the oven and garnish with flat-leaf parsley stalks.

Serve with soft poached eggs and toasted sourdough bread.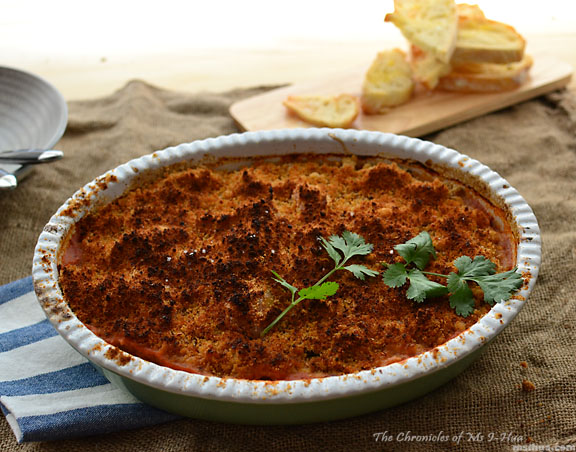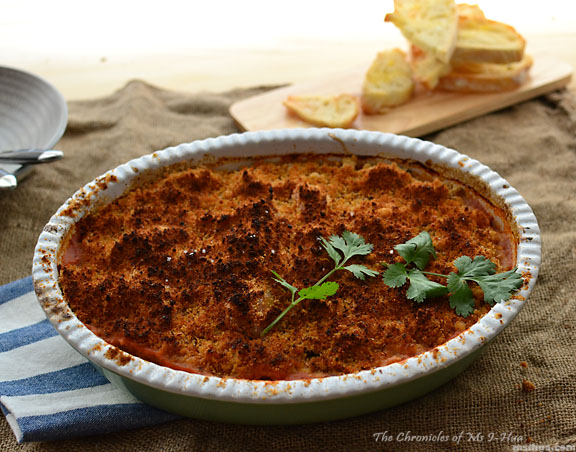 Just take a look at that rustic dish of awesomeness.
I can assure you that the crusty top is indeed crusty and hidden underneath is simmering goodness.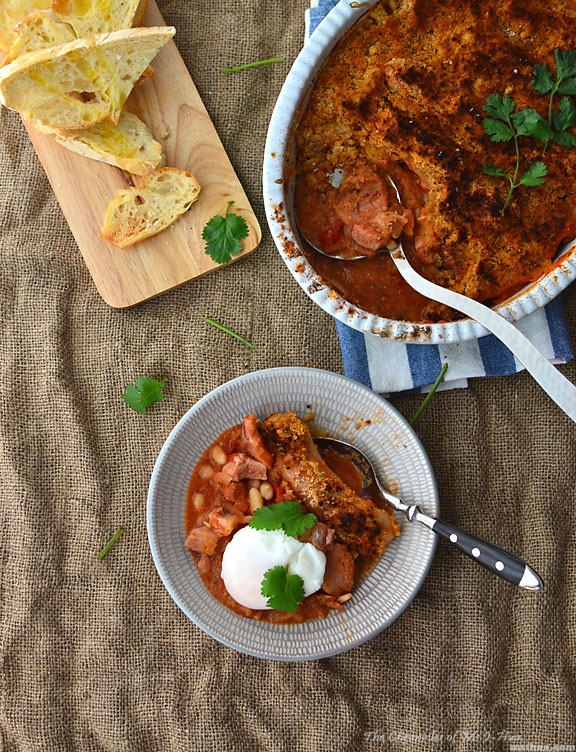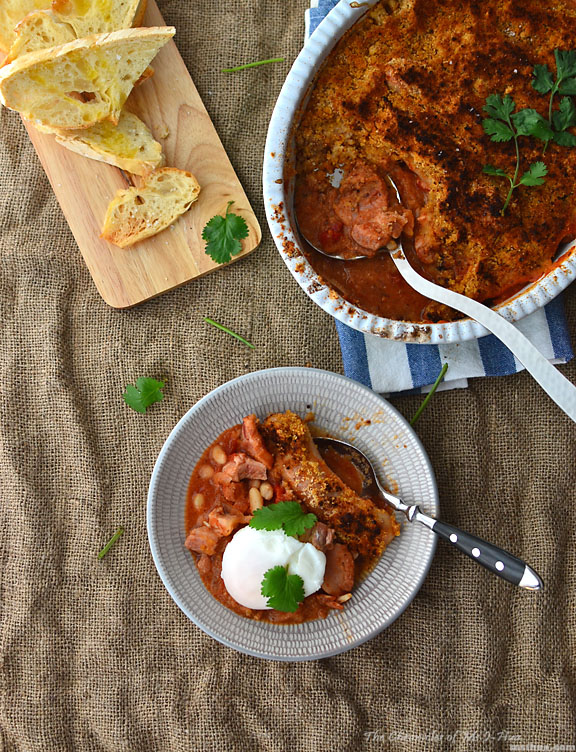 It got a little messy as we were plating up (Thanh look away!), so if you have OCD and feel the need to wipe around the edges, look away now!
However, if you feel the urge to lick all around the bowl to clean up the mess, kudos to you!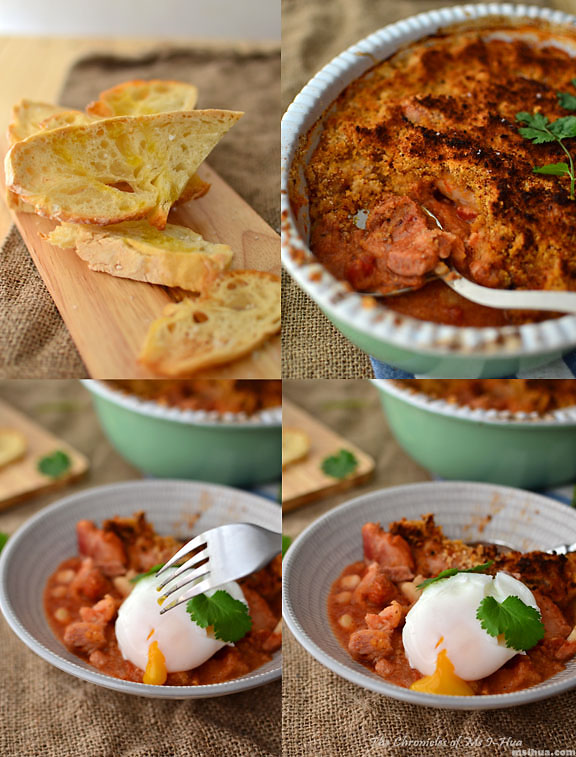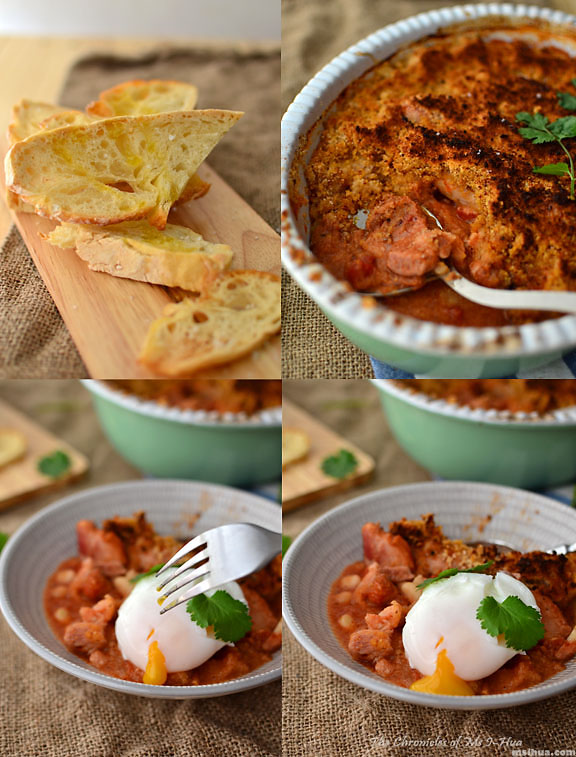 A good breakfast dish is never complete unless there is some #eggporn involved. So enjoy this little #yolkporn which we have prepared for you 🙂
Does this post make your OCD scream out in pain or does it make you want to gobble everything in sight?