It seems to be that every month or so, a new Korean restaurant opens up in Melbourne. In the city, it's predominantly around Lonsdale Street and surrounding karaoke joints. In the inner suburbs, usually close to Victoria Market along Victoria Parade. In the suburbs, it's along Koornang Road in Carnegie.
This Korean restaurant round-up takes a closer look at some of these new (and not so new) Korean restaurants in Melbourne CBD and North Melbourne namely Gangnam Pocha, ChangGo & Yeonga.
Quick tip, Korean restaurants are way more fun when you go with friends and even better if it forms as part of the entertainment to the lead up for a big karaoke singing night. Trust me. It works 🙂
So grab your soju and come on a journey with us.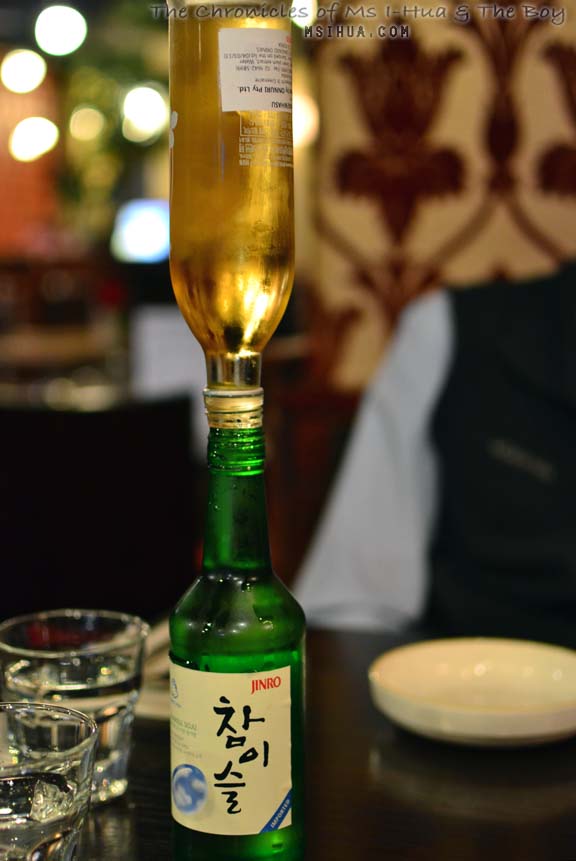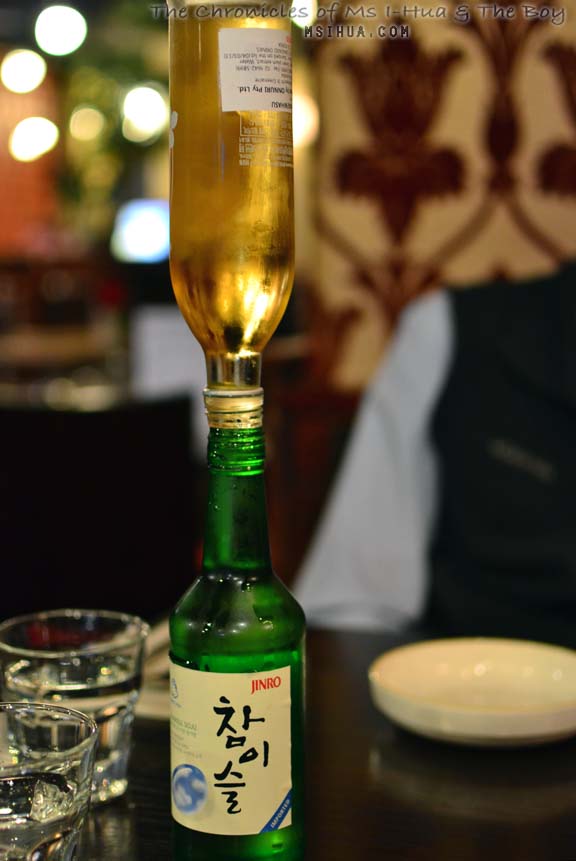 _______________________________________________________________________
Gangnam Pocha – Melbourne CBD, Vic
We decided to give Gangnam Pocha a go when the both of us were having our luxurious sleep in at Vibe hotel. We rang in Az and Al to join us for a quick dinner. This turned out to be a fantastic idea (as usual). The boys were busy talking gadget and all things that work with buttons, whilst Az and I were busy deciding what we could order and drink.
Which is how we ended up with the two bottles standing on top of one another at our table. This interesting way of serving drinks had us all in fits of giggles and the boys aghast at their mad wives. We couldn't help it. The tagline for the drink was "mix it cool"! ><
What is it? Two bottles comprising of one soju and one maehawasoo (a type of Korean plum liquor) $26 mixing together until a staff member deems it has mixed enough to separate for us to drink. The drink itself was a bit meh, but the $26 worth of entertainment was surely worth it? 😛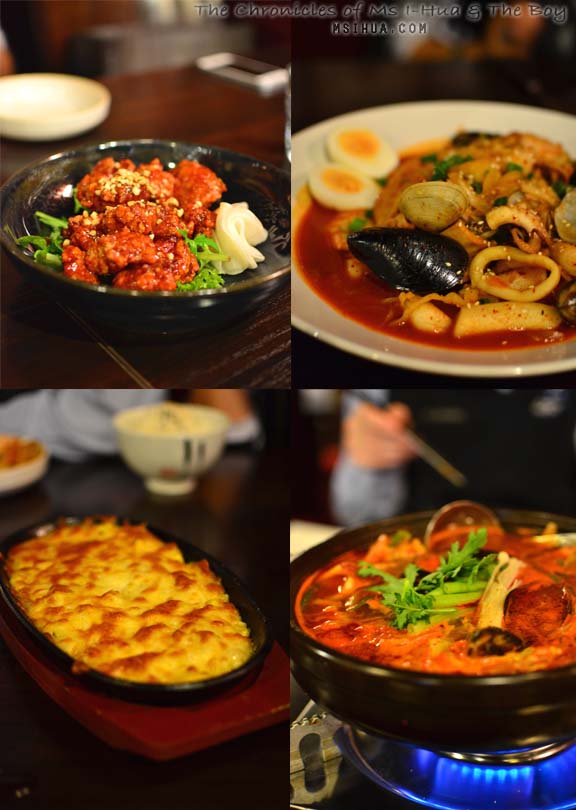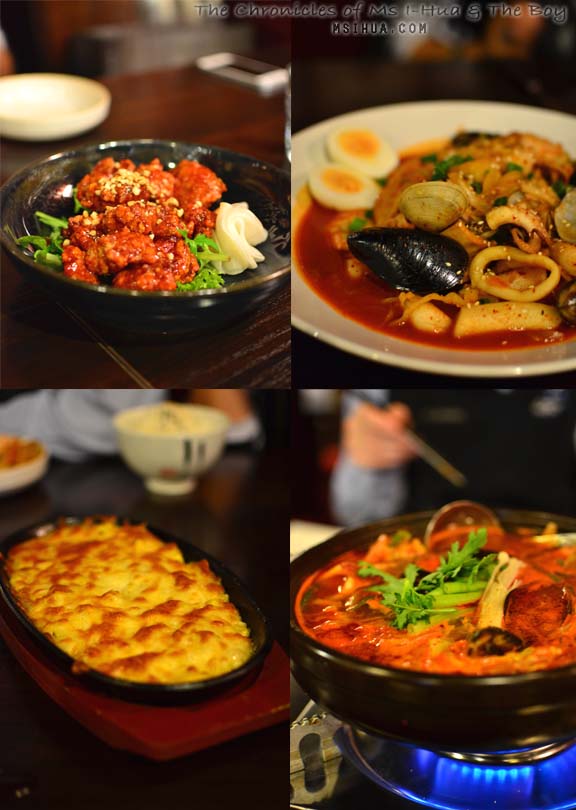 In terms of food, we followed the simple instructions from the menu. Read Azzie's post to find out more about the ordering process.
We ordered the Corn Cheese, Spicy Seafood Rice Cake and Spicy Seafood Stew. Eating at a place called Gangnam Pocha with Psy's face plastered everywhere, it would have been insane to not have ordered the Gangnam Chicken.
The ultimate winning dish of the night was the corn cheese. BEST EVER! It was gooey, it was creamy, it was cheesy (much like the jokes that were coming from the boys end of the table).
All other dishes were tasty as well. $48 for food plus $26 for drinks for the four us was money well spent.
Will need to make a return trip to eat more corn cheese and other street food items from the menu.
*Disclaimer: All food ratings & review are purely based on my own experiences and how I feel about the service, food and quality at the time of visit
Food/ Cuisine: Korean (Street Food)
Dining Style: Casual Dining
Opening Hours:
Monday to Thursday, 11:30am – 3:00pm; 5:00pm – 11:00pm
Friday, 11:30am – 3:00pm; 5:00pm – 1:00am
Saturday, 5:00pm – 1:00am
Sunday, 5:00pm – 11:00pm
Address:
141 Bourke Street
Melbourne VIC 3000
Tel: (03) 9078 8882
Website: https://www.facebook.com/Gangnampocha.mel
How to get there: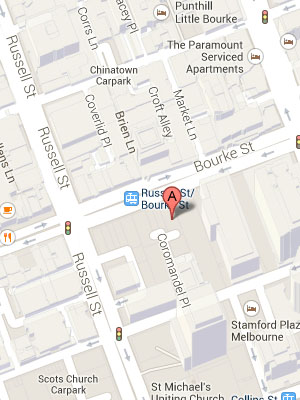 _______________________________________________________________________
ChangGo – Melbourne CBD, Vic
We got to ChangGo upon the insistance of dear ol' Wince. Together with Az, Al and Taz, the six of us showed up nice and early to ChangGo (it is a bit hidden and off the beaten track as all good places should be). Wince had insisted we get there early at 6pm as ChangGo is not a place that accepts reservations.
When we got there, there were two lines, one for reservations and one for those without. We couldn't help but laugh at poor ol' Wince!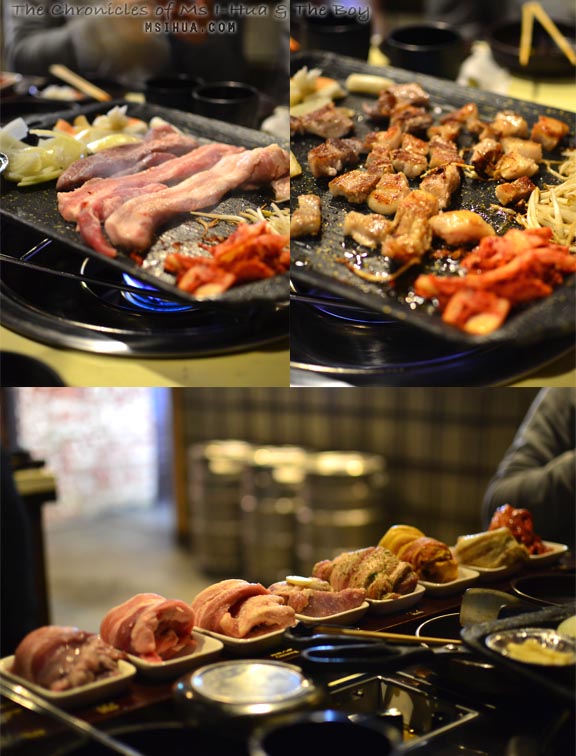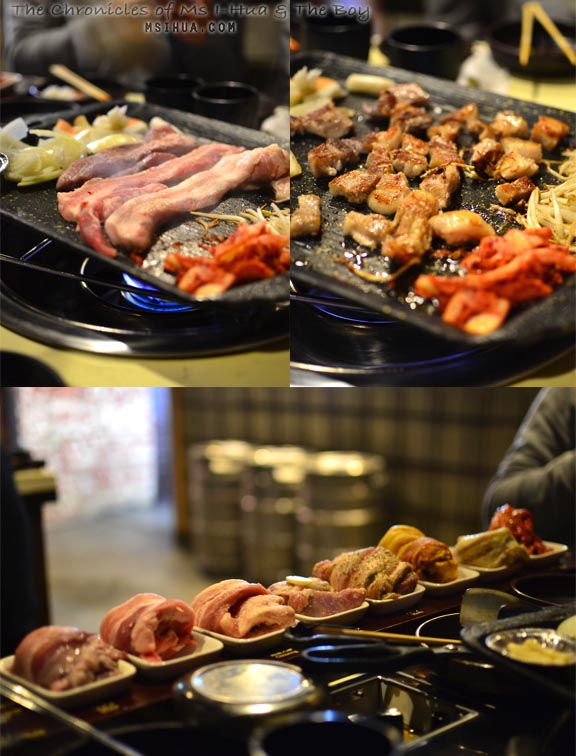 The whole attraction point of ChangGo is in their 8 Flavoured Pork Belly BBQ Set ($58.80). Nearly every table in the large restaurant had this dish (or two) sitting at the side ready to be grilled at the hot personal bbq at each table.
The 8 flavours consisted of Wine, Original, Ginseng, Garlic, Herb, Curry, Miso and Hot.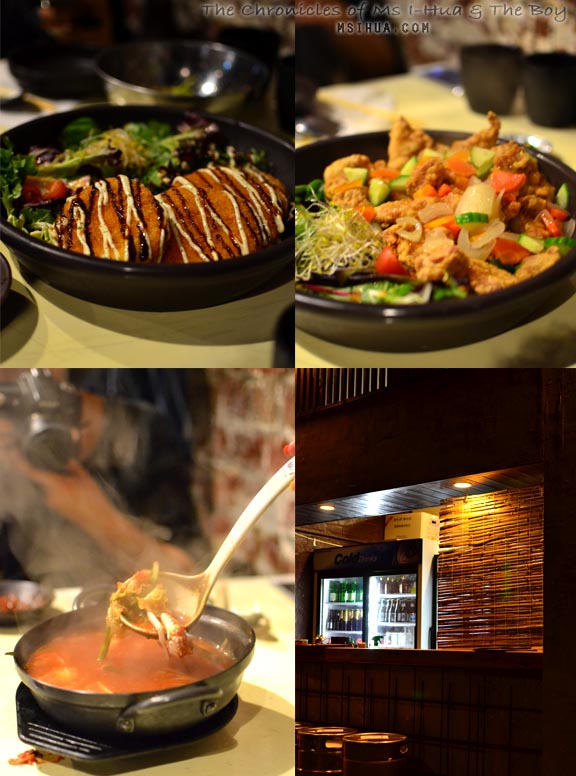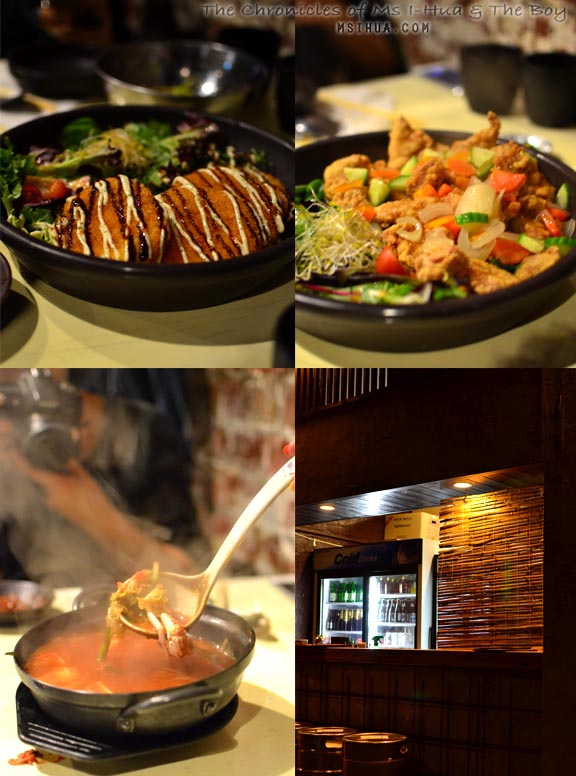 We also ordered Sweet & Sour Chicken Fried Chicken ($22.50), Koroke (4 pieces) ($10) and the Kimchi Jjigae (Hot Kimchi Stew) which was part of our BBQ meal.
Definitely come here for the 8 Flavoured BBQ set as it's so fun and completely worth it.
One word of advice, book in advance! Even at 6pm, we only just managed to snag the last free table!
*Disclaimer: All food ratings & review are purely based on my own experiences and how I feel about the service, food and quality at the time of visit
Food/ Cuisine: Korean (Barbecue)
Dining Style: Casual Dining
Opening Hours:
Monday to Sunday, 5:30pm – late
Address:
70 Little La Trobe Street
Melbourne VIC 3000
Website: https://www.facebook.com/changgomartin
How to get there: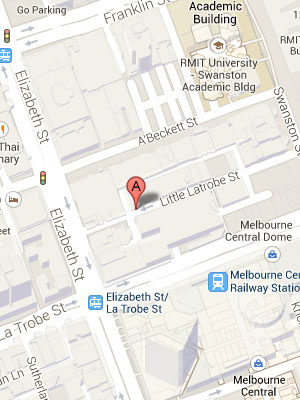 _______________________________________________________________________
Yeonga – North Melbourne, Vic
The last Korean restaurant we would like to draw attention to is slightly off the beaten track. We only found this place due to a little dinner plan faux pas with Wince, Az and Al.
We had planned an impromptu (sentence conundrum) dinner one Sunday evening and Wince suggested this little Indonesian restaurant on Victoria Parade in North Melbourne. As we got there, we were greeted with a restaurant in darkness. Frowning, Wince and I got out of the car to investigate the sign on the door for opening times.
It said it was opened, but as we knocked on the glass doors to garner some attention from the staff, they indicated that the restaurant was closed for business that night.
In what has now become an in-house joke, us three Melbourne based food bloggers had no idea where to go for a Plan B dinner.
Az suggested secret Korean, which we only agreed too quickly. Hunger was fast becoming an issue.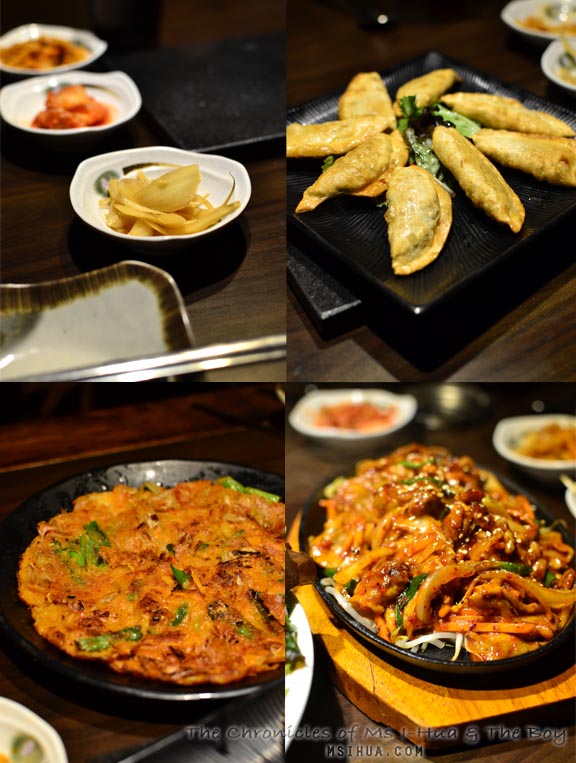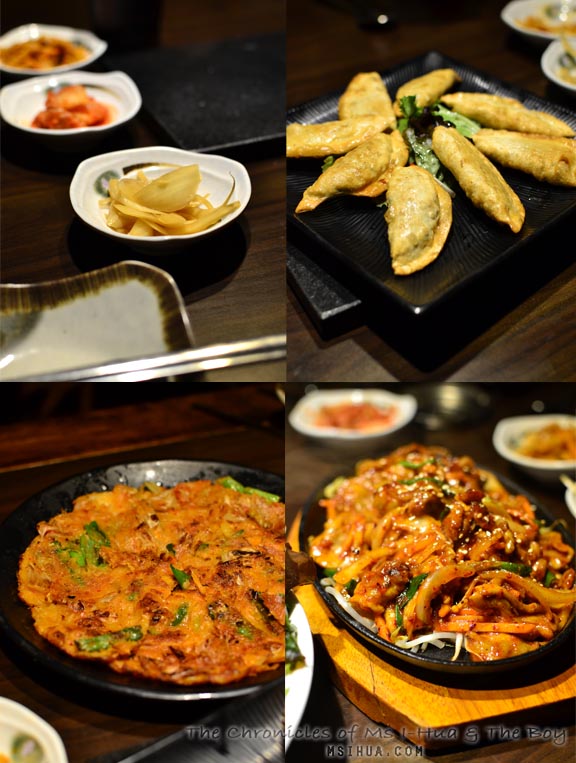 We found parking (miraculously) and tried to get into Secret Korean only to see that it was packed to the brim. There was no way that we would be waiting over 40 minutes for a table. That's when our attention was drawn to Yeonga across the road.
It looked like a safe option and wasn't too busy. Without hesitation, we made our way in there for a night of good Korean food.
The restaurant was quite large and very spacious (2 floors) and the menu relatively extensive. We were taken in with their cute Grilled BBQ meat set names such as The Lord of the Cows, What the Pork !, I Am Marinated, The Beef Wear Prada (thanks to Azzie for blogging straight away on this as I hadn't paid enough attention to recording these names down!).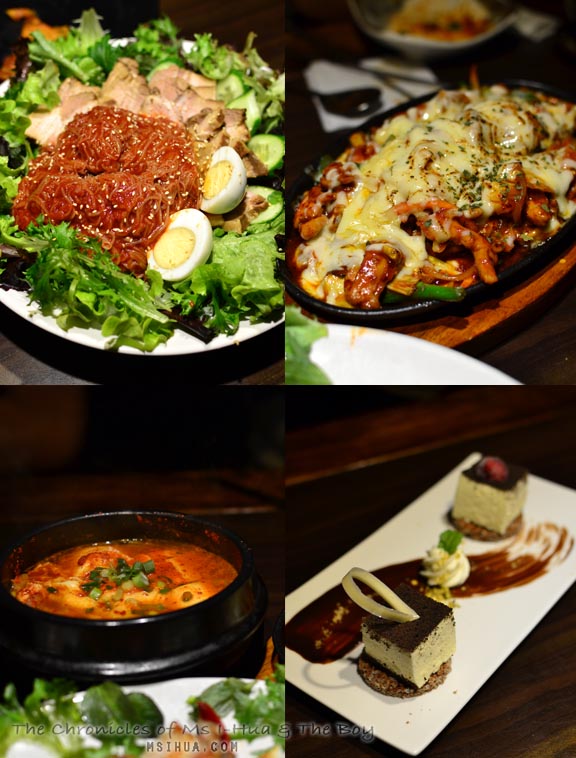 However, with cute names come expensive price tags ($39-50pp) so we opted out of the sets and went ala carte.
We ordered Korean dumplings (8 pieces) ($12), Kimchi Pancake ($17), Sliced Steam Pork with Spicy Noodles ($29), Stir Fried Pork Belly (similar to teriyaki) ($16), Spicy Seafood Tofu Kimchi Stew ($16) and Cheesy Spicy Chicken ($18).
My favourite was the super spicy cheesy chicken which Wince insisted we order and ended up too spicy for him!
Az and I decided to skip dessert but the boys went on ahead forging strong with an Unbaked Cheesecake served with Peanut Chocolate Praline Crunch ($10).
Dinner here was pretty decent and tasty despite the comparatively steep prices. We were well fed and happy with the food here.
*Disclaimer: All food ratings & review are purely based on my own experiences and how I feel about the service, food and quality at the time of visit
Food/ Cuisine: Korean (Barbecue)
Dining Style: Casual Dining
Opening Hours:
Monday to Sunday, 5:30pm – 11:00pm
Address:
1 Cobden Street
North Melbourne VIC 3051
Tel: (03) 9326 8834
Website: http://www.yeongabbq.com
How to get there: