Being Asian, it's always kind of hard to please us when it comes to Asian-esque food, especially if it's Chinese cuisine. More often than not, we can get pretty good Chinese food from cheap joints. Most older generation Asian parents would say, "Why pay so much for Asian food? I can cook it at home, or we can just get it cheap outside!"
Having been brought up with that kind of doctrine, it was always going to be hard to part with $$$ when it came to cuisines from similar backgrounds and cultures. I'm not even sure why this is the case. The quality of food and ingredients are more often than not the same as served at pricier Western cuisines and we are more than willing to dole out money for that. Come to Asian food? No, way, Josè!
So when we heard of the new Lee Ho Fook serving Chinese food on Smith Street by a chef from Sydney, we were a bit sceptical on how good the food could be.
However, after a few good reviews from trusted sources, I convinced a few friends to come along to a banquet dinner at Lee Ho Fook. Azzie even brought her mum! Whee, the pressure was on for the kitchen to prove its worth to us.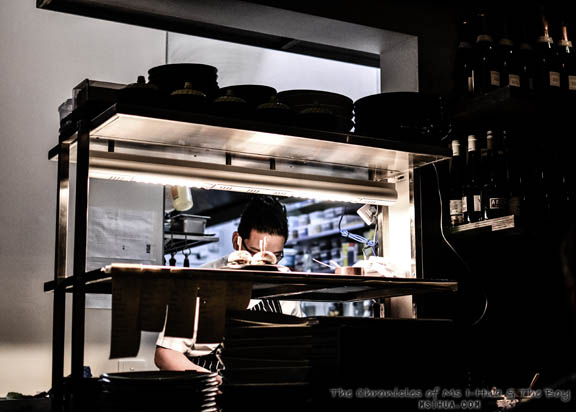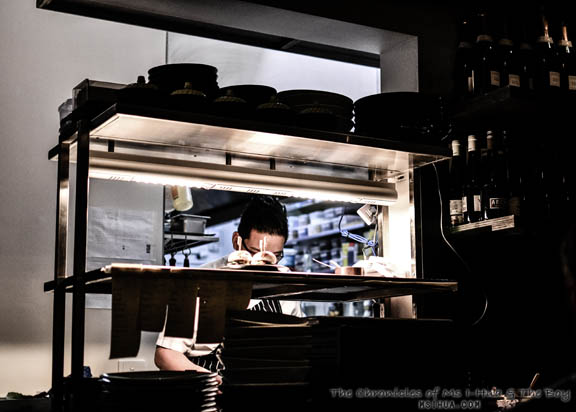 We were left flabbergasted and socks knocked off our feet.
We were more than impressed, we were thrilled and excited about Chinese cuisine once again.
You should go.
No, you need to go.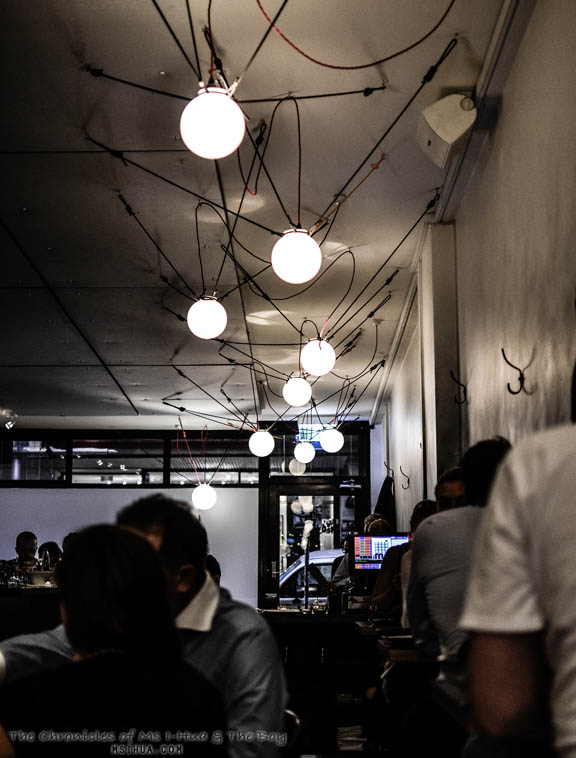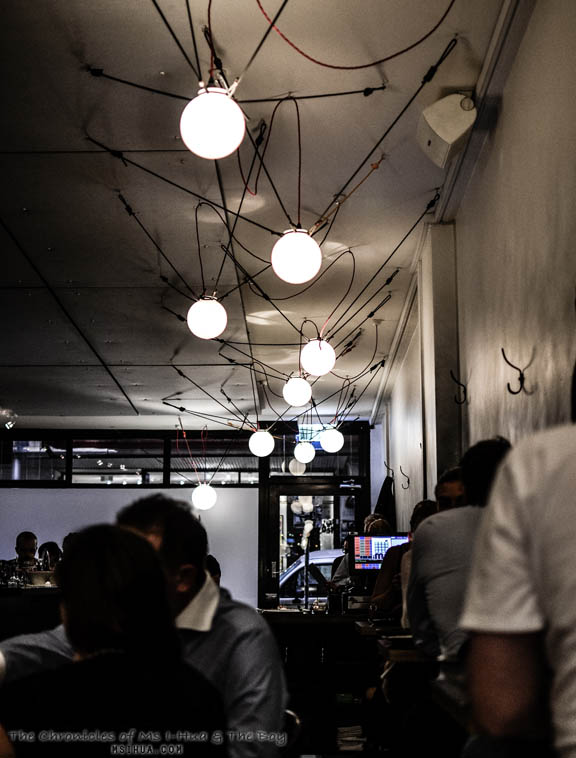 When we got there, I was tasked with deciding the type of banquet we would go for (with a large group of 8, the only dining options are an 8 course banquet or a 10 course banquet). After studying both the banquet and ala carte menu, we opted for the 8 Course Banquet ($48.00 per person; 10 courses is $68.00 per person) with two additional dishes from the ala carte menu.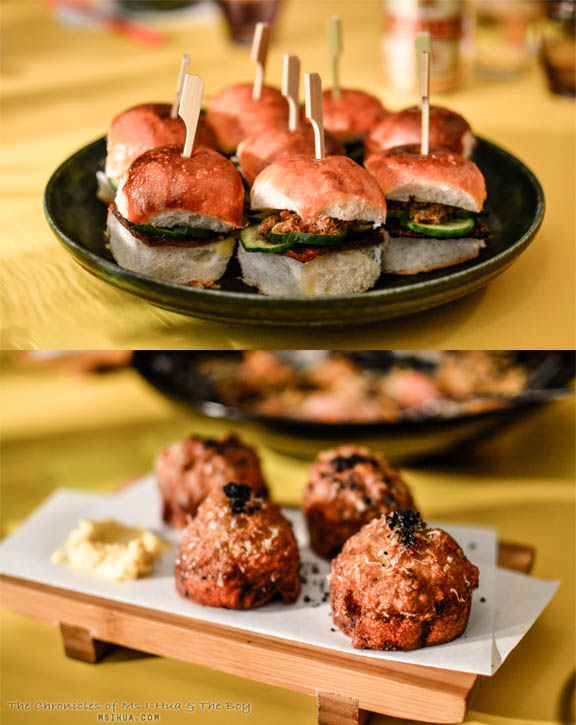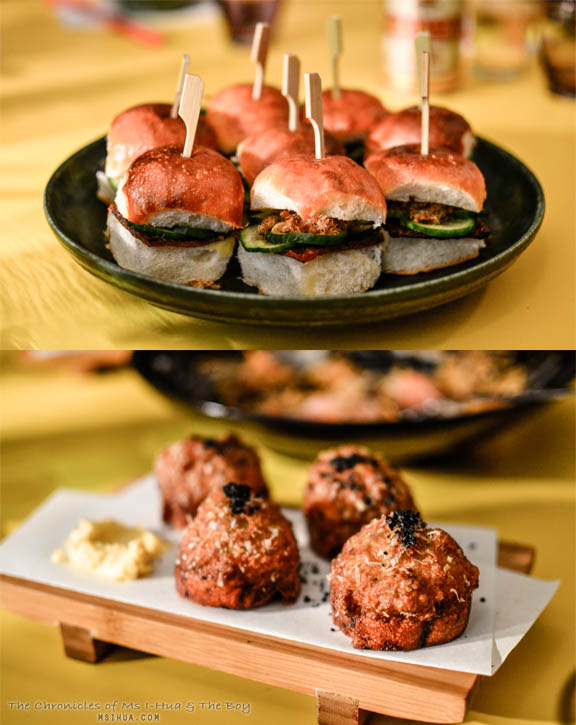 We kind of liked the twist to the traditional Chinese pork bun and prawn toast dishes over here. At Lee Ho Fook, they put an exciting feel to it with a classy ring.
Both the Milk Bun, Candied Pork and Cucumber and Prawn Toast and Foie Gras were good starters for us. As a group, we did feel that the prawn toast was a tad on the salty side.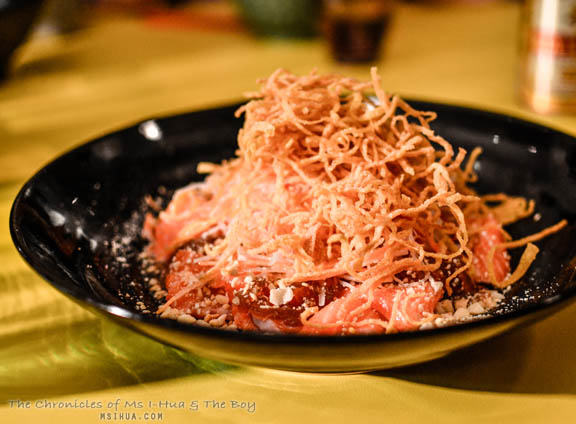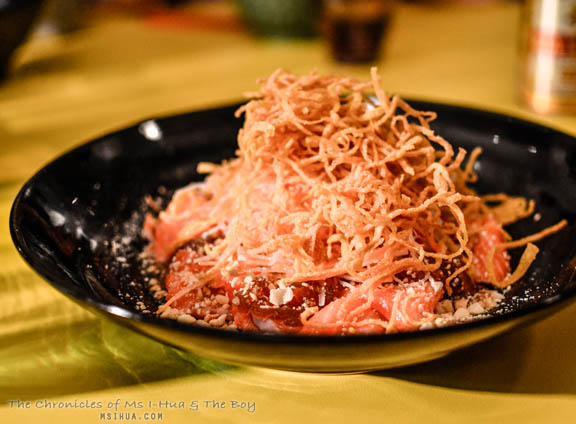 The winning dish by a long mile was Lee Ho Fook's version of the classic Chinese Yee Sang dish normally served during the Lunar New Year predominantly in Malaysia and Singapore. Their version of Raw Ocean Trout and Jellyfish Salad was an amazing dish that left us reminiscing about it for weeks.
It had all the right balance of flavours and textures intertwined in perfection.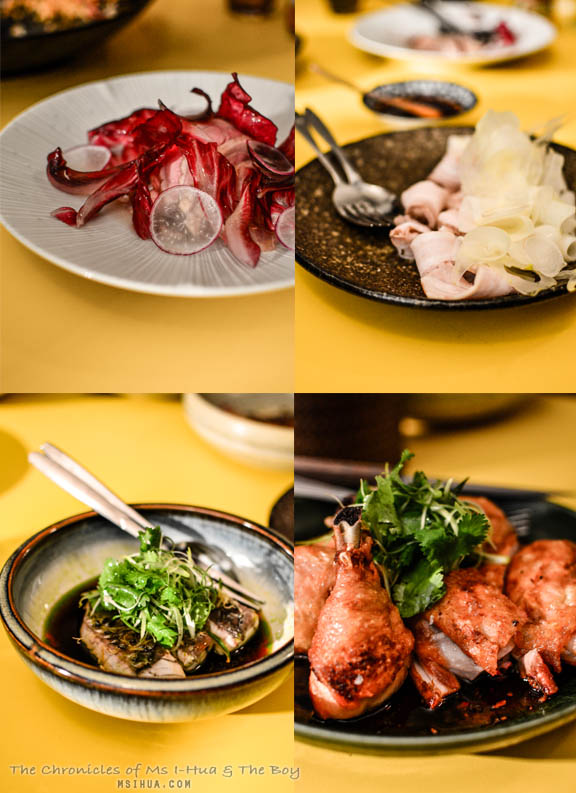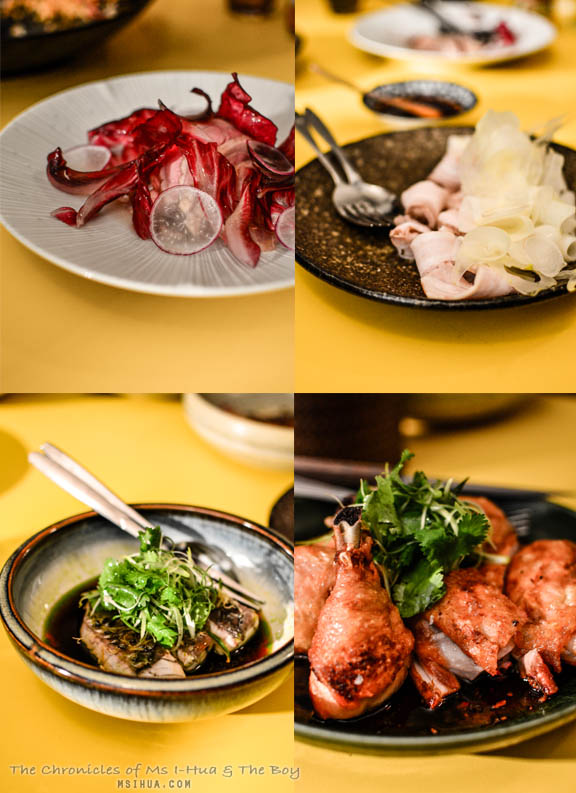 From the ala carte menu, we had the Saltwater Duck, Red Salad ($18.00) and the Pork Belly, White Pickles and Chili Oil ($16.00) which was once again very tasty. The chili oil that came with the pork belly slices was out of this world.
Thanh, Yen and I couldn't get enough of it and ate it with our rice and every other dish that came along with it. If I were to compile a top 3 places of the best chilli oil served in a restaurant, this would come out as the champion (followed by the chilli oil at Fa-Fah and Aunty's Dumplings).
Back to the banquet dishes, we had a traditional and classic Steamed Barramundi, Ginger & Shallot as well as the Crispy Skin Shangdong Chicken. Though simple in cooking styles, both were excellent to dine on.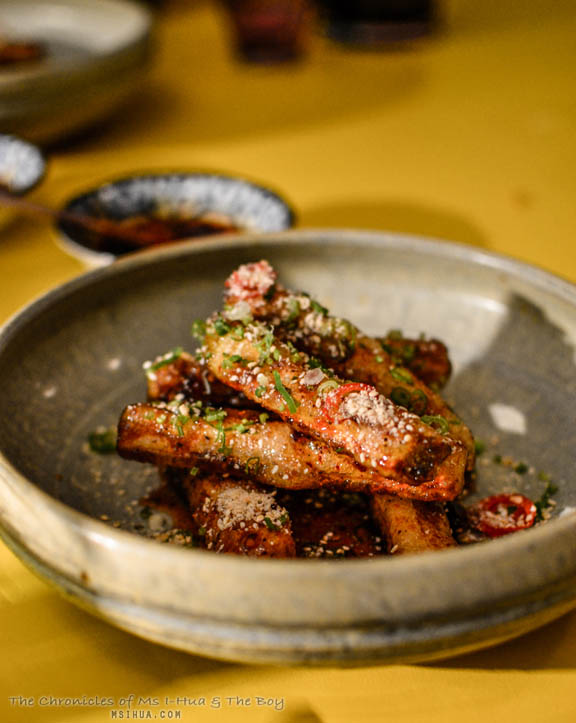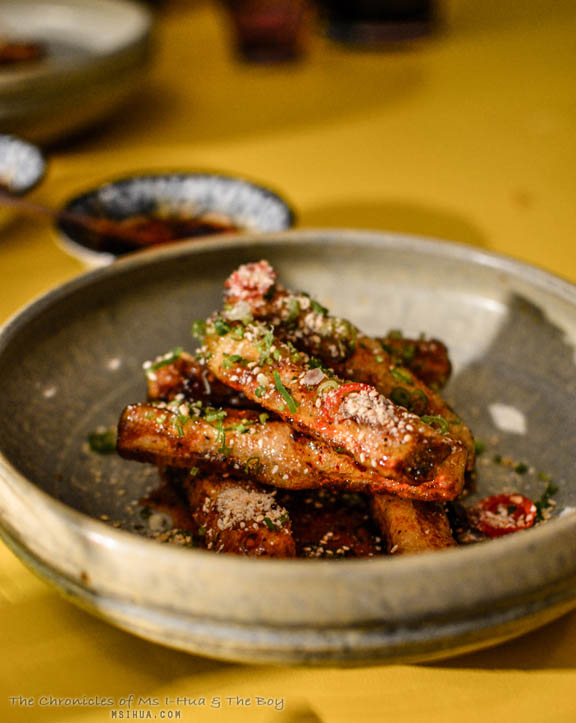 This Crispy Eggplant, Spiced Red Vinegar was the second favourite dish of mine. It was everything I had hoped for and more. At every spicy Szechuan restaurant, this is a must order dish. Often on the menu, it comes with an obscure name of Fish Flavoured Eggplant and you would take bets on the quality of the eggplant and flavour of the sauce.
This is the best version I have been fortunate enough to taste yet. Fluffy, pillowy and soft on the inside, crispy, crunchy and crackling on the outside. It was once again a beautiful balance of flavours and textures.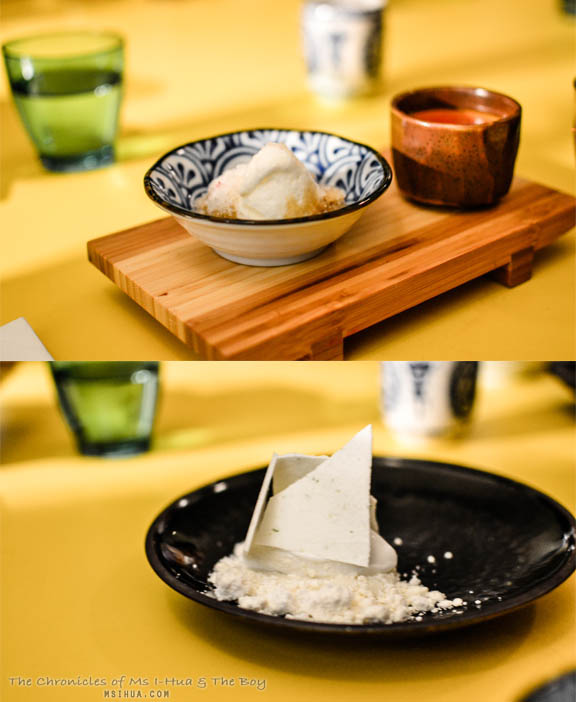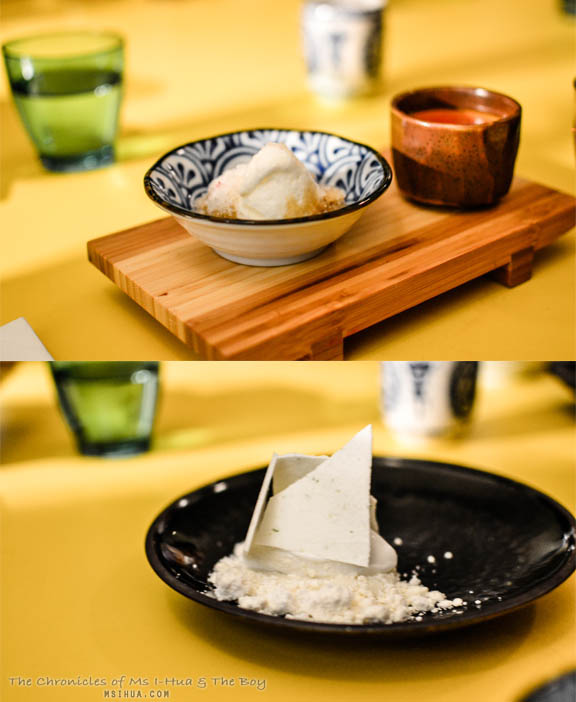 The last two courses of the banquet was dessert. On a cute Japanese-esque board came the Almond Jelly, Rapadura and Ginger and Jasmine Tea Custard, Burnt Caramel. We loved loved loved the delivery and concept of this dessert and play on traditional and modern techniques and flavours across cultures and cuisines. So very clever.
We received a bonus dessert from the kitchen (thanks Chef Victor Liong) of Coconut, Citrus and Sake. I'm not sure what was going on here, but I didn't feel that the Sake went with the sweet tropical feel that the coconut brought to the dish.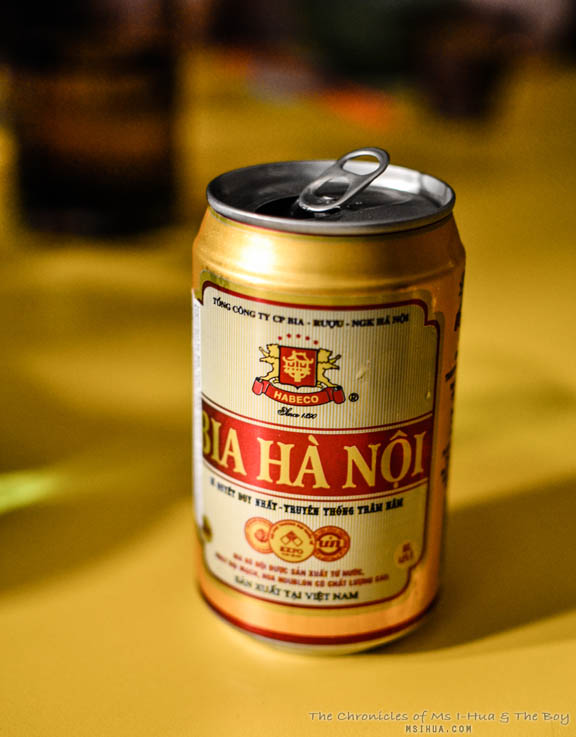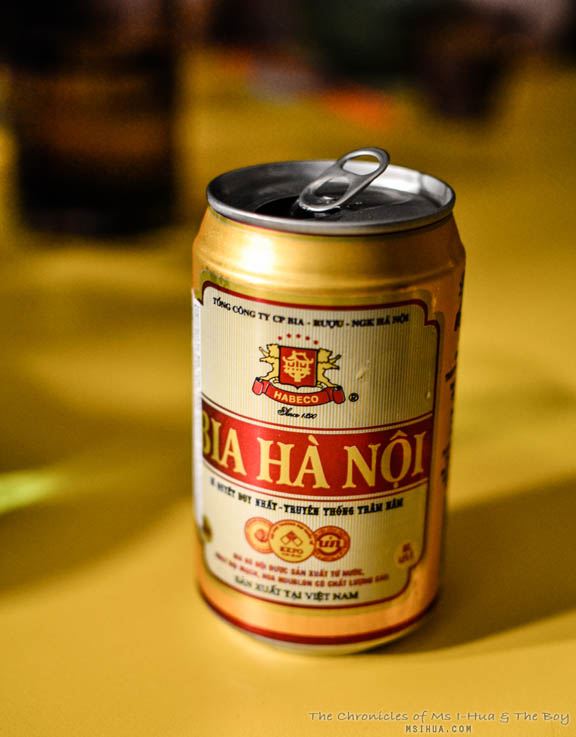 So if you are like us, sceptical that an Asian restaurant (I say Asian as Lee Ho Fook is not strictly Chinese) can pull off fine dining cuisine well, I implore you to visit this place. All up, we spent about $60.00 per person including a few drinks and we were all very happy to part with our money with promises to return to dine here very soon.
Hell, I'm bringing my mother and my aunt to this place the next time they visit as I am sure they would love it!
In fact, this is going to be my pick as my favourite new restaurant of 2013, just because it managed to challenge my thinking and my predisposed negative bias to it.
*Disclaimer: All food ratings & review are purely based on my own experiences and how I feel about the service, food and quality at the time of visit
Food/ Cuisine: Chinese
Dining Style: Restaurant
Opening Hours:
Wednesday to Thursday, 5:00pm – 11:00pm
Friday, 12:00pm – 11:00pm
Saturday, 5:00pm – 11:00pm
Sunday, 12:00pm – 11:00pm
Address:
92 Smith Street
Collingwood VIC 3066
Phone: (03) 9077 6261
Website: http://www.leehofook.com.au/

Twitter: @LeeHoFooksMelb

How to get there: