I may need to stop saying "Winter is here" at the start of every blog post, but I can't help it! To help you chase away the wintery blues this season, The Boy and I thought we would share a heart warming meal which you can have right next to the heater or fireplace.
This is a dish that makes me think of home. Odd that a hot and humid weather climate country should have a dish such as this, heck we come from the land of spices, curries, chillies and hot soups!
Here's one to warm your bones and stop your shivering, an all-time Malaysian Nyonya favourite, Babi Pongteh 🙂 This however is a slightly inauthentic version due to the lack of ingredients in this country.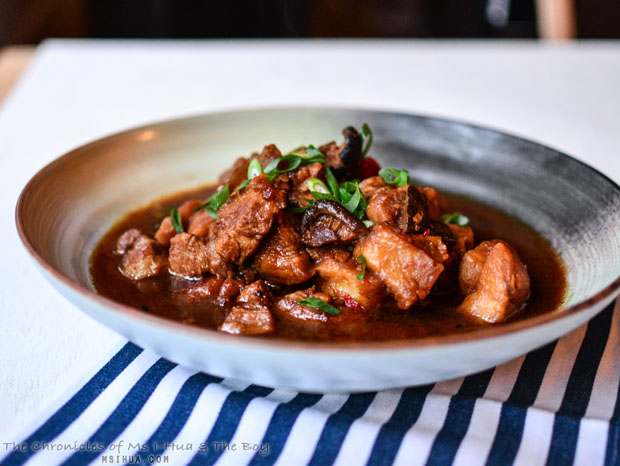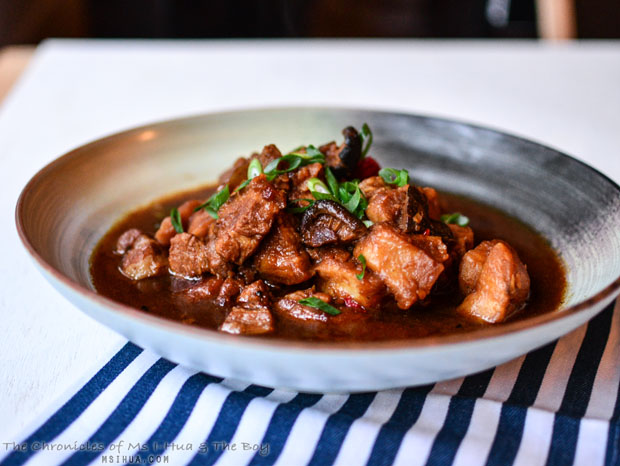 Growing up, this was one of the dishes which I always bugged my Po Po (grandma) to cook for me. That lady knew how to cook! She would make me anything I asked of her. Curry Chicken, Lobak, Durian with Glutinous Rice. You name it, she would cook it. Gosh, I miss her so!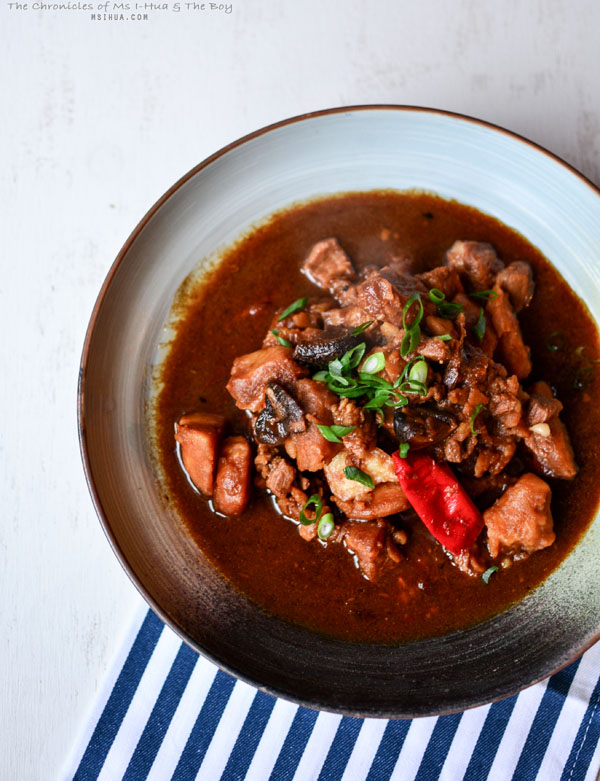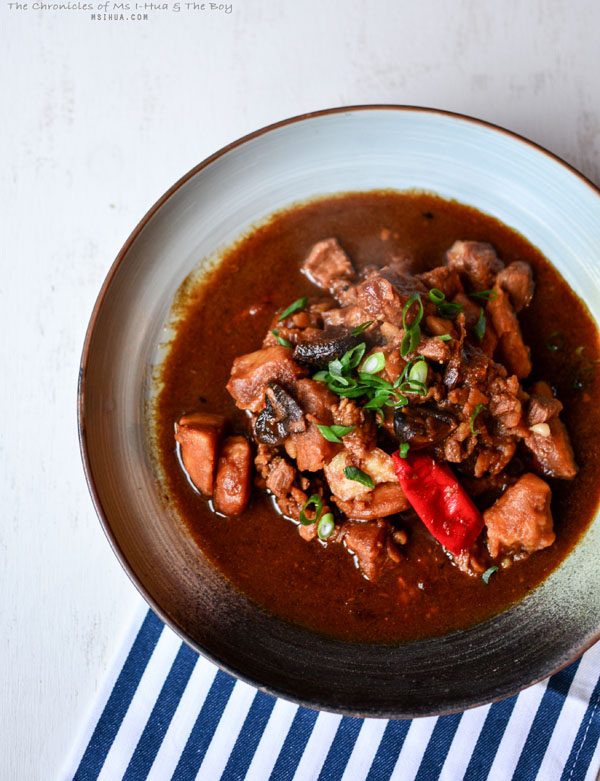 Luckily these days, I have The Boy who would do the same for me. Truly, the way to my heart is through my stomach 😛
Babi Pongteh (Nyonya Style Slow Braised Pork)
Ingredients
1

kg

of Pork Belly and Pork Shoulder (cut into chunks)

500

g

of Potatoes (cut into chunks)

10

dried Chinese (or Shiitake) mushrooms (rehydrated)

1/2

cup

Fermented Soy Bean Paste (Tau Cheong/Cheo)

3-4

tablespoons

of Olive Oil

1

whole Garlic (diced)

5

Shallots (peeled and diced)

1

Red Chilli (snapped in half)
To taste:
Palm Sugar (or cane sugar), Ground White Pepper, Thick Dark Soy Sauce

Water (as needed)
Garnish:
Finely sliced spring onions
Instructions
Heat oil in a wok and sauté garlic, shallots and soy bean paste until fragrant. Slowly add in a few pieces of the pork to brown.

Once the pork starts to turn a lovely golden brown colour, add red chilli and dried Chinese mushrooms.

Add just enough water to immerse half of the pork. Bring to boil and turn the heat down to simmer until the pork is tender.

Add the potatoes into the simmering pot after 30 minutes and simmer on low heat until the pork is tender and the potatoes cooked.

Season with palm sugar, ground white pepper and thick dark soy sauce to taste.

Garnish with spring onions and serve hot with steamed white rice.
Notes
Adapted from Modern Nyonya by Sylvia Tan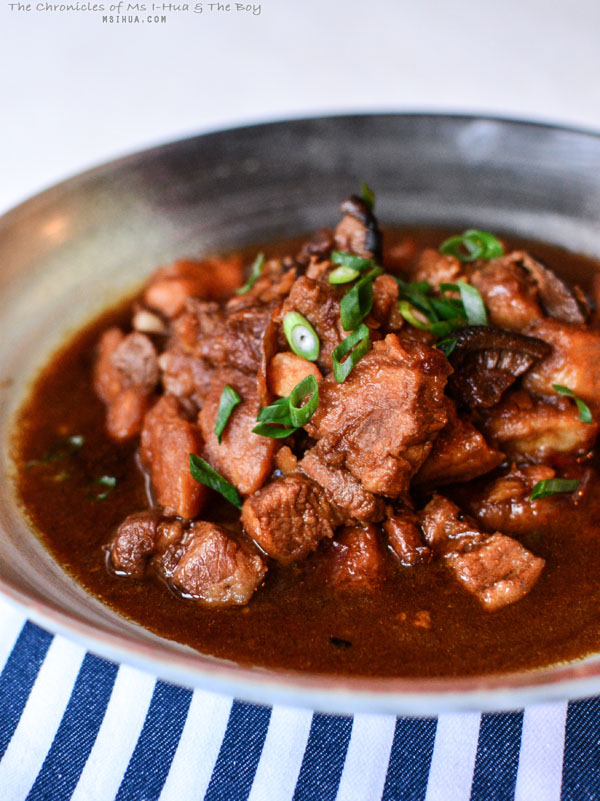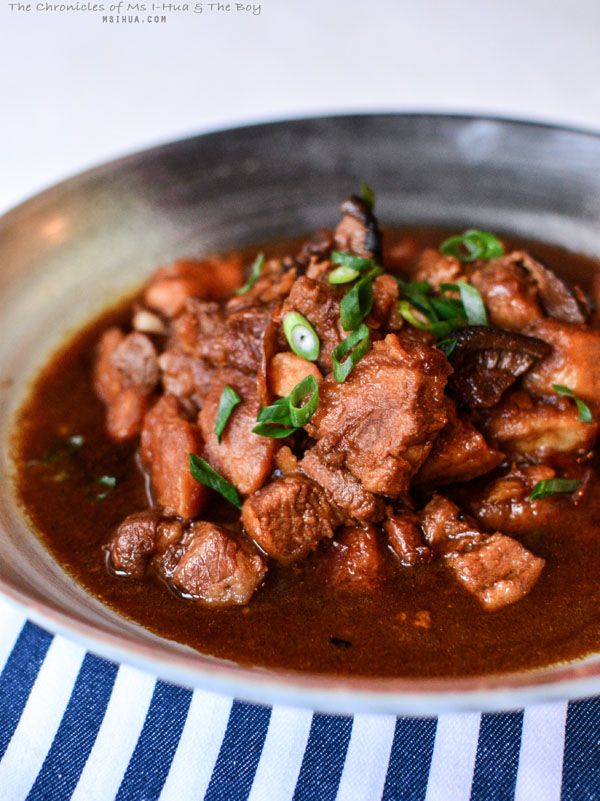 So what are you waiting for? Get a bottle of fermented soy beans and as much pork belly you can muster and start braisin'!