[This post is sponsored by Nuffnang Australia and IKEA Australia]
It's cold, it's wet and boy has it been windy. This weather has been making us stay at home more often these days but we aren't letting that stop us from having fun!
Let me tell you about my happy place and how it's helped us set the mood for a fun date night in.
I've always loved visiting IKEA and getting inspired to redecorate my living space. When I was younger, it was my bedroom. I remember my very first wall shelves and brackets and how proud I felt looking at them when I had them up on my wall. Then there was my favourite arm chair in the whole world (it's still in Madam Mummy's living room) which Big Sis bought from IKEA a few years back. It's the best.
Now, with our own house, it's easy for me to visit IKEA and come home with not just ideas, but all the wonderful flat pack furniture for The Boy to put together.
Let's face it, almost every house in the world has at least one item from IKEA. I remember playing this game once with friends and we all had to pick at least one item we owned from there. Even the most adamant person who never shops or insists they don't buy household items has one item from IKEA.
I remember as a kid, IKEA used to have these competitions where punters could sleepover in stores and the winners would win a whole bedroom makeover.
This winter, IKEA's Wintertainer (winter entertaining) has got us covered with a new competition. They are giving you a chance to spend more time indoors. More time to cook, to eat, to relax and to spend time entertaining friends and family.
It's very simple. All you have to do is log-on to your Facebook account, look up IKEA Australia and click on the Wintertainer tab. It's an easy 4 step process that will enable you to create your perfect activity for the winter season.
Build your ideal indoor entertaining activity by choosing your occasion, setting, IKEA products to set the scene and the menu! By entering the IKEA Wintertainer competition, you will stand a chance to win a $500 IKEA gift card to bring your activity to life!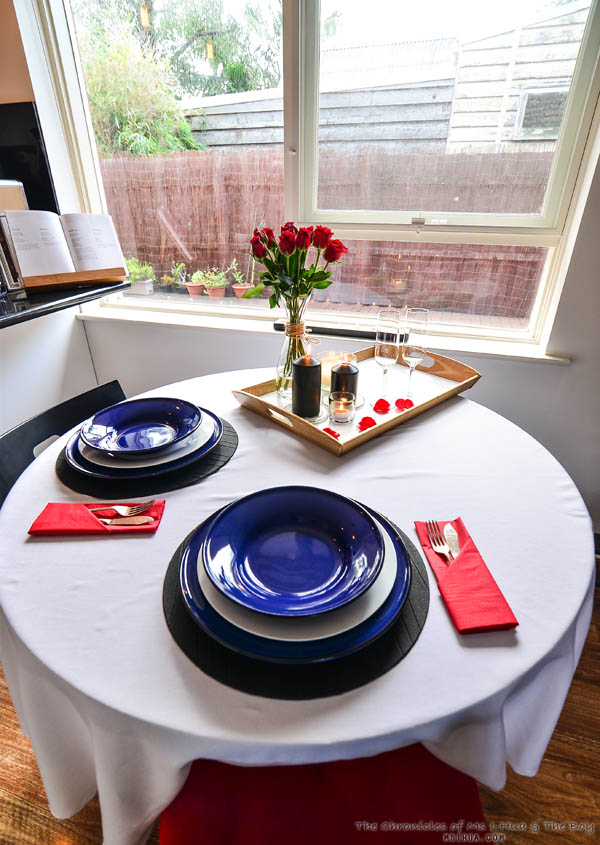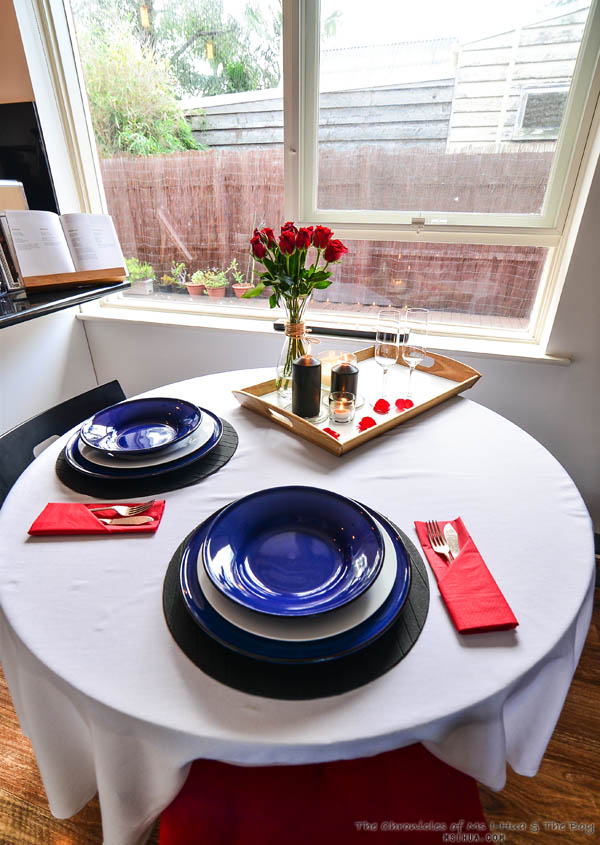 To help you visualize how you can turn your vision into a dream, you can jump on to the IKEA Home of Inspiration web page to view the winners gallery to get inspired.
To show you how easy it is, we simply followed the 4 simple steps on the Wintertainer app to churn out a romantic date night food styling diner for two.
Plates? Check. Candles? Check. Decorations? Check. Sexy champagne glasses? Check.
You're all set for a date night. All you need now is an easy recipe to throw together to complete this winter perfection.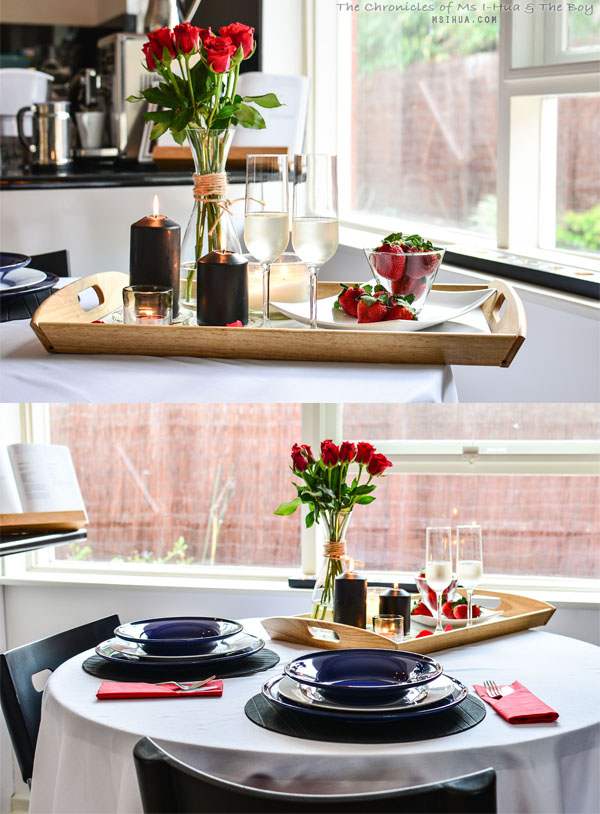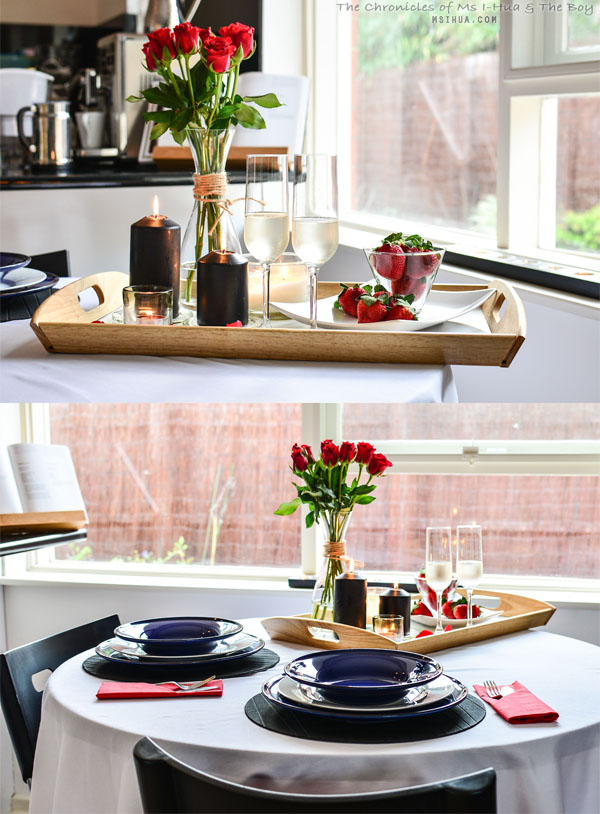 Luckily for you, the IKEA Wintertainer app even does that! It helps suggest a recipe to cook up. Inspired by their Date Night recipe of Baked Salmon and Horseradish Compote as featured in their app, The Boy and I decided to jazz things up and serve a salmon dish for our romantic night in.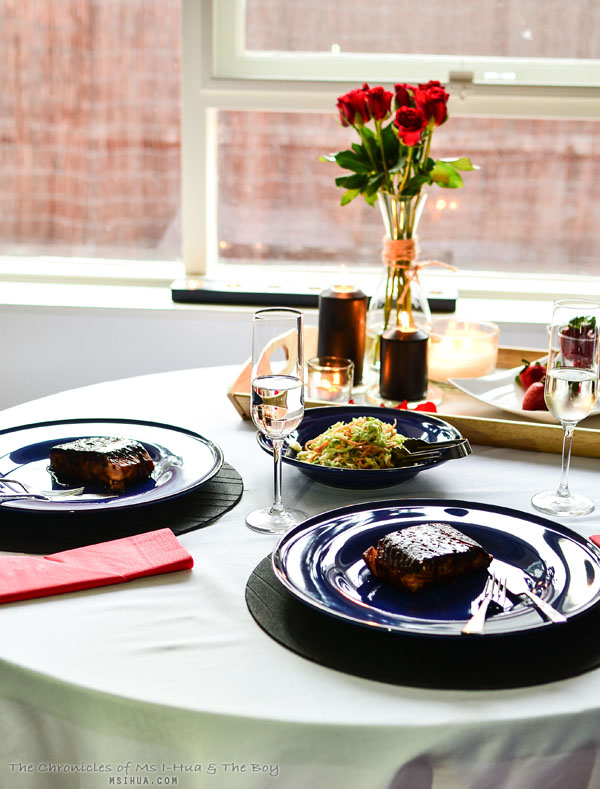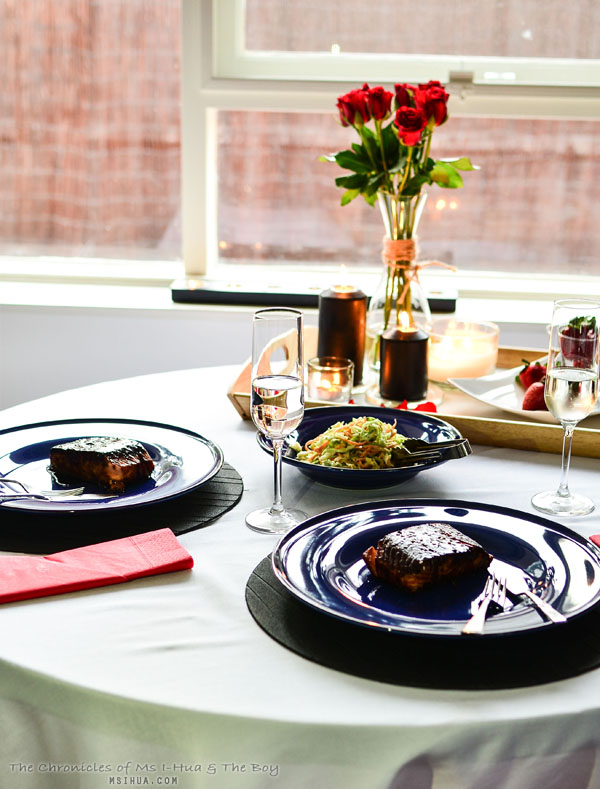 Lights, camera, action!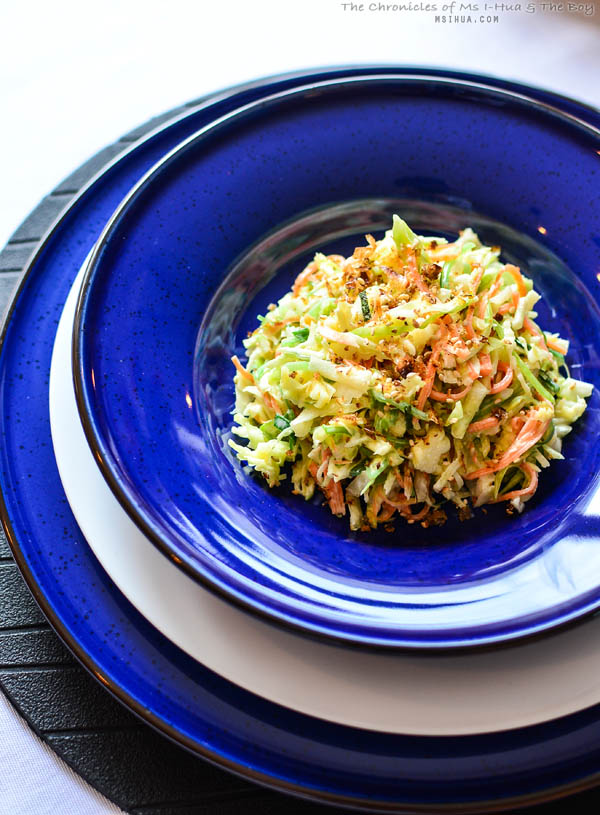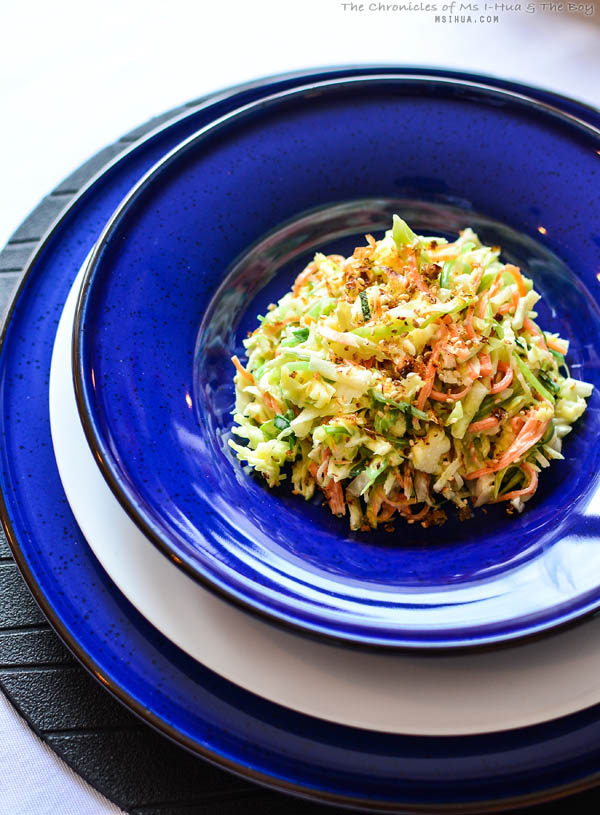 To start things off, we had a Japanese inspired Coleslaw.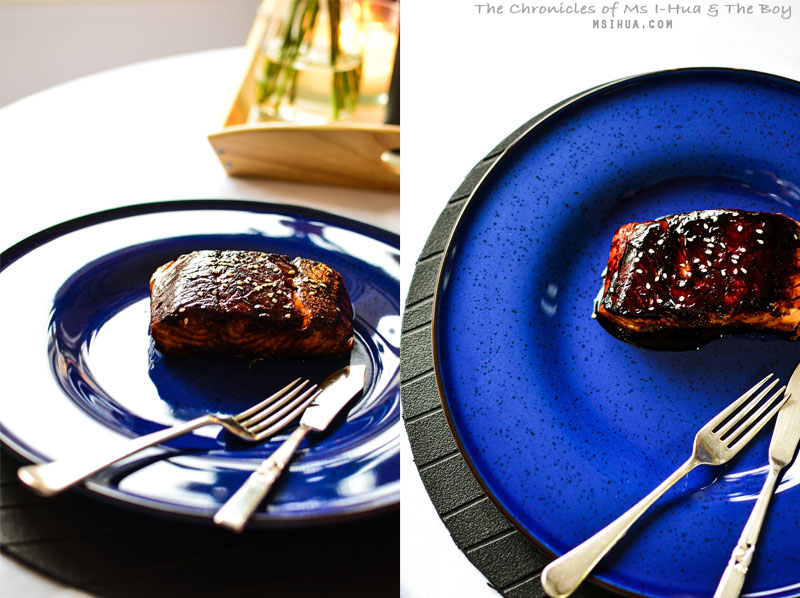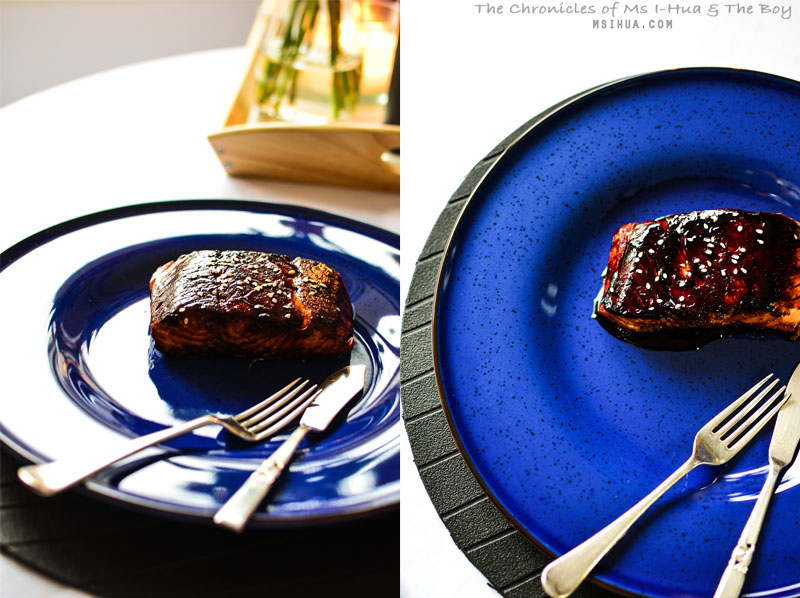 This was followed by a tantalising Teriyaki Salmon.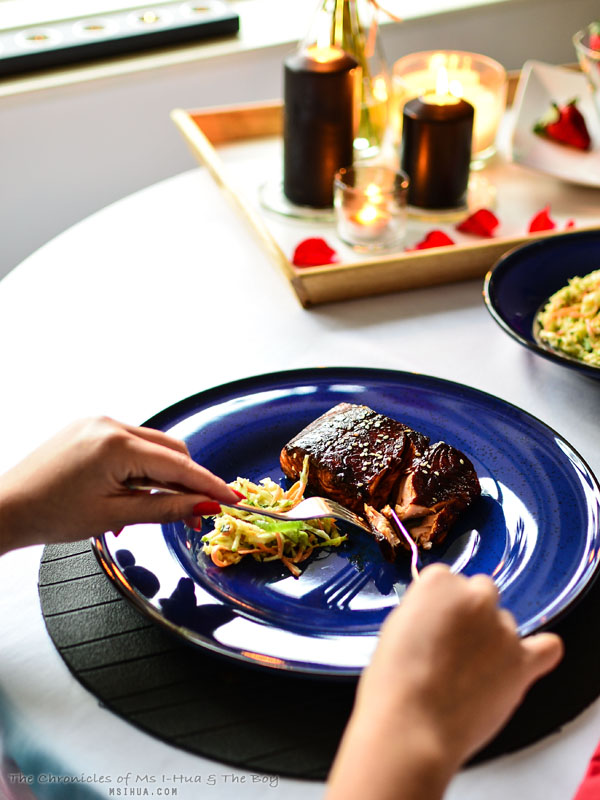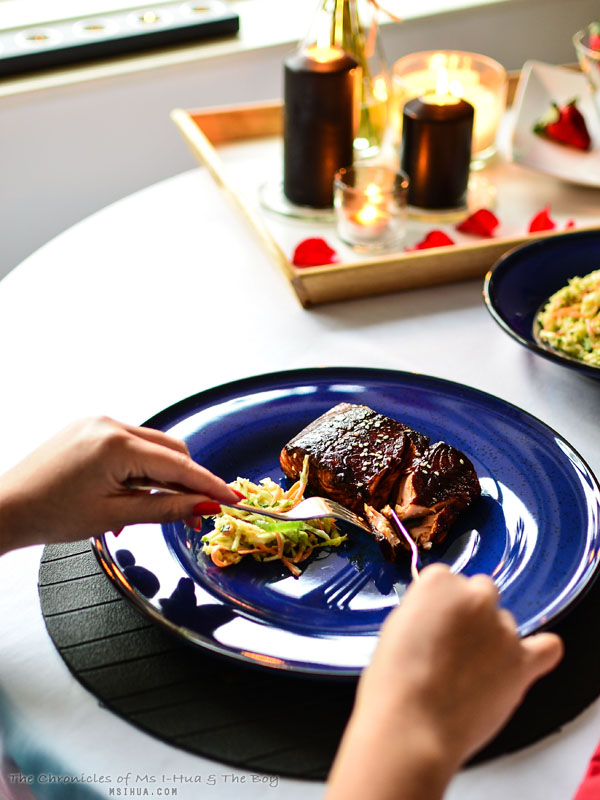 Some strawberries to add to the romance.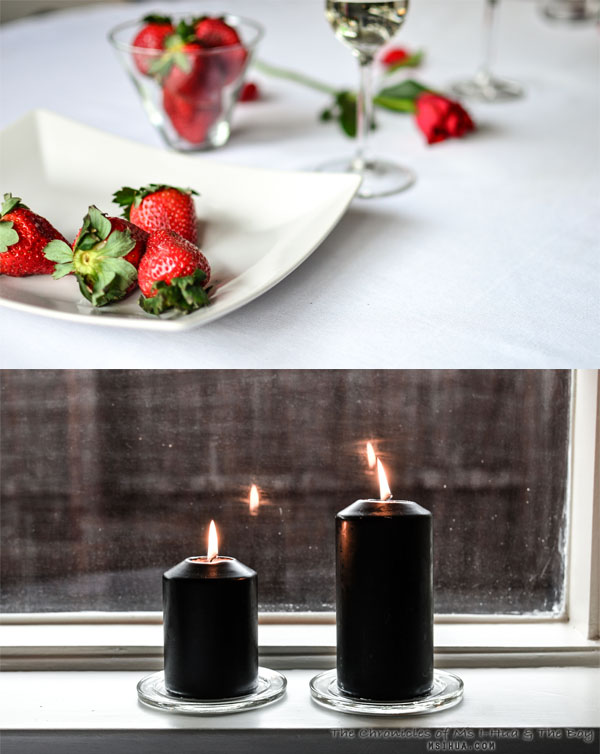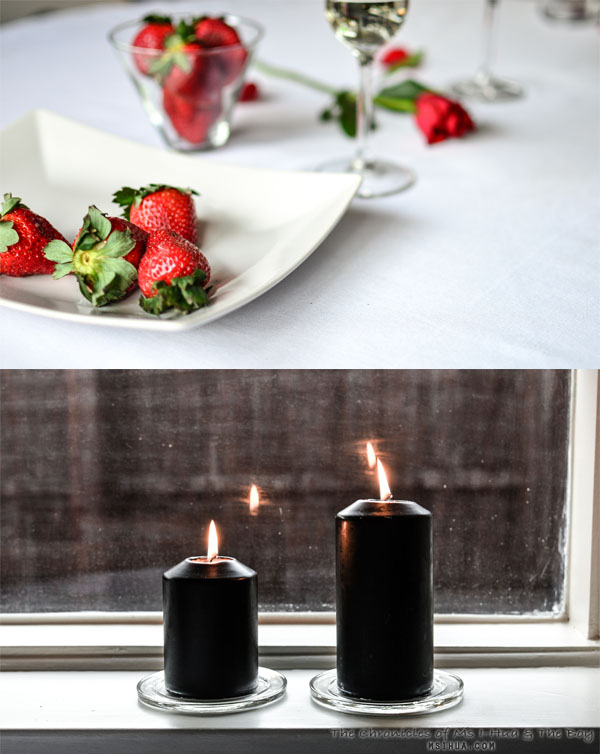 Teriyaki Salmon and Japanese Inspired Coleslaw Recipe
Ingredients
For the Salmon
2

Salmon fillets (skin on)

2

tablespoons

of Olive Oil

1

teaspoon

of Sesame Seeds

Pepper to taste
For the Teriyaki glaze
125

ml

Dark Soy Sauce

100

ml

Mirin

100

ml

Sake (you can use 100 ml of Sweet Sherry or Rice Wine if you do not have Sake)

30

g

Caster Sugar

2

tablespoon

of Dark Palm Sugar (melted)
For the Coleslaw (this will be plentiful for two)
2

medium sized Carrots (shredded)

1/4

medium sized White Cabbage (shredded)

1

teaspoon

of Caster Sugar

1

teaspoon

of Salt

1

tablespoon

White Wine Vinegar

1

Granny Smith Apple (cored and shredded) - place in a bowl of water with drops of lemon juice to prevent it from oxidizing

100

g

ready-made Wakame Seaweed Salad (available at most Japanese groceries or take-away sushi stores)

2

Spring Onions (finely sliced)

3

tablespoons

of Kewpie Mayo

3

tablespoons

of Mayonnaise

1

teaspoon

of Horseradish Cream

a few dashes of Shichimi Togarashi (available at most Japanese groceries)

1

tablespoon

of Japanese Rice Seasoning (Furikake - we used one which had Bonito, Sesame Seed and Seaweed - also available at most Japanese groceries)
Instructions
For the Japanese inspired Coleslaw
Place shredded carrots and cabbage in a colander and add caster sugar, salt and white wine vinegar. Toss them together and place in the sink to drain for 45 minutes. This is to remove excess water from the vegetables, similar to the pickling process. After 45 minutes, apply pressure onto the vegetables to squeeze out any remaining liquid.

Transfer carrots and cabbage to a mixing bowl. Mix in the shredded apples, Wakame seaweed salad, sliced spring onions, Kewpie mayo, mayonnaise, horseradish cream and a few dashes of Shichimi Togarashi. Toss all ingredients together.

When serving, sprinkle a tablespoon of Furikake over the coleslaw.
For the Teriyaki Glaze
Place all ingredients in a small saucepan and stir over low heat, taking care to not burn or bring to boil. Stir until all sugar has dissolved. Remove from heat, cool and store in fridge. There will be enough for a few Teriyaki nights 🙂
For the Pan Fried Salmon
In a shallow bowl, marinate the salmon fillets with 50 ml (or until the salmon flesh is submerged) of teriyaki glaze for a minimum of 30 minutes.

Heat 2 tablespoons of olive oil in a non-stick pan. Pan sear the salmon fillets skin side down for 3 minutes whilst basting it with the teriyaki glaze. Flip the fish on the flesh side carefully and cook for another 3 minutes, again basting the fish with the teriyaki glaze. The cooking time depends on how thick your salmon fillet is.

Set aside to rest. Before serving, sprinkle sesame seeds for garnishing.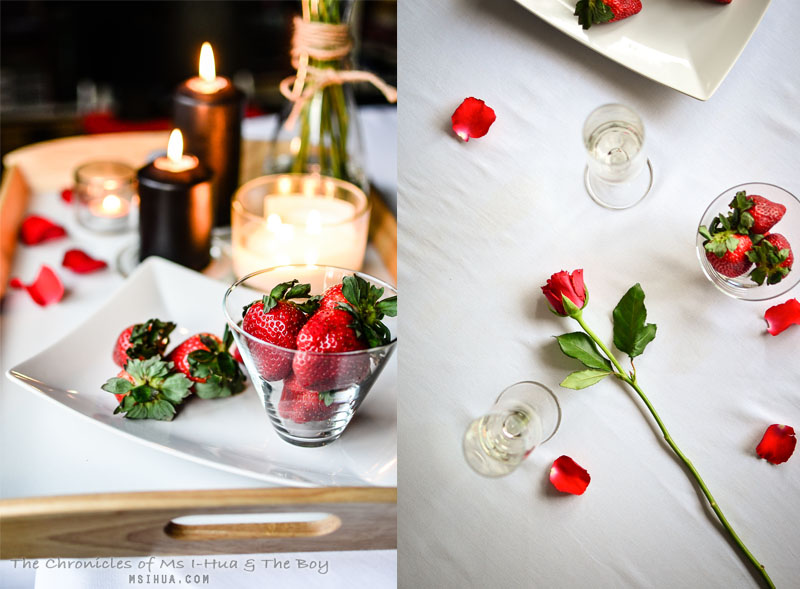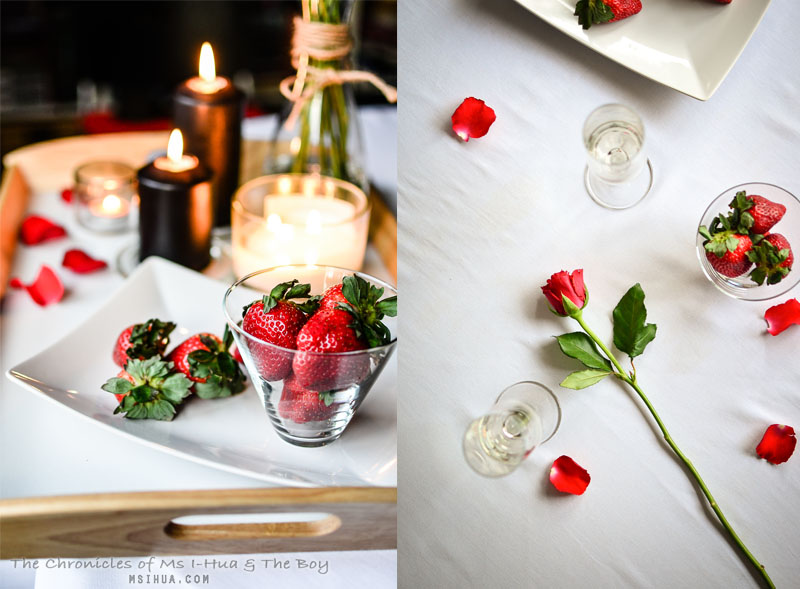 In addition to the Wintertainer app, IKEA also has a 'Home of the Hearty' quiz, hosted on the IKEA Home of Inspiration web page that helps people identify their entertaining style. By answering 4 simple questions, you will be matched to a table setting which perfectly compliments your personality as well as a step-by-step guide as to how to recreate the scene.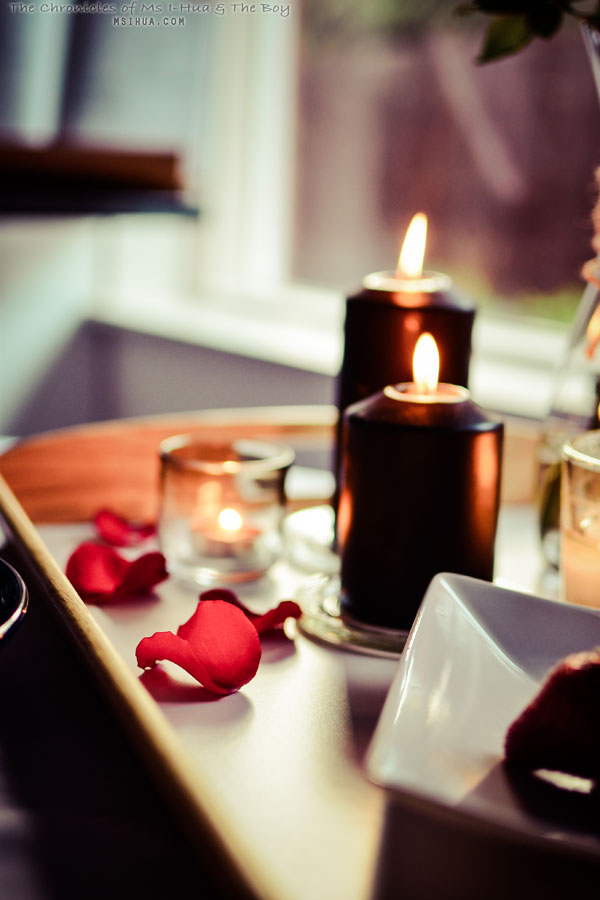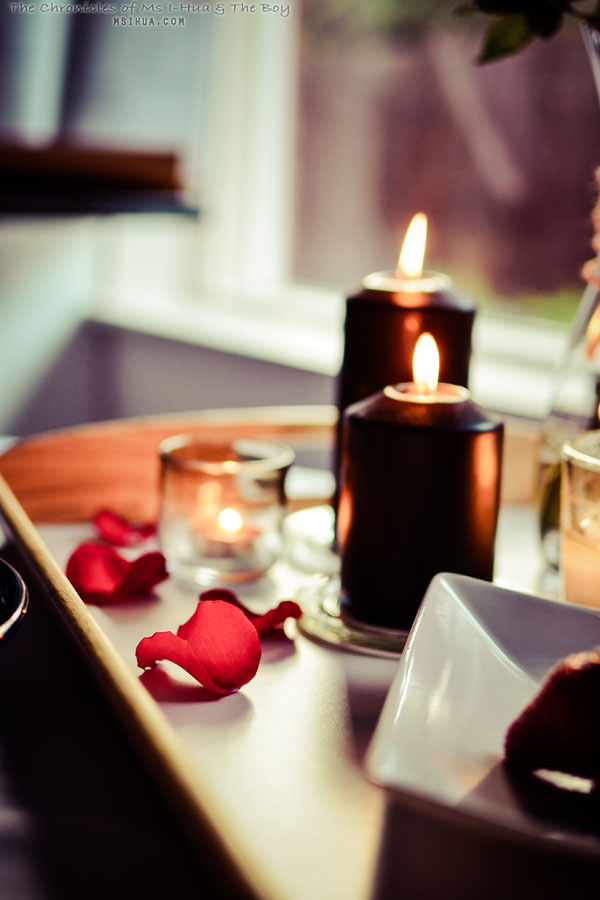 Oh, if you forget to buy your lovely partner flowers, don't fret as IKEA sells flowers that will never wither. Much like your love for each other (Awwww!)
If you liked any of the products featured in this post and would like to recreate the scenes above, see below 🙂
Ikea Products featured in this post includes:
Fantastisk Napkins
Panna Placemats
Klack Tray
Trivsam Plate
Trivsam Deep Plate
Myndig Plate
Hederlig Champagne Glass
Dagligen Candle
Hållare Tealight Holder
Joker Candle Dish