For as long as I can remember, I've been a great lover of all things fluffy and cute. Most animals I encounter, I find adorable. Apart from the gecko. Eck! There's a few stories of me and the nasty cicak (gecko in Malay) and let's just say that them and I, are not friends.
However, put a dog, cat, hamster, rabbit, horse, alpaca, cow, lamb, bird, etc (you get the drift) and I'll be their best buddy. For the longest time, I've been planning to have a dog who goes by the name of Snowy. Snowy Snowstorm Albuquerque. He's going to be the best little buddy I'll ever have and it's been a long time coming (I'm looking at you, The Boy!) and when I finally find him, he'll be mine and I'll be his!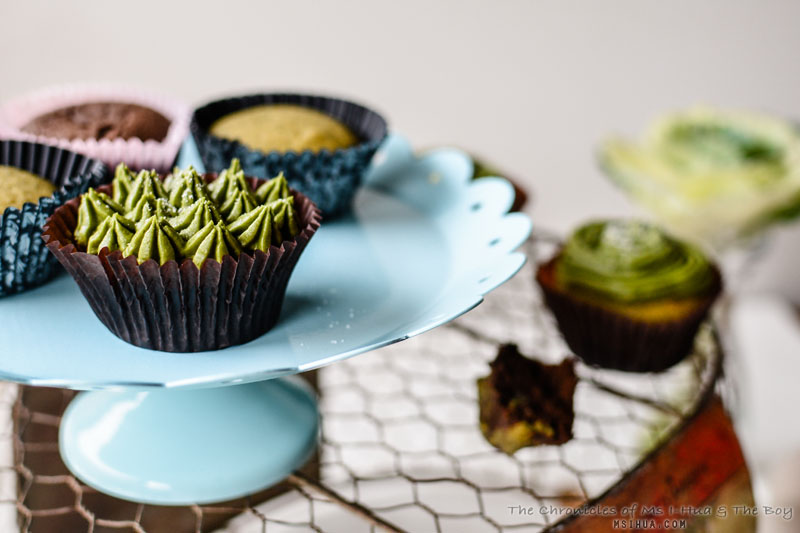 So it was no surprise that when I was recently approached by RSPCA Victoria to be one of their Cupcake Day Ambassadors, I had not hesitation in saying yes.
The promise of kitten cuddles at their Burwood Head Office had nothing to do with it at all.
The chance of finding Snowy in the pound and bringing him home with me also had nothing to do with it at all *looks at The Boy*.
Part of the brief of being a RSPCA Cupcake Day Ambassador is to come up with a cupcake recipe for you folks to replicate and join in the spirit of Cupcake Day on August 18th 2014.
You too can participate and fight against animal cruelty with the sweet goodness of cupcakes!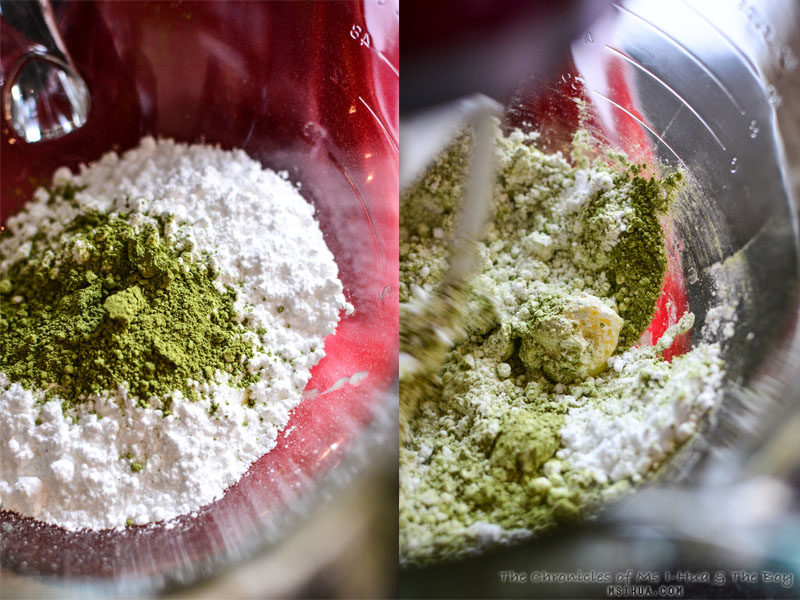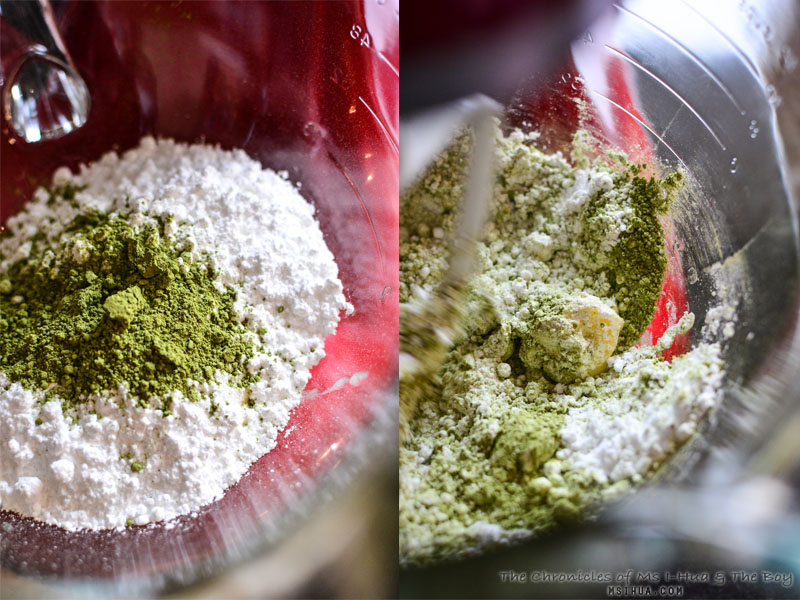 I've been going a bit mad lately for a combination of Matcha (Japanese Green Tea) and Dark Chocolate, and I figured that it would be an amazing match in the form of a cupcake. I present to you, Matcha and Dark Chocolate Cupcakes with Matcha Frosting.
Matcha Dark Chocolate Cupcakes with Matcha Buttercream Frosting
Ingredients
For the Cupcakes:
165

grams

Dark Brown Sugar

200

grams

Plain Flour

115

grams

of Butter (melted)

3

large Eggs

84

grams

of Dark Chocolate (melted)

1.5

teaspoons

(7.5 grams) of Cacao Powder + 2 Tablespoons (40 ml) of Milk

1.5

teaspoons

(7.5 grams) of Japanese Matcha Powder + 1 Tablespoon (20 ml) of Milk

1

teaspoon

(4 grams) of Baking Powder

Dash of Sea Salt
For the Matcha Buttercream Frosting
55

grams

Butter (softened)

125

grams

Icing Sugar

1

Tablespoon

(about 15 grams) Japanese Matcha Powder

2

Tablespoon

(40ml) Milk
Instructions
For the Cupcakes:
Prepare 12 cupcake cases into a cupcake baking tray and set aside. Set the oven to 160 degrees Celsius (°C ).

Beat the eggs and sugar until fully incorporated

Add in the melted butter and continue beating until thoroughly mixed

Sift flour, baking powder and sea salt into the mixture. Mix thoroughly.

Split the mixture into two separate bowls.

In the first bowl, add in the matcha powder and milk mixture and mix well.

In the second bowl, add in the melted chocolate and the cacao milk mixture and mix well.

Place a small scoop of each batter into each cupcake case (2 types of batter in 1 cupcake case). The cases should only be 2/3 filled.

Using a clean knife, give the mixed batter a swirl.

Bake for 20 minutes or until a skewer comes out clean.

Once cooked, set aside and allow to cool completely before frosting.
For the Matcha Butttercream Frosting:
Using a stand mixer with a paddle attachment, beat the sugar, butter and matcha powder in a mixing bowl until fully incorporated (slow to medium speed).

Turn up the speed and slowly drizzle in the milk.

Beat until light and fluffy (about 5 minutes).

Once your frosting is ready, start frosting your cupcakes immediately to prevent it from hardening.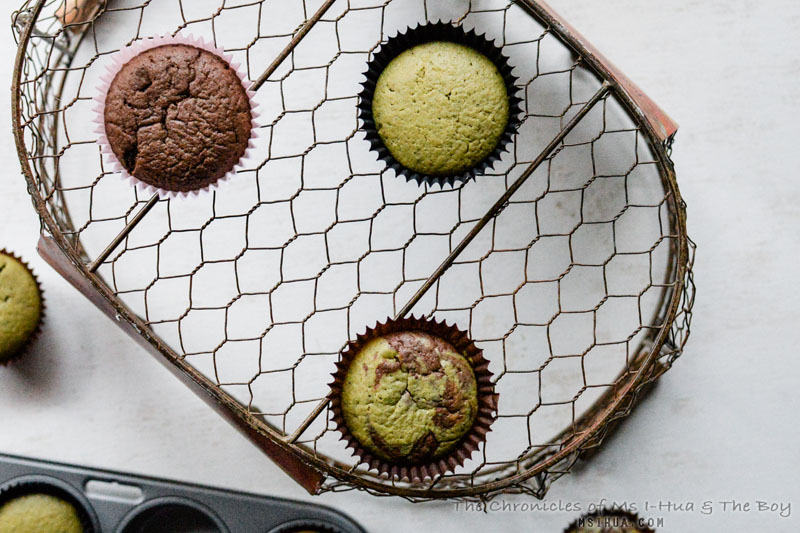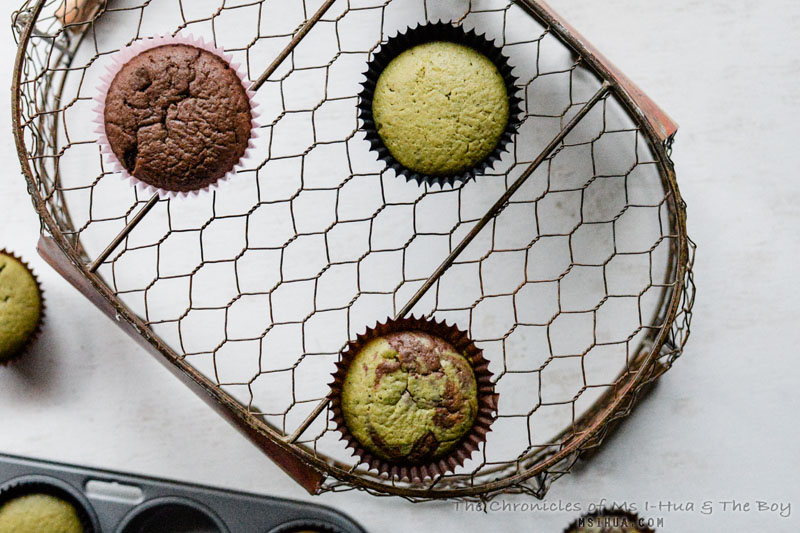 I've made two batches so far and brought them into work. Everyone at work seemed a bit cautious at first as some of them have not tried matcha before let alone one that is a combination flavour.
I can tell you this, there was not even one crumb left as they took a bite and inhaled a cupcake each.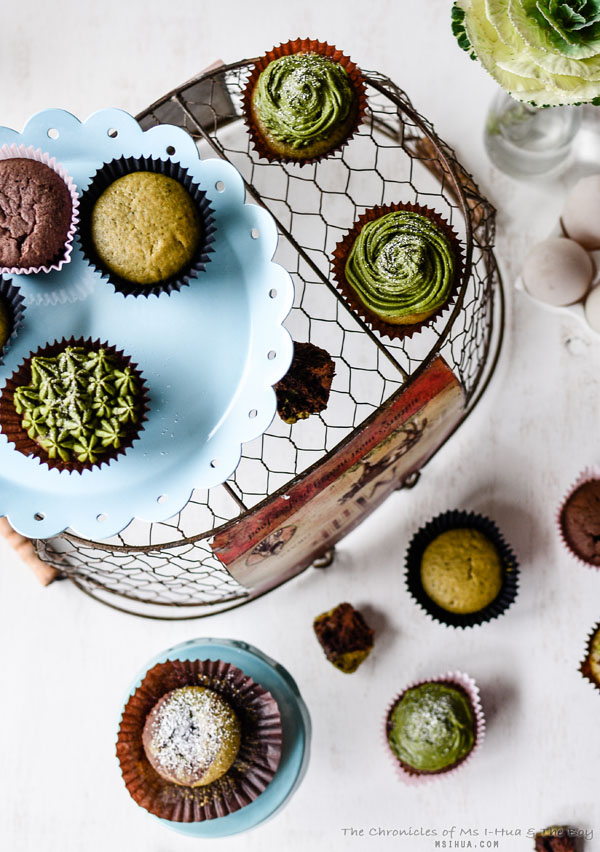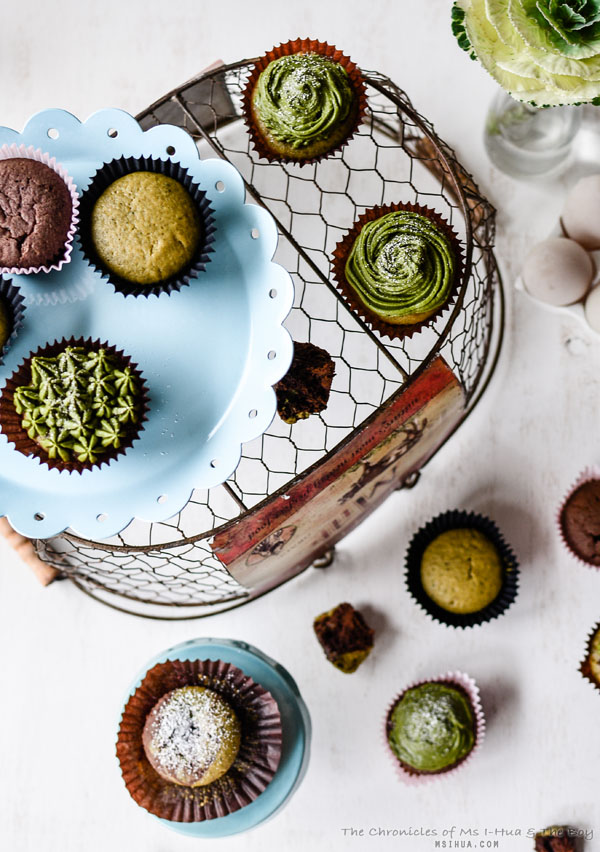 Do make sure that you are using good quality chocolate and Matcha powder. For the Matcha powder, I used Kenko premium matcha tea powder.
Once I finished piping, I continued to lick the bowl clean 😛