We've found a new happy place that makes our hearts skip a beat, our eyes glimmer with excitement and our mouths water.
And it's a 10 minute away drive from where we live! 10 stupendous points to Gryffindor!
This lovely pâtisserie is none other than Millstone, located just a stones throw away from the Malvern Station (so it's easily accessible via public transport too).
Well, mes amis, let us not waste any more time, pull up your chair, whilst we present to you, Millstone Pâtisserie.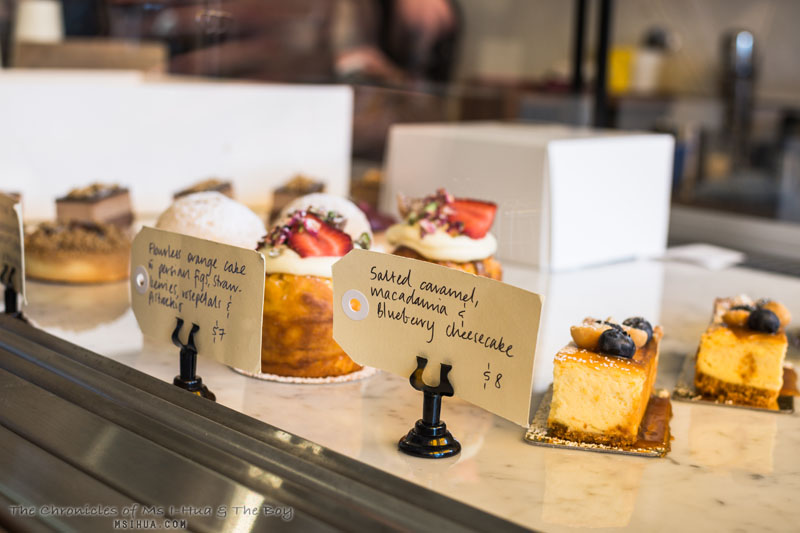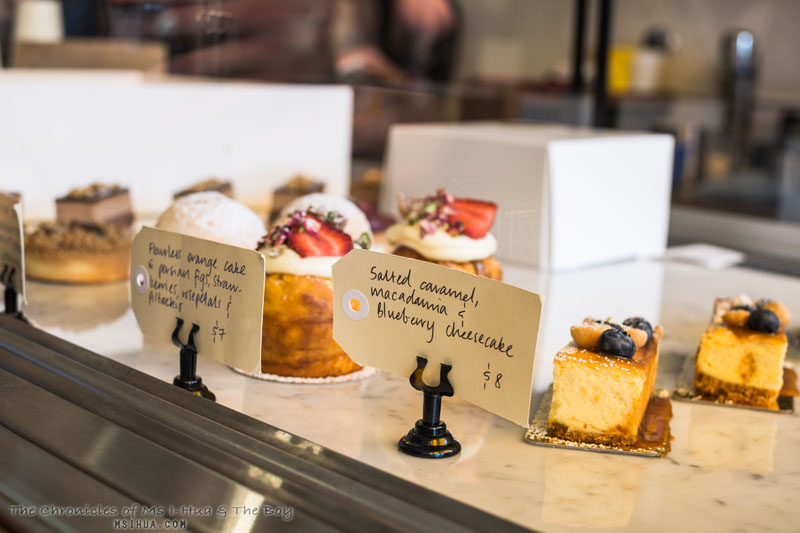 Upon research, we discovered that the pastry chef/owner, Alice Wright trained in Paris's Dalloyau patisserie and gave up a career in the accounting world to make us delightful treats and bakes.
Call me crazy, but I think I love her. The Boy? He has my permission to love her too 🙂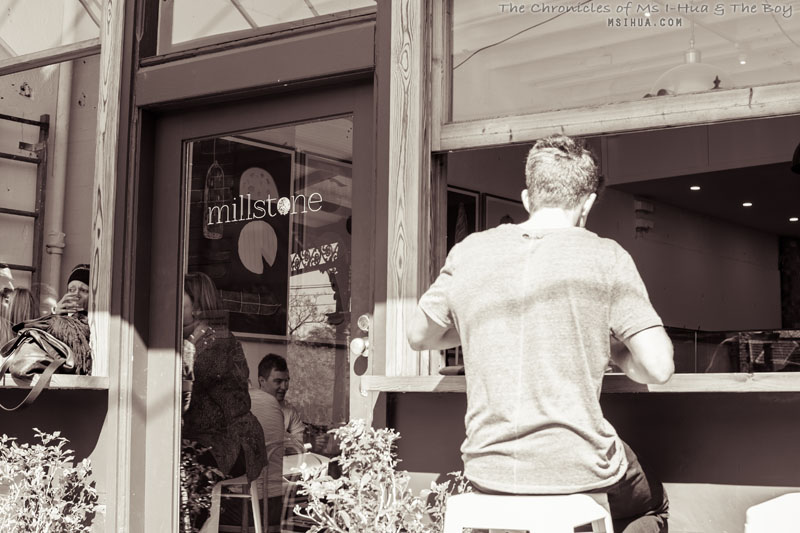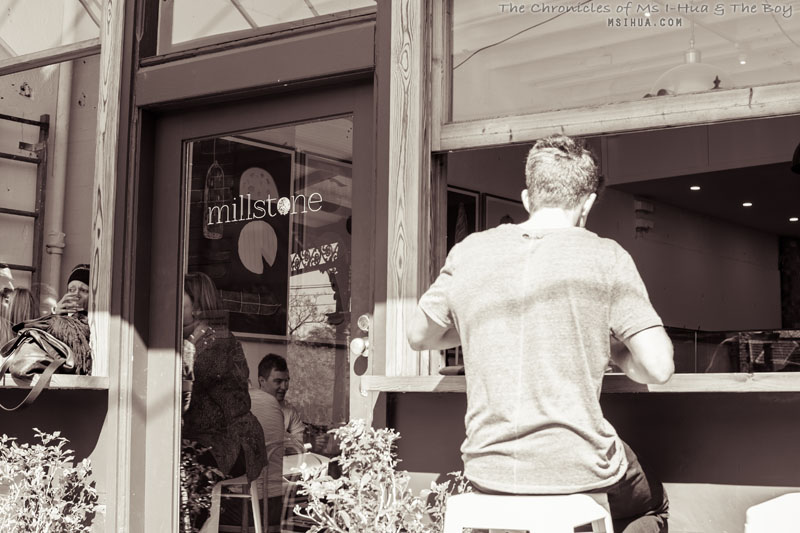 Surprisingly for us, when we visited, the sun had decided to come out and play and we chose to sit outside to enjoy the good weather whilst it lasted.
It was great fun for us to people watch and notice just how popular this little pâtisserie is with the locals. The wait staff were very friendly as well, which is always a plus point in running a successful business.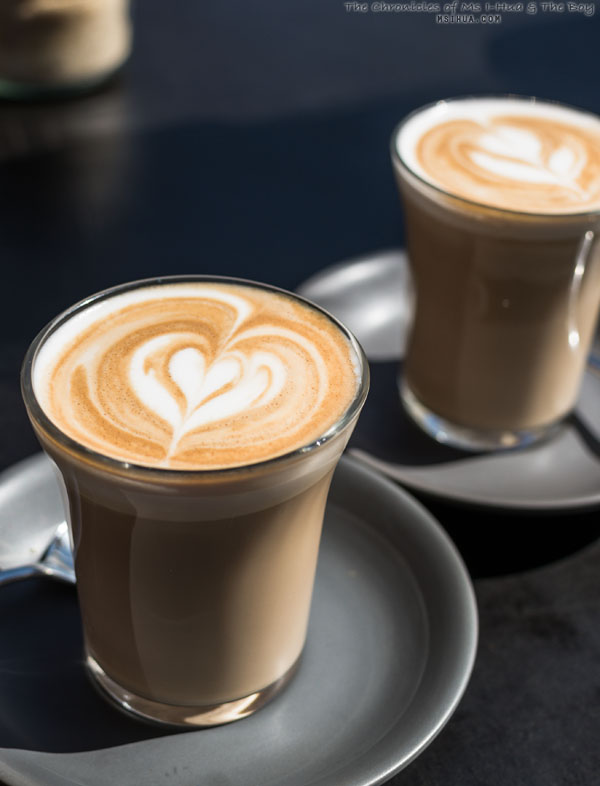 As we perused the short and sharp menu, we enjoyed our Lattes but found them to be on the milkier side.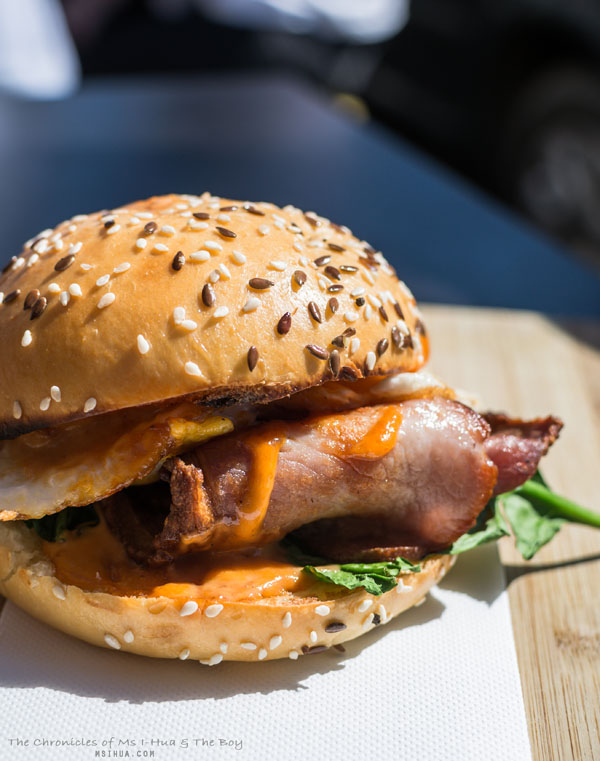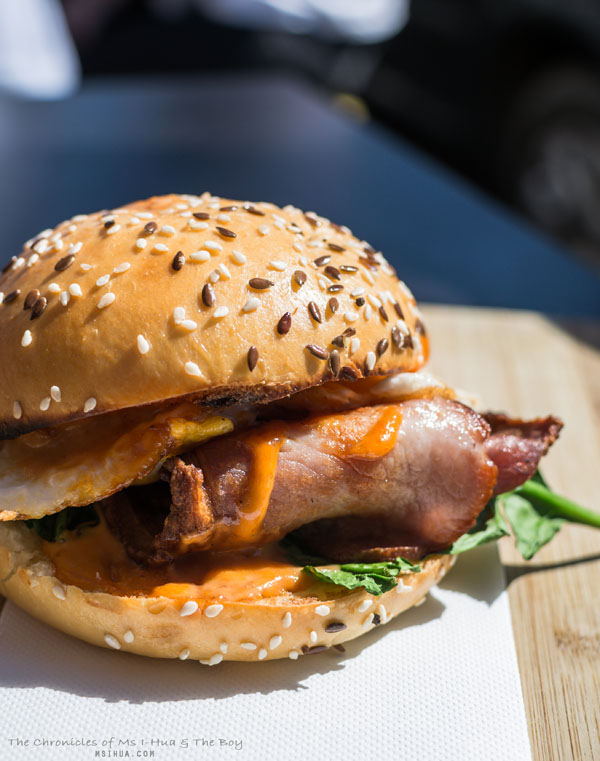 I really wanted to try all the Brioche offerings I had seen plastered on the walls of the pâtisserie but no such luck was on my side as they were strictly on the wall for the lunch crowd.
Disappointment made way for joy when I discovered there was a Breakfast Brioche option of fried egg, crispy bacon, chipotle mayonnaise and baby spinach ($9.50).
The brioche bun was soft, pillowy and sweet and the chipotle mayo added the needed flavouring to pair of an otherwise 'boring'-esque breakfast roll.
I still want to return for the soft shell crab and pork belly brioches #eatallthebrioche!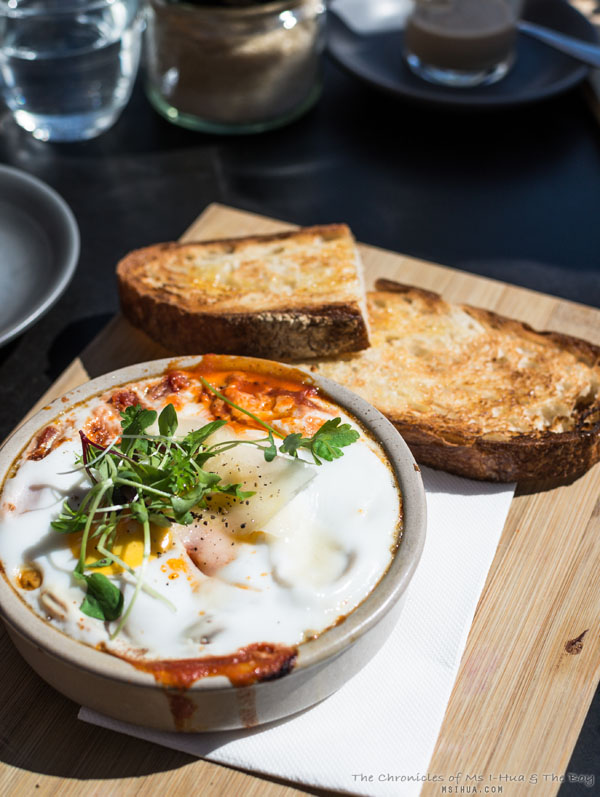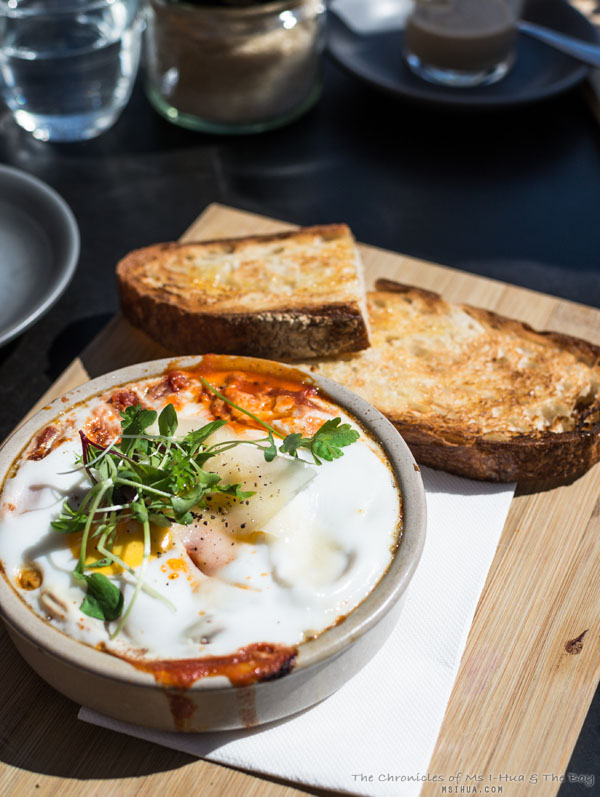 The Boy went with his usual option of Baked Eggs served with chorizo, capsicum, spinach and Manchego cheese ($16.00) and thought it was a job well done.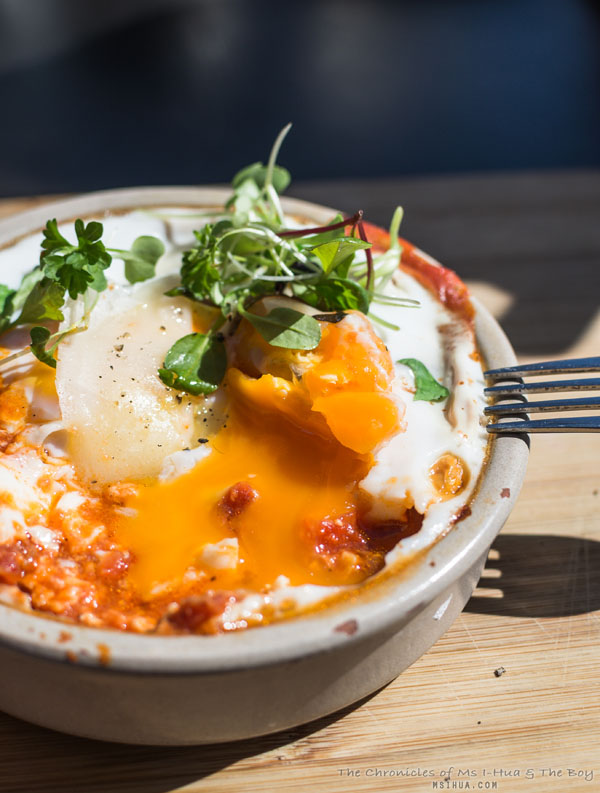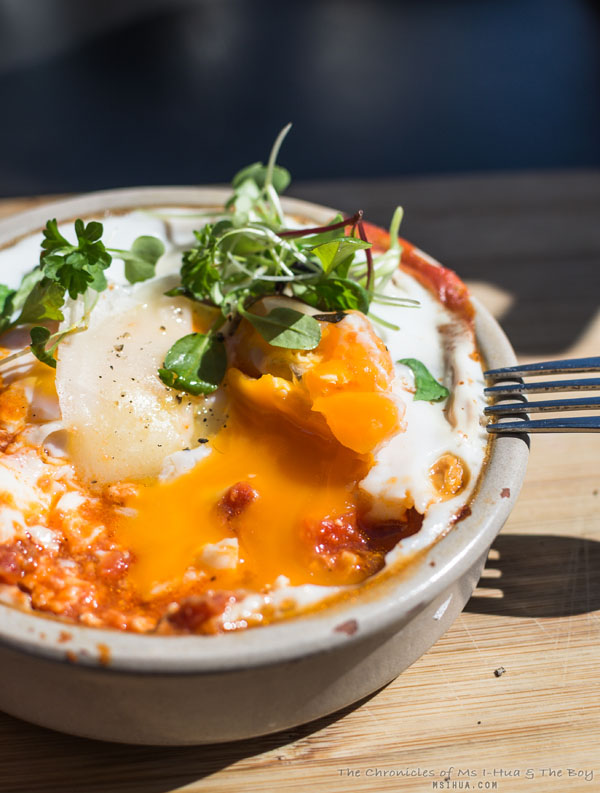 _____________________________________________________________________________________________________________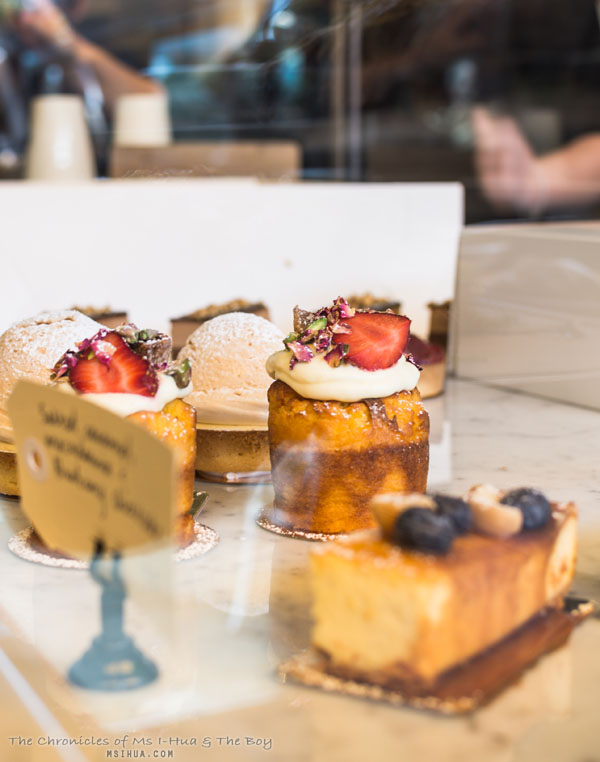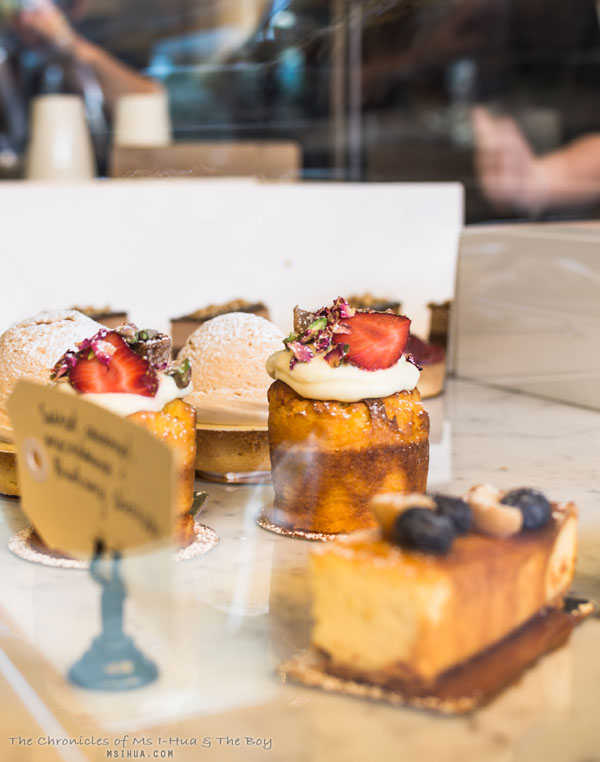 As my Breakfast Brioche was quite light, I couldn't help but want something else to fill the lounging in my stomach. Off I went back into the pâtisserie to see what sweet treats we could sink our teeth into.
The one thing I really wanted to try was the Snickers Tart but it was sold out. I also noted on the display case a beautiful thin cremeux looking pastry that was for a special order, which made the wheels in my head go all wheelie and tinkery in the efforts of planning a birthday surprise for someone soon.
For our after-breakfast treat, I settled instead for the Salted Caramel, Macadamia and Blueberry Cheesecake ($8.00) instead.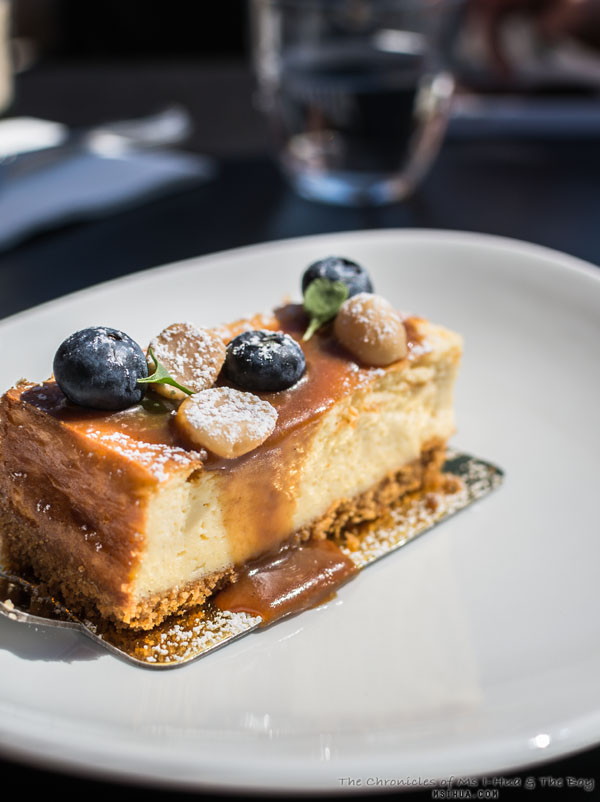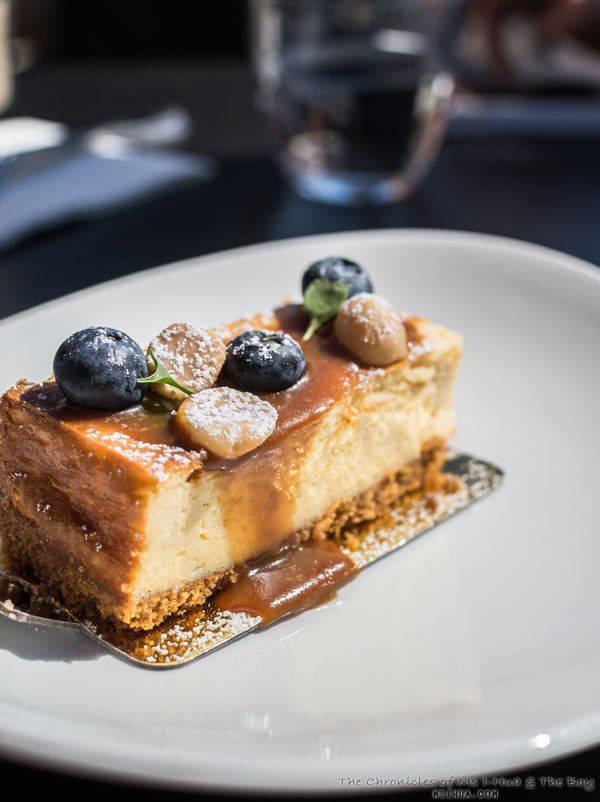 Would you look at that!
The cheesecake was super light and fluffy and the salted caramel was just perfect. I just wanted to rub my face all over it. Luckily for decorum, which I have some. Also The Boy was giving me warning signals to not act inappropriately to the sexy slice of cheesecake in front of me.
All in all, we enjoyed Millstone Pâtisserie and would love to come back super early to try their other cakes and bakes and super late for their lunchtime brioche options.
*Disclaimer: All food ratings & review are purely based on my own experiences and how I feel about the service, food and quality at the time of visit
Food/ Cuisine: Breakfast/Cakes
Dining Style: Patisserie/Cafe
Opening Hours:
Tuesday – Friday: 7:00am – 4:00pm
Saturday and Sunday: 8:00am – 4:00pm
Address:
10a Claremont Avenue
Malvern VIC 3144
Tel: (03) 9509 0789
Website: http://millstonepatisserie.com.au
Facebook: Millstone
Twitter: @millstonemelb
How to get there: