What's the one most annoying, crazy yet hilarious thing about dining in Melbourne right now? Yes, we've turned into a proper metropolitan city where people will wait over an hour standing in an orderly queue for food.
Walk around the city lane-ways and you'll see scores of people lining up. Curious onlookers and passers-by may tip-toe when they reach the front of each line, wondering if it could be a celebrity book-signing or photo opportunity they could jump in for. They are usually disappointed to find out that it's only the entrance to an obscure restaurant.
You may be forgiven if you got confused and for a second thought you were in New York City, Singapore or Hong Kong. Melbourne is fast becoming another location as a, dare I say it, food mecca.
One of the latest must-haves, shoot-me-now, I have to endure all weather, kind of food queues is to the recently opened Hakata Gensuke part of the Ikkousha ramen restaurants famous in Fukuoka.
With over 30 ramen shops around Asia (Japan, Singapore, China Hong Kong and Taiwan), it is now available in Melbourne!
Founded by Hajime Irisawa and Kousuke Yoshimura in Fukuoka, the name Gensuke is formed by using both parts of their names. Master Chef Kousuke invented the secret recipe of the Tonkotsu when he founded and opened his first restaurant in 2004.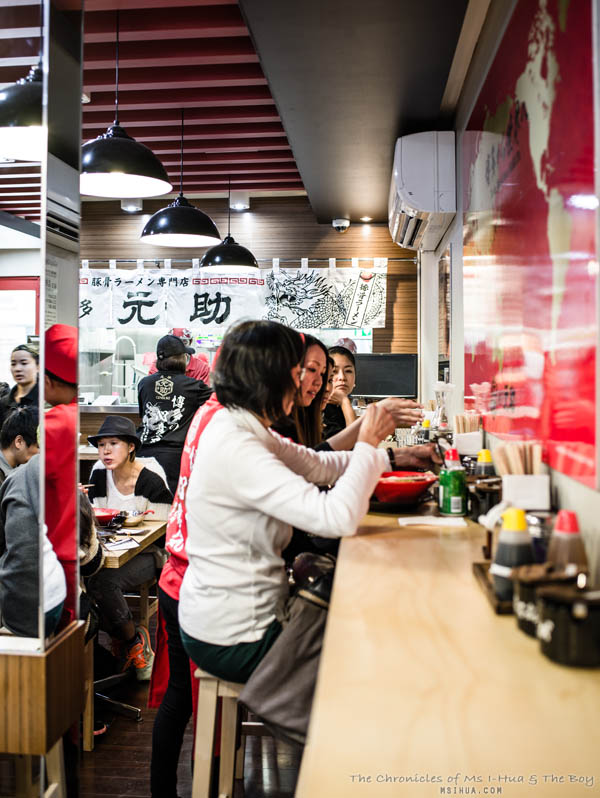 We've been there twice now. Our first queue wait-time was 40 minutes on a Saturday. We started at around 2pm and scored seats close to 3pm (the restaurant officially closes at 3pm for a 2 hour grace period before opening up again at 5pm). The second time, our wait-time on a Thursday evening was about 18 minutes (I started lining up at 6.07pm).
I know you're curious to find out. Was it worth the wait?
The unfortunate answer is yes. Why is this unfortunate? Because now you are motivated to also stand in queue for a long time to try this bowl of amazing ramen for yourselves.
I'll do my best to convince you (although, I really don't want to, as I want the queues to be much shorter) in a catch 22 sort of fashion.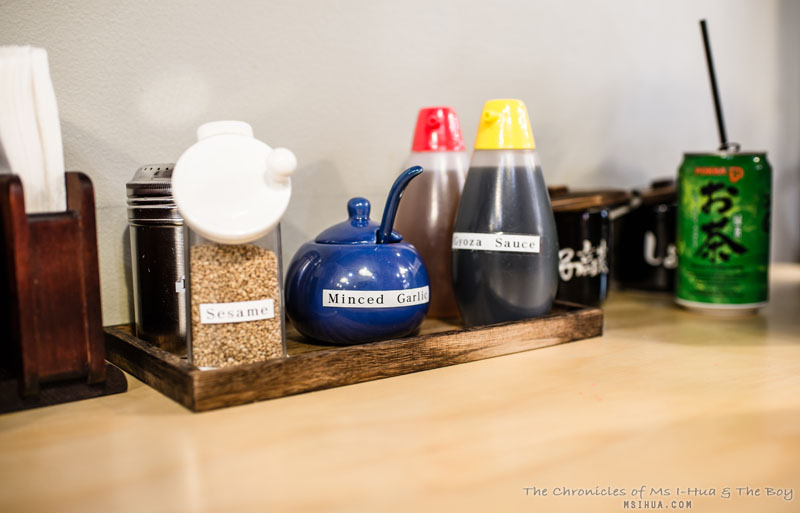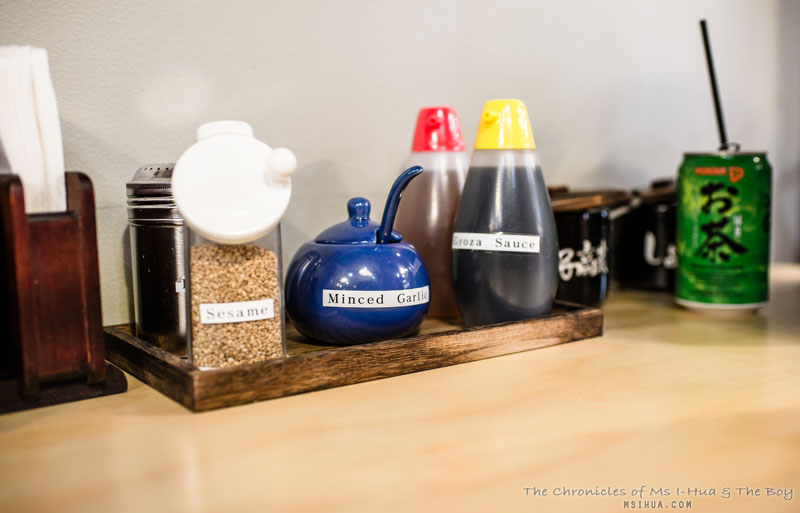 The one thing I do have to say about dining here at Hakata Gensuke is the absorbitant amount which they charge for their bowls of Ramen. The general price starts at $13 without the usual trimmings, and every additional item, ranges from $2.50 – $5). A bowl of ramen here comes adorned with only one miserable slice of pork cha-shu. In every other ramen shop I've been to in Melbourne (and Sydney), I'm used to my bowl coming in with the works, that is, with the seaweed, 2-3 slices of pork, fish cake, vegetables, etc.
At Hakata, the bowl of ramen comes only with the basics of noodles, one slice of pork, slices of black fungus and spring onions (optional).
Despite this major flaw and set-back, both The Boy and I are so in love with their ramen stock broth that we are able to overlook this and come back for more.
The first time we were there, we ordered a side of Chicken Karaage (3 pieces) $5.00 to share. Juicy succulent pieces of chicken arrived and as we bit into it, we both exclaimed, "hot, hot, hot!". It was fresh out of the fryer. Happy days.
The second time we visited, we ordered the Hakata Gyozas ($5.00 for 5 pieces; or $9.00 for 10 pieces). I was taken aback when they arrived, as the gyozas were not the normal western sized dumplings. Instead, they were more hobbit-like in nature. Delicious though!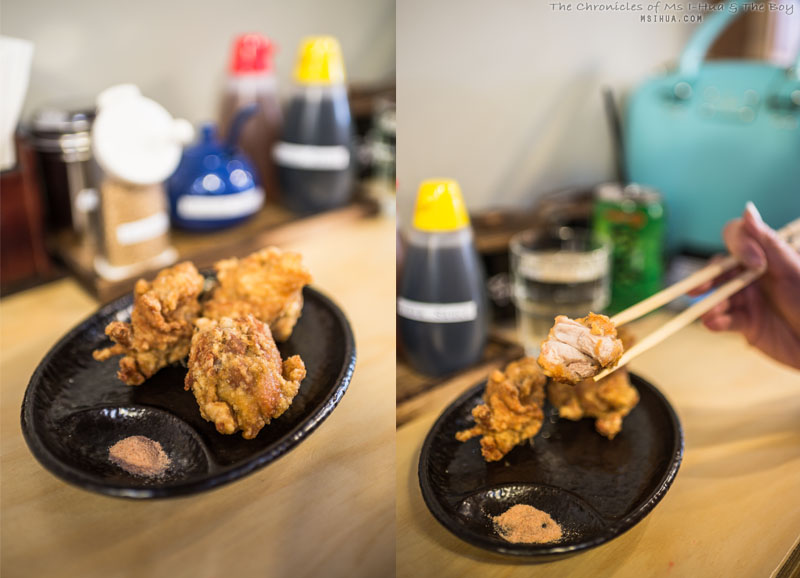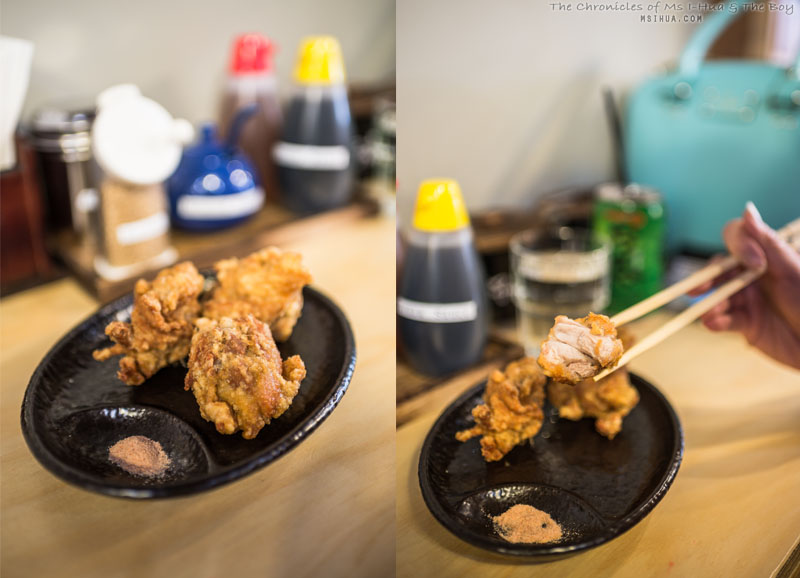 On to the Ramens. The Boy ordered the Signature Tonkotsu $13.00 with an additional egg $2 and died and went to heaven.
The menu describes this as the original pork bone broth which is perfectly full-bodied and collagen-rich.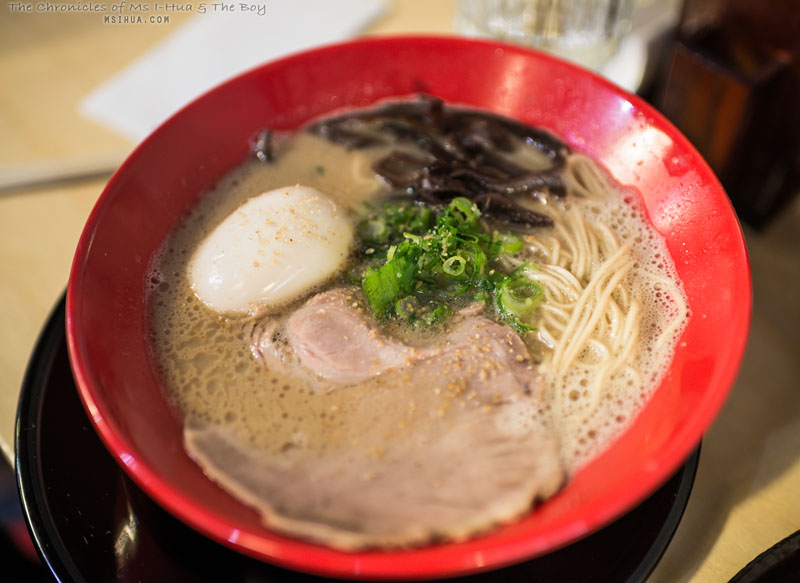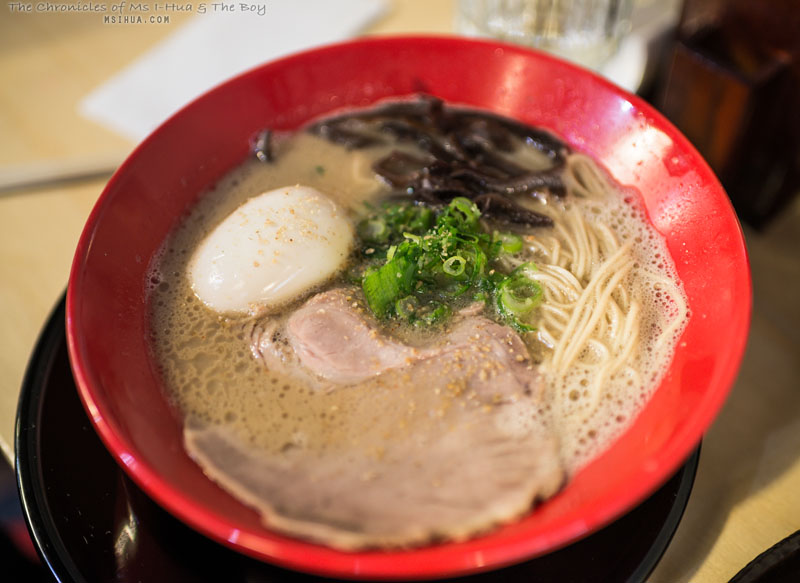 _____________________________________________________________________________________________________________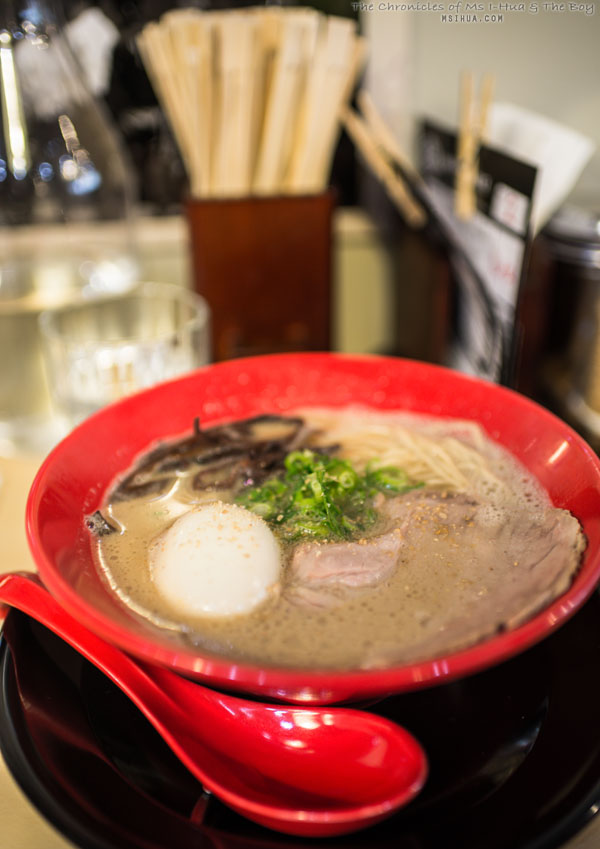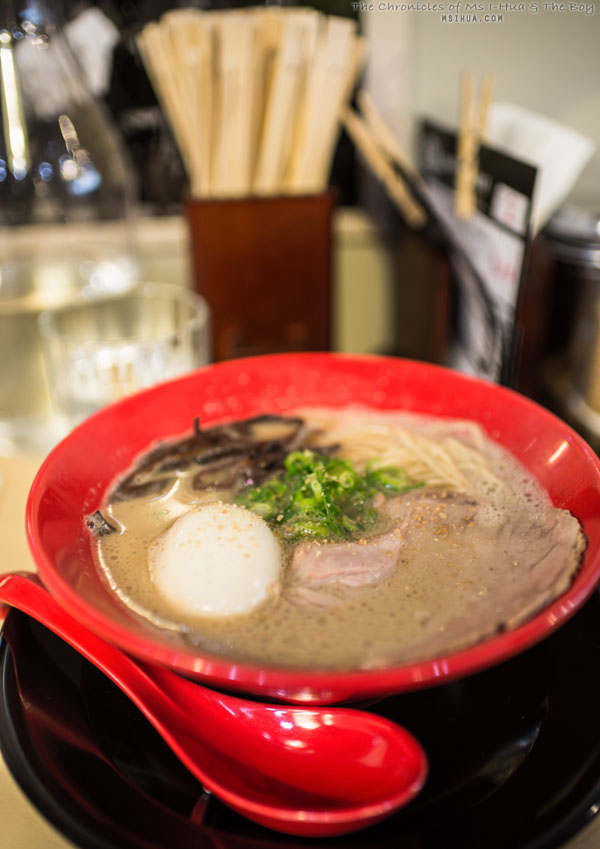 Having read up on some blogs and Urbanspoon reviews, I knew that I wanted the Black Tonkotsu (black sesame & roasted garlic paste) $14.00 as it sounded delicious and it was different to the normal tonkotsus which I am used to.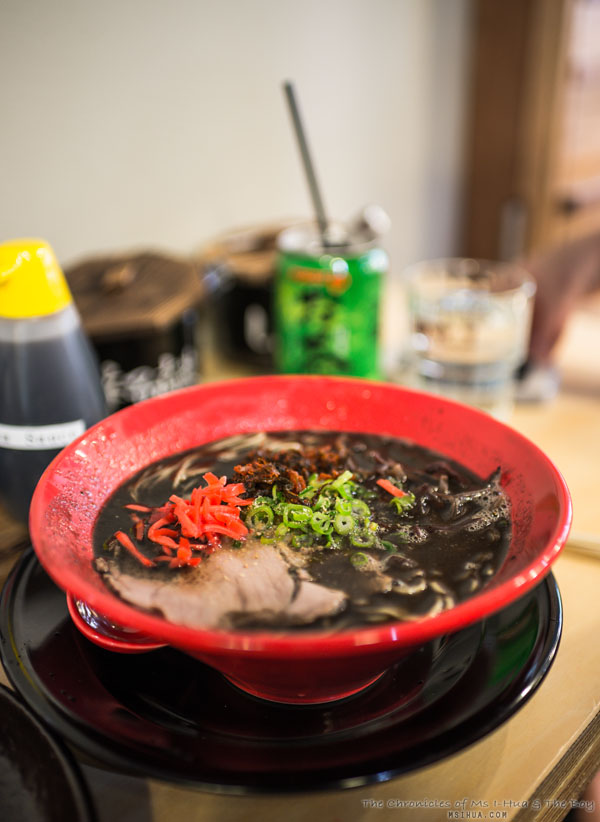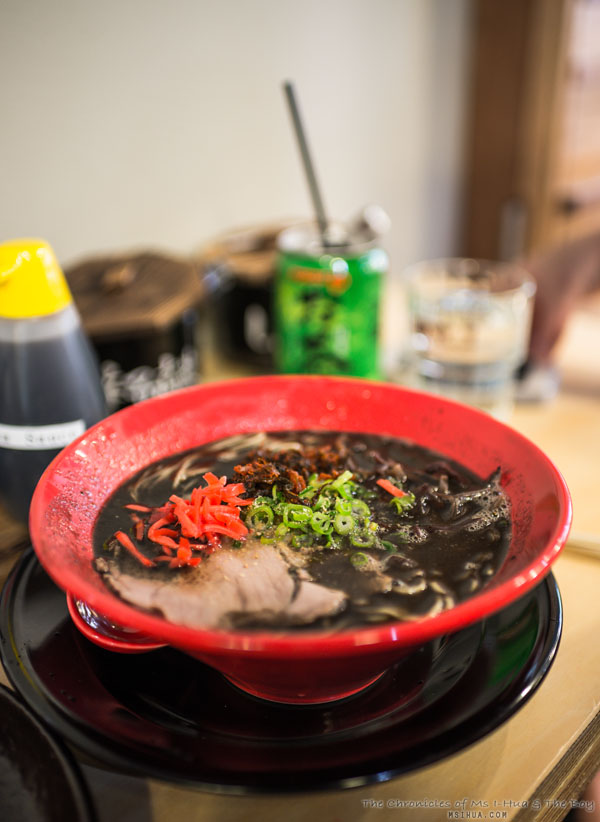 _____________________________________________________________________________________________________________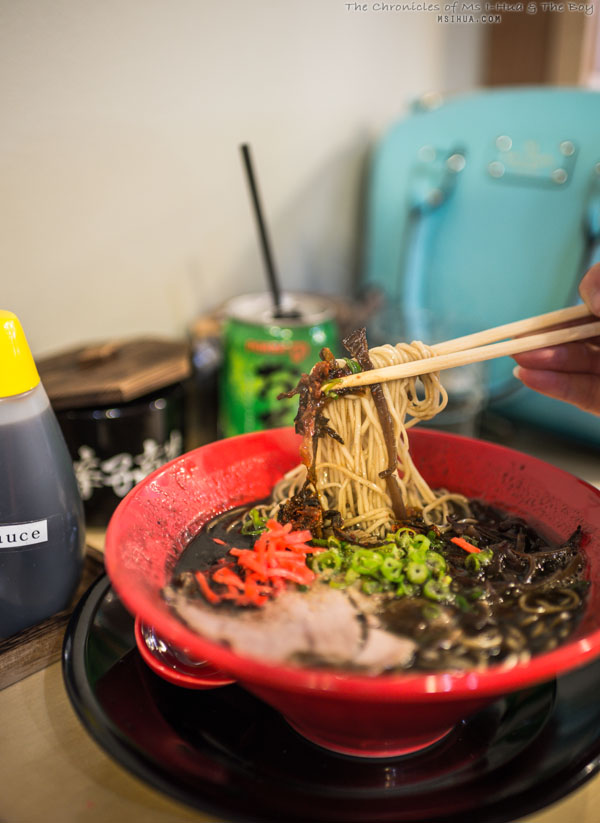 Holy sweet heavenly Ramen Gods. The ramen here is definitely the bomb dot com.
You can choose the texture of the noodles here as well, and we went with the normal option to ascertain the quality of the noodles. Best ramen noodles we have ever had here. Springy, al dente, soft and light is what it was a combination of.
The tonkotsu broth is on another level of delicious. I particularly liked the Black Tonkotsu as there was the added complexity of black sesame and garlic in the broth that brought the dish to a new smoky level.
On our second visit, The Boy ordered the Shio $13.00 (which he regretted, as the broth is weak. Shio (salt) is usually light and clear and isn't boiled as long as the tonkotsu. So, if you're after something light and not "sticky", this is for you) and I had the God Fire (spicy level 2).
OMG! The God Fire $14.00 broth is all-kinds of explosion in your mouth. I am usually quite abled with spicy foods. I eat birds eye chilli for fun. But that rich tonkotsu broth was laced with extra gunpowder I reckon. Or it could have been the generous amount of serve of the side spicy pickled vegetables I added to the broth. I swear I made it into a level 4 broth. My ear drums were blown and I was crying from tears of joy at this bowl. Eat it (the spicy pickled veggie) with caution.
Why is the broth so damn good? According to the media release we received when it opened, the Gensuke tonkotsu is prepared using "yobimodoshi" (master stock) method to ensure a flavourful soup is available. With 7 stock cookers churning out hundreds of liters a day!
The noodles are also made in-house in a temperature, climate and humidity control room.
There you have it, we covered off all 4 options of ramen in our two visits here. The menu is really that simple.
As you stand outside and contemplate on life and the reasons of your existence on planet Earth, the wonderful wait staff will hand out the menu to you and an order sheet to tick off on the check boxes your wish-list. As you sit down inside, you hand this over and your order is delivered shortly after. The service is pretty fast and good once you get into the restaurant.
The place is also slightly bigger than expected (in that it fits families with children) but may be a bit squishy if you had a giant pram.
*Disclaimer: All food ratings & review are purely based on my own experiences and how I feel about the service, food and quality at the time of visit
Food/ Cuisine: Japanese (Noodles)
Dining Style: Casual Dining
Opening Hours:
Lunch: 12:00pm – 3:00pm
Dinner: 5:00pm – 9:00pm
Address:
168 Russell Street
Melbourne VIC 3000
Tel: (03) 9663 6342
Website: http://www.gensuke.com.au/
Twitter: @hakatagensuke
How to get there: