One of our favourite cuisines to indulge in every now and again is Italian. It's just such a comforting cuisine and it's so close to Chinese food with its pasta and risotto dishes that it makes me feel like we're in safe territory.
We recently discovered a hidden trattoria tucked away on a side street in Prahran. To be honest, we were a bit sceptical at first, as there are so many Italian places that just don't hit the mark, but with La Svolta, it certainly ticked the boxes for us.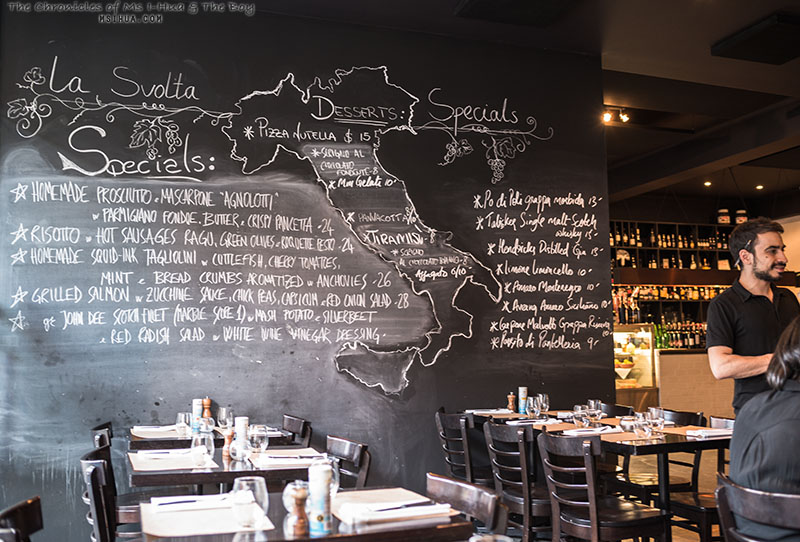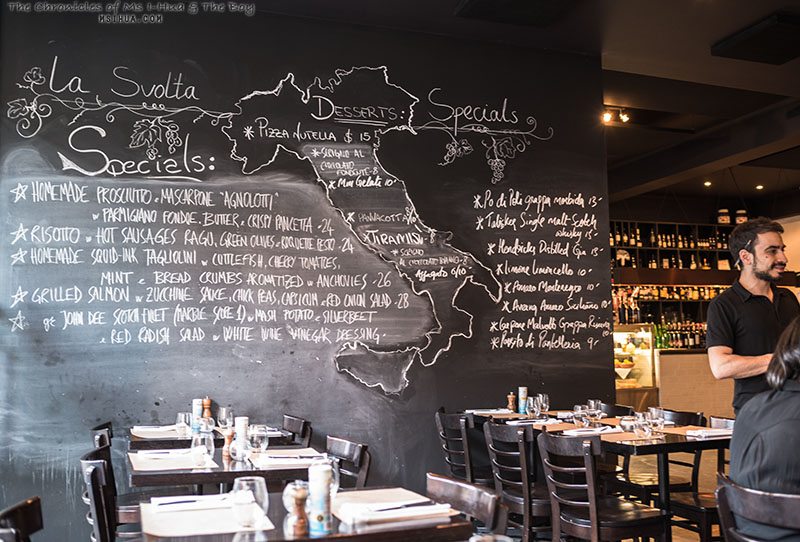 As we got there, we were amused to note that there was a huge group of OTT dressed women out early for a Hen's do. It was quite fun to watch them banter and have fun in an otherwise quiet restaurant. However, as the night went by and the evening progressed, more diners came through the doors for a bite to eat.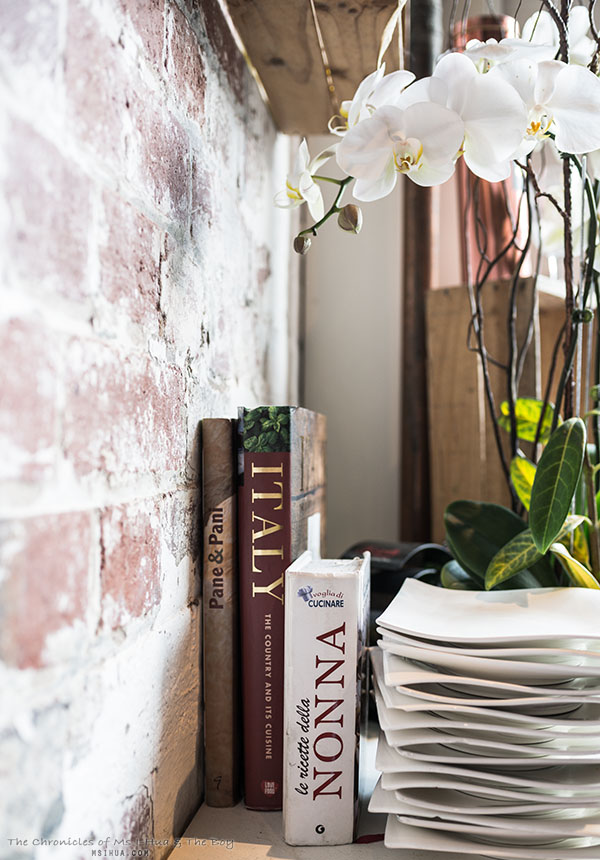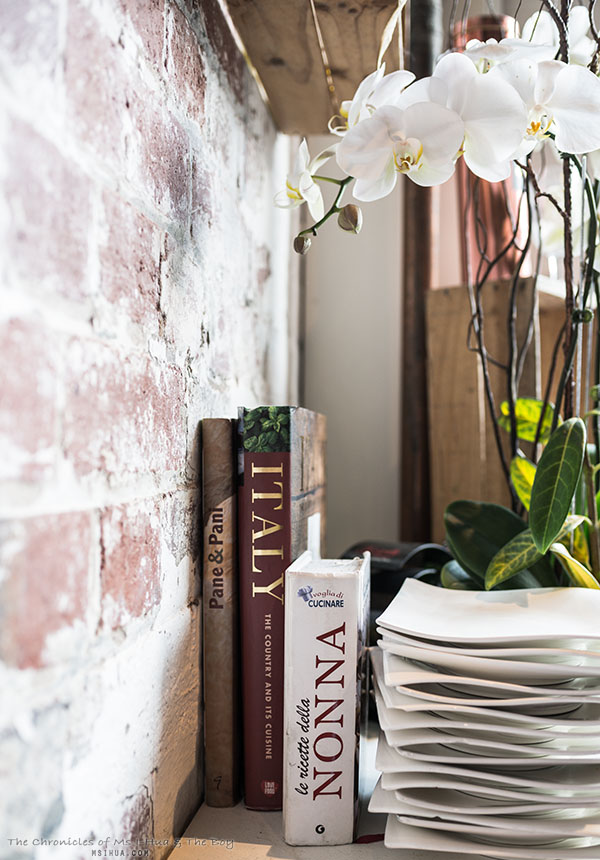 The service was hilarious. The front of house manager was both funny, and engaging. At first we thought that he was only acting that way with us, but it wasn't long before we noted that he was naturally a gifted speaker and entertainer to all guests dining in the restaurant. We loved it!
As he explained the menu to us, his eyes got a bit misty as he described the risotto dish, as it's from an area where he grew up in northern Italy and he spoke about how true that dish was to him and it reminded him of home.
Just like the scene from Ratatouille, where the food critique tastes his food and is sent back into time of his childhood, I could tell that the manager had the same experience when he tried this dish. So of course, I had to order it! I wanted a free trip to Italy 🙂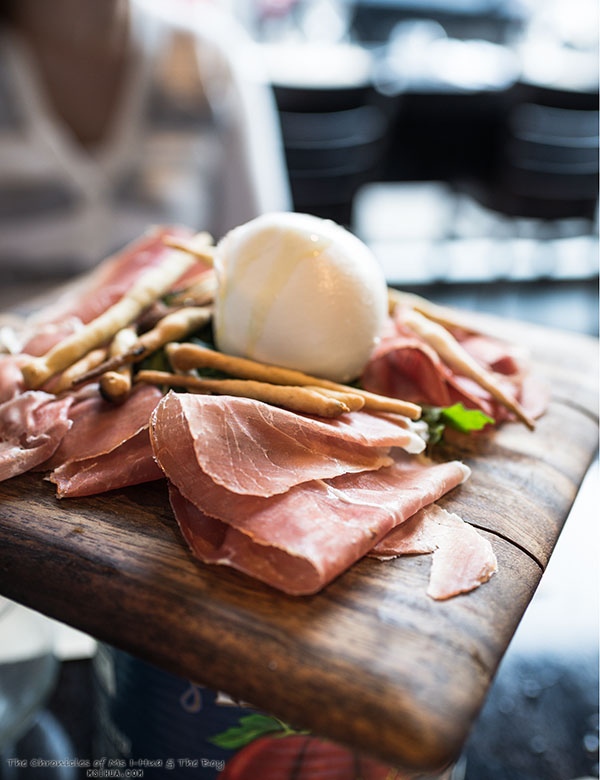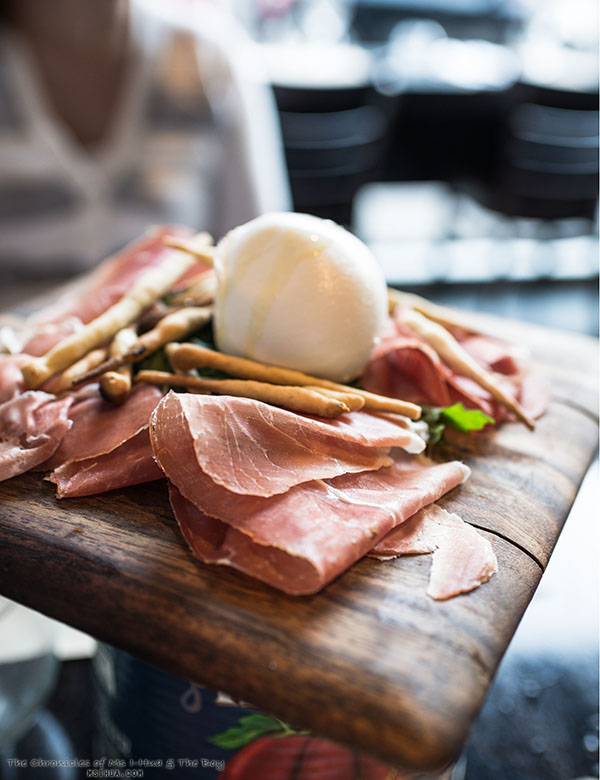 To start us off on our meal, we asked to try the di Parma e Grissini mozzarella di Bufala with prosciutto di Parma & grissini $18.50. It was a generous portion of prosciutto and giant serve of mozzarella for two of us. I utterly love fresh buffalo mozzarella and happily dived into it. Mine, all mine! I allowed The Boy a tiny portion to taste, but the rest was all mine!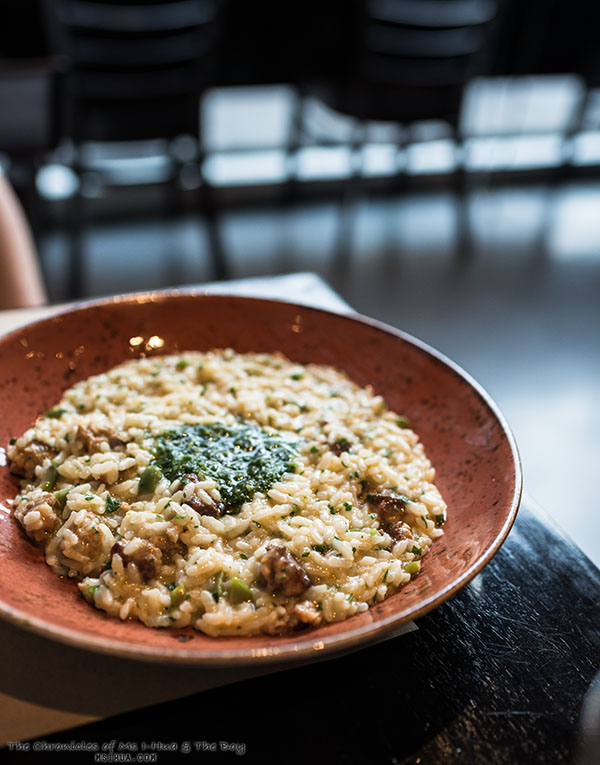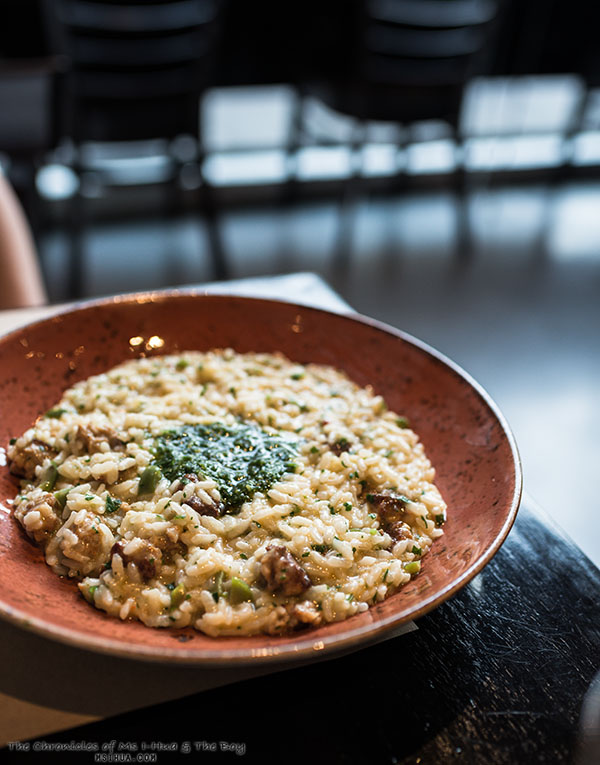 The piatto del giorno, or the dish of the day for us was definitely the Risotto with Hot Sausages Ragu, Green Olives, Roquette Pesto $24.00, which the manager had recommended to us.
Having never been to Italy, I still felt as if I was in a foreign land enjoying some lucky person's Nonna's home cooking with this risotto. It wasn't as refined as the ones served at other higher end establishments, but it was rustic. It was honest. It was bloody delicious.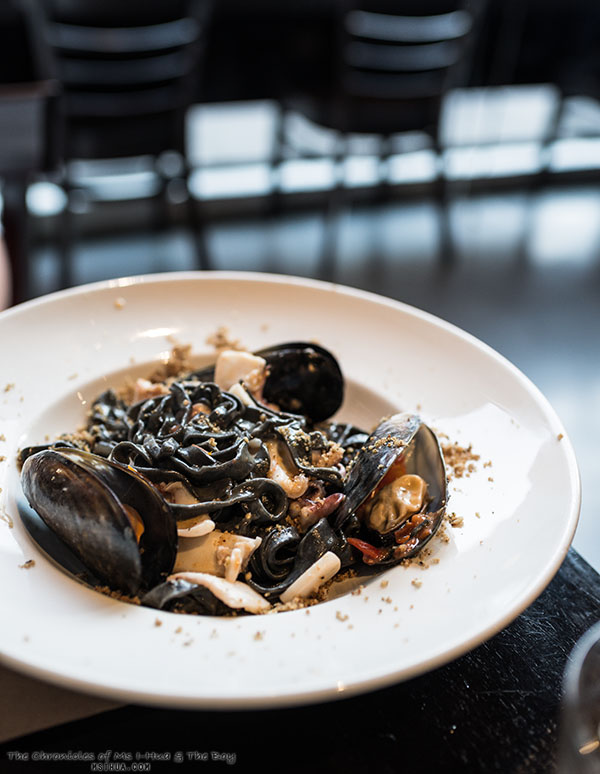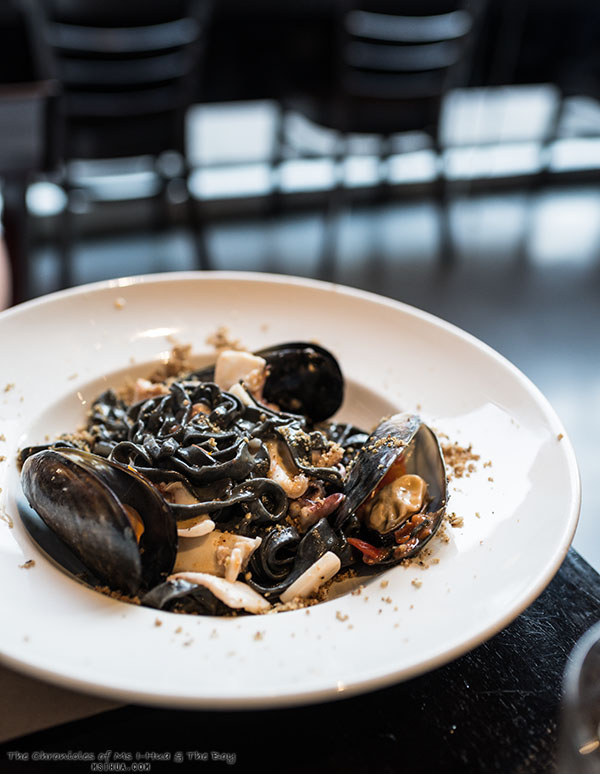 The other dish which we ordered to try was the Homemade Squid Ink Tagliolini with Cuttlefish, Cherry Tomatoes, Mint & Breadcrumbs Aromatized with Anchovies $26.00 which was also very tasty and delicious. When The Boy wasn't looking, I may or may not have accidentally eaten an extra mussel.
The portions were very generous in their serving and perhaps if I didn't over indulged in the buffalo mozzarella (or had decided to share a little bit more), I would have been able to finish my risotto. Karma is a bitch.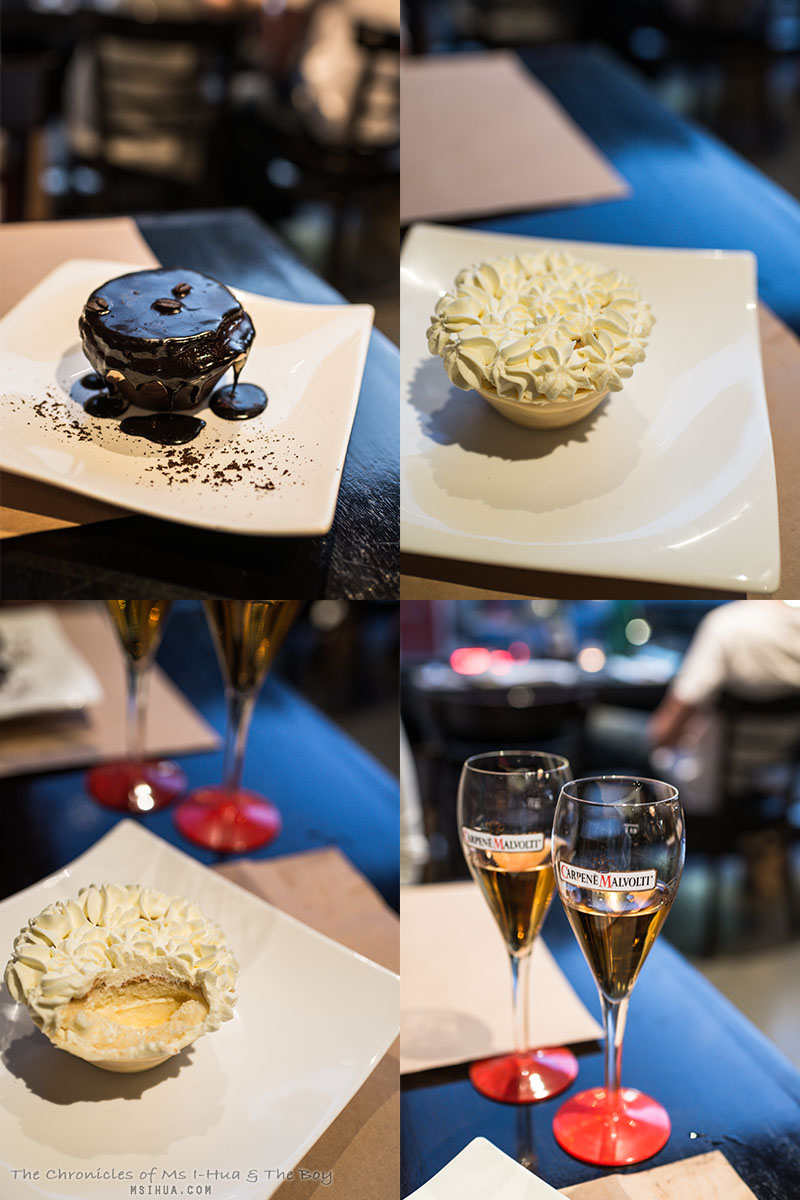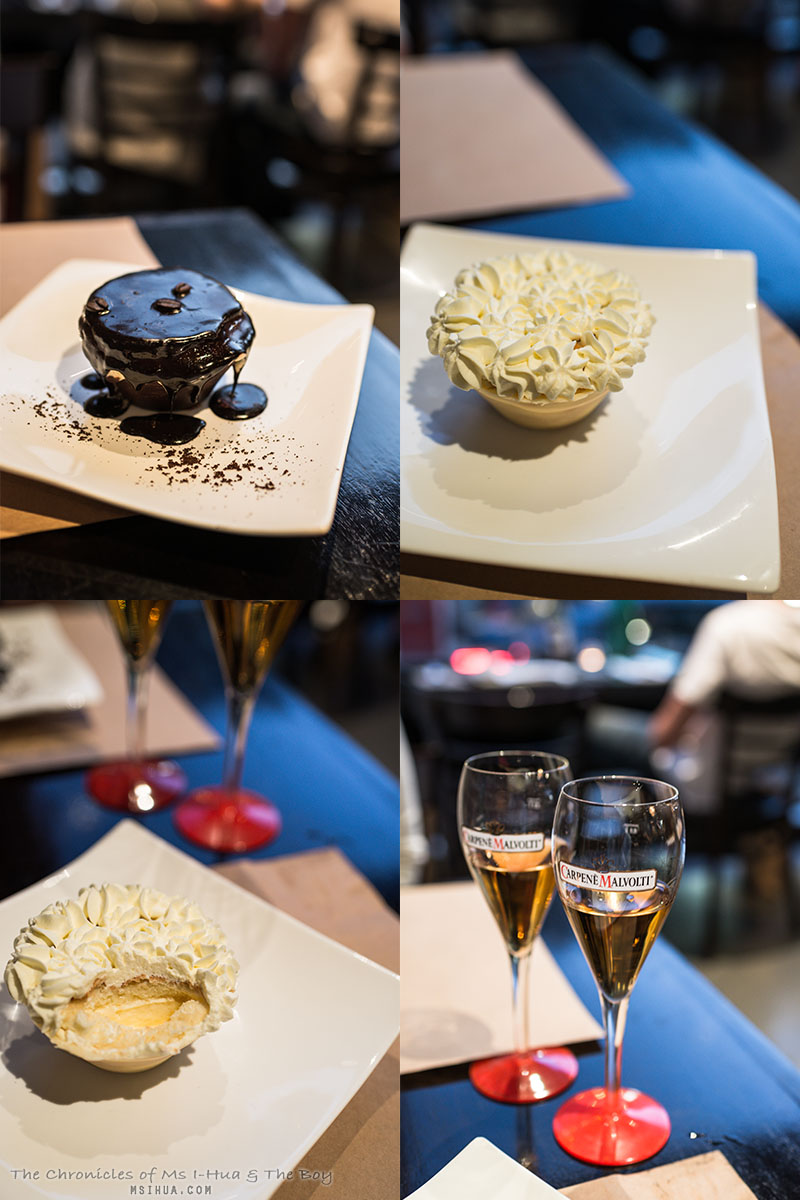 For dessert, because one cannot leave an Italian establishment without sampling some desserts, we decided to go halves on two small desserts.
The Scrigno al Cioccolato Fondente ($8.00) a twist to the usual Tiramisu, and the Scrigno al Cioccolato Bianco ($8.00) a twist to the traditional lemon tart.
The winning dessert for us was the Lemon Tart, as it was light, airy and full of zing. The Tiramisu, though creative, failed to hit the mark with us due to the strange chocolate coating covering it. The texture just didn't work right and was the only dish that didn't hit the mark for us that night. Pretty good!
We finished off with a beautiful sticky wine. They are fully licensed and have a pretty good wine list, with particular focus on wines from Italy (of course).
The next time we visit, we're definitely going to have a few pizzas from the giant pizza oven in the kitchen!
[Ms I-Hua & The Boy dined as guests of La Svolta]
*Disclaimer: All food ratings & review are purely based on my own experiences and how I feel about the service, food and quality at the time of visit
Food/ Cuisine: Italian
Dining Style: Restaurant
Opening Hours:
Lunch: Functions Only
Dinner: Tuesdays to Sundays
Address:
3-5 Cecil Place
Prahran VIC 3181
Tel: (03) 9510 3001
Website: http://www.lasvolta.com.au/
How to get there: