Mexico City! We never would have thought we would have travelled in to this city for a whirlwind trip. But, never say never!
It's still quite unbelievable when we get asked by our friends, family and colleagues about our trip to Mexico.
The usual flow of conversation goes as thus:
People: How was Mexico? How amazing was it? How did you manage to win that again?
Us: ZOMG! It's still so hard to sink in.
People also want to know if everything portrayed in the media is accurate. Are there attacks and random crime happening every second of the day? We cannot attest about the crime rate in general, however, we (and everyone in our group) felt really safe whilst we were in Mexico City. It's just like every metropolitan city in the world. I'm sure there are things that happen that ends up in the news, but for the most part, it's a relatively safe business centric area. Just stay safe and be street smart. That's how we always travel!
Here is Part 1 of our recap from our amazing win and journey to the heart of Central America, Mexico City. If you are keen to visit this city, here is a handy guide (we were brought around by the Mexico Tourism Board during our entire stay).
Where to Stay
If ever you have the opportunity to visit Mexico City, do stay in the heart of Polanco. It's the equivalent of Beverly Hills in Mexico City. So it is super safe (as safe as can be). Be enthralled by the mansions and the high end shops available here (similar to 5th Avenue).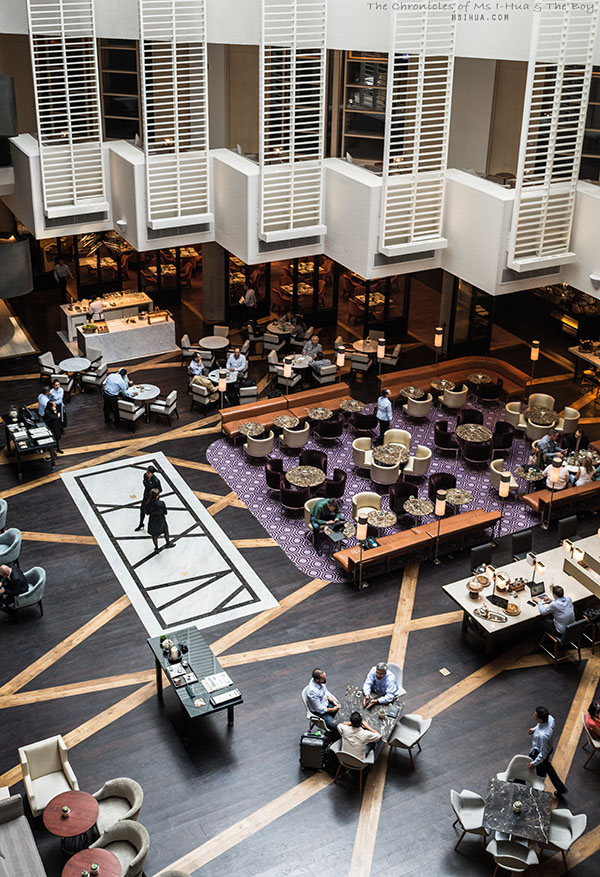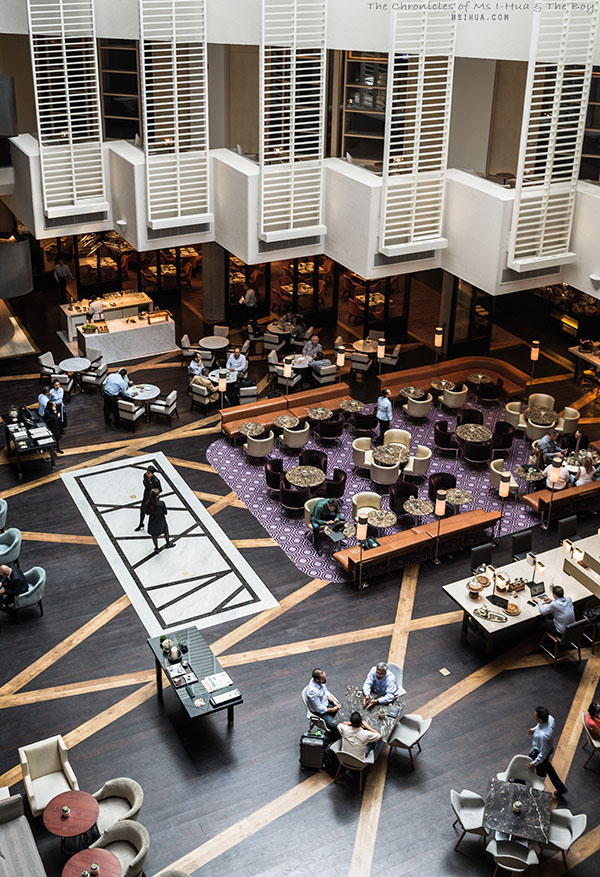 Boasting many high-end hotels, we stayed in one of the best, Hyatt Regency Mexico.
Now, you know that both The Boy and I are big fans of the Hyatt chain and this was no different. I love the smell of Hyatt hotels as I walk in. Don't believe me? There is a whole article about hotels and scents in their respective lobbies!
The rooms were spacious, facilities great, and they make the best crispy bacon for breakfast. Trust me. We have been to a fair few hotels.
Hyatt Regency Mexico City
Campos Eliseos No. 204 Polanco Chapultepec
Mexico City,  Mexico, 11560
Tel: +(52 55) 5083 1234
Website: http://mexicocity.regency.hyatt.com/en/hotel/home.html
What to Eat
Dulce Patria (Number 49 on the Latin America's 50 Best Restaurant)
Out of the 50 Best Restaurants in Latin America, Mexico boasts 10 of those, with 8 of them located in Mexico City!
On our very first night (after 20+ hours in flight time and transit), we were taken to Dulce Patria for our first introduction to contemporary Mexican cuisine.
With a critically acclaimed chef, Martha Ortiz, the restaurant is located in the hub of Polanco and it was pumping the night we went. It felt as if we had walked into a trendy bar, albeit with fine dining cuisine served. It was loud, vibrant and very very colourful. As our introduction into Mexican cuisine, we were ecstatic!
This was also the first place The Boy and I got a taste of Chiles en nogada and fell in love immediately with the dish.
Come here for a great party atmosphere and don't forget to have desserts! They are out of this town!
To read more about the chef and the restaurant, click here.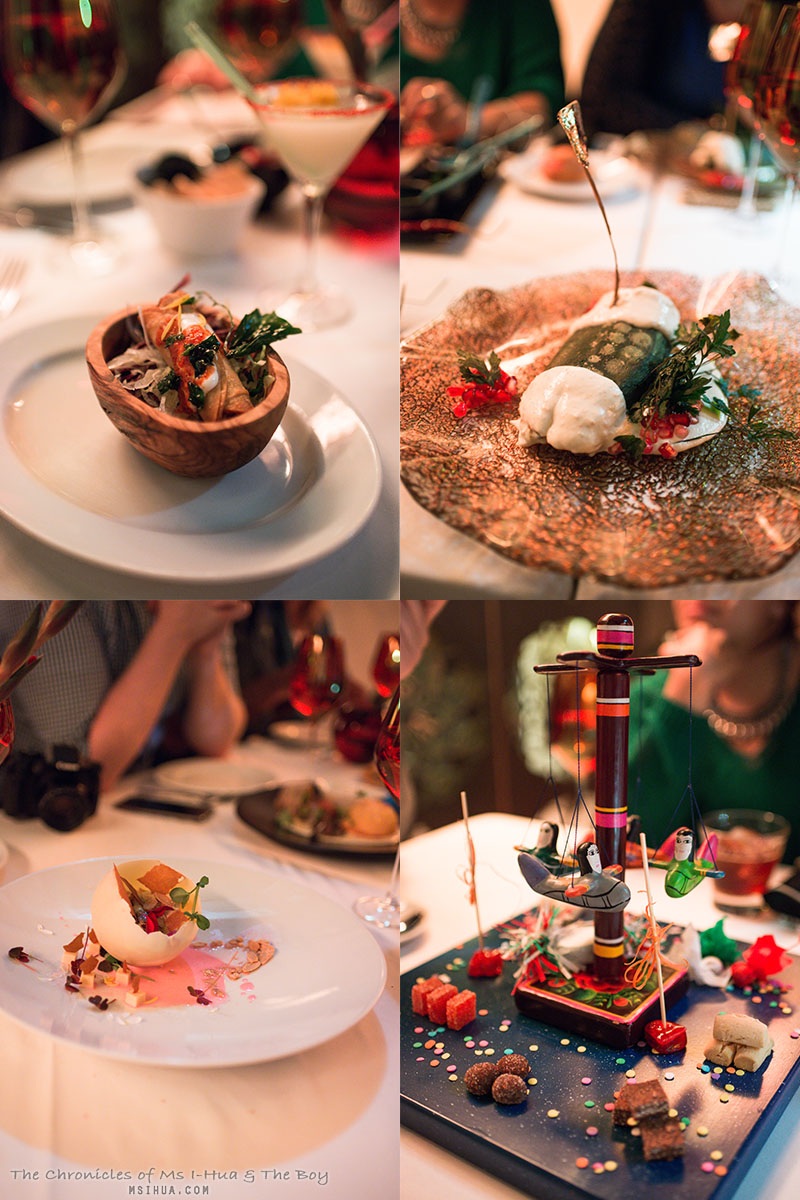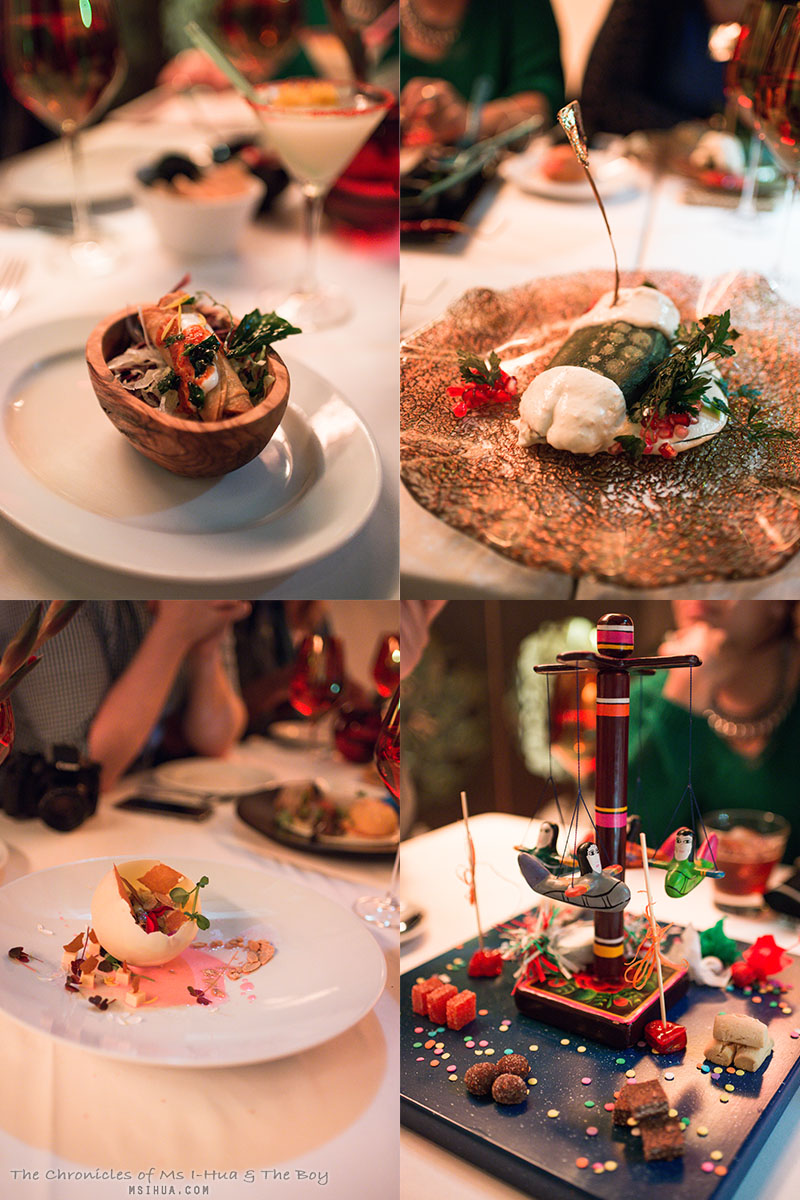 Mercado Roma
The Mercado Roma is basically a gourmet food market located in Roma where hipsters go to eat and shop 😛
We learnt something when we were in Mexico, no one is ever on time! The traffic is a little bit crazy (try 1 hour for a 15 minute journey), and thus everyone is always running late to appointments. That includes meal times. Where normally, it would be quite busy around noon at any given food court or restaurant, it's a pretty good time if you happen to be a hungry tourist. Lunch time is usually between the hours of 2pm – 4pm.
The market has a collection of famous shops, which makes it extremely convenient if you're short on time and needing to get a quick Mexican food fix. This blog has a good list of the shops that are located in Mercado Roma. It's also been covered by the New York Times!
I was enthused to find that they had a Churros stall, El Churro Moro, selling a Churros Ice-Cream Sandwich! Of course I had to have a go. It was delicious and everything you thought it would be! We also tried a couple of tostadas and pozole from Platos de Cuchara.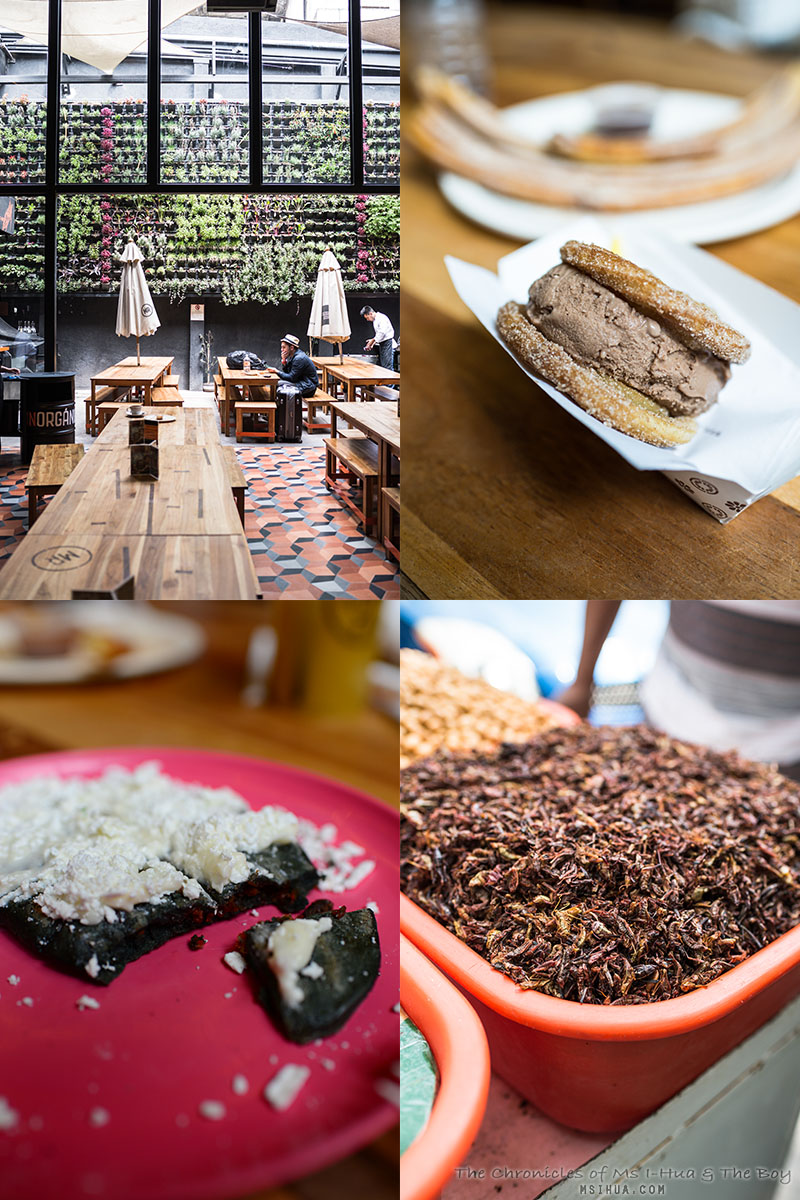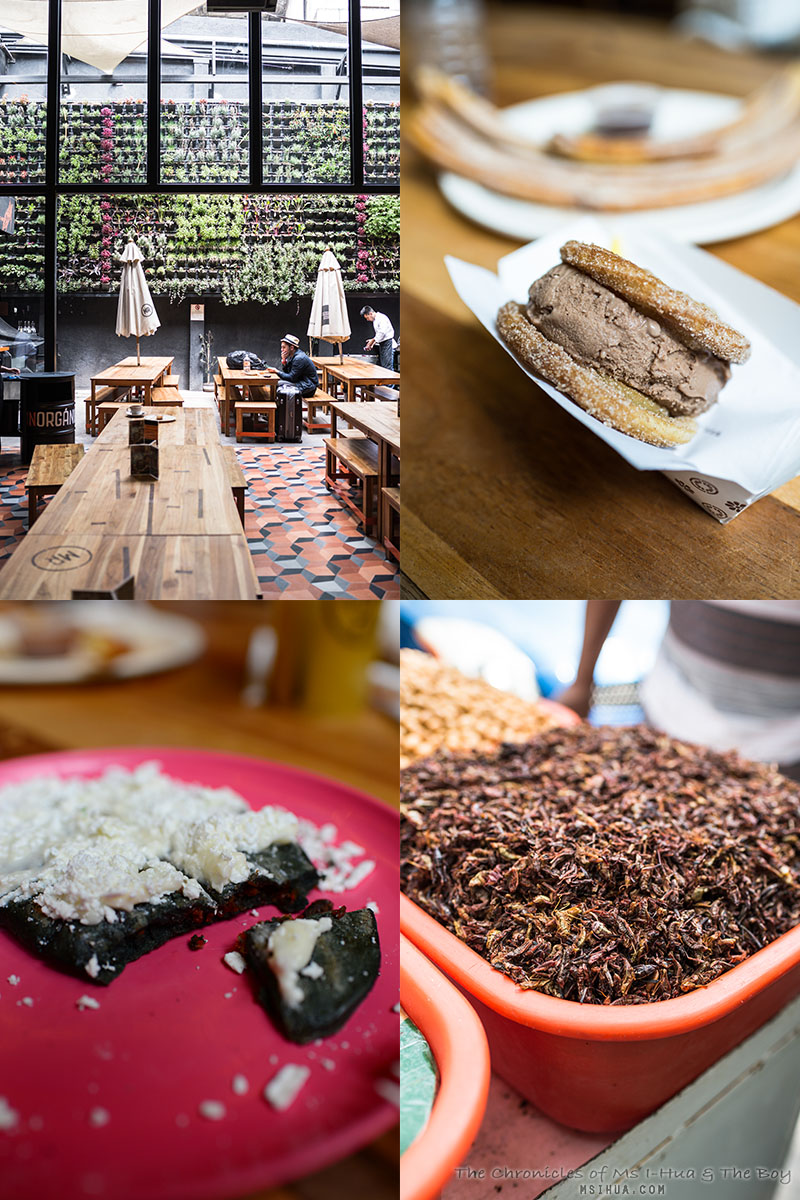 Azul Histórico
We went to Azul Histórico on our third day in Mexico City. That very same night, we also attended the 50 Best Latin America Awards, but first we had to fill our tummies (dinner wouldn't be had until 9pm, Mexico time!).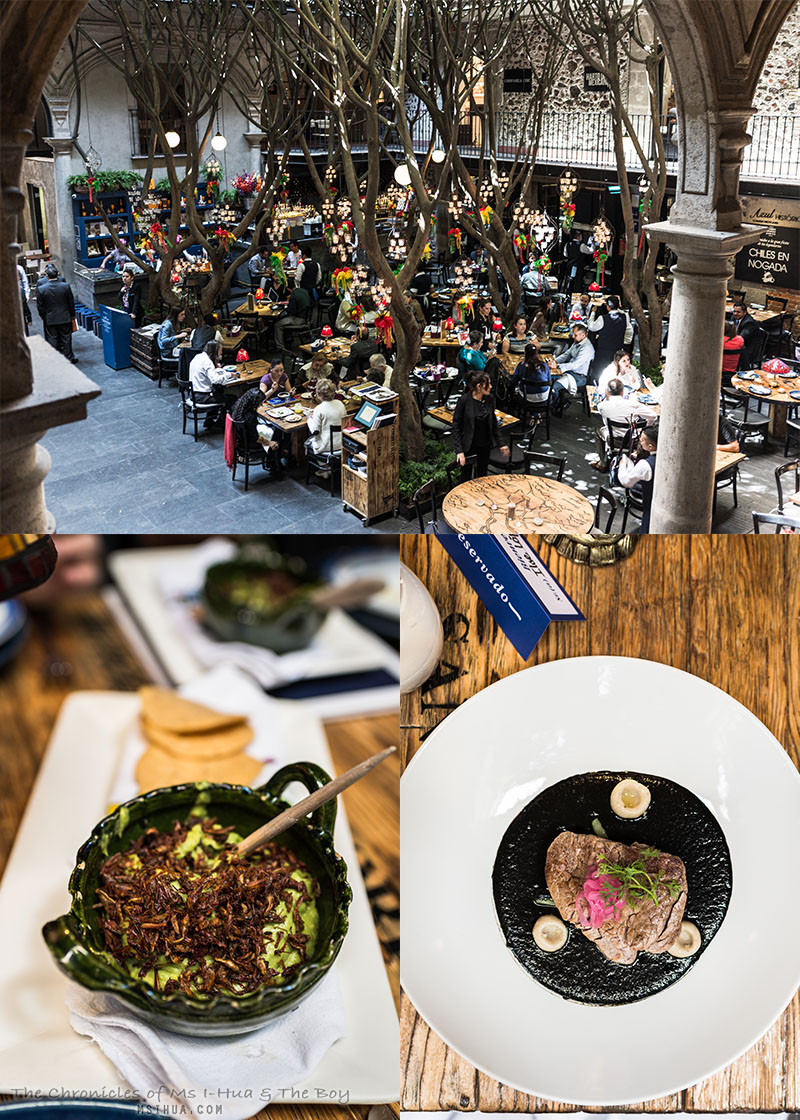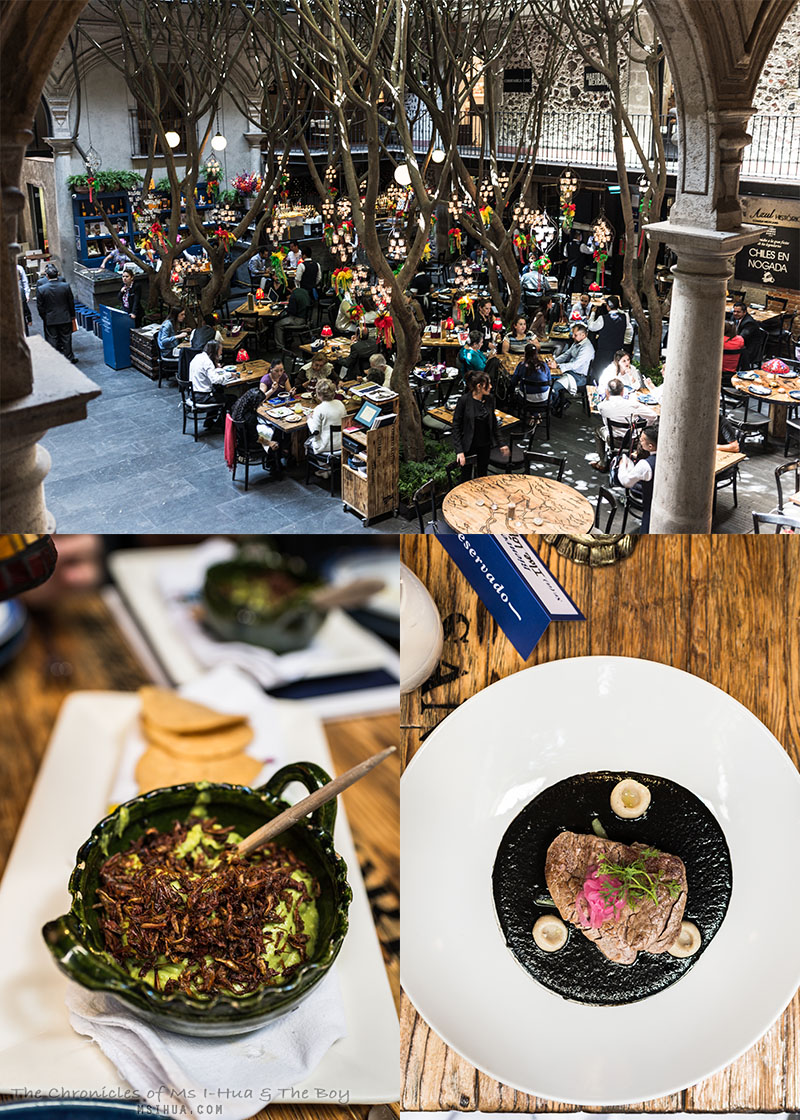 At Azul Historico. we sampled our very first true Mexican delicacy.
Fried Grasshoppers! Served with a generous portion of guacamole, the little critters tasted quite good. Almost like crunchy anchovies (or ikan bilis) or school prawns. The Boy and I really loved this and topped up our tortilla breads with this delicious filling.
This was also the first place we tasted real dark mole sauce. It wasn't quite as we expected, and proved great in expanding our culinary palates.
Que Bo!
We had an interesting chocolate tasting session at Que Bo! Why was it so interesting? I think the world's perception of ancient Mayan chocolate and the reality of what that is, to the flavours and texture of the chocolate we all have come to know and love are vastly different.
It can pretty much be summarised as before the Spanish invasion, and after the Spanish invasion!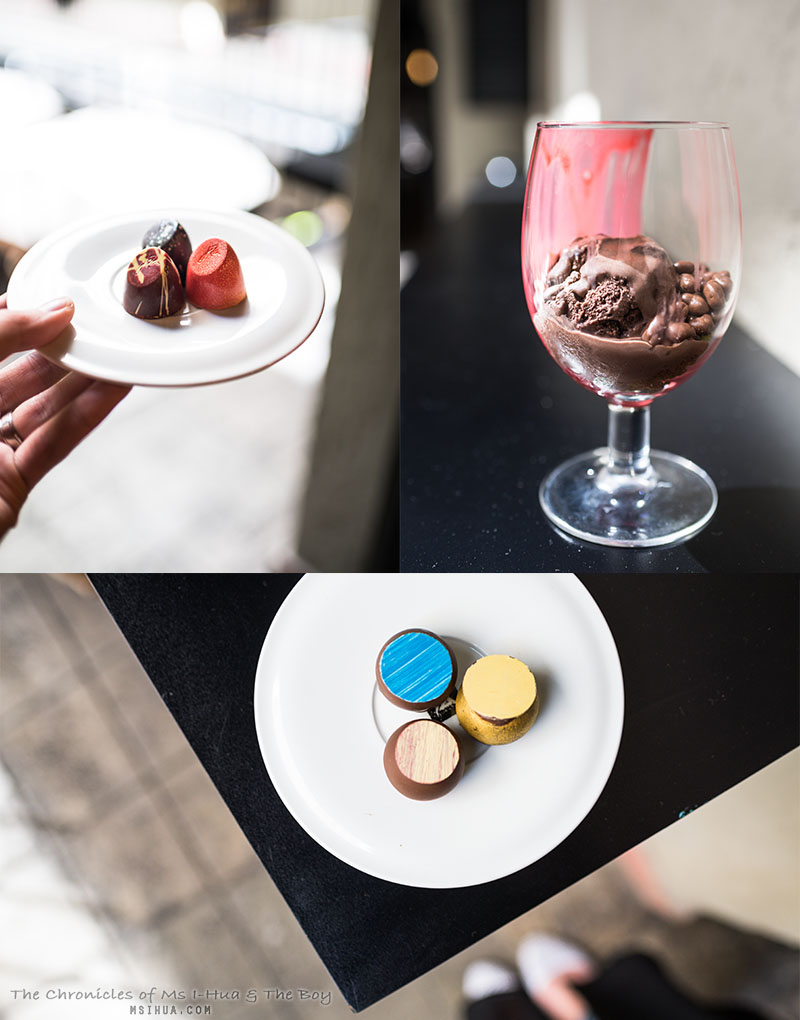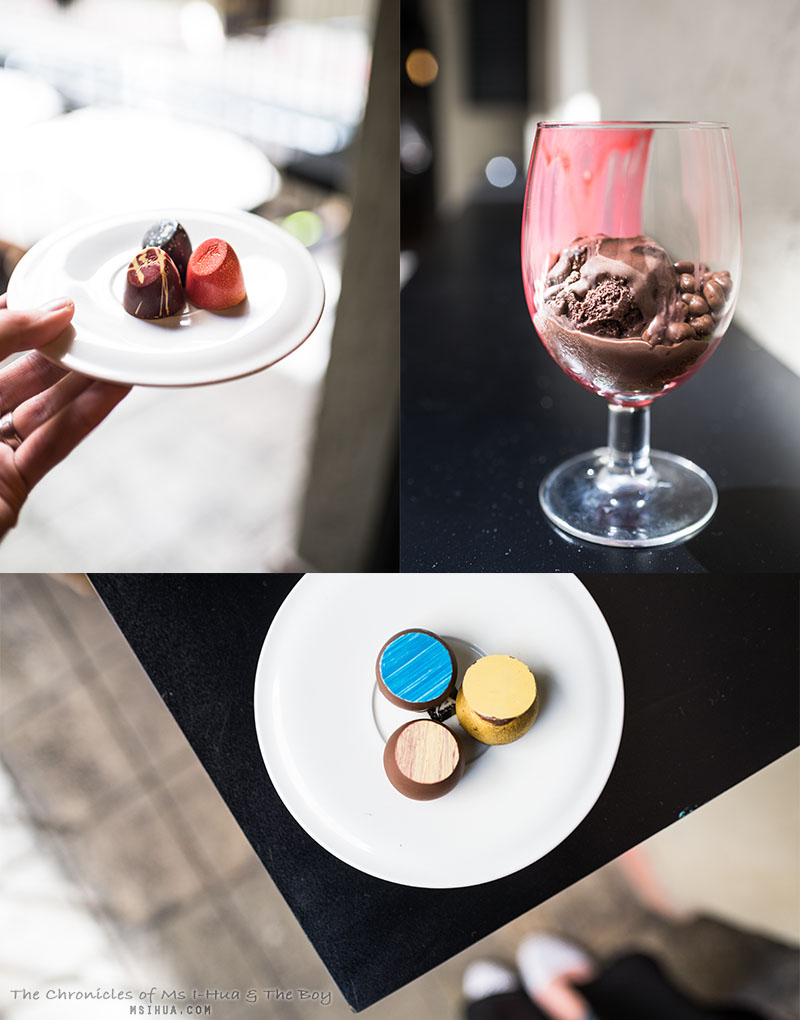 We sampled a few 'chocolate' drinks as well as chocolate truffles made at Que Bo!
I can't say that we were huge fans of the chocolate drinks. Imagine cacao powder with water and no milk. It certainly was an acquired taste. Thank the Spanish for introducing milk to the Aztecs, as I don't know how my childhood would have ended up without chocolate milk!
In terms of the chocolate truffles, we had a selection of local flavours. My favourite was the salted caramel and mezcal flavoured chocolate.
Local Attractions
One of the coolest information we received on our trip from our tour guide Alan, was that Mexico City is a sinking city. Every year, it sinks a couple of cms. This is due to the fact that it was built on a lake back in ancient times.
So when you arrive in Mexico City, pay close attention to the grounds and city landscapes. Everything is uneven when you pay close enough attention. Works have gone in the past to fix buildings and landmarks structurally, so that disasters don't befall, but it is a characteristic that is associated with Mexico City.
Anthropology Museum
I have a serious love of museums and when I noticed that we had the famed Anthropology museum on our itinerary, I couldn't have been happier!
You see my friends, growing up, I had a great love of ancient history, particularly focussing on the rise and fall of great ancient civilisations. One of my greatest journeys made (at the very top of my bucket list) was to Egypt to visit their famed pyramids and explore Cairo museum.
So imagine my great delight, that I would be able to do the same with the Mayan and Aztec civilisations in Mexico!
Come here to see a replica of ancient Mexico City back when it was still a bustling new civilisation built on top of a lake.
Also definitely come here to see the one and only Aztec Calendar (Sun Stone)!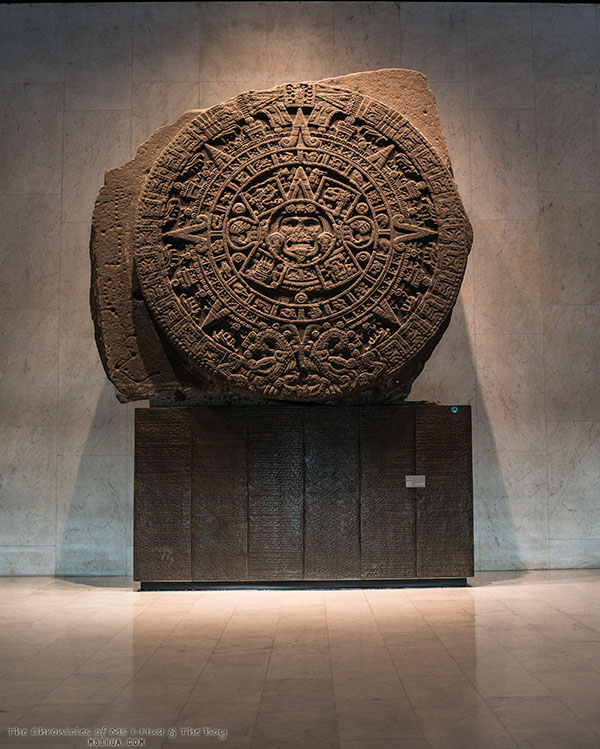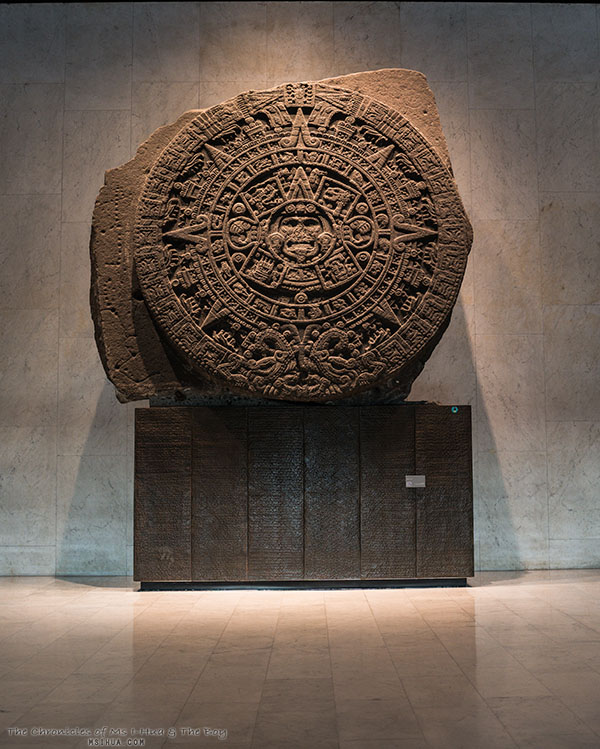 Historical Center
Next on our journey, we were taken to the Historical Centre in downtown Mexico City. This was one of my favourite parts of the trip. being such a historyphile, I couldn't help but jump with joy and excitement as Alan (our tour guide) informed us that we would be viewing some of Mexico City's key buildings and walking down an ancient route to the National Palace. Squeeeee!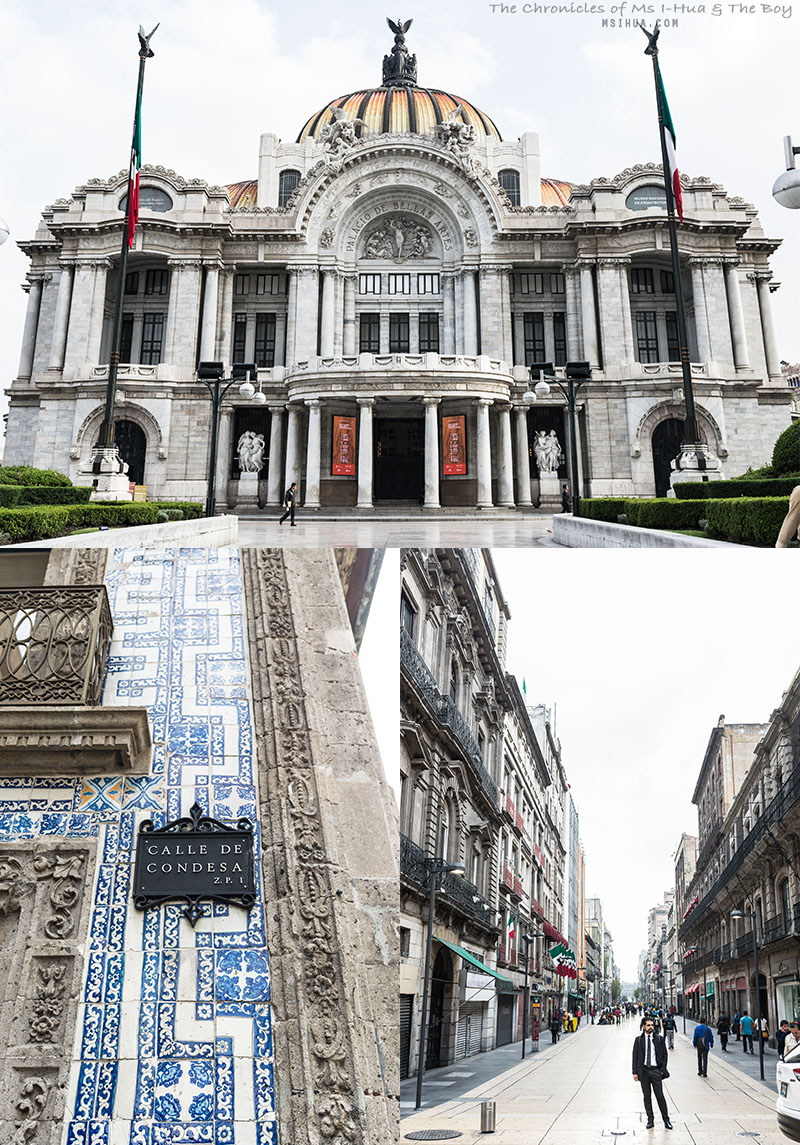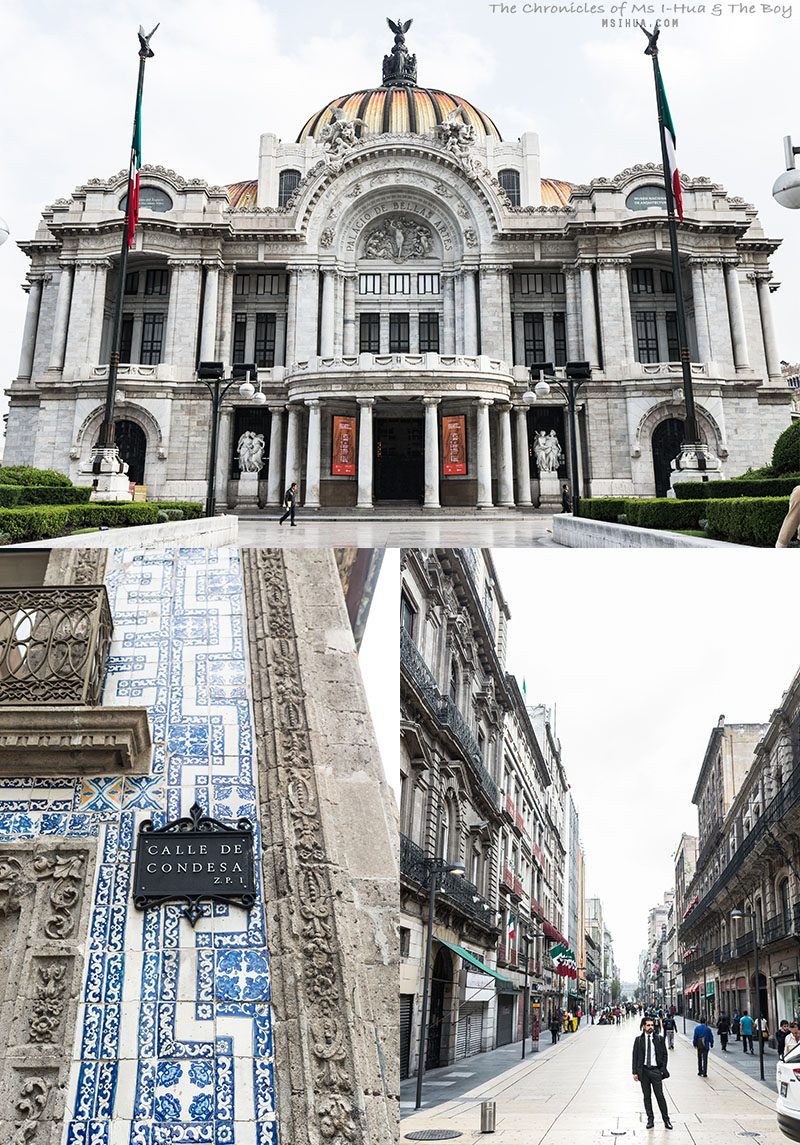 [Top: Palacio de Bella Artes (Palace of the Fine Arts); Bottom: Plaza de la Constitución (El Zócalo)]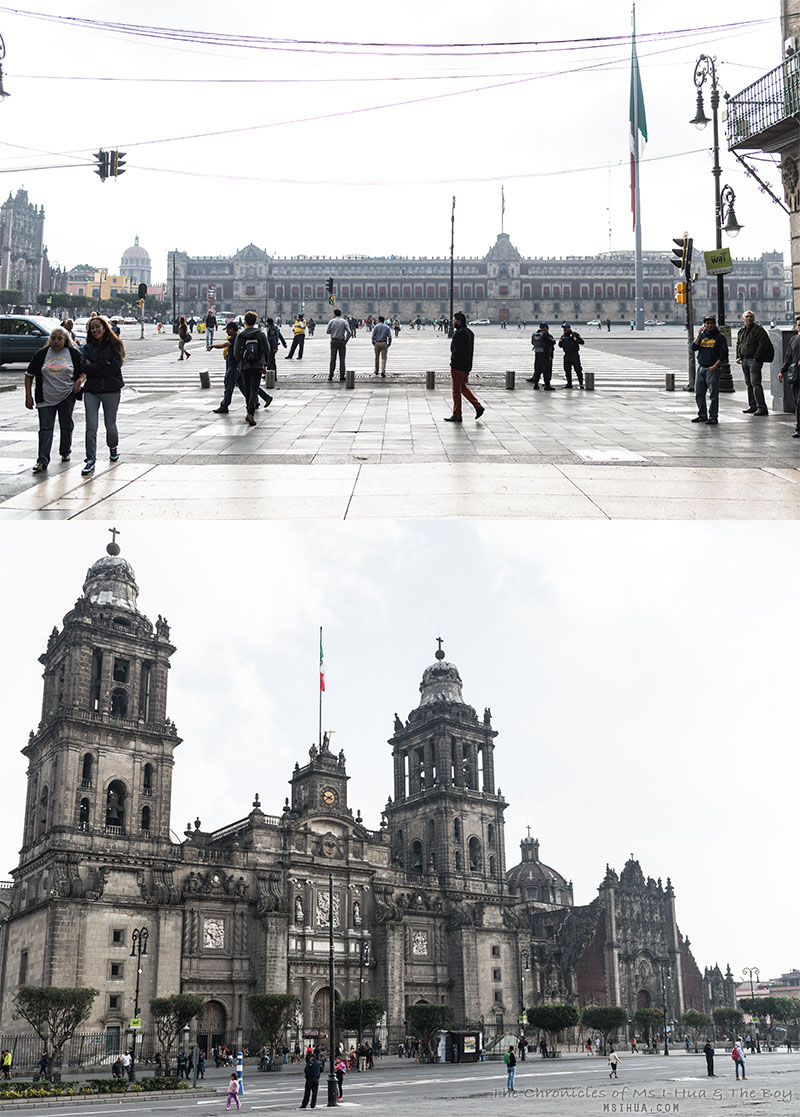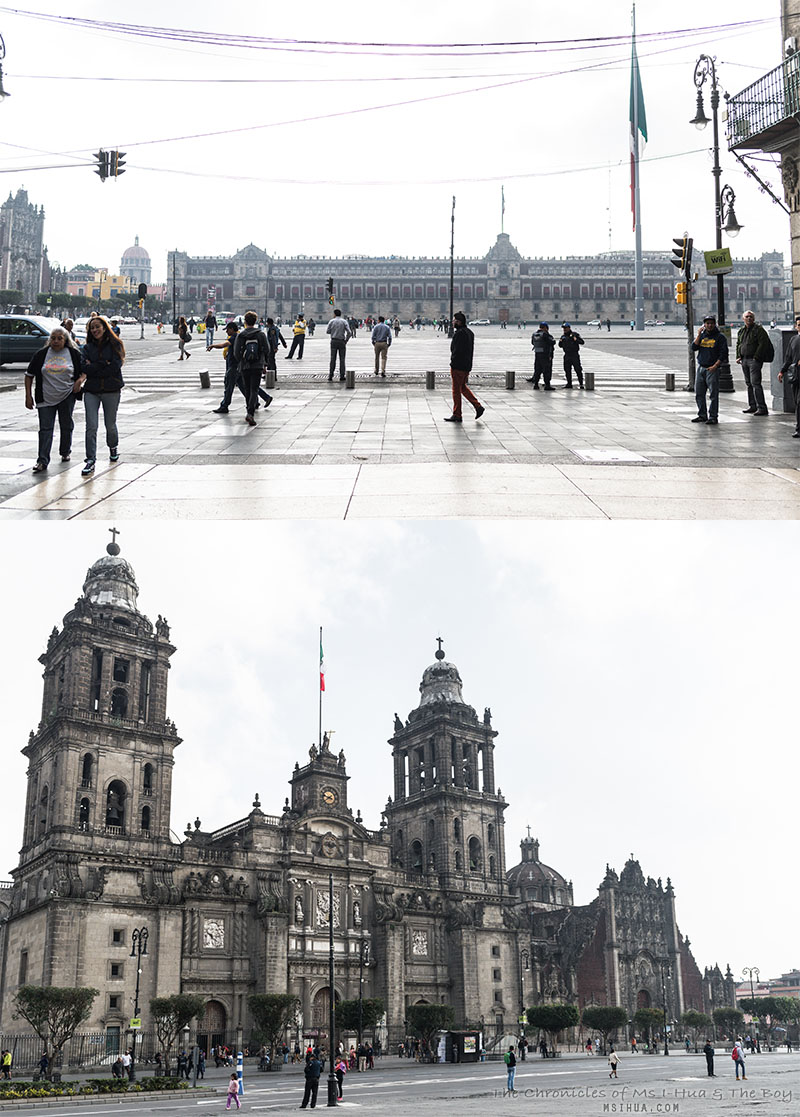 [Top: Palacio Nacional and the Catedral Metropolitana de la Asunción de la Santísima Virgen María a los cielos; Bottom: Catedral Metropolitana de la Asunción de la Santísima Virgen María a los cielos (Mexico City Metropolitan Cathedral)]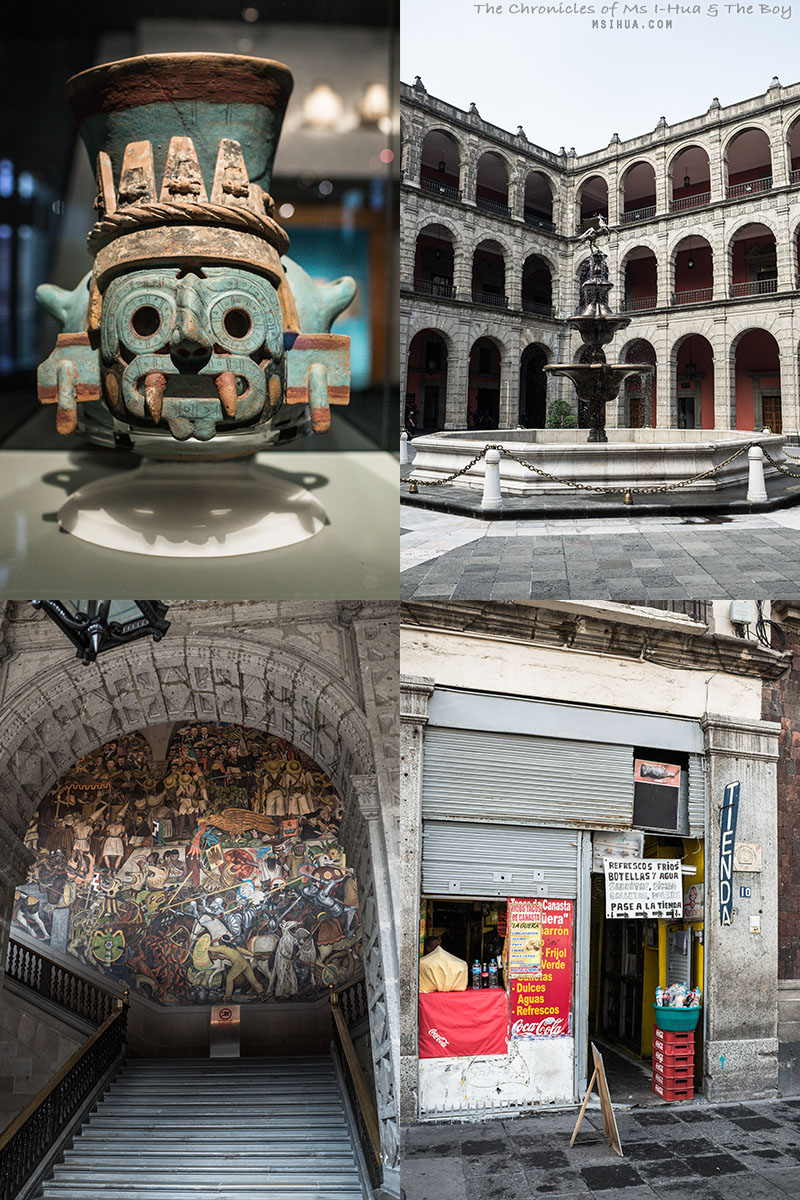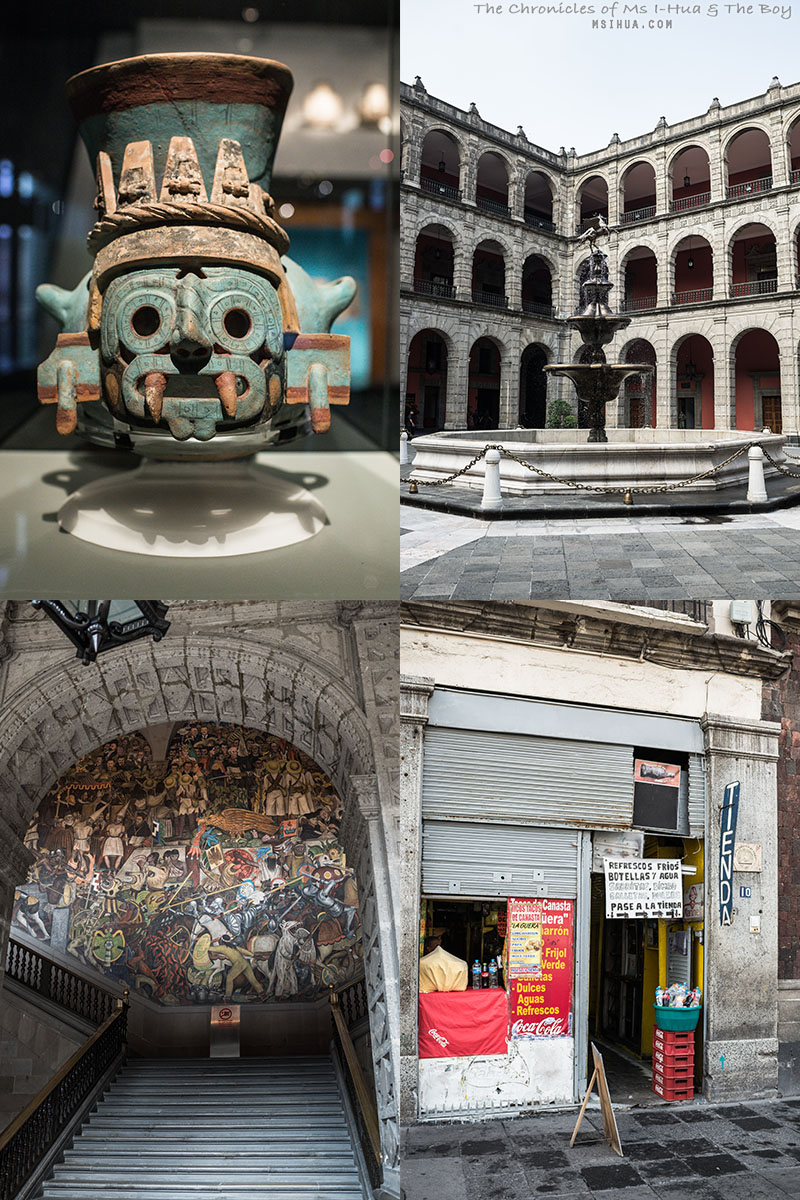 [Clockwise from Top Left: Templo Mayor Museum; Grounds of National Palace; Shops at the Historical Center; Murals at National Palace]
Templo Mayor
This is where it gets exciting. Just around the corner from the hustle and bustle of buses, tourists, riot police and locals, lies an amazing piece of history. Templo Mayor, one of the oldest ancient temples founded by the Aztecs in what Mexico City used to be known as, Tenochtitlan.
Dedicated to the Gods of War and The Gods of Rain (and Agriculture), Huitzilopochtli, and Tlaloc, the temple is structured like an onion. Built over and over on top of each other through the ages, 7 layers of buildings formed around the original temple. With excavation works still ongoing, we were able to walk past the 7 layers and into the original temple structure. From our vantage, it looked awfully tiny and not as majestic as it did when it was first erected. However, remembering that Mexico City is a sinking city, it is with renewed eyes as we gaze upon the top of the temple which was on an eye level to us.
If you have a quick read on the history of Mexico City, you will come across a story that the promised land of the Aztecs would be wherever an Eagle landed on a nopal cactus with a snake in its mouth. It just so happens that the eagle with a snake in its mouth was seen on a nopal cactus in the middle of a lake. Legend has it that this exact site where Templo Mayor is located, is the center of that lake.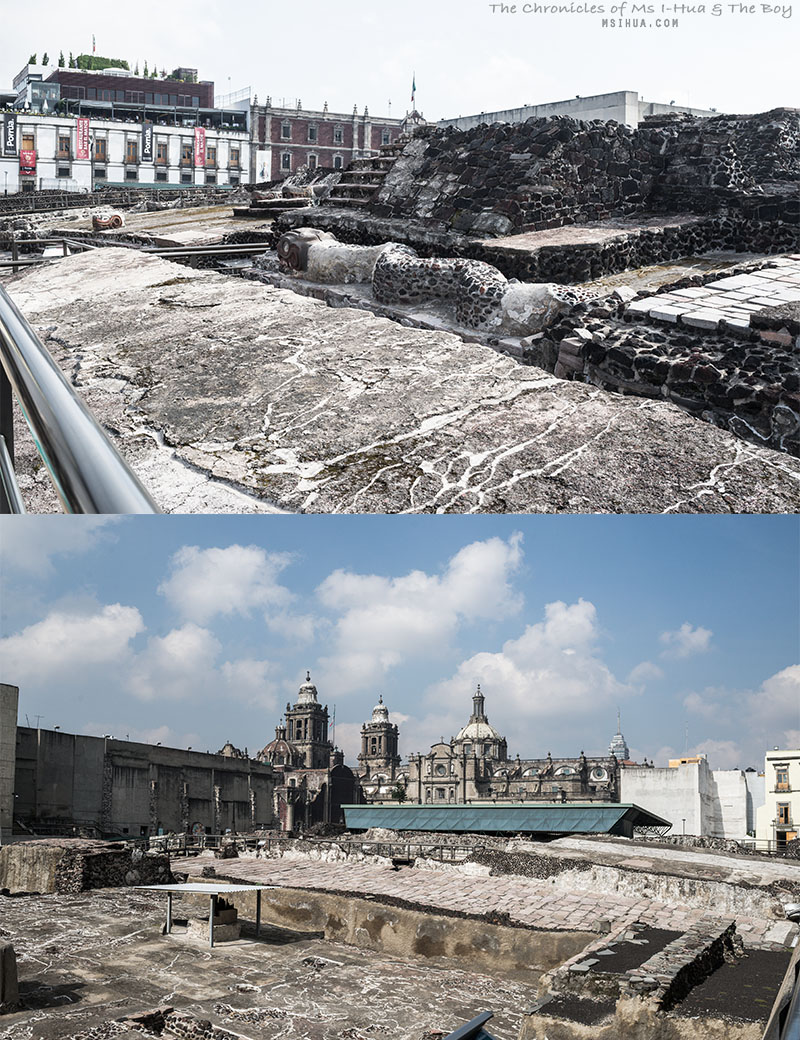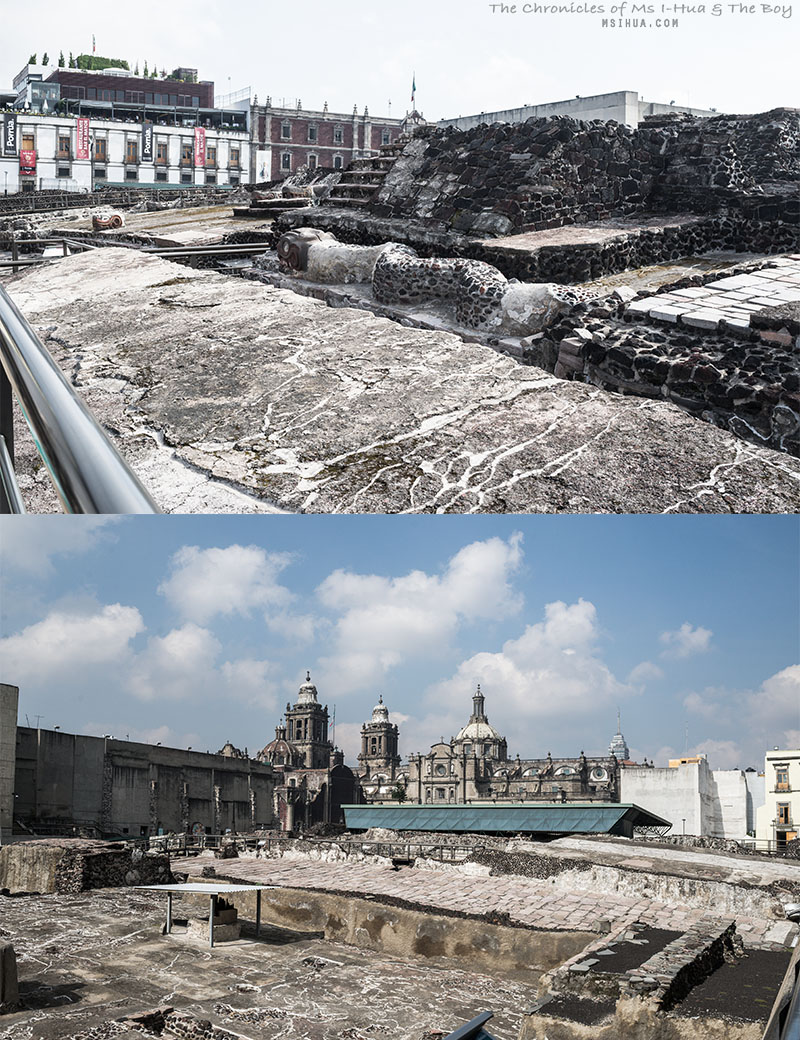 Here ends Part I of our journey to Mexico City. I hope like us, you too were completely enthralled and surprised with what this rich city had to offer.
The people are genuinely friendly, and though we may have viewed this trip with slightly rose tinted glasses, we fell in love with the crazy hustling and bustling city all the same.