It's not often that you receive an invitation to experience "Milk like you've never tasted before!". We must admit, when we received the invitation, we were a bit sceptical.
What would be so different with Anchor's milk? What else could we pair milk with besides the obvious drinks and breakfast choices of cereal and the like.
To launch Anchor's new microfiltration milk and to showcase just how versatile the milk is, Anchor partnered with two chefs, Christian McCabe (from Townmouse) and Daniel Wilson (from Huxtaburger) for a matched degustation with a new twist.
Applying their creativity and ingenuity in the kitchen, both McCabe and Wilson came up with a unique milk matched 5 course tasting menu, designed to showcase the milk and to explore and challenge the conventional use of milk and overall, changed our perception of milk.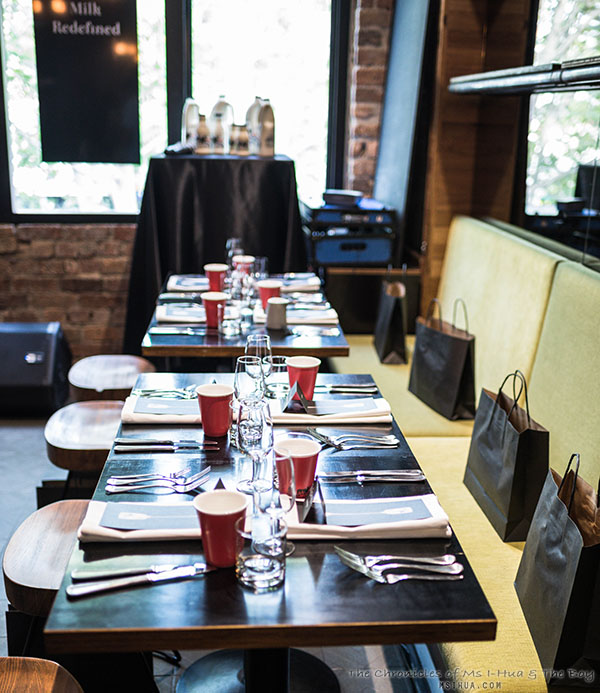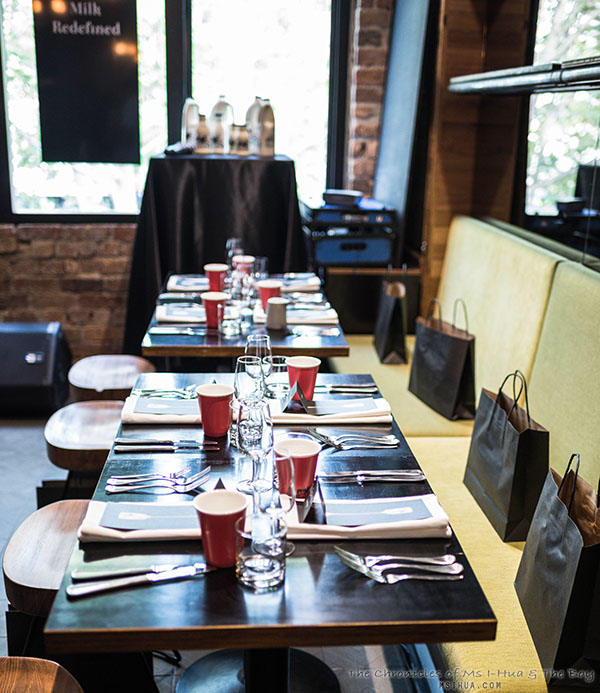 Intrigued, The Boy and I were both incredibly blown away by the innovative way in which both McCabe and Wilson matched the food to milk.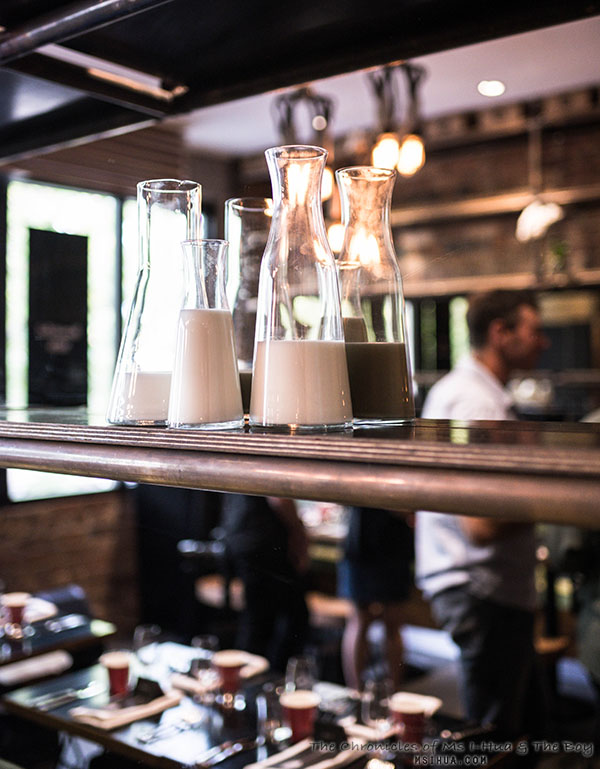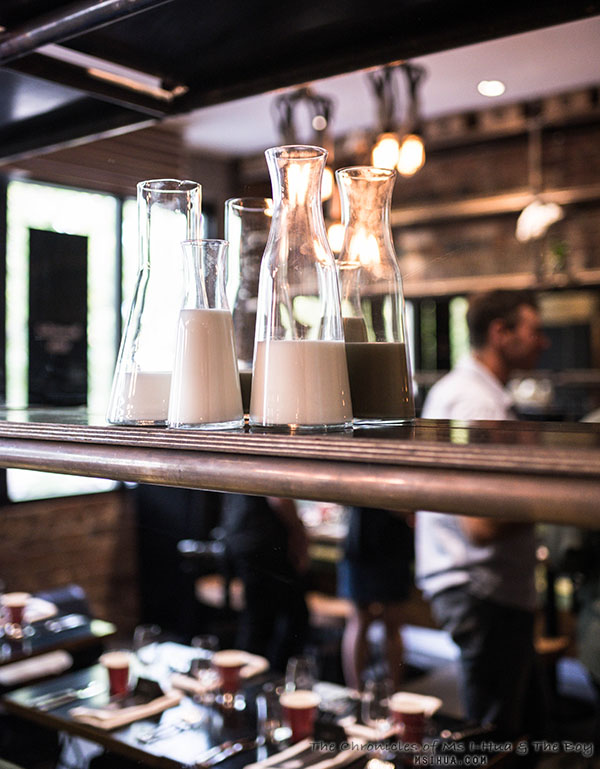 More often than not, we tend not to sit back and just enjoy a beautiful glass of refreshing milk. I must admit, I've always loved milk, and Anchor's Milk taste just as milk should taste like. Beautifully fresh, clean, sweet and creamy, with no distinctive after-taste.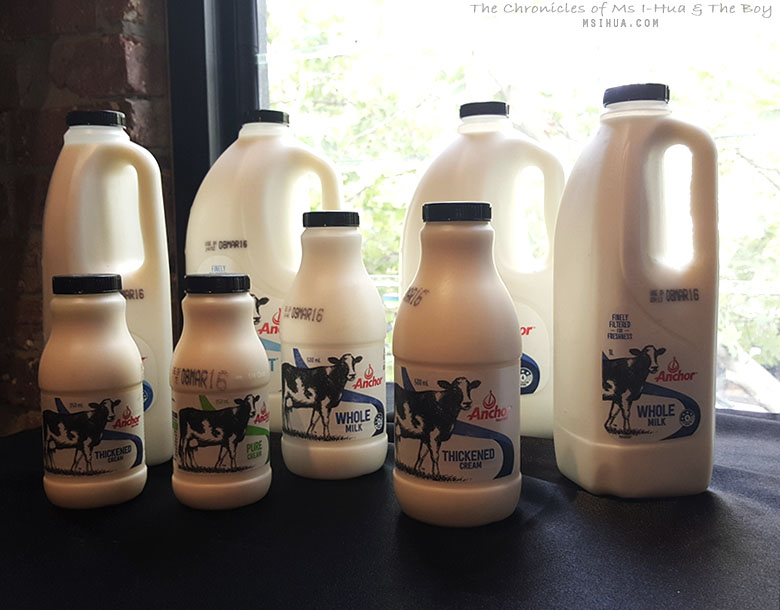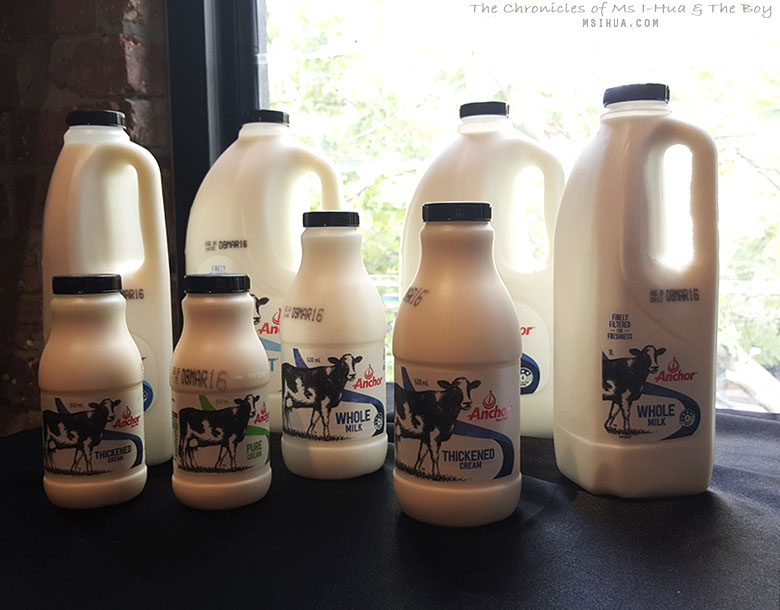 _____________________________________________________________________________________________________________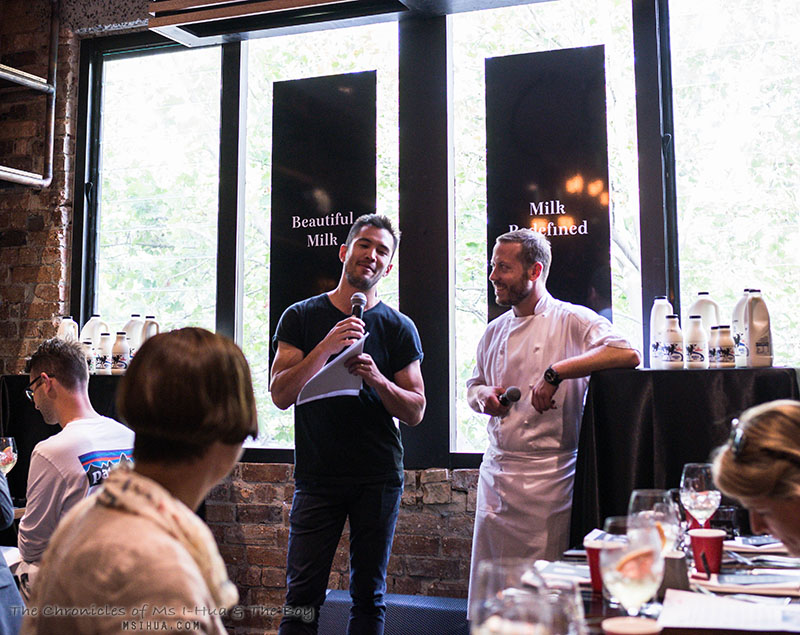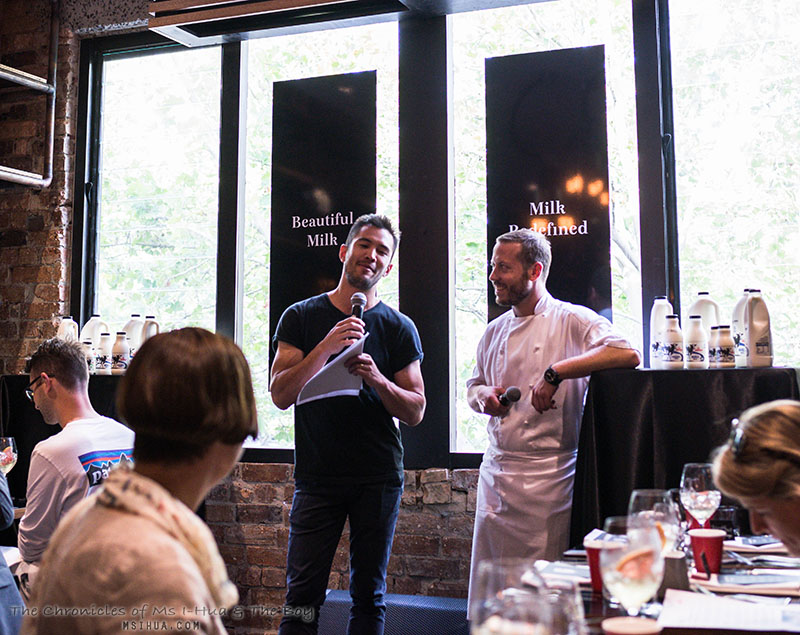 _____________________________________________________________________________________________________________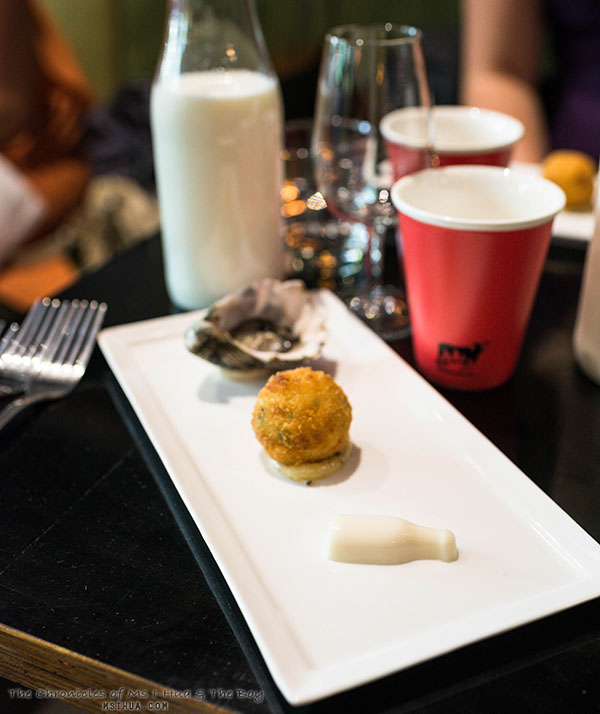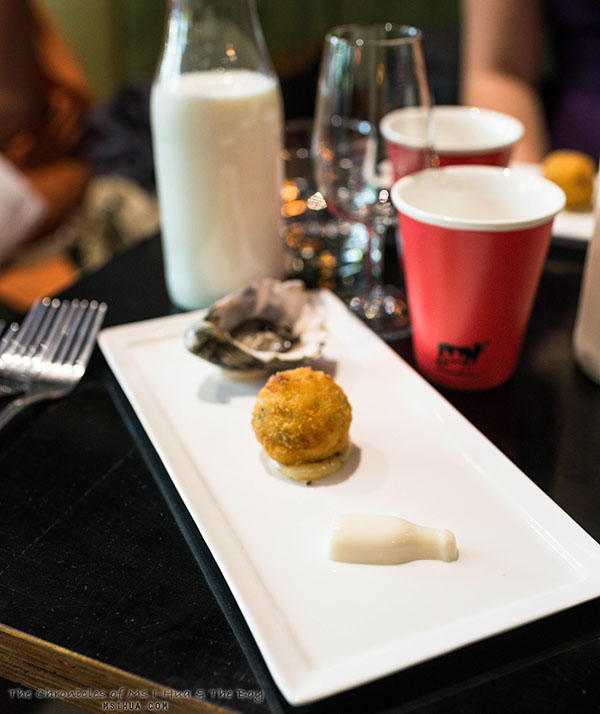 Flight 1: Spicy, Salty and Sweet Tastes. Paired with Anchor Milk, three ways
At the start of each course, both McCabe and Wilson would take to the microphone to explain the dish and the matched milk. For the first flight, we were informed that the dishes were deliberately kept simple, both to accentuate the taste and introduce our senses to the natural taste of the milk in both its chilled, warm and room temperature state.
We sampled a beautiful fresh Oyster (salty), Jalapeño and Chilli Croquette (spicy) and Milk Bottle (sweet) with the different temperatured milk. The milk being naturally sweet, really emphasized the saltiness of the oyster and soothed the palate from the spiciness of the croquette.
McCabe further went on to encourage the guests to sample the milk in the three differently shaped glasses to see if there would be any preference in drinking the milk, like wine.
Oddly enough, though nothing had changed, both The Boy and I had a perception that the chilled milk tasted the best in a normal glass! Such is the perception of the mind. The warmer milk tasted milkier (hah!) and sweeter in the mug, even though the chemical compound and milk hadn't changed at all. It was definitely a fun little experiment into perceptions and what our minds are most used to.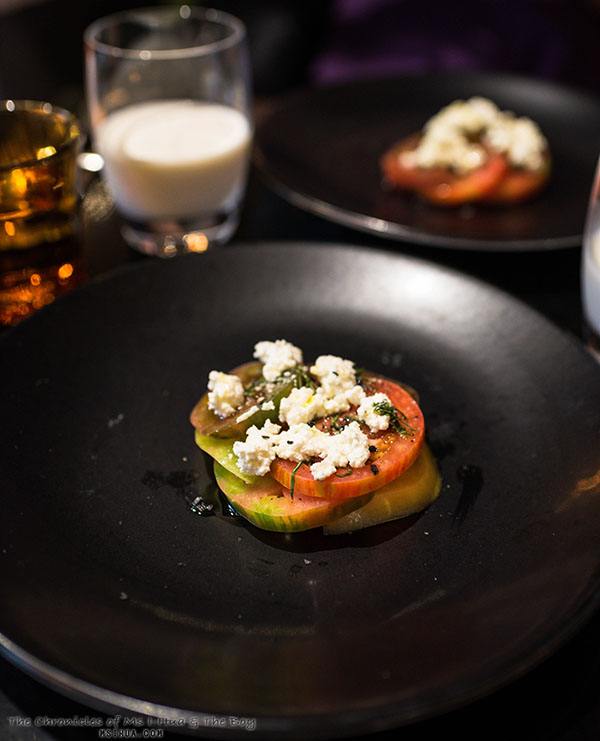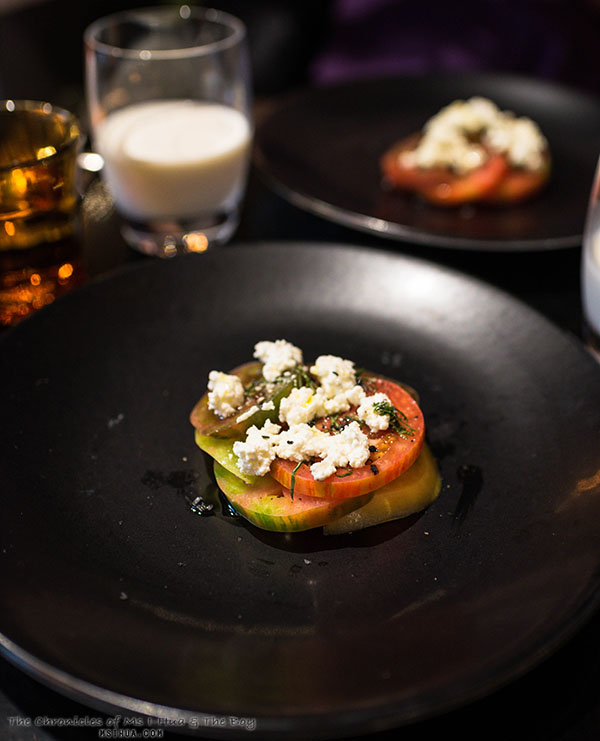 Flight 2: Fresh Ricotta, Heirloom Tomatoes. Paired with Anchor Milk, infused
Again, the simple heirloom tomatoes paired with freshly made milk ricotta was served without any other complicated flavours, as was the first course.
This was matched with a very interesting taste of infused milk, to bring out the naturally occuring umami flavour of the tomato. The infused milk, which brought about quite a mix reaction from the guests was infused with Konbu (seaweed), Shiitake Mushroom and Bonito flakes (all consisting of natural umami flavours).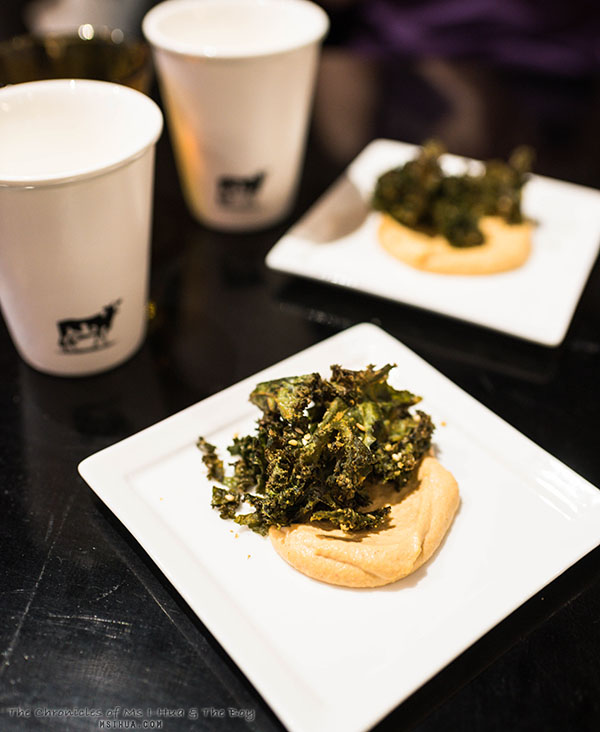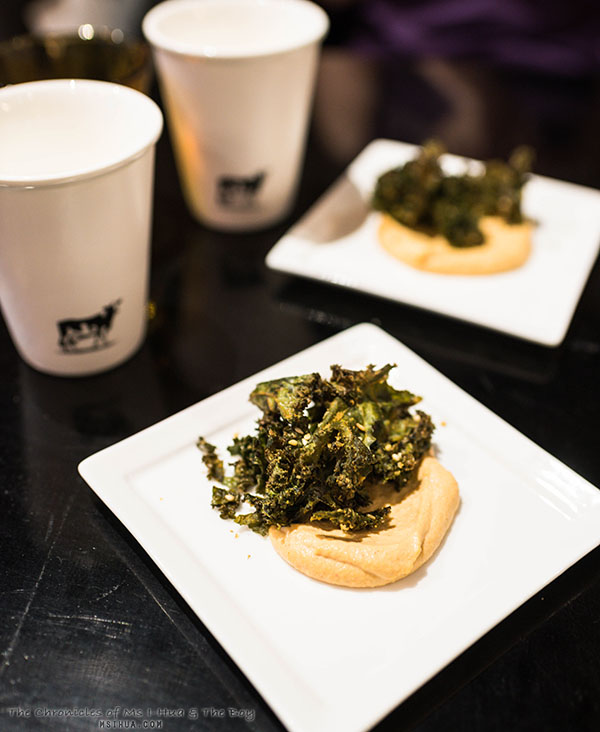 Flight 3: Crispy Kale Chip, Cashew Hummus. Paired with Anchor Milk, chilled
The cashew hummus from the next course, along with the crispy kale chip (which Wilson jokingly added, "It's still relevant, right?") is definitely a dish that will be able to keep me happy at any party or on the couch in front of the television. So tasty and addictive!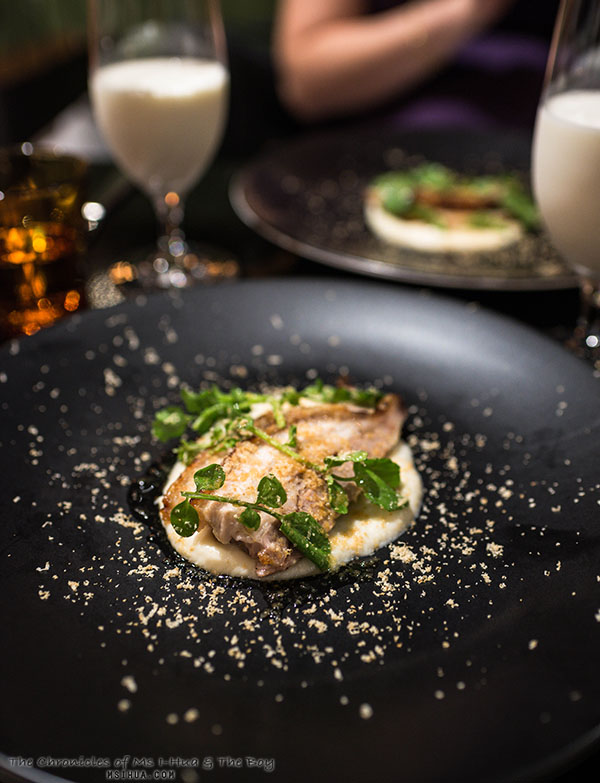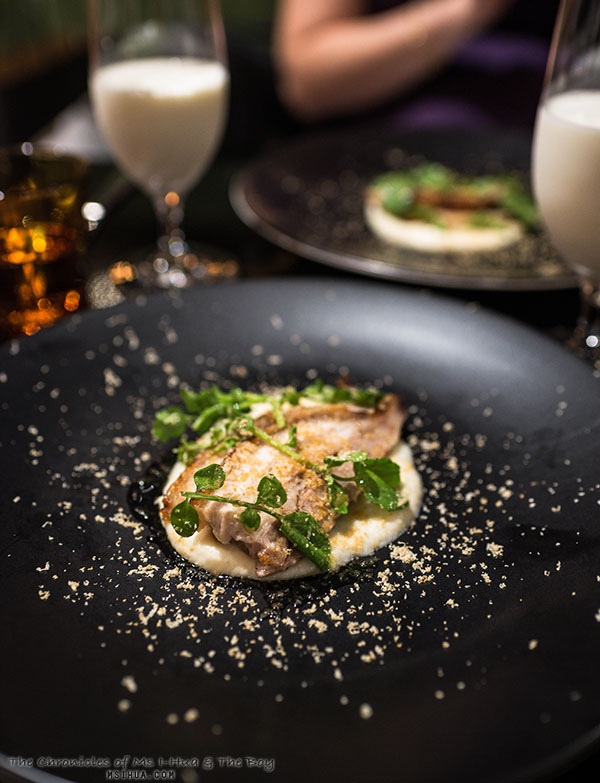 Flight 4: Spiced Milk Roasted Pork Belly & Cauliflower Puree. Paired with Anchor Milk, infused
The final savoury course was definitely the crowd pleaser. Roasted pork braised in milk (with a crispy crackling) was to die for. Matched with a savoury infused milk of smoky herb (mix of bay leaves, oregano, thyme, curry leaves), it definitely went very well with the naturally grassy flavour of milk.
We couldn't help but agree! So comforting and relaxing.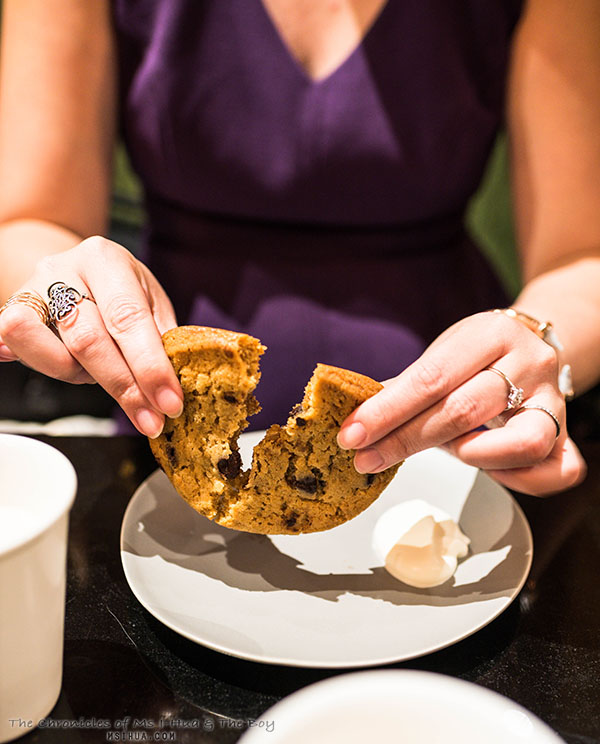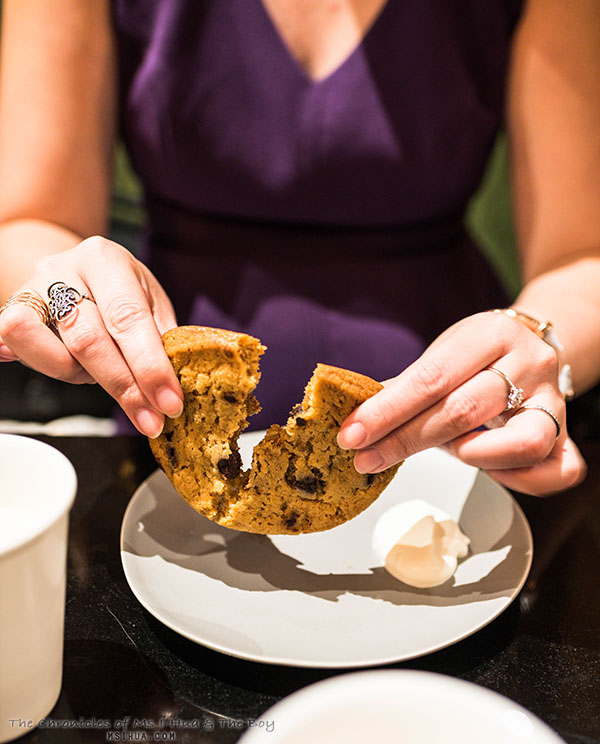 Flight 5: Crisp and Chewy Chocolate Cookie. Paired with Anchor Milk, adult-style
Perfect combination of cookies and milk, this course could definitely do no wrong. Particularly since McCabe matched the cookie with an adult-style milk, infused with Rum, Żubrówka (Bison Grass Vodka, a herb flavoured vodka distilled from rye), chocolate liqueur and vanilla.
Cookies and milk should always be this fun and delicious!
The Anchor Milk Flight collaboration certainly challenged our traditional and conventional way of how we think about milk and we walked away from the event with delicious food memories and a craving for milk.
The biggest selling point for us apart from the taste of the milk itself, is the long shelf-life of 21 days. Being busy corporate workers like us, we very often find ourselves and our fridge with expired milk which makes us sad. Having a longer shelf-life means that we are able to spread our love of milk for longer without wasting a drop of it.
Product Details:
In an Australian first, Anchor Milk uses unique ceramic filtration technology to remove 95% of the unwanted bacteria that naturally occurs in milk, while keeping the natural goodness and fresh taste.
What is Microfiltration?
"Microfiltration is ceramic filtration technology that removes spoilage bacteria, which can reduce the shelf life of milk."
This unique technology delivers a milk that is pure and fresher tasting, right until the last drop. Not only are preservatives not added to the milk, this new technology is able to extend the shelf life of standard milk by 40 percent, from an average of 15 days to 21 days!
Anchor Finely Filtered Whole Milk is available at your local Woolworths' store in three sizes:
500 ml RRP $1.49*
1 Litre RRP $2.49*
2 Litre RRP $3.29*
*Pricing may vary by individual retailer store
For more information on Anchor's Finely Filtered Milk range, visit, www.anchordairy.com.au.
[Ms I-Hua & The Boy were invited to attend the Anchor Milk Australia Launch as guests]