It's time to put up a post on Sydney Week… as most of you know, I headed up to Sydney for the Chinese New Year weekend to spend some quality time with Big Sis and Big Bro 🙂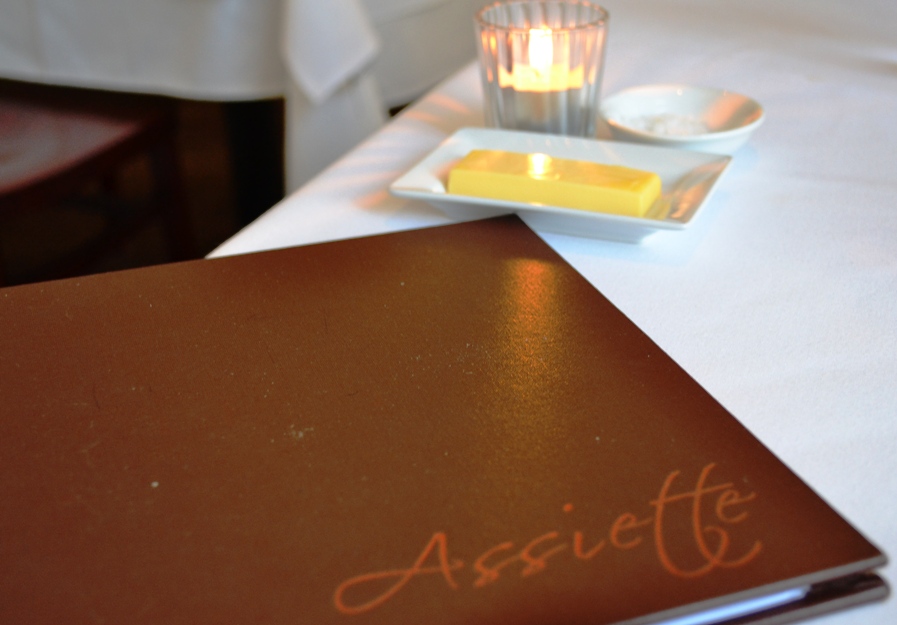 Much to my delight, they surprised me with a gourmet treat to Assiette (which means plate in French), a 2 hatter, no less (in the SMH Good Food Guide Sydney)… despite the blistering and sweltering heat of the weekend (Sydney recorded the highest heat wave in about 150 years when I visited, just my luck!)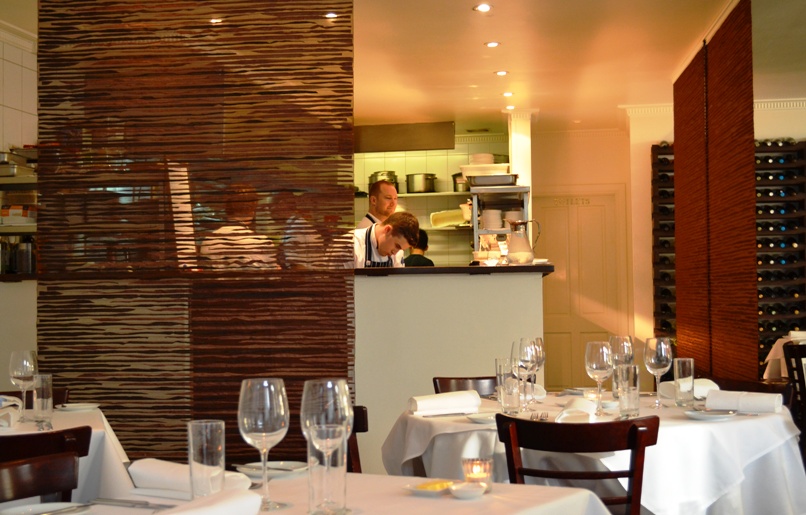 So on we trekked to Assiette in the heat and were one of the first patrons to arrive… Lucky for me, as I got to take a few snap shots of the place 🙂
Alas, all thoughts of having a relaxing evening with my loved ones in a beautiful setting vanished somewhat.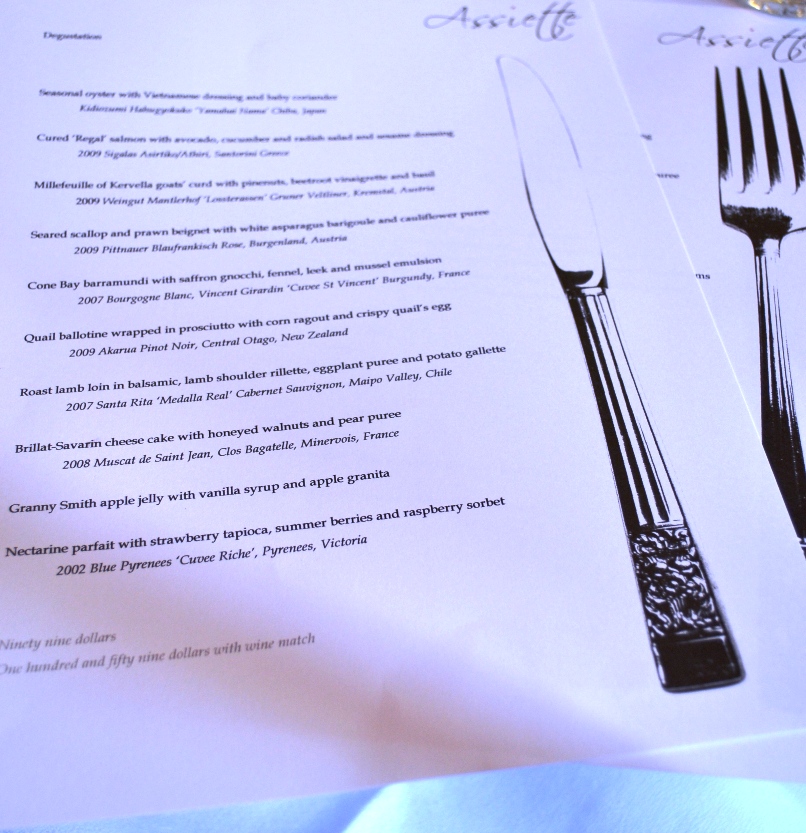 The air-conditioning in the area we were seated in had broken down (and according to our waiter, had been broken for a couple of days!!) HOT HOT HOT HOT HOT!!!!
Even the butter had melted…. on the positive scale, it made it really simple and easy to spread on our lovely warm sourdough bread (although at this stage, I'd have been happy if the waiter/kitchen decided to throw a bucket of ice cold water on me, it was that HOT!)
We had decided in advance that we would go with the 8 course degustation menu for $99 per person, instead of the usual ala carte menu…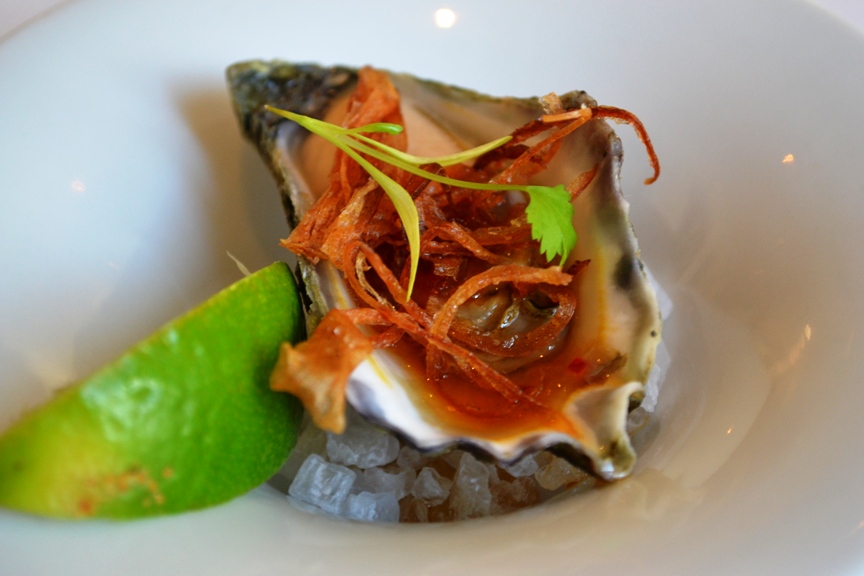 We were started off with a delicate seasonal oyster with a Vietnamese dressing with lime and coriander… I absolutely loved this… the key to great fresh oysters? Keeping it simple… the fried shallots were a wondrous pairing with the oyster…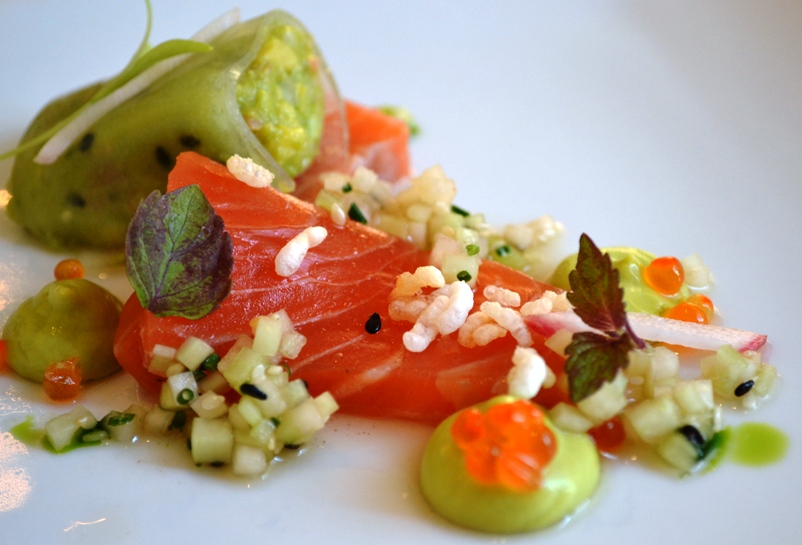 The next entree of Cured 'Regal' salmon with avocado, cucumber, radish salad and sesame dressing was another lovely affair. The cucumber and avocado was what I would call a fun vegetarian sausage…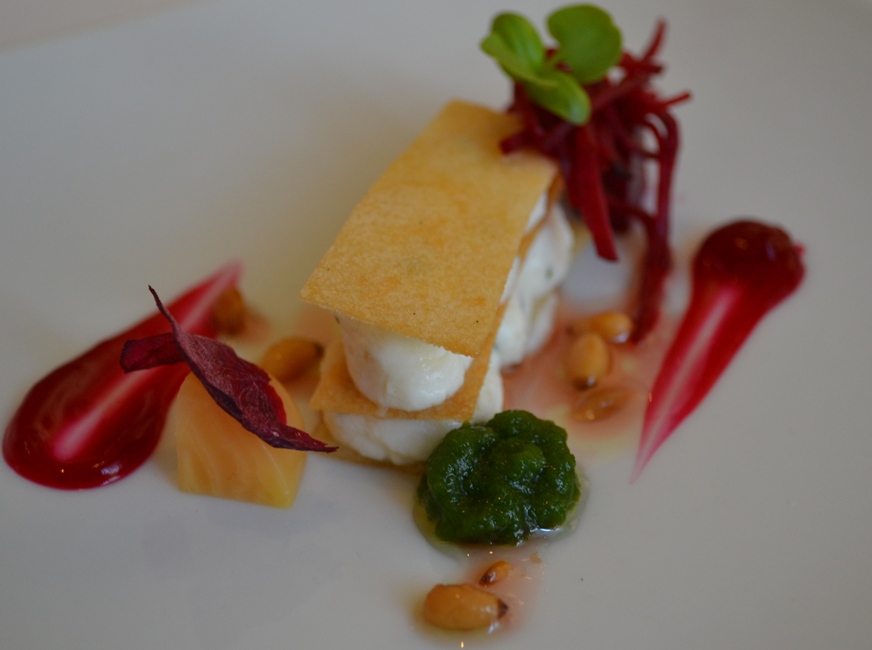 Next up, was my favourite entree of the night. Millefeulle of Kervella goats' curd with pinenuts, beetroot vinaigrette and basil, absolutely mouth watering! I love goats cheese, and this playful way of presenting it with a sweet and savoury playground was a swinging delight in my mouth (eat that Epicure!)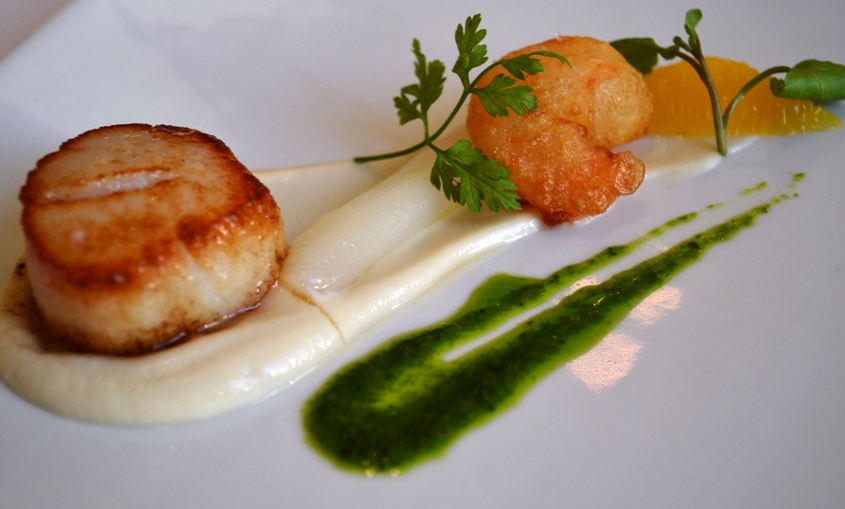 Next is a dish as pretty
and simple as you can see…
the Boy would have cried out, Me Me Me
(indeed did he)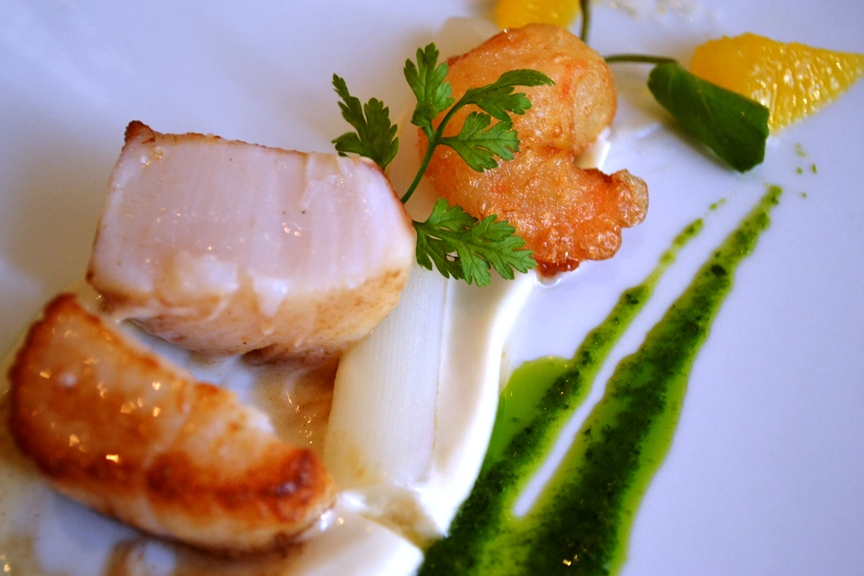 Seared scallop and prawn beignet with white asparagus barigoule and cauliflower puree.The scallop as you can see, was just nicely cooked (not over and not under)… and the prawn beignet was as light and crispy as you can imagine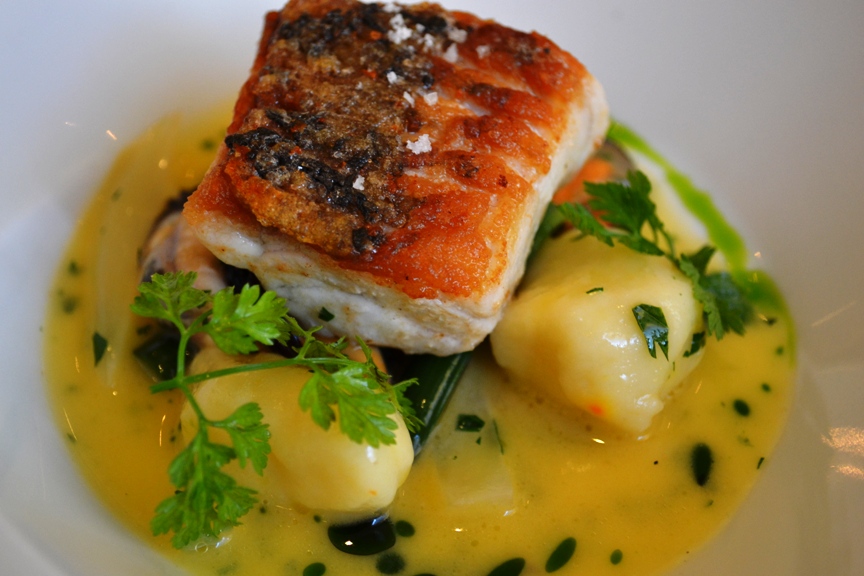 Then the first of the mains arrived, we were served with Cone Bay barramundi with saffron gnocchi, fennel, leek and mussel emulsion. Now I'm not a great fan of mussels, but if I had to eat this dish again, I would happily lick the plate clean!
The gnocchi was fantastic… delicious with strands of saffron running through them… It's usually a risk when gnocchi is on a menu, more often than not, it comes starchy, chewy and plain.
This gnocchi was sent from the Gnocchi God and served to me in a golden plate… (The heat was playing with my mind at this stage)…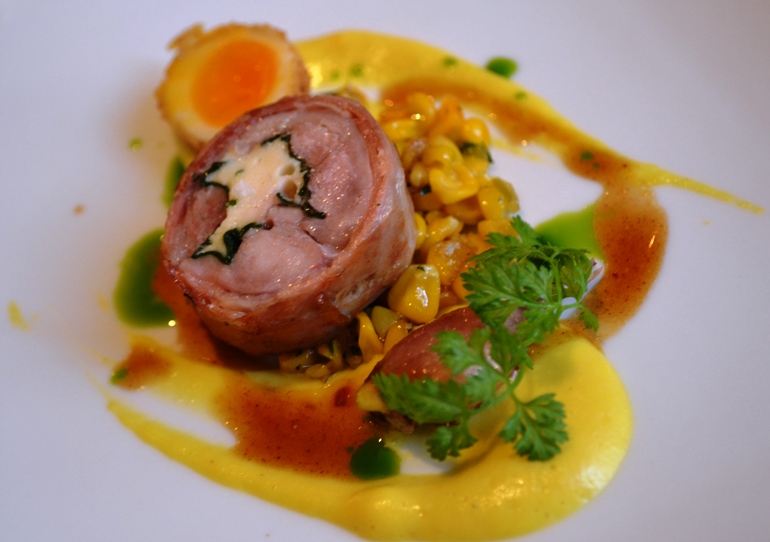 Quail ballotine wrapped in prosciutto with corn ragout and crispy quail's egg was the next dish to be served. It may have been the humidity, but the quail's egg wasn't really crispy… but that's not really the fault of the restaurant… I'm not sure that this was one of my favourites though… it wasn't an outstanding dish … but it could be because it was served right after the superb gnocchi dish!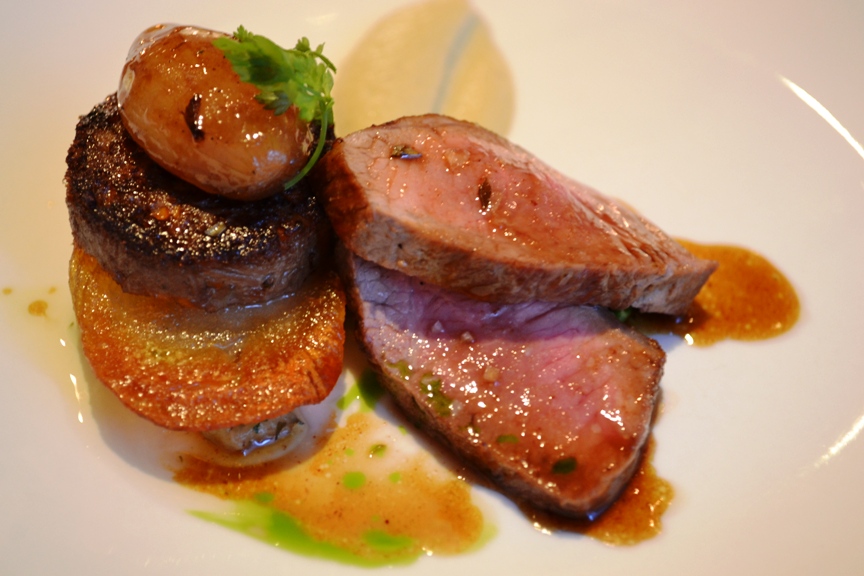 The final main of roast lamb loin in balsamic, lamb shoulder rillette, eggplant puree and potato gallette was a wonderful end to the savoury dishes (and I always say that if it ends with Love-Angel-Music-Baby)… by this stage I was really full and wanting to run out of the restaurant and its heat into the cool breeze outside (I was seriously stuck to my chair…)
Big Bro didn't want his lamb, so Big Sis and I gladly tore into his plate as well 🙂 (We like to share in this family)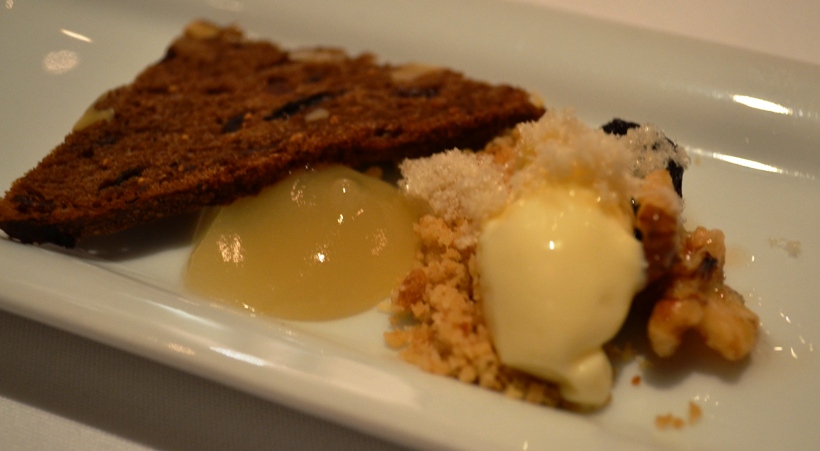 And then desserts were served… first up, Brillat-Savarin cheese cake with honeyed walnuts and pear puree. I could not help but compare this with the recent dessert I had in Loam of the wild fennel pollen ice-cream, with clove bread, house made honeycomb, honey gel and pineapple … great but I was really needing something icy cold…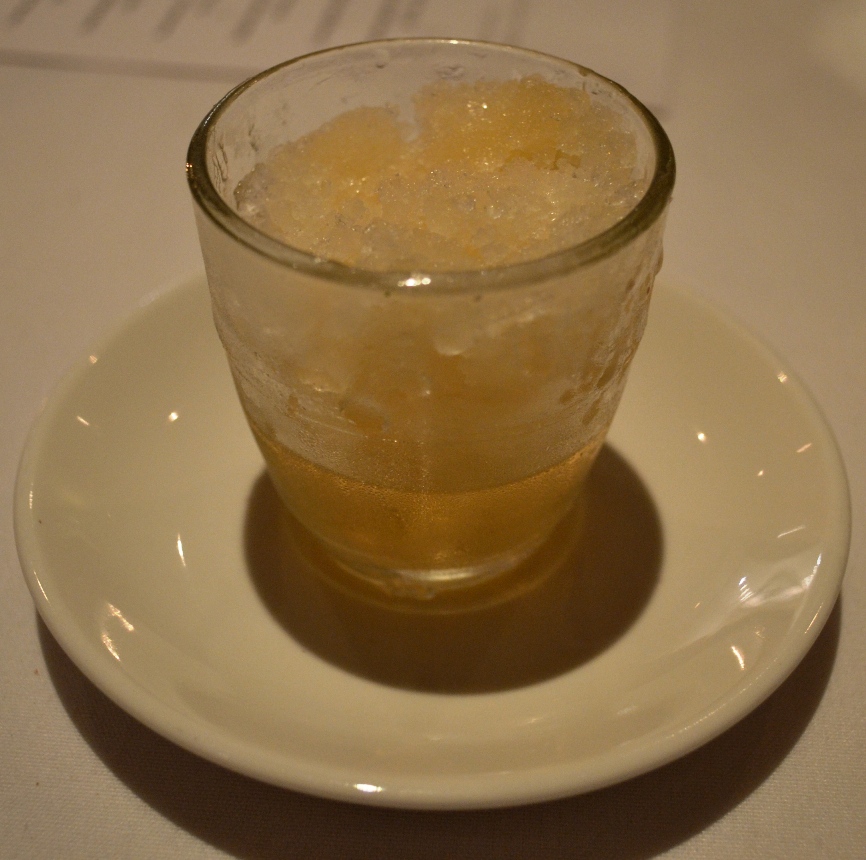 And so, the saving grace had arrived…Granny Smith apple jelly with vanilla syrup and apple granita… our waiter made a comment that this was probably the dish of the night (we couldn't help but agree)… the beautiful light icy refreshing palate cleanser was delicious! But it was in such a tiny glass 🙁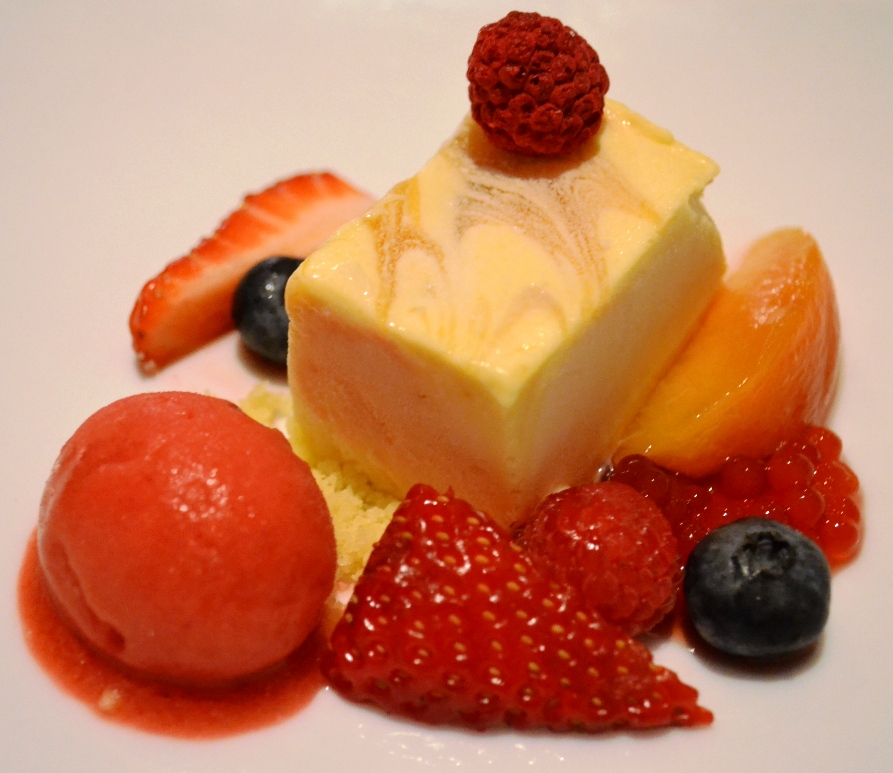 The last dish of the night was a Nectarine parfait with strawberry tapioca, summer berries and raspberry sorbet… yet another delightfully cold summer platter….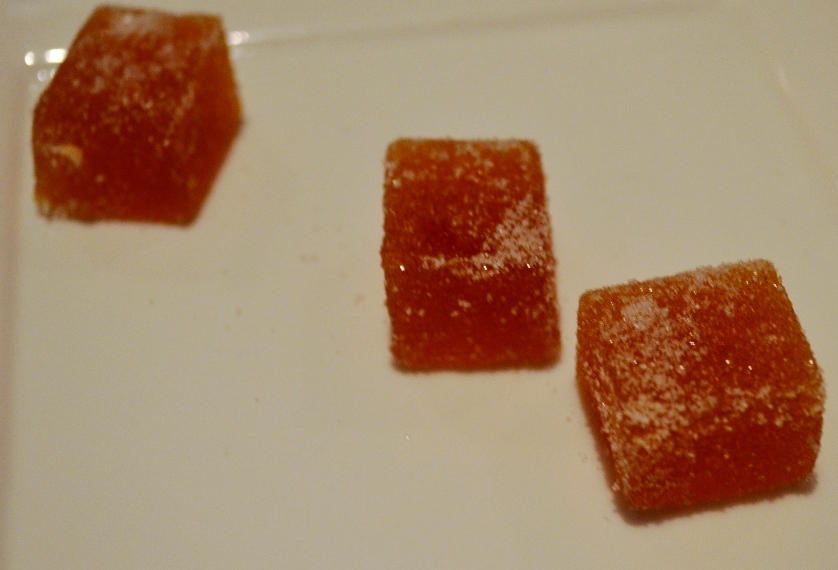 To end the night, we were each given a passionfruit pastelle… which was extremely strong!! Too sour for me 😛
Would I return? Yes, and hopefully this time be able to enjoy the food as it was supposed to be instead of being bogged down by the heat and sweat (eeeww!)
Thanks Big Sis and Big Bro for such a generous surprise 🙂
*Disclaimer: All food ratings are purely based on my own experiences and how I feel about the service, food and quality
Food/ Cuisine: Modern French
Dining Style: Fine dining
Overall Food Rating (Based on the Dining style): 7.5/10
Restaurant ambiance: 5/10 (Seriously so hot and as we were walking out, we discovered that the front air-conditioning was working all along…and they didn't move us to the spot despite us fanning ourselves the whole night and I was as red as a lobster)
Service/ Attitude: 8/10 (our waiter was very apologetic throughout the night)
Value for money: 8.5/10 (Works out to be around $12 per dish) very reasonable for the quality
Address:
48 Albion Street
Surry Hills NSW 2010
Tel: (02) 9212 7979
Fax: (02) 9212 3602
Website: http://www.restaurantassiette.com.au
Assiette is open for lunch on
Friday 12pm – 3pm and
dinner on Tuesday – Sunday from 6pm
How to get there: