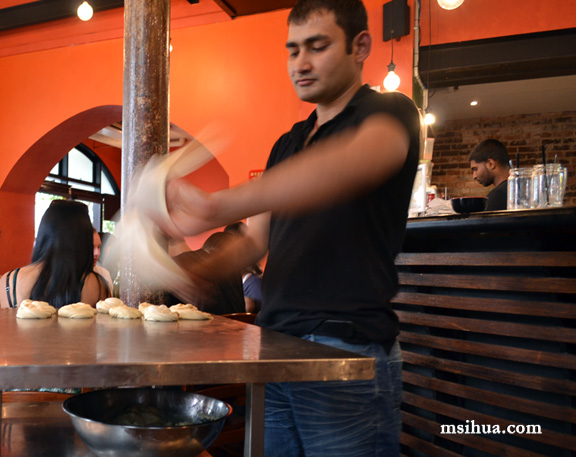 Look ma! I can flip at the speed of light!!
The latest get together where a whole bunch of foodies (a.k.a. bloggers, twitterers, friends, civillians)… happened at the end of March…
It started on Twitter (it always almost starts there), where people were discussing what sort of roti's they would be willing to try and were craving to have.
The good folks at Chillipadi Mamak (Robert and Li – also of Pan Asian) then offered to have a #Rotifest dedicated to trying as many rotis as they could come up with for the bunch of us..
The rest as they say, is … his-mine-and-your-story… (*ahem* please don't mind me…I haven't had much sleep lately)….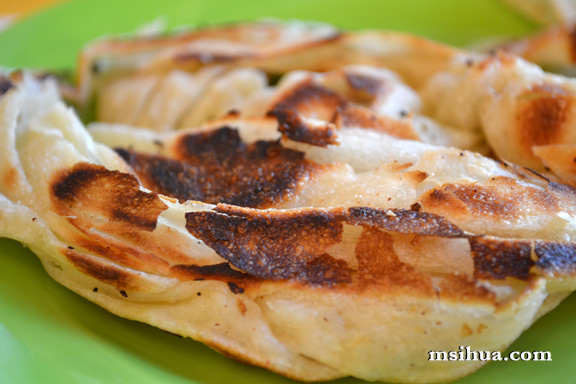 From 5 people, it became 10… to around 30 people.
We gathered together… and gazed fondly at the menu.. (7 courses! OH MY!)… And so we begin…
For the first course, we had the classic Roti Chanai – freshly made Malaysian roti bread served with Beef Rendang and Chilli Prawns.
Absolutely smashing! So crispy and fresh… the rendang according to @essjayeff was the best rendang she's ever eaten! I however (not being able to sample the rendang) went ga-ga over the chilli prawns… (the only thing missing was petai!! Or stink bean.. MmMmmm)
The next course was Roti Jala – Malaysian lace bread served with Chicken curry.
Again another spot on roti dish. The chicken curry was also very delicious and not watery at all! Could be a little spicier though…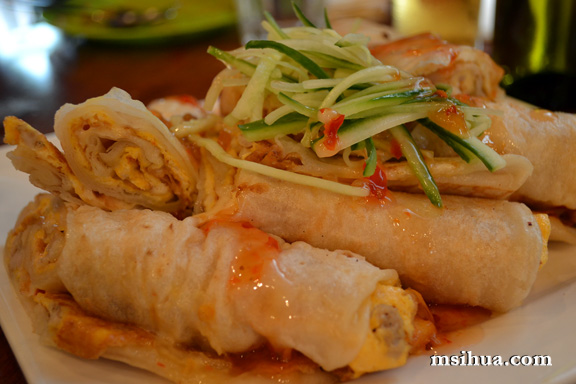 The third course, Roti Rotian a.k.a. Roti Ruben – Chillipadi's infamous roti wrap egg omelette & minced chicken with mayo and chilli sauce was a bit interesting.
It certainly divided the table… where the boys ate it all up, and the girls barely touching theirs.
I think the problem with this dish was the fact that it was too soggy. The mayo and chilli sauce was a bit too overpowering, and the crispiness of the roti canai from before was completely lost…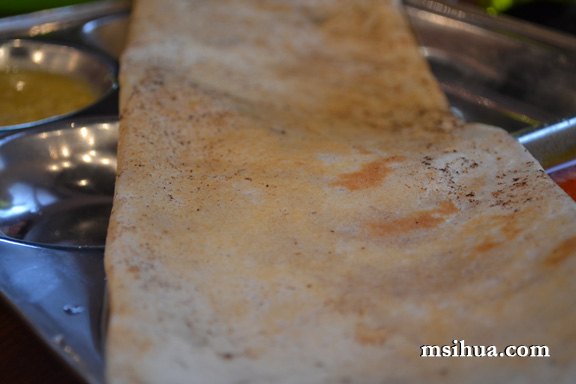 By the fourth course, Thosai, a Malaysian Indian rice pancake with accompaniments… I was completely filled up!… The Thosai was good.. I liked the wonderful lightness, sourness and crispiness all rolled into one … tee hee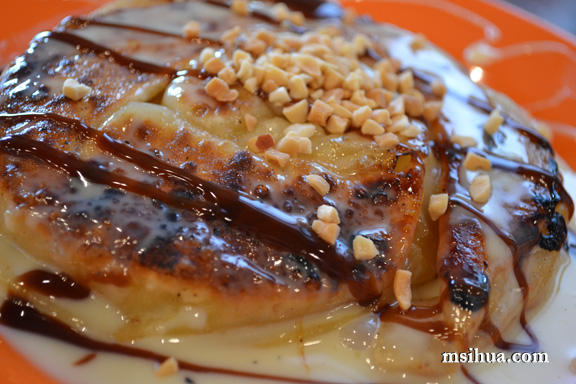 And then!! The dessert rotis arrived… For our fifth course, we were served Roti Bom – Sweetened round and compact roti.
Now for those who have never had roti bom before… be prepared to be hit by a sugar rush!… Drizzled generously with condensed milk and chocolate syrup… this is not for the faint hearted…
The roti was thick and crispy round the edges… and I couldn't help but go back for more and promised myself that each time would be the last!
It was just so addictive!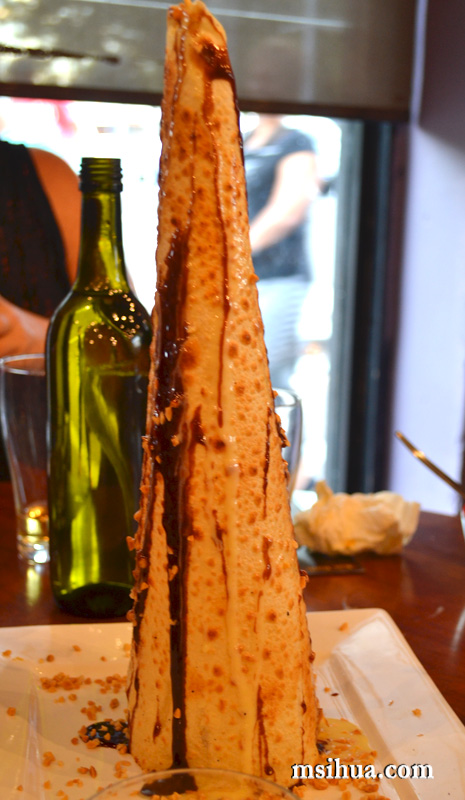 The sixth and last roti of the night, was the Roti Tisu – Light and crispy roti drizzled with condensed milk…
Similar in concept to the roti bom, the roti tisu is shaped as a cone to stand…
I'm not sure how they do this… I think they hang it from the ceiling??? At the table, we decided that they had baked the roti, as it had a biscuit like texture (quite unlike the fresh roti tissues in a local Malaysian mamak joint)…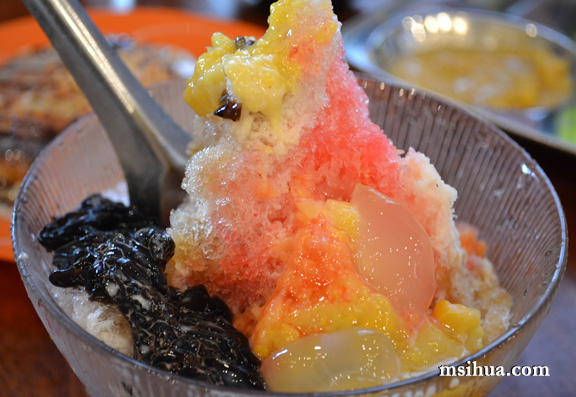 At the end, we were served a wonderful Ice Kachang (or ABC which stands for Air Batu Campur) – Shaved ice with creamed corn, grass jelly, kidney beans and palm seeds topped with sugar syrups.
As far as Ice Kachang goes, I think this was a better version than the one I had recently encountered in Mamak, Sydney.
This was a great event, as we got to try a heap of things off the original menu which would ordinarily take us a few visits to get through.
Would I come back? Definitely!
I love my rotis, and this place does them really well!!! I can still taste how crispy the roti canai is.. MmMmmmm….
*Disclaimer: All food ratings are purely based on my own experiences and how I feel about the service, food and quality
Food/ Cuisine: Malaysian
Dining Style: Hawker/Street
Overall Food Rating (Based on the Dining style): 7/10
Restaurant ambiance: 7.5/10
Service/ Attitude: 8.5/10
Value for money: 9/10 (for this wonderful roti fest we each paid $15! –> Excluding drinks)
Address:
295 Racecourse Road
Kensington VIC 3031
Tel: (03) 9376 0228
Website: http://www.chillipadi.com.au/
Chillipadi Mamak Kopitiam is open
Monday to Sunday
How to get there: