According to lost tales and legends, once upon a time, in the faraway land of Flemington, there lived two very good friends, Enda and Ing.
Enda and Ing lived in a village renown for its food. People would travel from all over just to try the food cooked by the two buddies. For 12 years, they served bowl after bowl of hot noodle soups known as Laksa.
Their tavern was by no means satisfactory. It was true that they were famous and popular, but that was the beginning of their downfall.
Service became sloppy, and the quality of the food began to drop.
Enda and Ing decided, that enough was enough. It was best they restarted their business and clean up their act.
They couldn't decide on how they would do this, and as such ended up selling off their business to clever investors who had come to town.
However, Enda wasn't satisfied as he was still very passionate about the food he was selling. He also missed the interaction with the visitors and people that would come from afar to eat his offerings.
And the story of Chef Lagenda began.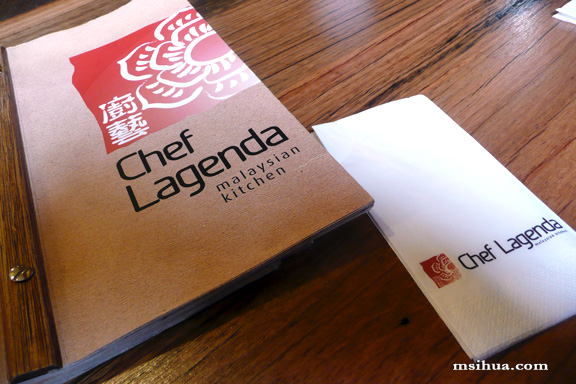 If you weren't quite sure of what my story was referring to, do not worry.
It's about the famous Laksa King and their so called rival that is located right next to them. When Laksa King closed and reopened in a newer, brighter, cleaner restaurant, rumours were in abundance that the business was sold and that the previous owner and staff had opened up their own Malaysian restaurant right next door.
Over the months, amidst the speculation, I visited Chef Lagenda several times and never once went into Laksa King. I was waiting for the hype to die down next door. And to be perfectly honest, I was quite happy with the Laksas that we were ordering here.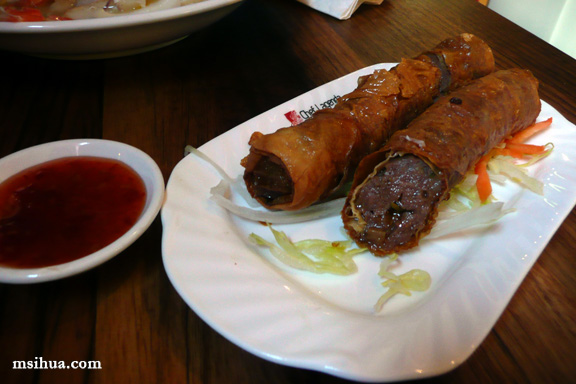 On one of my first visits, the Boy and I were looking to be adventurous and ordered the Lobak (Crispy Minced Pork Roll) 2pcs – $5.80.
That had got to be the very worst Lobak I've ever eaten in my life. I cannot even begin to describe how utterly wrong it tasted. The meat had a weird flavour and the bean curd skin was just burnt. I took a bite and could go no further with it.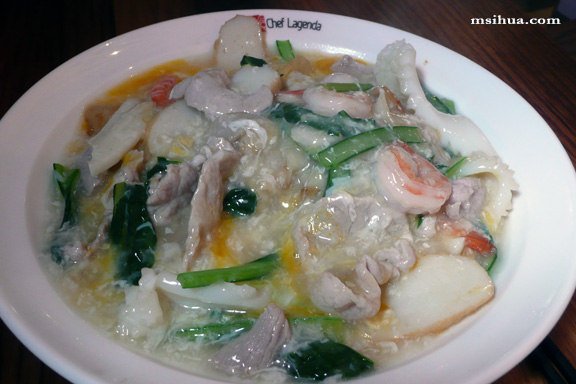 The Boy ordered a Fried Flat Rice Noodles with Egg Sauce (Flat rice noodles, shrimp, fish cakes, calamari, pork and green vegetables topped with thick egg gravy) $10.20 and found it not too bad. But it was missing that slight charred colour around the noodles. Cooking it with a bit more 'wok hei' would've given the dish a bit more ooomph.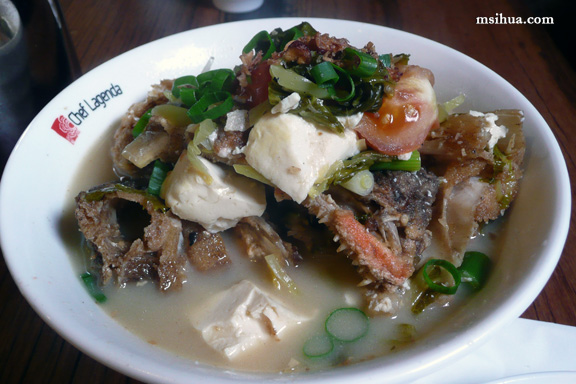 Putting their sides and stir fries aside, their Laksas and other Noodle soups on the other hand are really good.
I've tried their Fish Head Noodle (Vermicelli noodles with Rockling head or fillet served with tomato, tofu and pickled mustard) $11.20, which is delicious. The broth has a rich taste and aroma of fish stock.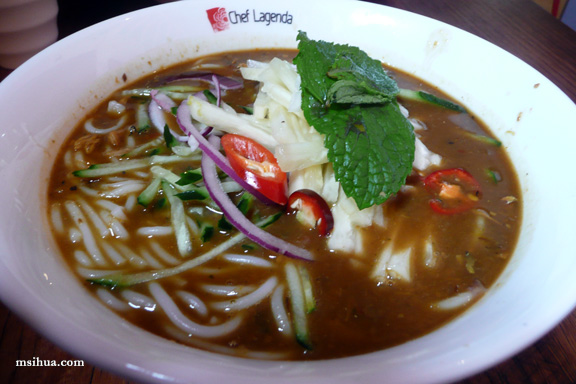 Their Assam Laksa (Thick vermicelli with cucumber, onion, pineapple and sour fish broth) $10.20 is also quite good. Not quite as thick and rich as I would like, but delicious all the same.
I've also been able to ask them to top up the serving of the heh go (Fermented Prawn Paste) which adds a wonderful pungent (I know this is contradictory, but trust me) taste to the soup, which gives it that extra boldness and depth in flavour.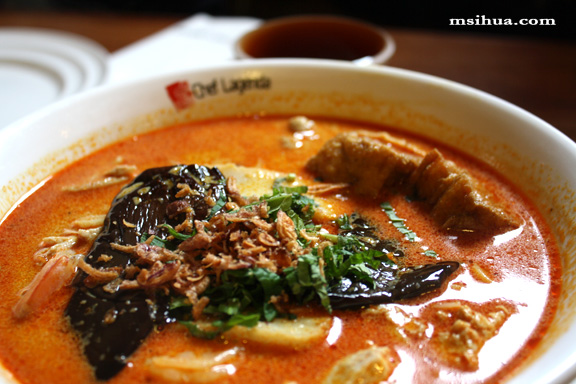 The Chicken Curry Laksa (Mixed noodles with chicken) $9.20 is quite good as well. It's not as rich in coconut milk as some other places, and can come across as quite sweet. But again, you can request for it to be spicier and adjust it to your taste. Otherwise, you'll be getting the localised watered-down version 🙂
The owner of Chef Lagenda, Thomas Lee was previously connected to the original Laksa King. Once he sold off the brand, he decided to have a fresh start under a new branding. I'm not going to go further than that in terms of the story, as many others have covered it.
However, I will say this.
Give Chef Lagenda a shot in their Laksa and Noodle soup department. However, I suggest you give certain side dishes and stir-fries a second thought.
*Disclaimer: All food ratings are purely based on my own experiences and how I feel about the service, food and quality at the time of visit
Food/ Cuisine: Malaysian
Dining Style: Restaurant
Overall Food Rating (Based on the Dining style): 7/10
Restaurant ambiance: 6.5/10 (could be a bit brighter)
Service/ Attitude: 7/10
Value for money: 7.5/10 (prices are pretty close to Laksa King and the quality of soups here are better IMHO)
Address:
16 Pin Oak Cres
Flemington VIC 3031
Tel: (03) 9376 2668
Chef Lagenda is open
Monday to Sunday, 11am to 10pm
How to get there: