And here we have it folks! A new post on the new Laksa King (as opposed to a new post on the old Laksa King *duh*)
We sure ain't in Kansas anymore, honey.
Gone are the cramp seating arrangements of old. Gone are the sullen faces that serve you. Gone is the old dirty hawker style facade.
Instead, the new Laksa King is brighter, friendlier and greener! Yes, they even have an indoor bamboo lined partition.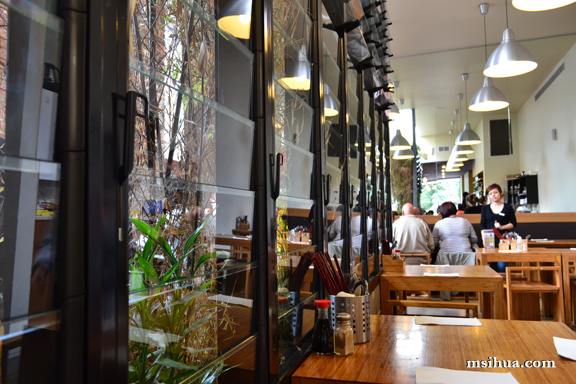 Just right next door, is to me the real King of Laksa… the legendary Chef Lagenda since the re-opening of Laksa King.
I can still remember the quality Laksa that was served on our table at the old Laksa King. But it seems that the recipes have been misplaced and hidden (right next door to be exact *ahem*)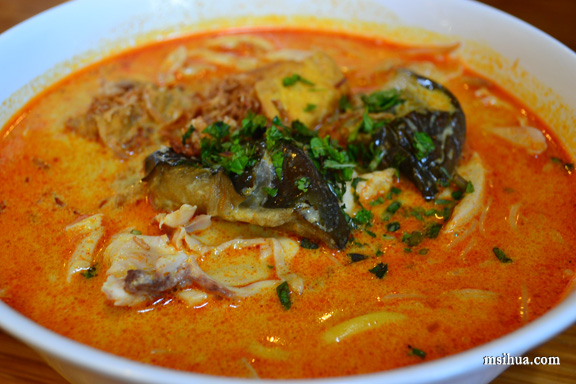 Once again, I delved into my favourite of old, the Chicken Curry Laksa ($9.20). Service was prompt and friendly. Actually, we were looked after really well at our spot.
The Laksa was decent but lacked the spiciness and oomph that I was looking for. Instead, I found the soup quite sweet.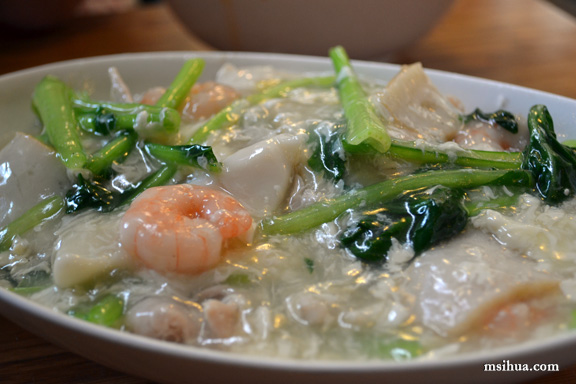 The Boy however, went with his usual foregoing of the Laksa and instead ordered the Ipoh Fried Flat Rice Noodles (Wat Tan Hor Fun) $10.20 – Flat rice noodles with seafood, pork, fish cakes, and vegetables topped with thick egg gravy.
Now, what the new Laksa King does well, is in their stir-fries and sides (the one thing that Chef Lagenda needs improving in). I had a taste of this, and it wasn't too bad. Great taste and slightly better than Chef Lagendas'.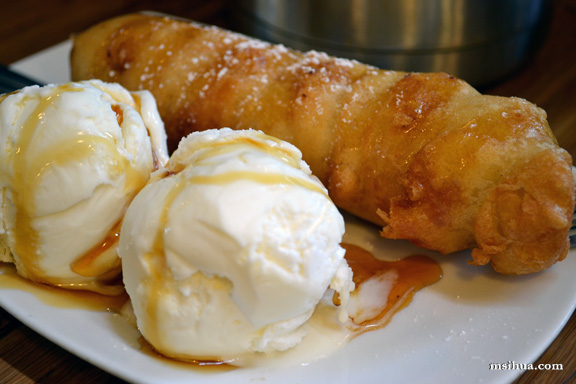 For dessert, we shared the Banana Fritters with Ice Cream, which was really crispy and fat!
We also had the Sago pudding (which were somehow green… perhaps emulating the pandan flavour/colour) served with Gula Melaka and coconut milk on shaved ice. Gula Melaka (dark palm sugar) …. MMMmmm … coconut milk … MMmMmmm …. Gula Melaka … MMMMmm… Delicious!
So would I come back? It seems that I should, at least to try the other items on their menu. Also the place was packed out on a Sunday at 2.30pm and still more came in despite the rain outside! I guess there's no stopping the tummy when it craves for something like Laksa. I've seen people queueing outside during dinner time as well.
What do I think about their Laksa? To be honest, it was decent, but I found it a bit too sweet. I much prefer the versions served at Chef Lagenda.
*Disclaimer: All food ratings are purely based on my own experiences and how I feel about the service, food and quality at the time of visit
Food/ Cuisine: Malaysian
Dining Style: Restaurant
Overall Food Rating (Based on the Dining style): 7/10
Restaurant ambiance: 7.5/10
Service/ Attitude: 7.5/10
Value for money: 7.5/10
Address:
12 Pin Oak Cres
Flemington VIC 3031
Tel: (03) 9372 6383
Laksa King is open
Monday to Sunday for Lunch 11:30am – 3pm and Dinner 5pm – 10pm
How to get there: