Let's start at the very beginning,
It's a very good place to start,
When you read you begin with,
A-B-C (A-B-C)
When you sing you begin with
Do-Re-Mi (Do-Re-Mi)
The first three notes just happen to be
Do-Re-Mi
Do-Re-Mi-Fa-So-La-Ti…
How interesting.. I actually typed that out from memory without checking anywhere and am currently humming the tune in my head as we speak (yes you and I are speaking right now via telepathy, we are amazing like that 😉 )
10 points to anyone who knows where that verse above came from without using the power of Google or any search engine!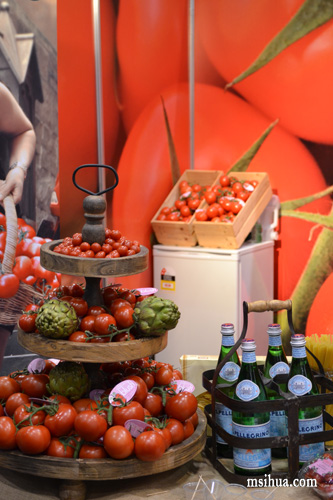 What I really wanted to start at the beginning, is to begin recapping the entire Good Food & Wine Show in this final instalment of pictures.
Am I mad? Quite rightly should you think so. But there's a fine line between genius and mad, and I'm definitely a genius!!! *GONG* Bells are chiming and Hark! Are there angels singing? Listen (Do-Re-Mi)
*ahem*
It was a hectic yet fulfilling 3 day schedule that I signed up for.
Not only did I get to eat my fair share of food at the Malaysian Kitchen and get in touch with my roots, I also managed to wolf down a couple of dishes from Poh Ling Yeow and Marion Grasby!!
As part of a dozen bloggers chosen to cover this event, I was also given an opportunity to rekindle my relationship with the George and Gary show. Remember last year?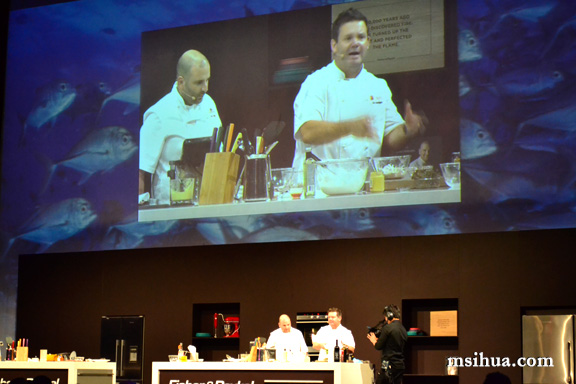 [Gary Mehigan and George Calombaris with their session 'Celebrating the Sea' at the Fisher & Paykel Celebrity Theatre]
However, the awesome duo were a bit flat this time round, but they did explain the reason why. They had just got off a flight from their Masterchef filming in New York, New York!
Lucky buggers!!
[Poh Ling Yeow at the Celebrity Theatre and Dymocks Book Signing]
The highlight for me was definitely the one on one session between Poh and the bloggers. She spoke about her passion for food. About the guest chefs on her show. About her new upcoming and highly anticipated second season to Poh's Kitchen – On the Road.
We were even given the opportunity to ask questions! I think the majority of our crew were a bit spell-bound and captivated, and only 3-4 of us shot her any questions.
I asked if she would be doing more travelling in the second season, to which she said….*SPOILER ALERT*… yes…
Unfortunately, I can't tell you where, she swore us to secrecy *wink*
During that first meeting, I had in my excitement and rush to get there, forgotten to bring my Poh's Kitchen cookbook to be signed, but managed to catch her the next day! Yayy! This is what I posted on my instagram.
And then it was on to the food tasting! We were introduced to the usage of turkey at the Ingham Turkey stand.
Whilst the cooks were preparing the serving for the bloggers, a bunch of other people left their spots in the queue to come and grab some and were unfortunately told to step back in line.. Hahahaha…*evil laughter*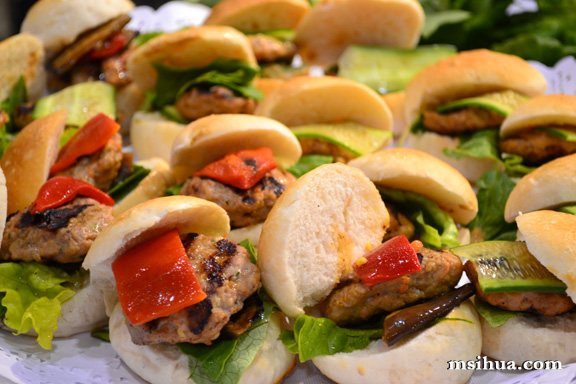 Ingham's Turkey Burgers.
How does turkey differ from chicken? Well it's a different meat altogether. The Ingham stand is trying to promote turkey into our everyday meals as oppose to only thinking about turkey during the Thanks Giving and Christmas season.
To be honest, because I don't eat beef, I have experimented with using turkey in a variety of dishes. Stew, soup, pies, and bolognese sauce. So I'm proud to say, I am already on track with their plan!
However there are too many photos and too many things to write, so here you go in photo summary!
One of the other things we were able to try as VIP guests on the Friday night were Gü Puds. Gü What? Gü Who? That's right, Gü's the man!
Gü Puds – Gü Lemon Cheesecake, Gü Key Lime Pies, Gü Melt in the Middle Puds and Gü Cheeky Little Pots of Chocolate Ganache are available in Woolworths while the Gü Naughties, Gü-Ey Choc Sponge Rolls, Rocky Road and Millionaire's Flapjacks are available in Coles.
The Gü puds were actually very rich and tasty. And if I didn't see them pop it into the microwave for 30 seconds, I would not have believed it was from a pack.
But the idea isn't that shocking, since I have attempted 30 second cakes before 😛
We also managed to catch George Calombaris and Travis McAuley (Head Chef at Hellenic Republic) cooking at the BBC Good Food Theatre as the last show before the GFWS shut for the year.
Now on to the bargains and beautiful produce found at the GFWS.
One of the key things to remember is that this is a 3 day event. Meaning, if the goods and products don't get sold by the end of the third day, the exhibitors will have to lug all their products back to their store/farm/factory/homes/etc….
By around 4pm or 4.30pm Sunday (the show closes at 5pm), it's pretty much the same as the last call at any market. People are shouting, bargaining and offering really good prices.
We learnt this from our experience last year, and decided to not buy much until that last euphoric moment.
And hence, this is how we ended up with the fab items below!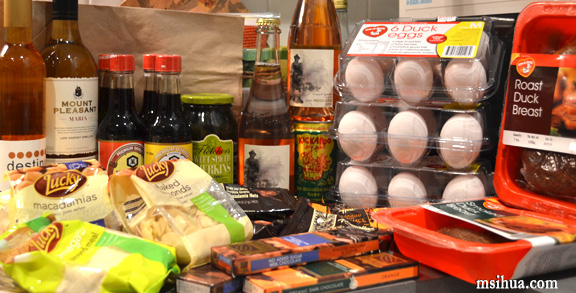 Closing Bargains:
1 x Jar of Gherkins for $1.00
2 x Luv A Duck – Roast Duck Breast & Smoked Duck Breast for $20
18 x Luv A Duck – Duck Eggs for $10
5 x Hawaiian Host chocolates $5 (+2 bonus) (from USA Foods)
Other Purchases:
2 x Innocent Bystander Moscato for $20
5 x Lucky Brand products for $10 (macadamia nuts x 2, almond meal, pine nuts, almond flakes)
5 x Cocoa Farm Chocs for $5 (dark chocolate orange x 2, dark chocolate, chilli and mango x 2, dark chocolate)
4 x Kikkoman Soy Sauce (Ponzu Citrus Flavoured) for $10
Do you have a GFWS story to share?
For 2011 Good Food & Wine recap:
GFWS 2011 – Part I – Chong Liew, Malaysia Kitchen
GFWS 2011 – Part II – Dishes served by Poh Ling Yeow and Marion Grasby
For 2010 Good Food & Wine recap:
GFWS 2010 Part I
GFWS 2010 Part II
[Entry tickets, celebrity show and Q&A with Poh Ling Yeow courtesy of Ogilvy Public Relations & GFWS]