Dear readers, I have a confession to make.
I don't know much about cars at all, other than the fact that they go vrooom and they make the Boy go ga-ga over them occasionally.
I dutifully attend the Melbourne Motorshow every year (before switching to the AIMS) with him and look suitably impressed by the machines surrounding me. Truly, I am more impressed with the Motorshow girls and their dresses, but I "ooh" and "ahh" appropriately at the right cars.
I even queue up and take posters of cars for the Boy. Now that's love and dedication!
Heck, I only learnt how to drive two years ago. And that was only because I wasn't working then due to the GFC.
So what on earth would make me take a trip down to South Yarra to visit a car showroom? A Dutton showroom to be exact?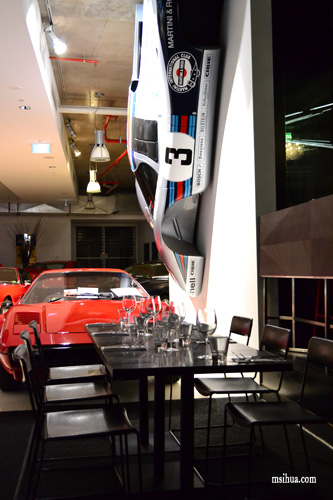 Why, it must be because Veloce is located adjacent to the showroom (well, it feels more like an extended part of the showroom)! If you are looking for something a bit different and a talking point for the night, Veloce is certainly the place to be. Imagine dining and admiring luxury, sports and classic automotives at the same time.
Together with Hannah in tow, and after our crazy reverse dinner (first with dessert at Burch & Purchese and then more dessert at Luxbite), Veloce would be our final pit stop before we called it a night.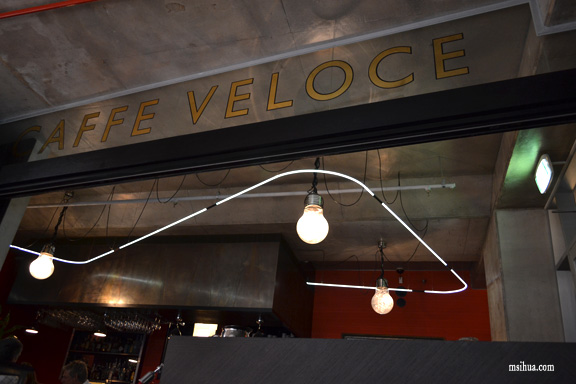 So after having 10 desserts (who's counting?), we decided to go for our main meals by dining on little tapas dishes to get us fuelled for the rest of the night (Booyah! 50 points if you can count all the automotive references in this post 😛 )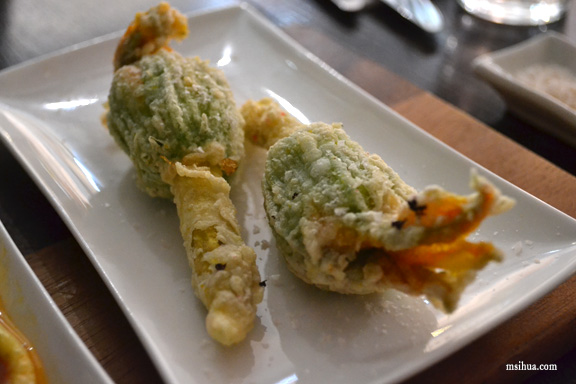 Ready, Get Set, GO! And we are off to a great start. For our starters (*ahem*) we ordered the Fried Zucchini Flowers with Manchego and Red Quinoa ($7 each). Forgive me if the items and prices have changed, as it was a while ago and the menu has changed to suit the seasonal produce 🙂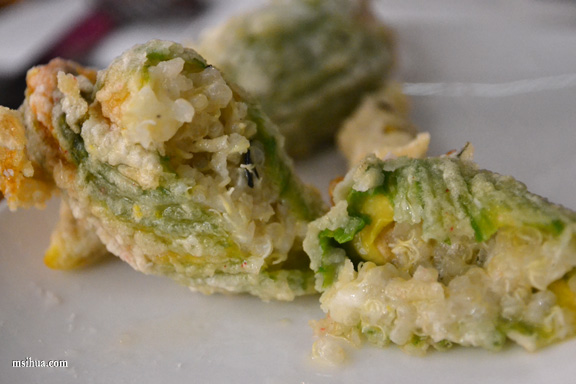 The zucchini flowers were certainly delicious, with the red quinoa adding a wonderful texture among the soft petals and crispy batter.
The Boy had the Empanadita de Carne ($12 for 2 pieces), a hand cut mayura wagyu beef with black olive paste. He mentioned that this was quite nice whilst I commented that it looked like Malaysian curry puffs 🙂 I add no value to cow base dishes.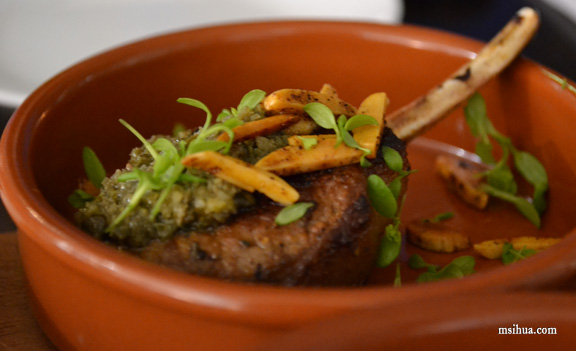 Whilst the Boy was enjoying his empanadas, I had my very own Rutherglen Lamb Cutlet with adobo, salsa verde and smoked almonds ($6.50 each). This was absolutely delicious. The salsa verde and smoked almonds really enhanced the taste of the lamb.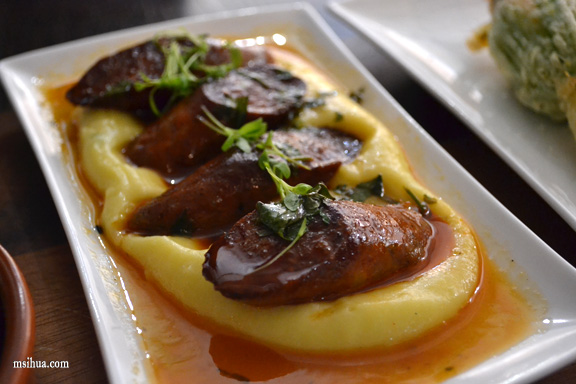 We also ordered a serve of the Chorizo Colorau ($16) – dry aged Western Plain pork chorizo braised in cider and served with a velvet mash. De-li-cious! If I wasn't so full from eating so much, I would have ordered another serve to have all on my own!!!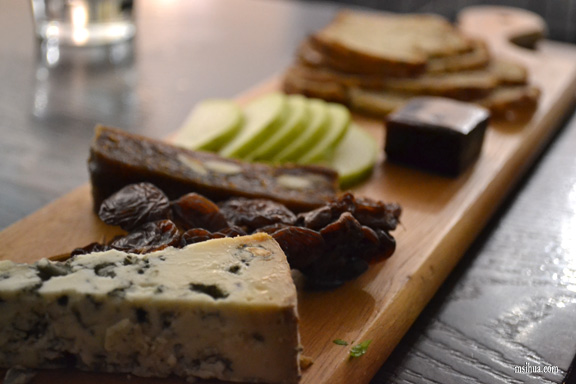 Now, whilst the Boy and I were gorging ourselves silly with all the food, what was dear ol' Hannah eating?
She decided that she would take little bites out of our dishes and enjoy a whole cheese platter to herself! Essentially, going for another dessert!!! So whilst we had 10 desserts, she went and opted for an 11th dessert! I know! What a clever woman 🙂
Just in case you were wondering, Hannah's cheese platter was the Queso Tradicional ($9) which had the Valdeon goat and cow blue,  pear, pan de higo (fig cake), anise bread, dried muscatels, and quince paste.
Would we come back? Definitely. As we pull through the finish line, I can only say good things about this restaurant.
So yes, I would like to return and properly dine on their degustation menu. The chef, Pablo De Pasquale, with his Argentinean background fuses together both Mediterranean and Argentinean flavours to create a desirable menu.
You can also read Hannah's version of the night if you like.
*Disclaimer: All food ratings are purely based on my own experiences and how I feel about the service, food and quality at the time of visit
Food/ Cuisine: Mediterranean &  Argentinean Fusion
Dining Style: Restaurant
Overall Food Rating (Based on the Dining style): 7/10
Restaurant ambiance: 7.75/10 (The Boy gives this rating due to the fact that he was able to dine and walk around admiring all the cars. I must admit, it was a very different style of dining, and even a motor un-enthusiast like me could find enjoyment out of it, but heck, why not?)
Service/ Attitude: 7/10
Value for money: 7.5/10
Address:
9-11 Claremont Street
South Yarra VIC 3141
Tel: (03) 9827 1817
Website: http://www.velocerb.com.au/
Veloce Restaurant Bar is open
Monday to Friday, 7:30am to 11pm
Saturday, 8am to 11pm
Closed on Sundays 
How to get there: