Bento (pronounced as Ben-toh) is a traditional Japanese lunch box, often consisting of rice, veggies, fish or meat. It can also be served with a hot bowl of miso soup.
I love my bento sessions during the work week.
So much so that a bunch of my colleagues and I started a Bento Friday, where we would head out to a nearby Japanese cafe to buy Bentos and sit around enjoying every single portion of it.
When we visited Japan, I did my best to have at least one bento a day to make it worth my while.
So when the invitation arrived in my inbox to try out the new Bento Lunch Menu at Taxi Dining Room, I was sold.
Did I mention how much I love bento?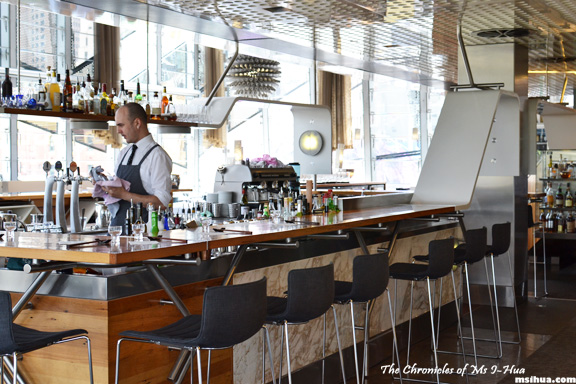 It was a glorious Saturday afternoon. The sun was shining.
The city was bustling with crowds. The enclosure at #OccupyMelbourne had just started to be set up at City Square. Coppers everywhere, fights nary in sight and it was peaceful.
I arrived at Taxi a little early, but was delighted to walk in the door with fellow bloggers Agnes and Mat.
Seated side-by-side, I was introduced to a few other bloggers whom I have had the pleasure of meeting.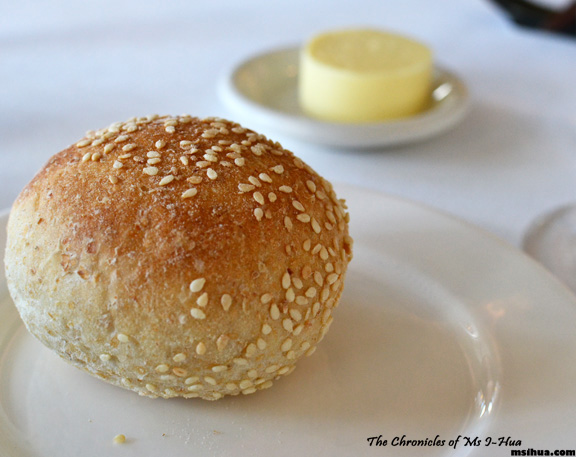 To my surprise, Agnes revealed to me that she was on a diet. A paleo diet to be exact. A what?
A Paleolithic diet (caveman) which pretty much means a high protein, low carb diet.
My response to that? I ate her bread.
And then instantly regretted it as she was shining with health (BIG GRIN) and I was jealous and I wanted to be on board.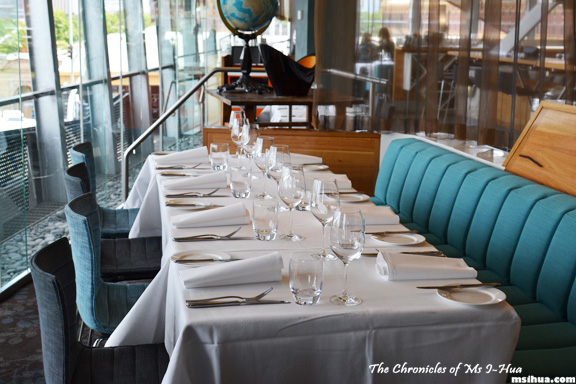 But I was not going to attempt to start any diet on the verge of a bento lunch! I'm crazy, but not that crazy (no matter what Agnes tells you!)
We were told that Taxi was going to do things a little differently and serve up the Bento as a four course lunch instead.
More reasons to skip that diet for later 🙂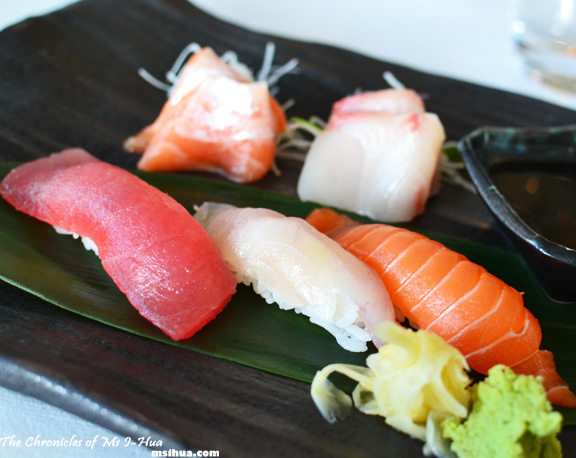 We started out with the Taxi Sushi & Sashimi Entree which was very fresh and delicious.
The winning fish for me had to be the Alfonsino (Tasmanian Snapper).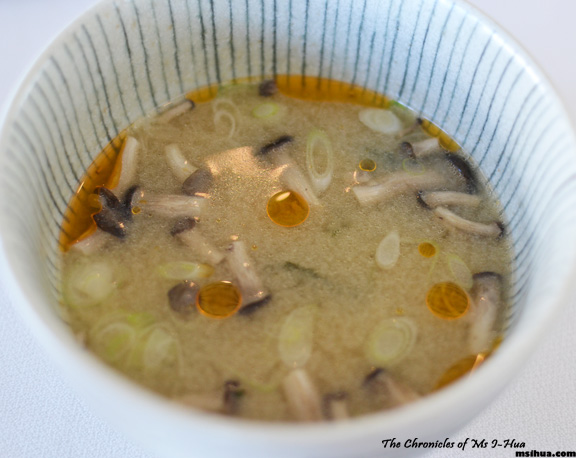 Next on the list was a Salmon Miso with Wakami & Shimeji Mushrooms.
This my friends. Is-to-die-for.
It's made with salmon bones. As in, grounded salmon bones. Which made for a very rich and satisfying broth.
In fact, it was really similar to the broth I had at Loam at the start of the year.
Hands down, my favourite dish of the day!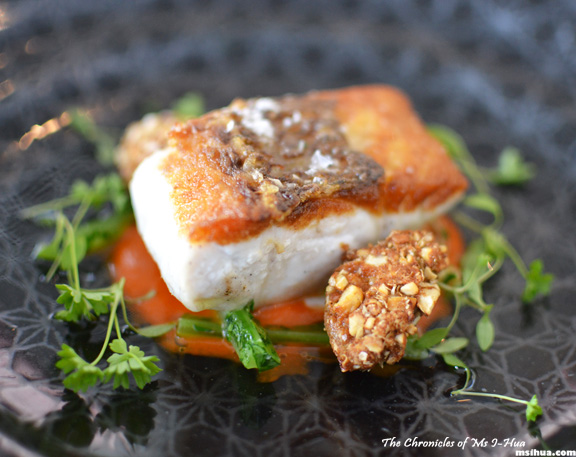 For mains, we had a choice between a snapper and pork belly. For those who know me, I obviously went straight to the pork belly dish. However, seated next to me was a very nice blogger who ordered the Snapper with Red Pepper Essence & Crumbed Mussels 🙂
Yay happy snaps! (no pun intended, or is there?)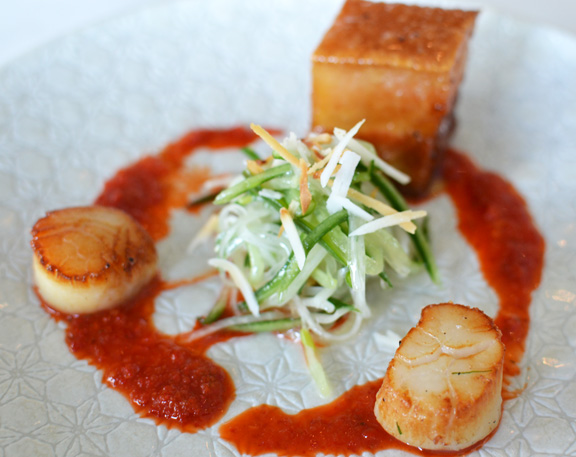 And so when my main of Taxi's Sticky Pork with Seared Scallops and Red Nam Jim arrived, I had to angle my plate in such a way to distract Agnes from stealing my crackling.
The red nam jim was just so tasty and made a great accompaniment to both pork and scallop. mMmmm…
She still tried to by the way.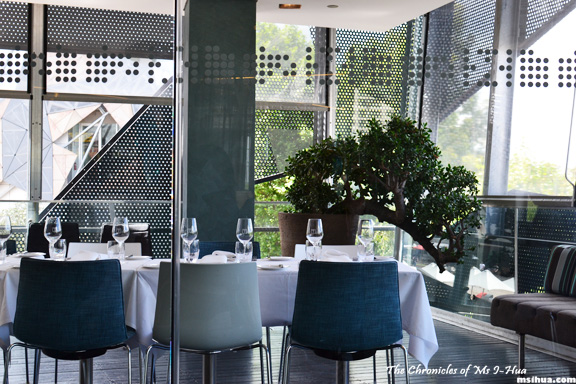 We were given a brief respite and had our drinks topped up.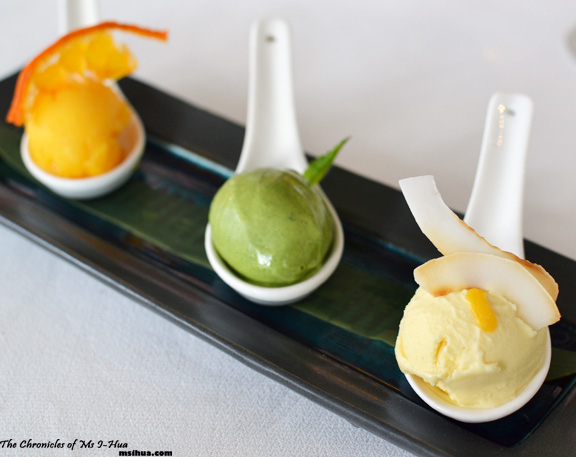 And then desserts arrived. Taxi 3 Piece Sorbet Selection of Mandarin, Green Tea and Passionfruit with Coconut.
All three flavours were delicious but my favourite (and mostly everyone else's) was the mandarin.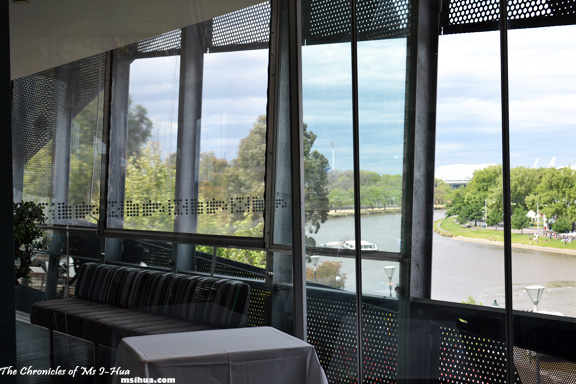 Towards the end of our meal, when I could no longer lick anything more from the dessert spoons, Taxi's Executive Chef, Tony Twitchett (Chef_Twitch on Twitter) came out to speak to us about the food served that day.
For a wonderful $45 per person, the quality of the Bento Lunch (which can be served express) is definitely worth it. The menu changes according to the produce and as such, the bento lunch items is not set.
Taxi Dining Room also does corporate and Christmas functions.
[Ms I-Hua dined as a guest of Little Big Marketing and Taxi Dining Room ]
For other recaps to this lunch, read:
*Disclaimer: All food ratings are purely based on my own experiences and how I feel about the service, food and quality at the time of visit.
Address:
Level 1
Transport Hotel
Federation Square
Cnr of Flinders Street & St Kilda Road
Melbourne VIC 3000
Opening Hours:
LUNCH:  Monday to Sunday, 12pm to 3pm
DINNER:  Monday to Sunday, 6pm to late
Tel: (03) 9654 8808
Website: http://www.transporthotel.com.au/
How to get there: