Hark, the Dessert Queen has returned!
Although, she probably doesn't like that title at all. However, her last stint at Il Fornaio was when Masterchef featured her and made her "Snickers" dessert a household name.
But she was already famous in her own right and you can read more about Philippa's repertoire here (and remember the est est est effect?)
Recently returned from some time off to develop recipes for her recently published cookbook PS Desserts, Philippa Sibley has returned to high anticipation.
Where would she go next? What would her next dessert creation be? Will she go back to savoury cooking?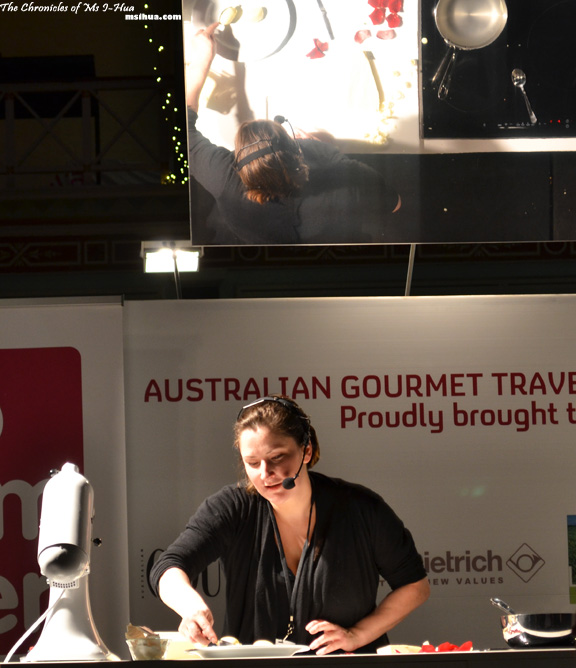 During the recent Taste of Melbourne event, the Boy and I were one of the lucky few event go-ers who managed to catch Ms Sibley in action doing a cooking demo (pictured above). She announced (at the demo) that her next venture would be a restaurant named Albert St Food & Wine and that the opening date would be some time in December.
In the last month, the Boy has been constantly refreshing (on a daily basis) the Albert St F&W Facebook page and finally on the second week of December, excitedly exclaimed that it was OPEN! He declared that, "We have to go there now!"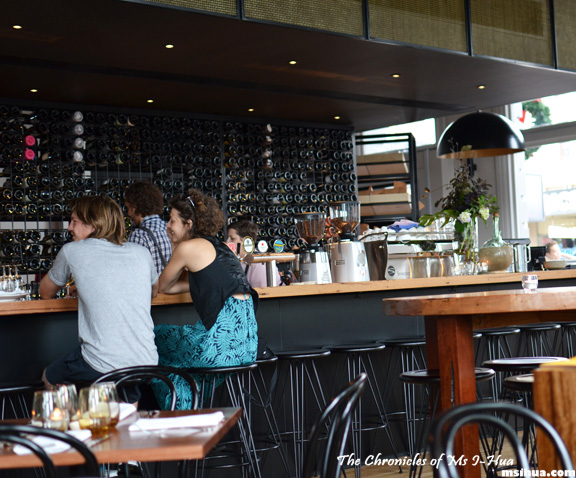 And so we did. We woke up really early (than usual) last Saturday as the website mentioned that they would open from 9am to 1am.
We got there around 9-ish, close to 10am for breakfast. Lo and behold it wasn't opened. We figured they were running late as it was their very first weekend since opening on that Thursday after all.
The cleaning lady was there, other customers like us were peering through their doors to see if there was any sign of life. Alas, apart from a few lone figures in the kitchen, there wasn't much activity to be seen.
We tried ringing the restaurant, but no one was answering and there wasn't a voice message option either.
We decided we would take a walk around Sydney Road to buy some time. After 30 minutes, we walked back to their doorsteps and saw 2 people standing at the bar!
Much hand signalling ensued and we were "told" that they would open at 12pm.
Rather disheartened, we waved goodbye to the staff and made our journey back to the South East (not before stopping by for a quick brunch at nearby Pope Joan instead).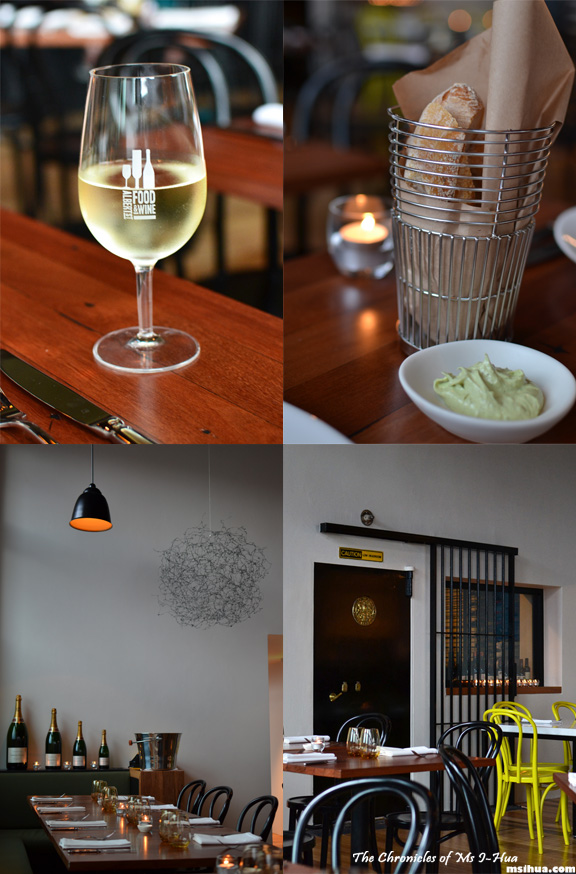 Now, we could have gone two ways here.
A.) Leave and never return and forever grow to hate them
B.) Give them another chance and understand that they were still trying to find their feet and return later that night for dinner
Obviously, we chose the latter option and returned. Before we left however, I rang the restaurant up to triple check that they were indeed open for dinner!
When we returned, we were greeted with open arms and brought to a table overlooking the old bank vault (now a wine cellar), bar and kitchen area.
I also opted for a glass of the 2010 Xabregas Riesling Mount Barker, Western Australia ($7.50) to start off the night.
We were also given warm crusty sourdough bread with basil infused oil whipped in butter. The Boy found this truly enjoyable.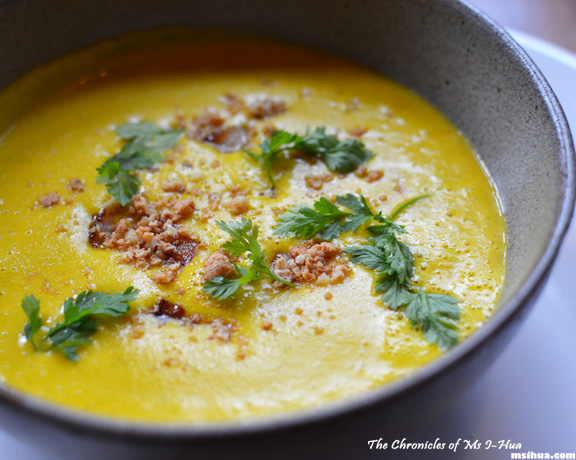 Unsure of what to order from the mostly Mediterranean optioned menu, the Boy and I consulted the wait staff who gave us a helping hand. We asked if the Heirloom Carrot Soup, Vin Santo, Scallops ($16.00)  was worth a try, and he said that it was.
And boy were we glad that we did. Because apart from the amazing desserts we had that night, this soup was the most decadent and delicious liquid gold we have had this whole year.
Rich, creamy and not stingy with the scallops, if you do find yourself at Albert St F&W, do not go past this soup.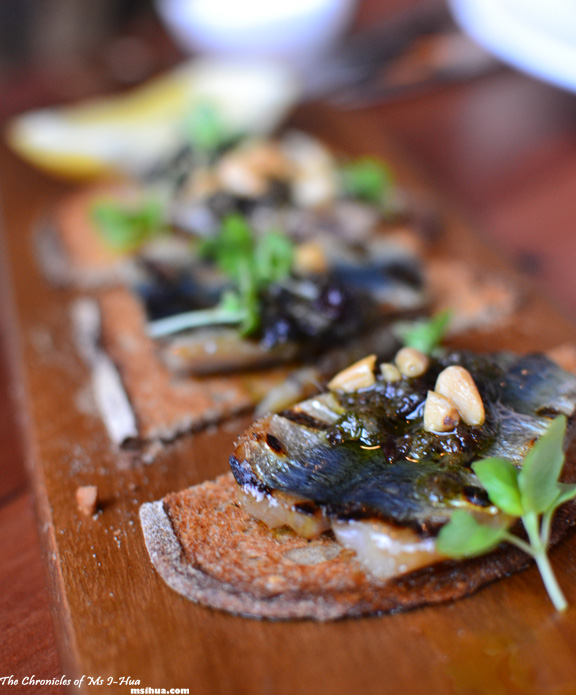 We wanted to try the Salt Cod Fritters, but were told that it had sold out during their lunch service.
Instead, our waiter recommended to us to try the Sardines on Grilled Bread with Capers, Currants and Pinenuts ($15.00 – Entree size) instead, which I found to be very good. The richness of the sardines was beautifully paired with the salty-sourness of the capers and the sweetness of currants.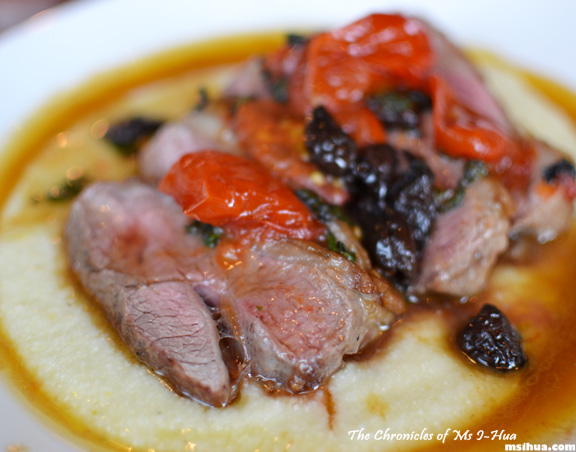 To be honest, after such rich dishes as our entrees, we were quite full but also looking forward to the mains that were making their way to us. If starters were that good, we couldn't wait for the mains! I still ache and crave for the mouth-watering lamb ragout from Il Fornaio when Philippa was still the head chef there.
I ordered the rather lovely sounding Roasted Rump of Lamb, Soft Polenta, Melted Tomatoes, Olives, Marjoram ($32.00). And somehow, I wasn't fully blown away by the dish.
I could see where the flavours were going with this dish. The olives and melted tomatoes brought a rather sharp acidic and sweet explosion to the palate, but I found the soft polenta a little bit too overpowering. I struggled to finish this main.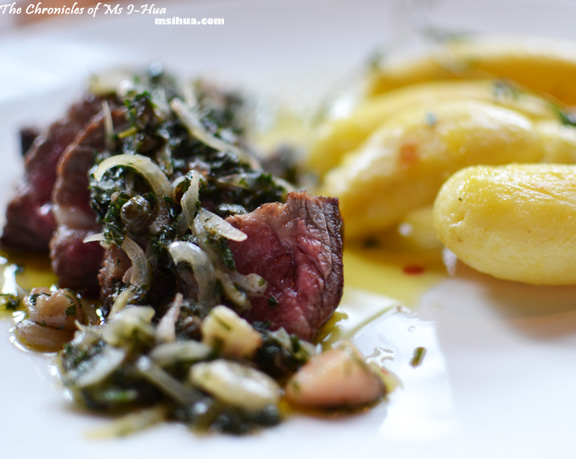 The Boy upon hearing the Special of the Day which was a Tri-Tip Wagyu Beef ($37.00) instantly placed an order for it. The tri-tip of the wagyu beef is one of the most tender part of the beef (we were told) and for this version, it was pan seared to medium rare and served with capers, garlic, anchovies, mushrooms, parsley and sautéed potatoes.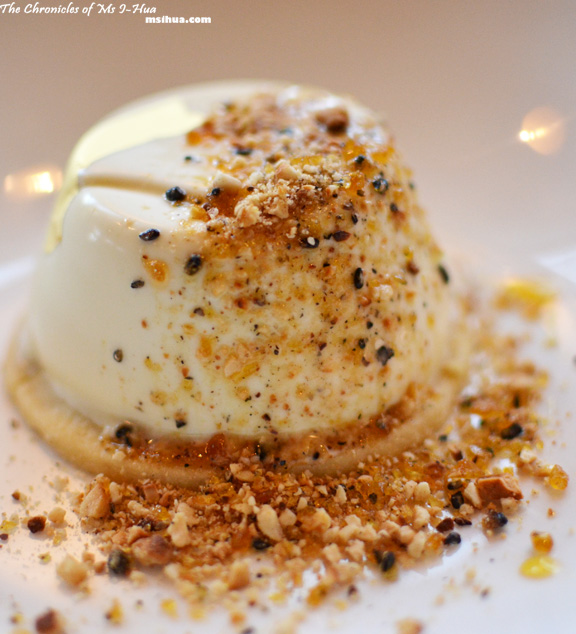 Knowing and having experienced Philippa's genius in the kitchen in terms of desserts, we knew to save some room for our last course. We had previously agreed to order one dessert to share between the both of us, but due to the heavy rain outside, we decided to change our plans to bide our time whilst waiting for the rain to subside.
Hence we placed an order for the very very very rich Truffled Honey Panna Cotta, Candied Cashews ($12.00). Seriously, if you are a truffle fan (and I most definitely do not mean chocolate truffles), you have to order this heavily infused truffle flavoured panna cotta. It is utterly rich with the fungus and enhanced by the creamy sweetness of the panna cotta.
The poor Boy who is not a great fan of truffles at all, struggled with this dessert and I ended up taking over this dish from him.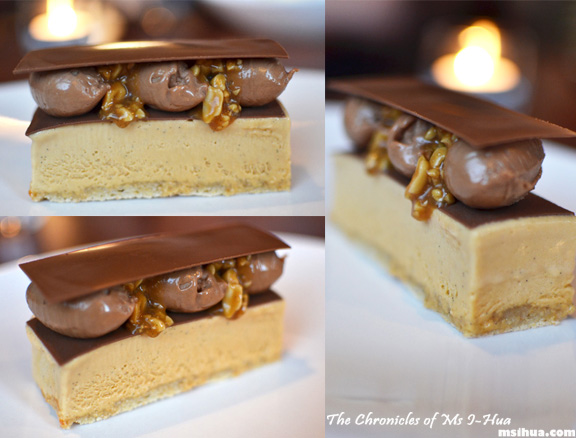 Just as our luck had it that night, the Dessert Special of the Day (Dessert specials from Phillipa Sibley's new cookbook – changes daily) was the famed Snickers and we obviously had to order it.
When it arrived, I nearly died from ecstasy. It was better than I recalled and it tasted richer than I remembered.
This truly is an amazing dessert and nothing else can compare, although Neil Perry's Chocolate and Peanut Caramel Parfait would probably be the next best thing.
How did I feel about my whole visit? I would most definitely return for entree's and desserts.
I do understand that dining on the very first weekend (in this case, third day) since opening might mean that not everything would go smoothly in the kitchen and that flavours may not mesh as well or appeal as much to some customers, however, I really was quite disappointed with the lamb. It is my favourite piece of protein after all.
Service was excellent and everyone was looked after well. Water glasses were topped up consistently despite the restaurant and bar picking up the pace during the later part of the evening.
Overall, it was a great dining experience given the circumstances that they are still new. I am truly happy that Philippa is back guiding the helm in the kitchen.
*Disclaimer: All food ratings & review are purely based on my own experiences and how I feel about the service, food and quality at the time of visit
Food/ Cuisine: Mediterranean
Dining Style: Restaurant & Wine Bar
Overall Food Rating (Based on the Dining style): 7.25/10 (9.5 for the Snickers!)
Restaurant ambiance: 7.5/10 (Large wide open space)
Service/ Attitude: 7.5/10
Value for money: 7/10 (Although food was a tad pricey and slightly above the average, the price of wines were definitely a hoot and very reasonable. The wine carafe would be highly recommended as well)
Opening Hours: 
Monday to Thursday, 9am – 12am
Friday to Saturday, 9am – 1am
Sunday, 9am – 11pm
Address:
382 Sydney Rd
(Corner of Albert St & Sydney Rd)
Brunswick VIC 3056
Tel: (03) 8354 6600
Website: http://www.albertst.com.au/
Twitter: @AlbertSt1
How to get there: