I love Melbourne.
I really do. I love the graffiti laden laneways.
I love the hidden clothing shops and food outlets within the city.
I love the fact that you can wake up at any morning and pick any cuisine and 8 out of 10 times, you would be able to find it.
Polish food? In Dandenong. Hungarian Food? On Glen Huntly Road. Portuguese? If you're not looking for Nando's, you could try looking at Brighton.
Some days, I wake up and think, I could really kill for some crêpes right now. I want French for breakfast!
If you aren't too familiar with the beautiful thin pancake-like delicacy, let me introduce you to a world of haùte cuisine 😛
A "Crêpe" is typically a French sweet pancake, which can be served with a multitude of toppings including sugar, lemon, peanut butter, chocolate, Nutella, cream, whipped cream, or anything sweet really.
A crêpe which features the characteristics of sugar, alcohol (usually Grand Marnier) and set alight at the table is known as a Crêpe Suzette. There is an amusing account of how the famous crêpe suzette came by its name which you can read on Wikipedia.
If you're like me and you've been naming every French pancake a crêpe, be it sweet or savoury, you are mistaken. A savoury crêpe is known as a "Galette" which hails from the French region of "Bretagne", and is made from buckwheat flour.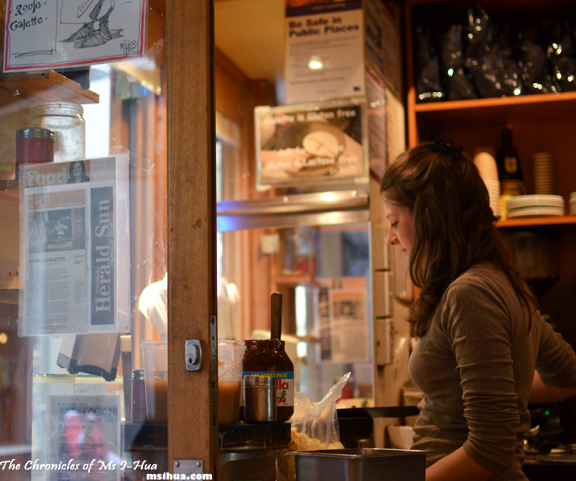 In a little lane off Flinders Lane in Melbourne CBD, lies a popular and extremely tiny French Crêperie called Roulé Galette, which literally translates to a "galette rolled".
Famed for being authentic and true to traditional French styled crêpes and galettes, Roulé Galette showcases a variety of these sweet and savoury French pancakes.
I was on a quest. A quest to match the goodness of Le Petit Francais in South Yarra. A quest to find great tasting crêpes in the heart of Melbourne.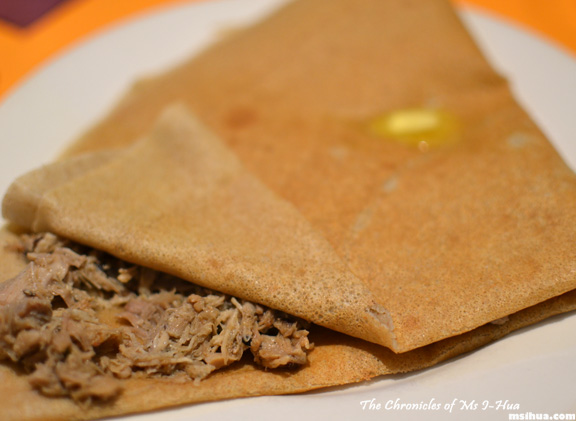 The Boy and I embarked on my quest (he was the enabler and I was the seeker) one early Saturday morning. Despite it being quite early on a Saturday morning, Roulé Galette already had a couple of tables filled with visitors and regulars.
We decided we'd go slow and order one savoury and one sweet pancake to start us off on our day.
The Boy and I ordered the Les Galettes: Chicken du Chef ($11.00) – 'Saute' de Chicken with fresh mushroom and a bit of cream which I found to be full of flavour. The galette was crisps and the cream accentuated the flavours of the mushroom, chicken and buckwheat.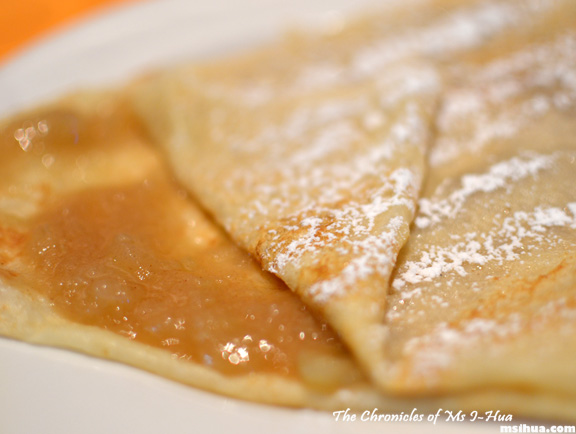 For dessert we had the rather average Les Crêpes: Mimi ($6.00) – Apple compote and cinnamon.
Why was it average? I found it a little too soggy and lacking in flavour. This was disappointing as we'd just finished the beautiful galette which was the total opposite in the flavour department.
I'm not sure what it was but there didn't seem much taste in the apple compote. The sharp sweetness and acidity of the apples were somewhat missing.
We might have just been unlucky with the crêpes that morning.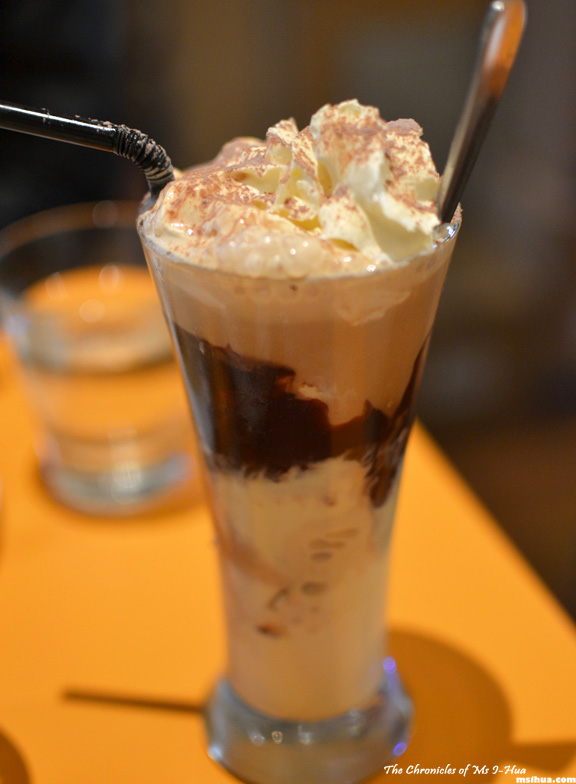 Slightly disappointed, we somehow placed an order for an Ice Mocha ($6.00), something quite out of the ordinary for us.
That Ice Mocha was amazing! I know it was only a mocha, but it was chocolate-y, creamy, fresh, smooth, coffee-ish and everything a mocha was!
I was pleasantly surprised with the drink to be honest.
Did I succeed in my quest for great crêpes and galettes? It probably wasn't on par with Le Petit Francais, but it certainly is worth a visit.
For their galettes' at least, they're on to something good.
*Disclaimer: All food ratings & review are purely based on my own experiences and how I feel about the service, food and quality at the time of visit
Food/ Cuisine: French Crêperie
Dining Style: Cafe
Overall Food Rating (Based on the Dining style): 7.5/10 (for the galette), 5/10 (for the crêpe)
Restaurant ambiance: 6.5/10 (incredibly tiny, and depending on where you sit, it could either be cramp or cosy)
Service/ Attitude: 7/10 (the French-speaking staff seemed quite friendly)
Value for money: 6.5/10 (I found the pricing to be slightly on the higher end of the scale considering the size and portions of their food)
Opening Hours: 
Monday to Thursday, 7:30am – 8pm
Friday, 7:30am – 9:30pm
Saturday to Sunday, 10am – 5pm
Address:
Scott Alley, 241 Flinders Lane
Melbourne VIC 3000
Tel: (03) 9639 0307
Website: http://www.roulegalette.com.au/
How to get there: