We have recently discovered something big. Something that everyone who loves food needs to get to.
The reincarnation of South Wharf Promenade!
It has finally arrived with a bang. Akin to a phoenix being reborn from its flames, Melbourne's South Wharf Promenade, is not only beautiful and houses a many a splendid things, it is easily accessible despite common misconception that it is too hard to get to.
How the heck do we get there?
There are 4 entries which we discovered in our exploration. If you're coming in by car, there is the Melbourne Convention and Exhibition Centre entrance, the DFO South Wharf Entrance (along Normanby Road, Lorimer Road and Montague Street and Wurundjeri Way), as well as across the river from the neighbouring WTC Wharf (where you park and cross the Seafarers Bridge to get to).
If you are walking, it's even easier, either catch a tram (96 [St Kilda], 112 [St Kilda] and 109 [Port Melbourne]) towards Crown Casino and get off at stop 124A (right at the Casino and the MCEC entrances).
Alternatively, you could either walk or take a tram to the WTC Wharf via Tram 48, 75 or the free City Circle and get off at stop D5 (South Wharf/Wurundjeri Way).
More detailed information at the end of this post 🙂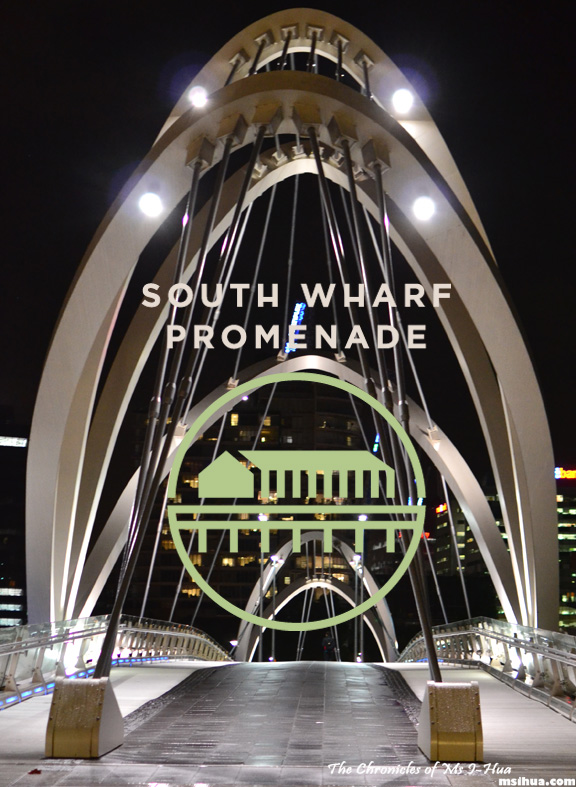 On our recent visit, we were lucky enough to be offered a progressive dinner tour around four establishments around South Wharf Promenade. Hand-in-hand with Agnes and her other half, we battled the cold winds and rain on the eve of ANZAC day to have an extremely enjoyable night (despite the insane Melbourne weather).
1) Pre-Dinner Snacks & Drinks at:
The Boatbuilders Yard
Our first pit stop was at the refurbished boatbuilders shed (keeping many of the existing structures and fixtures), redesigned into an open plan layout featuring three distinct sections including a barbecue pit and a gelato stand (for the warmer months/days). With winter fast approaching, Gabriel (the manager) informs us that there will be some heating and shelter included in the outside seating areas.
The Boatbuilders Yard is a bar and a cafe that strictly adheres to casual and relaxed dining. So casual and relaxed that the patrons are encouraged to self-serve. Once an order has been placed, diners are provided with a sci-fi like beeper, which sounds when the food is ready to be collected.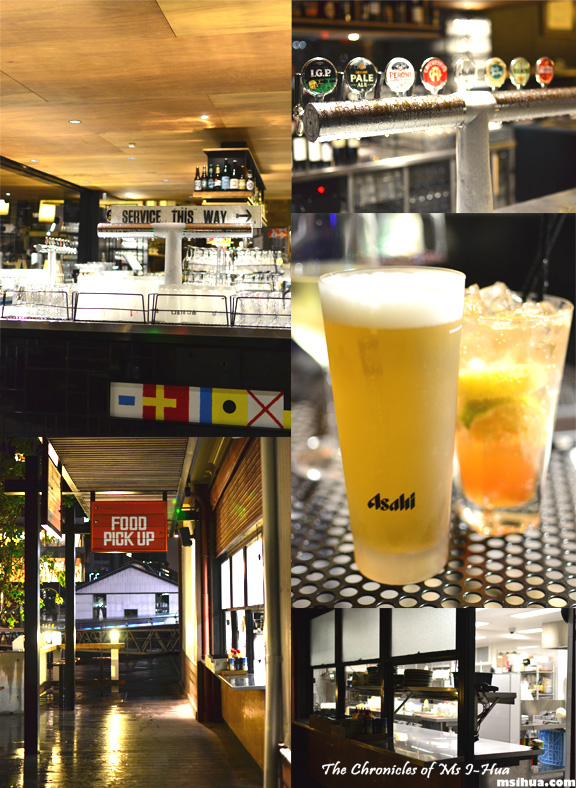 As you walk outside towards the food pick-up area, Head Chef Rodney Shah stands at the prep area waiting for his diners to pick their food up.
I found it quite daunting at first, as I haven't a clue on how I'd bring back all the entrees to our table. Once Rodney pointed out the trays to me, I was a little bit more relaxed and a lot more excited to be playing the part of a waitress (and also quickly grew more respect for all hospitality staff!).
As we collected our meals, Rodney quickly described each of the dishes to us pointing out that all the ingredients used were sourced either locally in Victoria or flown in from interstate. He also highlighted that he tries to cook by means of sustainability (which of course made me very happy, as I am quite keen on the sustainable food movement).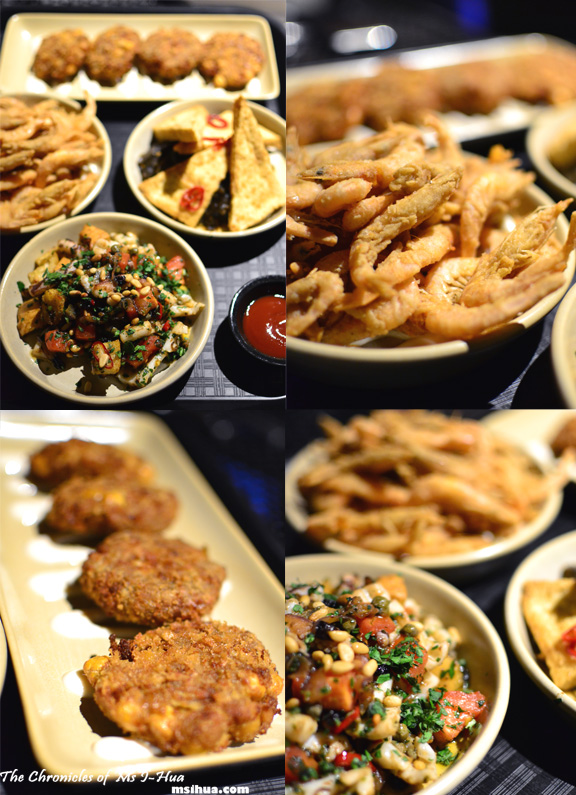 For our entrees and snacks, the four of us enjoyed crispy Deep Fried School Prawns; Chickpea, Cauliflower & Haloumi Fritters with Chilli & Yoghurt; Sicilian Calamari, Croutons & Raisins; and Salt & Pepper Organic Tofu with Braised Eggplant.
My favourite was definitely those crispy deep fried school prawns.
Food/ Cuisine: Pub/Bar Food, Snacks, Breakfast
Dining Style: Bar & Cafe

Opening Hours:
Monday to Sunday, 7:00am till late

Address:
(Next to Polly Woodside)
23 South Wharf Promenade
South Wharf VIC 3006
Tel: (03) 9686 5088
Twitter: @theboatbuilders
Website: http://www.theboatbuildersyard.com/
2) Entrees at:
Akachochin
Our next stop was one of our favourites that night. Indeed it was hard to choose as all four places we visited were very good. However, if I had to pick one, I'd pick Akachochin.
Named after the red paper lanterns that hang outside traditional Japanese izakayas, its namesake proved to be our saviour in looking for the restaurant. With the rain and wind pelting down on us, it was only by spotting the red lanterns were we saved the journey from wandering lost around the promenade.
Head Chef Kengo Hiromatsu (ex-head sushi chef at Nobu) was fantastic behind the sushi bar. He had his hand on every dish and explained everything to us.
I had a strong urge throughout the time we were there to nod my head, bow and exclaim loudly, "Hai, Sensei!!!" as it looked as if he was a teacher and we were studious children, taking pictures and noting down everything that came out of his mouth.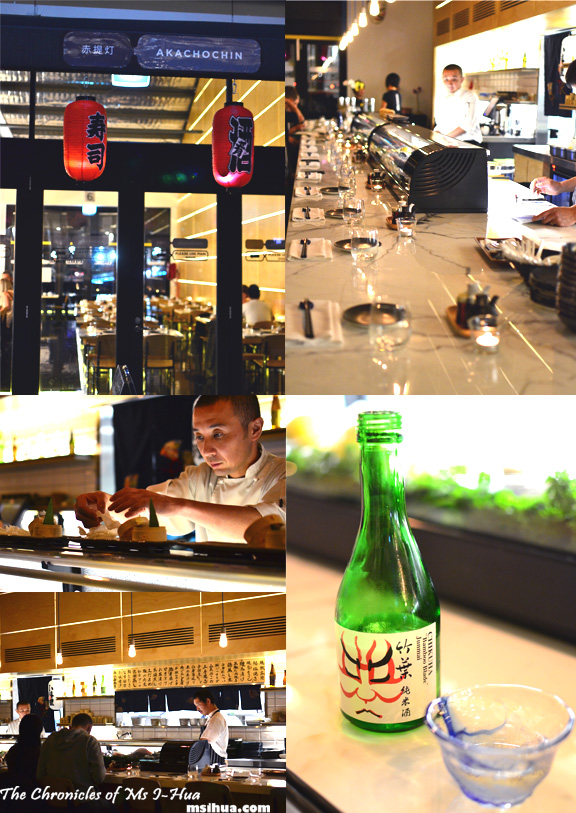 Akachochin is not your everyday izakaya, instead it focusses on famous traditional dishes from different prefectures in Japan presented with a modern twist.
We sampled three dishes matched with three different sakes that night. The first being the Hiramasa Namerou (tartare of kingfish with spring onion, sesame seeds, moromiso [fermented soybean], kizami wasabi, olive oil) and served with the lightest and crispiest Rice Crackers. This was paired with a sparkling and refreshing sake which we were informed, goes well with sushi and sashimi.
The second entree we tasted was the amazing Chicken Wing Dumpling (deep fried chicken wing stuffed with minced chicken, shiitake mushrooms, mustard sauce, daikon) which is marinated overnight before being deep-fried. Also known as tebasaki gyoza, it is apparently famous in the Miyazaki prefecture. The Chicken Wing Dumpling was served with a Chikuha "Bamboo Blade" Junmai which pairs nicely with spicy based dishes. This junmai sake which originates from a small brewery was dry and full-bodied.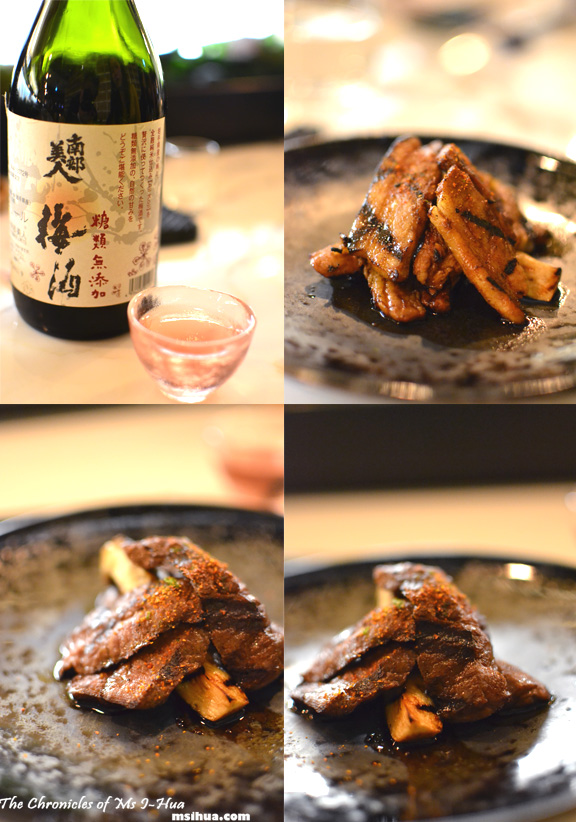 Yakimono – Butabara (Pork Belly) and Wagyu Beef served with Spicy Teriyaki Sauce and King Oyster Mushroom, it is paired with a Umeshu Plum Wine that goes well with strong flavoured meats.
As I was the "special lady" with the no beef request, I was served pork belly instead (still a win!).
We were informed that the cut of the wagyu was the shoulder but both the wagyu and the pork belly were prepared similar to confit. Both meats were marinated with a special spicy teriyaki glaze which was extremely addictive. So much so, the Boy couldn't stop thinking about it. The wagyu itself originated from Japan, but is now grown in South Australia.
We really enjoyed our time at Akachochin and made a return visit this weekend (to be on a separate review 🙂 )
Food/ Cuisine: Japanese
Dining Style: Restaurant

Opening Hours:
Tuesday to Sunday, Lunch: 12:00pm – 3:00pm, Dinner: 5:00pm – late
Closed on Mondays.
Address:
Shed 7
33 South Wharf Promenade
South Wharf VIC 3006
Tel: (03) 9245 9900
Twitter: @AkachochinMelb
Website: http://www.akachochin.com.au/
3) Mains at:
Bohemian Bar & Restaurant
As we waddled out back towards the cold (it had stopped raining at this point), we shivered our way down to the Bohemian.
To warm us up and to keep us going, we were served a very nice bottle of Estrella Damm Inedit Beer by Ferran Adrià & the el Bulli team. I found this beer really easy to drink and it had a very pleasant after taste (I am not a beer fan at all, so this was a big deal!).
Head Chef Josep Espuga (previously at Degustation in New York and Mugaritz in San Sebastian) cooked up very very tasty dishes for us to share. He also came out to speak to us briefly about the food, his experiences in New York and of discovering Melbourne. When asked why he chose Melbourne, his response was,"Why not?".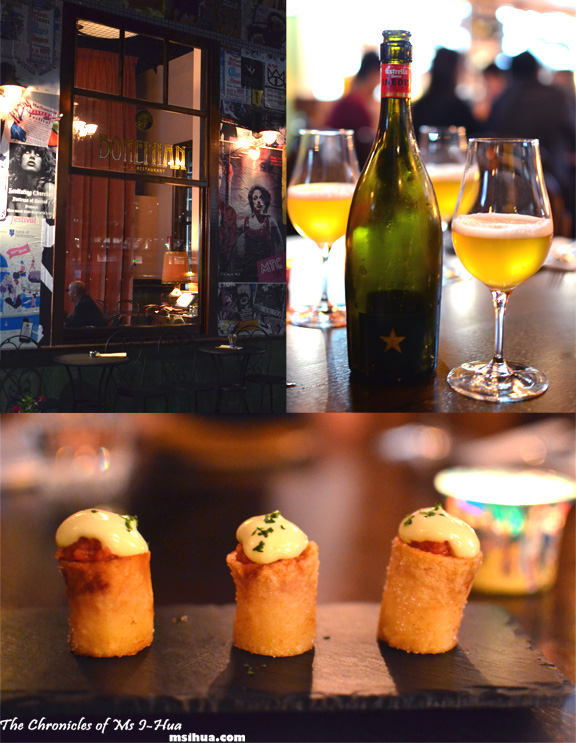 To start, we were served Patatas Bravas, which was crispy potato served with aioli. It was a bit salty, but that went well with the starchiness of the potato.
I thought it was odd, that they served us three of these, which made it a little hard to share, but didn't think much of it as we were filling up by then.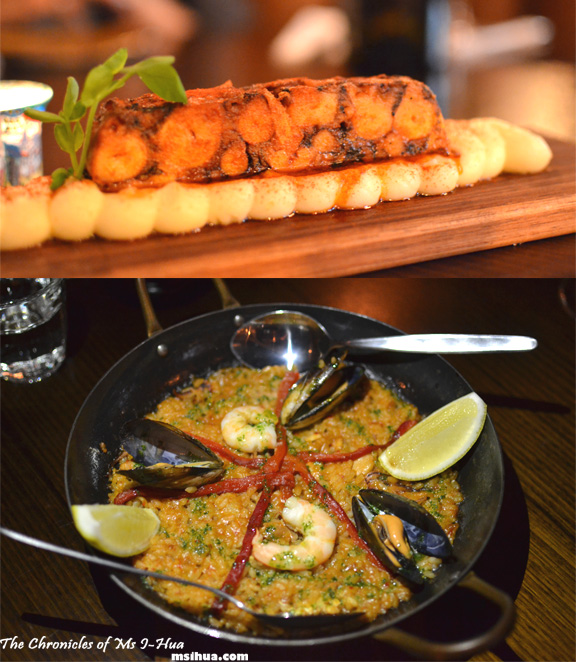 The next dish of Pulpo a la Gallega (Grilled Octopus, Mash Potato & Smoked Paprika) was interesting as I'd never had it before. I loved the octopus with smoked paprika. The octopus was very tender and the mash potato was delicate and smooth.
We also shared the Paella Mixta (Paella with Chicken, Prawns, Mussels and Squid) which was good, but lacked the socarrat I was expecting. Flavour-wise? Definitely there.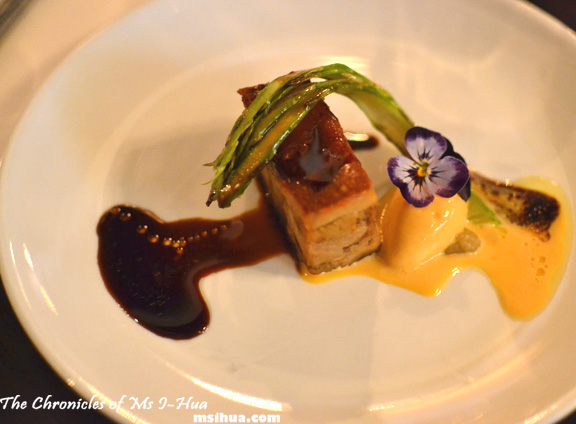 As we sighed contentedly, our table was cleared to make way for our mains. As our cutleries were placed, we were told that we would be enjoying the Cochinillo (Suckling Pig, Asparagus & Carrot Ice Cream) as our mains that night.
As I waited eagerly, our waitress brought out 3 dishes for the four of us to share, upon realising that I was the only one without a main, she said she'd check with the kitchen and follow up with my dish. The next thing I knew, my other three comrades were finishing their mains and my clean cutlery was being collected.
Luckily I was too full to bother, but managed to sneak in a few bites from the Boy's dish. It was an interesting dish as there were elements of sweet (carrot ice cream) pairing with savoury (suckling pig). They make for quite an interesting match.
All in all, I enjoyed the food at the Bohemian and was only a bit confused with the ending of the meal.
Food/ Cuisine: Spanish, Tapas
Dining Style: Restaurant

Opening Hours:
Monday to Saturday, 11:00am till late

Address:
35 Dukes Walk
South Wharf VIC 3006
Tel: (03) 9682 0566
Website: http://www.thebohemian.com.au/
4) Desserts at:
The Sharing House
The last stage of our progressive dinner was to have desserts at The Sharing House. We couldn't get over the quirkiness and cuteness factor of the decorations. Bright colours were utilised and Duplo building blocks and figures were used within the theme! So much <3 !!!
Head Chef Mark Briggs (ex-Vue de Monde head chef) is behind the menu items here, and I'm sure he's used what he's learnt from his time at VdM in his dishes here.
The idea behind The Sharing House is pretty obvious. Fun, quirky, relaxed and casual.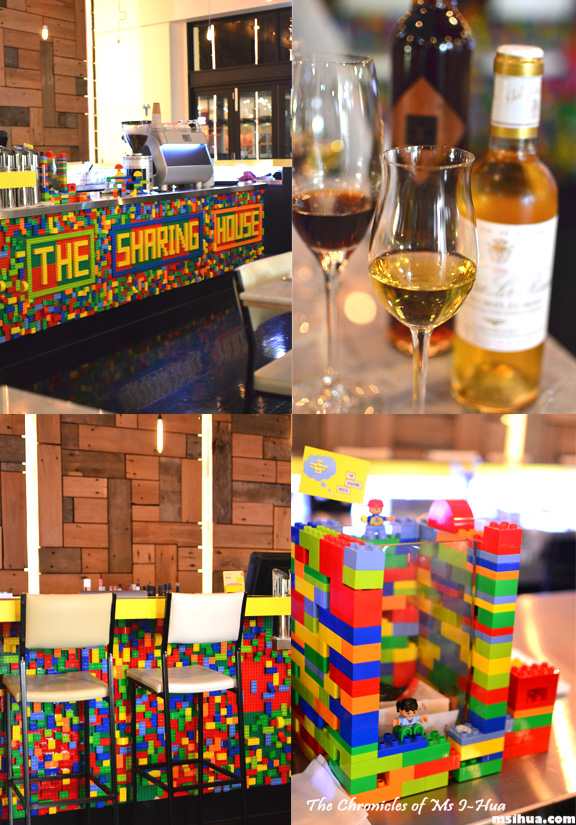 Starting with sticky and sweet wines, we happily sipped our Campbells Classic Muscat, Rutherglen Vic and 2006 Chateau La Rame, St Croix Du Mont. So good, the Boy and I happily pointed out, that we bought this exact bottle (at Campbells Winery, Rutherglen) when we went up to Beechworth last year for our anniversary (and my proposal 🙂 )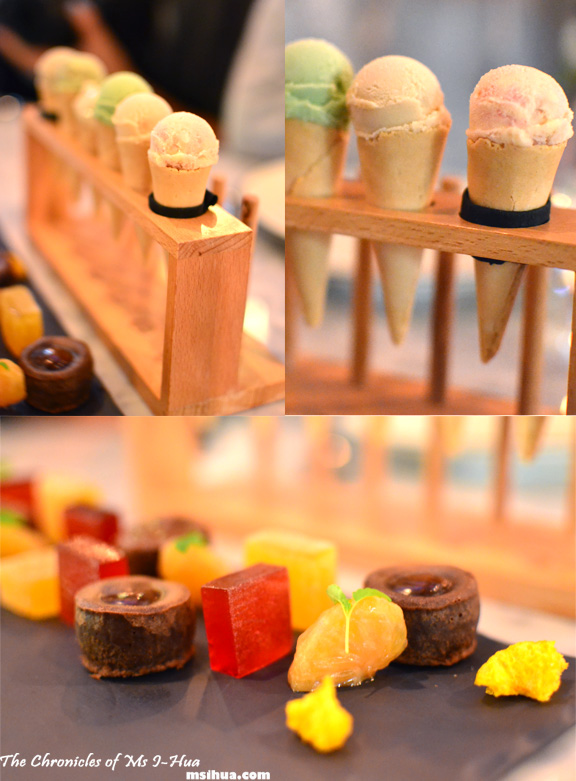 Together, the four of us were given to share 4 desserts! SUGAR OVERLOAD!!!
Starting with the fun The Ice Cream Man (Ice Creams and Sorbets served in Mini Cornettos) – Vanilla Bean, Mint Chocolate Chip, Pedro Ximenez, Pistachio, Cocoa Nibs, Wild Strawberry and Limoncello, served on a test tube rack, we were like little children, dipping our tiny spoons into all the fabulous flavours. My favourites were the Pistachio and Cocoa Nibs.
We also shared the Jaffa Cake which we were told was the chef's recreation of a Jaffa Cake, served with chocolate fondant, mandarin and blood orange terrine. I love chocolate and citrus and this was so good! Even Agnes admitted this was good (she dislikes chocolate with orange) but said it was mostly because this was deconstructed, and the flavours weren't mixed together.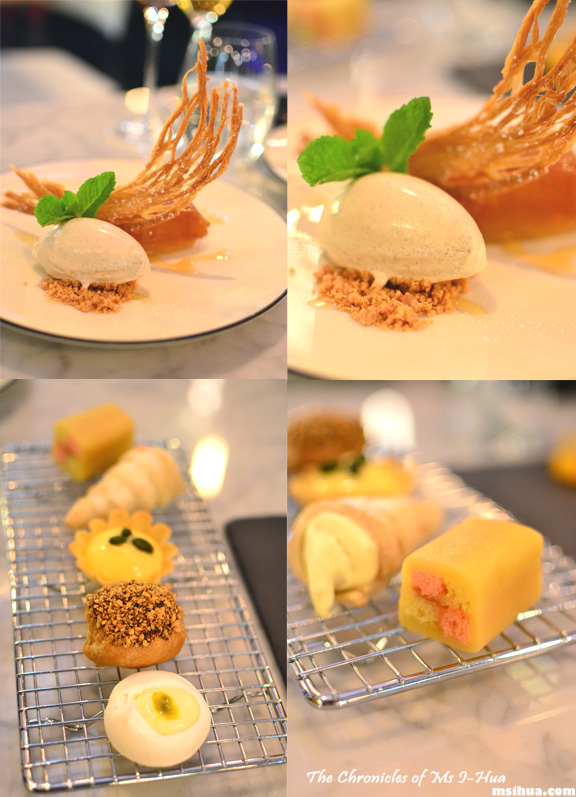 The Apple Tart which was really layers of apple and cinnamon, with a beautiful wafer of puff pastry, and served with vanilla bean ice-cream was delicious.
To finish off, we happily quartered up the selections of the Afternoon Tea (a selection of mini cakes and pastries which includes Battenberg, Chocolate and Hazelnut Eclair, Lemon Tart, Stem Ginger Cream Horn and a Passionfruit Meringue Cheesecake).
This was such a fun place that we knew we had to come back for more (and we did, this weekend past).
Food/ Cuisine: Modern European
Dining Style: Restaurant

Opening Hours:
Monday to Sunday, 12:00pm till late

Address:
Shed 6
35 South Wharf Promenade
South Wharf VIC 3006
Tel: (03) 9245 9800
Twitter: @TheSharingHouse
Website: http://www.thesharinghouse.com.au/
All in all we enjoyed each of the places and what they had to offer, noting that each was special in its own way.
As it is, we have already revisited two out of the four establishments and we are planning to visit the rest of the South Wharf Promenade restaurants (including the ones above). We are so excited and can't help but hope that this area takes off (there are still a few empty warehouse spots available for more restaurants) and becomes Melbourne's own unique riverside dining area.
Views from this end of town is unhindered and you do get to see a different side to the city as you dine amidst Melbourne's old docking yards (which they have refurbished and conducted maintenance work upon).
Other South Wharf Promenade restaurants: The Common Man, Citizen Cafe & Bar, The Bridge, Melbourne Public and Meat Market.
How to get there: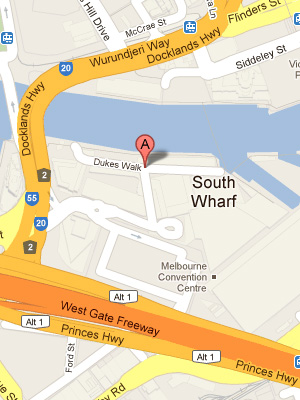 Parking (*prices correct at the time of publishing):
Tram: Take trams 109, 96 or 112 and get off at stop 124A (Melbourne Convention & Exhibition Centre / Crown Casino) on Clarendon Street. Walk along the riverside, past the Melbourne Convention & Exhibition Centre until you see South Wharf.
Train: Stop at Southern Cross Station and catch any of the trams above.
[Ms I-Hua and the Boy dined courtesy of South Wharf Promenade, the featured restaurants and Gun Communications PR]