What do you do when you've been together with your partner for 10 years? Day in, day out, you stare at each other. Every morning, you wake up next to each other, and every night you fall asleep together.
Conjoined to the hip we are not, but our lives are so intertwined that it's hard to have one without the other.
As the more obvious romantic of us both, I wanted to do something really special for the Boy this year as it was our big TEN. Yes, we have been together since we were 18 🙂
Knowing that he had not planned anything, I went ahead and got him a little card announcing that I would like to wine him and dine him at the two hatted Provenance Restaurant in Beechworth (provided he did the driving, of course).
For a quick tour of our stay at the Provenance Hotel, read my previous entry 🙂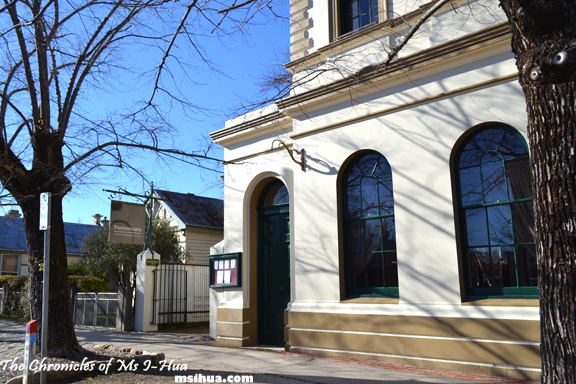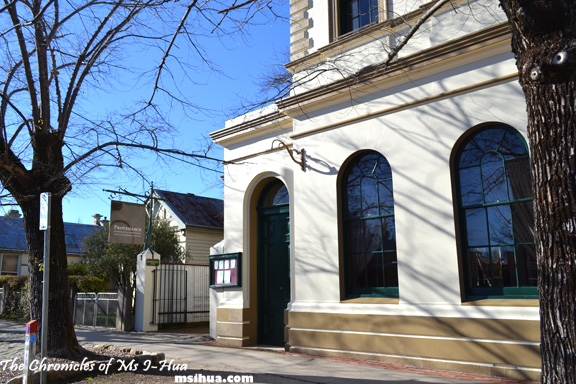 As I happily booked ourselves away for a long weekend at this idyllic location, my heart skipped a beat and a little plan started to form in my head.
"What if?", I asked myself. "What if…", I replied. Giggling like a crazy woman at my work desk, I sniggered away whilst looking busy at work.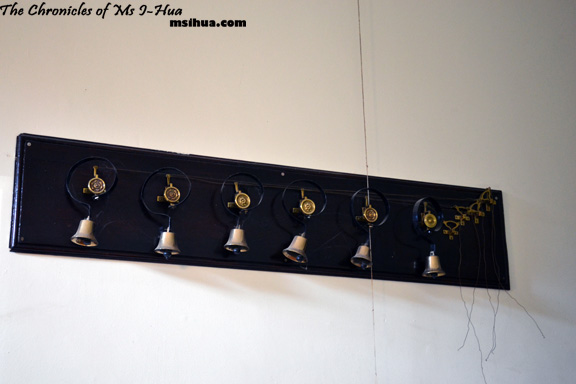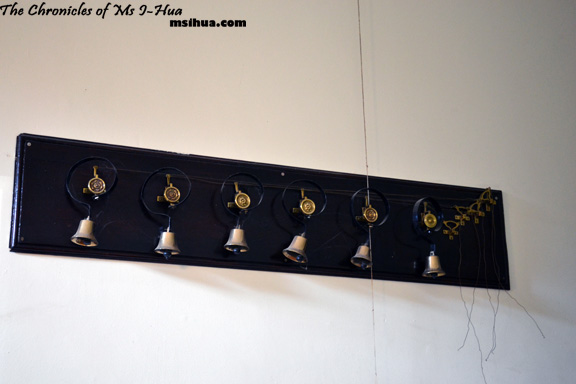 The weekend finally arrived, and I was excitedly bouncing and chattering non-stop all the way up to Beechworth. The poor Boy was so tired from the drive and my incessant conversation that he had to have a quick nap in our luxurious bedroom before heading out to the restaurant for dinner.
The Provenance Restaurant is the refurbished old Bank of Australasia built during the gold rush era, which made for an interesting dining experience. They recently won The Age Good Food Guide 2011's Country Wine List of the Year, and maintained their 2 Chef's Hats.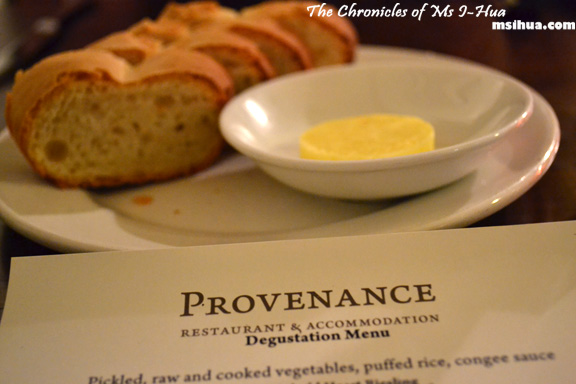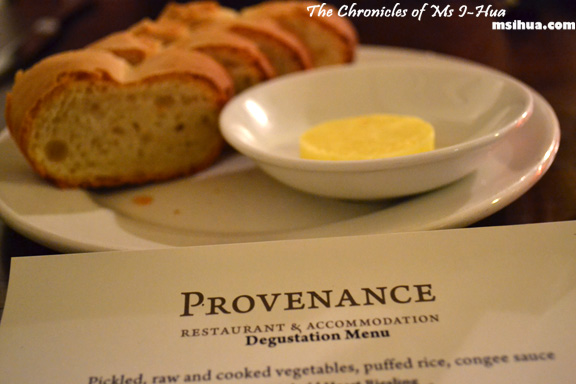 As we were seated, the warm glow from the yellow globes and the fireplace added a little special romantic touch, which was all but lost on the Boy (as I have said, he's not the most obvious romantic out there).
Upon conversations via Twitter (Chef Michael Ryan is a prolific Twitterer), we decided to go ahead and order the degustation menu. I was told that the first course would be absolutely smashing, as it was the best congee interpretation in history. I had to try it to believe it.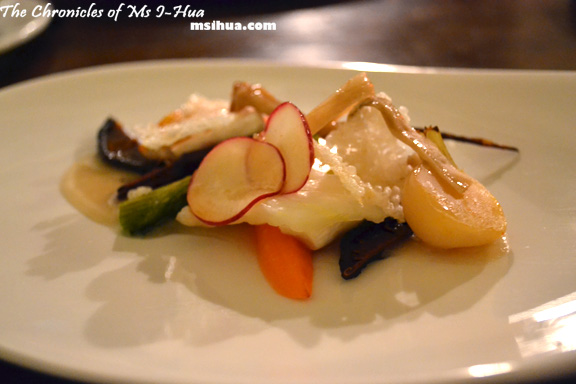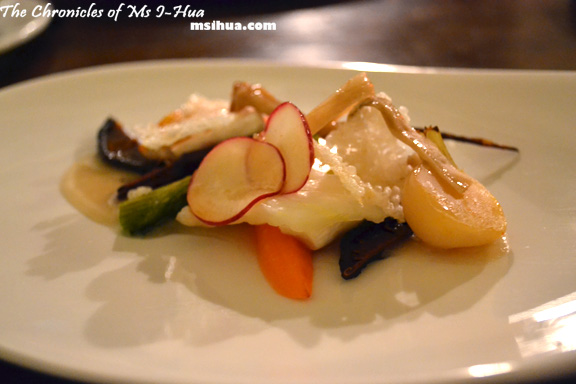 Pickled, Raw & Cooked Vegetables, Puffed Rice, Congee Sauce.
Absolutely amazing. I'm Chinese and I have never thought I would ever say congee could taste that good, but I did and I will again. It was unbelievable. Michael Ryan took a simple poor peasant dish to a whole new level. I can't even begin to describe it for fear of doing it injustice.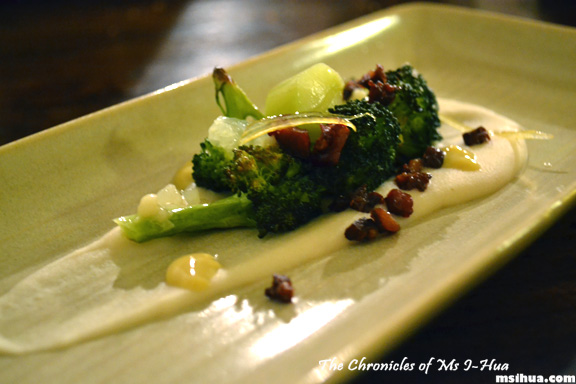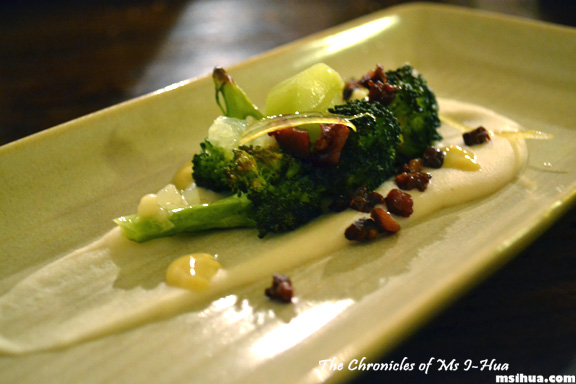 Our second course of Roasted Broccoli, White Bean Puree, Confit Garlic, Lemon, Anchovy Custard, Bacon was alright. I really liked the combination of the white bean puree and anchovy custard. Delectable 🙂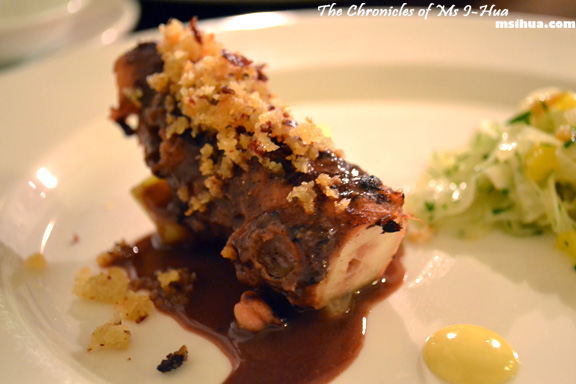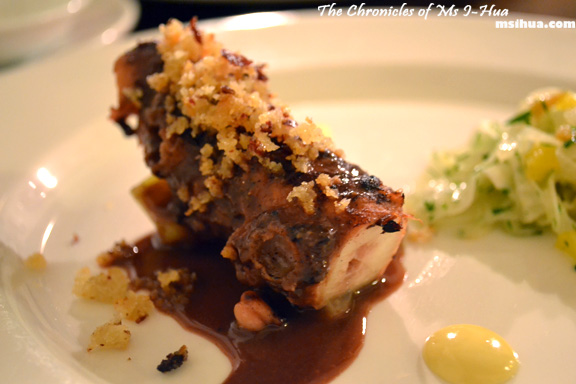 For our third course, we had the Braised & Grilled Octopus, Red Wine, Aioli, Potato, Fennel and Preserved Lemon Salad. I thought that the octopus was cooked perfectly, tender and fresh. My favourite part of the dish was in the little crispy bits at the top (I can't remember what it was), but it was good! The fennel salad reminded me of the salad from Cumulus Inc.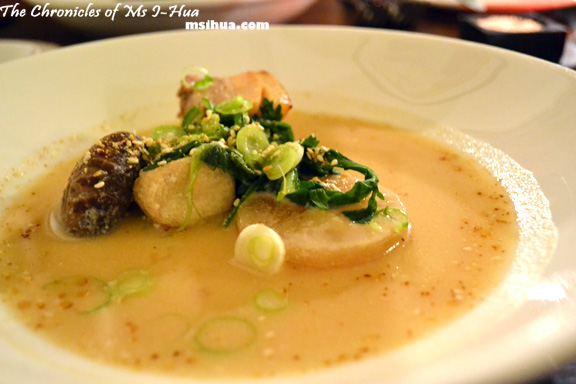 Next, we had the Slow Cooked Pork Belly, Soy Milk & Miso Broth, Daikon, Mushrooms, Black Oil, which warmed me up. If you can't tell by now, Michael Ryan is heavily influenced by Japanese cuisine and ingredients. He incorporates these elements as much as he can whilst staying true to the local produce around the region.
In terms of the dish, the pork belly was melt-in-the-mouth tender and was paired wonderfully with the light tasting broth. Using our bread as sponges, we wiped our plates dry (taking in as much broth as we could), a tip we discovered whilst dining at Loam.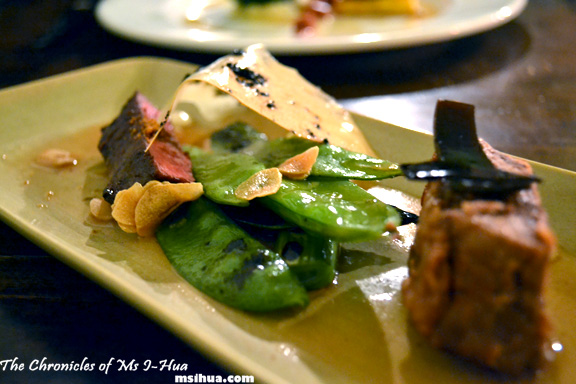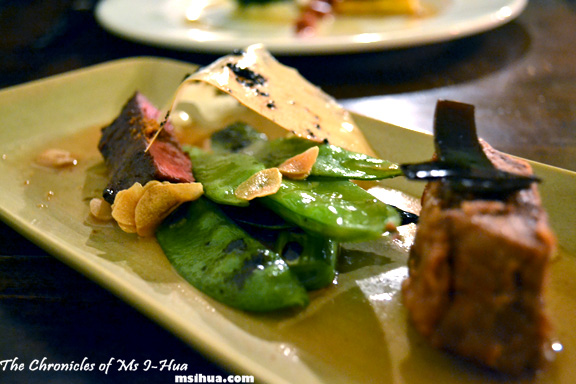 The Boy had the Dry Aged Grass Fed Wagyu Flat Iron Steak, Braised Short Rib, Grilled Spring Onion, Smoked Tofu Dressing, Konbu no Tsukudani and said that this was the winning dish for him (apart from the congee of course). It was one of his top 5 most memorable Beef dishes this year.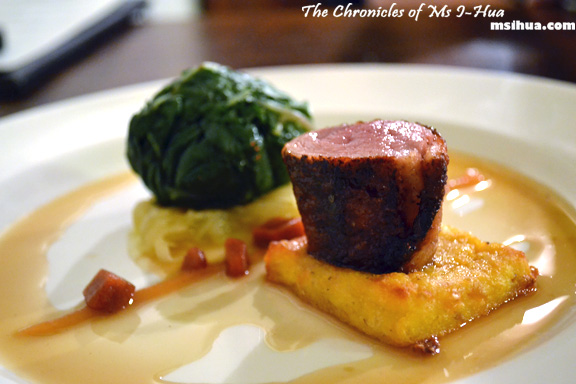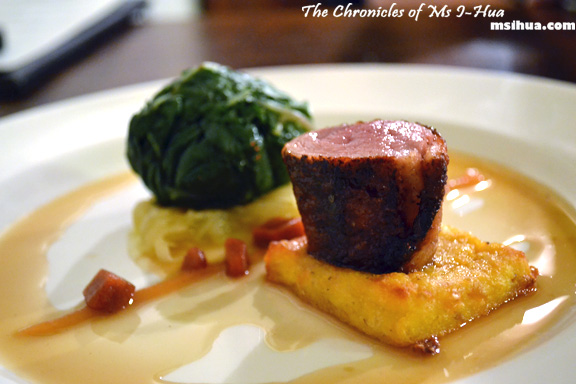 Whilst he kept telling me how good his dish was, I was enjoying my Roasted Milawa Duck Breast, Silverbeet & Confit Duck Leg, Polenta, Pickled Cherries. I'm usually not a fussy eater (really, I'm not!), but I am quite critical when it comes to my meats. Overcook my lamb and you will suffer my wrath. Serve me tough pork belly and I will kill.
So please understand, that when I say that this duck was cooked to perfection, I mean it. It was a f**king good duck. The polenta didn't do much for me, but I'm not a polenta sort of girl. But man, oh man, if I could have that duck again.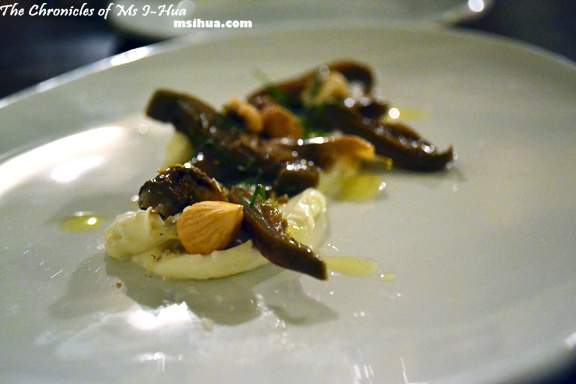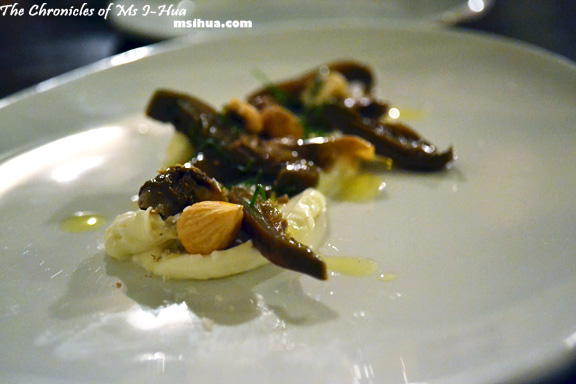 With the main dishes out of the way, we were offered a rather tempting distraction.
An Optional Cheese Course ($10): Delice de Bourgogne, Pickled Wild Mushroom, Hazelnuts!
Now I'm not usually a cheese kinda girl, but hearing that it was paired with wild mushroom and hazelnuts, I couldn't resist the temptation to try it. I didn't regret it one bit. The earthiness of the cheese was not masked by the mushrooms or nuts, but was rather accentuated and went quite well altogether.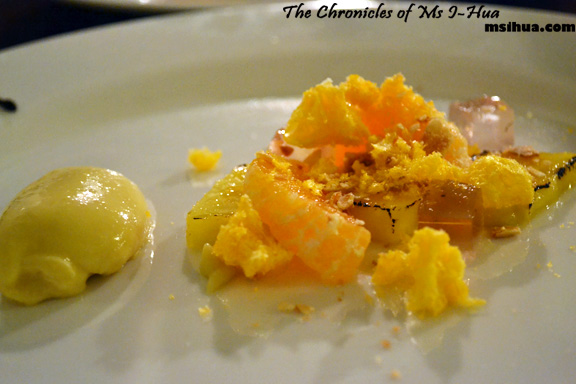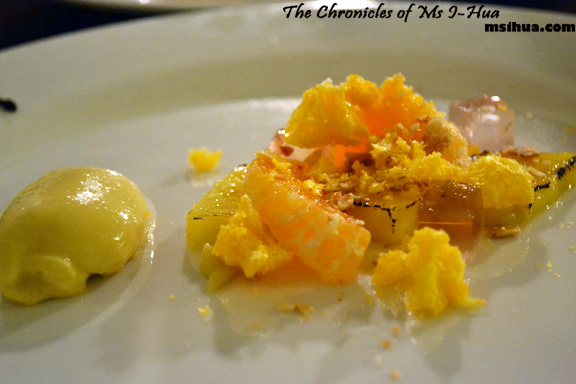 For our final course, our wonderful chef of the night, Michael, presented us with the Pineapple Curd, Roasted Pineapple, Pickled Mandarin, Almonds, Chrysanthemum Jelly.
Truly, at this stage, I was shaking with so much excitement and trepidation.
No my dear readers, it wasn't because I was excited to finally have sugar, but it was more that I had colluded with Michael two weeks earlier and had him agree to a favour.
You see my friends, when Michael placed the dessert in front of us, the Boy had a look of surprise, shock and happiness. For a moment there, I think he thought Michael had played a practical joke on him.
Written on his plate, with chocolate, I had Michael inscribe the following…
"Will you marry me babe?"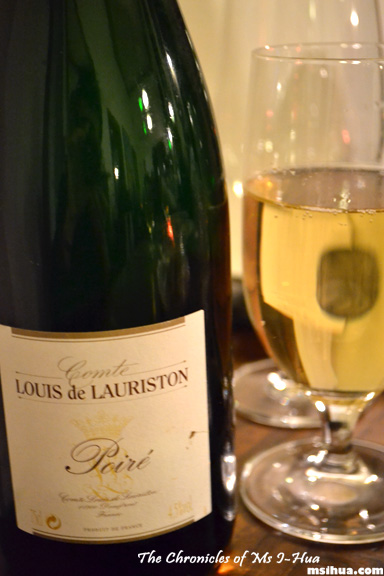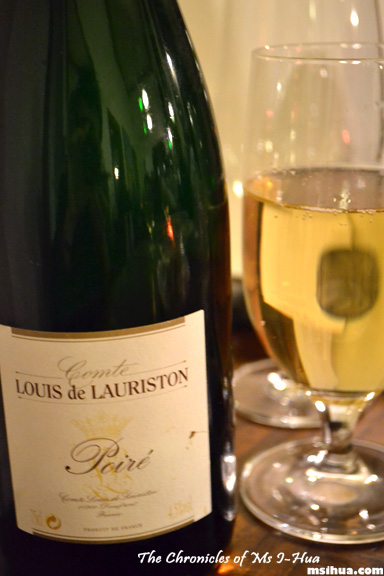 Oh, and we also had a wonderful bottle of Comte Louis de Lauriston Poire – traditional dry French Poire or Pear Cider.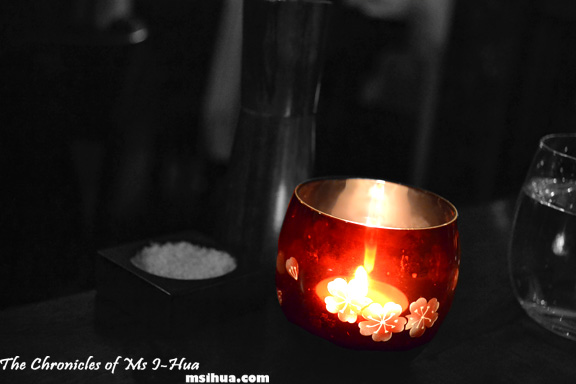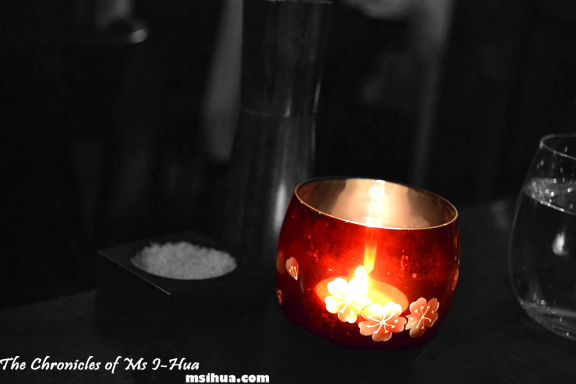 Degustation: $90 for 6 courses + $10 for optional cheese course.
The food was really good and was on par with the other country restaurants which I have been privileged enough to visit such as the Lake House and Loam.
Friendly accommodating staff, an easy-going and creative chef, I couldn't have asked for better.
In case you were wondering, he said "yes" 🙂
I would like to say "Thanks" again to Michael for being such a wonderful sport and helping me out with the presentation of the dessert 🙂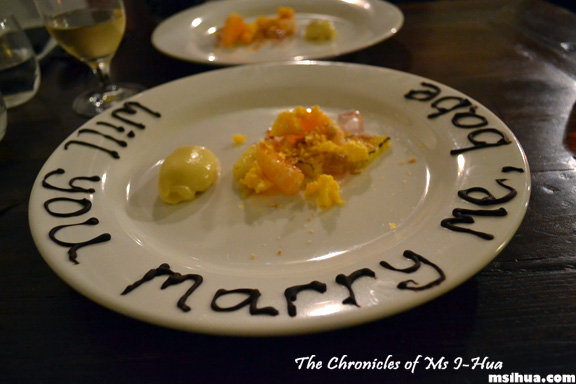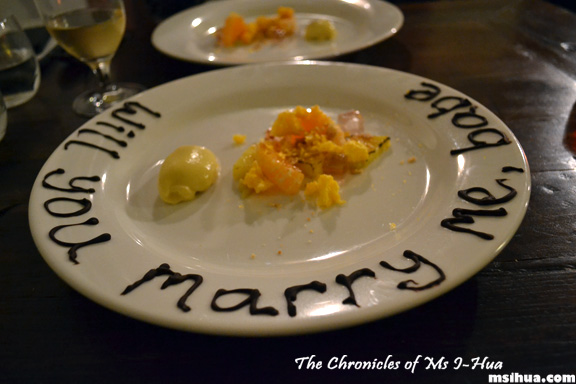 *Disclaimer: All food ratings are purely based on my own experiences and how I feel about the service, food and quality at the time of visit
Food/ Cuisine: Modern Australian
Dining Style: Fine Dining
Overall Food Rating (Based on the Dining style): 8.75/10
Restaurant ambiance: 8.5/10
Service/ Attitude: 9/10
Value for money: 8.5/10
Address:
86 Ford Street
Beechworth VIC 3747
Tel: (03) 5728 1786
Website: http://theprovenance.com.au/
Provenance Restaurant is open
LUNCH: Sunday, 12pm to 3pm
DINNER: Wednesday to Sunday, 6pm till late
How to get there: