And here we have it folks.
We have saved the best for last.
The epitome of an amazing and well executed Express Lunch (back in March).
We bring you our final instalment of the last of the MFWF Express Lunch posts with a trip to Matteo's.
Just a quick recap, I completed 4 other MFWF Express Lunches at:
So I can hear the wheels in your head turning, and you're wanting to ask why? Why is this the best?
Was it the food? Was it the service? The ambience? The quality? The presentation?
The answer?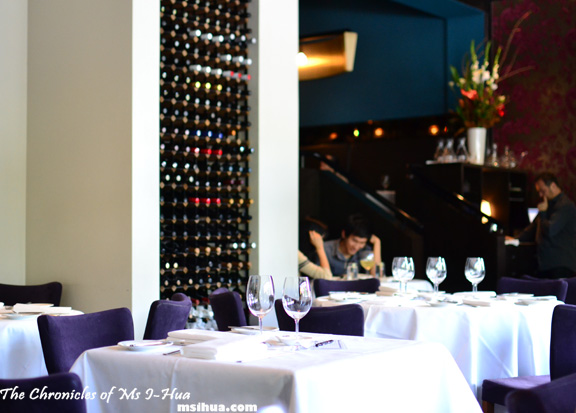 The answer was: All of the above 🙂
As I've mentioned before, having the words Express Lunch, means just that. You have made a promised dedication to get your diners in and out in under 60 minutes (or so) and to showcase the quality of your food in that amount of time.
Things don't have to feel rush, and you definitely do not have to rush your diners. You just need to ensure that both your staff and your kitchen is committed to that timeframe and trust that they will execute that promise.
Which is what Matteo's did. I made a booking for 12pm and was notified that we had to be done and dusted by 1.15pm. Not a problem, the way I see it, all I'm doing is sitting and eating. The kitchen and front of house staff are the ones who have to fulfil that obligation.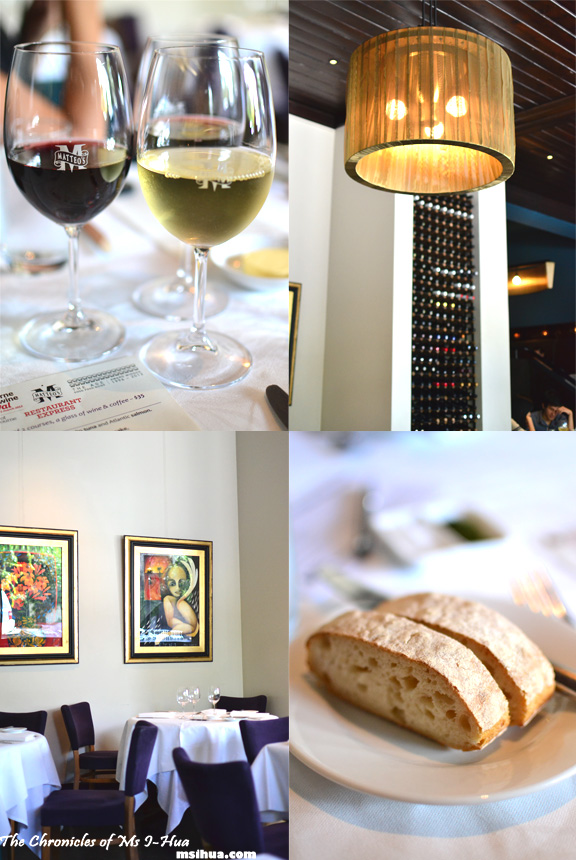 So arrived on time we did. Actually, we arrived at about 11.45am and sat in the car. Our lunch date was to be with Azzie 🙂
She was early too, so she got off the tram and the three of us sat in the car, Instagramming (I swear we are not addicts!)
When it came to 12pm sharp, we entered past the heavy wooden doors, to be greeted with a very loud and very friendly, "HELLO!"
Azzie and I could not stop ourselves giggling. It was also pleasant to know that that was the same response given to everyone else that walked through those doors.
Just a quick reminder, the Express Lunch is a set menu of two options, but you can opt for an additional course for a certain amount (Matteo's was $15 per additional course).
Both the Boy and I ordered two courses each, and Azzie ordered three (tee hee 🙂 )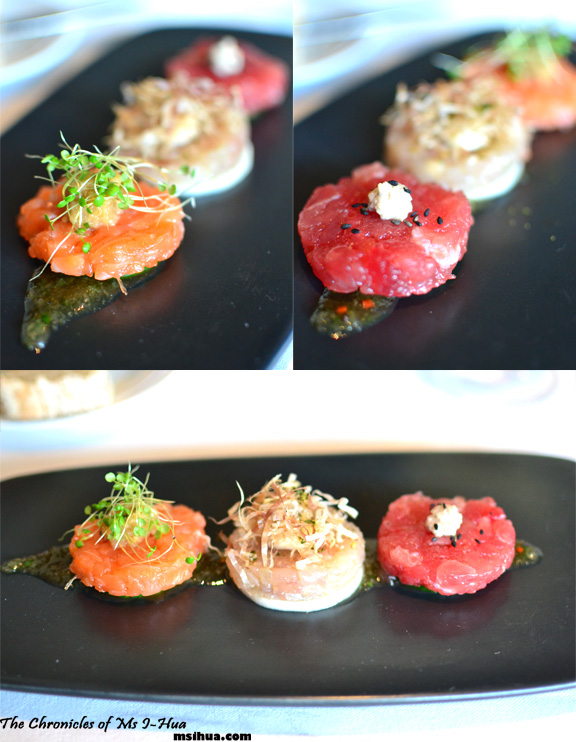 I had the very lovely and fresh entree (Option 1) of Tartare of Hiramasa Kingfish, Yellowfin Tuna and Atlantic Salmon.
I love sashimi in general, so a compilation of my favourite fish done in tartare style is heavenly. The use of sea urchin butter reminded me of a similar matching with fish at Pei Modern.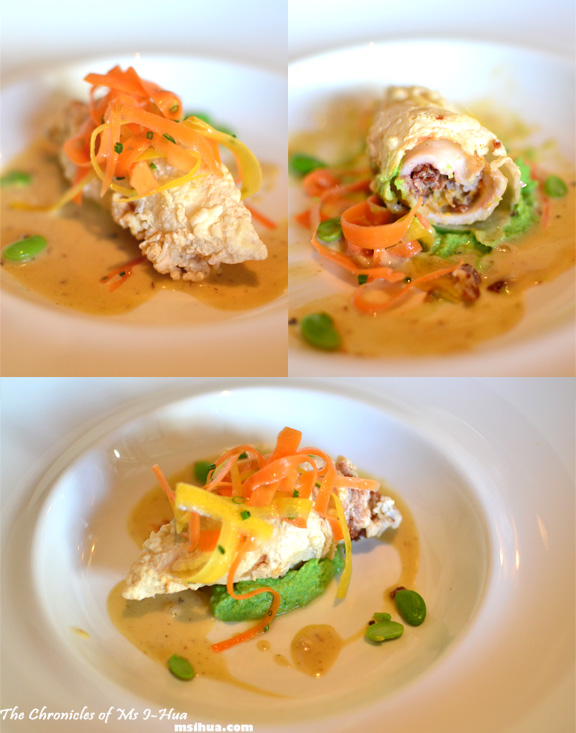 Azzie had her entree (Option 2) of Deep Fried Baby Squid Filled with Red Rice & Shrimp, Heirloom Carrot Salad, Edamame Soybeans, Sea Urchin Butter Sauce which she loved. I liked the crispy battered shell and the tenderness of the squid it encased.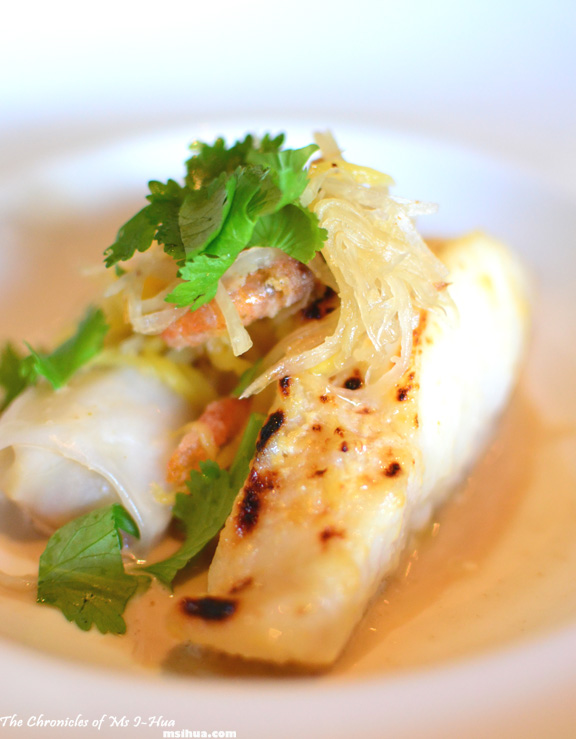 For the mains, the Boy chose the first option which was the Fish of the Day – Rockling, Deep Fried School Prawns, Steamed Rice Roll, Laksa Sauce.
I actually preferred this dish over mine and ended up swapping a quarter of the way in.
I just loved the smoothness and texture of the steamed rice roll and fish. Reminded me of a fish cheong fun (Rice Noodles) with curry sauce. Soooooooooo good!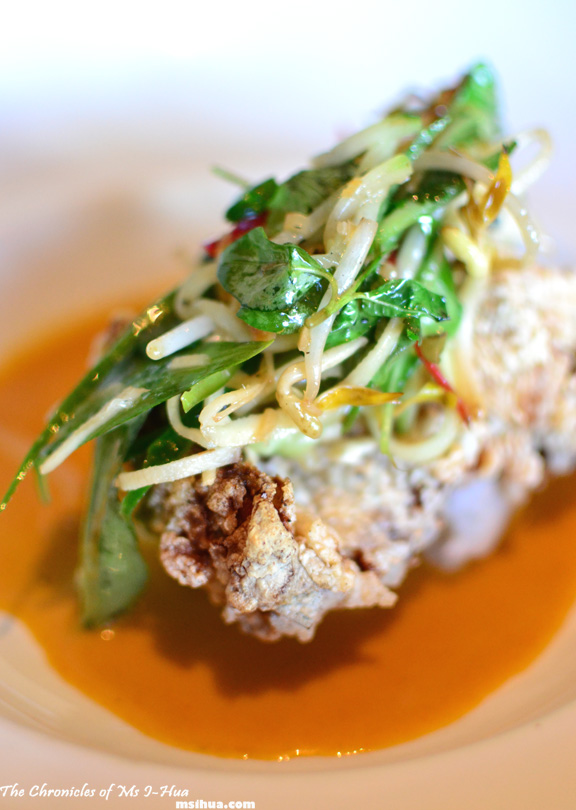 My original main (Option 2) was the Karaage Japanese Fried Lemon Chicken, Warm Bean Shoot, Peanut & Vietnamese Mint Salad, Steamed Coconut Rice, Annatto Oil Dressing.
I liked the crispiness of the chicken, but felt that this dish was much too heavy for me that day. So the Boy happily finished this dish for me and ate all the rice (WIN!).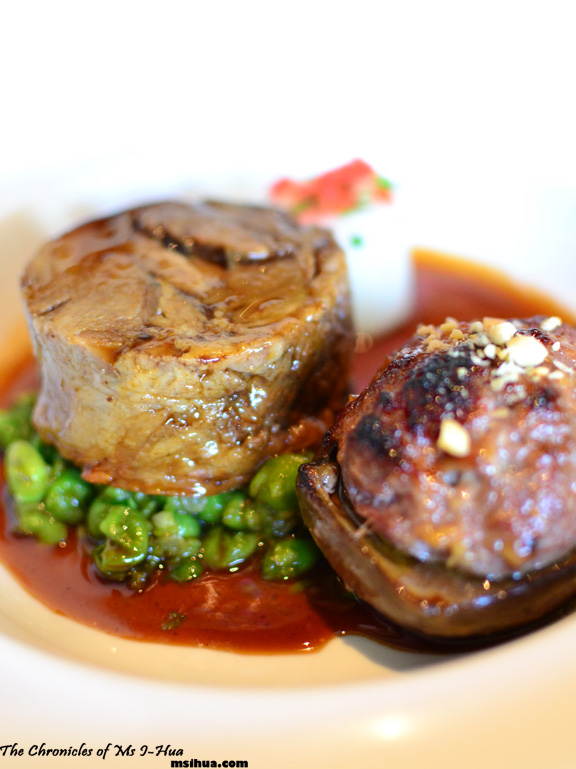 This would be what I would normally order. LAMB!
Agnes's choice of the Slow Braised Lamb Shoulder, Nasu Dengaku Miso Glazed Eggplant with Spicy Lamb Mince, Tokyo Turnip Fondant, Citrus Pepper Sauce was very lovely. I think it was easily the dish of the day.
The meat was very well seasoned and was extremely tender but she couldn't get over the fact that it was served with peas, and promptly emptied the peas to the Boy's plate 🙂 He's such a good vacuum 🙂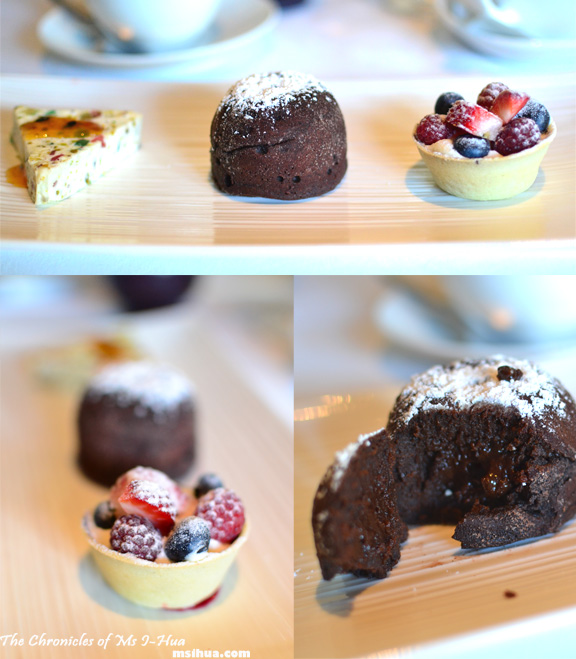 For desserts, both Azzie and the Boy had the La Dolce Vita – Warm, Dark Chocolate Fondant Pudding; Berry Tartlet with White Chocolate Mousse; Chilled Pistachio Nougat and Candied Fruit Parfait.
The pastry on those little tartlets were just amazing and to die for. It pretty much held its form until you bite into it, from there it crumbles and melts in your mouth. So bloody good.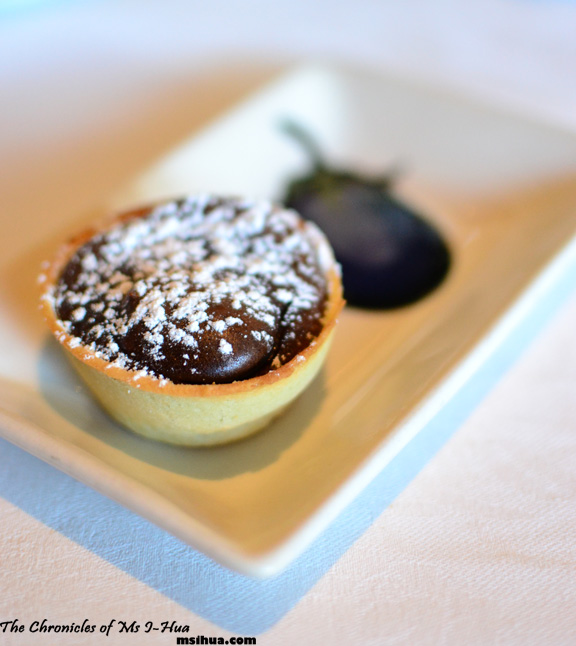 Seeing that I was going to miss out on desserts, our waiter asked if I wanted to join in by having an Additional Dessert ($6.00): Matteo's C-Spot – Small Warm Dark Chocolate 'Ganache' Tartlet outside of the express lunch menu.
He didn't want me to be lonely, and because I really didn't want to be left out, I went along with it. SOOOOO happy, as the dark chocolate ganache came encased in the exact pastry I managed to try from the other two.
The execution of the food, presentation and the service of the staff were impeccable.
There was never a moment where the three of us had to worry or feel annoyed by anything. This goes to show, that done right, and properly, one can adhere to the Express Lunch rules and still impress.
We will definitely return for more this year 🙂
Please note: The Melbourne Food & Wine Festival Express Lunch (Choice of 2 courses, a glass of wine, and tea/coffee for $35 per person) has ended for 2012 and will return in 2013.
Please also note: Matteo's still run their own Express Lunch deal throughout the year (except December) on Mondays to Fridays for $44 per person which includes 2 courses with a glass of wine.
*Disclaimer: All food ratings & review are purely based on my own experiences and how I feel about the service, food and quality at the time of visit
For other MFWF recaps, please click through:
Off The Spork 
My Food Trail
Let's Get Fat Together
Food/ Cuisine: Modern Australian (Asian Inspired Menu)
Dining Style: Fine Dining

Opening Hours:
Lunch: Sunday to Friday, 12:00pm – 3:00pm
Dinner: Monday to Sunday, 6:00pm – 10:00pm
Address:
533 Brunswick Street
Fitzroy North VIC 3068
Tel: (03) 9481 1177
Website: http://www.matteos.com.au/
Twitter: @Matteos_Restrnt
How to get there: