Most food lovers I know love going to the markets. We love scouring for the freshest produce available and love keeping track of the meats and veggies that are in season.
Don't get me wrong, I'm all for heading out to the local supermarket when I run out of food as it is convenient. But markets are just so much more lively, vibrant and fresh.
It's been a while since I last highlighted my visit to Prahran Market. I still standby that it is one of my favourite markets to visit in Melbourne. It is clean, the people are friendly and the quality of the local produce is always first class! It may not always be the most affordable, but the produce we purchase is always top notch.
I have always wanted to do a Prahran Market Tour but have not been able to find the time. However, all I needed to do was to prioritise my shopping/grocery visit and the market tour to happen all in one day and I was ready to go 🙂
Luckily for me, Prahran Market was nice enough to invite a few bloggers one Saturday for an amazing market tour. So together with Off The Spork, I Eat Therefore I Am and Iron Chef Shellie, we were ready to rock and roll.
We were met by Kathy our lovely tour guide at the market and she ran through with us some key market history.
Did you know that Prahran Market's original location is not where it stands now?
Operating since 1864, and from the original site in 1891, the market has been a central point to the surrounding people for groceries and clothing. It survived the great depression and the first two world wars but it couldn't withstand the huge fire which gutted its structure on Boxing Day in 1950.
However, resilient people that they were, that did not stop the stall holders from erecting a temporary market in place to continue their livelihood. It wasn't until 1972 that a commission to rebuild the structure was approved and in 1976 the new Prahran Market was completed.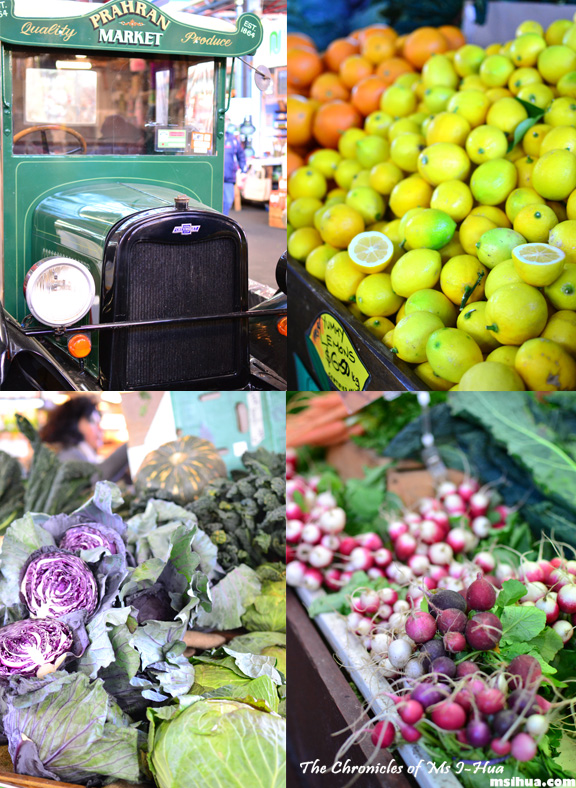 Indeed, as we walked around the market, getting to know the stall-holders, many were descendants of the original stall-holders from when the market began. Families may have come and gone around the Prahran area, but the market "families" remain.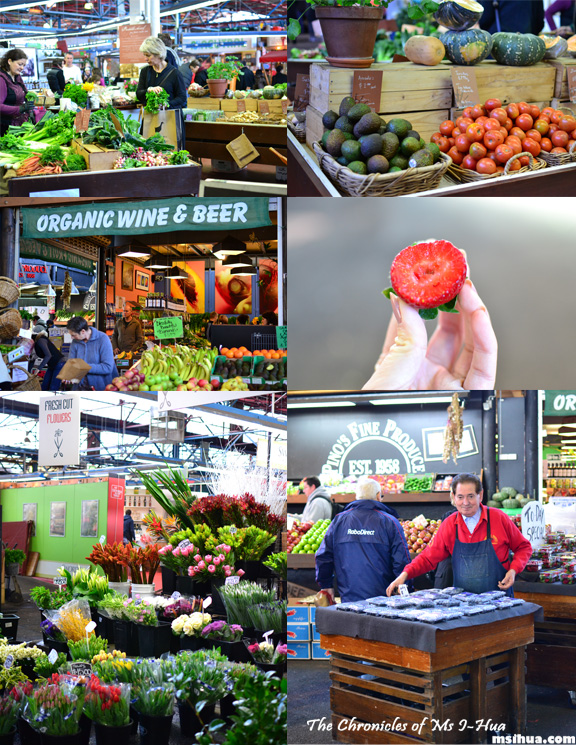 Take Pino from Pino's Fine Produce [the lovely man in the bottom right picture], he and his wife had run their stall since 1958. If you pay close attention, their wedding picture is proudly on display for everyone to see as well. Kelly told us of their love story, of how when young Pino, separated from his love finally made it to our Australian shore, was put straight to work running this business by her father 🙂
Sadly, Pino's lovely wife, Maria passed away last year. However, he is still bright and cheery, greeting all his customers happily and even gave us "tourists" some lovely Sunny Ridge (Mornington Peninsula) strawberries to sample. They were so sweet!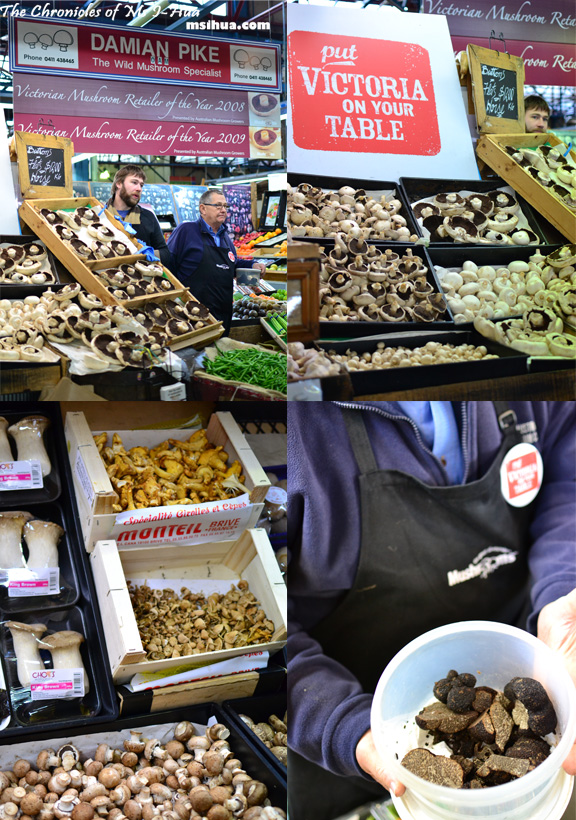 A man that probably needs no introduction when one is talking about Prahran Market is Damian Pike. One of the two Living Legends (named by MFWF) and holder of an OAM (Order of Australia). Damian specialises in all things fungus including truffles! If you are looking for interesting seasonal vegetables (we once bought fresh gooseberries from him), micro herbs or edible flowers, he will be the man you will need to approach.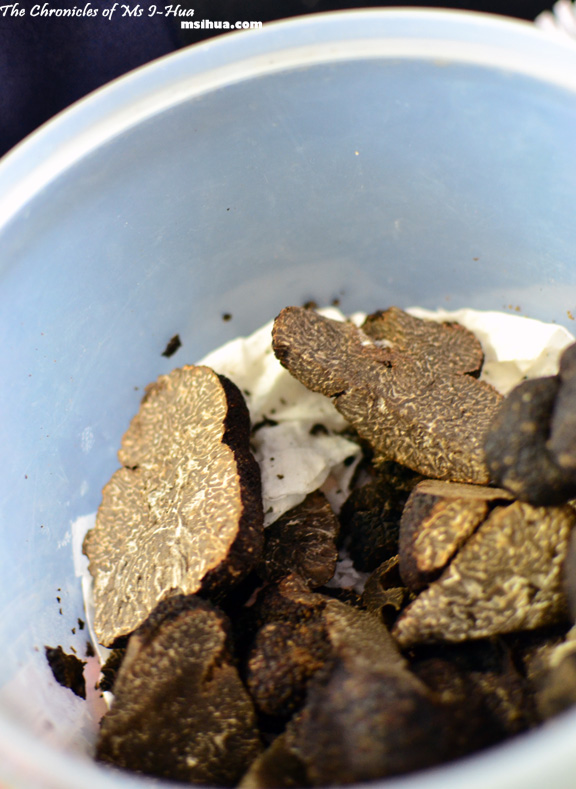 Look at them truffles! He generously let us have some free whiffs of it before tucking it protectively under his arm.
Damian's advice for cooking truffles? Keep it simple and easy. "Sprinkle some over your Sunday omelette for a little something special", he says.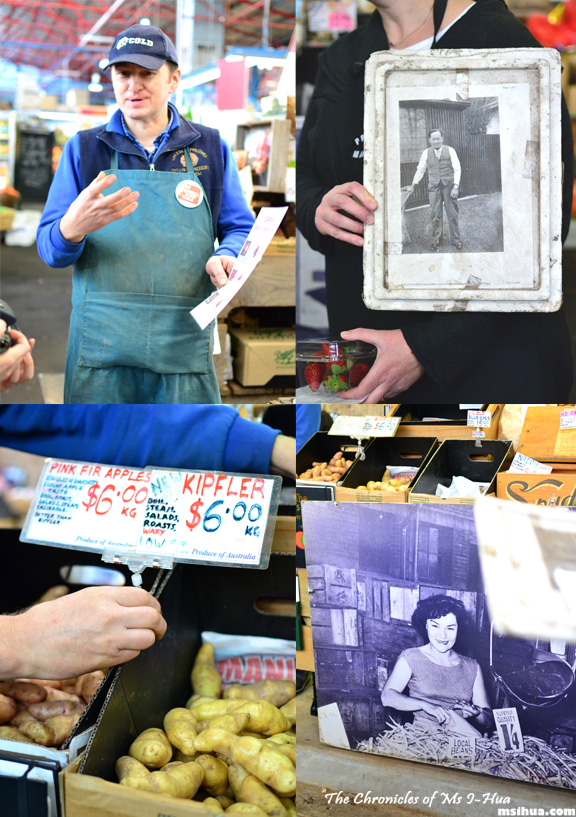 If you are wondering who the second Living Legend is, you won't have to wonder further. Also from this market, Michael from MJ Mow Gourmet Potatoes and his family have been running this stall since its inception.
Pictured on the top right is Michael's grandfather and on the bottom right is Michael's aunt who eventually took over the family business when the old man passed on. Originally invited by the Prahran Council to set up a stall in the market to provide a familiarity for the local Chinese community at the time, the stall soon became famous with everyone in its own right.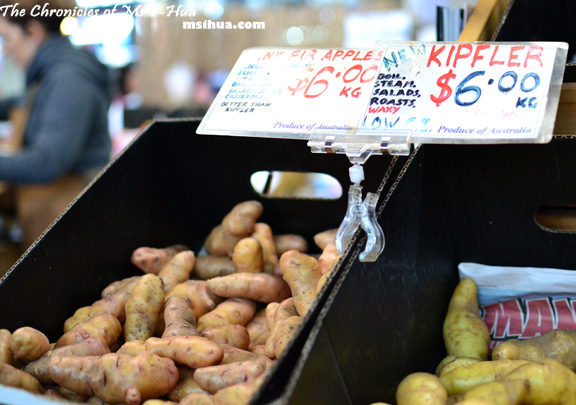 If you need a helping hand with any potatoes or other root vegetables (Michael sometimes has fresh wasabi available!) ask and you shall receive help.
I remember a few years ago, the Boy and I were hunting for purple potatoes, and no one else apart from Michael had any for us 🙂
Michael also sells some amazing smoked black garlic and smoked black garlic mixed spices which I bought. I'm saving it for a rainy day to sprinkle all over my spud and roast chicken!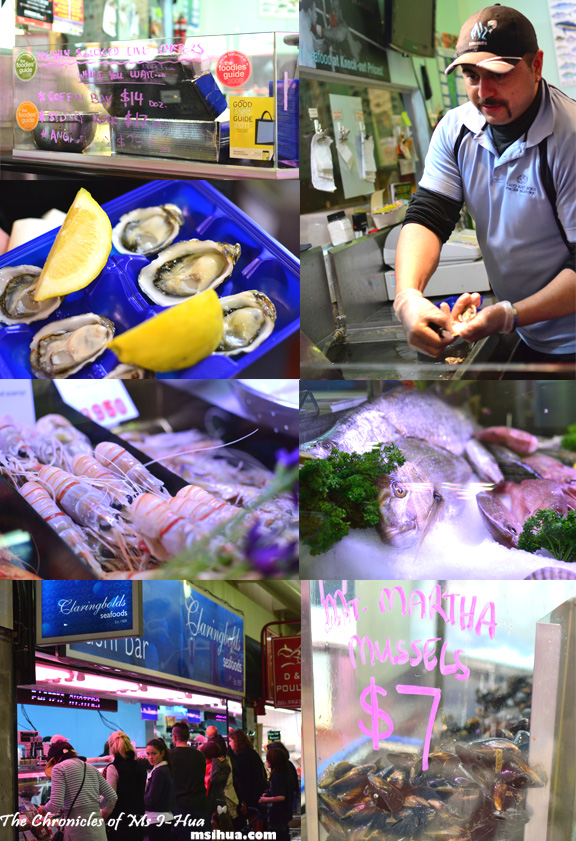 Once we were done with the fruit and veggie section of the market, it was onward to the Meat, Fish and Poultry section!
Here you can select from the freshest sashimi grade seafood including live mussels and freshly shucked oysters.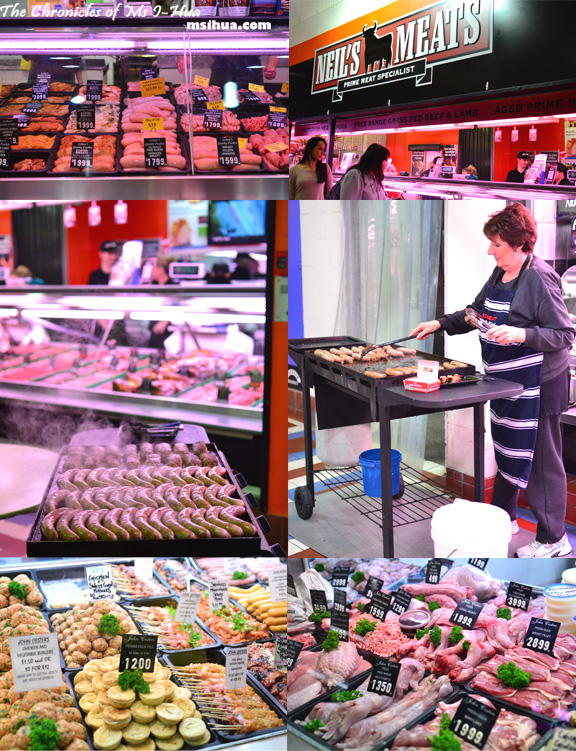 We were most excited to see butchers who specialised in game meats including wild rabbit and venison! I got hungry pretty quickly imagining all the delicious meals I could create from here.
Free tastings of sausage sizzles from nearly every butcher did not help as well and we were happily munching our way around as we planned our menu 🙂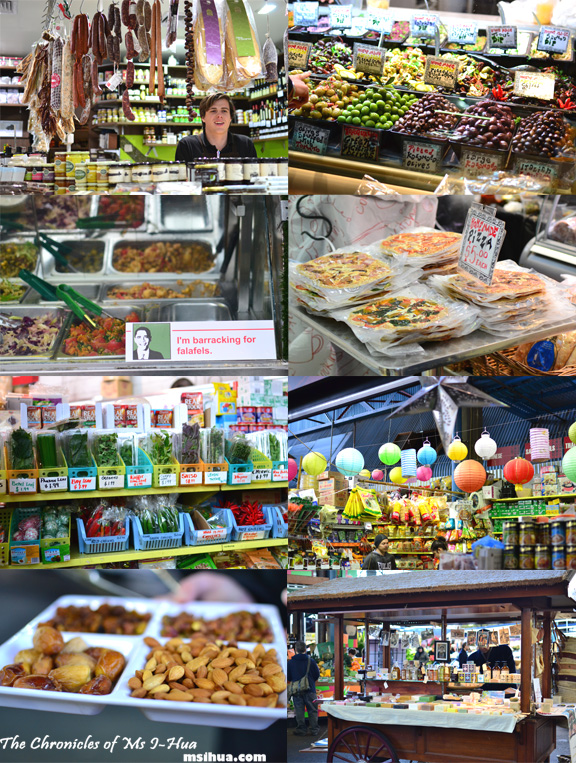 On our way out of the fresh meat and seafood section to the Delicatessen, we were distracted by more quaint shops and produce from around the fruit and veggie section. There was just so much to see and do!
Just a quick note dear readers, if you are after some hard to sought herb and spices, chances are Lee's Asian Grocery will have it. We noticed they had some fresh shiso leaf on hand!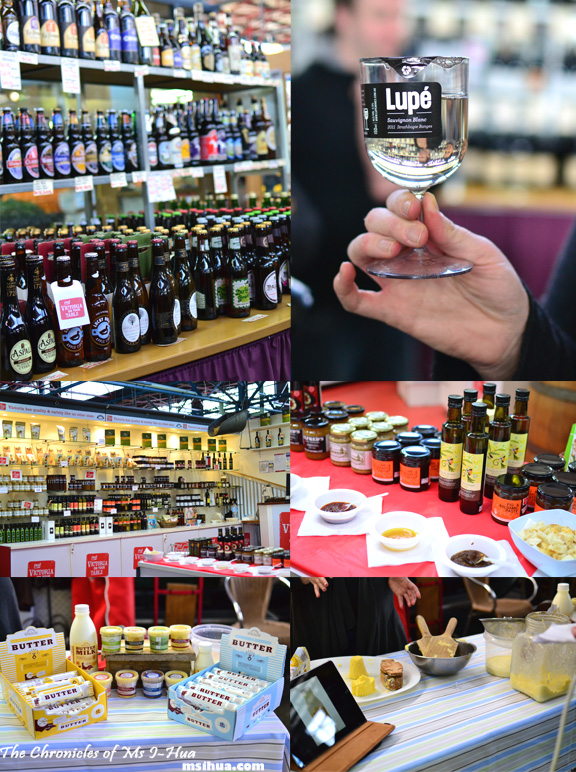 If you needed alcohol whilst you were planning your groceries and didn't feel inclined to drive to a liquor stall, have no fear, Prahran Market houses one as well 🙂
We were also captivated by the Put Victoria on Your Table stall as well as a pop-up butter churning demonstration stall.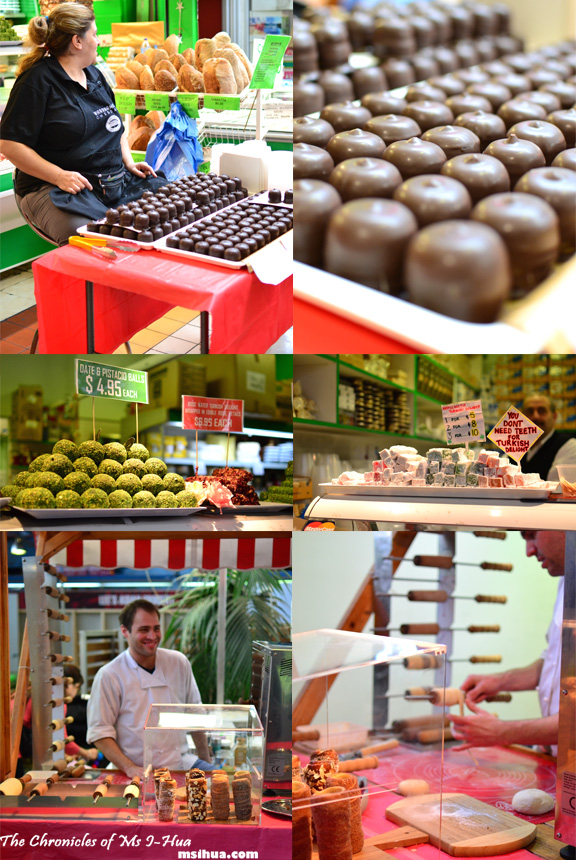 Time waits for no man as they say, and the market tour waits for no laggards as we were on a strict time-frame. It was time for desserts and the deli!
I have to highlight the extremely naughty Snow Ball dessert from Naheda's Choice which they happily and delightfully tease their customers with how-to-eat-it advice *cough* *blush*, they tell us, that the best way to eat the snow ball is to bite the tip off the top and gently suck the gooey marshmallow out, just like a woman knows how to do *blush* *cough*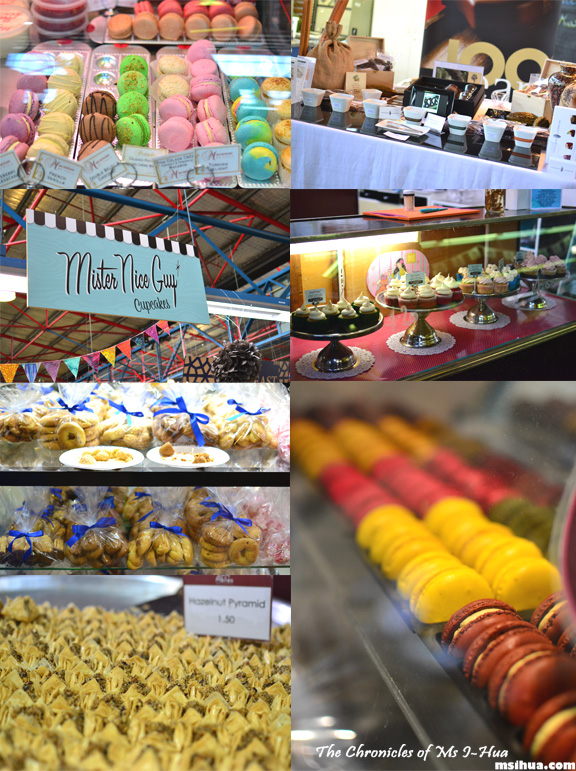 We ended the amazing market tour after sampling some fresh Lebanese pastries from Abla's Patisserie. There was just so many things to see, and we visited so many stalls that I hadn't been able to capture everything in this one post.
I hope I did enough to get you excited in getting to the market yourselves!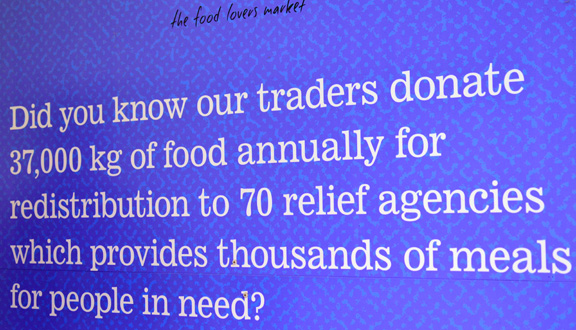 Prahran market is also taking part in Melbourne Food and Wine Festival's state-wide campaign of "Put Victoria on Your Table" which is supported by the Victorian Government to encourage Victorians to buy from local producers and farmers in the Victorian region.
[This post is sponsored by Prahran Market and Nuffnang Australia]
If you need help in locating any of the stores listed above, follow the stall finder 🙂
For more information on Prahran Market and the Market Tours they run, see below:
Market Tours:
Thursday: 12pm
Saturdays: 10am and 12pm
Cost: $25 per person for 1-1.5 hour tour (depending on group size)
To purchase the market tour vouchers, visit the Market Management Office, Level 1, 163 Commercial Road, South Yarra 3141 or call 03 8290 8220 to purchase over the phone
Prahran Market Opening Hours:
Tuesday, Thursday & Saturday, 7:00am – 5:00pm
Friday, 7:00am – 6:00pm
Sunday, 10:00am – 3:00pm
Closed on Mondays, Wednesdays & Public Holidays
Address:
163 Commercial Road
South Yarra VIC 3141
Tel: (03) 8290 8220
Website: http://www.prahranmarket.com.au/
Twitter: @prahranmarket
How to get there: