I'm not sure where time has gone, but it sure has flown by. I am trying to capture all my moments and memories, but it seems that my life has come to a point where everything is fleeting, like a hummingbird.
I have been told to slow down. "Enjoy!" , "Relax in the moment", they tell me. "Stop doing everything at once!"
But I can't. I won't know how to operate if I had to sit still and plod along taking things slowly one bit at a time. Sure, I would be able to live in the moment, but man, I would go crazy as things would be too mundane.
I like to do a lot of things at the same time. I can often be heard telling people to kill two birds with one stone. In fact, it's one of my many mantras at work.
Write one policy for the business? Why, when I can write 3 targeted policies at once and churn out a strategy/business case at one go? BAM, killing two birds (or 4) with one stone.
Be part of a band? Sure! I'll play the drums and be the lead singer too! BAM! Two birds with one stone.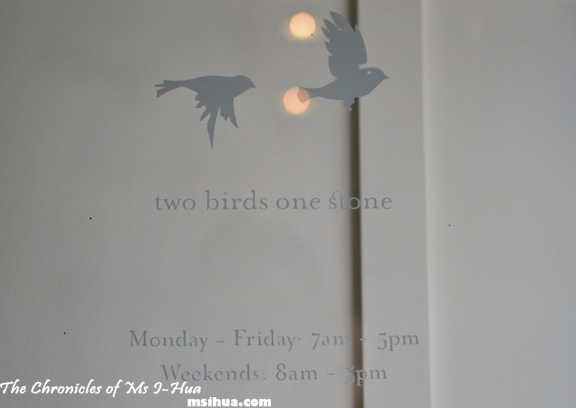 So when the Boy said on Sunday, "Would you like to go to this new cafe in South Yarra called Two Birds One Stone?", it was as if the penny had dropped and the universe was giving me a sign! Incidentally, anyone read about the asteroid passing the earth on Sunday?
Coincidence? I think not!
So we flitted down to South Yarra, we couldn't help but moaned out loud as we saw a crowd had gathered around the entrance of the establishment, spilling onto the street even.
We knew it was going to be a battle, but we were ready and drove straight in. We were politely informed that it would be a 20 minute wait, which we happily accepted. What choice did we have? I wasn't going to walk back up to Jam Factory for a meal 😛
I loved the decor and fell in love with the elegant hanging glass potted plants. They were beautiful.
Another noteworthy mention on the decor were the cute little booths reserved for larger groups. It was quaint and I didn't even feel as if I was in South Yarra at all 🙂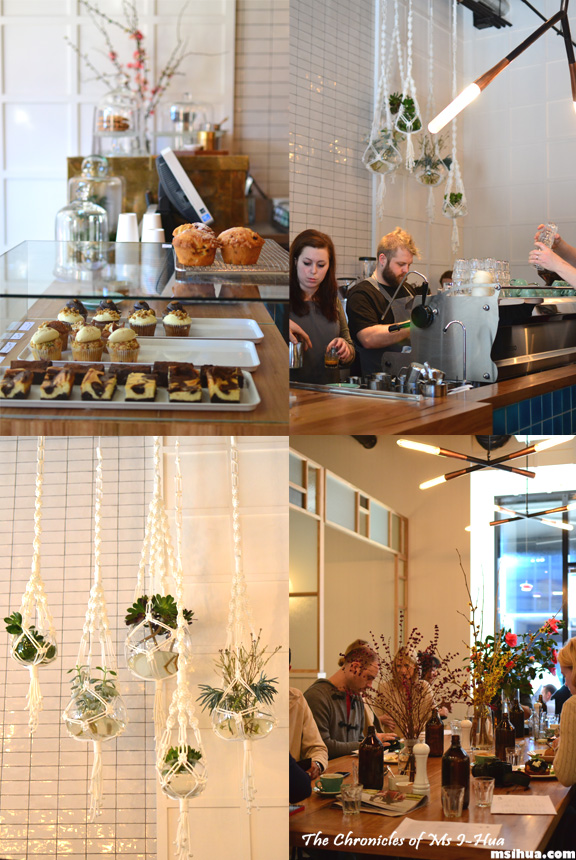 With a simple straightforward coffee menu, much the same as at Patricia Coffee Brewers, the choices of single origins and coffee blends are up on the board with choices of white, black or filter.
Original? Not quite. Taste wise, not bad. With a custom made four-group Synesso machine, the barista crew churns out a steady stream of coffees for the crowd.
I made a note of mentioning the menu to the PCB team this week and they laughed it off, saying they (PCB) must have started a revolutionary trend 🙂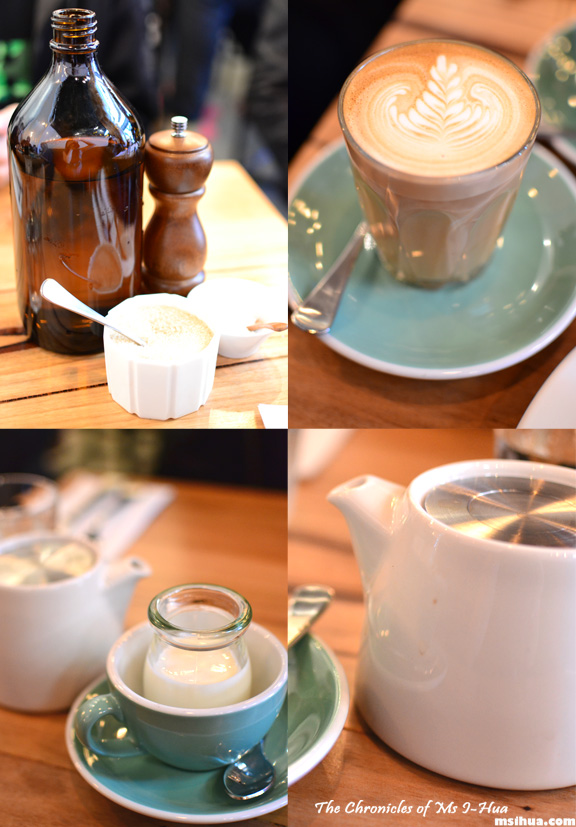 I had my usual Latte (House Blend) ($3.80) & the Boy went ahead with his usual order of English Breakfast Tea ($4.00).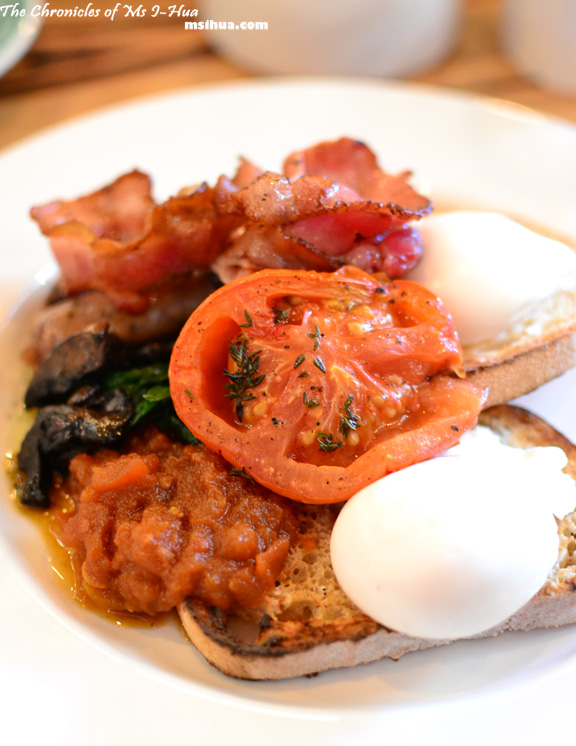 Two Birds ($18.50) – Eggs, Bacon, Tomato, Pork Chilli & Fennel Sausage, Mushrooms, Spinach and Tomato Relish (from the Breakfast section).
I could only ever choose from two birds or one stone (the big breakfast vego style of eggs, mushrooms, avocado, spinach, haloumi, house smoked corn & tomato relish), but I obviously couldn't go past the bacon and the sausage.
I am only a carnivore after all 😛 The pork chilli & fennel sausage certainly had a kick to it and as I wasn't expecting it, it caused me to gasp a bit. Loved it! The eggs were perfectly poached as you can see from the #eggporn #yolkporn picture I put up on my instagram which generated quite a lot of chirping amongst my followers (see what I did there?).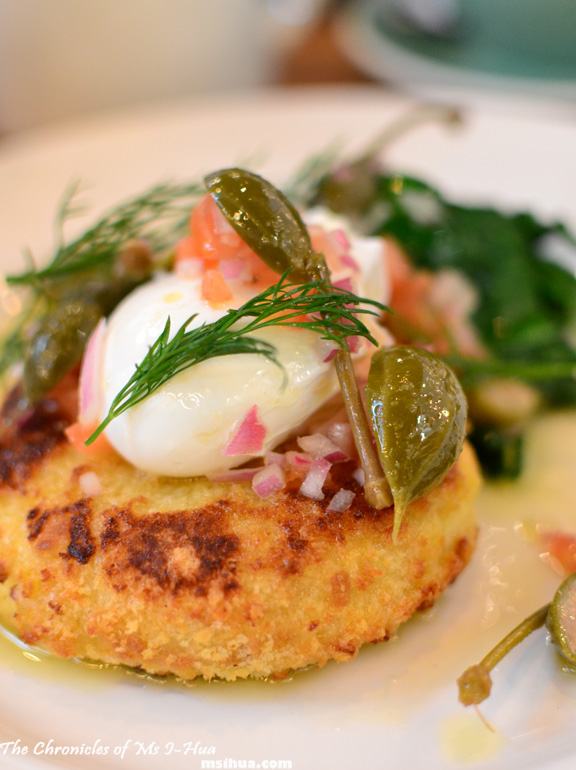 The Boy had the Salt Cod & Potato Fritter with Spinach, Poached Egg, Caper Berry Dressing ($17.50) (from the Lunch section) and said it was a delight.
The oozy yolk from the perfectly poached egg, the creaminess (inside) and crunchiness (outside) from the fritters, and the sourness from the caper berries all went well together. I especially (after stealing a bite) loved the little bits of salt cod that came through in each mouthful. Such a wonderful balance of flavours!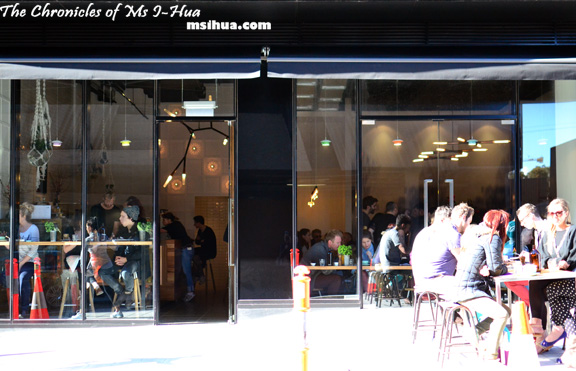 Being the new kid on the block is always going to generate a lot of hype, more so when it is one of the worthwhile cafes to visit whilst at fancy South Yarra.
My top tip. Be there early. Away from the masses as they take in the winter chill and sleep in on the weekends. That being said, it certainly was worth the 20 minute wait in the cold wind (with no shelter) last weekend.
*Disclaimer: All food ratings & review are purely based on my own experiences and how I feel about the service, food and quality at the time of visit
Food/ Cuisine: Breakfast, Lunch, Coffee
Dining Style: Cafe
Overall Food Rating (Based on the Dining style): 7.25/10
Restaurant ambiance: 7.75/10
Service/ Attitude: 7.5/10
Value for money: 7.5/10
Opening Hours:
Monday to Friday, 7:00am – 5:00pm
Saturday to Sunday, 8:00am – 5:00pm
Address:
12 Claremont Street
South Yarra VIC 3141
Tel: (03) 9827 1228
Website: http://www.twobirdsonestonecafe.com.au/
Twitter: @2bird1stone
How to get there: