Last Tuesday, I was honoured to be invited to cover the Eat Street for Redkite event held at Sofitel Hotel in Melbourne.
Eat Street is an annual event which throws together over 50 restaurants and wineries all in the good name of raising awareness and funding for a selected charity in a fun, delectable and delicious manner.
Celebrating its 13th year in raising over $1,000,000 towards children's charities, this event turns Melbourne's Sofitel Grand Ballroom and adjacent areas into a grand affair.
Redkite supports children, young people (up to age 24) and their families through cancer (from diagnosis, throughout treatment and when they return home). These support services includes financial assistance, emotional support and education assistance.
Redkite does not receive government funding and relies mainly on the people's generosity to provide these services.
It's good to know that such a charity exists and that there are so many good-hearted and good-willed people in Australia who give so much and ask for so little to help those in need out.
I know too well the cost of what cancer can do to a loved one and a family, and have lost far too many (two too many) loved ones with this destructive disease. I can only imagine the comfort and hope such a charity would be able to provide to a family, especially to the youth who haven't even begun their journey in life yet.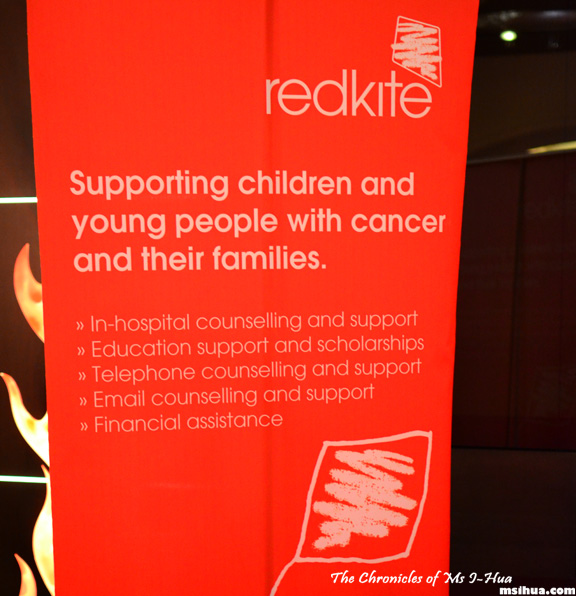 At the Eat Street event, 30 of Melbourne's top chefs and restaurants cater a seemingly never ending selection of luscious snap shot of signature dishes from their own mini marquees and over 25 wine and beverage companies providing refreshments, a range of raffle and door prizes.
It must also be noted that over 100 Sofitel staff volunteer their time to work at this event in order to assist the marquees and the 1000+ guests wandering around enjoying themselves. Such dedication and generosity! I highly applause their efforts on that night as they did an astounding job.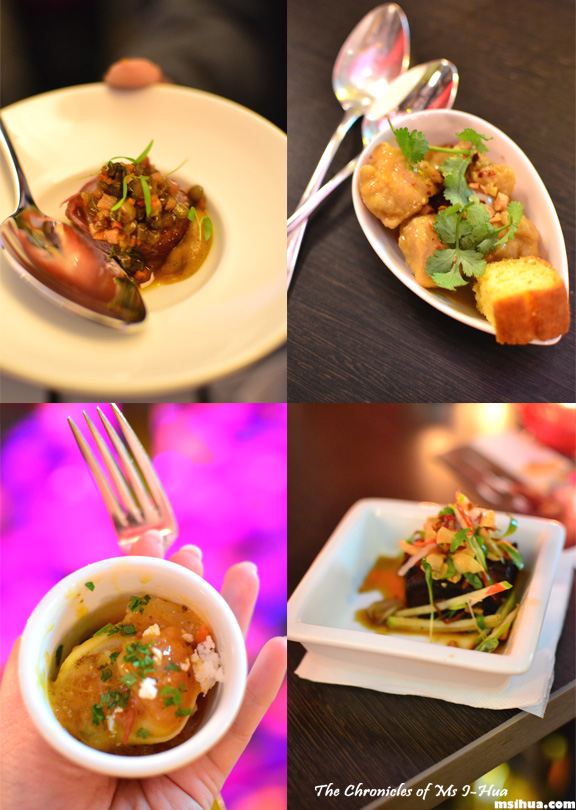 There was just so many choices of good quality food available to guests. A favourite of mine would have had to be the famous 5 Spice Pork Belly Dish with apple slaw from Ezard. So sinful, sticky, sweet and delicious.
Another worthwhile mention was the Prawn Tortellini from the Maha Bar & Grill and Mama Ganoush marquee. A little odd for the two Mediterranean/ Middle Eastern cuisine they normally do, but tasty nevertheless.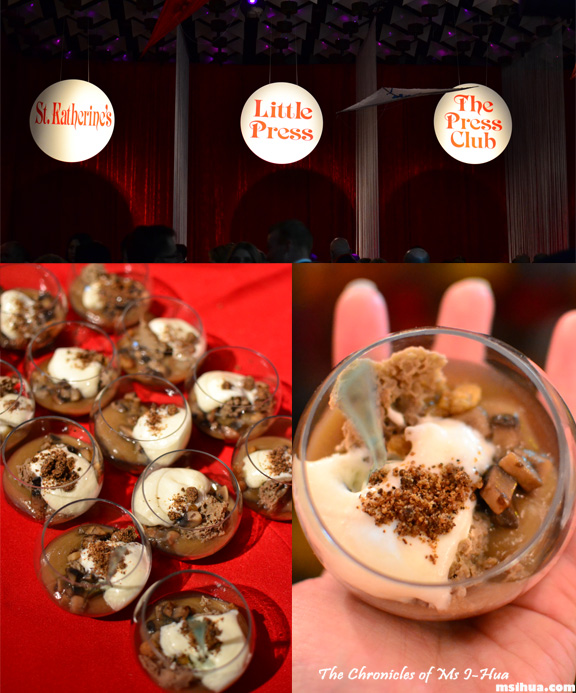 I also quite enjoyed the molecular mushroom glass bowl served at The Press Club.
It had mushroom foam, mushroom cream, mushroom soil and I'm quite sure there was mushroom sponge as well. It would have been a mushroom lover's mouthful of heaven.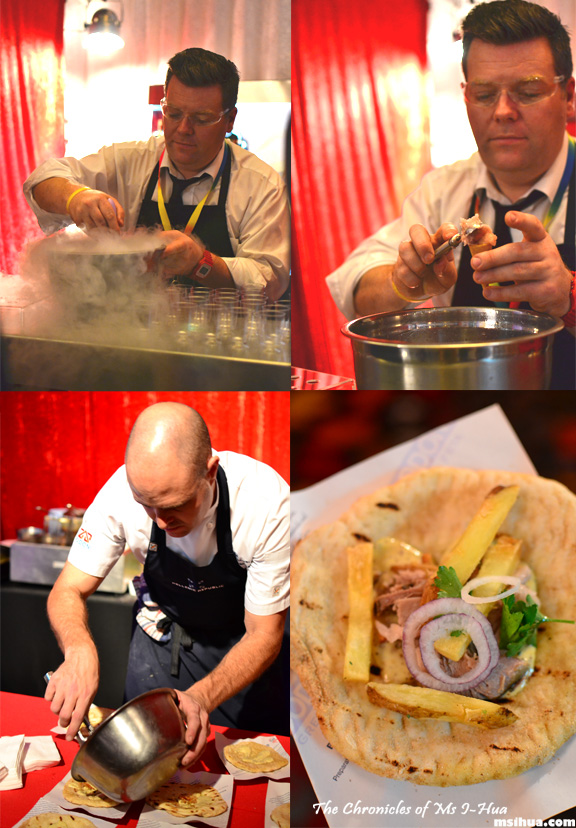 The Pork Shoulder Souvlaki from Hellenic Republic were one of the busiest marquees with a queue forming early into the event and the souvlakis "selling out" the fastest!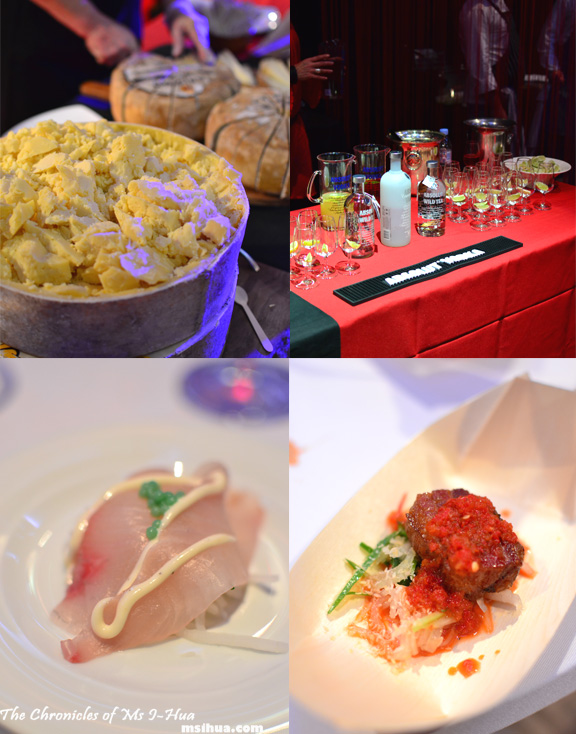 Left and right, the ballrooms were filling up with people. Alcohol was flowing, and the cheese was grinding (:P), people were eating, laughing, sharing stories and eating some more.
I was ecstatic when I realised that one of the marquees on the upper level belonged to The Baths at Middle Brighton, as that is where the Boy and I will be getting married 🙂 Yayy! They had a really fresh entree serve of Kingfish Sashimi served with pickled daikon, tonka bean mayonnaise topped with wasabi caviar.
But the best dish of the night by far was from Taxi Dining Room, which served a Sticky Pork with Roasted Sea Scallop & Hot Chilli Dressing. It was so good we went back for seconds!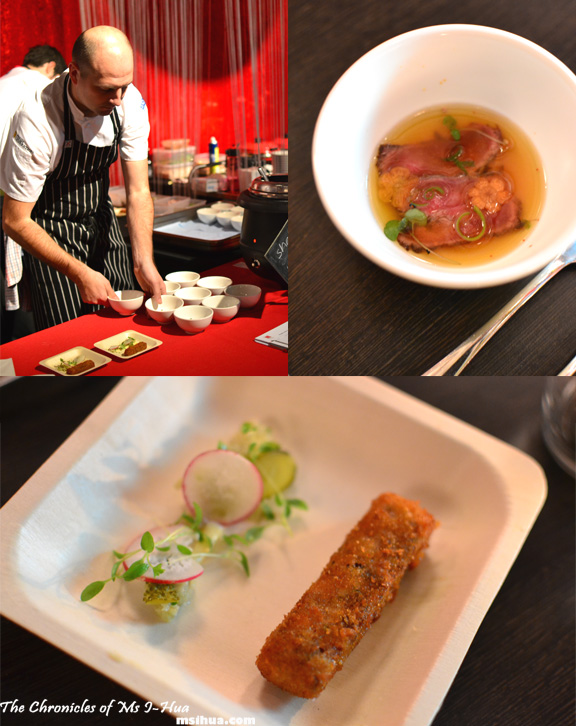 Special mention to The Point at Albert Park as they were serving a delicious Shabu Shabu, David Blackmore's Wagyu karubi plate, Otway shiitake mushrooms and togarashi (which I didn't eat but heard it was amazing) and a Crumbed Pig's Head which was so good and mouth-watering!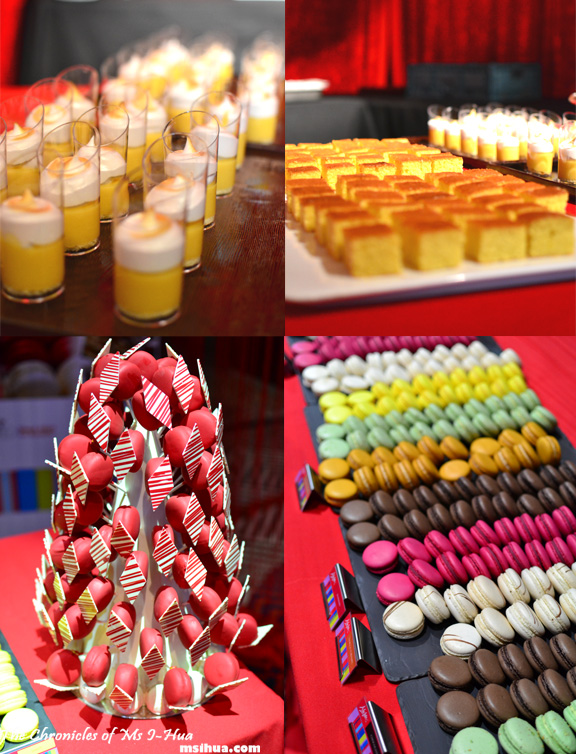 On to the desserts, and my what a selection of desserts there were! Bright, colourful and vibrant, they certainly caught our attention.
Macarons galore from A La Folie in every colour and flavour. My favourite was definitely the pistachio.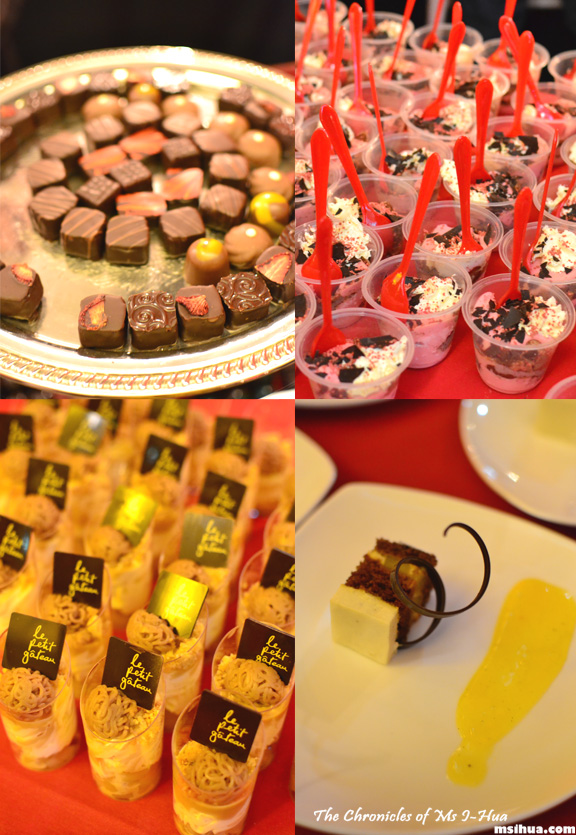 I had a lovely dark truffle from Ganache Chocolates which just oozed and melted in my mouth. There were Eton Mess to be had from Fenix but it was too large a serving to eat on my own!
Le Petit Gateau served up Poached Pears, Chantilly Cream oozing with Caramel Sauce & Chestnut Puree in cute little glasses as well as a Gingerbread, Mandarin Jelly, Banana Mousse & Mandarin Coulis.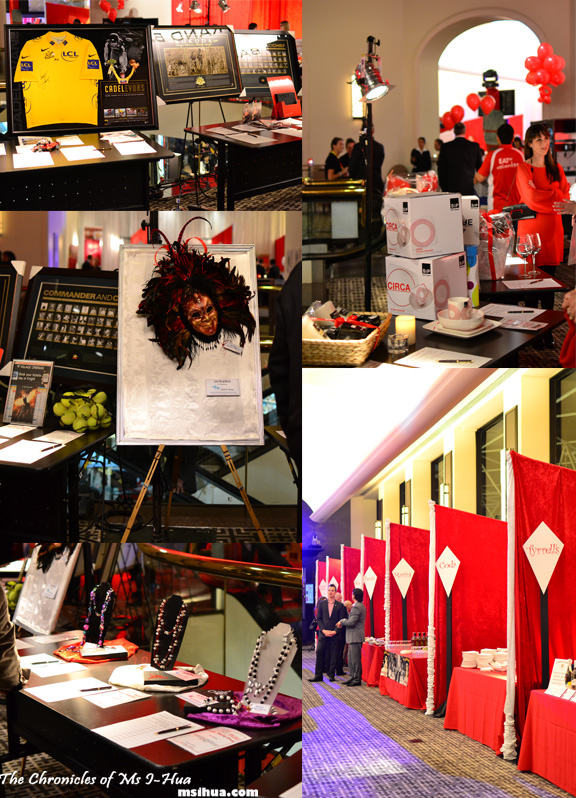 There was also the opportunity to bid on quality silent auction items and at the Nelson Alexander Charitable Foundation Live Auction including travel, sports, entertainment tickets and jewellery.
All proceeds from Eat Street goes towards the funding of Redkite in supporting the families and youth struck by cancer.
[Ms I-Hua attended Eat Street courtesy of AMPR and Eat Street]
Redkite Information
Website: http://www.redkite.org.au/
Ways to help Redkite: http://www.redkite.org.au/ways-donate
Getting involved: http://www.redkite.org.au/get-involved